It's said that from the outside looking in, you can't understand it. The spirit of Aggieland. Texas A&M's school spirit has captured the attention of the nation as for the first time the Aggies are making their debut in the SEC. CM is here to give you an inside look into the university that has been named the best student section in college football. Here's the 10 things Texas A&M students do better than any other student body… 
1. "One time I dropped my purse on the dance floor of a club, and of course an Aggie turned it in. Aggies are the best at being honest!"
-Jennifer Terry, freshman
2. "I love and respect the honor behind the uniform. And let's face it, they are pretty attractive as well."
-Haley Lawson, senior recreation parks and tourism sciences major.
3.  "Nobody has the passion to hump it like we aggies do."
-Matthew Broesche, junior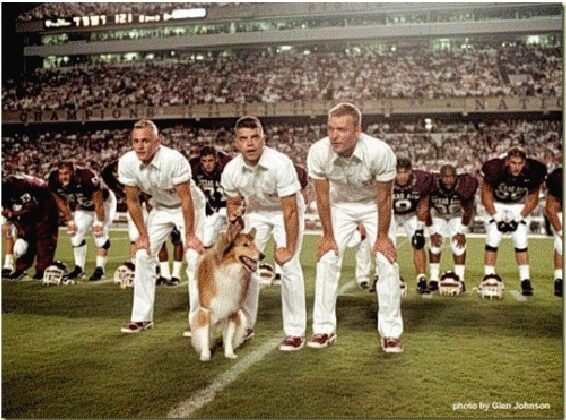 4. "Dancing. We start practicing our two-stepping on Thursday nights, and we have the Aggie Wranglers dance team to show us new moves."
-Cory Lymer, senior engineering major.
5. "Aggies are great at muggin' down because we really love each other."
-Meredith Thomas, senior education major.
6. "Aggies set the bar in saying "thank you" to the community through Big Event, the largest one day, student run service project in the country."
-Amanda Lopez, senior wildlife and fisheries major.
7. "The memorial to our 12 students lost in the tragic bonfire collapse of 1999 stands open in the very front of our campus, a symbol of the bond that all Aggies share and yet another testament to how Aggies show respect when members of their family pass."
-Trey Lyon, Texas A&M graduate student
8. "Aggies are the best at yelling because it's the way we show support for our teams and our school. It's just bred in us from day one."
-Jennifer Dubose, senior English major.
9. Standing! Aggies do not sit at football games except during half time.
10. "We are the best at upholding traditions because we have leaders that inspire traditions."
-Elyse McKinney, senior education major.