Going away to college sounds great until you realize you can't bring your personal chef—aka your mom or dad—with you. Fortunately for the Gators, Gainesville features an array of great restaurants for students to choose from. But let's face it, eating out can turn into quite an expensive endeavor. Unless you cooked regularly at home, many college students must get accustomed to making meals in the kitchen for the first time. And no, I do not mean simply sticking to the microwave! Cooking healthy, satisfying meals is a life skill that all young adults should possess. College is the time to grow your knowledge and independence, so fuel your body with awesome meals and easy recipes that are sure to keep you and your roommates wanting seconds.
Read on to discover 10 easy recipes for students to make (and not just for those attending the University of Florida).
10. A Healthy Gator's Mahi-Mahi Bowl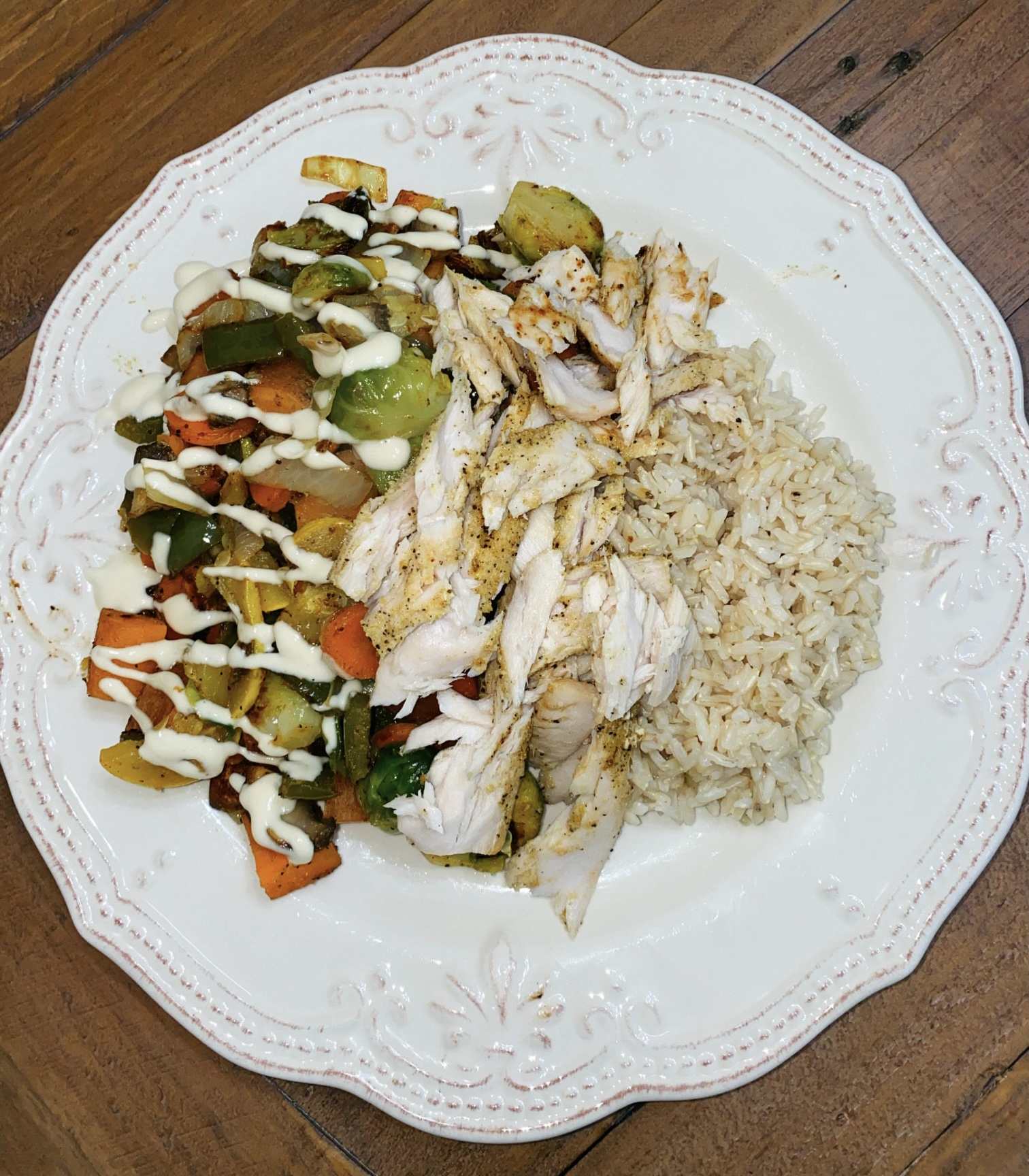 Whether you return from a grueling stadium workout or a study session at Library West, there's never a moment to avoid eating a healthy yet deliciously satisfying meal. If you thought the perfect healthy meal didn't exist, you seriously need to think again. Quick note: this recipe has a lot going on, so ensure you prep first—cutting vegetables, cooking the rice, making the sauce—before you start cooking.
"This is one of my go-to recipes that makes healthy taste like heaven," UF senior Nicole Fontela said. "It includes so many different nutrient-dense foods with the healthy carbs, vegetables, and a clean source of protein."
Ingredients: One mahi-mahi fillet, one tablespoon of avocado oil, ⅓ of an onion, about two to three cloves of garlic minced, ½ a green bell pepper, one carrot, one baby bella mushroom, ½ a yellow squash, ½ a sweet potato (skin on), ⅓ cup of cooked brown rice, a handful of brussels sprouts, lemon juice, tahini (an amount that makes your tastebuds happy) and seasonings like tajín, lemon pepper, garlic powder and onion powder.
Directions: Start by chopping your vegetables to preferred thickness, preheating your oven to 350 degrees and lining a baking sheet with tin foil. Season both sides of the mahi-mahi fillet with about one tablespoon of lemon juice, minced garlic, lemon pepper and onion powder. Bake for 20 minutes and flip the fillet after 10 minutes to allow the other side to cook. Be careful not to overcook because it can become dry, and shred the fillet once it finishes cooking. Meanwhile, heat the avocado oil in a low to medium-heated skillet and add onions, bell peppers and minced garlic.
Once the onions appear translucent, add and mix around the carrots, sweet potato and lemon pepper seasoning; cook for about 10 minutes. After the sweet potatoes and carrots soften, add in the brussels sprouts, mushrooms and yellow squash. Also add the lemon pepper and garlic powder seasonings, then cook for about 10 minutes on medium heat. Now, season veggies with tajín and cook covered for about five more minutes. Oh, don't forget the sauce! In a bowl, add about two tablespoons of lemon juice and slowly pour in tahini while continuously mixing until a slightly runny white sauce forms. Finish by plating the brown rice and vegetables, then top it with shredded mahi-mahi and a drizzle of tahini. Trust us, you're going to want to save this meal for later!
9. Post Rowdy's Ramen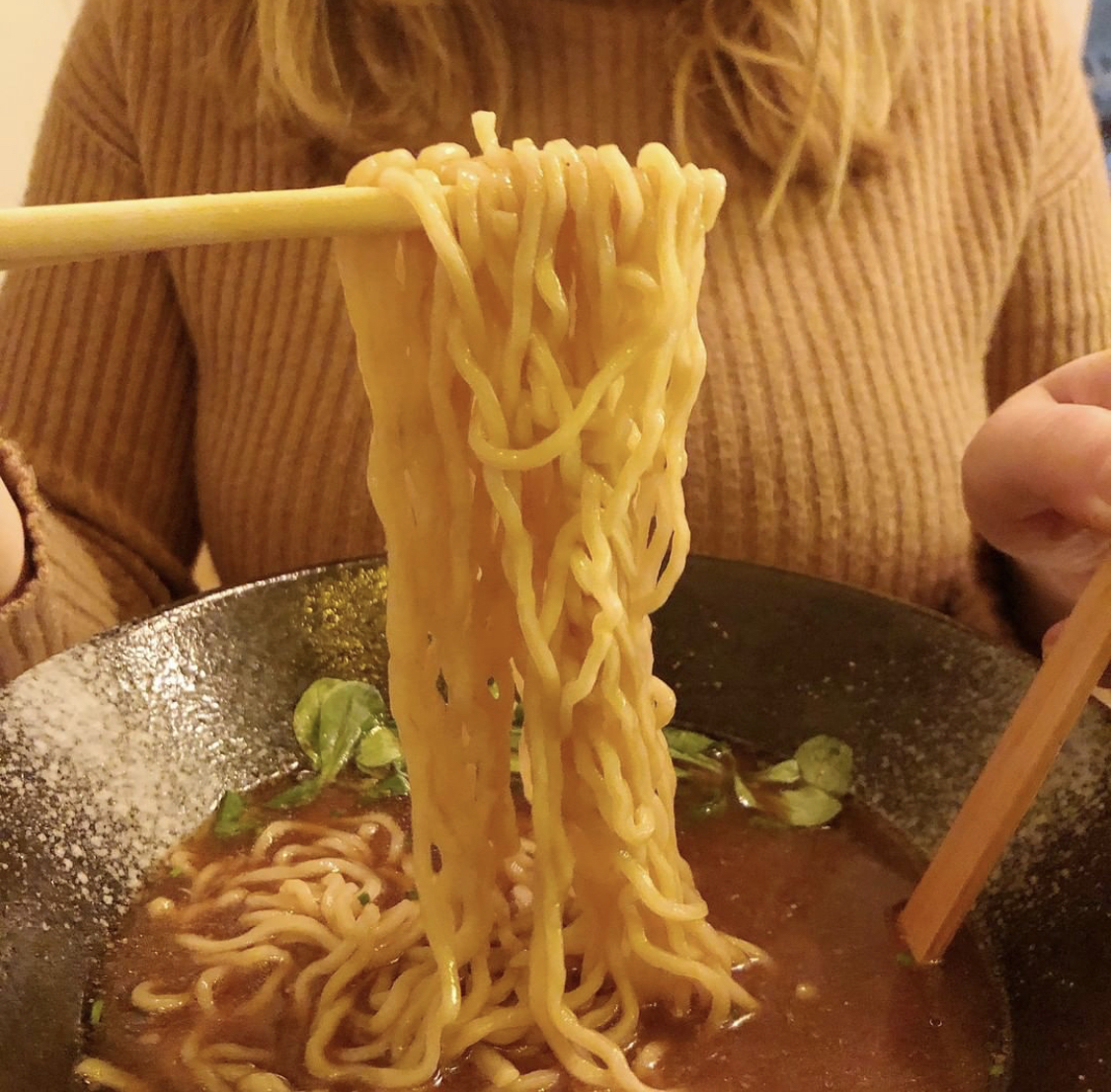 Imagine that you just returned home from a rambunctious night out at Rowdy's in Midtown, and only one thing occupies your mind: food! You want something easy to make but also yummy, so you settle for ramen. While ramen tastes great, you can certainly make it better by spicing it up with a few extra ingredients. Give this recipe a try for a simple yet piquant ramen that will undoubtedly sober you up.
Ingredients: One pack of ramen noodle soup (or any ramen of your choice), one tomato diced, about one teaspoon of garlic and onion powder, about one tablespoon of Sriracha and one egg.
Directions: In shallow boiling water, add your diced tomato and crush with a fork to make the soup a nice tomatoey broth. Add a heaping tablespoon of Sriracha (Lao Gan Ma chili sauce also works amazingly) and don't be shy to add more if you want. Add the garlic and onion powder, dried vegetables, seasoning packet and of course, the ramen noodles. Once the noodles softly unravel, crack in a raw egg and quickly stir into the broth. Stir for a minute longer or until the egg cooks. Finally, plate your rich noodle broth and control your excitement — we don't want you burning your tongue.
8. Cazabella Cruncher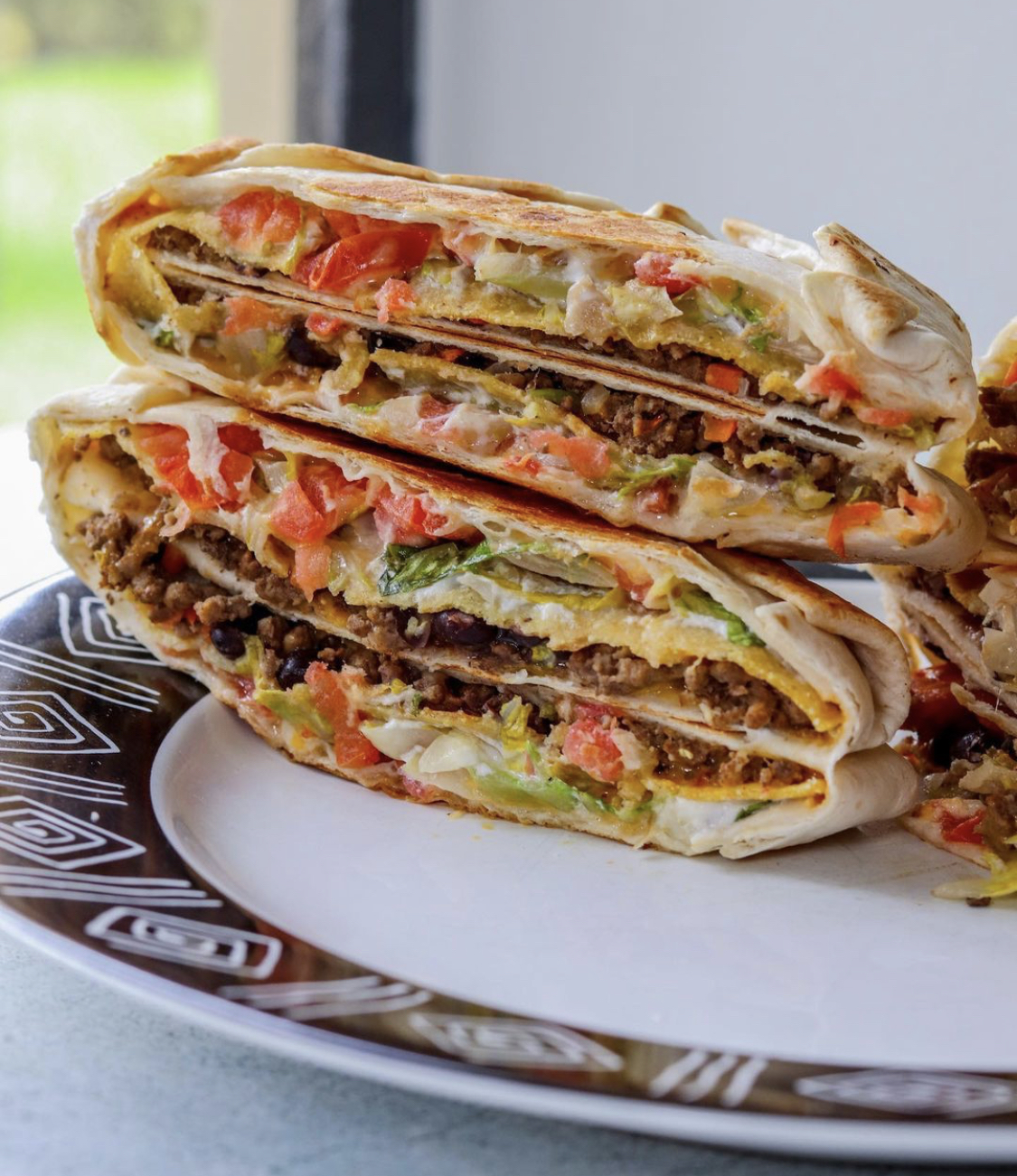 Why travel to Taco Bell when you can whip up a Cazabella Crunch at home? This delicious homemade version of the fast-food chain's signature Crunchwrap humbly originated at the Cazabella Apartments in Gainesville.
"It's the best of both worlds for those who enjoy tacos, because you get a crunchy shell and a tortilla all in one great taste," UF junior Bryan Markovich said.
Ingredients: About 1 tablespoon of vegetable oil, soft tortillas, hard taco shells, cheese and half a packet of cooked ground beef or any other desired fillings.
Directions: Heat a skillet over medium heat and add the oil. On the skillet, stack one tortilla, a handful of cheese and one hard taco shell (broken in half) and heat until the cheese melts. Finish your savory creation with cooked ground beef or any other desired toppings—we suggest sour cream, lettuce, tomatoes, onions and 100% more cheese—of your choice. Don't forget to fold it up and enjoy this treat like a taco. Say goodbye to those midnight drives to Taco Bell!
7. Penne Alla Vodka (Minus the Vodka… Unless)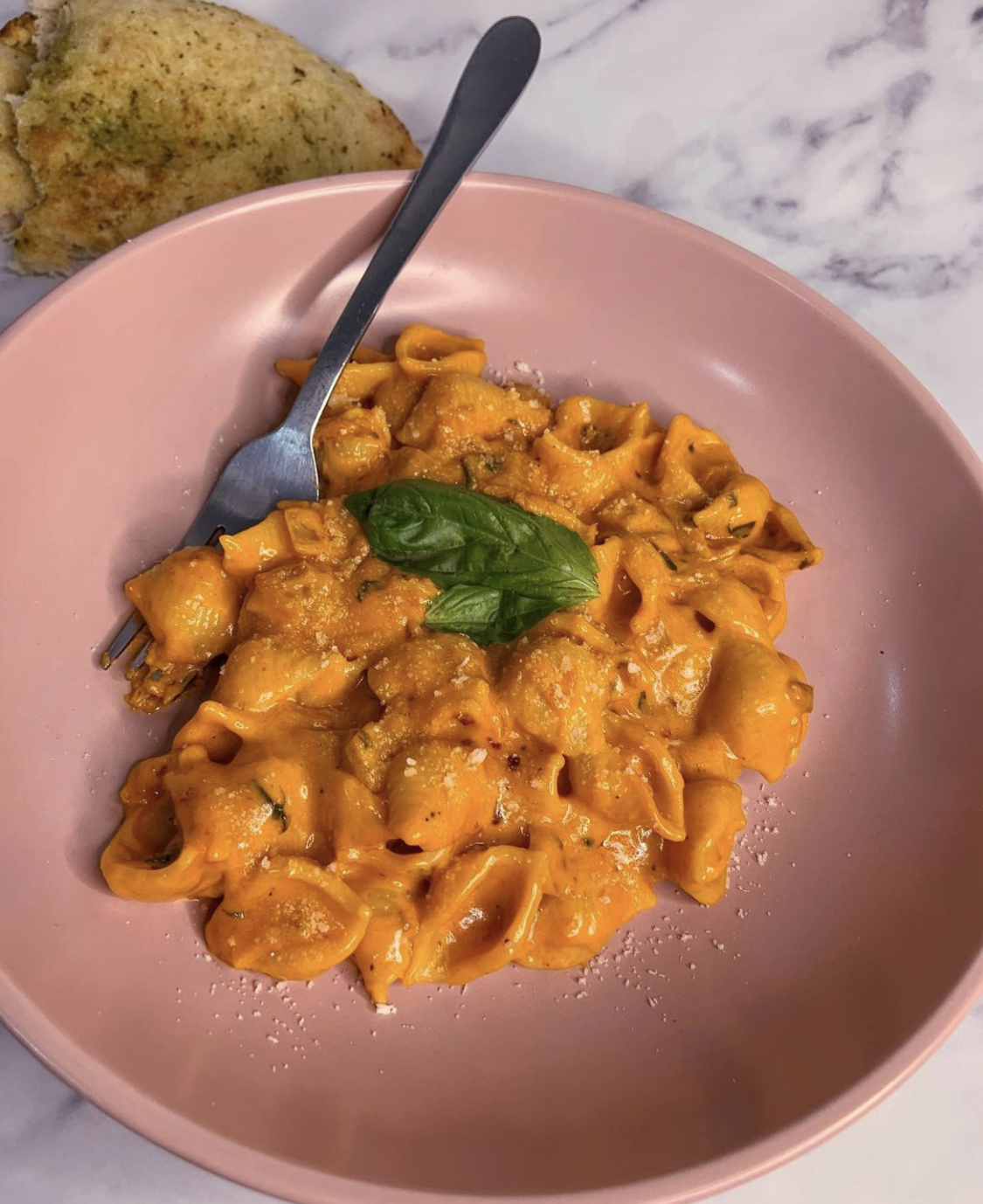 Calling all pasta lovers! In case you haven't heard, penne alla vodka has made a comeback thanks to the lovely Gigi Hadid; pfft, you really thought she invented this dish. Okay, back to focusing on the savory flavor of this delectable pasta.
"I make this pasta all the time because it's so yummy," UF junior Tori Kane said. "It's definitely an easy recipe for a college student to make, but it tastes like a five-star restaurant."
Ingredients: Penne pasta (or any pasta shape, honestly), ¼ cup of olive oil, ¼ of a shallot (or red onion) chopped, ¼ cup of tomato paste, ½ cup of heavy cream, 1 teaspoon of red pepper flakes, 1 tablespoon of butter, and one clove of garlic chopped.
Directions: Start by boiling your pasta in a salted pot of water — save some salty pasta water for later. In a medium-heated skillet, add olive oil, garlic and shallot. Cook until the shallots turn translucent. Next, add tomato paste and stir until somewhat combined — it might look a bit odd, but trust the process people! Then you can add one tablespoon of vodka, but just know the sauce will still taste delicious without it. Toss in your heavy cream and red pepper flakes before giving your sauce a mix, while perhaps turning the heat down a bit. Remember that salty pasta water? Combine about ¼ cup of that water to your sauce and allow it to emulsify. Serve sauce with pasta and watch yourself inhale that dish faster than you can sing "We Are the Boys."
6. The Morning After Breakfast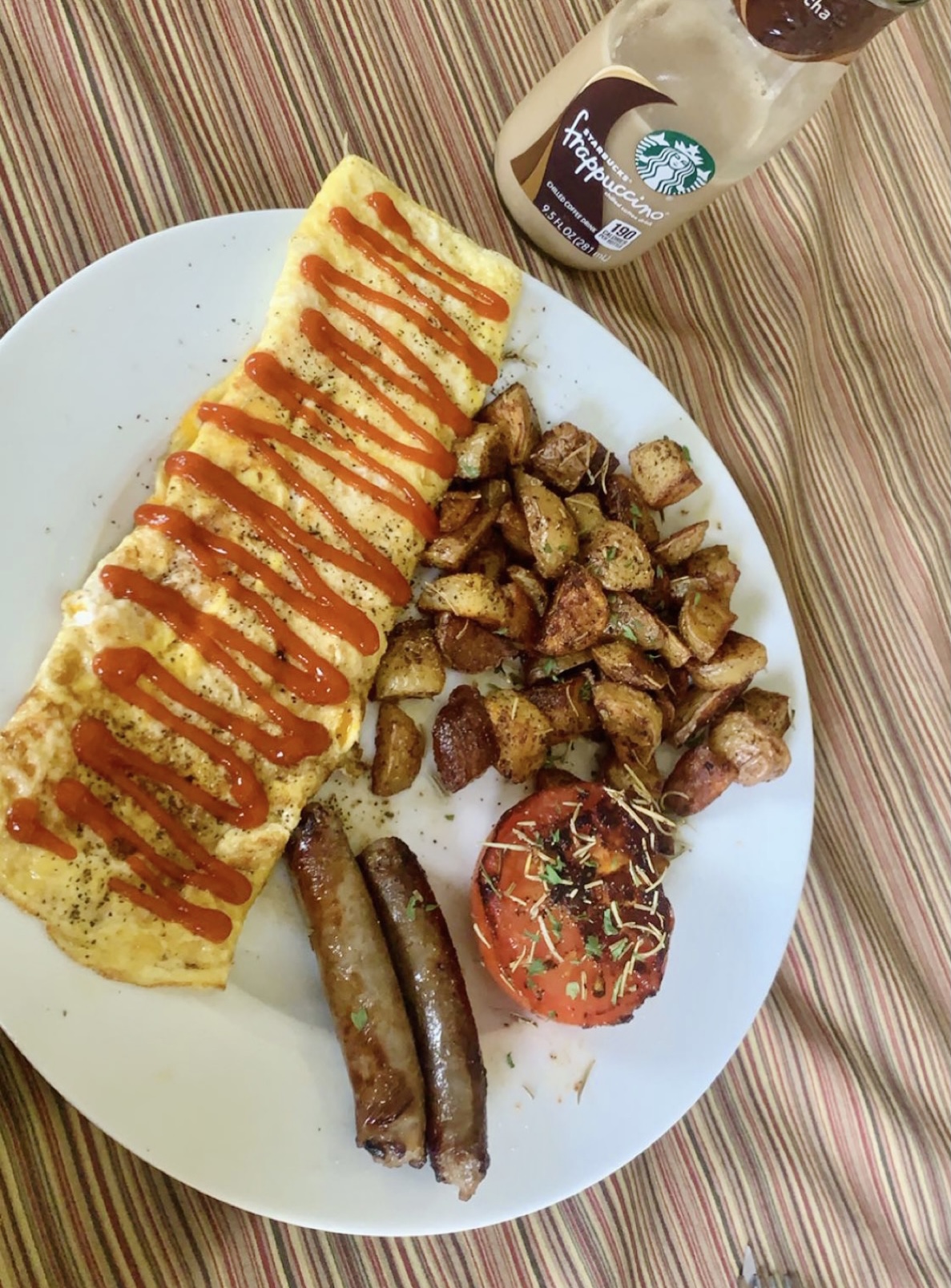 The "morning after" could mean anything, but this loaded breakfast plate works best to revive your spirit the morning after a boozy night out. Considering you probably left your studies for the next day anyways, you may as well beat that harrowing hangover with cheesy eggs, savory sausages, a grilled tomato (a steal from the classic full English breakfast) and crispy potatoes so tasty you'll question why you keep going to Denny's.
Ingredients: Olive oil, butter, eggs, breakfast sausages, cheese and one potato (though I recommend the Baby Dutch Yellow Potatoes — they're tiny and cute). Add ½ a teaspoon of seasonings like salt, pepper, rosemary, garlic powder, onion powder, paprika or whatever seasoning your heart desires!
Directions: Start by cutting your potatoes into small bite-sized chunks. Then add to a heated skillet that already has olive oil and about one tablespoon of melted butter. After coating your potatoes with the buttery olive oil, add all the spices and continuously stir for about 10-15 minutes on medium heat until your potatoes develop a crispy skin. In a separate medium-heated skillet, place half a tomato skin side up and sausages over olive oil. Allow these to sizzle until the sausages almost finish cooking. Wrap up by frying eggs on the same pan and top with cheese. Load all the goodness on a plate and voila! Please try your eggs with Sriracha — you shant regret it. Who knew a hangover cure could taste so delicious?
5. Don't Sleep on These Shells and Meat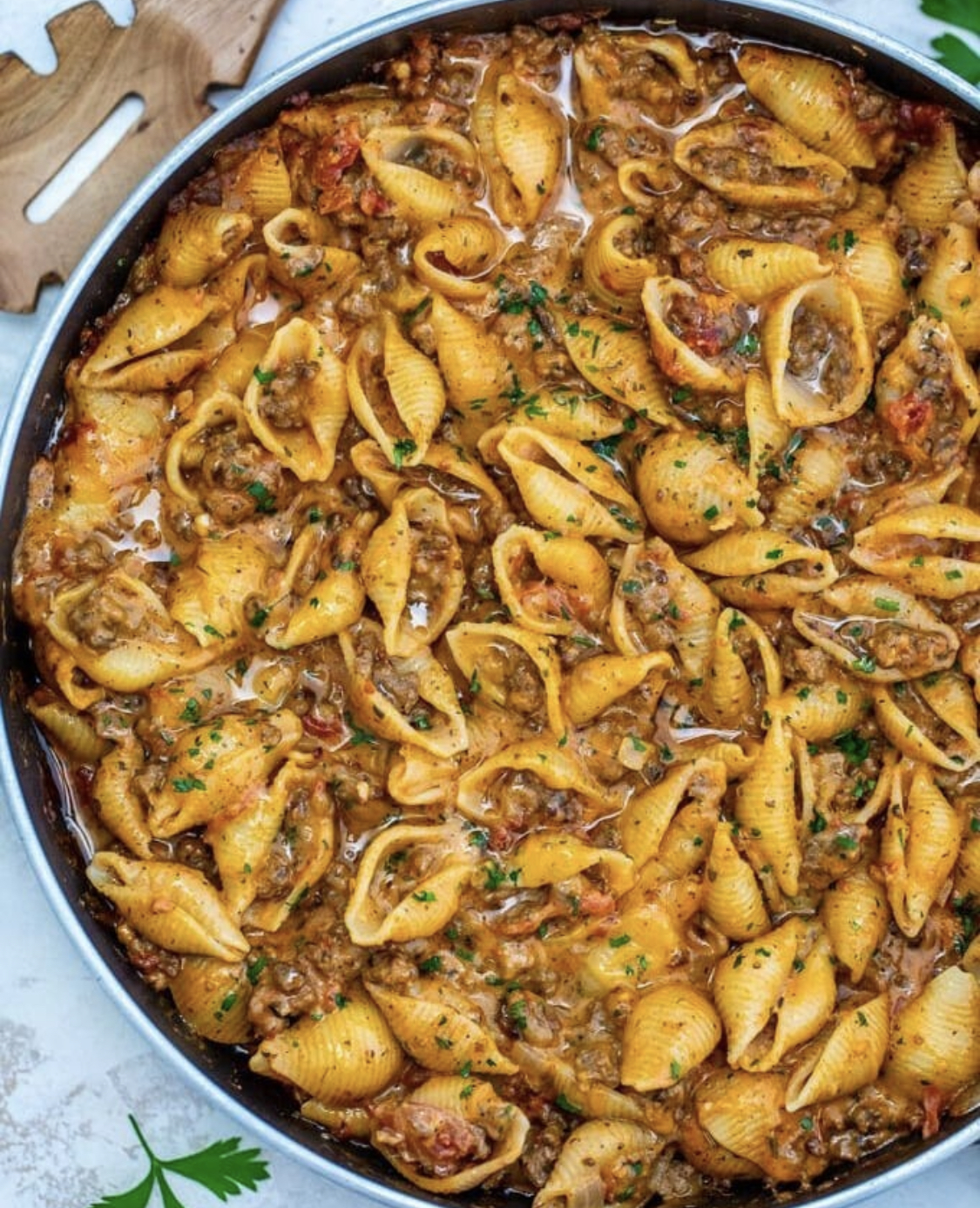 Sometimes, the simplest pasta dishes end up tasting the absolute best. Although pasta shells bathed in meat sauce seems like a straightforward recipe, you can actually up the ante by using better quality ingredients, adding vegetables or perhaps serving it with a glass of wine. Besides remaining a quintessential college meal, these shells and meat can definitely serve as a great entree to bring to a gathering of family or friends.
"This meal can be made to be fancy and expensive or cheap," UF junior Jonny Berger said. "Enjoy an easy and awesome dish my dad made in college that I make in college, and now you can make in college."
Ingredients: About one tablespoon of olive oil, one medium onion diced, two cloves of garlic chopped, one and a half pounds of ground beef, one jar of pasta sauce (24 ounces) and pasta shells (as many as your stomach can handle). Finish off with one teaspoon of salt and pepper, crushed red pepper flakes and parmesan cheese.
Directions: Start by boiling your pasta shells according to the directions on the box. Add olive oil to a medium-heated skillet and toss in garlic, onions and beef. Break up the beef and continuously mix until thoroughly cooked through; the beef should brown while the onions become soft and translucent. Mix in the entire jar of sauce and lower the heat to medium-low. Allow the sauce to thicken and mix occasionally for about 10 minutes. After straining the cooked pasta, add to the meat sauce and combine thoroughly. Tip: meat sauce should saturate the crevices of the pasta shells — that means it will taste fire. Finish by adding red pepper flakes and parmesan cheese to your pasta. Now, give yourself a pat on the back for cheffing up a hearty work of art and dive in!
4. Hangry Sorority Girl Quesadillas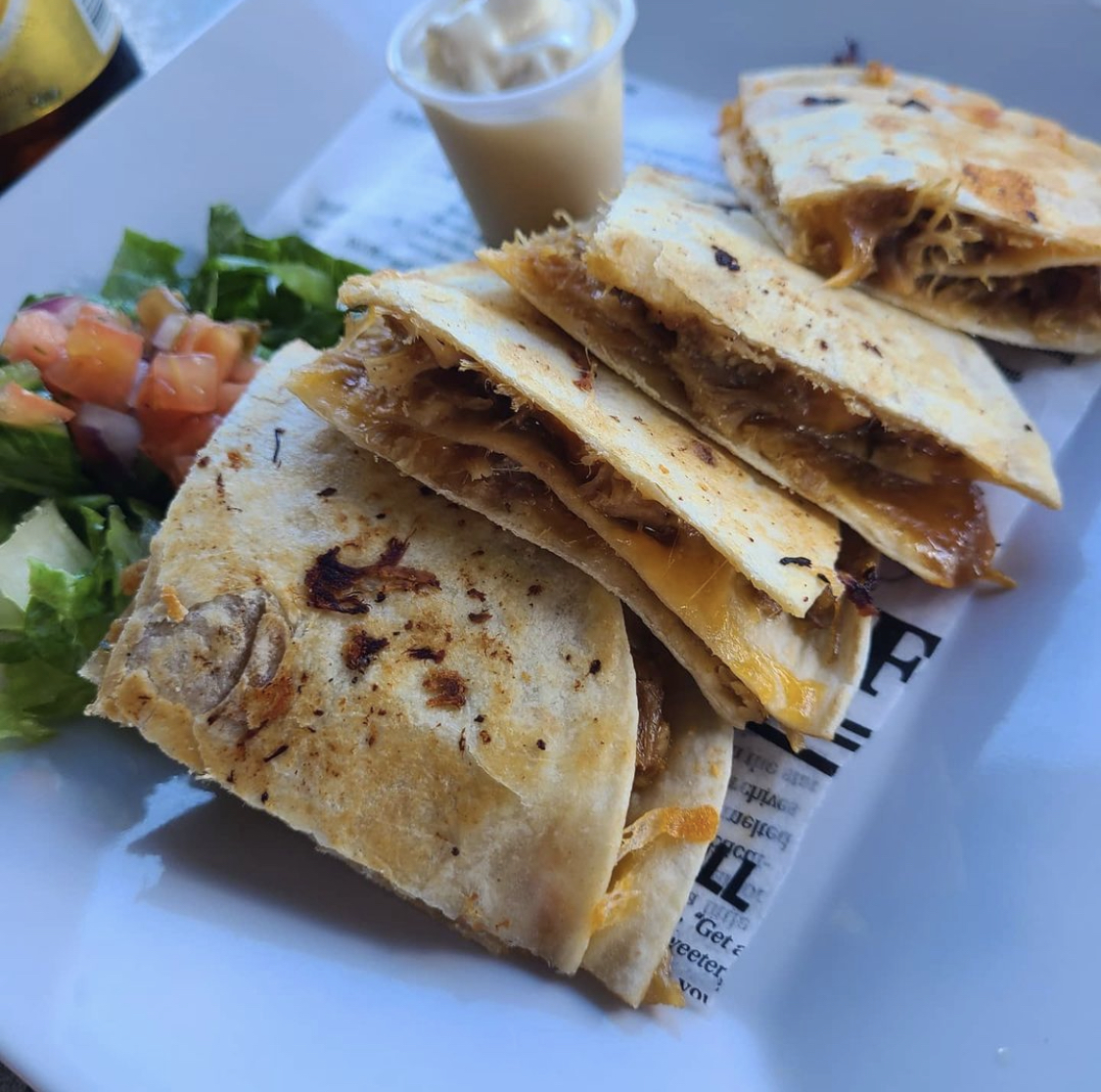 The whole sorority house private chef ordeal sounds appealing, until one day the chef prepares a not-so-appetizing, even questionable dinner (if you know what I mean, ladies). So you skip the unhappy meal but what about your grumbling stomach? Well, save the day, along with your hunger-induced temper, by making these cheesy chicken quesadillas!
Ingredients: Vegetable oil, tortillas, cheese, chicken (I recommend boneless skinless chicken thighs) and ½ a teaspoon of seasonings like salt, pepper, paprika and chili powder. However, feel free to use pre-cooked chicken (I recommend the Tyson Grilled & Ready Southwestern Style Chicken Breast Strips) for your quesadillas should you lack the cooking spirit at the moment.
Directions: Season the chicken and grill it on an oiled skillet over medium heat until fully cooked, which consists about four to six minutes on each side. Once cooked, remove chicken from the skillet and cut into bite-sized chunks; set aside. Lightly add oil to a separate medium-heated skillet and place one tortilla on the pan. On half the tortilla, layer a handful of cheese, chicken and more cheese. Heat until the cheese melts, then fold in half and flip over to toast the other side for about two minutes. Remove your quesadilla from heat and serve with sour cream or whatever desired sauce. You might find yourself making these a lot—and we can't blame you if your chef doesn't step it up a notch!
3. Bring-It-To-The-Balcony Garlic Chili Oil Noodles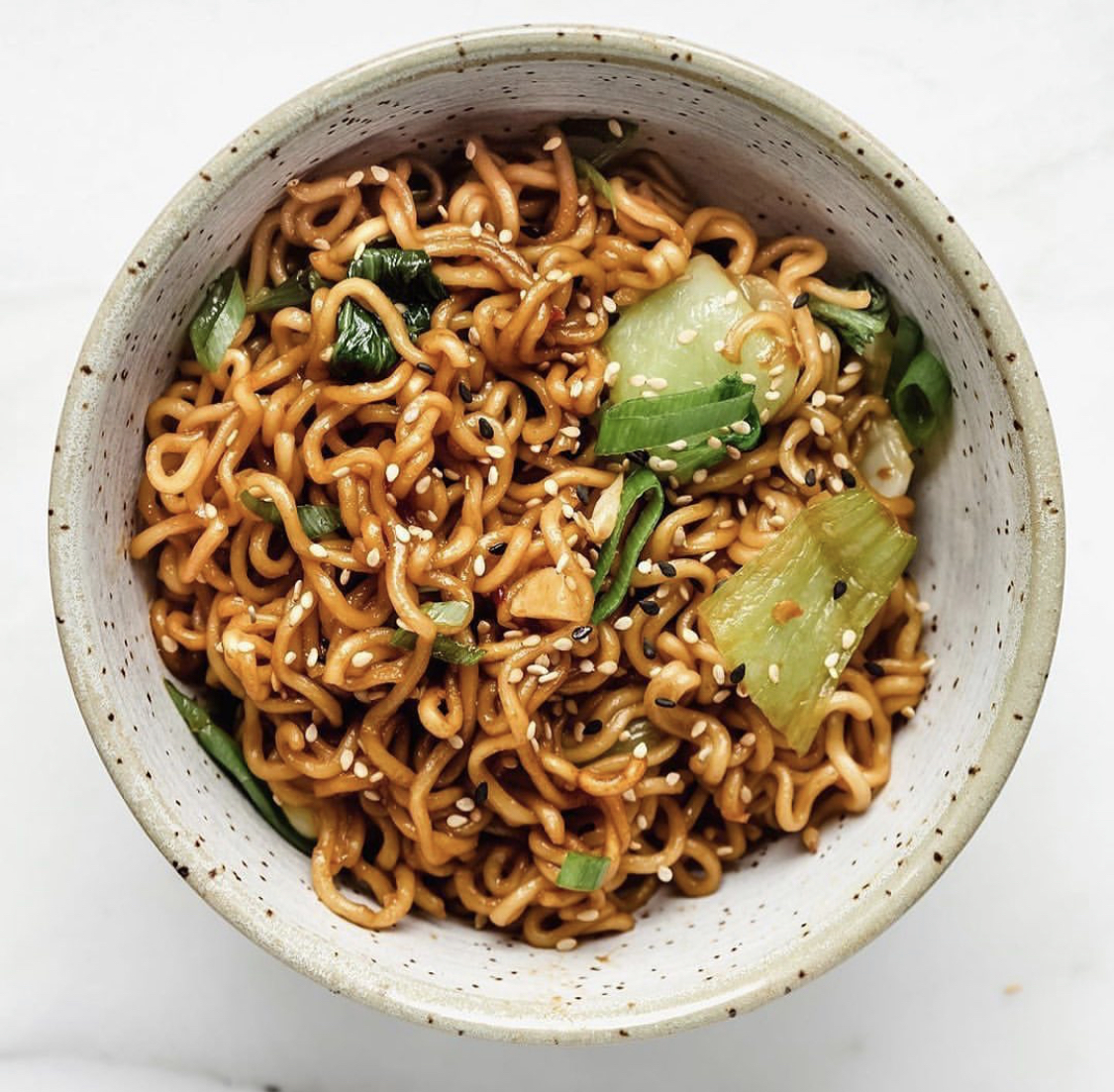 Unless you live in a house during college, you'll likely access nature from your home via a cozy little balcony. But hey! The balcony can make a wonderful spot to hangout, do your homework or enjoy a glass of wine after a brutal test. But most importantly, your balcony can serve as the place to enjoy these delicious Asian-inspired noodles. I mean think, what beats a fresh breeze and saucy noodles smacking your cheeks? So, pull out a chair—for your balcony—and put on your cooking gloves. I'm about to put you on to something.
Ingredients: Noodles (I recommend ramen), about four to five cloves of minced garlic, ¼ of a chopped onion, one tablespoon of vegetable oil, one tablespoon of sesame oil, one tablespoon of soy sauce, one teaspoon of black rice vinegar and about one to two tablespoons of chili oil (Sriracha works as well). Also, feel free to toss in any vegetables for that additional delicious flavor and satisfying crunch.
Directions: On a medium-heated skillet, fry garlic and onion in vegetable oil for about five minutes. Add sesame oil, soy sauce and black rice vinegar to the skillet. Continue cooking until onions appear soft and translucent. Cook noodles in boiling water until soft for about five to eight minutes. Strain then add noodles to the skillet. Finally, add chili oil to the skillet with noodles and combine thoroughly. Plate your noodles along with any vegetables you like. Now that your kitchen smells of aromatic noodles, take that bowl of deliciousness to the balcony to savor the taste of heaven with each bite you take.
2. Game Day Tortilla Pizzas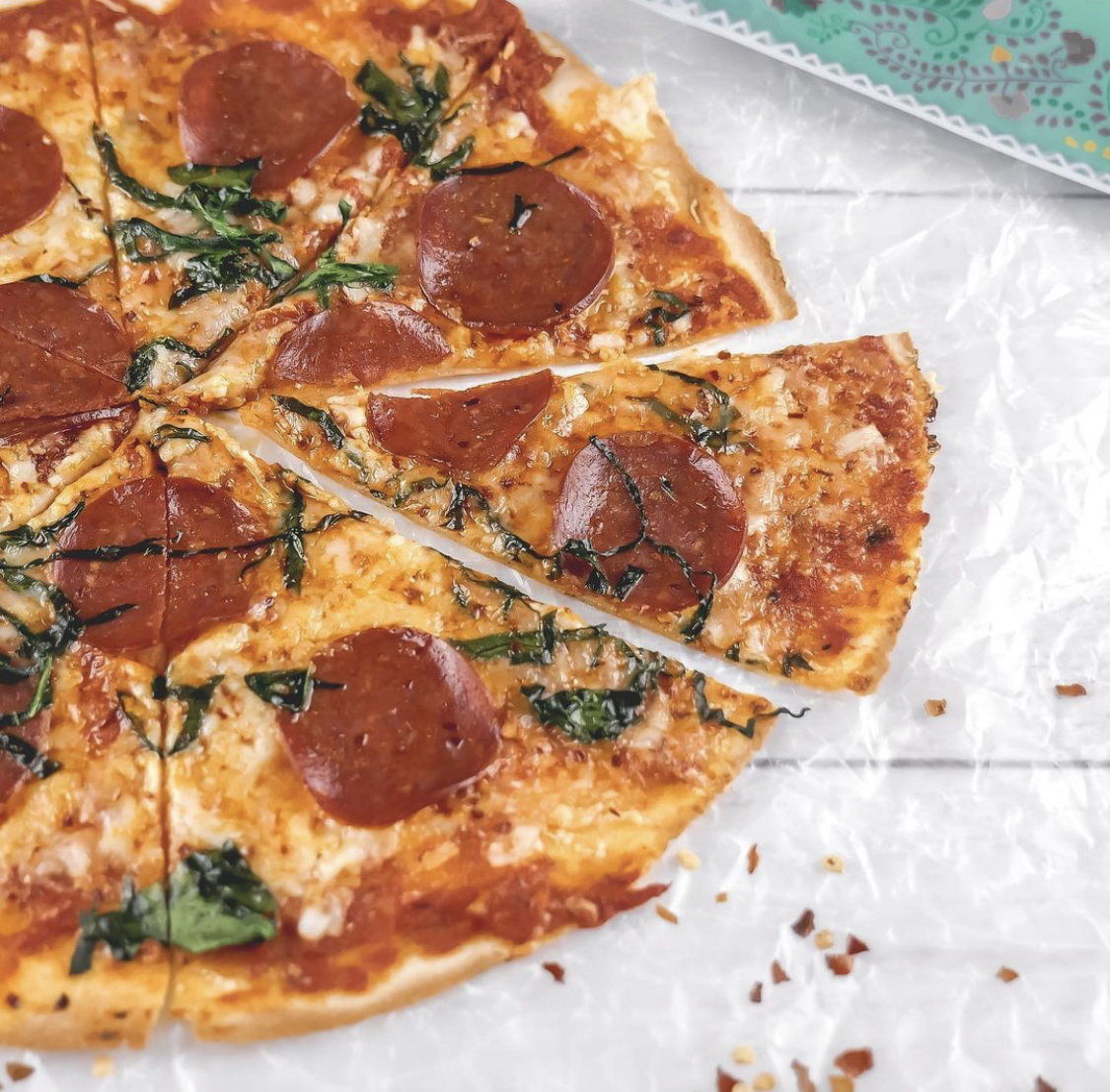 Ah, nothing beats waking up in Gainesville on the day of a Gators football game. The excitement, the energy, the rush to leave your apartment and the urgency to eat something satisfying yet light. Don't let the chaos of game days leave you forgetting to fuel your body. Instead, quickly whip up an easy cheesy pizza—or two or three—with this simple recipe. Get ready to take on those tailgates!
Ingredients: Tortillas, mozzarella cheese, pizza sauce, olive oil (preferably as a spray), Italian seasoning and toppings for your pizza — prosciutto on this pizza? An absolute game changer, just saying.
Directions: Preheat your oven to 450 degrees and line a baking sheet with tin foil. Spray olive oil to the baking sheet and place a tortilla on top. Build your pizza by adding a thin layer of sauce, a few dashes of Italian seasoning, hefty handfuls of cheese and your toppings of choice. Bake for about eight to 10 minutes and remove from the oven. Feel free to add any additional toppings—I usually bless my pizza with prosciutto at this point—before cutting your pizza into fourths. Now, enjoy your cheesy masterpiece before you say "cheese" in those game day photos.
1. Life Changing Lomo Saltado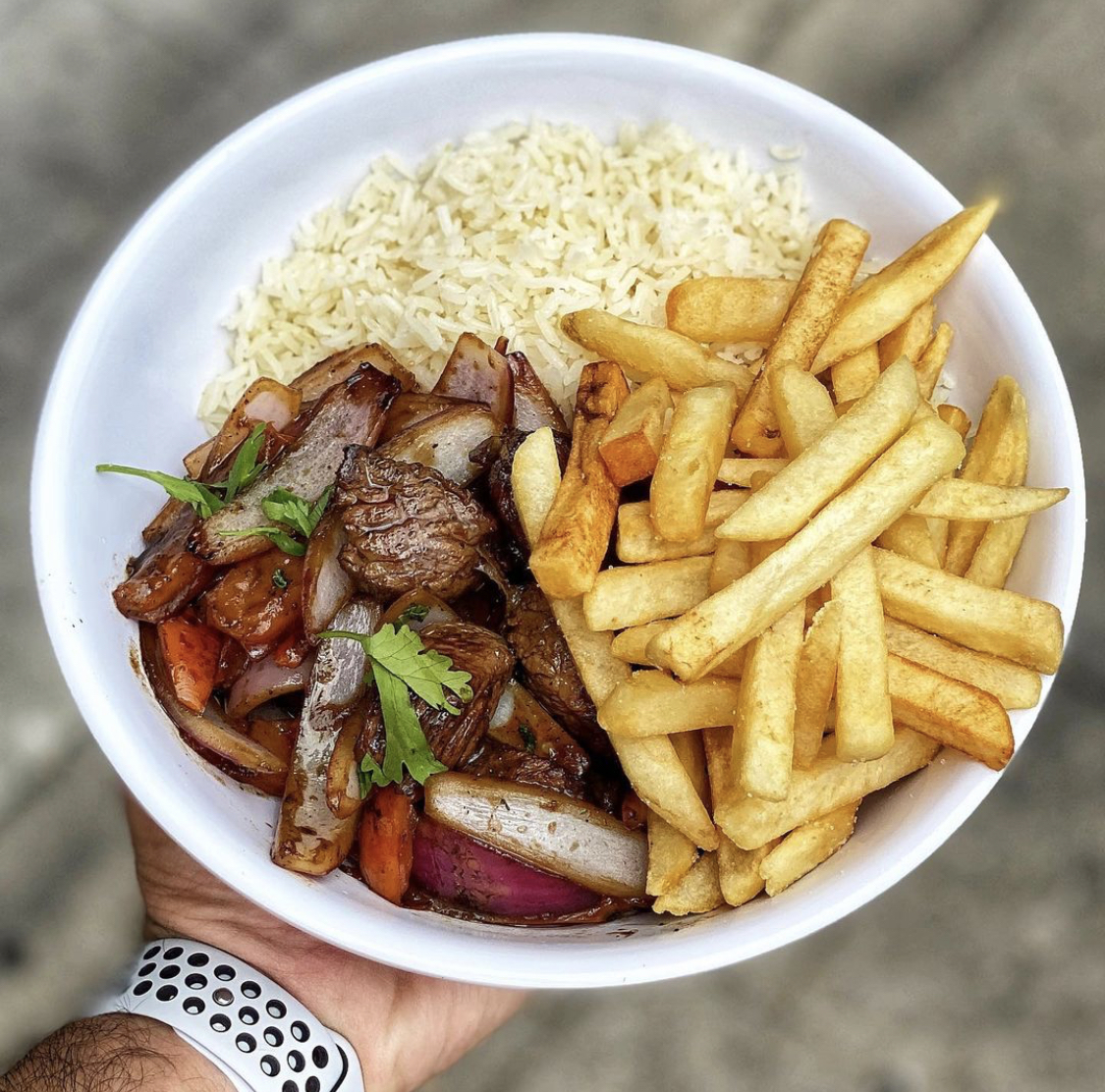 Do you get those moments where you crave a meal with a little extra spice than usual? Behold, the incredibly delicious lomo saltado! Reward your tastebuds with this Peruvian steak dish served with crispy french fries and aromatic jasmine rice. You really won't regret making lomo saltado once you taste it.
"For me, it's such a comforting dish," UF junior Valeria Cruise said. "It has so much flavor and is quite filling even in small portions, so I'll usually have food for several days."
Ingredients: Steak of choice sliced thin, one tablespoon of soy sauce, one tablespoon of white vinegar, about one teaspoon of garlic powder, salt and one red pepper. Also add one red onion, one tomato, olive oil, one tablespoon of butter, a handful of frozen french fries, one cup of jasmine rice and one and a half cup of water for rice.
Directions: Bake french fries in the oven according to package instructions. In a pot of boiling water, add rice and about one teaspoon of salt. Cover with lid then cook on low for about 15 minutes. Set aside when finished. On a dish, season meat with salt and add olive oil to tenderize the meat. While that sits, chop the onion, peppers (removing the seeds) and tomato into strips. Add olive oil to a medium to high-heated skillet and toss in your steak. Stir around the sizzling steak until it turns brown. Add the butter and garlic powder to further tenderize the steak.
Keep stirring until the butter melts, then add soy sauce and white vinegar. Turn heat to low and cover with a lid to allow steak to simmer. Add olive oil to another medium-heated skillet and toss pepper to cook for about four minutes. Toss onion and tomato in skillet and cook for about five to seven minutes or until onions turn translucent. After, combine vegetables with steak. Finally, combine all the components—the steak, rice and french fries—into one plate. Stand back to admire your beautiful creation before you mix the entire thing (yep, mix the fries with the steak) and devour it with passion and celerity.