That was quite possibly the best
Super Bowl
in the history of Super Bowls. Now that all the fanfare is over, only the city of Baltimore is still celebrating football-related things. Honestly, the game wasn't even close to being the main attraction last night. There were too many
awesome commercials, technical difficulties and bootylicious
concerts for football to stand a chance of capturing our attention. These are our top non-football-related Super Bowl XLVII highlights:
1.) Destiny's Child Reunion
Any child of the 90s instantly became a screaming preteen girl when
Kelly Rowland and Michelle Williams joined Beyonce
on stage during the halftime show. Sure, Rowland and Williams were nothing more than Ms. Knowles' backup dancers and singers. But watching them do the "Single Ladies" dance together just felt right.
2.) Everything Else About The Halftime Show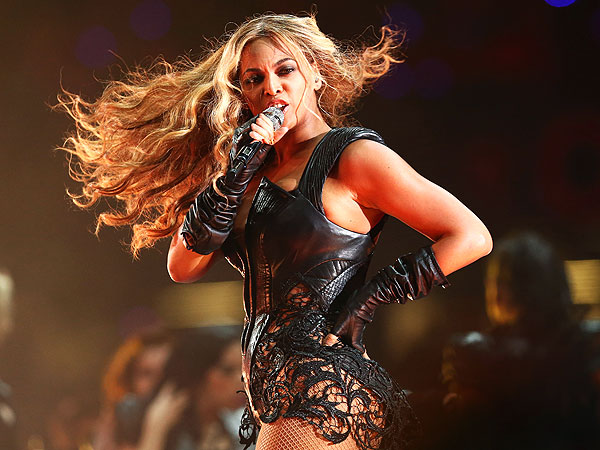 Beyonce is perfect.
It's one of the few things men and women can both agree on with few arguments to the contrary. Her performance was just as amazing as it was expected to be. It wouldn't have shocked anyone to see a Raven or 49er in the front row. There have to be some perks of making it to the Super Bowl, right?
3.) The Puppy Bowl
Animal Planet hit a jackpot of cuteness when some mad genius decided to
put puppies on a field and have them run around
for our amusement. Between the puppies, hedgehog cheerleaders, Meep the tweeting bird and the all-kitten halftime show, Puppy Bowl 2013 wins the award for Most Necessary Ruffness.
4.) Super Bowl Blackout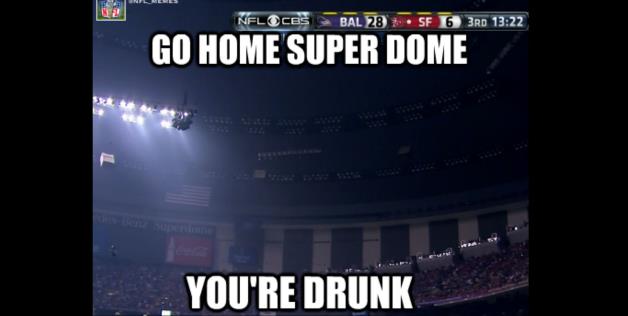 This was absolutely unacceptable, except that it turned out to be so damn entertaining.
Social media exploded with blackout jokes
during the 34-minute delay. It also happened to be the turning point that allowed San Francisco to regain its composure. Well-played random Cal Tech engineer who was trying to help his or her 49ers.
5.) Best Buy's "Asking Amy" Commercial
Amy Poehler is on a hot streak, going from a hilarious Golden Globes hosting gig to this gem of an ad. It's always fun watching
Poehler flirt with Best Buy employees
while sort of showing off its products. Amy: I would read "50 Shades of Grey" in a sexy voice for you.
6.) Jim Harbaugh's GIF-Worthy Tantrum
I honestly don't remember the circumstances surrounding it. The GIF speaks for itself.
7.) This Moment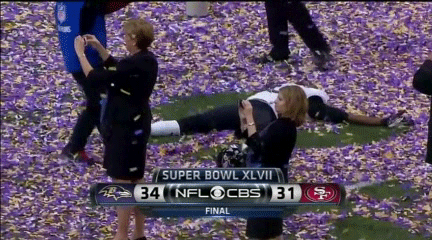 Everyone should celebrate a Super Bowl victory by making confetti angels. It's not exactly classy, but it gets the point across.
8.) Mercedes-Benz "Soul" Commercial
Willem Dafoe's face is scary enough to make us believe he's the devil. Kate Upton is hot enough that she could have sold a few cars without the use of the "sell your soul to pay for a Mercedes" concept.
Mercedes' marketing team can feel like Don Draper
for a night thanks to this well-crafted, star-studded advertising success.
9.) Ray Lewis Rides Off Into The Sunset
You have to admire Lewis. The man casts an aura of toughness on the field, yet he has no problems letting the world watch him cry with elation.
No one sells genuine emotion like number 52.
The league will miss his leadership and ferocious play. Oh, and his dancing skills.
10.) Mini Riot in College Park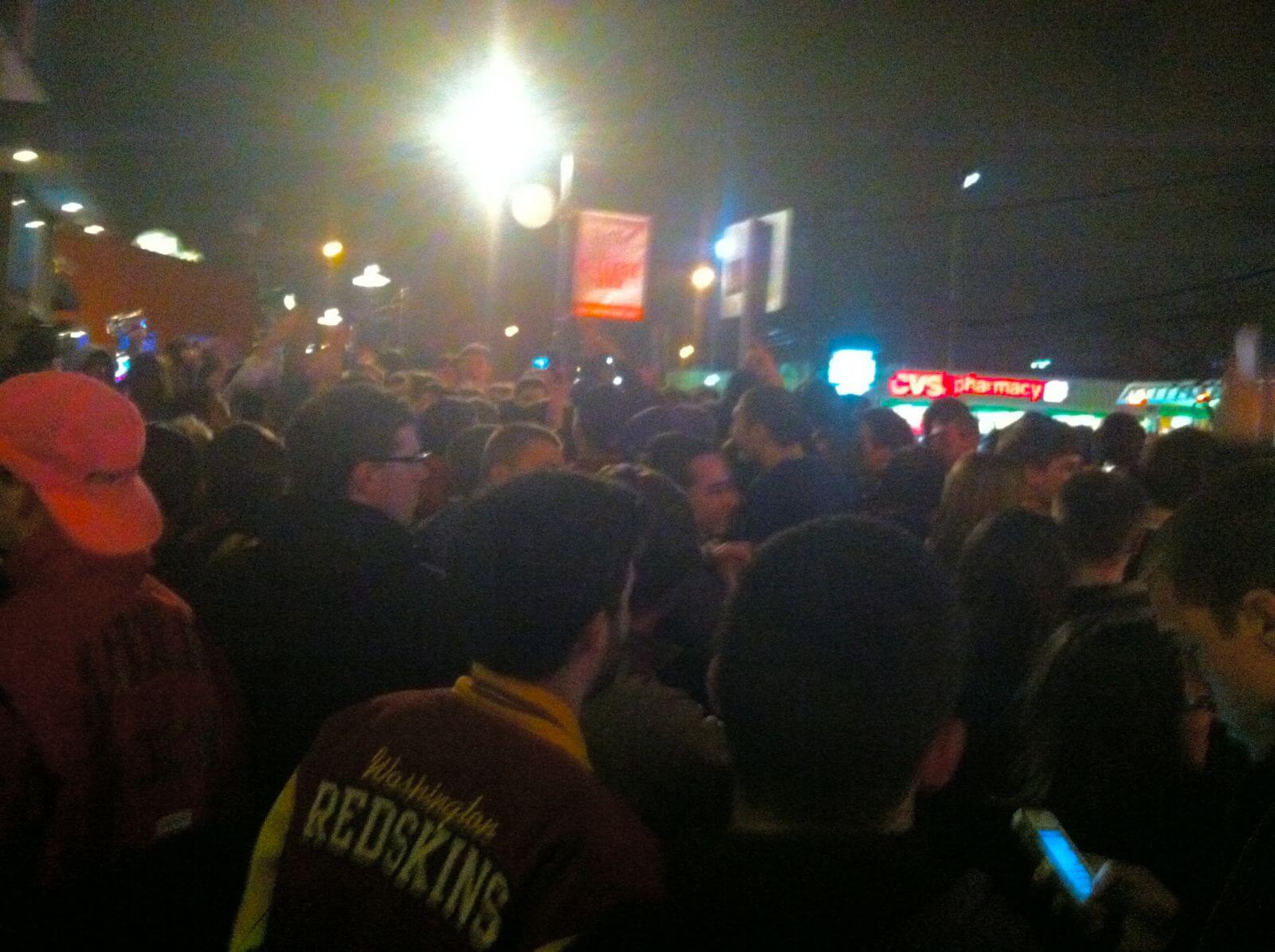 The University of Maryland has been known to go crazy when we, say, beat Duke at basketball. That one ended in over 20 arrests and a decent amount of campus destruction. A
Ravens Super Bowl win only got a few drunk fans
jumping and screaming outside Cornerstone Grill & Loft on Route One. We can do better than that.
Photo: at ryanseacrest.com