Whether you're just hanging out with your friends, hitting up the local bar or partying in Frat Land, you're bound to get the late night drunchies. State College is filled some gems that every Penn State student should check off their list. Now, get to snacking.
10. Canyon Wings
Canyon is the only place where you can order a boner for those crazy late nights–I'm talking about their wings, called boners. Canyon Wings is a great spot to get your wing fix. It's only a plus that this food joint is close to campus and open until 3 a.m. on the weekends. So if you're coming from party in Downtown State College, make sure to check out Canyon Wings. You won't regret it.
9. Big Bowl Noodle House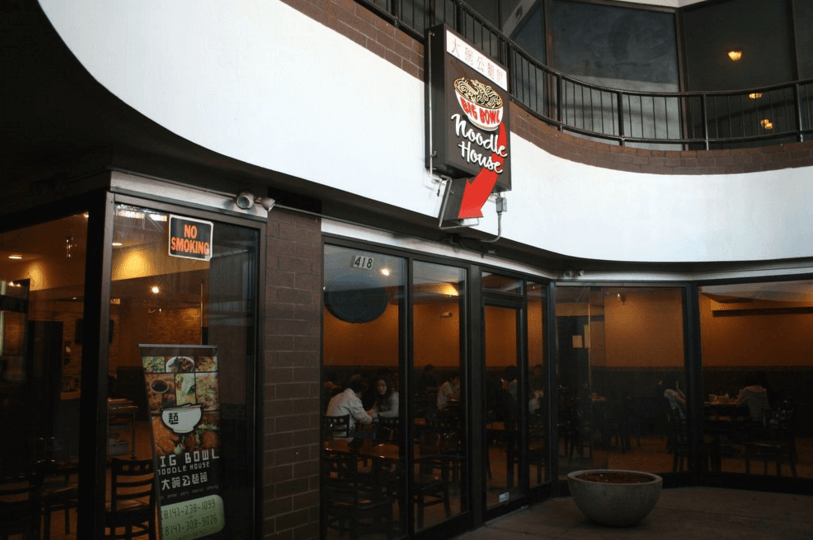 This amazing place probably wouldn't be your typical late night meal due to the fact that it closes at 10:30 p.m. on the weekends. But our list wouldn't be complete without mentioning Big Bowl. Let's be honest, sometimes Penn State students party a little bit earlier in the evening or participate in some, uh, "day long" activities, so why not stop by and grab a great meal? Big Bowl has the best Chinese food in State College–proven by the fact the restaurant is never empty.
8. Sheetz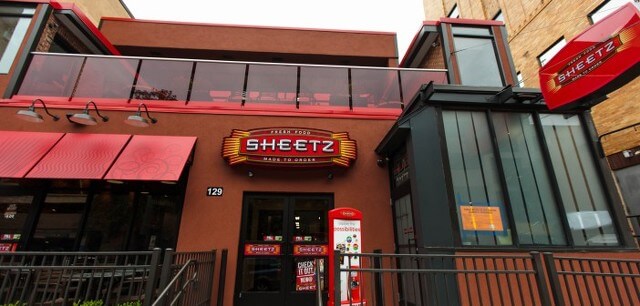 Known for their made-to-order service, Sheetz is a Pennsylvania gem. There are several locations throughout State College, but the Sheetz on Pugh Street is closest to campus. Sheetz has everything to satisfy your fried food tooth. You can order burgers and fries, wraps, smoothies and hot and cold sandwiches. A true must-try are the Shwingz–their name for chicken wings–with seven different sauce options.
7. Jimmy Johns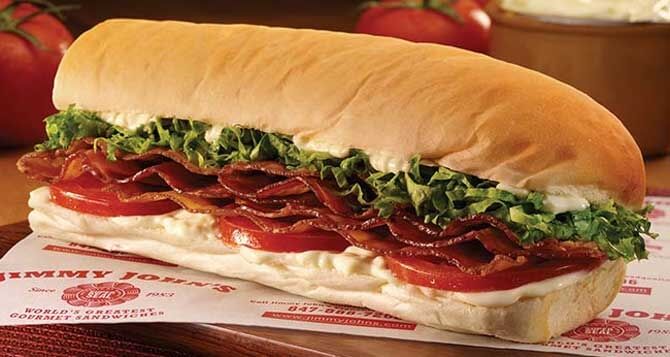 Jimmy Johns is the place to go if you have a taste for gourmet subs before 3 a.m. If you're ever hungry but don't feel like hurting your wallet, literally run here. Jimmy Johns is located on College Ave, right behind South Halls. And if you order delivery, don't be surprised if you see your godly sub arrive on a bike instead of by car.
6. DP Dough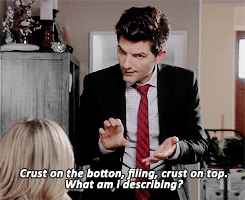 DP Dough isn't your ordinary pizza and wings stop. They're known for their excellent selection of calzones, otherwise known as more convenient pizzas. If you're craving something meaty and cheesy, then make DP Dough a serious option. They even have meatless 'zones for vegetarians. Just be sure to visit before 3:30 a.m.
5. Are You Hungry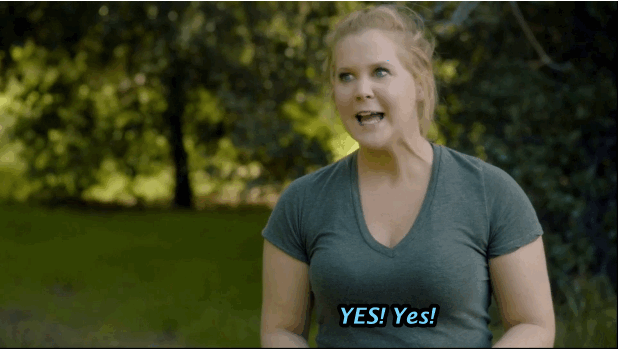 The name speaks for itself. If you happen to be hungry before 3:45 a.m., stop by and try a Fat Bitch or a Fat Blunt or maybe a Fat Ass–all delicious sandwiches with unconventional ingredients like pork rolls, mozzarella sticks and mac n' cheese bites. Don't worry if you happen to be vegetarian. Are You Hungry also offers a Fat Veggie Cat, for those of the non-meat persuasion. Their X-Tacy Fries are also a must have. Cooked to perfection and topped with cheddar cheese, bacon and ranch, your first bite will truly take you to ecstasy.
4. Wings Over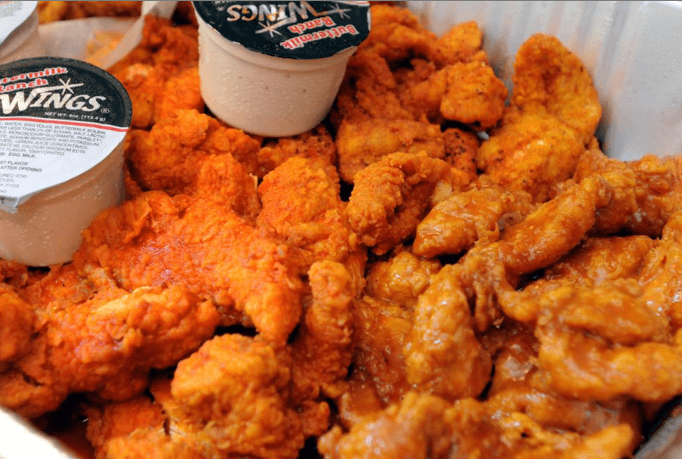 If you're in the mood for some of the best wings, Wings Over provides fresh hand battered regular and boneless wings until 3:30 a.m. Wings Over also has amazing deals like the Hang Glider and the Hangar 1. The Hang Glider gives you a half-pound of boneless wings with a small fries and a drink. If you're really hungry, the Hanger 1 is even more intense: a pound of boneless wings with a small fries and two drinks. You're welcome.
3. Gumby's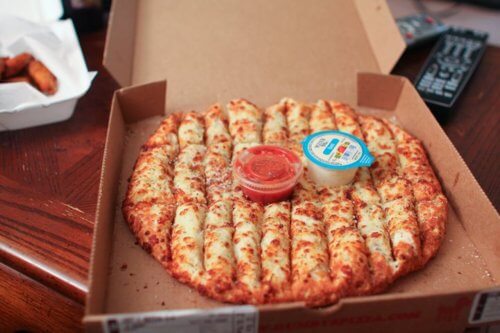 You're about to read the two words that truly are music to Penn State students' ears: Pokey Stix. Pokey Stix are basically garlic buttered cheesy bread taken to the next level. You can add as many topping you would like on your order. They have the typical meat and veggie toppings as well as a large selection of dipping sauces. Seriously, Pokey Stix will be the best choice you make since coming to PSU.
2. Canyon Pizza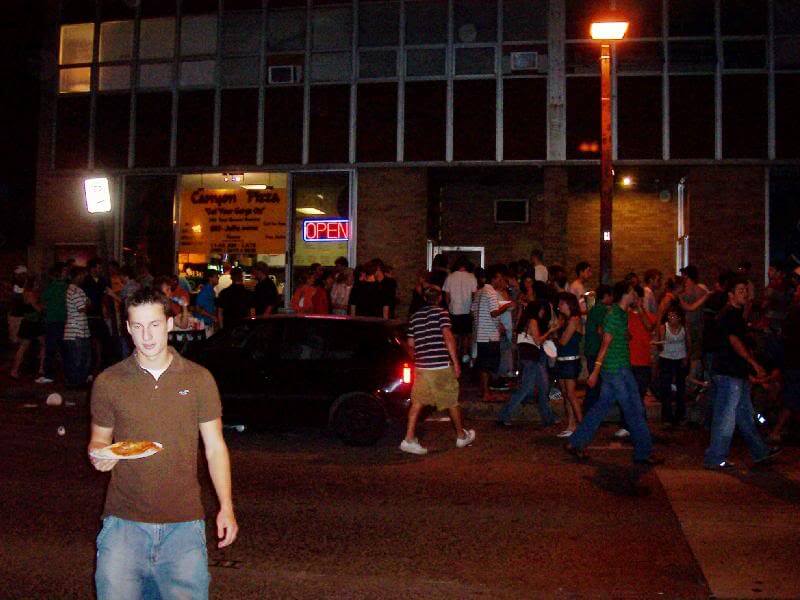 Most PSU students agree that Canyon Pizza is an absolute steal. Where else can you get a slice for just 1 dollar or an extra large pizza for 10? If you happen to go between the hours of 12 a.m. and 4 a.m., don't be surprised if the store is packed. The line is sometimes out of the door, but it's worth the wait.
1. Ken's Best Wurst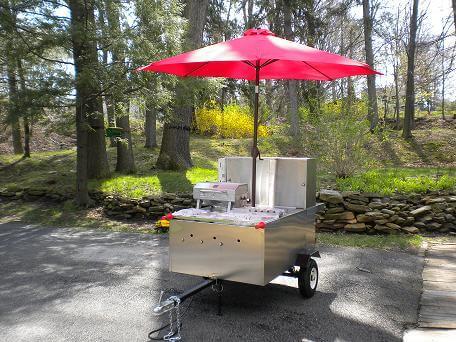 Penn State students love Ken's Best Wurst so much that he's been featured on Onward State. He also became the subject of a Penn State student's short film for the College of Communications. Ken sells hotdogs from 10 a.m. until 3 a.m on Tuesdays, Thursdays, Fridays and Saturdays. His cart is located in the Garner Street Parking Lot, which is right across from the Lion's Den Patio. You know a star like Ken really will have the best Wurst around.