From Chinese dumplings to avocado wraps and fried goodness, UW-Madison doesn't disappoint visitors or students in its food cart variety or quality. With dozens of carts from Library Mall to the farmer's market, these delightful bites add to the culture and excitement that every Madison dweller experiences when meandering through campus and downtown. Madison's beloved food carts act as the perfect grab-and-go pit stop for any weekday filled with classes and are priced for a college student's budget.
1. CARACAS EMPANADAS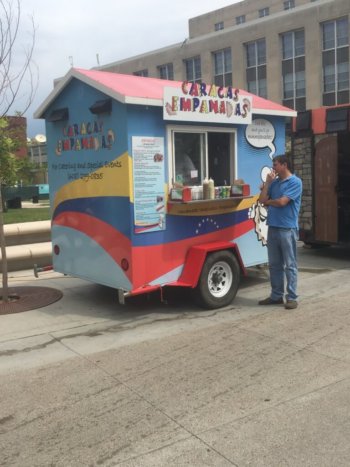 Affectionately known across campus as the friendly empanadas guy, both Luis' reputation and food have made a huge impact on the Madison campus. "Luis is the man," UW-Madison graduate Jed Steliga said of the Caracas Empanadas owner. With breakfast empanadas on Saturdays at the farmer's market and an assortment of meat and veggie empanadas during the weekdays, this cart knocks it out of the park with their delicious food and special sauce. "The guasacaca sauce is literally the best. For a while I would take it home and put it on other meals," Steliga said. Equipped with the secret sauce, friendly service and amazing food, Caracas established itself as a Library Mall cart staple.
2. GOOD FOOD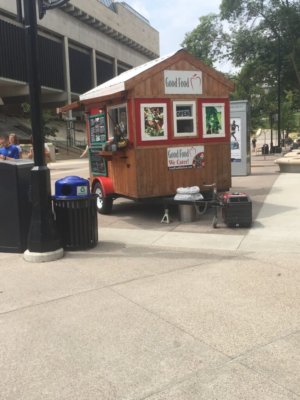 Looking for Good Food? Well here is it, literally. Good Food raises the standard for healthy food. Serving wraps and salads with quirky names and fresh ingredients, you'll always find a line out the window of this bad boy. But the wait sure is worth it for the ever popular Sweet Thai Chili wrap. "I get the Thai wrap for lunch; it is the perfect size, and they make them so quick. I'm always craving something savory, and this is my go to," junior Owen Desai said. With everything from "Pardon my Pesto" wraps to "Sweet Potato Pleasure" salads, Good Food has delicious and nutritious options when you need a quick lunch on the way to class.
3. FRESH COOL DRINKS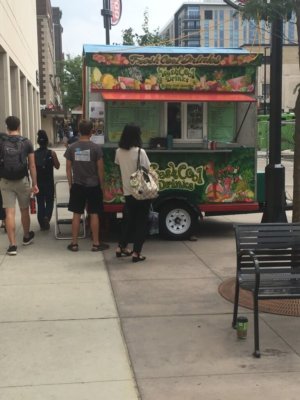 For a lunch and a smoothie that pleases your appetite, wallet and calorie count, stop by the Fresh Cool Drinks cart. "I always get an avocado spring roll. It's cheap and tasty and fills me up for hours, but I also feel pretty healthy eating it," junior Kelly Landry said. With peanuts right inside the wrap and deliciously spicy sauce to go along with it, the avocado wraps entice everyone. Be sure to grab one, but be warned, you won't make it home without someone asking where they can get "one of those avocado things."
4. HIBACHI HUT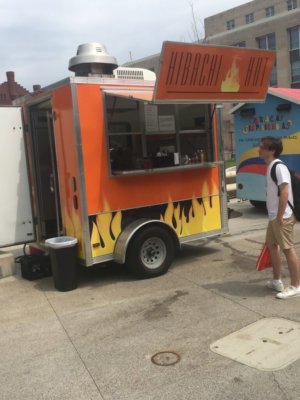 You can't walk past this cart without stopping. From the orange, flaming exterior to the delicious smells hovering around it, Hibachi Hut is definitely a must try on the list of food carts in Madison. With options ranging from a steak hibachi meal to teriyaki chicken a la carte, Hibachi Hut is fire. "I eat here all the time, and I try to order new things because literally everything I get here is delicious. The steak hibachi is my favorite, but honestly, you really can't go wrong here," sophomore Corey Smith said. With egg rolls, rice and a drink on the side of a meal option, this cart gives you an entire meal of hibachi goodness for around $8.75.
5. FRIED AND FABULOUS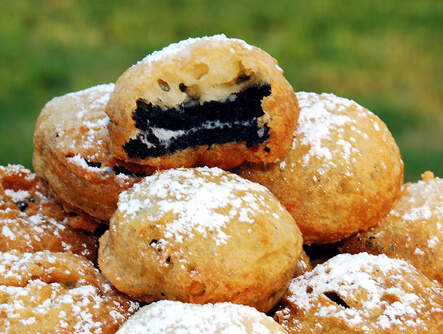 A true Midwestern delicacy, Fried and Fabulous serves up some seriously delicious fried goodies. From fried cookie dough balls to the old classic cheese curds, F&F is sure to blow you away. "I love all things fried, and this cart is the place for that. The cheese curds are a perfect snack to eat while you walk around the farmer's market on Saturdays," junior Kylee Mosehart said. Fried cheese on Wisconsin football Saturdays? The only thing missing from the Fried and Fabulous Midwestern piece of heaven is a pint of beer.
6. BULGOGI KOREAN BURRITO
This Korean fusion cart offers select options, but quality over quantity, am I right? Bulgogi Korean Burritos fills each taco or burrito with bursts of flavor in their steak, chicken or tofu topped off with an Asian garnished salad on a tortilla. Bulgogi quickly become a favorite amongst Madison students. "My favorite thing here is their Bulgogi burrito and salad, especially with the right amount of hot sauce," UW-Madison alumna Tommy Yonash said. With vegetarian options, spicy meats and plenty of flavorful vegetables, these savory burritos make any post-class lunch a better experience.
7. SAIGON SANDWICH
Located in front of the business school, this cart wins the stomachs of the bright students here at UW Madison for every reason in the book. Saigon Sandwich serves Vietnamese bahn mi sandwiches with a huge option of meats, vegetables and drinks. "It's just ridiculous. These sandwiches aren't like typical subs. They are so different and delicious. The Vietnamese fusion flavors are spot on, and their lemonade goes great with everything," UW-Madison alumna Alyssa Johnson said. Sandwiched between a toasted baguette, these bahn mi options with meats like pork brisket serve up some major flavor outside of the b-school.
8. TOAST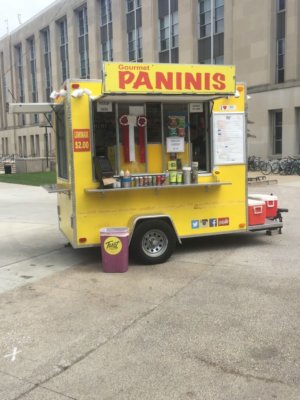 Cooking up the ultimate comfort food with options to please everyone, this panini cart has made quite the splash on the Madison food scene. Toast serves paninis with unprocessed ingredients and a variety of options of meats, cheeses, vegetables and more all served on massive hoagie rolls. "I always get the build my own and put turkey, mozzarella, onions and mayo on it, but you could literally get anything there and it would be good," junior Katie Silasiri said. You'll be daydreaming about grill marks and toasted hoagies for days afterwards, that's for sure.
9. UMAMI BUNS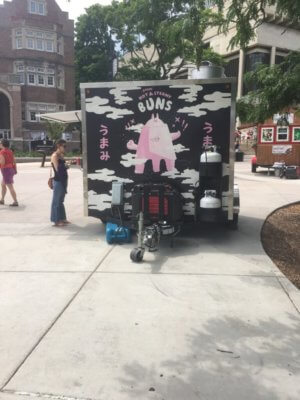 This happy cart, proudly featuring smiling Chinese dumplings and fluffy clouds, draws in almost anyone who walks through library mall during lunch time or around the square during Wednesday night concerts on the square. Umami Buns creates a unique combination of Japanese noodles and Chinese dumplings. "The pork belly bun is so good. I am literally always craving it since the first time I tried it. 10 out of 10 would recommend," senior Ashley Schultz said. With tofu, pork, chicken and many more options for buns, as well as edamame and soup sides, the happy people and food makes everyone's bellies happy too.
10. CALI FRESH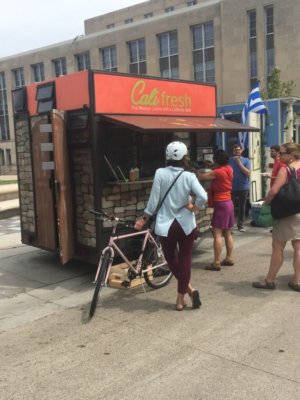 With plenty of options for all tastes and preferences, Cali Fresh provides crisp vegetable choices every day. "I go there all the time because they have really good vegetarian options. I always get vegetarian tacos from the lady that works there. She's so friendly," junior Alexis Wells said. When you can get a taco and large side of rice for just $4, Cali Fresh proves itself as the ultimate lunch stop for any thrifty college student looking for cheap but savory eats. From tacos with rice and beans to quesadillas and burritos, the Californian-Mexican food inspired cart spices up the weekday lunch game menu.