Everyone feels the need to protect the planet in 2019. According to NASA, the five warmest years on record took place from 2010 to now; Greenland lost an average of 286 billion tons of ice per year between 1993 and 2016 and global sea levels rose about eight inches in the last century. We need to act now, especially on campus. Through conserving waste and pollution, we can help save the environment and improve our quality of life. Consider what your college does to help future generations through sustainable practices. From eliminating plastic trays to using renewable energy, these 10 college campuses demonstrate their dedication to our Earth. These schools provide the best environmental science programs, recycling initiatives and sustainable transportation options. Every other college could stand to learn a thing or two from them.
Ready to get to class fast and sustainably? Check out the Wolf RX-50, the most college-friendly, affordable and awesome motor scooter.
Go green at one of the top 10 environmentally friendly colleges in 2019!
10. Pennsylvania State University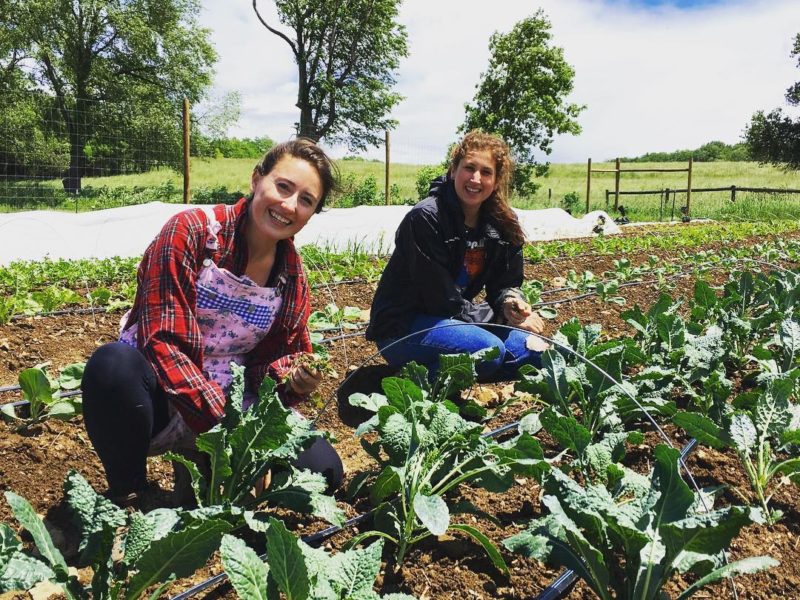 Lead the way in sustainability at Penn State. This campus prides itself on integrating environmental practices into the school's research, education and everyday operations. Penn State's Sustainability Institute outlines 17 development goals from reducing hunger and providing clean water to practicing responsible consumption. "You can really see how the school practices their sustainable goals with the policies they set in place," said Penn State freshman Zach Bailey. The Sustainable Communities Collaborative allows faculty and students to address environmental challenges in the area by planning projects like building watersheds and planting gardens. Want to learn as much as you can about how to make an impact? Penn State offers multiple majors in environmental studies, including sustainability leadership, forest ecosystems and energy engineering. Students can practice sustainable transportation options every day, like scooting to class with 16 designated parking areas and a $62 parking permit.
9. Michigan State University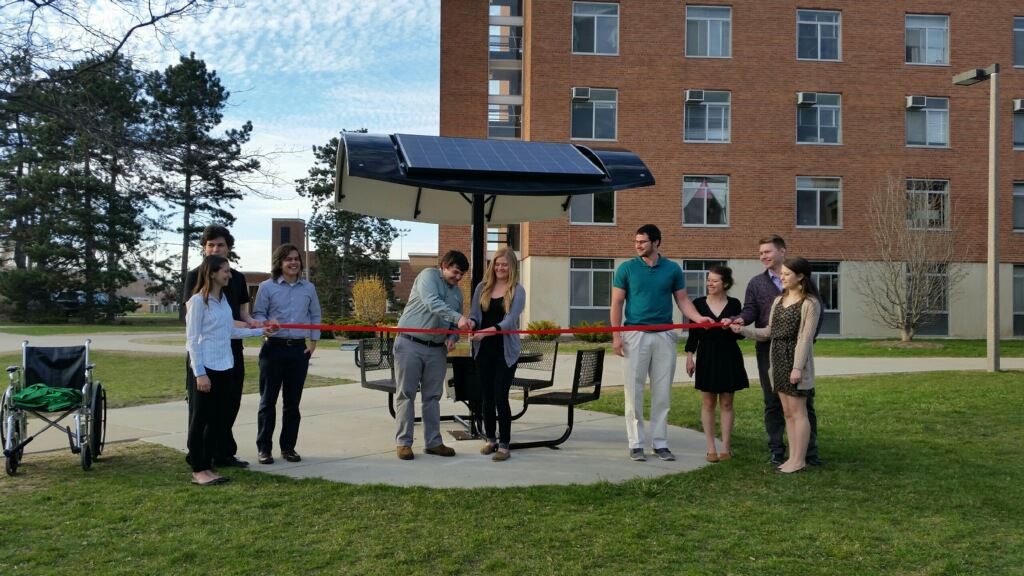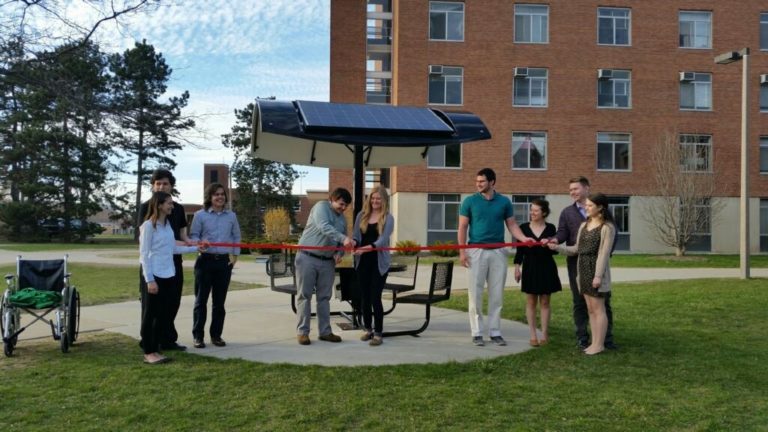 Michigan State wants its students to make it to class on time without all the exhaust gas that comes with driving. With over 80 parking lots for scooters and a permit that only costs $50 a year, riding a scooter to class will save you both money and carbon emissions. You can easily navigate campus and the surrounding residential streets. Not to mention there are four awesome scooter stores nearby for tune-ups. The Bike Services Center also offers bikes to rent, buy or repair. Beyond transportation, MSU makes saving the planet easier than ever with recycling stations in residence halls and a Recycling Center. That helps the campus divert thousands of tons of material per year from landfills. The EPA recognized MSU with the Green Power Leadership Award at the 2018 Renewable Energy Markets Conference for using renewable energy resources such as wind, solar and geothermal energy. The school's student environmental organization, Sustainable Spartans, organizes projects like free bike repairs, potted plants and even installed a solar-powered picnic table. MSU's campus provides an environmentally friendly space and it continues to improve each year.
8. University of Arkansas
The University of Arkansas plans on becoming completely carbon neutral by 2040. How? In the next two years, UA plans to cut waste by 50 percent and reduce greenhouse gas emissions. The Office of Sustainability encourages zero waste at campus events and lets students borrow the necessary receptacles. UA's three sustainability centers around campus are committed to environmental research and education for students. The school also competes in the nationwide RecycleMania competition where the student body recycles over 240,000 pounds of material each year. "The students here care about the environment so much more than I have ever seen before," said UA junior Amanda Hollis. Many students join in on reducing gas emissions by opting for scooters over cars. With comfortable temperatures and residential streets, students can ride their scooters around Fayetteville all year. And UA makes it possible by providing 27 different parking places just for scooters.
Ready to get your first scooter? Check out Wolf Scooters—the most sustainable, affordable and fun option for students!
7. Florida State University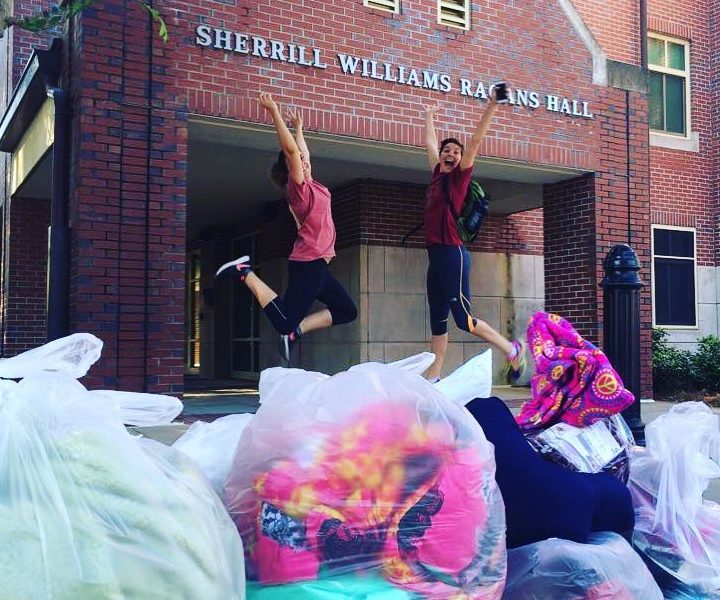 When it comes to recycling and waste diversion, FSU practices the type of eco-friendly policies that every campus should model. Ninety-five percent of FSU's buildings include recycling areas and they cut their waste production in half over the past several years. The dining halls don't use Styrofoam or plastic trays, and they recycle just about every type of material possible, from glass to plastic to clothing. FSU cares about teaching its students sustainable practices, which is why they have numerous courses in environmental sciences and the economics of sustainability. The large campus offers 40 different parking places just for scooters so you can scoot to class and reduce carbon emissions at the same time. With six scooter stores located near the campus, you'll never worry about getting it fixed, either. The campus also supports sustainable transportation with buses, taxis and a bike-sharing program called ReCycle. This bike rental program lets students rent a bike for a single semester or even the whole year. With so many green initiatives, FSU certainly encourages others to make a positive environmental impact on the world.
6. University of Kentucky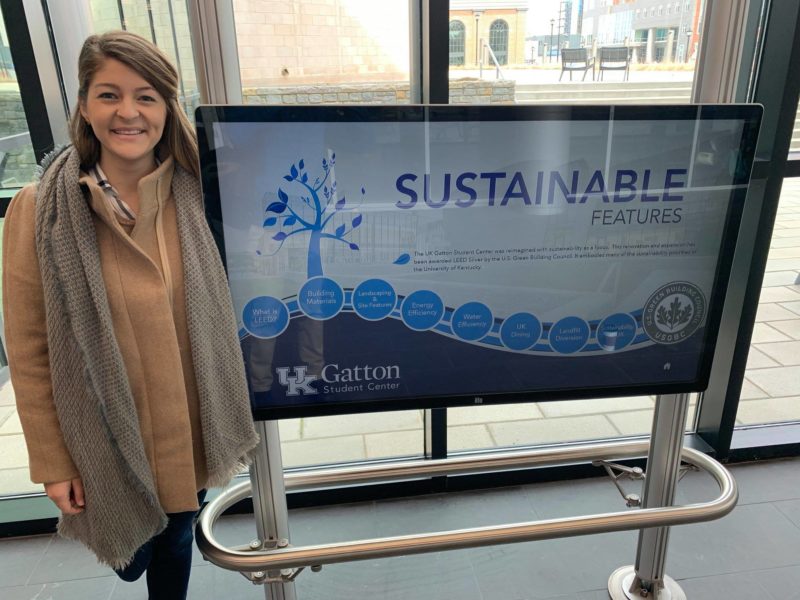 Sustainability at the University of Kentucky starts with an often-overlooked issue: preventing food waste. UK Dining conserves energy and water and got rid of plastic trays. UK Dining Sustainability also hosts an event called Weigh Your Waste, which tracks the amount of food waste each semester from students during lunch hours to encourage students to prevent food waste. If you think UK Dining has done enough for the planet, think again. They even take their leftover fryer oil and convert it into biodiesel fuel! Campus Kitchens at University of Kentucky (CKUK), a student-led organization, recovers leftover food and provides meals for the less fortunate. This reduces waste while also feeding the hungry. Interested in reducing carbon emissions around campus? UK provides more than 40 parking lots just for scooters and all it requires is an $88 permit that will last you the whole year. UK provides natural resources and environmental science majors for those who want to learn even more about saving the planet.
5. Dickinson College
Dickinson College has made mega strides in becoming a green school, from developing its own organic farm to recycling students' unwanted items at the end of each semester. The Center for Sustainability Education (CSE) provides opportunities for students to learn about sustainability practices through the Sustainability Internship Program as well as advanced courses offered on environmental science. "The smartest sustainable practice at this school is the organic farm. It's also my favorite," said Dickinson sophomore Ellie Brent. The Dickinson College Organic Farm brings in fresh produce for not only the dining services on campus but also for local restaurants. And the dining hall isn't the only place reducing waste. The Treehouse, also known as the first LEED-Gold residence hall in Pennsylvania, creates community and promotes sustainable living by using little energy and providing high air quality. As far as sustainable transportation, the CSE created a bicycle co-op where students can pick from salvaged and donated bicycle parts to repair and maintain their own. Dickinson recycles 150 tons of waste and hosts a U-Turn sale at the end of each year where students can give away their unused or unwanted clothes and furniture. It goes to show that no matter how small you might be, you can make an incredible difference in the world.
4. Colorado State University
The CSU community believes that sustainability is an ongoing commitment to protect our world. Students can choose from 962 courses related to sustainability, from environmental engineering to global and sustainable business, because CSU wants to not only practice eco-friendly policies, but also to teach them to the next generation. Aside from class, CSU makes recycling easy for students by placing countless recycling bins across campus. As far as practice goes, the school managed to divert 93 percent of its waste from dining halls and cut water use by 24 percent despite growing in both student population and campus size. CSU is striving to function completely on renewable energy by 2030, and they're not stopping there. CSU has also set the goal to be carbon neutral by 2050. Half of the CSU students and faculty use eco-friendly forms of transportation like scooters, buses and bikes to travel around campus. With over 16,000 bicycle parking spaces and several bike repair shops right on campus, you'll be glad you chose sustainable transportation instead of driving in traffic trying to make it to an early morning lecture. VanGo and Zipcar are two other options where you can carpool or rent a car for a short period of time.
3. American University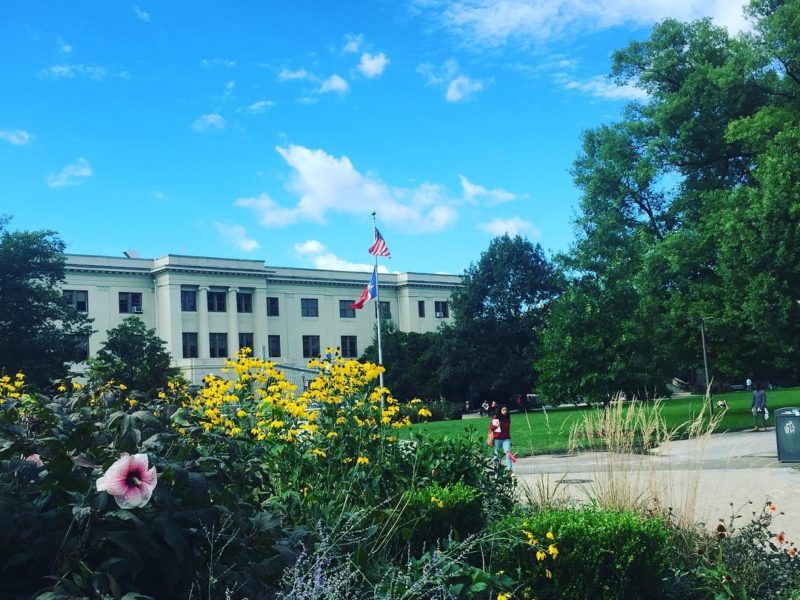 American University in Washington, D.C. became the very first and largest urban campus and research university to achieve carbon neutrality—and it happened two years earlier than planned. Through planting thousands of trees on campus, using solar energy and avoiding waste, AU successfully reduced its footprint on the Earth. This accomplishment seems even greater when you consider its crowded location in our nation's capital. The campus recycles anything you can imagine from food to paper towels to furniture, and eliminated the use of water bottles and food trays completely. Eighty-four percent of AU students choose sustainable transportation, like scooters, bicycles and shuttle buses that run entirely on biodiesel fuel. AU chose to become a leader in eco-friendly practices and living an environmentally friendly lifestyle, and it shows.
2. Texas A&M University
Aggies at Texas A&M don't hesitate to get involved with preserving the environment. University Dining serves up organic produce from local farmers' markets, plus they recycle cardboard, paper, aluminum and cooking oil. TAMU placed recycling bins in 11 of the residence halls and 140 other campus buildings. Altogether this campus recycles about 60 tons of material each month. "With recycling bins all around campus, I feel like I'm doing my part for the environment just by throwing in a plastic water bottle," said TAMU freshman Caleb McKinley. The campus's landscape makes it easy to practice eco-friendly transportation and scoot to class. With 22 parking places reserved just for scooters and flat residential streets, enjoy your ride to class in the sunny weather. "Riding a scooter to class is so much better than driving because the parking lots are so much closer to the buildings than the parking garages," said TAMU sophomore Makayla Morris. Want to get actively involved? For the past 11 years, TAMU has hosted a Campus Sustainability Day in October. Over 25 different organizations come together to teach and empower students to become eco-friendlier when it comes to the environment and the economy.
1. Colby College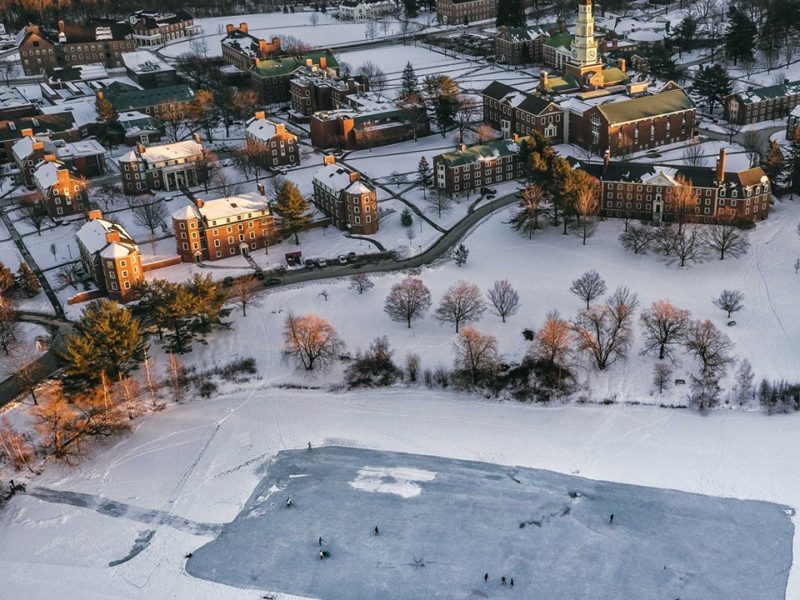 Colby College commits itself to the environment year after year, and its long list of sustainable accomplishments clearly outshines every other school. The campus became carbon neutral two years earlier than planned and instituted effective sustainability programs on the campus. The RESCUE initiative, which stands for Recycle Everything, Save Colby's Usable Excess, encourages students to recycle their unwanted clothes and furniture to the RESCUE store at the end of every school year. From 2007 to 2010, Colby finished first in the EPA's Green Power Challenge. Since 2007, the school produces Green Graduations to reduce energy and landfill waste by using low-impact decorations, gown recycling, and reducing electricity, plastic and paper use. Students started the Environmental Advisory Group (EAG) in 2000 to advise the school's president and the campus community on green initiatives. Trying to save money and the environment at the same time? Colby College provides multiple ways to travel sustainably to and from campus. These include a shuttle bus, a free student-driven taxi service, car-sharing programs like Rideboard and ZipCar, and an iBike program that offers free bike loans to students. This school bleeds green and that only scratches the surface of the positive impact they make on the environment.
Now that you're on an environmentally friendly campus, check out your local scooter dealer so you can join the sustainability momentum. Learn about reducing your carbon footprint with quality and affordable scooters like The Wolf RX-50, Honda Ruckus and Wolf Islander, which top our list of best scooters for students.
This article is sponsored by Wolf Scooters.