What is the best part of living in New York City? The food. Without a doubt. As an international hub, NYC has more to offer in the category of food than one could imagine—and it's all good. And sadly, as a college student, it's not easy to have the best of the best when it costs an arm and a leg. We just want to experience New York's deliciousness without breaking the bank.
1. San Marzano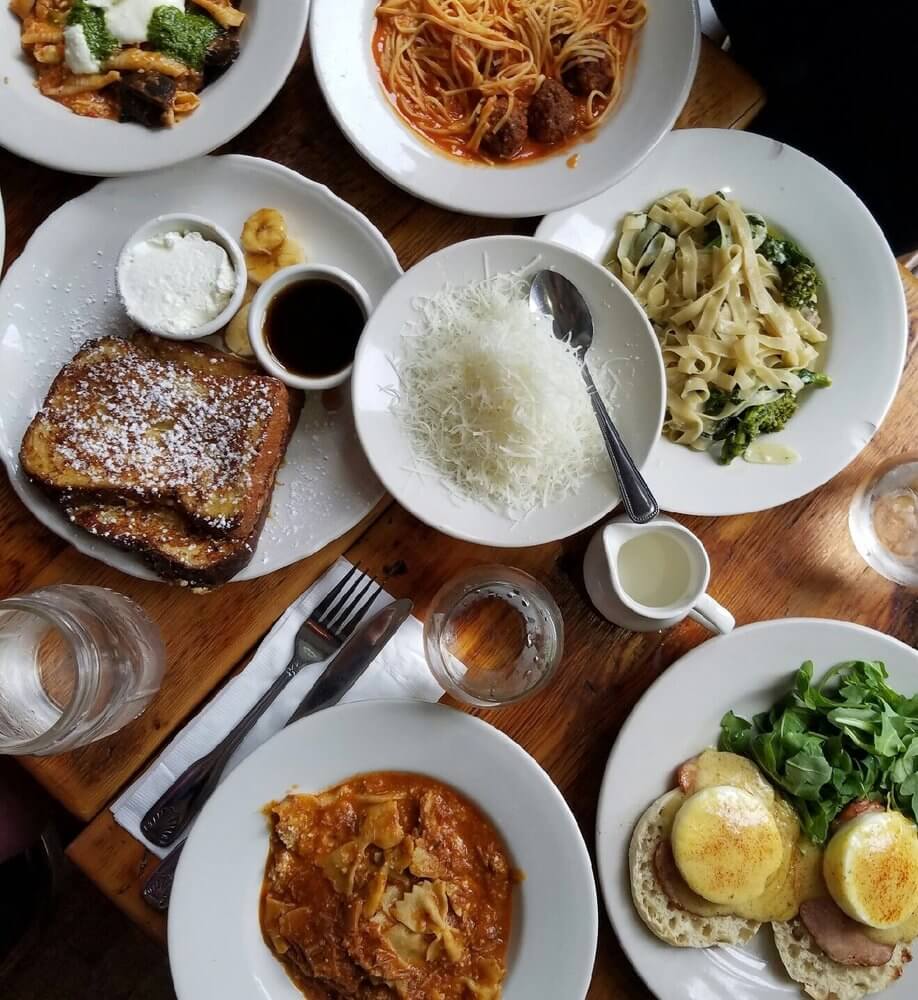 This Italian joint hits a nice chord of affordable yet superbly delicious in all the right places. Located on the corner of E 7th St. and 2nd Ave, San Marzano offers $9 homemade pasta dishes with a rustic ambiance. Their pesto pasta is made from heaven, but all their sauce options will have you floating in heaven. If that's not enough to entice you, they also offer a refreshing $15 handle of peach and apple sangria—you cannot go wrong here. NYU Junior Abbey Robbins said, "Their brunch is very good and great for weekend outings with friends. Also bottomless mimosas!" This place will have you going back, not just for one dish, but for all of them.
2. Veselka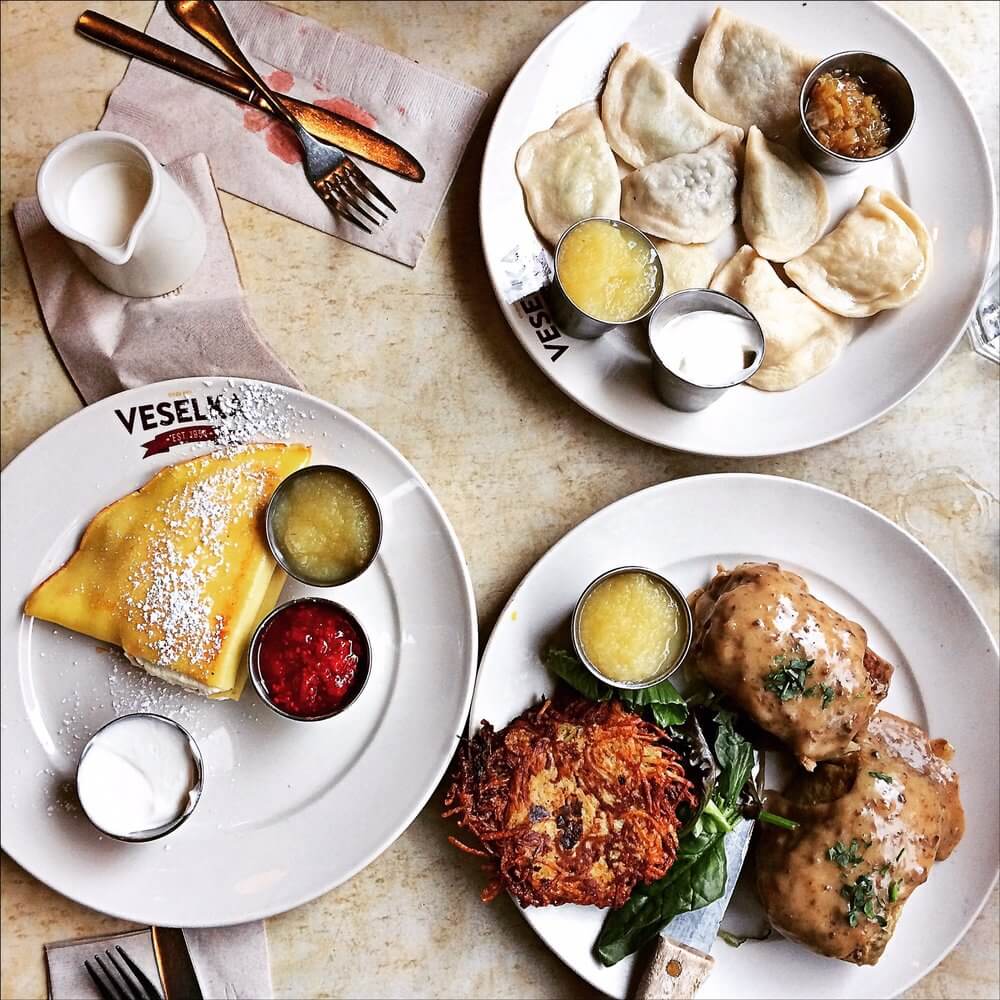 This Ukranian eatery, open 24 hours, offers the best munchies for your buck right from the center of the East Village. If their fluffy pierogis don't entice you, than their anything-else will. "They have great coffee and sweet potato french fries that are enjoyable for brunch or well after 2 a.m.," NYU junior Emily Harris said.
3. Café Orlin
"Their brunch, man—you have to try it at least once," said NYU senior Kimberly Howland. You can find Café Orlin located on the famous St. Mark's Place. If you're an eggs benedict person, you need to try them here. Their hollandaise sauce will undoubtedly knock your socks off, and their bright yet casually rustic décor will have you ordering that mimosa that you promised yourself you wouldn't have this time.
4. Mud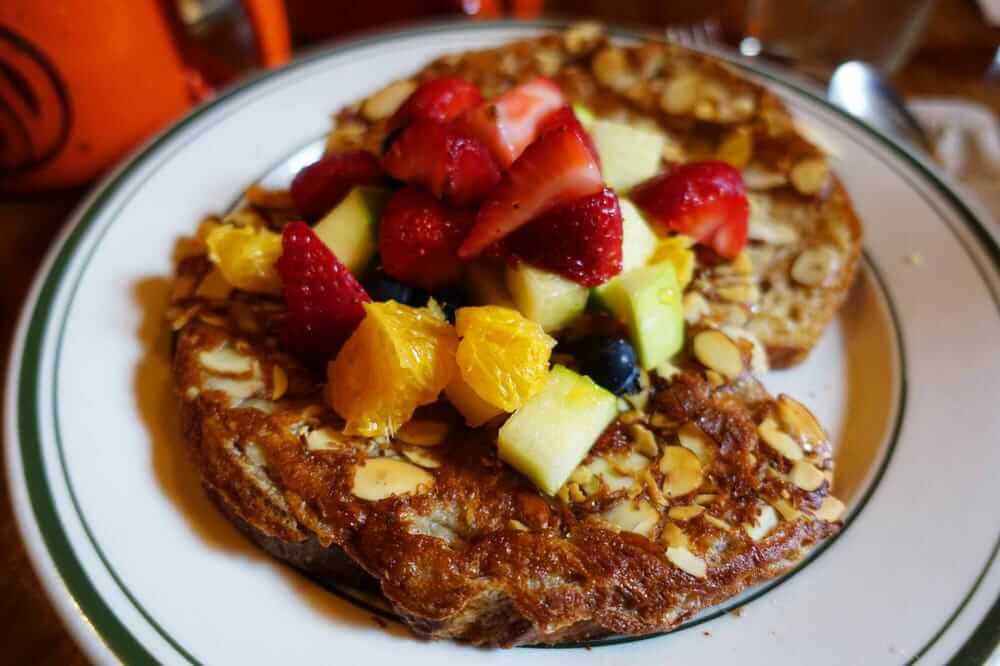 Need a go-to brunch spot for a friend visiting you in the city? You can't beat a New York City Sunday brunch, and for out-of-town visitors, you can't do better than Mud. In the heart of the lower east side, Mud offers outdoor seating, their Mochaccinos and a fantastic brunch deal that can include both coffee and their orange mimosas (along with one of their fantastic entrees). This place wins not only in the food game, but in the aesthetic game, too.
5. Two Hands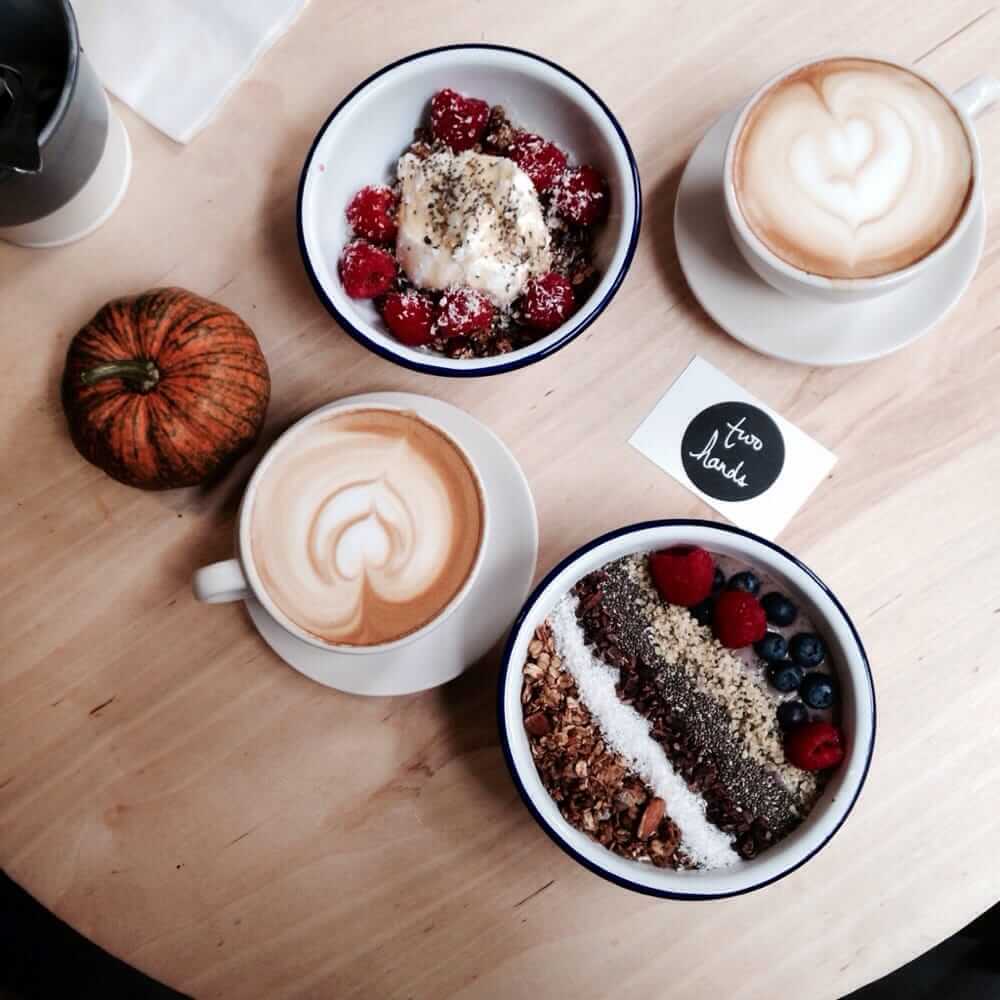 Four words to describe Two Hands: Check out their Instagram. It shows off just about every beautifully-plated entrée from this refreshing café and will make your mouth water more than any review can. Get the avocado toast, the acai bowls, the coffee—what can I say, get everything? This place is bright, it offers multiple healthy & vegetarian options, and you might even make it onto their social media if your food photo skills make the cut. Four words to describe Two Hands, from recent NYU graduate and New Yorker Michelle Driscoll: "Aesthetic and reasonable price."
6. Blue Hill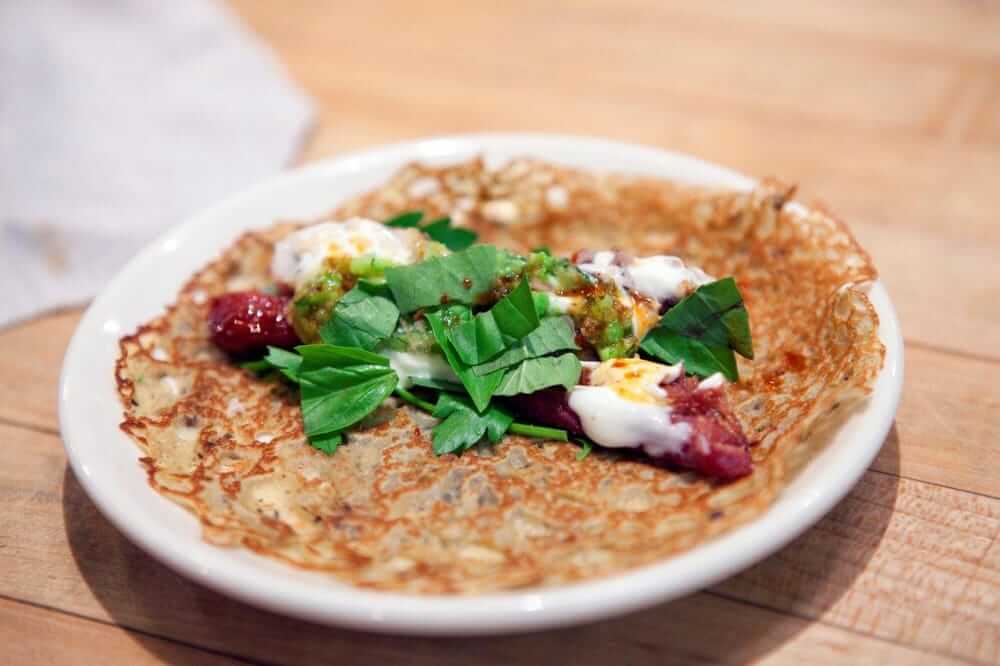 Blue Hill, although on the pricier side, offers a rustic, classy ambiance with freshly-prepared, locally-harvested meals. However, don't let its elegant appearance fool you. "It is perfect for 'after hours' adventures when you just want to eat nearby comfort food," recent NYU graduate Andrew Gonzalez said. Steps away from Washington Square Park, Blue Hill is easy to reach and easy to say yes to when you're in the mood for something great—even if it takes time to prepare. "Their pancakes are humongous," Gonzalez added.
7. S'MAC
Although S'MAC, short for Sarita's Macaroni and Cheese, may seem like an easy way out on this list for New Yorkers, as a college student it can't be beat. This mac and cheese joint offers the cheesiest, gooiest heart attack on a plate with toasted bread crumbs on top for $11. And you will say yes with no regrets. Feeling adventurous? S'MAC serves a variety of mac and cheese options, from All-American Cheese to Buffalo Chicken to Napoletana with pizza ingredients! The best part? They deliver from their E 12th St. location.
8. Joe's Pizza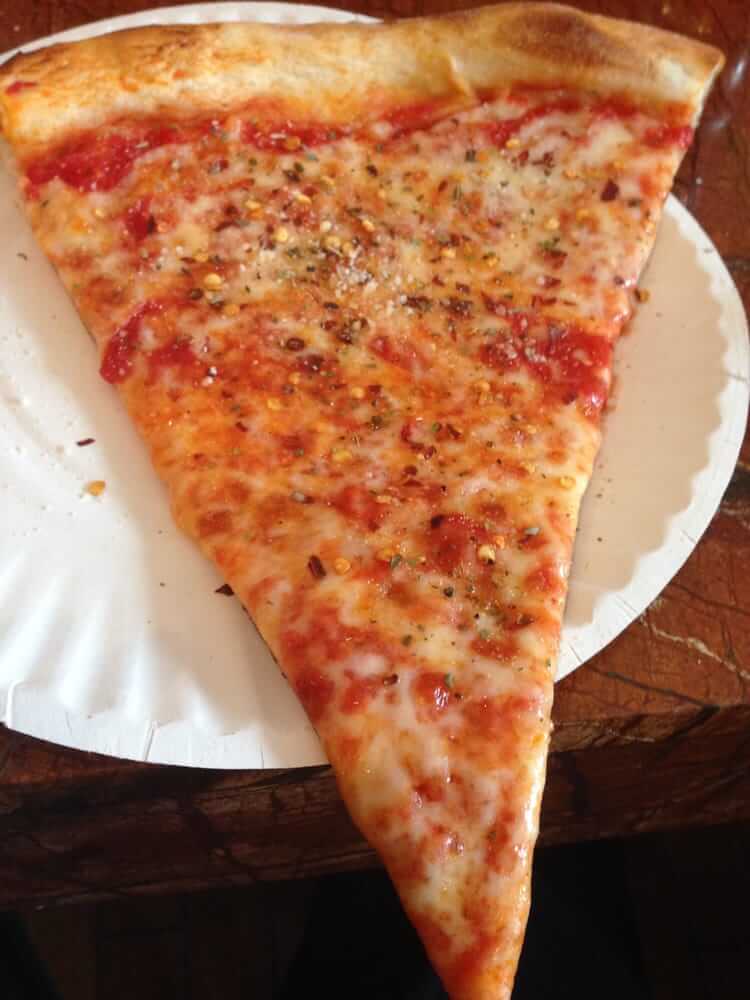 Alright. The East Village holds two mouthwatering pizza gems and Joe's is one of them. Located on the corner of E 14th and 4th Ave, this place will be packed from the time that it opens to the time that it closes (at 4 a.m.). As the Saturday-night-I'm-drunk-and-need-a-slice-of-pizza place, if it's 2 a.m., then the line flows out the door, no exceptions. Now, I would suggest their white slice because of the light sauce, despite being just greasy enough. Still, you can't go wrong with New York pizza. Not here.
9. B Bar & Grill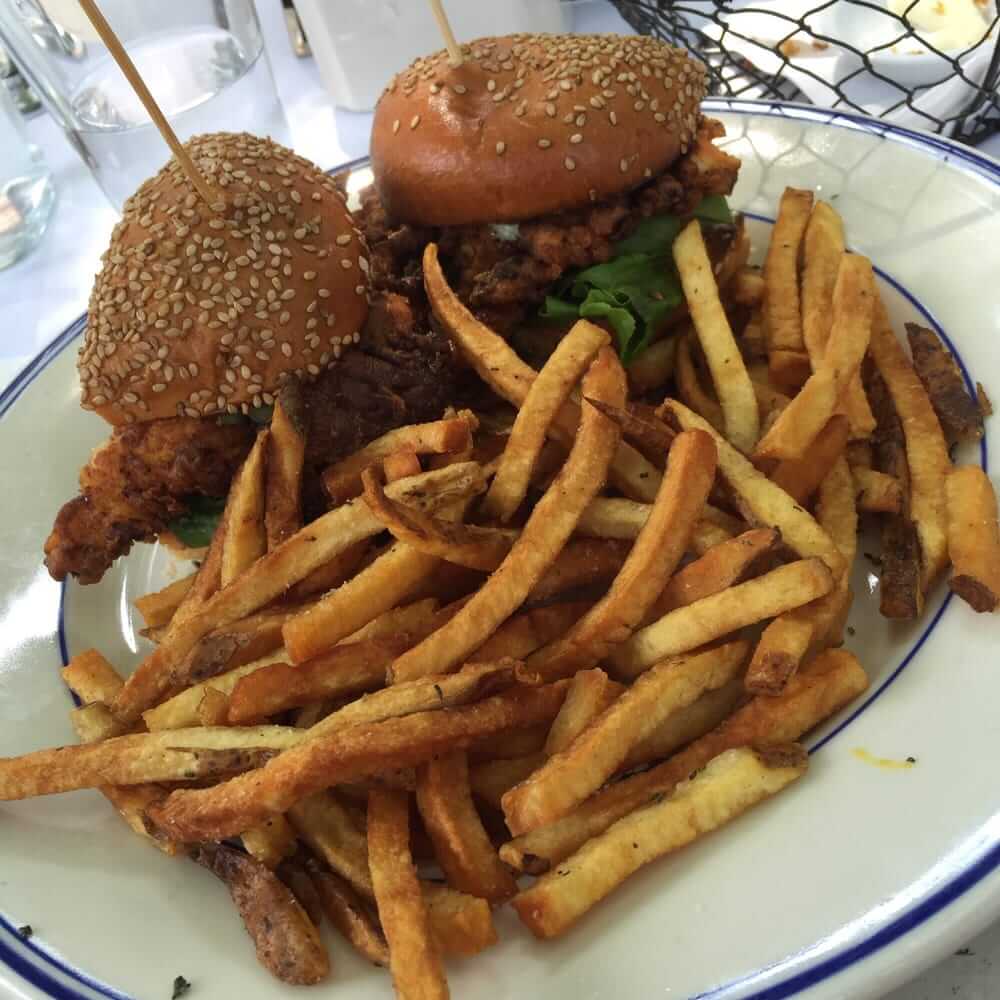 This aesthetically-pleasing bar and grill offers a beautiful outdoor patio space to sit and enjoy your tasty burger. Located right next to Astor Place, B Bar & Grill offers a nice recluse from the outside world, especially when the lanterns outside turn on at night. The perfect Instagram pic. If you're not eating the chicken burgers or crispy fries, than you're having a good time with pals and that's not always easy to come by. Head here for both an enjoyable atmosphere and meal.
10. Taqueria Diana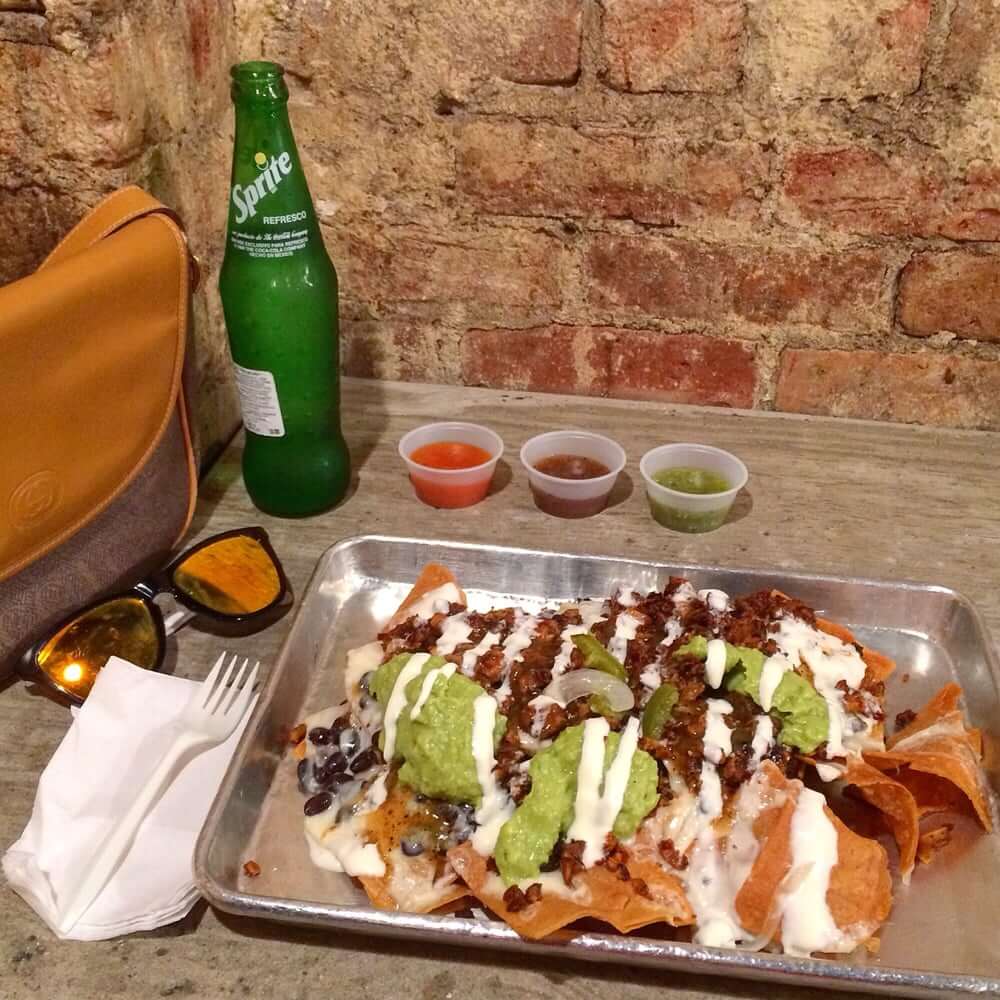 Looking for the most wonderful late-night-nacho experience? Look no further than Taqueria Diana. Walking home with a group of friends after a rooftop party, nothing hits the spot more than the large, warm and cheesy $9 nachos. This fast-food eatery prepares meaty and wonderfully-spiced nachos. Not to mention, they come as greasy as you need 'em to be. Life can't get much better than these nachos. This place offers more than just that though.Their Mexican delights will have you wondering how wonderful authentic Mexican food is when New York can prepare it as well as this.
11 More East Village Restaurants For Serious Foodies Only
Written by Isabella Nowak
11. Pangea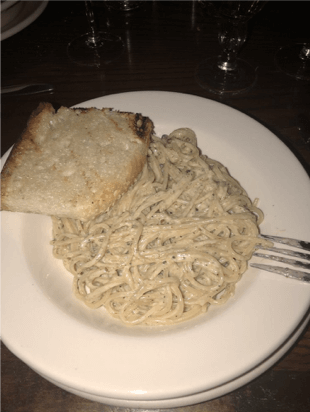 Upon walking into Pangea, a cozy ambiance greets you complete with cushioned seating, dimmed lighting and soft music. Pangea, an Italian, Mediterranean and Spanish restaurant all morphed into one, serves impeccable service and tasty dishes to the hippie population of the East side. Located on 2nd Ave between 11th and 12th street, Pangea is a must try for a New York City local or tourist.  Visit Pangea for a bite of $10 pasta and then head to the movie theater right across the street. University of Notre Dame junior Bethany Bogges said, "Pangea is great for pasta deals! My favorite dish is the funghi spaghetti." Save the travel fair of traveling to Italy, Spain and the Mediterranean, and spend your money at Pangea for authentic fare instead.
12. Kumo Sushi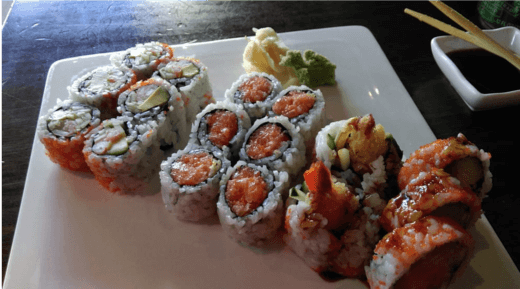 Maybe FAFSA didn't help you this year, but you can help yourself by going to Kumo Sushi. Use your leftover change to grab a three-roll special for just $15. You can find Kumo Sushi, a Japanese sushi bar, on the corner of 15th St. and 1st Ave. "I liked the Manhattan roll, I believe it was called, good ole fashioned spicy tuna, and there was one called rock n' roll that I liked too," Arizona State University junior Ally Tessler said. This place will definitely become your new go-to sushi joint.
13. 99 Cents Fresh Pizza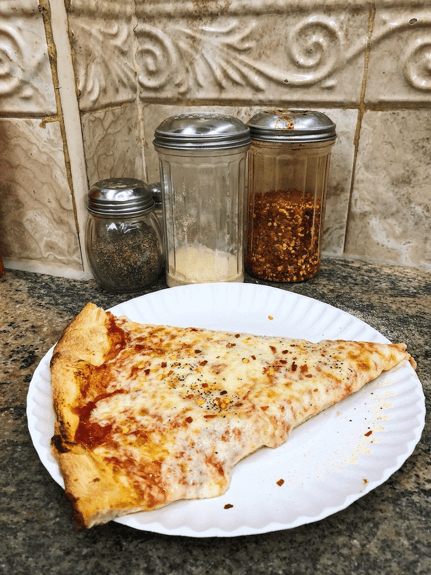 I can't think of a faster way to every broke college student's heart than dollar pizza. Look no further than 99 Cents Fresh Pizza on the corner of 4th St. and 2nd Ave. Customers rave about this place and call it the best dollar pizza you can find in the city. The stringy and greasy cheese crust creates the perfect mix of crunchy and soft, and the sauce is the boss. "I love to go to 99 Cents Fresh Pizza. It's close and good," recent NYU graduate Javier Stec said. I can't think of a better time than right now to dig through your couch cushions, find that extra change and head to 99 Cents Fresh Pizza.
14. Tai Thai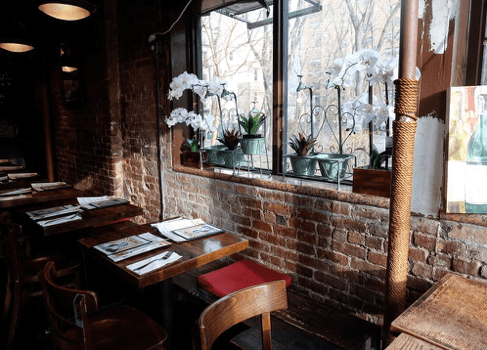 Looking for authentic Thai food? Aren't we all. Stop by Tai Thai for some genuine and mouthwatering Thai cuisine in the heart of the East Village. Their Pad Thai and Green Curry rule the menu as their most popular and delicious items. "Tai Thai has an amazing lunch special," Stec said. The best part? Enjoy Tai Thai on the comfort of your couch with their consistently fast delivery.
15. La Papala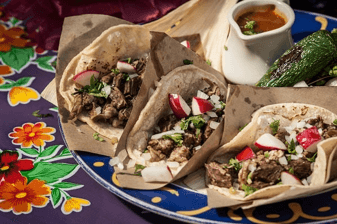 La Papala does not offer your everyday Tex-Mex tacos. This restaurant focuses on Mexico City tacos and authentic Mexican cuisine. The chefs use only fresh ingredients to craft their salsas and sauces. La Papala offers a lunch taco happy hour every Monday through Friday from 12 to 5 p.m. You can definitely trade in one boozy happy hour for this spicy one.
16. Thaimee Table
The menu items at Thaimee Table come straight from the north of Thailand where the chef grew up. The fresh and flavorful dishes stem from the use of various Thai spices and herbs. Located on 3rd Ave between 12th and 13th St., this restaurant's cuisine does not disappoint. Stop in and try one of their most popular dishes, Chiangmai Fries. This staple dish, described as sweet potato fries and kabocha with red curry mayo dipping sauce and peanut relish, will make your mouth water.
17. The Mermaid Inn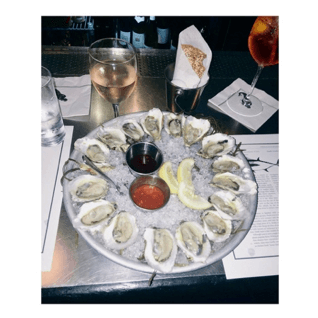 The Mermaid Inn offers a quaint and charming atmosphere for your next date night that won't break the bank. During 5 and 7 p.m. every day you can devour East Coast oysters for only $1.25. In addition, they have an extensive menu filled with New England Clam Chowder, a Lobster Sandwich and Smoked Gouda Mac & Cheese. "I love to come here for their happy hour," recent NYU graduate Emilyn Vandenberg said.
18. Motorino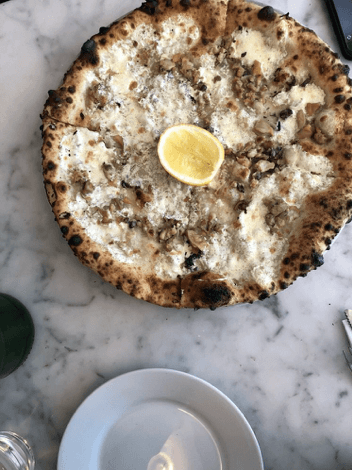 You can never get enough from pizza joints. Enjoy authentic Italian pizza at Motorino. They have pizzas ranging from a margherita and stracciatella to meatball. You name it, they make it. All pizzas to share range from $12 to $20. They also have a lunch special Monday through Friday between 11 a.m. and 4 p.m. where you can get both salad and any pizza for just $14. "Motorino is a good pizza restaurant that is deff budget friendly," American Univeristy junior Emma Goetzinger said. Motorino's food will call your name as your possy drags you out the door.
19. Café Mogador
Many East-villagers report this Moroccan restaurant may in fact offer the best food of its kind. Open until 12 a.m. and with meal prices ranging from $11 to $30, college students will never stop indulging. The Middle Eastern eggs are a favorite here. Devour these perfectly poached eggs, refreshing tabouli, delicious salad and flavorful, spice-filled pita. Your taste buds will thank you.
20. Brazen Fox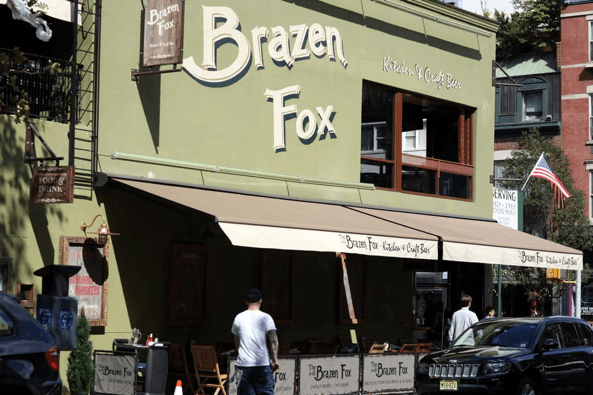 The Brazen Fox offers all the comfort food you could ever want served all day, every day. They ask $1 for their oysters. Oh and craving mac and cheese much? The stack-your-mac calls your name. You can even add lobster, buffalo chicken or shrimp to this plate. Fried Oreos begging for your consumption? No worries, Brazen Fox has got you.
21. Lil Frankie's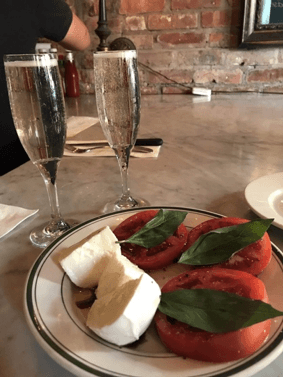 This cozy and cute Italian restaurant, nuzzled between 1st and 2nd St. on 1st Ave, offers not only warm and inviting food but also a warm and inviting staff and all around atmosphere. Favorite orders include the spaghetti limone and the whole fire-roasted eggplant. You cannot go wrong with authentic Italian cuisine. "Lil Frankie's is amazing. I always go here with my sister when I am in town," American University junior Claudia Gill said. However, a heads up, they only accept cash.
**Updated on October 9, 2018 to include 11 more restaurants by Isabella Nowak