The start of a new semester has got everyone turned around, so we've brought you the most important college news so that you can stay informed without missing those vital "zzzzs."  
1. Miley Cyrus' Music Defaces Public Property
In case you missed it, Miley Cyrus recently released the music video for her new hit single, "Wrecking Ball," in which she spends most of her time straddling a wrecking ball (original) naked (well, except for her boots – a girl should never be without her boots). The video has generated so many copycatters that Grand Valley State University in Michigan has had to remove their giant wrecking ball sculpture from school grounds. The structure, a 42 inch steel ball that swings from a 50-foot cable, has been on campus for eighteen years. Now? It's been moved to storage, prompting protests by students who have gone so far as to create new Twitter hashtags like #ReinstallTheBall to express their dissatisfaction at having their toy taken away. Unfortunately for them, not everyone can be as fashionable as Miley.
2. Chinese Students are being asked to sign a Suicide Waiver with their "Intent to Enroll" forms.
Apparently officials at Chinese universities are sick and tired of being held responsible for students who commit suicide on campus. Parents, already worried about sending their precious freshmen off to school, are in an outrage, urging universities to provide support for troubled students instead of focusing solely on avoiding the blame when things go awry. While Chinese officials are quick to point out that in 2011 only about 40 students out of 20 million actually committed suicide, that doesn't change the fact that around half of all students in China have admitted to having contemplated doing the deed. Sounds like some counseling hours would be more appropriate than suicide waivers.
3. Cheaters Never Prosper, but Sometimes They Get a Second Chance.
After the worst cheating scandal in Harvard's history left some seventy or so students with a year of exile on their plates, many of the students in question are finally returning to campus. But the students who chose to come back are returning to a campus that spent the last twelve months debating their actions and their punishments, as well as putting some strict changes to Harvard's "grading and honor code" policies in place. For the guilty students, this return means a second chance – if they can stand the whispers, guilt and humiliation their classmates are piling on. For a school as prestigious as Harvard, this kind of scandal is unheard of – and you can bet the university was quick to say that there wouldn't be another like it in the coming years. It goes to show – honor codes and the like aren't just old wives tales. Universities actually expect you to leave after four years with your academic integrity intact. Now that would be a happily ever after for the books.
4. Sororities Are Being Forced Into the 21st Century.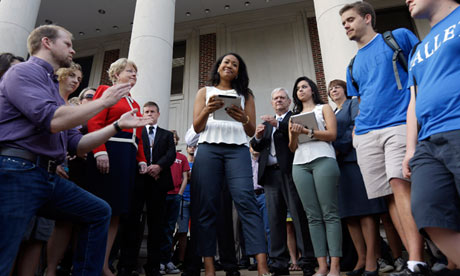 At The University of Alabama diversity amongst Greek life isn't the norm. Far from it, most sororities are prone to racial bias and stay as predominately white as they can. But after a scathing review went up in the student newspaper, The Crimson White, where a member of Alpha Gamma Delta confessed that the sorority had considered race when denying black women with strong academic records and ties to the university, administrators were forced to act. Hundreds of students on campus Wednesday held a protest, calling it "The Final Stand in The Schoolhouse Door", a reference to Governor George Wallace's attempt to hinder racial segregation in 1963, which failed. President Judy Bonner has assured the media that the school's "traditionally white" sororities will now follow a recruitment process that will allow "more prospective members" to join. Guess we should give them a round of applause for joining this century and maybe even a gold star for basic human decency.
5. Adrian College is a Freshman's Paradise.
Starting with this year's freshman class, Adrian College, a small private college in Michigan, is promising to make up to all of a student's loan payments if he or she earns less than $20,000 and up to #37,000 annually after graduation. The program works like this: Graduate. Get a job making less than 20k a year – Adrian College will pay your payments for you. Get a job making less than 37k a year – Adrian College will help you make your payments based on a sliding scale system. This is just one of a string of innovative systems colleges are coming up with to help combat the rising problem of student loan debt. It seems schools are finally starting to realize that money is a pretty huge factor when it comes to picking a university, especially when the national student loan debt right now is higher than the national credit card debt (that means it tops in at over 1.1 trillion dollars). Schools are trying to keep students from deciding that college isn't worth the price tag, and this program could be the start of a trend that really gets that point across.