Hello cherry blossoms! We thought winter would never end, but we survived and there's no better time to be on campus. Every University of Maryland kid knows that Terps do spring better than anyone else.
1. Winter ISN'T Coming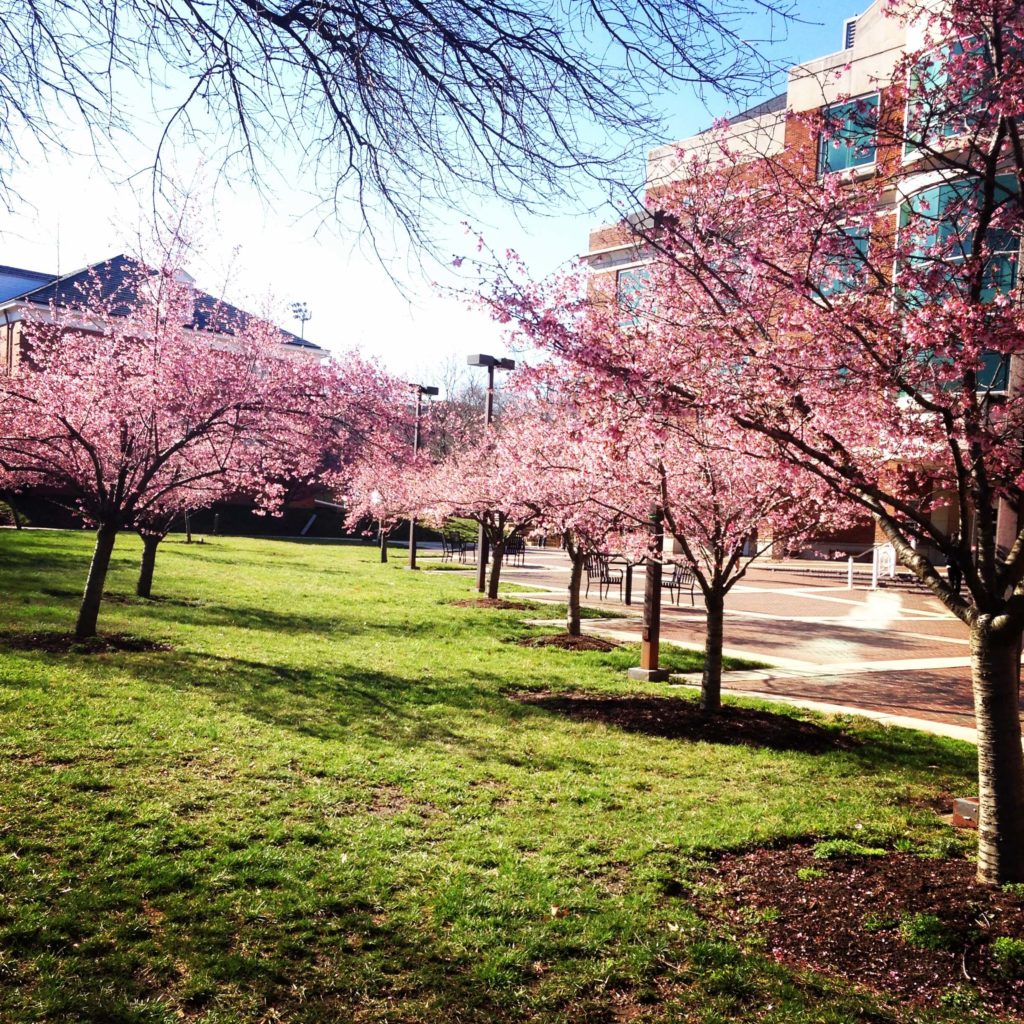 Maryland had a particularly rough winter this year, which made us even more excited for spring to come and rescue us.
"The best part is finally being able to lie out in the sun and absorb all the warmth that was taken from my bones by the bitter wind of winter." – Lydia Ginter, Sophomore, Architecture
2. The Mall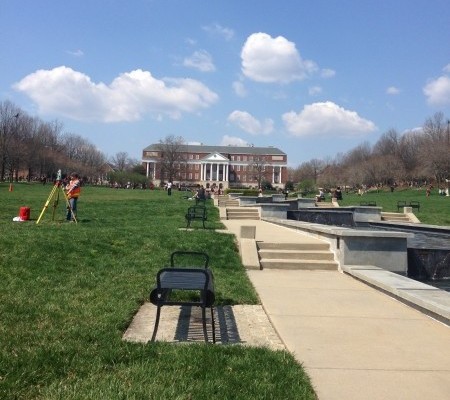 Holding the record for the largest open mall area in the country, McKeldin Mall becomes the hub of outdoor activity (and accidental naps) once the weather warms up.
"The mall is the perfect place to lay out in the grass and just relax. Just make sure you set an alarm to remind you to get to your next class." –Alexa Tsintolas, Sophomore, Math
3. The Fountain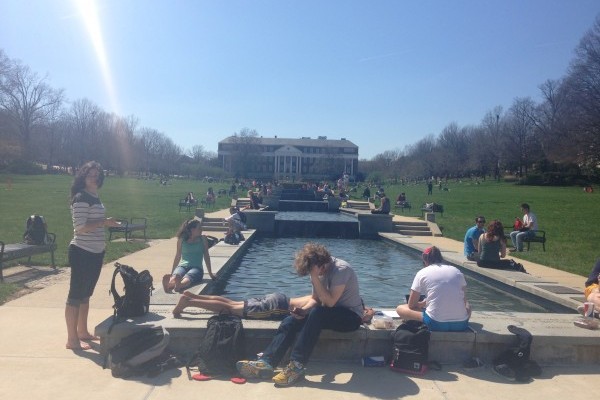 As the temperature rises, students from all over campus gather around the watering hole–McKeldin Fountain. It's perfect for dipping your feet, and the morning it's filled marks a universal sign of spring.
"Everyone knows it's like a rite of passage to go swimming in the fountain. Last year my friends and I all changed and ran over to the fountain at 1 a.m., swam around for a little while. It was just a lot of fun and the people I did it with were all of the people I was going to be living in the same dorm with this year, so we saw it as kind of an intro of all the fun things to come in the next year. It's definitely near the top of my college memories." –Kim Graninger, Sophomore, Nursing
4. In Bloom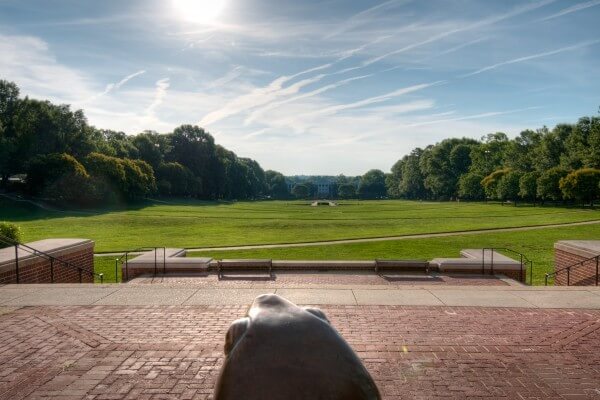 Every April, Instagram is flooded with hundreds of photos of the cherry blossoms in front of the Computer and Space Sciences Building, but we sometimes overlook one of the simplest botanical pleasures:
"One of my favorite things is how McKeldin Mall looks when all the trees are in bloom. It's just beautiful." –Emily Elkonoh, Sophomore, Geology
5. The Pool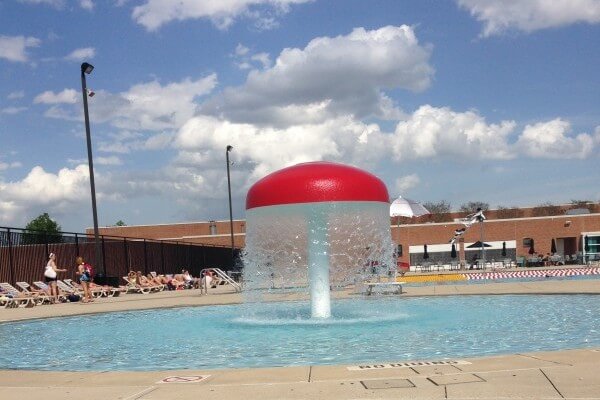 One of the only things that draws South Campus dwellers back to North Campus, the pool becomes a favorite spot for hangouts as soon as it opens.
"I love the outdoor pool probably because of its size. There's room for almost everyone to do what they came to the pool to do—whether that be sunbathing, chilling in the pool with friends, diving off of the diving board or swimming. I love that we rarely have to worry about fighting for lanes." – Samantha Bingaman, Sophomore, Environmental Science (and very frequent swimmer)
6. Return of the Outdoor Sleepers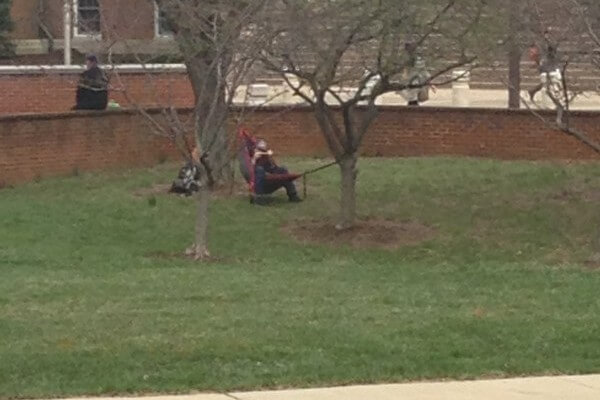 "We have a whole cult of hammock-dwellers on this campus—multiple people who carry around full hammock sets in their backpacks and set them up on the mall. I've seen as many as six clustered together in one area." – Samantha Vermillion, Sophomore, Mechanical Engineering
7. Pick-Up Sports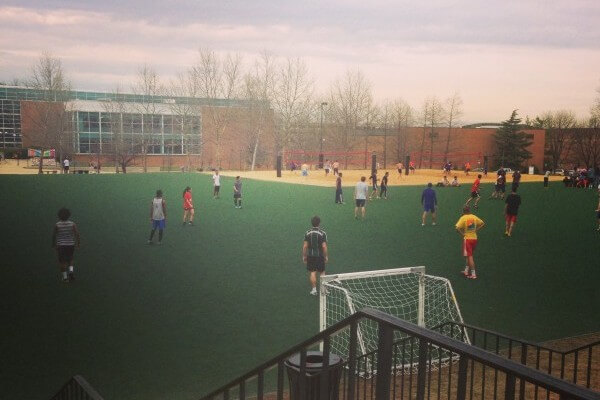 From frisbee on the mall to bubble soccer on Frat Row, the first signs of spring bring out everyone's inner athlete. Added bonus: Actual athletes start their outdoor practices again. That's a win-win for everyone involved.
"Seeing all the pick-up sports is great, unless you live near La Plata Beach and have to listen to the soccer players yelling outside your window until 2 a.m." –Tara Pinto, Sophomore, General Biology
8. Walk the Walk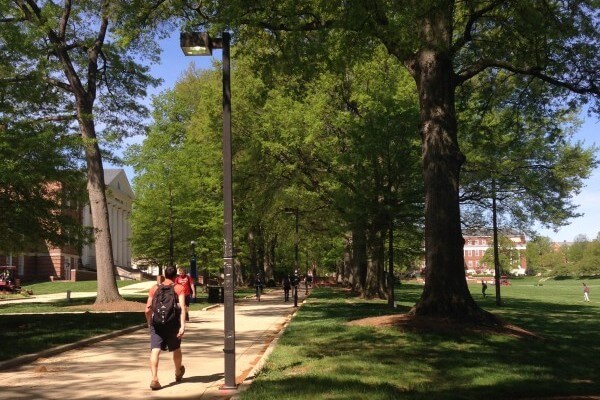 "Warm weather makes me actually want to walk to class instead of driving so I can check out the scenery and the flowers and events on the mall." –Catie Donovan, Senior, General Biology
9. Atmosphere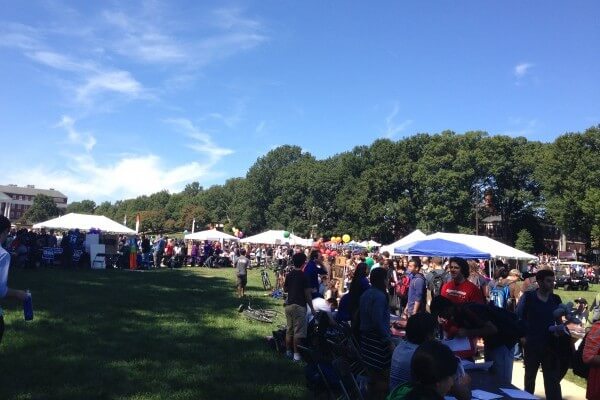 "It's fun to see the expressions of joy on our faces as the campus comes back to life. This is of course ignoring all the sweat, heat, and pollen we'll soon have to deal with." – Sudipta Das, Sophomore, English & Philosophy
10. Finals
Just kidding.
10. BABY ANIMALS!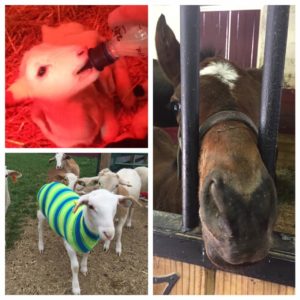 The university farm is a haven for animal science majors year-round, but spring is when the animals do what they're born to do. And that means babies. Foals, lambs and calves are all born, and the farm ends up turning into a de facto petting zoo for the fortunate few who pass it on their way to or from class.
"I just love the baby horses that get born in the spring because I'm a horse person. I think it's really cool that we have something like that on campus, especially because not a lot of other campuses do. Sometimes I walk by the barn and see the babies running around outside and it's the cutest thing." –Maurita Obermiller, Junior, Agriculture & Resource Economics