Animators create new worlds from nothing but their imaginations in 2D or 3D. And that animation propels more than the film and television industries. From stop motion movies to civil engineering and design, animators are needed more and more in this ever-expanding digital age. These 10 colleges prepare aspiring animators for the real world with cutting-edge programs, technology available for projects and practice, professional opportunities and alumni networks that connect students to opportunities beyond graduation. Whether you want to work on Pixar's next blockbuster or create the blueprints for the world's tallest skyscraper, these schools will prepare you to animate almost anything.
Keep reading to find out where you'll find the 10 best colleges for animation.
10. Rhode Island School of Design
Anyone wonder why Family Guy takes place in Rhode Island? Rhode Island School of Design alumnus Seth MacFarlane based his show in familiar territory. The FAV department, or Film / Animation / Video College of RISD, also taught Michael Dante DiMartino (Avatar, the Last Airbender) and Bryan Konietzko (Invader Zim). "In FAV we develop the artist as a whole, knowing that our graduates need the flexibility to make time-based work that continually pushes the cultural dialogue forward," FAV Department Head Sheri Wills said. RISD offers students the tools needed to articulate their voice in film, animation, interactive media or installations. Students get hands-on experience in the college's animation stand studios, stop action studios and top-of-the-industry hardware like Steenbeck flatbeds for film editing and software like Adobe Production Suite and Autodesk Maya for digital editing. Professors support their students' visions, encouraging them to bounce ideas off each other in the studio to get their projects where they need to be, be it documentary, animation or experimental. Nothing is off limits.
9. New York University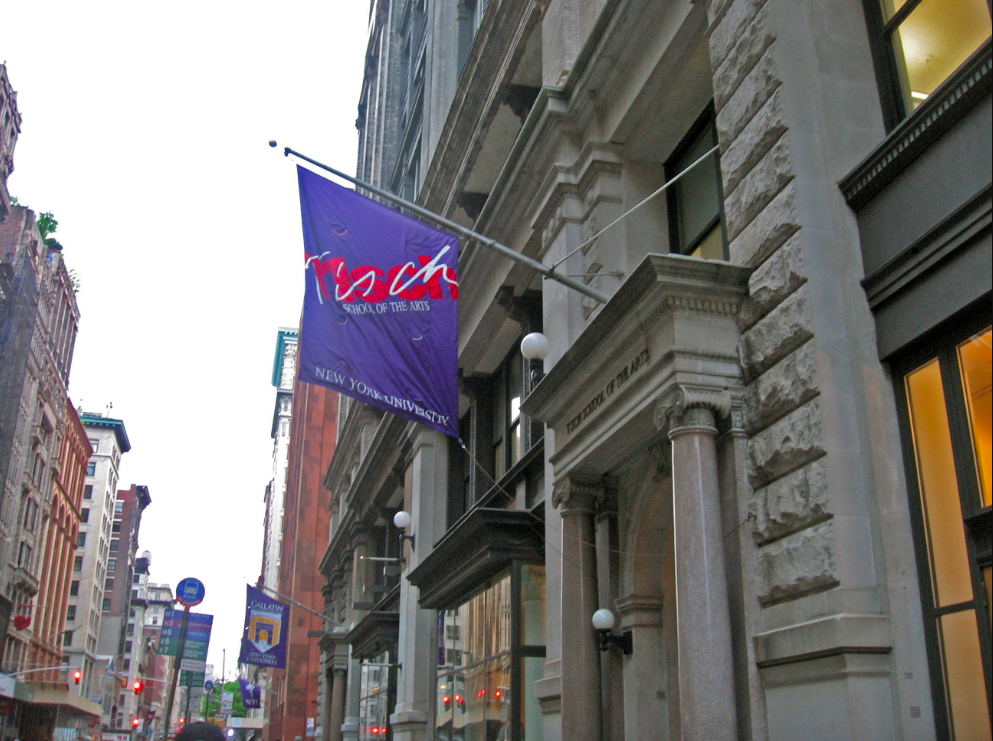 The Tisch School of the Arts' advanced computer systems and a stop motion studio, along with an esteemed body of professors, help aspiring animators hone their craft. The animation lab comes complete with 10 pencil test stations, letting students capture and review animation using the latest software. On the floor directly below awaits the Capture Studio (AKA the Green Screen room), available for you to practice visual effects and motion design. Aside from the labs, Tisch also has a stop motion room equipped with a full stage, aerial brace and a slew of lights and filters. With dozens of workstations and state of the art applications like Dragonframe and Pixologic ZBrush, you'll be well equipped to undertake your future projects at NYU.
8. Texas A&M University
The Texas A&M Department of Visualization knows the future of animation extends beyond just television and film. Providing solid groundwork for digital design, the Department of Visualization helps vizzers (its students) master design and development, focusing on the process of creation and development of the visual experience. "Most classes will require coding and art. We are structured to develop the student's artistic, scientific and technical abilities," said Barbara Klein, Associate Department Head of the Department of Visualization. Vizzers break into fast–growing fields like digital animation and virtual reality and can even apply those skills to other fields like architecture and video game animation. Klein said, "We also have a very strong industry connection and work closely with studios to maintain a high quality of student achievement." Texas A&M makes networking easy by hosting the Viz Industry Fair every spring, bringing in companies like Blizzard, Gearbox Software and Boss Fight Entertainment. Other alumni have gone on to work for blockbuster conglomerates like Disney, DreamWorks and Pixar.
7. DePaul University
DePaul students showcase their animation skills at the university's annual Premiere Film Fest. For 12 years, the film festival has showcased the best of student work in cinema and animation and presented awards in 20 categories. Back in the classroom, students can earn a Bachelor of Fine Arts in Animation. The program provides its students with a foundation rooted in the history of animation, combined with practice and multifaceted engagement. From there, animation students pick from five concentrations in modern animation: game art, storyboarding and character design, motion graphics, cinema animation and 3D animation. Student working towards a Bachelor of Arts in Animation take more of an interdisciplinary approach. All animation students can join the Animation Lodge, a student group that discusses animation trends and techniques and hosts the week-long animation marathon Mayday. As a part of the L.A. Quarter, DePaul animation students live in L.A. for three months, interning with studios like DreamWorks Animation, Nickelodeon Animation and more.
6. Brigham Young University
BYU's exclusive Center for Animation only admits 20 to 25 students each year. Students can get into the center through one of two degrees, BFA in Animation or BA in Computer Science: Animation Emphasis. And the Animation major itself only accepts 100 students. BYU prepares its aspiring animators to become collaborative professionals that engage in all aspects of an interdisciplinary creative project. Their curriculum also reflect the schools' religious values. Animation students learn to critically examine ethical issues in today's entertainment industry using faith or other spiritual values as a lens. And their voices have been heard. BYU has won 15 student Emmys and five student academy awards.
5. School of the Art Institute of Chicago
Looking for a more experimental learning environment? Bundle up against the icy wind and head to the School of the Art Institute of Chicago. This college encourages radical creativity and content of all forms. And prides itself on remaining flexible in its approach to student projects and pitches; meaning, there's not many topics they won't approve of, letting students express themselves to the fullest. "Students are free to take classes in other art departments, and can therefore learn about other modes of production related to animation, like screenwriting, directing actors, audio production and virtual installation that can supplement their animated films and also add to their repertoire as creative practitioners," animation student Zach Binroth said. "My advice for prospective applicants is to be open to change and learning something new. Don't hesitate to take a course if it looks genuinely interesting to you." Aspiring animators work towards a BFA in Studio within the Department of Film, Video, New Media and Animation. The animation program covers everything from HD video and hand drawn animation to filmmaking and experimental 3D animation. To work on class and portfolio pieces, students can access tons of resources including an Oxberry animation stand.
4. Savannah College of Art and Design
SCAD grads work hard and employers know it; the recent grad employment rate is 99 percent. SCAD encourages students to think outside the box as they master digital modeling, rigging and look development. They practice with SCAD's top-of-the-line facilities like PC, Linux and Mac-equipped dedicated homework labs and custom–designed light tables, plus all the software aspiring animators need to master like Adobe Creative Cloud, Dragonframe, Zbrush, NUKE, ToonBoom Storyboard, VSFX and more. "SCAD continuously has leading industry professionals interacting with students through masterclasses, lecture series and university signature events," Chair of Animation Chris Gallagher said. "AnimationFest, held at SCAD Atlanta, is a three-day gathering of working professionals, industry luminaries and the next generation of talent examining the evolving world of animation." SCAD animators graduate ready to take on jobs like story and concept artist and animation producer at companies like Cartoon Network, MovieStop and Digital Domain.
3. Minneapolis College of Art and Design
MCAD's BFA in animation has students storyboarding, animating and developing characters. Students also explore illustrated, stop motion and computer-generated approaches to animation, all while growing their personal animation style. They also face a major decision: whether to take the 2D or 3D track. Each year, the animation program defines certain goals you want to reach. As sophomores, students are eligible for personal studio space. By year four, students will have one foot in the classroom and one foot in the professional world. Seniors showcase their semester-long projects in the Commencement Exhibition and can share their work with potential employers at the Emerging Talent Showcase. With MCAD DesignWorks, aspiring animators work with companies and non-profit organizations on creative solutions. Students can find inspiration—and potential jobs— in Minneapolis at companies like Carmichael Lynch, Target and the Minnesota Timberwolves. Students that want to move beyond Minneapolis can network and score jobs with alumni who work for Urban Outfitters, K2 Sports and Nickelodeon. The opportunities never end.
2. California Institute of the Arts
The CalArts animation program defies expectation. Taking a tactical and comprehensive approach to creating, editing and designing animated characters, CalArts seeks to churn out the best and brightest animators in the industry, like Tim Burton and Brad Bird, the animation director of The Incredibles and Ratatouille. Aspiring animators can work towards a BFA in Character Animation or Experimental Animation. "Applicants to the Character Animation Program should ideally have at least one years worth of experience with life drawing from human model and should also focus on observational drawings from real life," Director of the Character Animation Program Maija Burnett said. The first year of the program is dedicated solely to courses in drawing, color, design and storytelling. From there, students incorporate the finer details like dialogue, audio and music. "Over the years, CalArts animation alumni have received an extraordinary number of Academy Awards. As of December 31, 2017, the global box office grosses by CalArts alumni directors of animated features (1985–2017) exceeded $43 billion," Burnett said. CalArts only accepts the best of the best with a slim 25 percent acceptance rate.
1. Ringling College of Art and Design
Ringling College of Art and Design computer students spend their last semester of senior year collaborating with other students to create an original film. "This teaches them the importance of conceptualizing a feasible project as well as how to see it through to completion. This policy has helped us achieve 14 Student Academy Awards, 30 Siggraph Electronic Theater winners and thousands of film festival placements," Professor of Animation and Story Paul Downs said. Animation students create all aspects of their own vision, be it stick figure sketches brought to life or stop motion trolls. Ringling brings in industry giants to critique these senior projects, like Guillermo Careaga of DreamWorks Animation, Armand Serrano of Walt Disney Animation Studios, Andrew Beddini of Blue Sky Studios and more.
Create the illusion of life as you learn to design, model, texture, animate, light and tell the stories of your very own characters. Then practice your craft with internships at Sony Pictures Imageworks, Pixar Animation Studios and more. Or get professional work experience through The Collaboratory, an initiative that pairs students with local businesses that need help with real projects. "Students leave Ringling understanding all aspects of the production pipeline, and most importantly, the necessity of storytelling in everything they do," Downs said. With a 76 percent acceptance rate, Ringling College wants students to move their characters digitally and their audience emotionally.
The 10 Best Colleges for Video Game Design
The Top 10 Colleges for Broadcast Journalism