For the current college generation, laptops have become as natural as an extra limb. With all of the time that college students spend staring at computer screens, the decision to take an online class is a no-brainer.
Avery Agle, a junior at Utah State Avery Agle, has taken five online courses: three to fulfill her general curriculum and two for credit toward her minor. For Agle, the convenience of an online class beats going to a lecture hall "I find online courses easier, because I can do it on my own time," said Agle. "I'm not good at getting up and going to class, so it's nice to do everything in my bed."
University of Vermont junior Abby Pfister took a summer online course for her general education requirements, and found the structure to be more manageable than a regular class. "There were no quizzes or exams, just discussion boards and a final research project," said Pfister. "Basically as long as I read the lectures and supplemental readings and could develop thoughtful responses, I would get A's on all of my posts."
The biggest challenge of an online course for Pfister? The all-too-familiar temptation to procrastinate.
"My discussion board posts all had deadlines, so I found myself completing them right as time was running out." Pfister said. "However, I am a procrastinator in general, so I can't say that this experience was much different from other classes."
Agle, on the other hand, has developed a system to avoid the last-minute rush. "I take an hour or two each week and finish it all," Agle said. "That way, I don't have to think about it for another week."
By getting her workload out of the way all at once, Agle takes advantage of the flexible nature of online courses. Setting aside time to get ahead is not always an option in a regular class where the course load unfolds day-by-day.
One particular online course disappointed Agle, however, by following the same lecture-style format as a regular class. "Over the summer, I took a course where the teacher would record lectures that lasted an hour and a half," she said. "I had to listen to get information for the quiz. For me, that defeated the purpose of an online class."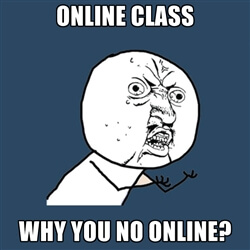 On the flip side, Pfister found her online course to be overwhelmingly reading-based. "The worst thing was that there was so much reading," Pfister said. "Because I had to read the lectures for every week instead of listening to them, I felt like it took an extremely large chunk out of my day when I would sit down to do work."
Although Agle and Pfister had differing experiences with taking online courses, the end results were quite similar for the two students.
"I would definitely recommend taking an online class to other college students, especially if you have a busy schedule and want to cram one more class in. From my experience, the work load is light and it's an easy A," said Agle.
Pfister echoed this sentiment. "My class was an easy A for the amount of work that I put into it, and generally online classes seem to be easier than regular classes. Plus, if you have an erratic schedule they work perfectly because you can choose when you do the work."