It's a strange thing when you decide what single word it is that defines you. For 21-year-old Pratt Institute illustration senior Graham Yarrington, the word "artist" has always been his definition.
"It's kind of always just been like my feathers or the one thing I'm able to recognize about myself," said Yarrington, whose earliest memories involve a pencil and a piece of paper. "There's a diary that I learned to write in that I still have and when I tried to recreate all the letters, I'd always give them little legs and arms and faces and stuff. I remember doing bad on a math test. The teacher wrote, like, 'E' or some awful grade next to it but was like, 'great drawing on the back.'"
Those math-test doodles paid off – in the form of enrollment at one of the best art schools in the United States. As a student on Pratt's Brooklyn campus, Yarrington's world revolves around paint brushes and pencils and pens begging to be picked up and, most importantly, blank canvases that are constantly nagging to be filled. "I always have all these ideas floating in my head about what the next thing I should make is, what it should be about, how it should be made," he said. "And those 'aha' moments usually come about after days or weeks or months of pondering an idea and how it could be brought to life."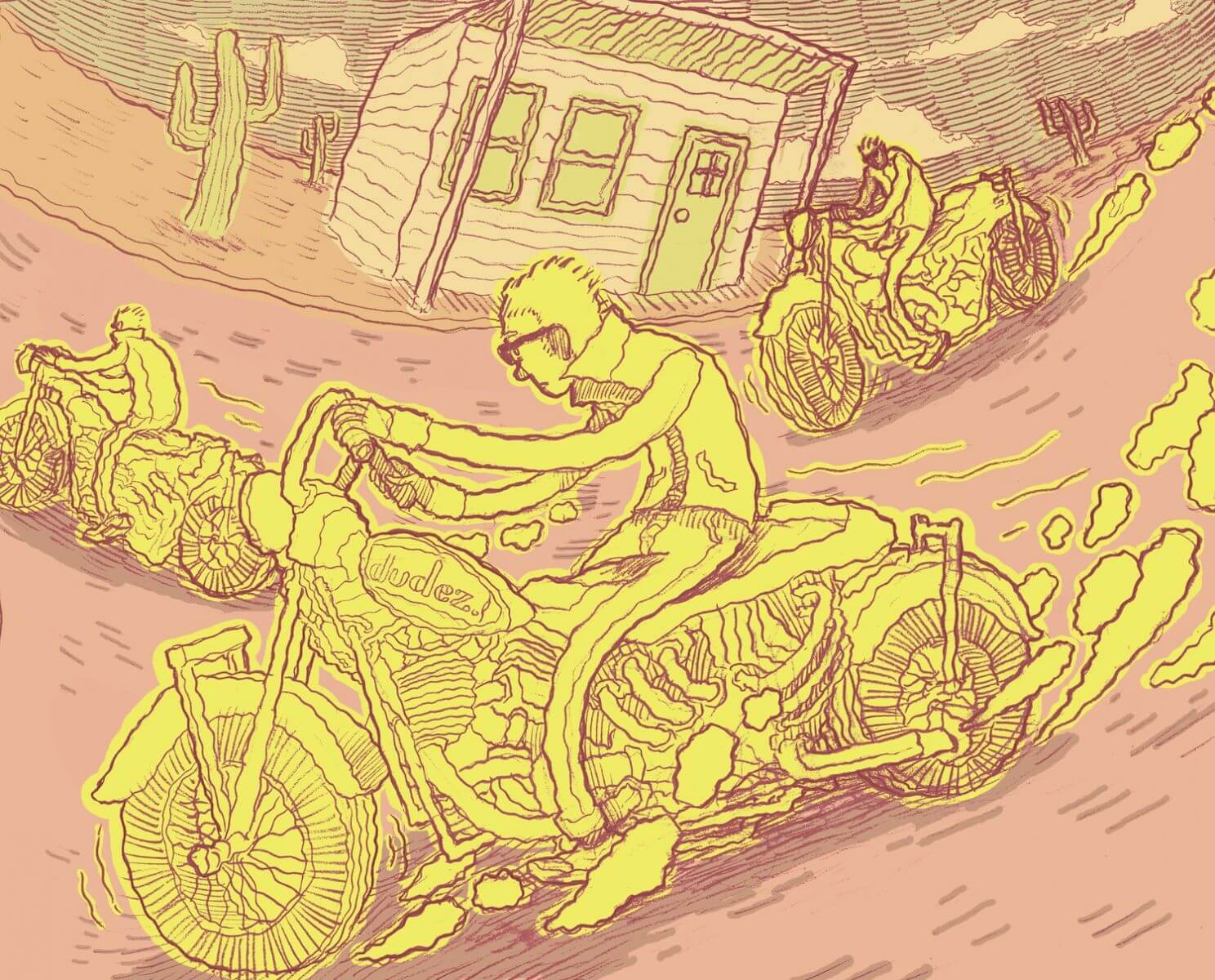 Biker Boys
When asked if a constant desire to make art was irritating, he responded without hesitation. "Sometimes," he said. "It's extremely fleeting, though. I think what it comes down to—it's more or less my coping mechanism for my entire life. I'd rather be sitting somewhere obsessively thinking about a cartoon version of the person's face across from me than worrying about – I don't even know—getting a job or who is president."
Yarrington's inspiration is everywhere – in everyday people, places and things – but he says his work is most affected by that of Sterling Hundley, an American illustrator and painter, and Jean Giraud Moebius, a French comic artist (whom he openly admits mimicking his own work after) "I realized that as much as I can learn from trying to recreate his brilliance, I still have to only echo it," he explained. "I've always had the belief that even in anyone's fully realized method of illustration or creating art, it's still only a mixture of 20 other artists that's just blended well enough together to become something different."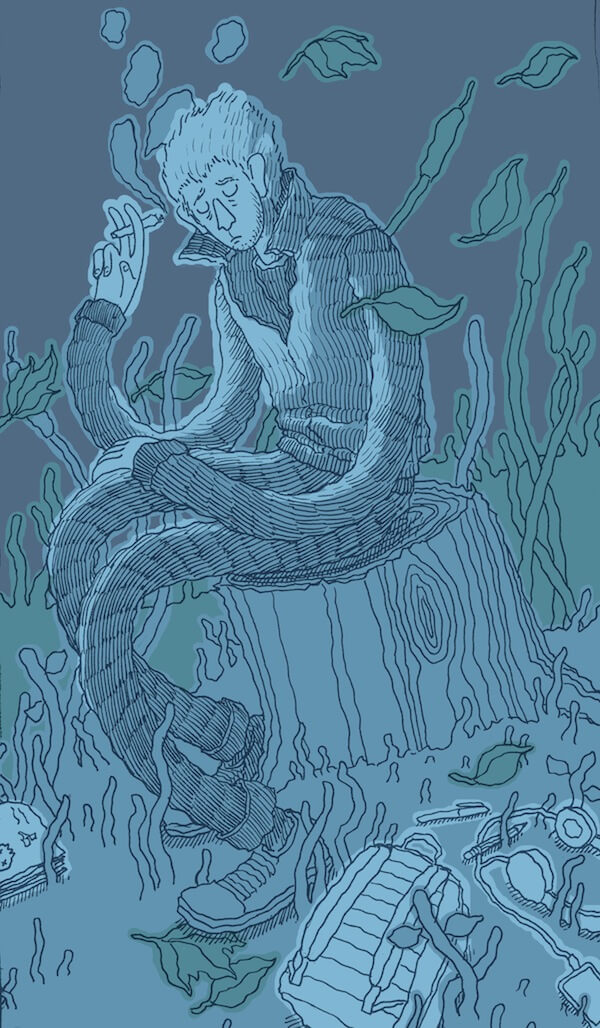 Smoke Break
Despite pressure and influences to choose a more black and white (no pun intended) career path, Yarrington has no doubt about art's ability to create his version of a successful life (well, except for in first grade, when he wanted to be a fireman because he thought they got cool pants). "Despite available jobs or opportunities, I will always have a pen and paper, I'll always have the ability to draw and I'll always have art to look at and things to respond to," he said assuredly.
Currently, Yarrington is working on his self-directed senior project, "Greaserz," which he describes simply as "loosey goosey people." His artistic interests include pen and ink, painting, typography, graphic design and comics. His list of freelance work includes T-shirt/logo design, typography for a restaurant in Manhattan, N.Y., and a wall mural. You can check out more of his artwork here: Grahamyarrington.tumblr.com .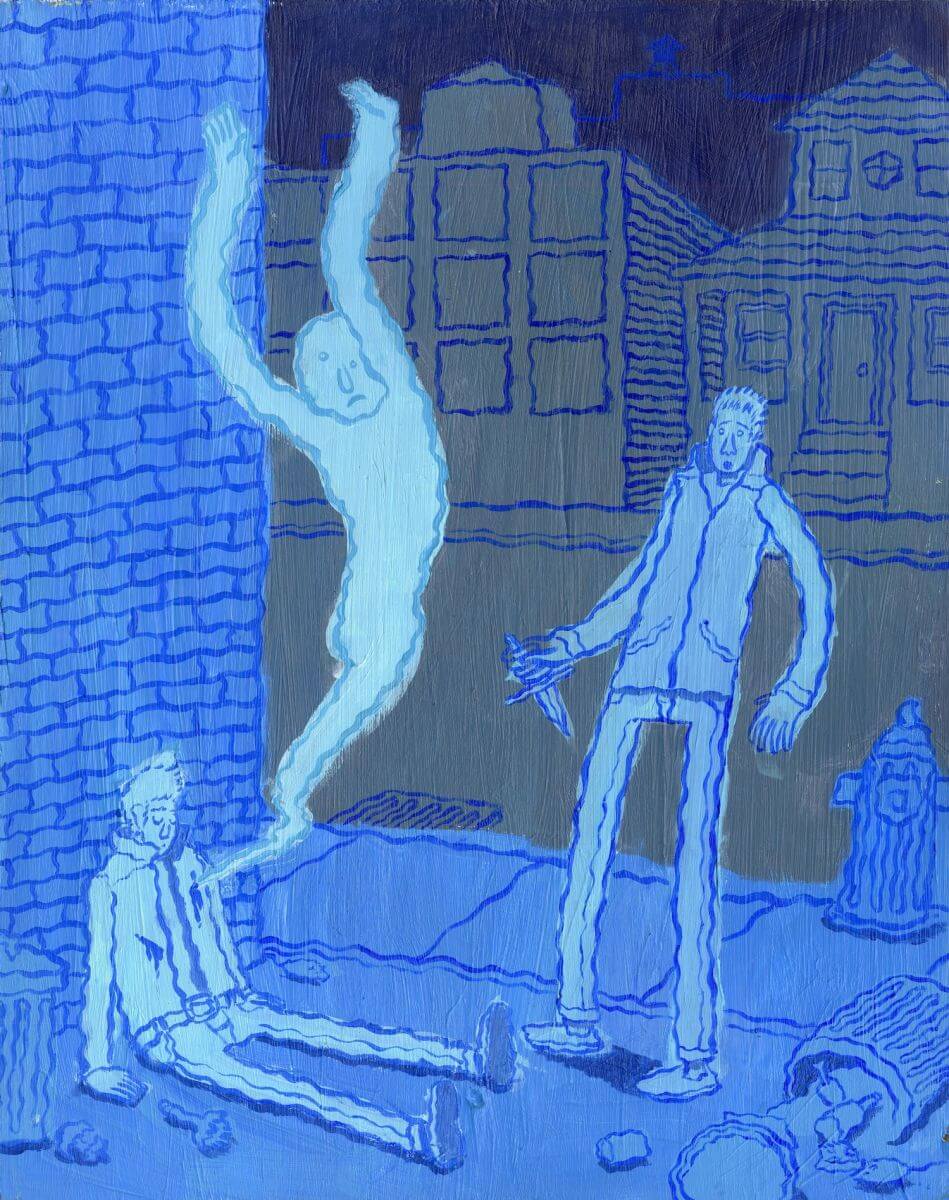 Oops
Gawain