You've made it through last minute New Year's Eve plans, a girl crying about her lack of a midnight kiss and Ryan Seacrest somehow taking every job on television. With the New Year comes new challenges, goals and sexts. Sure, you might want to exercise more or eat better, but those resolutions are so 2012.
Why not spice up your list of new year's resolutions with a few activities that can get your heart pumping just as much as a light jog on the treadmill? Here at College Magazine, we've come up with a list of sex New Year's resolutions to make 2013 your hottest year yet.
Trendy Role Playing
Toss out the ol' nurse outfit and try something new to spice up your relationship. Is he totally into Big Bang Theory? Make all of "Sheldon's" physicist fantasies come true. Is she waiting not-so-patiently for the next Hunger Games movie? Feed her some bread…in bed.
Fort-o-Sex
If you have a lofted bed in your dorm, it's the perfect opportunity to create your very own sex cave. Hang some blankets and throw in some pillows for ultimate comfort. Just make sure you take it down before your family comes to visit.
More Afternoon Delights
If you're the type who turns the lights off before the clothes come off, you're totally missing out. Leave those insecurities in 2012 and vow to put it all in the open. Try a quickie in between daytime classes or reward him with a peep show after finishing a big project.
Shed those Layers
After a day of sledding or skiing, supplement your hot cocoa tradition with a sexier way to warm up. Turn the chore of getting out of those snow pants into a hot strip tease. With all of those winter layers, you'll be in for a long afternoon.
Sexercise
If you made it your resolution to shed a few pounds, what better way than the horizontal mambo? Make it your goal to try out some new moves in the bedroom that will make you sweat. Check out these calorie-burning positions for some inspiration.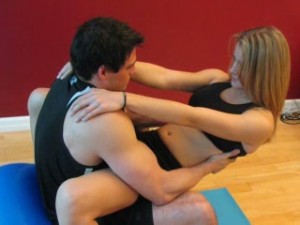 Photos taken from fadesintogray.com and cltampa.com