My haircuts before the pandemic always started the same. "Keep it longer on top and shorten the sides," I'd tell my barber. At that time, my schedule began with me waking up and showering before 6:30 a.m., and I built my style around quick and uncomplicated dressing. As such, my hair operated at a low level on my priority list. It essentially existed to make the top of my head look decent and remain easy to maintain. Even now, I can appreciate the fact that such a haircut took almost no time to shampoo, comb and smooth back with a little bit of gel.
During the COVID pandemic, however, I found myself trapped at home with little more to do than binge-watch The Sopranos and walk aimlessly around my neighborhood for hours at a time, aiming to get some fresh air and physical activity. During these walks, I would look at my reflection in the windows of closed businesses, their doors locked up for a time or for good. Among these shuttered shops, my local barbershop lay dormant. In the reflection of its black window, my hair shined slicked back and short, parted to my right. It would not remain this way for long.
The Beginning

Like many other people's stories of personal growth over the last two years, my story begins with the pandemic. I recall the thoughts of myself and many others during the start of Spring 2020. "Oh, this will shut down the schools for like, two weeks. Then we'll get back to business as usual!" I studied as a senior in high school at the time, still contemplating where I would get a tuxedo for prom that year, and still waiting to hear back from all the colleges I applied to. We all know how that eventually turned out.
It took until mid to late April for me to realize that COVID would take much longer than a few months to go away, and businesses wouldn't soon reopen. This moment holds importance, as at that moment I realized my hair could now grow without restriction. While my hair does grow quite slowly to begin with, I never went without a haircut for longer than three months. In what direction would it grow? What would I look like when the barbershops finally reopened?
The Lengthening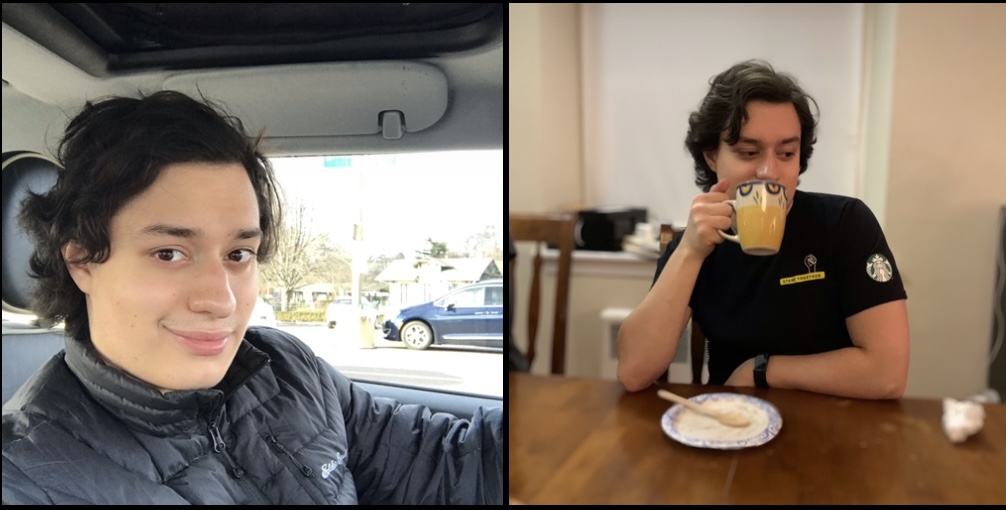 At some point during 2020, I decided to let my hair grow longer than ever before. In high school, the idea of rocking a shoulder-length, head-banging mane popped into my head occasionally. Then, however, the idea seemed unfeasible. Given my general insecurity with my looks during high school, I would never risk the awkward in-between phase of long and short hair, as I would risk other students teasing me to my face or behind my back. Now, all this insecurity seems dumb in hindsight, but I can't deny how much it influenced my high school experience.
Before it began to fall, my hair first needed to rise, and rise it did. The first year of the pandemic saw my hair poofing outwards like a brown shrub. Given that the hair atop my head remained longer than the sides initially, it grew upwards at first. Before I knew it, the brush above my forehead coiffed to my right, slumping down to my temple. My sides and back didn't noticeably grow out until the end of that year.
The Maintenance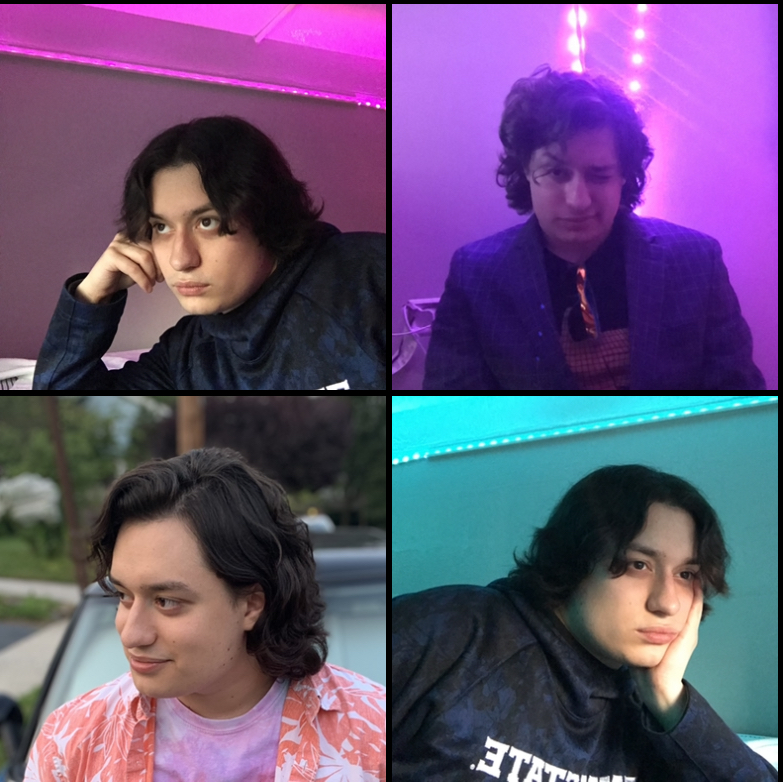 Of course, with great hair comes great responsibility. I learned how to care for my hair at the same rate it grew: very slowly. It took months for me to buy a hairbrush, and almost a year for me to stop rinsing my entire head in the shower every day. At least once every two months I picked up some new trick for keeping my ever-expanding mop healthy: don't get your hair wet so often, don't use shampoo every day, start using hair ties while exercising, use conditioner on just the ends of your hair and prepare to shed way more often. This learning curve coincided with my scraggliest look yet.
Fortunately, this "awkward" part of the Fierce Flow saga happened during my first year of college. While this period usually marks a time of boundless social growth and meeting new people for many, my freshman year began during the pandemic. I only moved into Penn State's main campus for one semester, and at the time most of the clubs and events I attended remained online through Zoom. As such, I did not need to worry about new people judging me for a weird haircut, for I met nobody new!
The Dyeing

I began my sophomore year a few months later, the "awkward" phase nearly finished. I arrived satisfied with my length in the back, though the front and side regions still needed some work. You could often find me wearing a hat of some kind during this era, my hair in the back sticking out and giving the illusion of a fully-grown mane. Around this time, I got the idea to dye my hair a different color. I jokingly made a bet with a friend that if she ordered her new Air Pods with a meme printed on the case, I would allow her to dye my hair. Next thing I knew, she stepped up to the challenge, and I began looking into bleaches and dyes.
So why did I decide to bleach and dye my hair? I ask myself this question occasionally, and my mother asks me it nearly every day. I suppose I simply wanted to "shake things up." At this point I already went through the effort of changing my look so much, why not take the extra step? In addition, that fall marked my first time on Penn State's campus during football season. To show my pride, I went with a darkish shade of blue. Over the course of a few hours my hair turned from dark brown to dark gold to Cookie Monster blue.
The End?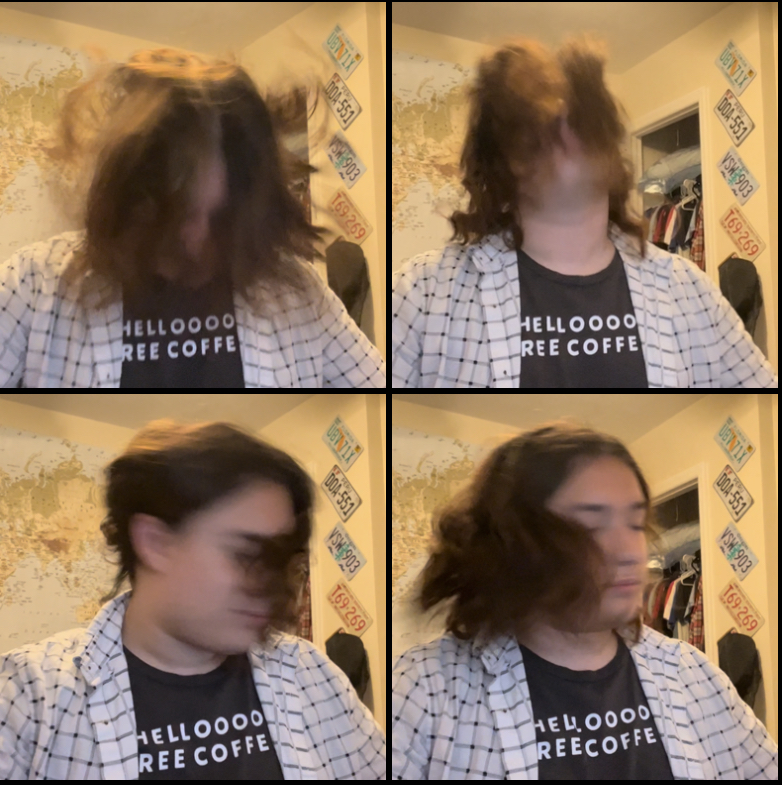 Over the course of a month the dye faded to a light green, then back to blonde. I dyed my hair brown again over winter break to avoid dealing with the ire of my parents for a month, and since then simply left it be. In terms of length, my tresses now reach down to my shoulders and back. In terms of color, the bleach and dye continue to fight for dominance on a daily basis. Sometimes my hair appears brown or light brown, other days a strong aura of gold shines off where the sun hits it. With summer fast approaching and my semester now over, the option of starting anew seems tempting. Shortening my hair would make the heat more bearable, and perhaps I could regrow it differently. As of the time of me writing this, I sit at a crossroads, with either option of keeping or cutting appearing equally likely.
So, what do I make of all this? What does it all mean? I suppose my ultimate takeaway comes from the satisfaction I found in changing my appearance. For nearly all of high school and middle school, my general appearance looked the same every year. COVID provided a situation that forced me and the rest of the world to change. Many of those changes made life more difficult, yet some provided an opportunity for growth. In this case, I took the opportunity to start fresh. College marked the beginning of a new period in my life and a new Ayden. Even though I did it for myself more than anyone else, I wanted my hair to make that clear for all to see.