On the west side of Penn State's campus, housed within the unassuming Applied Research Lab, a breathtaking endeavor is underway. While others in nearby rooms finish up lab reports for their physics and engineering classes, one special group of students works to complete a project that's (quite literally) out of this world: they're building a spaceship.
In the entire history of astronomy and space travel, only five countries have ever successfully landed on the surface of the Moon, but certainly no universities. The Lunar Lion team at Penn State hopes to be the first. Their mission: to spark a renewed global interest in space exploration, and to set a precedent for universities around the world.
The project started as a small idea about four years ago, with the original goal of competing in Google's Lunar X Prize — an international race to land a privately funded spacecraft on our closest celestial neighbor. After the university gave the OK for students to test rocket engines, word of the mission got out, financial support eventually grew, and now the team has a stable roster of around 100 members, a compilation of students, faculty and external advisers all working together to build a single unmanned craft.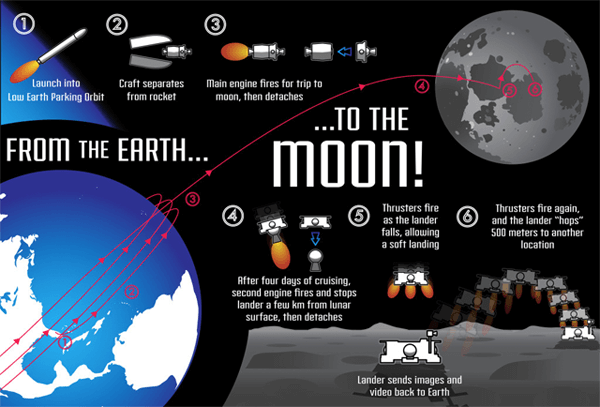 Despite the complex engineering and mathematics involved, the student participants do most of the hands-on work. "The technical projects are all completed by the students, as well as some of the administrative work… This is truly a student-led team," said lead structural engineer Creed Reilly. "My role is to create a robust craft on which GNC [Guidance, Navigation and Control], power and propulsion can play well together" — an impressive list of responsibilities for someone who hasn't even gotten a Bachelor's degree.
Skyler Shuford was a grad student when he worked on the project last semester as its Deputy Lead of Guidance, Navigation and Control. The team's biggest challenge, he said, was a lack of experience. "Rocket science is hard even for people who have been doing it for years. It's been hard to estimate schedules because we can't always predict how long things take and what issues we'll run into. But that's also been why this project is so exciting," Shuford said. "We're able to work on real engineering problems in more depth than most internships and entry-level jobs."
The deadline for Google's Lunar X Prize looms ever closer — teams only have until December 31, 2015 to qualify for the $20 million grand prize. Although it might seem like a while, a year isn't all that much time when you're putting together an entire spacecraft. It is rocket science after all. The diligent Lunar Lion team is one step closer to finishing with each passing day. "The team has now tested two rocket systems, built and programmed a quadcopter for testing, done lots of community outreach and more," Shuford said.
But whether they meet the deadline or not, what remains definite is that the Lunar Lions will finish their mission. "We are actually moving away from the X-Prize because at the end of the day whether we complete the mission before or after the X-Prize deadline, we are still going to put something on the moon. We have to stop doing this for a prize, and start doing this because this is truly something we love to do," Reilly said. "This project is bigger than a single competition. It's a global game changer."