It took four years. Four years of gossiping over mediocre cafeteria food, pulling all-nighters to finish that project that probably needed to be done a week ago and some tears in the library during stressful study sessions. Then came the pandemic and a whole new set of challenges arose—Exhibit A? Not being able to do all of the above. You might feel like you're limping to the finish line after a year and change of online classes and no social interaction, but you did it! Graduation looms ahead, and so does the future. But wait, you can't just leave college without a killer graduation cap! That's where College Mag comes in.
Check out 35 graduation cap ideas that will leave your classmates saying, "Ooo, I wish I did that!"
 35. People Around Here Think I'm Crazy, but I Don't Care
This Princess and the Frog inspired cap will leave you singing to Evangeline with Ray! This cap is perfect for a student who might be continuing on for their masters or PhD.
 34. You Can Never Go Wrong with SpongeBob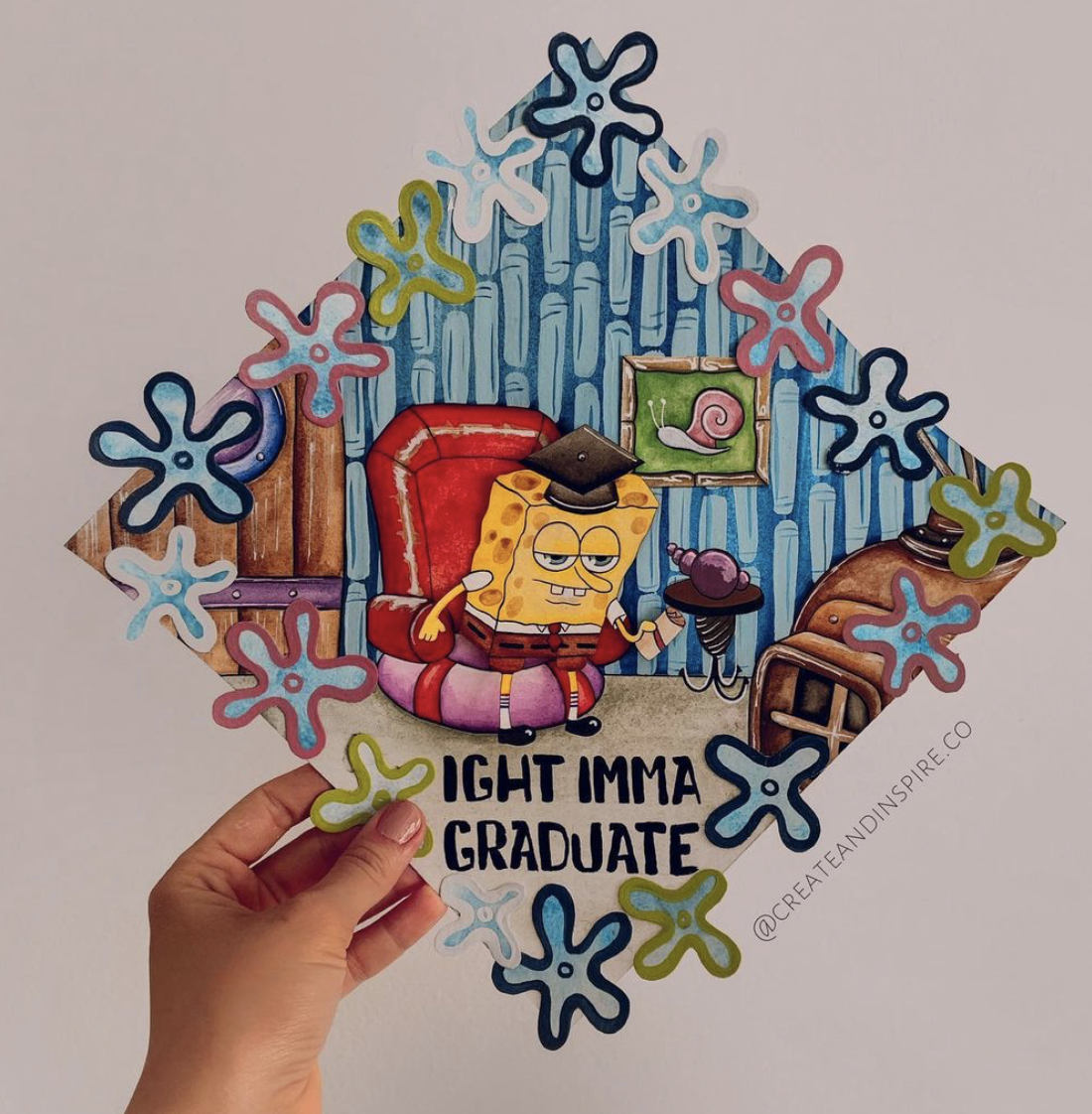 This sponge defined our childhoods and continues to make waves as a meme every so often. Remember when a new SpongeBob meme went viral every year for a while there? You can't go wrong with this classic for graduation.
33. Bring Your Wallpaper to Life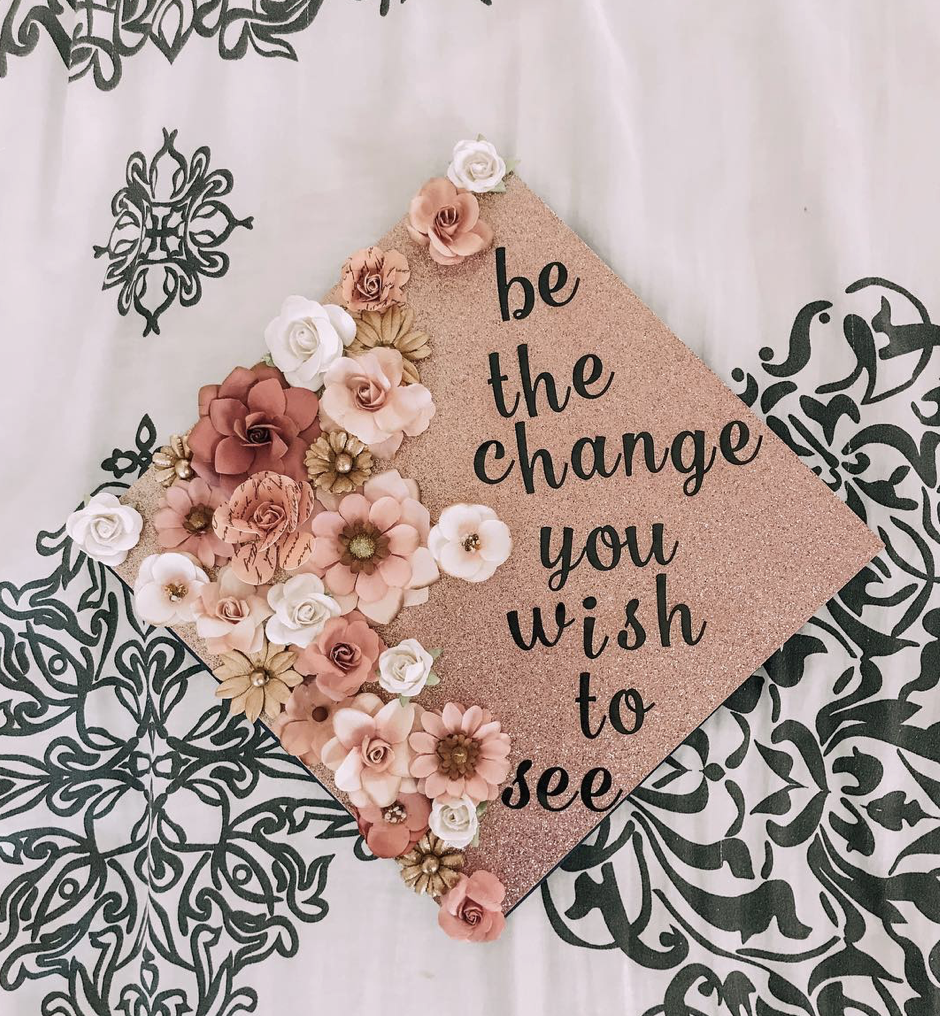 Let's be real: this phrase inevitably winds up as a wallpaper on our phones. But that doesn't mean that it doesn't hold a profound truth. If you want to see a change, it's up to you to make a stand.
32. Go with the Flow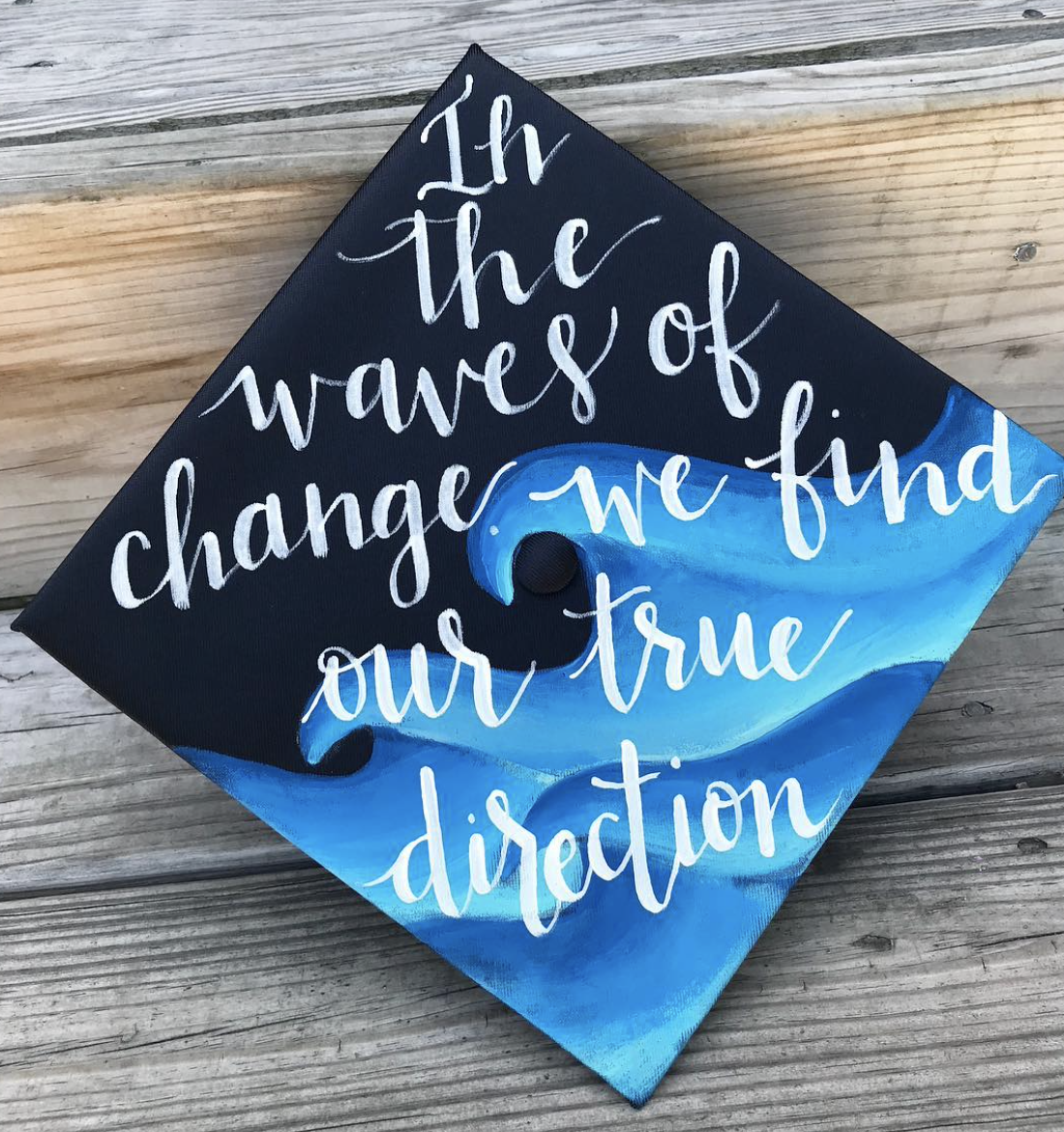 Tried and true: students know better than anyone else that things go awry over the course of college. A dropped class or a whole new major, everything that you went through came to this very moment. You were meant to find your way here.
31. Gogh Off!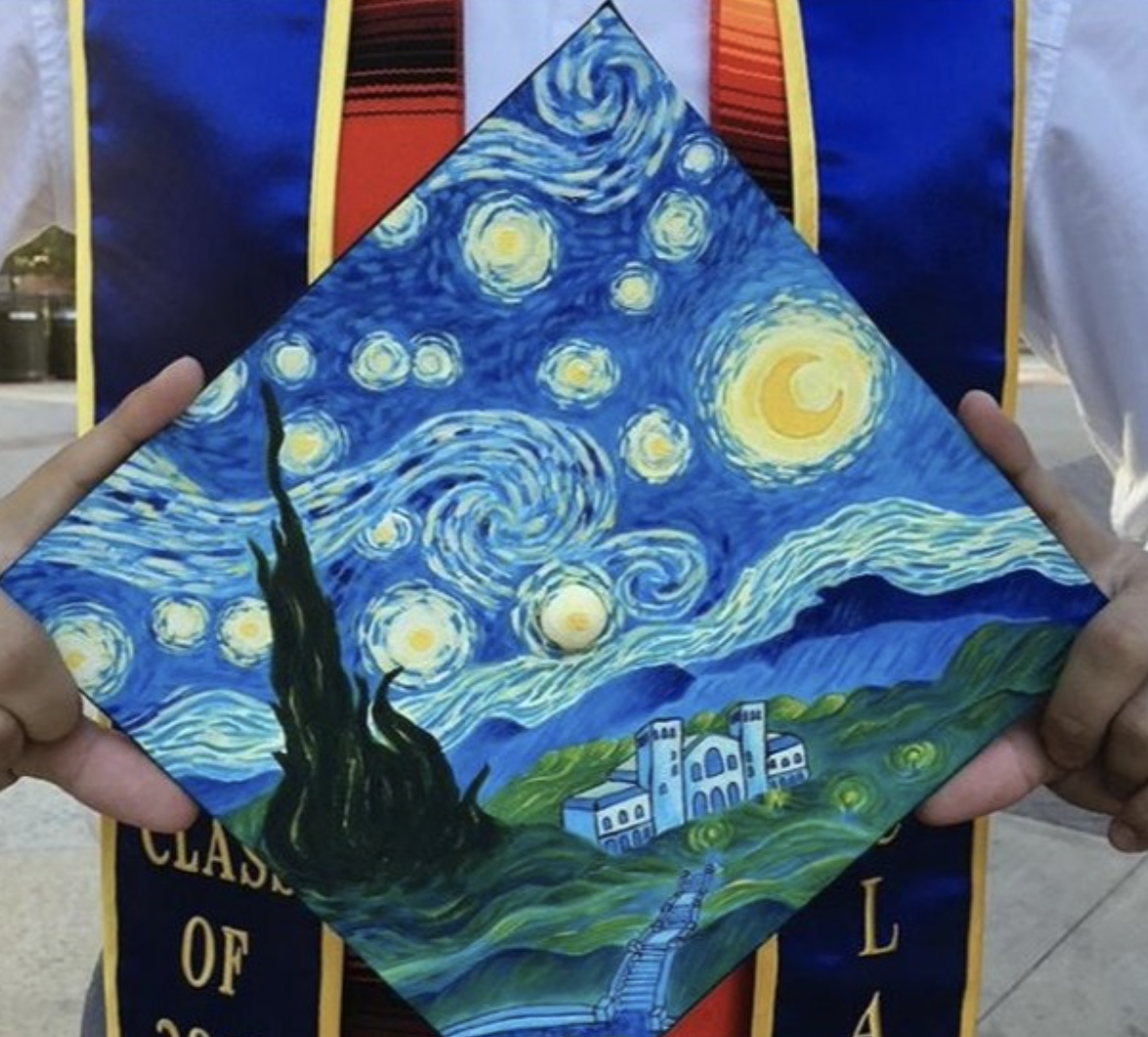 Does anyone else feel a little less alone when they look at the Starry Night? Maybe that's why this choice will bring a little comfort as you step into the next part of your life. The night and the stars remind us that we will never truly be alone.
30. The Not-So-Marvel Marvel Cap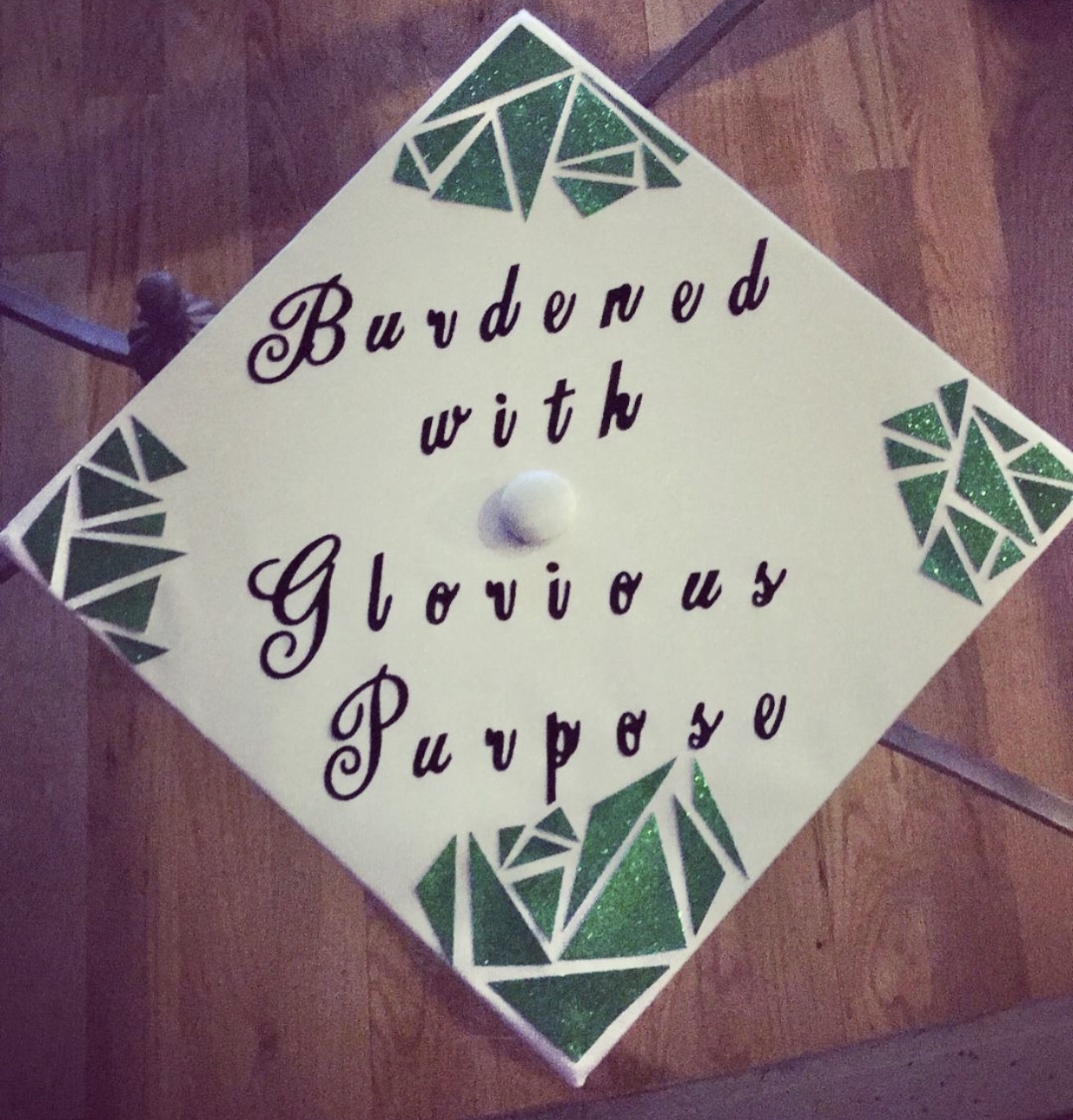 Let's say you want to pay a tribute to your favorite anti-hero who consistently dies in every other movie—but you want a different take on it. Try a stained-glass effect and some scrawling script and boom: a cap that Tom Hiddleston would love.
29. To All of Our First-Gen Grads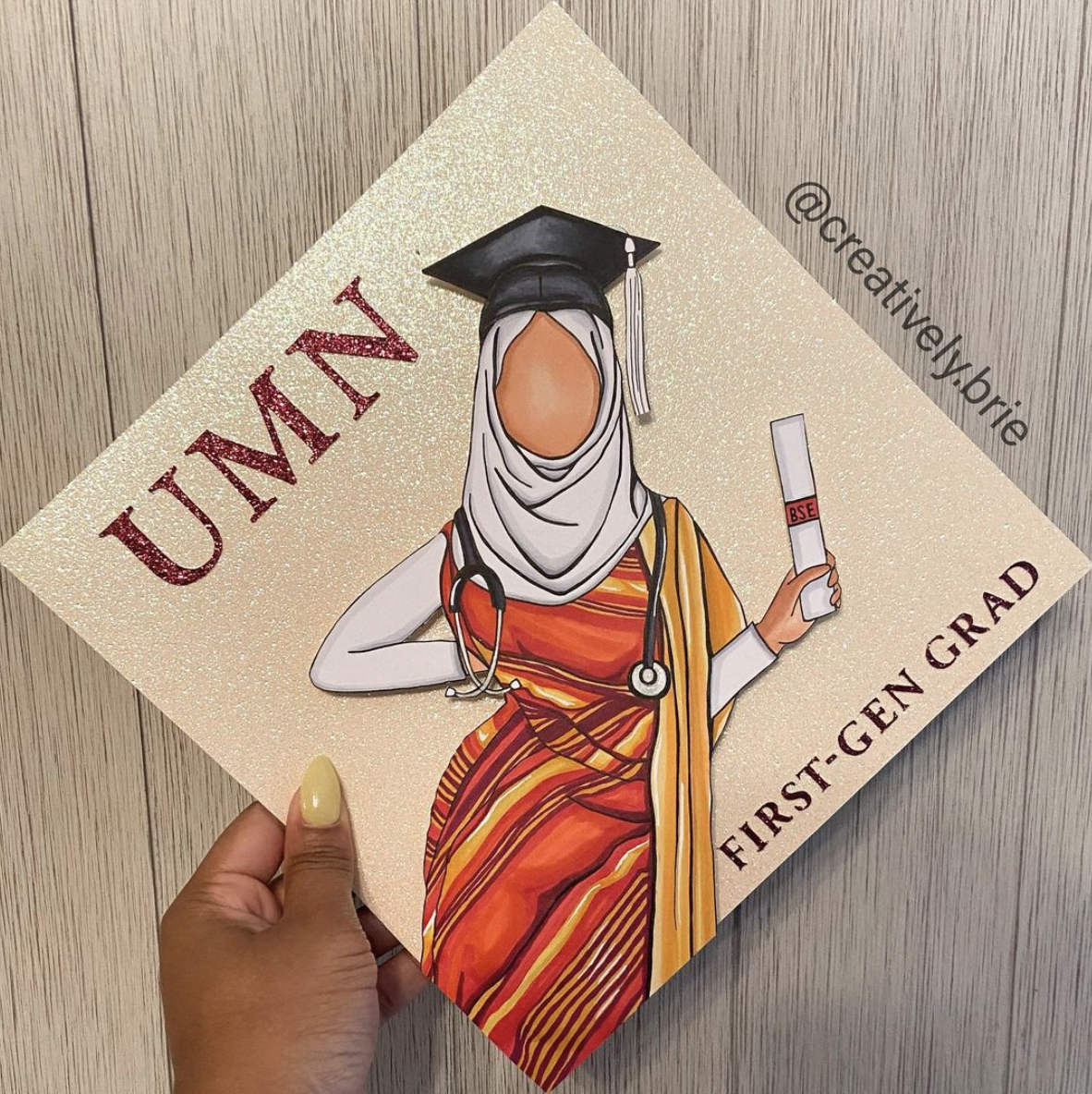 Your family, no doubt, feels the greatest pride. And you, too, must feel so proud of yourself. You should.
"The freedom of being able to express oneself through an object that is so symbolic of the hard work and dedication put into our education is something I hope every student is able to experience," College of Staten Island senior Kyle Feliciano said.
Congratulations, grad!
28. This One is For You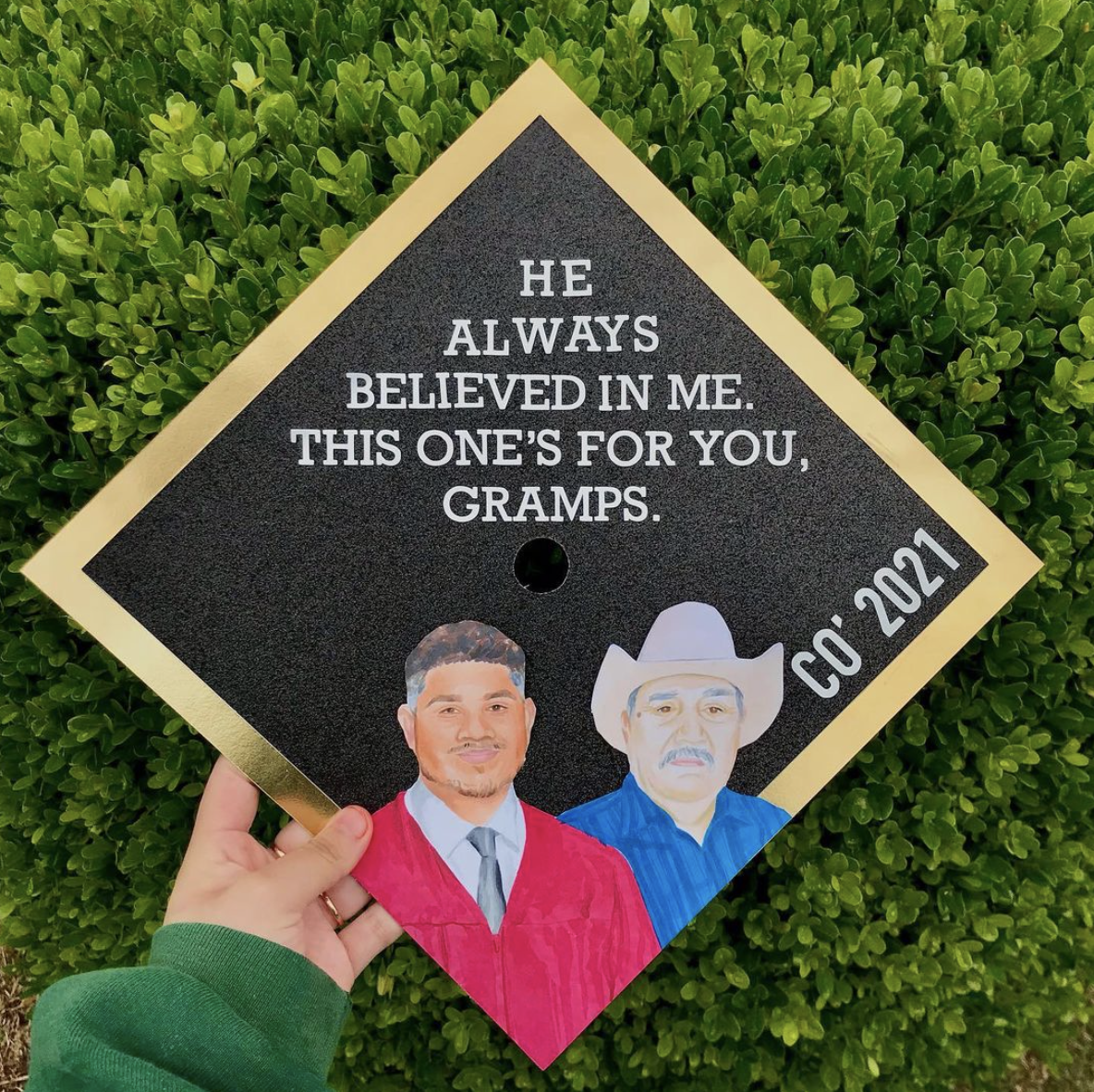 Our greatest inspirations may not be with us anymore. How bittersweet it feels to us that they will not be attending graduation. Bring a little part of them to your graduation—and you never know. They might just be sitting in the seats far above us all.
27. Try a Verse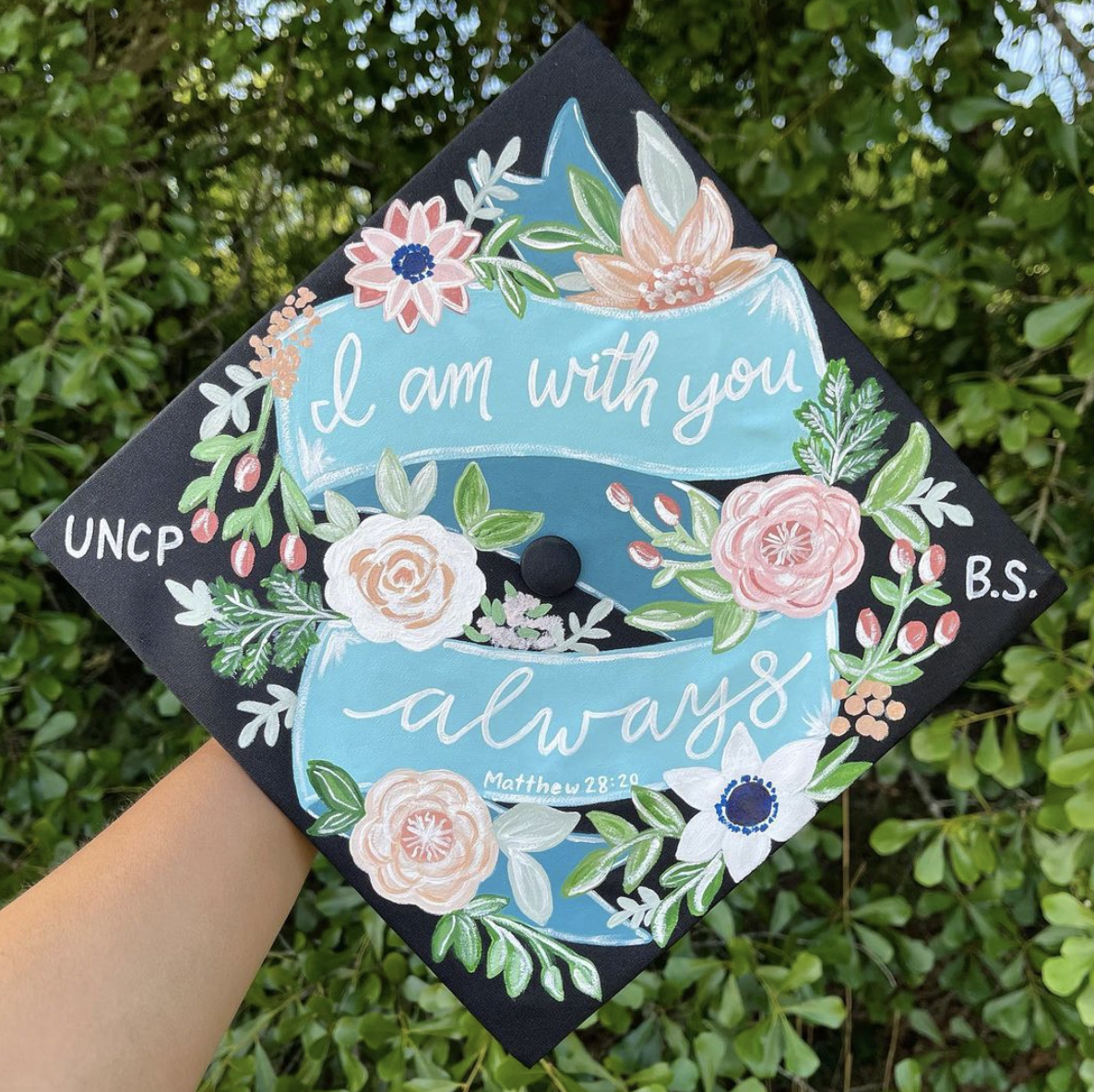 If you believe in God, you surely prayed throughout exam season at least once. God perhaps guided you to this very moment. Pick your favorite verse and feature it on your cap!
26. Feature Your Native Language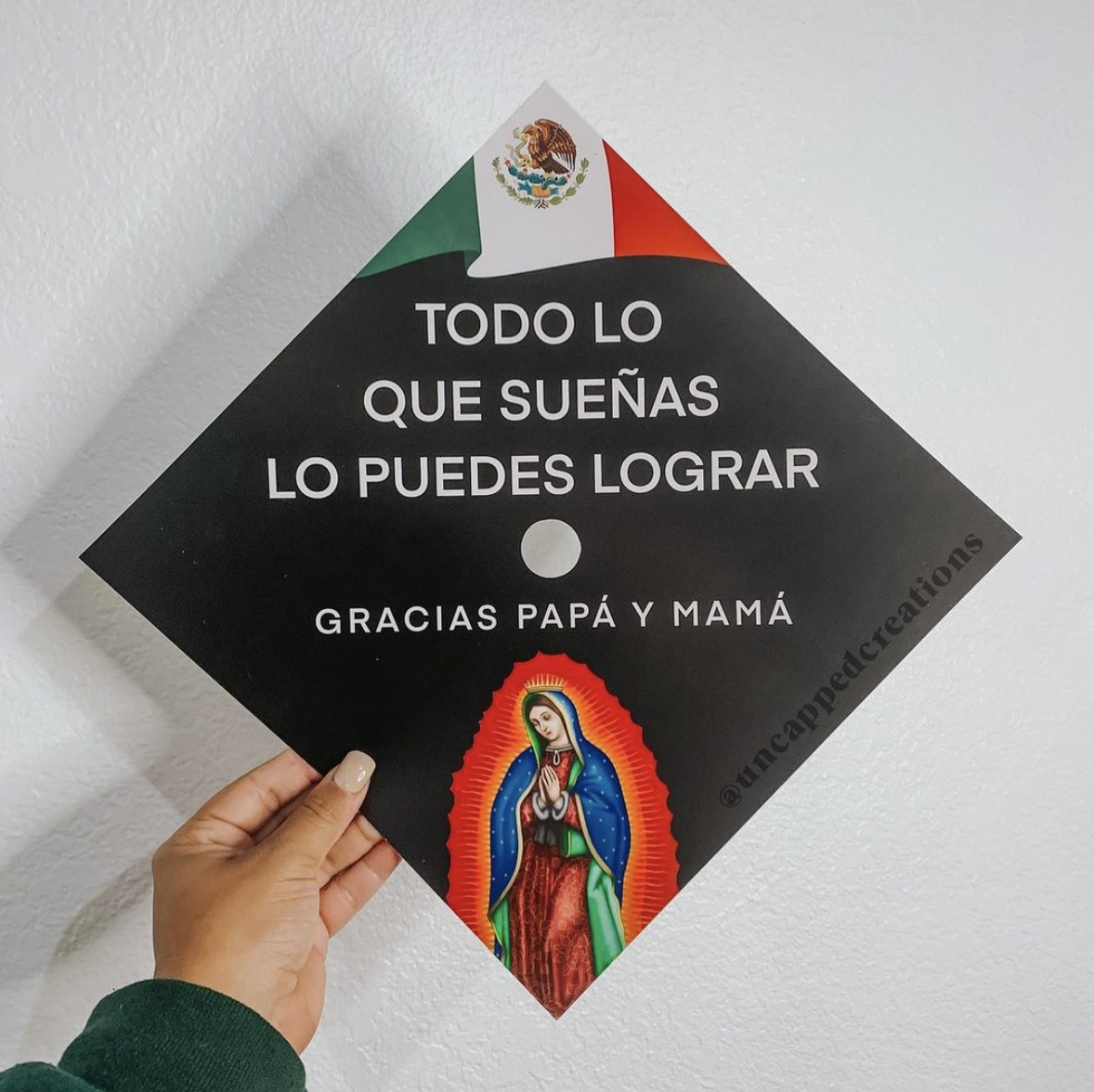 Not everyone grew up in an English-speaking household—and when you can't speak your native language in school on a regular basis, a grad cap comes as a perfect opportunity to pay homage to it.
25. The Claaaw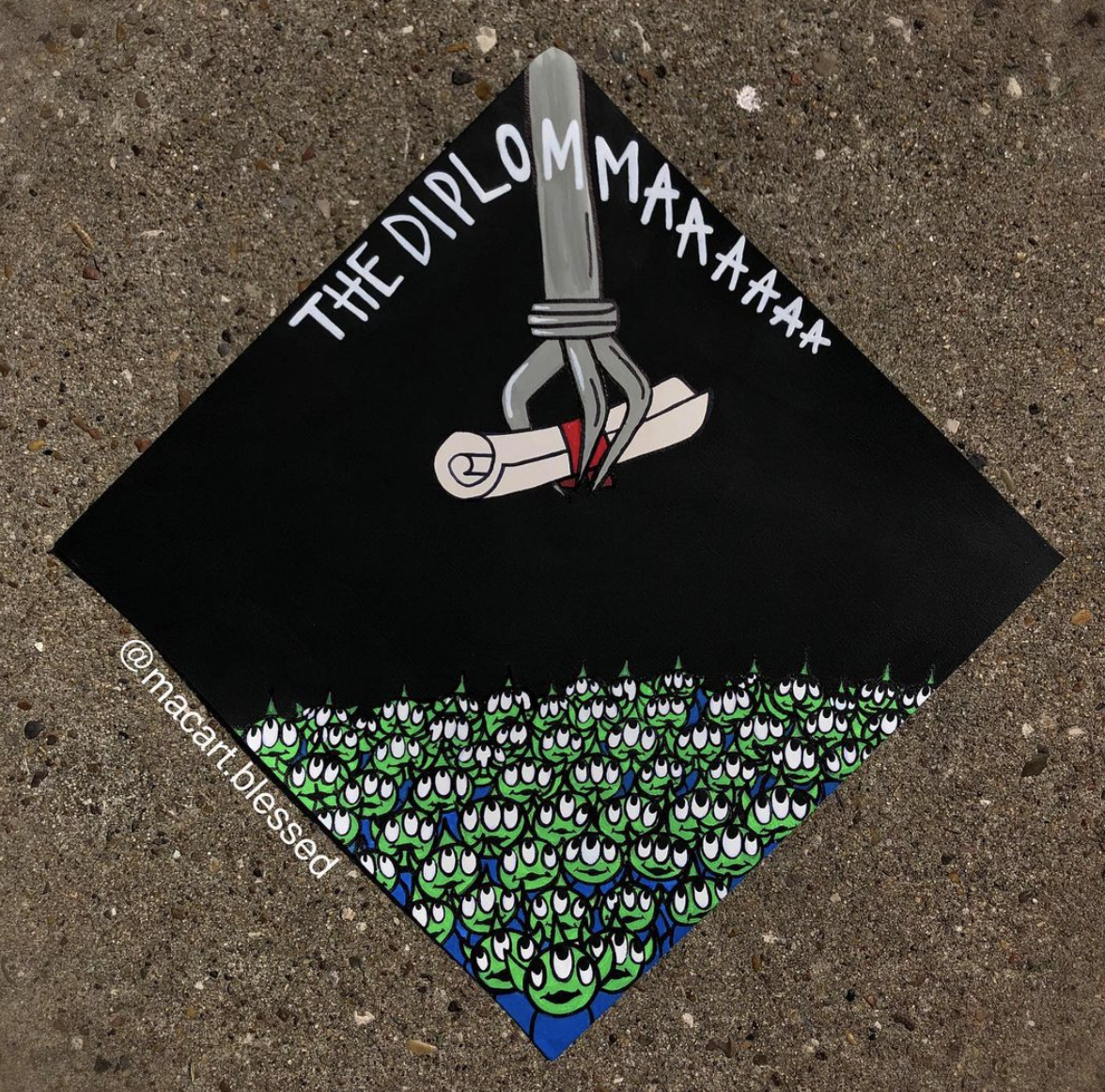 I don't know how many times I said this over the years; you probably don't know either. Except, instead of the claw, we worship the diploma—and you just got your prize.
24. Drac Attack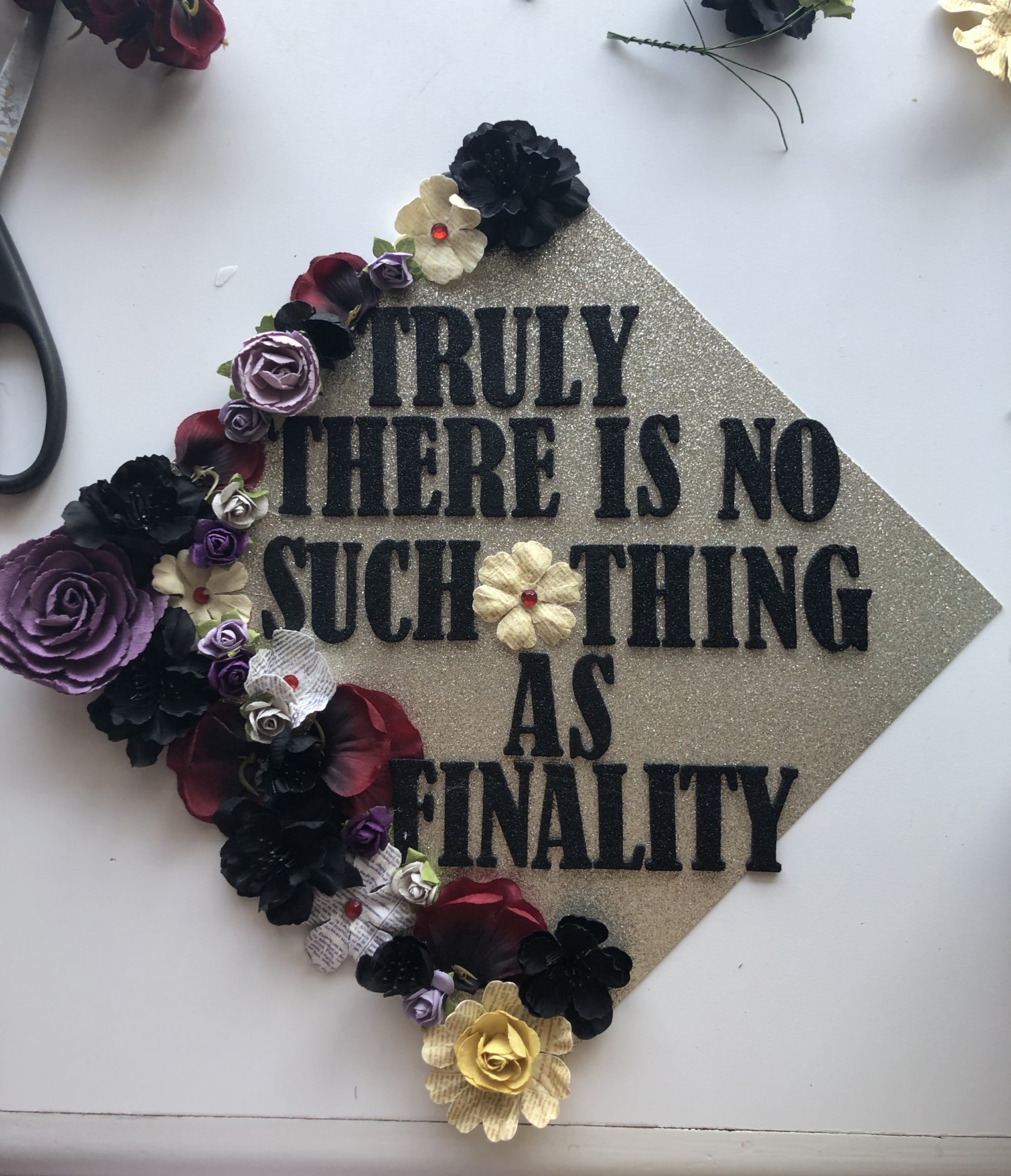 Calling all of my English majors! Anyone else remember this stunning quote from Dracula? I don't know about you, but this perfectly captures learning and your English squad: it never really ends.
23. Your Own Greys Moment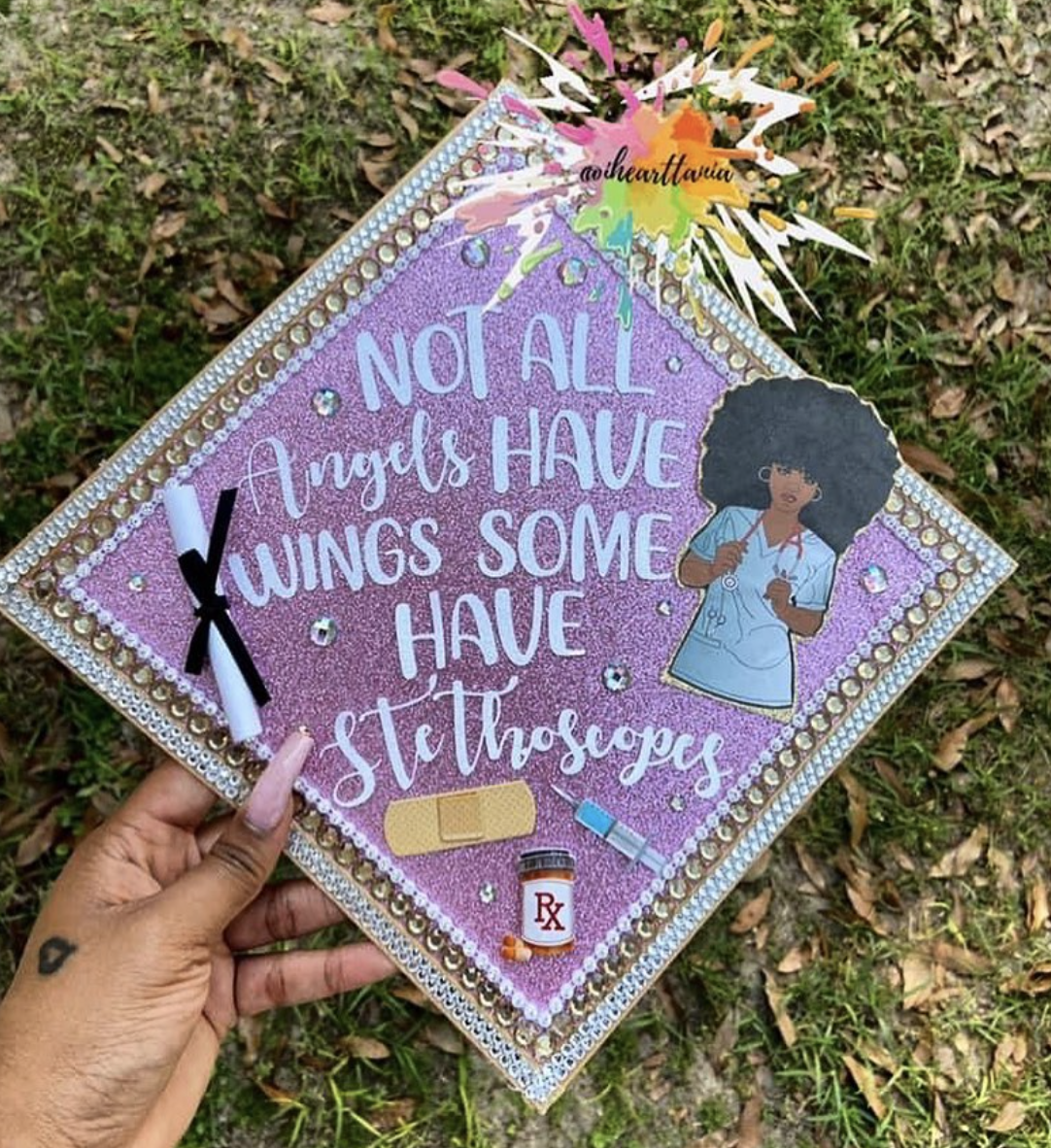 You did all of the work. Entrance exams to clinicals, everything paid off. Now, you get to make your own team at a hospital where you get to save lives just like in Greys.
22. Cue the Dramatic Reader Gasp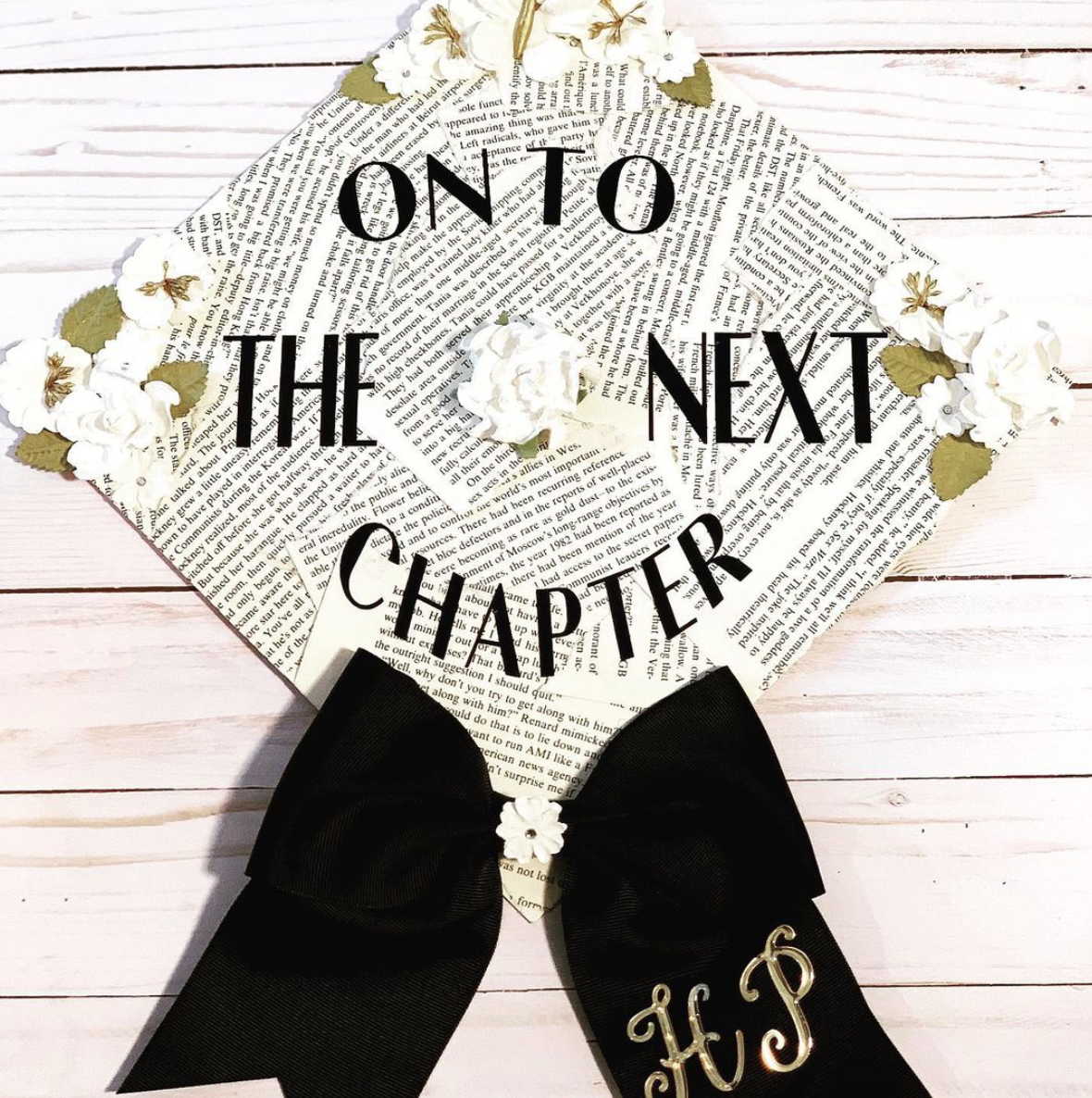 College totally left you on the edge of your seat a few times. But as this chapter comes to a close, you can look towards to a new one. Not to mention that this cap can totally feature pages of your favorite novel to keep you calm during the big moment.
21. I Am Inevitable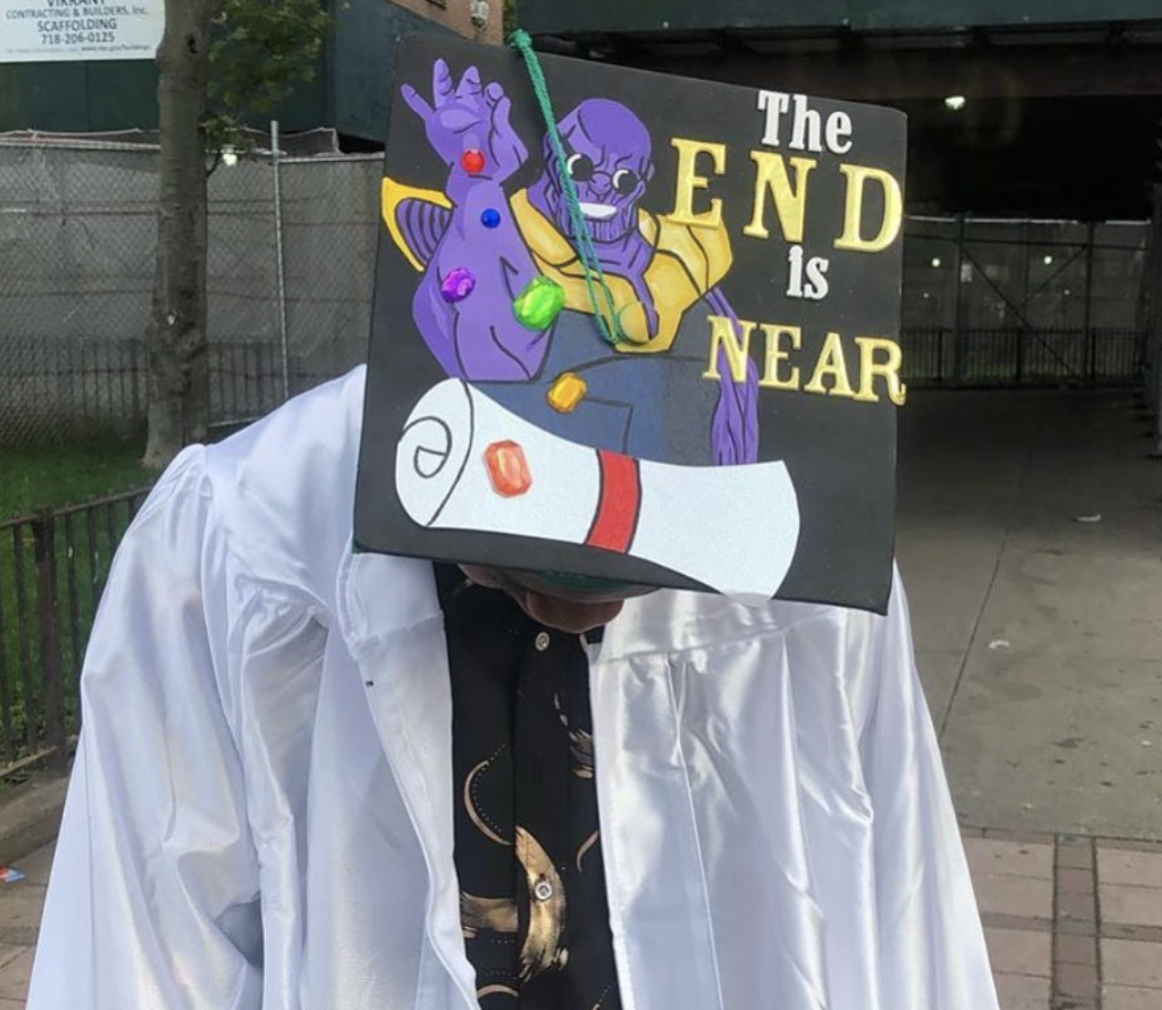 You collected the semesters like Thanos collected the infinity stones. Except instead of snapping away half of the universe, you will take on the universe with your degree.
20. Get Yourself Psyched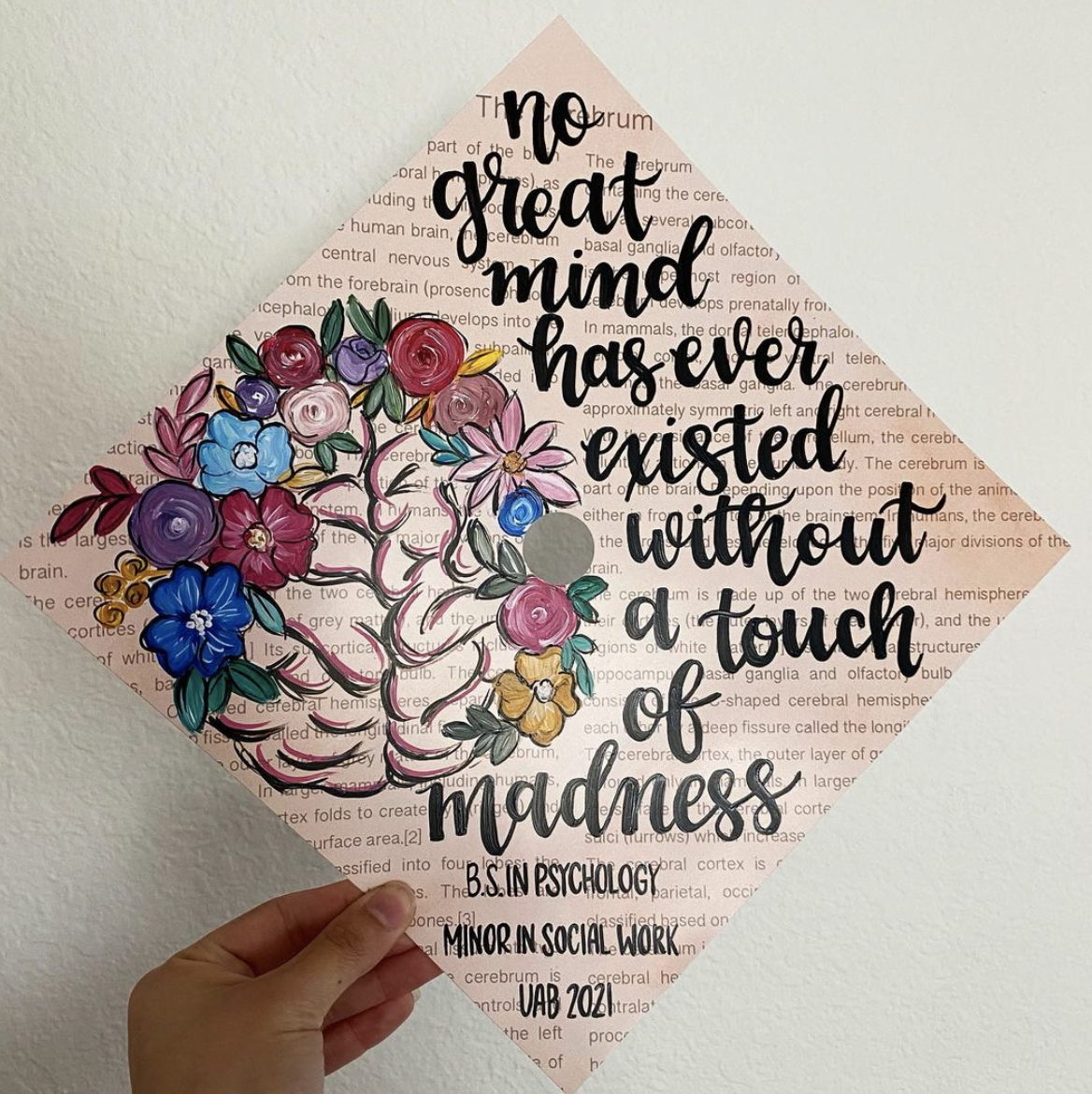 We all go mad sometimes—especially after a brutal final's week. Wine night, anyone? But everything's over now: time to really get crazy.
19. I'm so Glad I Left My Tower!
College will always be a steppingstone to something more. Just like Rapunzel, you took one completed your first dream: completing college. Now, the time to pick a new dream arrives.
"Since I am becoming a teacher, I didn't want to do the basic teacher cap. I still wanted to create a child-like theme since it relates to my profession. I remembered that I absolutely loved Disney and Rapunzel, so I decided to use a well-known quote from the movie Tangled: I am moving 'on to my new dream' of being an educator," University of South Florida alumna Tiffany Stucken said.
College sounds about 10 times better with Pascal hyping you up!
18. BRB, Going on a Dunkin Run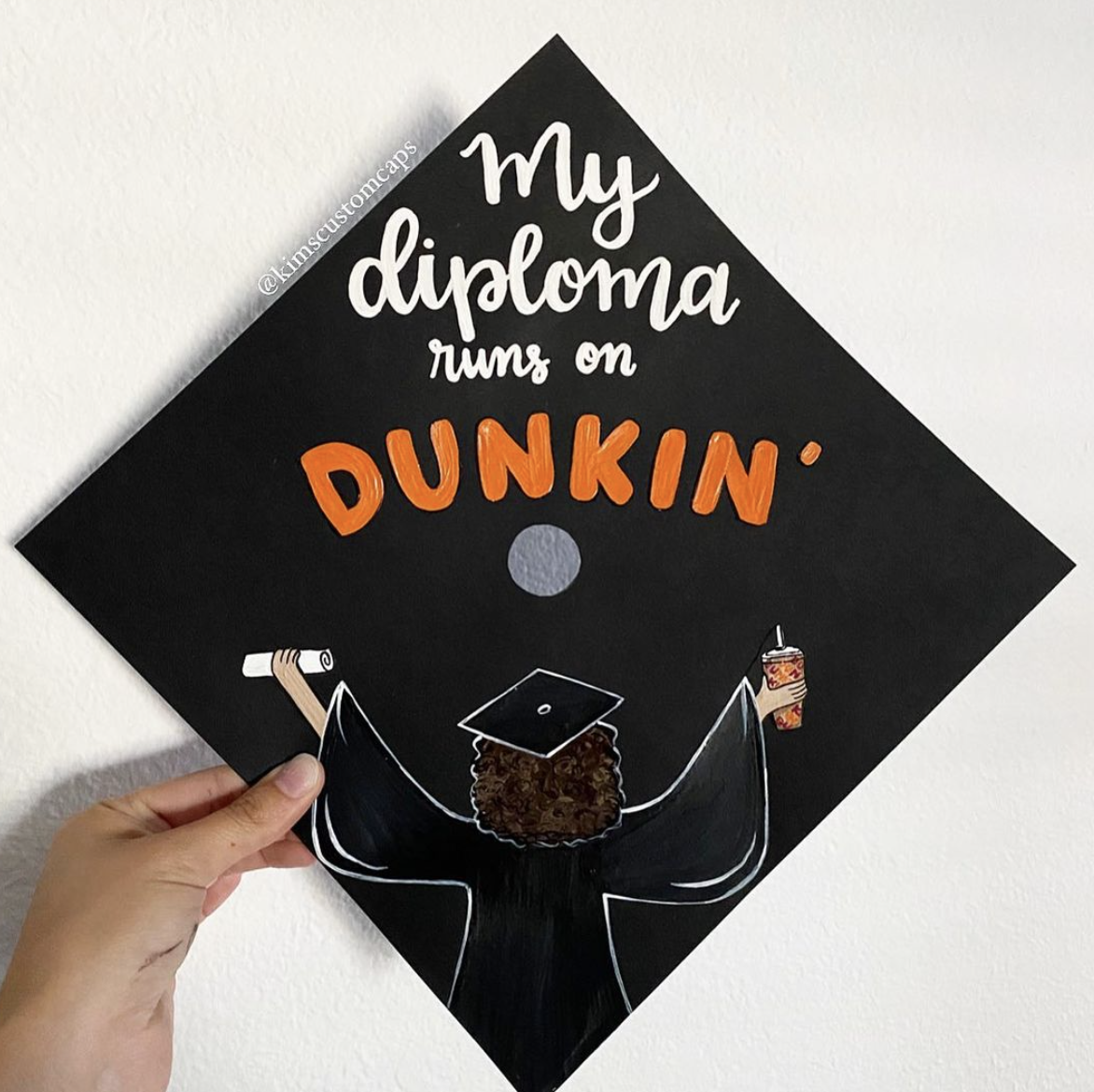 Never forget the times you were running late to class because you just couldn't function without that delicious, iced coffee, and the line went out the door. Totally worth the stink eye from your professor.
17. Let's Avoid Mustafar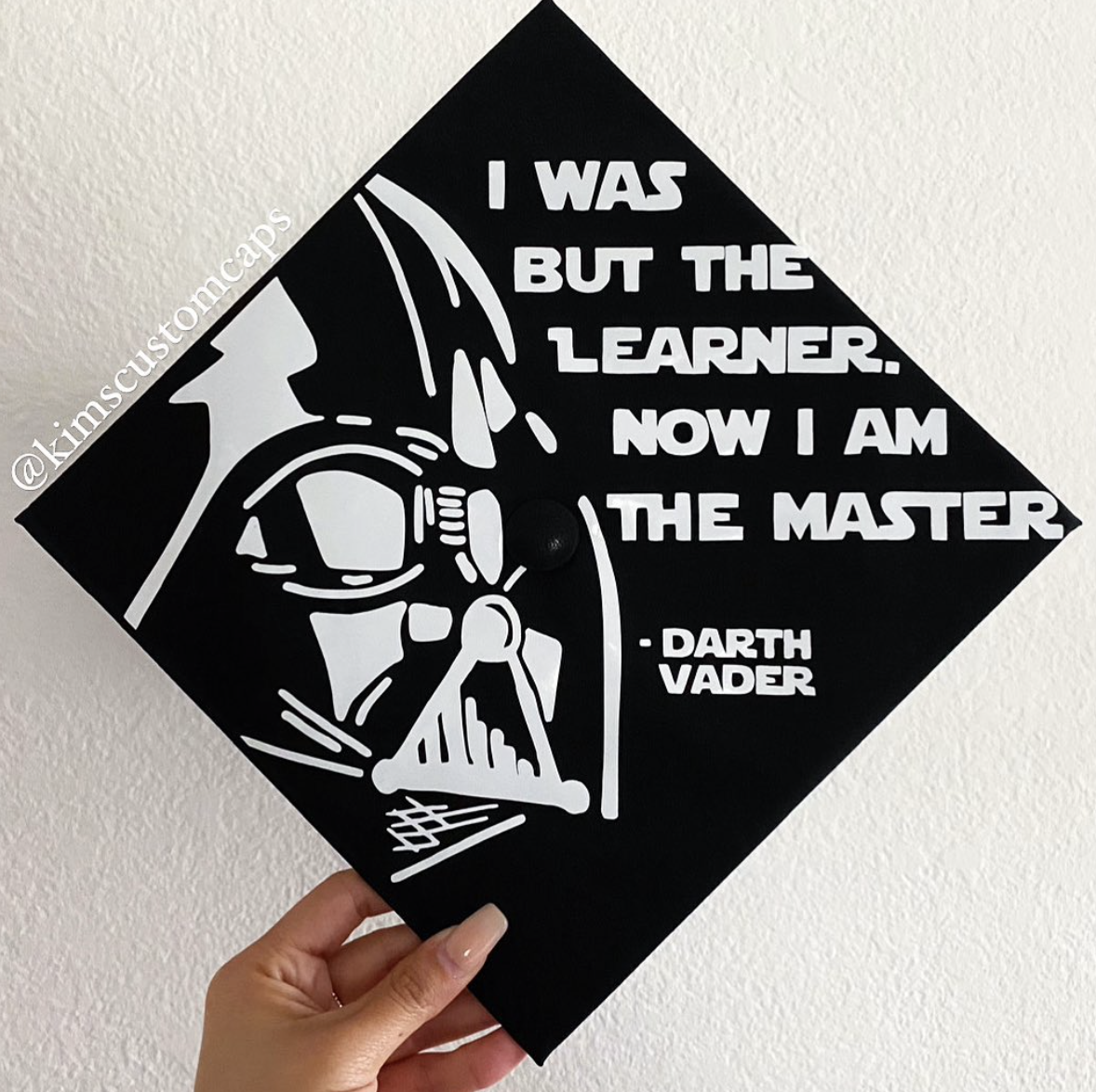 While you didn't need to kill a bunch of people to get to your degree, Darth Vader's quote totally encapsulates the learning experience. Here you come, four years later, ready to take on the planet.
16. It's About What You Believe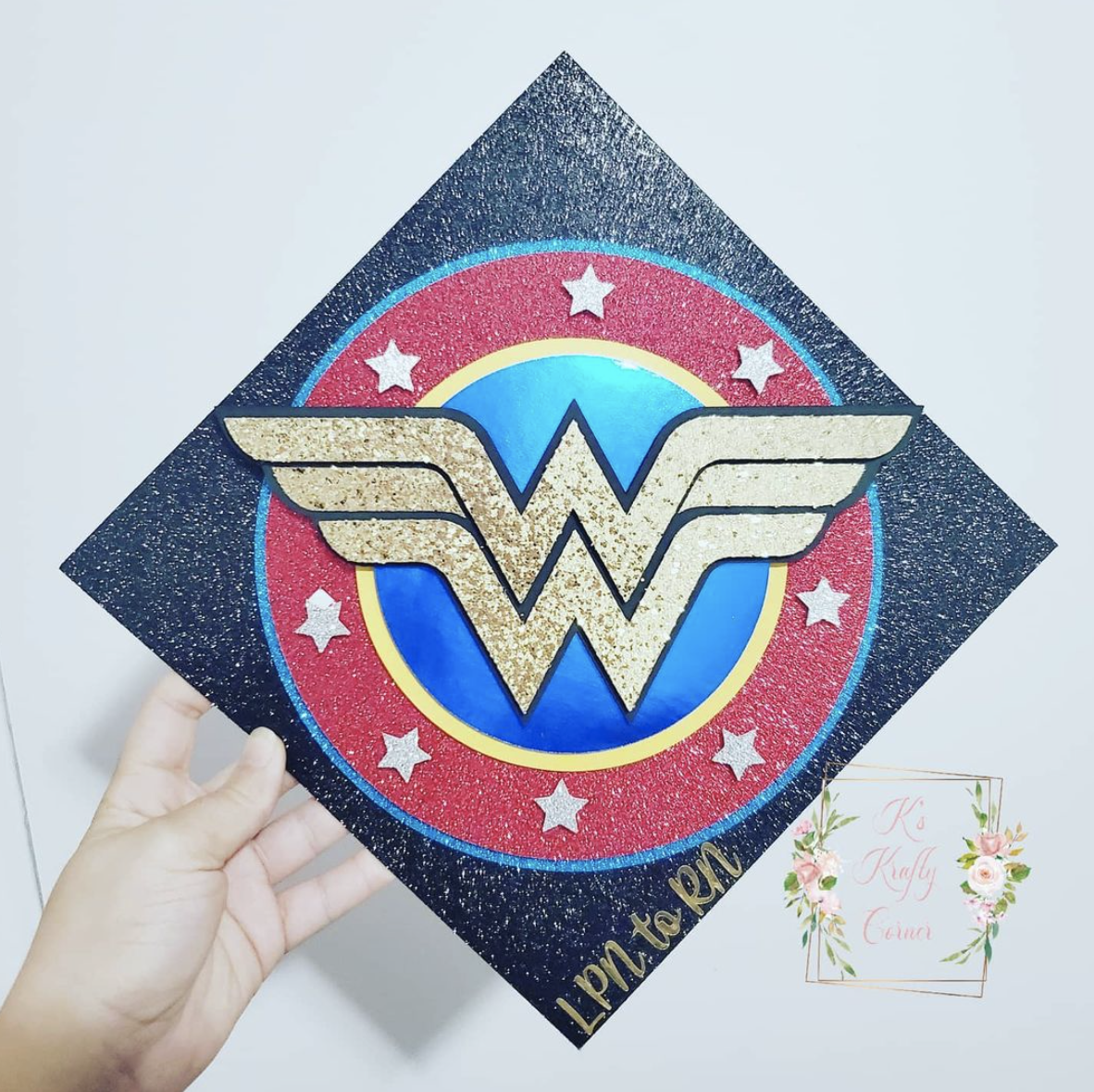 When Wonder Woman beat No Man's Land, millions of people shivered under her power. You just graduated, and with a cap like this, people will feel your power.
15. Hello, World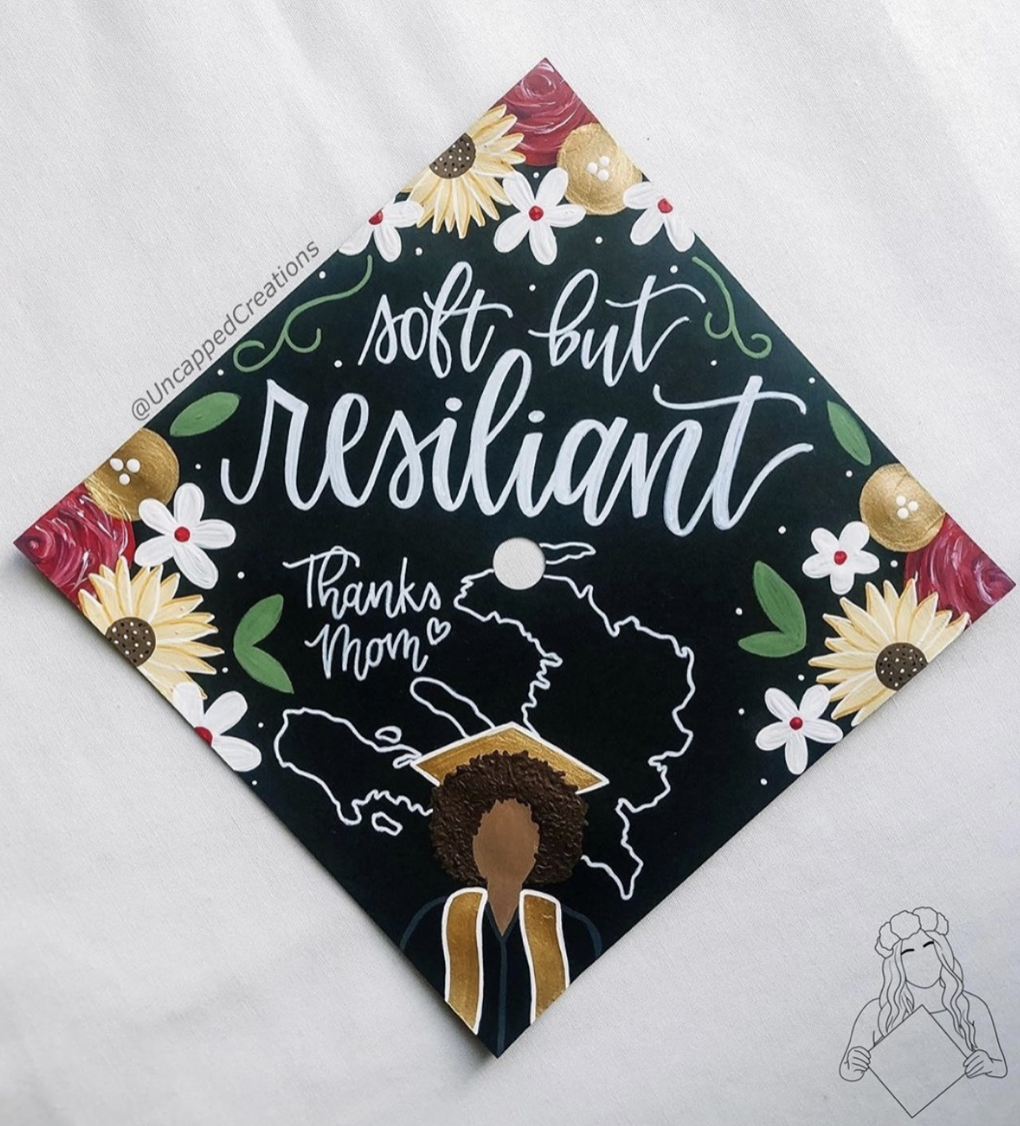 The world can consume you with everything that's going on. But remember, being soft and kind doesn't equate to weakness.
14. Puppies Get Us Through It All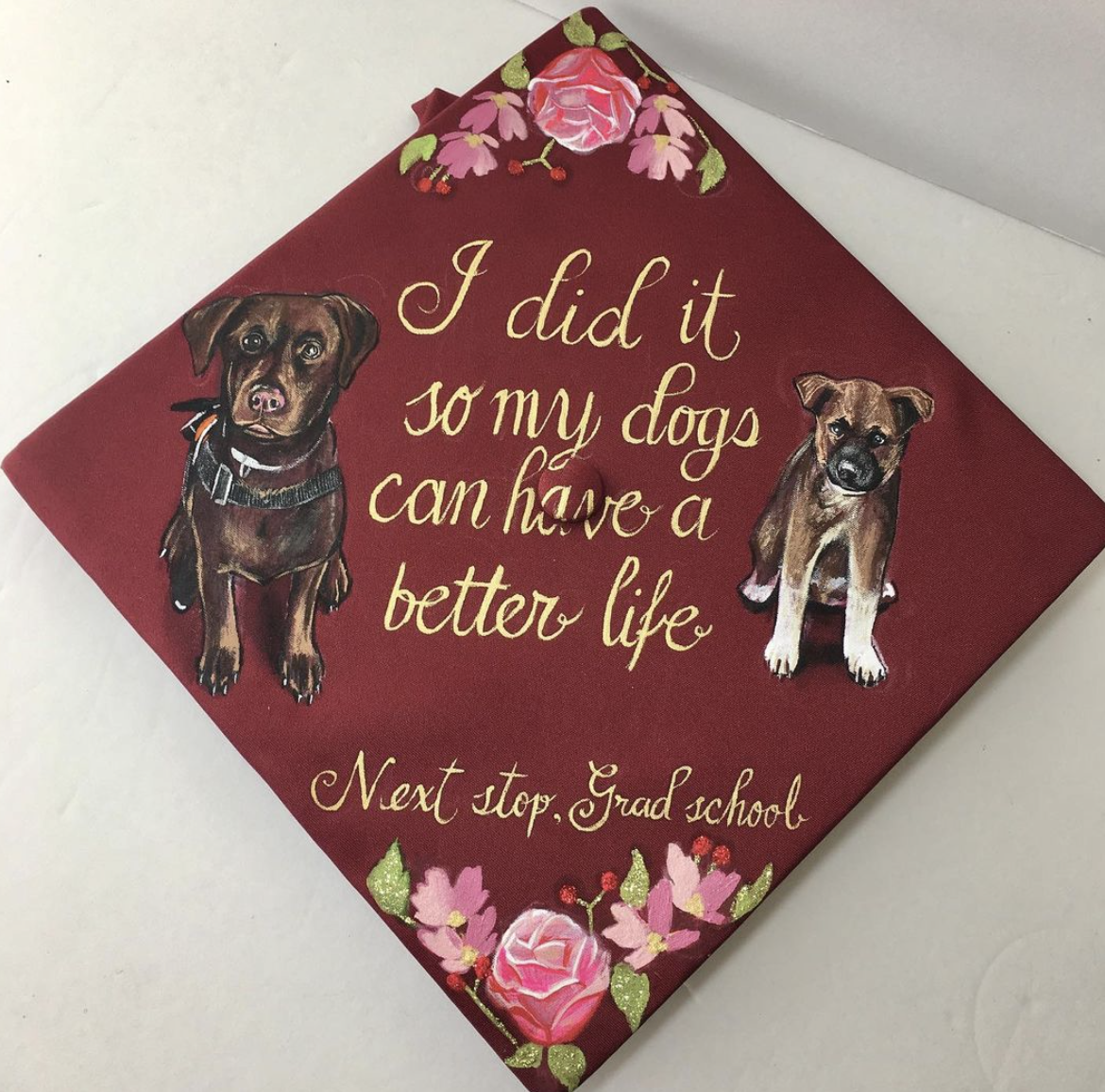 Our dogs will always wiggle their butts in excitement when we come home. They lick your tears away and give you breaks from schoolwork. They're family, too—you also got that degree for them.
13. What, Like It's Hard?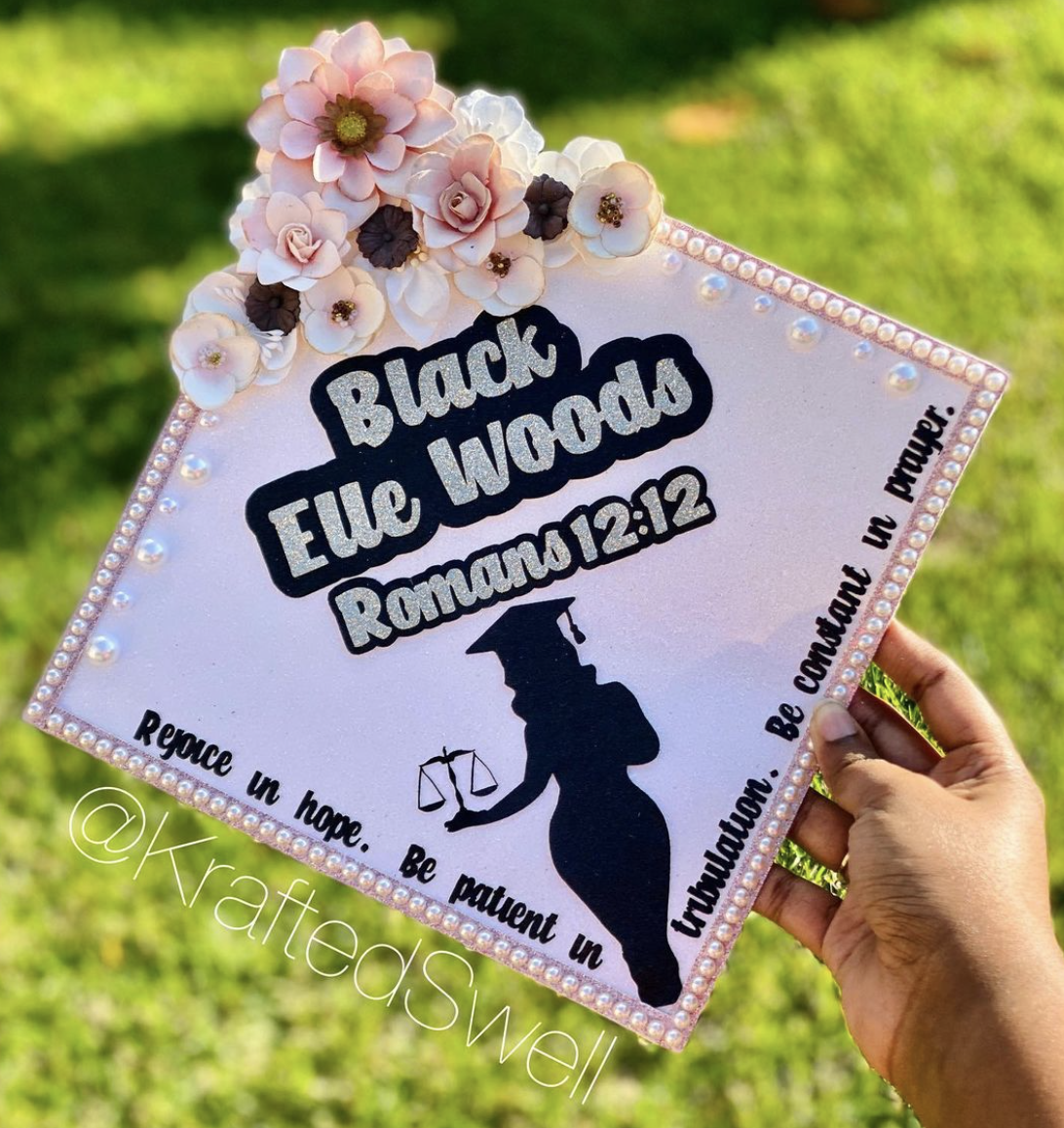 Elle Woods wormed a hole in our hearts as kids, and now she makes a resurgence during college. If anyone asks how you did it, just give them her iconic line (I mean, we all used the bend and snap when a cutie came into the room at least once).
12. Raise Your Voice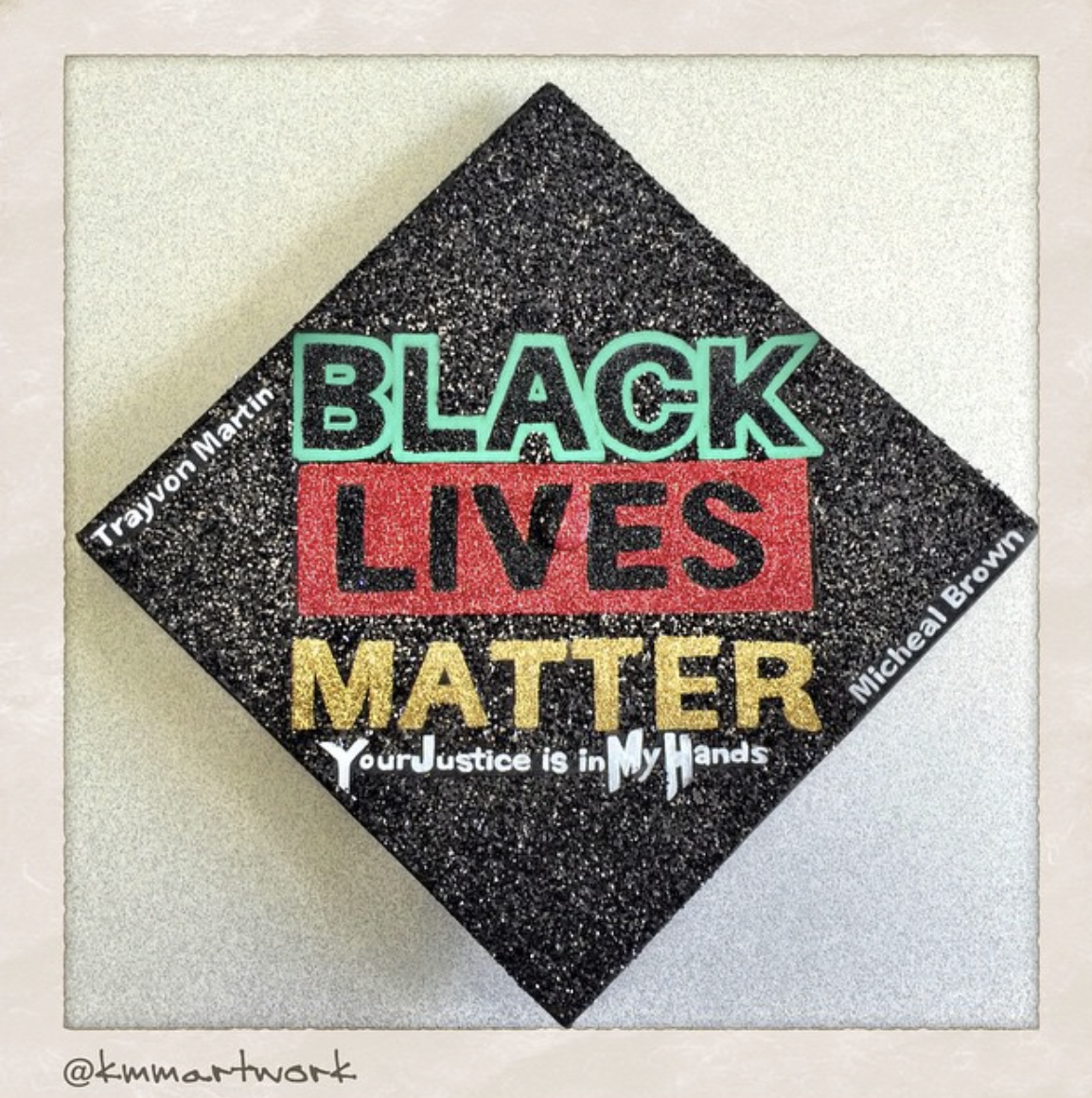 Your graduation cap also poses as a great way to raise awareness about important causes you're passionate about. Black Lives Matter, always.
11. Must Be A Weasley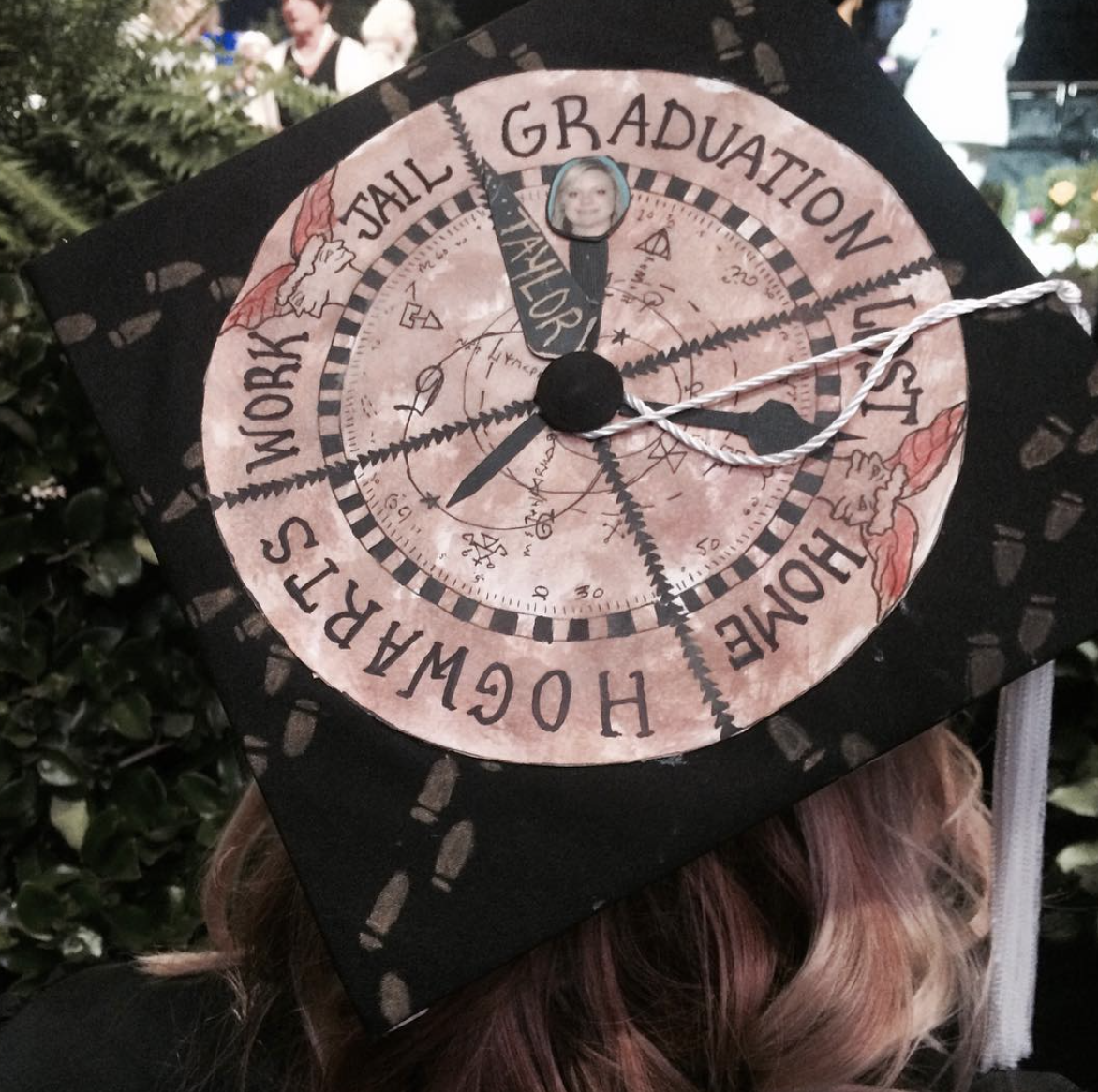 Anyone else remember that awesome clock that showed where each of the Weasleys were located in Harry Potter? Time to turn your hand to graduation.
10. Bring on the Sparkle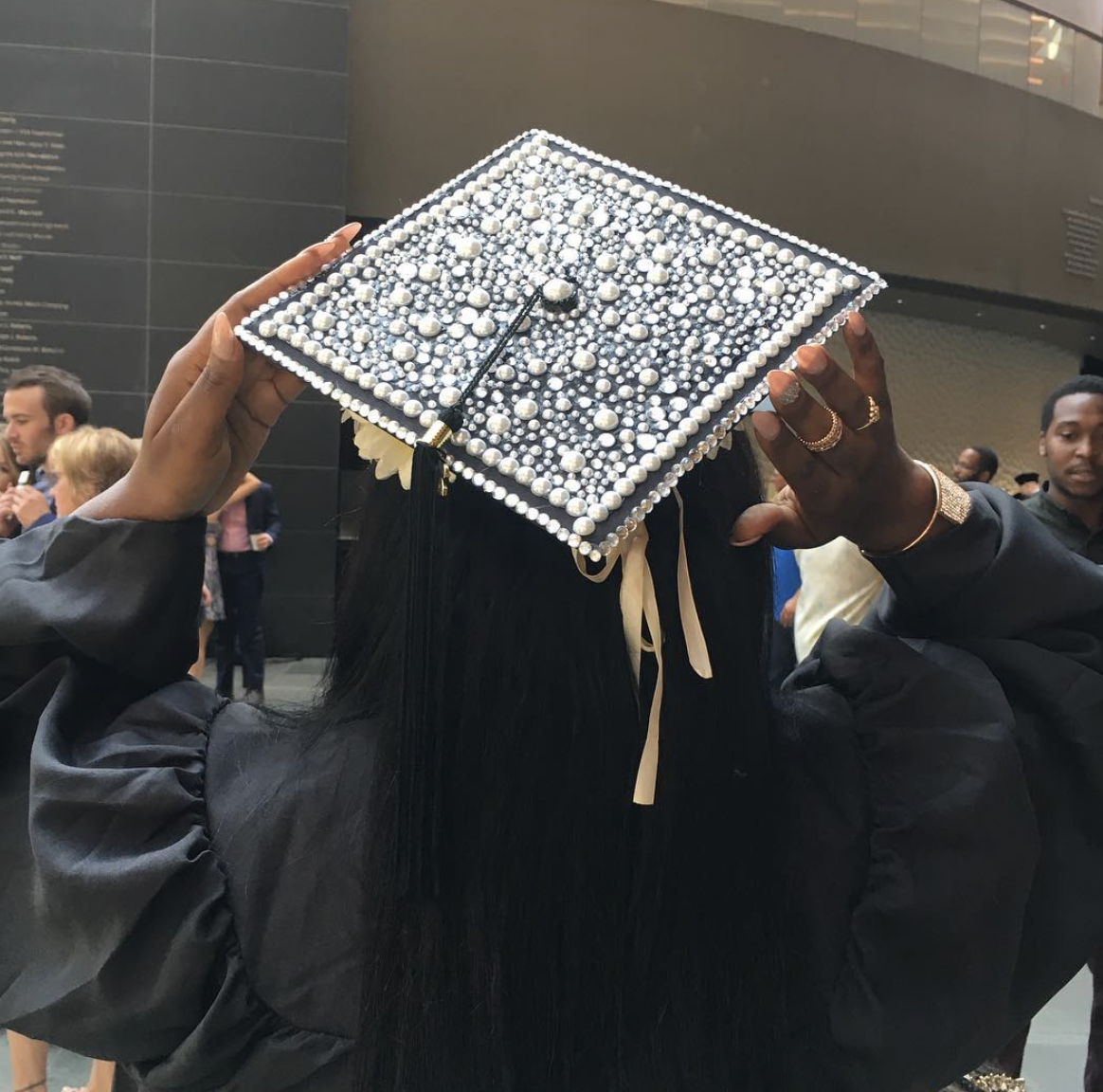 You shined throughout college, why not bring it to graduation? Let those jewels gleam in the sun as you walk across the stage.
9. Fireheart and Night Triumphant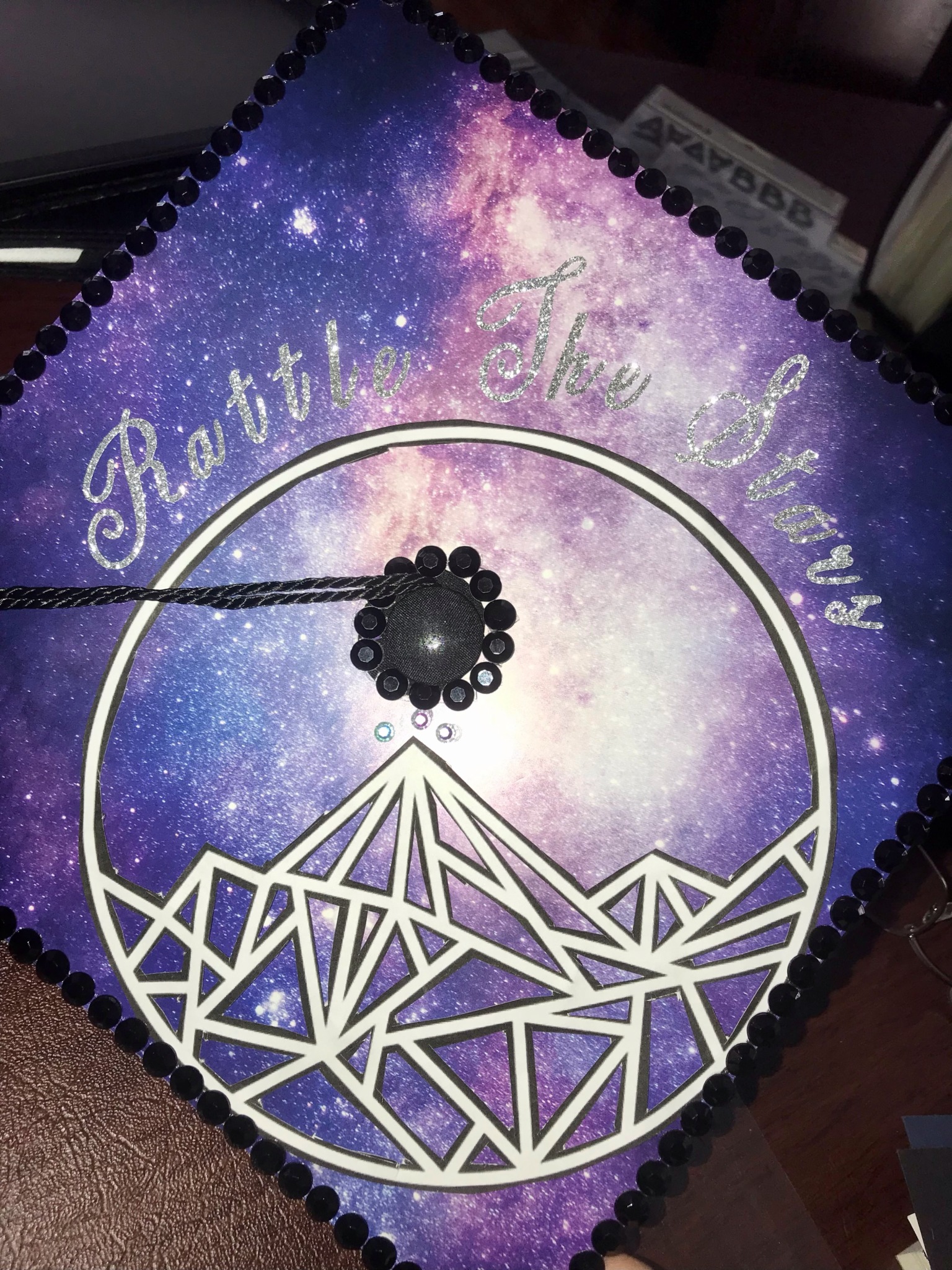 A good book can reach us all. A great book makes it onto your graduation cap. Channel a bit of that Sarah J. Maas pizzazz on your grad cap to keep Velaris with you in spirit.
8. Join the Earth in Getting Hotter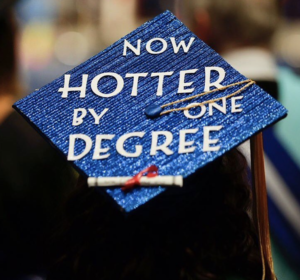 Another classic grad cap line. You literally feel a little hotter in the cap and gown, but we'll write it off to the degree.
7. There's No Panicking at This Disco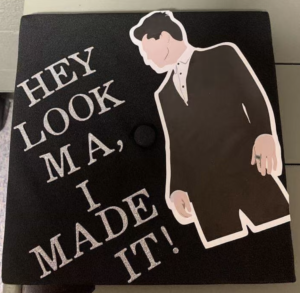 Brenden Urie said it best: everything's coming up aces. You achieved that degree, and now it's time to party.
6. Period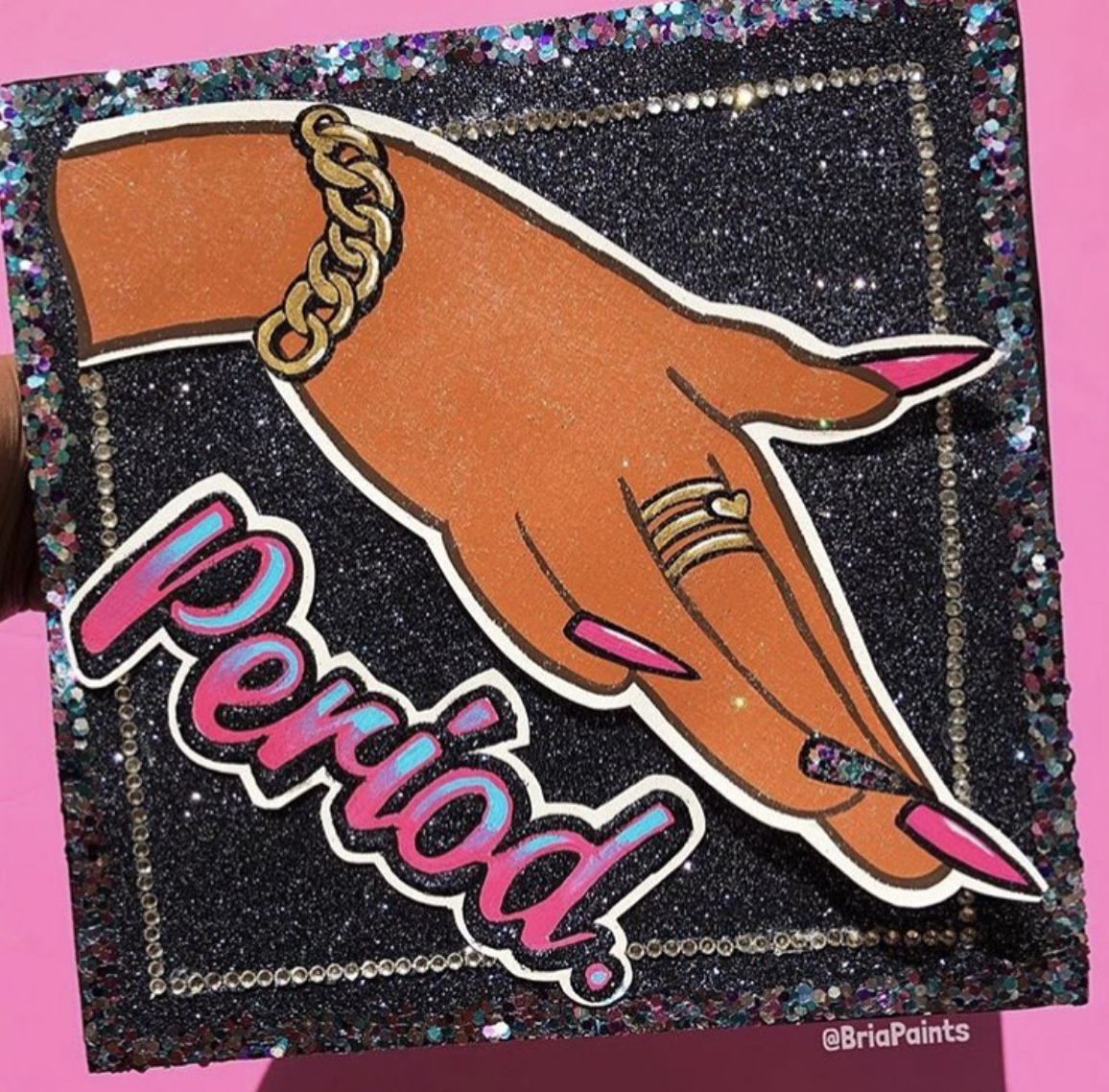 You did that! You graduated, and that's on period.
5. Those Who Did it For the Long Haul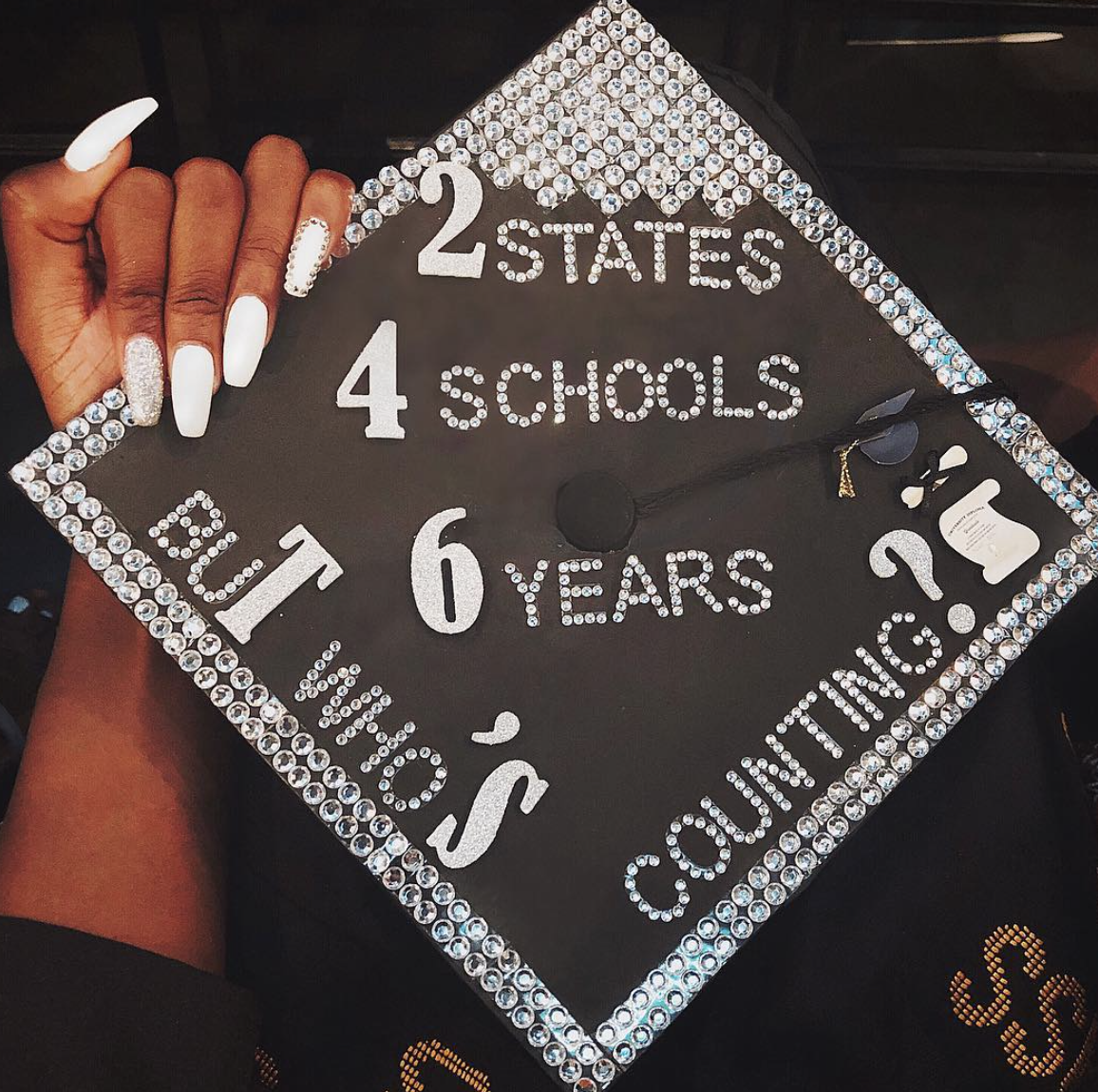 Okay, so school can last forever. Like, forever. But when it's all said and done, you can pop that onto your cap.
4. Fly Like a Bird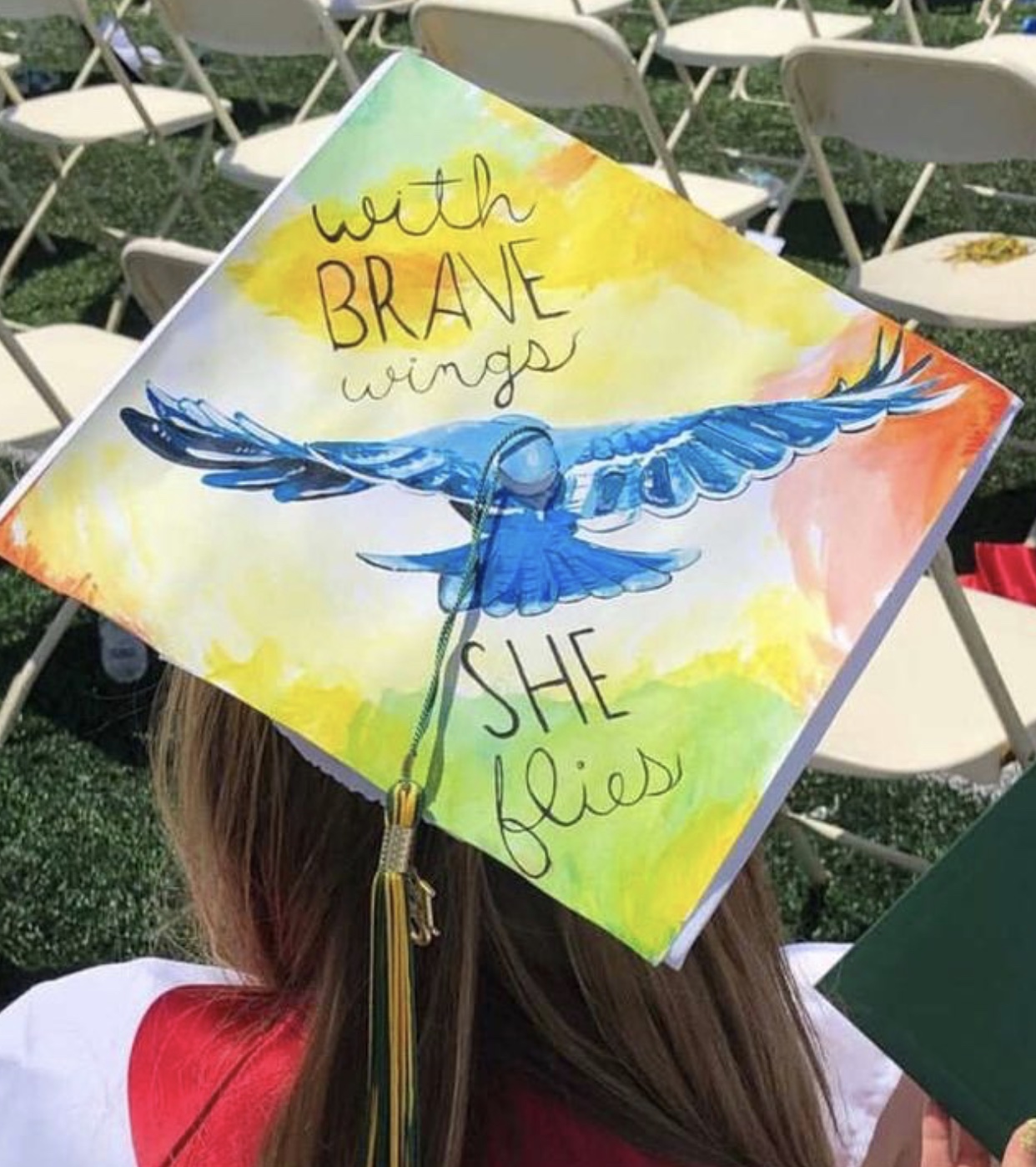 Just like a bird, college poses as the nest you drop out of into the real world. You practiced and now you come prepared for the workforce.
"I think it's a really metaphorical message to try to wrap up all of your college experience in one single phrase or one single image. It's really hard to do, but I feel like people try to take the key experiences or moments that they had that impacted them the most and represent it in a way that they can memorialize it. For me, my cap was just something hopeful because I felt like I was able to fly. It was like flying out of the nest and being able to go into bigger things," SUNY New Paltz senior Renee Akselrud said.
Time to fly, grads.
3. Cue The Boss Battle Music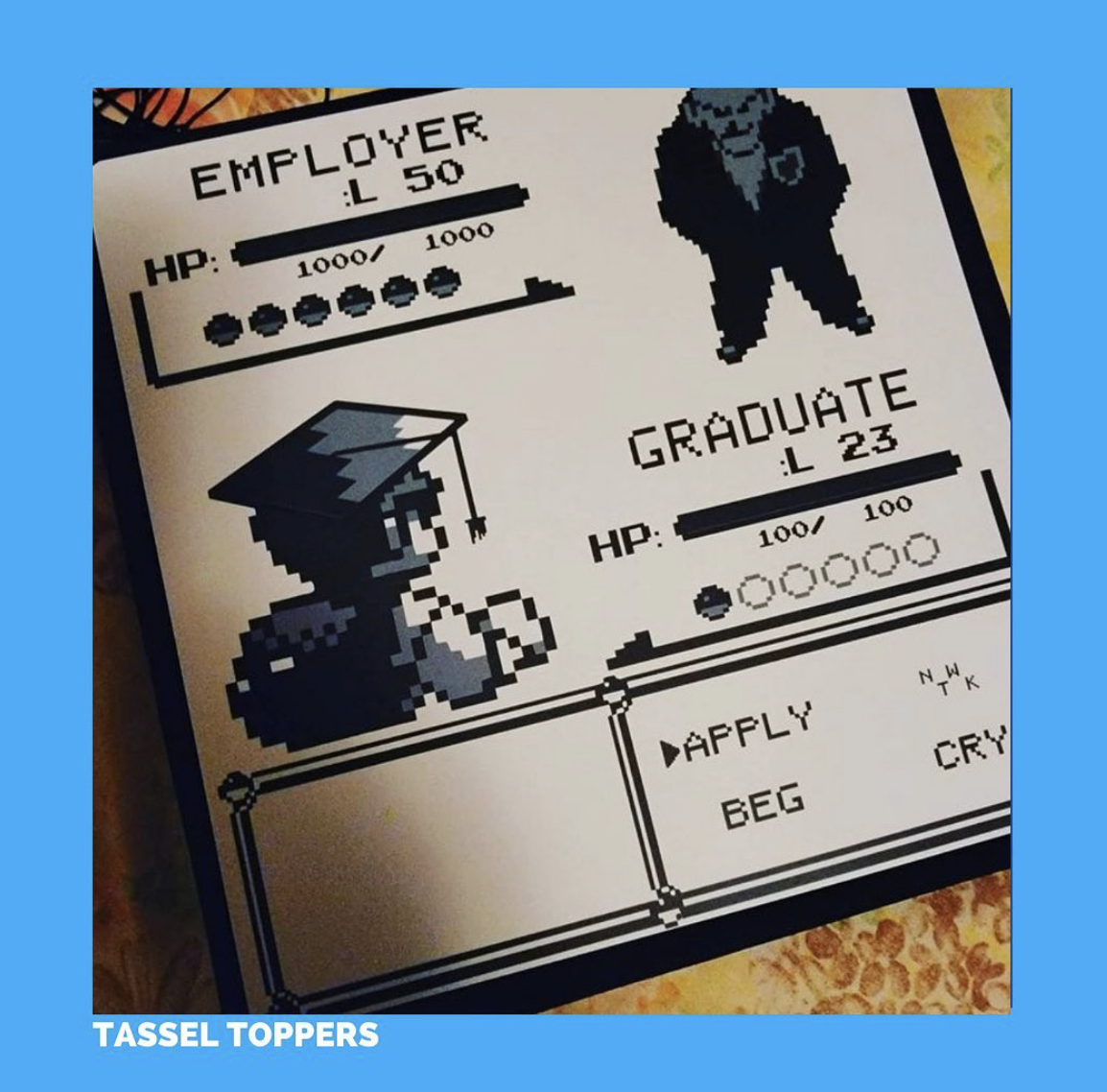 Anyone feel boss music play in their head getting louder the closer you get to graduation? Well, college (and Pokémon) prepared you to face the boss (man).
2. The Buddy Cap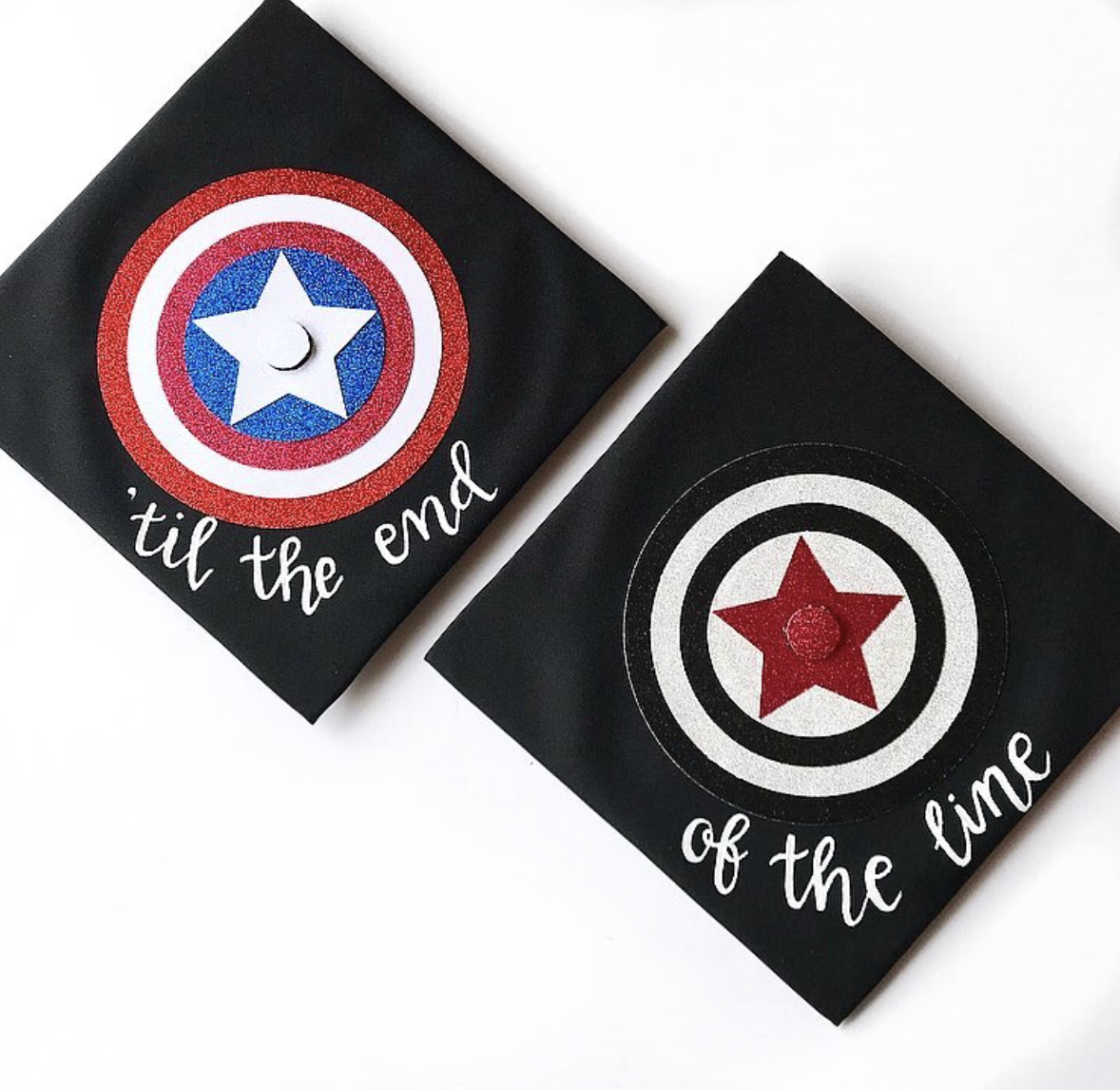 If you and your friend were inseparable during college, why not do a collab cap? Not only will it stun in pictures, it will look awesome walking across the stage.
1. If All Else Fails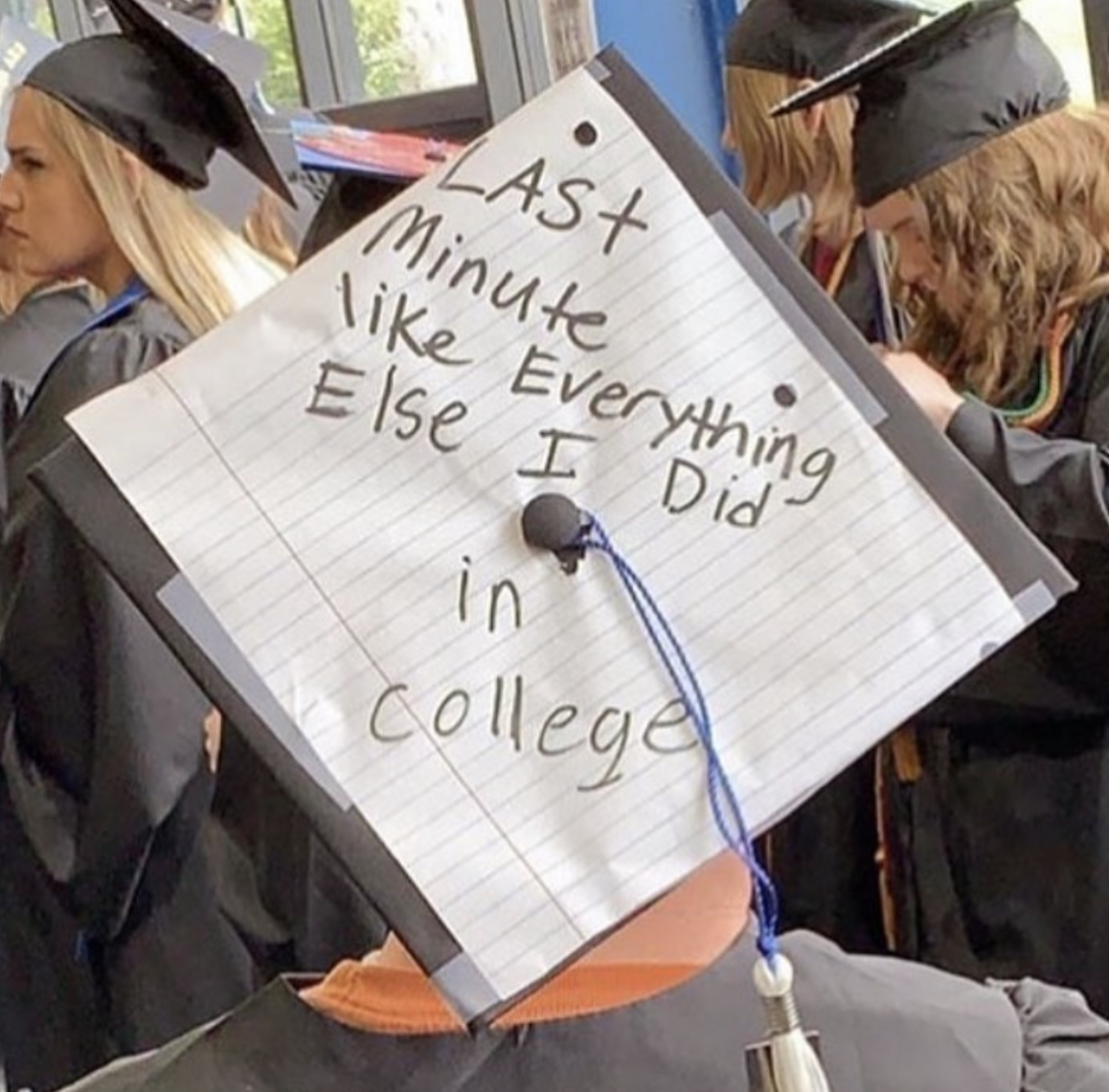 Listen, we don't judge. Sometimes all of the glue and the flowers and the glitter just doesn't make the stage.