Your Insta feed gives you pure entertainment. But what are you feeding your mind? That's when we look outside of our inner circle for fresh information. These bloggers take the time to share their knowledge and passion on the daily. Here's an inside look of what it takes for them to make it happen. Ready for the life wisdom, delicious meals, and style delivered to us from our favorite blogs?
Keep reading to meet 12 inspirational and driven bloggers that will push you to improve your own writing game.
Koehler's paleo journey began after her heart transplant. She was met even more adversity in her personal life when she received a Crohn's diagnosis. "I didn't know anybody going through the same thing [which]made me feel like I was alone. I don't want people thinking they're alone," said Koehler. So started blogging in 2015 under the Instagram handle MeganPaleo, initially as a way to share her paleo recipes. She then used her experiences with Crohn's to help others who may be going through the same challenges. Koehler's biggest struggle with the process of blogging has to do with the technical end, which can be a big issue for many bloggers. The ins and outs of your host site, be it WordPress or any other, must be understood and understood well.
Will leave you hungry for more (food bloggers):
1. The Iron You: Bulk up and eat like a king with The Iron You. Jam packed with recipes, including paleo and vegan–friendly options, this blog strikes the perfect balance between healthy and hearty meals.
2. Dishing up the Dirt: More of an artsy spin on the food blog genre, Dishing Up the Dirt lets you impress your millennial friends with an aesthetic meal. Outfitted with a filter "by season," "special diet," "menu" and "veggies," you have unlimited possibilities and the end result will certainly be delicious.
3. Running on Veggies: Run by fashionista, nutritionist, marathon runner and New Yorker, Lottie of Running on Veggies will quite literally inspire you to run on veggies. Or at least on a fuel of veggies. Lottie's blog has personal stories, training guides and, of course, delicious plant-based recipes.
4. Budget Bytes: Because we can't all eat like the Worth It guys from Buzzfeed, the beautiful Budget Bytes exists to deliver recipes for out–of–this–world meals at a very in-this-world price. The recipes come with a total price and price per serving attached, so you can do the calculations to figure out exactly how much you're spending (and likely saving) with every bite.
5. Crosby Tailor: Sugar-free dessert chef by trade and super-jacked, macho man by physique, Crosby Tailor provides health hacks, workouts and funny clips of his dad. Tailor displays a life guided by fitness, but not dominated by it. He shows how to strike a healthy balance and enjoy the benefits of the workout and diet regimen to maximize the pleasure out of life.
Almost anybody can benefit from Carli Holbrook's wholesome and engaging blog. Redeeming Beauty boasts an eclectic set of focuses, everything from faith and fashion to beauty and travel. After creating a blog about her adventures studying abroad in college, Holbrook felt a calling to do more. "I wanted to incorporate fashion (merchandising major in college) and wanted to also incorporate my faith," said Holbrook. Like many others in the blogging world, Holbrook has a full-time job outside of Redeeming Beauty. This means she's writing whenever she can find the time. How does she stay motivated? "Focus on what you're doing and produce your best. Post what inspires you and create what inspires you."
Hanna Jayne Lawson's bold blog offers goes beyond your typical travel advice. "I think people are starting to appreciate authenticity and they don't want to see another person that seems perfect with a perfect Insta feed. So I started blogging about my real-life struggles," said Lawson. In her blog she shares about her personal life, opening up to her audience about her experiences with sexual assault, becoming a figure of strength and an important ally to many in her community. Like many bloggers, Lawson struggles with engagement and feeling like her blog holds meaning, so she tries to come back to her authentic center every chance she gets.
Though her name sounds synonymous with the hustle and bustle of city life, Jenna Urben's The Urben Life holds nothing but a helpful, relaxing user experience. Urben's food and lifestyle blog focuses on the dairy-free and egg-free recipes she has come to understand well, dealing with lactose intolerance and an egg sensitivity herself. "I realized that others wonder what type of dairy-free cheese melts the best, what type of food you can make allergy-friendly but still please the entire family, and what to eat while on vacation in Disney World," said Urben. Urben set out to navigate the murky waters of the modern blogosphere, yet she quickly found her way to a nice little niche. Urben possesses a commendable work ethic, rigidly sticking to her routine of starting the day with a cup of black coffee and breakfast, then methodically working on to-do list one by one. Outside factors, such as social media crashes or compromised plug-ins, tend to make up the bulk of Urben's stressors. Still, Urben adopts the stoic response of directing her attention where it can be useful instead of letting her focus get sapped away on stressing over things out of her control.
If you want more lifestyle advice, try these blogs out:
1. Amber Meadows: Amber demonstrates how to be a strong-willed, funny and capable woman in the modern age. She shares her opinions and thoughts with her audience without shame and without backing down, a feat that deserves some recognition in today's social climate. Plus, she loves frogs.
2. Georgie Morley: Morley, a self-proclaimed coffee-lover and former barista, has an Instagram that will give you a caffeine rush on sight. She hosts of The Chasing Joy Podcast, and focuses her content on personal growth, improvement and curiosity.
3. Peg Fitzpatrick: Fitzpatrick's blog inspires more and more by the day, pushing her audience forward with motivational quotes and articles. Fitzpatrick also shares valuable visual marketing techniques and strategies for readers to "rock with a positive attitude." Keep rocking, Peg.
5. Moira Krier – Moira K
Powerful women should come in droves to Moira K, a blog that truly encapsulates what it means to be a driven woman in 2019. CNN featured her mom's blog in the early 2000s and Krier followed in her mother's footsteps. She started her first blog right after high school and created several over the years. Krier's content ranges from budgeting and finances to personal anecdotes and updates about her life as a student. Her blog functions as a helpful guide but also as a diary. Not to mention Krier has a LOT on her plate. "Time management is hard. I have two jobs/a second job over the summer. At the end of the day, I still try for two posts per week. Occasionally I do three," said Krier. She likes useing the tool bloglovin, which allows her to write posts in advance and schedule them to automatically post later.
Imagine a blog that not only shares adventures in the Arctic, the Galapagos and Antarctica, but then also actually helps you get there. From Penguins to Polar Bears, Emma Cakmak's expedition travel blog, features these unique destinations. "I was having trouble standing out as an agent and realized there wasn't much about the niche of expedition travel in blogging. I want to share what I've learned with people who are looking for their next big adventure," said Cakmak. Her greatest challenge is storytelling while also integrating facts about each experience. But she's able to lean on her expertise as a travel agent and years of booking these adventures of a lifetime.
If you find yourself looking for a dose of motivation and positivity in your life, look no further than Dani Sumner's upbeat, inspiring blog. Sumner's soul feeds on the happiness and wellness she can spread to others. She speaks at retreats and gives back to the ministry. "I'm a recovering alcoholic and I'm open and honest about that in my blogs. I am passionate about people being who they were meant to be," said Sumner. Sumner's main challenge falls in the realm of marketing; how to extend her reach and impact a greater audience, especially with her latest initiative. Sumner and her daughter launched a clothing line, Engedi, in which 100 percent of the profits benefit Syrian Refugees and orphans. "I want to blog and educate people about the Syrian Refugee crisis."
The name of Kyra Oliver's blog, Your Own Utopia, perfectly encapsulates her mission. "My vision is to share my story to impact other people," said Oliver. "When you change your perspective, life is easier." Whether you're on the hunt for some great recipes, workouts or you'd like to read some poignant lifestyle articles, Your Own Utopia can get you what you need. With a good deal of success and a large range of topics to cover, Oliver runs into an issue that often stumps bloggers of her caliber: having too much to do and not enough time or energy to do it. "Get focused on one thing at a time and define a set time in your day to write. Stay consistent," Oliver said. Oliver also wrote a book, one of the million things she wanted to do. The book, titled 8 Ways of Being, can be found on her blog. It centers around the idea of living a happy and free life.
Opening up Martha's Film Corner will bring you to a hub of inspiring content revolved around films, film festivals and everything in between. Martha Sigargok-Martin created the blog around her passion for film and experiences at festivals. From there, she realized that her blog gave her a medium to explore other areas of content that she enjoyed, interviews and inspirational blog posts. "I love to write about characters of old films, and I love doing interviews. I started to do content planning but it's still more spontaneous," said Sigargok-Martin.
Cara Czarnecki's blog focuses on empowering women with personal finance advice. Her Money Mentor breaks down how to be smart about your money starting with her Financial Foundation online course. Czarnecki comes from a long line of investors and is passionate about being a financial mentor especially when it comes to entrepreneurship and personal finances. "I built my own website and I'm proud of it. I used WordPress, divi, bloom and Mailchimp," said Czarnecki. She continues to hone her own entrepreneurial skills while helping her audience achieve financial success.
Carrie Bishop Hagee helps women tell their story with the help of their clothing. She's passionate about authentic style and her blog is one of the first steps toward learning how to achieve your own style story. She breaks it down so you can understand how to transform your wardrobe. You can read her blog or work with Hagee for your first closet overhaul. "I blog for working women and working moms who lack the time for style. I'm providing really good information for people that's free," said Hagee. She wishes to elevate the scale of her mission by upping her content game with daily blogs.
For more fashion:
1. The Curvy Fashionista: The hub for plus-sized lifestyle and fashion, The Curvy Fashionista stays on top of the latest beauty, fashion and tech news.

2. Sweat the Style: Adrianne Ho, gorgeous and fierce, hosts Sweat the Style on Bloglovin. The blog keeps audiences up to date on the latest runway trends with the occasional workout or smoothie recommendation.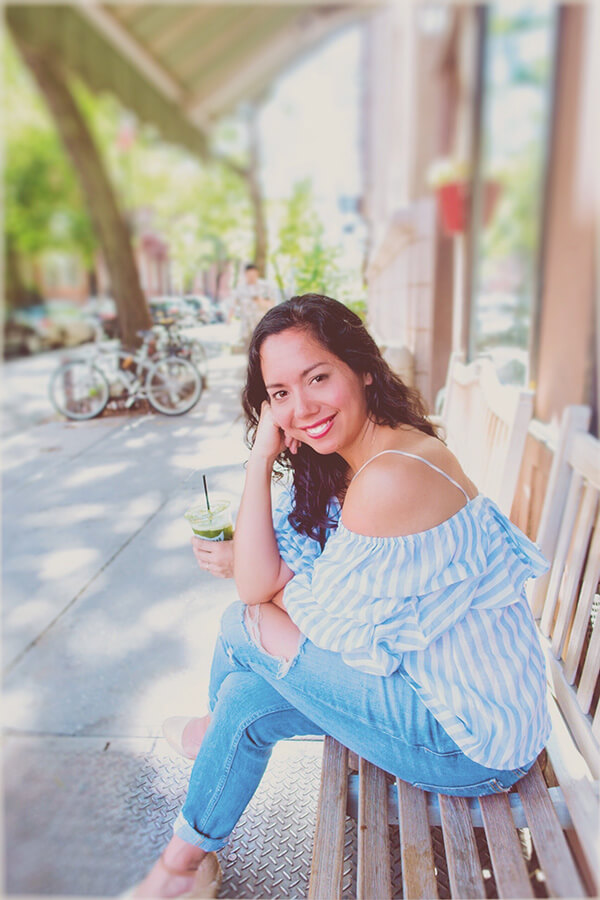 Blogging since 2006, Diana has spent years developing her voice and foothold in the transformation space. The Chic Life offers fitness, food, fashion and incredible resources for staying organized with your planner. She's passionate about living a healthy life and, most importantly transforming your mindset. As a blogger she's always learning and expanding her skillset. "I want to learn time saving techniques, batch content creation and how to monetize while remaining authentic," said Diana. Diana has also launched a series of videos and her latest mindset makeover audio training.
Ready to start your own blog or level up your writing? Take our FREE Masterclass or sign up for The Content Strategy Lab!
[woobox offer='s975qe']