LINDSAY, STONE & BRIGGS INTERN, MADISON, Wisconsin
In college, you pay to learn. But at Lindsay, Stone & Briggs, they pay you to learn. This innovative advertising agency shares a home with the Wisconsin Badgers and Stella's Spicy Cheesy Bread in Madison, WI. "There are a lot of really big agencies in bigger cities like Minneapolis and Chicago, but Madison is great for LSB, and it's by choice we are here," said social media content manager Eleanor Pierce. While they may be small in size, LSB still plays in the big leagues, having worked with brands such as Kraft, Kohler, and Black+Decker. If you want an internship here, you better be ready to work hard and play harder because their creativity is limitless, and their fun—endless.
WHAT IT'S ACTUALLY LIKE
With a variety of internship opportunities available throughout the year, you could be handling anything from account management to video production. "It's not a typical internship where you might be doing those internship duties–making copies, whatever your stereotypical duties would be," said video content intern Cavan Faucett. Emily Poklar, a digital/account service intern added, "The coolest part is that I'm working on real campaigns, working with real clients. I get to sit in on meetings, clients are on the phone, I'm on all the emails and everything. It just feels so real, and everything I'm doing actually helps something." So, not only are experiences and opportunities flying at you every day, you have great people to share them with as well. "The culture here is very welcoming and friendly," said Faucett. "Everybody knows each other and it sort of feels like a little agency family. It's very family-like…just being with each other and hanging out and enjoy[ing] making cool stuff."
COOL STUFF YOU GET TO DO
"You're able to put your hand in whatever project is available wherever they need you," said Poklar. "It's been great. I've been able to see full circle how an agency works. And I don't think at a larger agency I'd have nearly that kind of experience." The diversity and flexibility of LSB allows its interns to dabble in various areas of the professional workforce, providing a well-rounded experience. However, because they are an ad agency, their social media game is always #OnPoint. "My favorite thing is a lot of the social content that we get to do like when we have Happy Hours, or when…it's someone's birthday and we get to make fun little things for social," said Poklar.
WHAT YOU'LL LEARN
At LSB, you'll learn the technical skills that come with your position, but more importantly you'll learn about yourself. "I feel like I'm just so much more confident now. I feel confident in what I'm capable of doing. I'm more confident in being able to speak up more in meetings and putting my two cents in," said Poklar. Faucett added, "Because LSB has been so generous to allow me to have the freedom to explore and be creative in my own ways…it's taught me about where I think my interests lie in the advertising world. You learn a lot about how you behave in a professional work environment." Basically, you learn just as you would in a classroom, except instead of exams, you receive paychecks and experiences.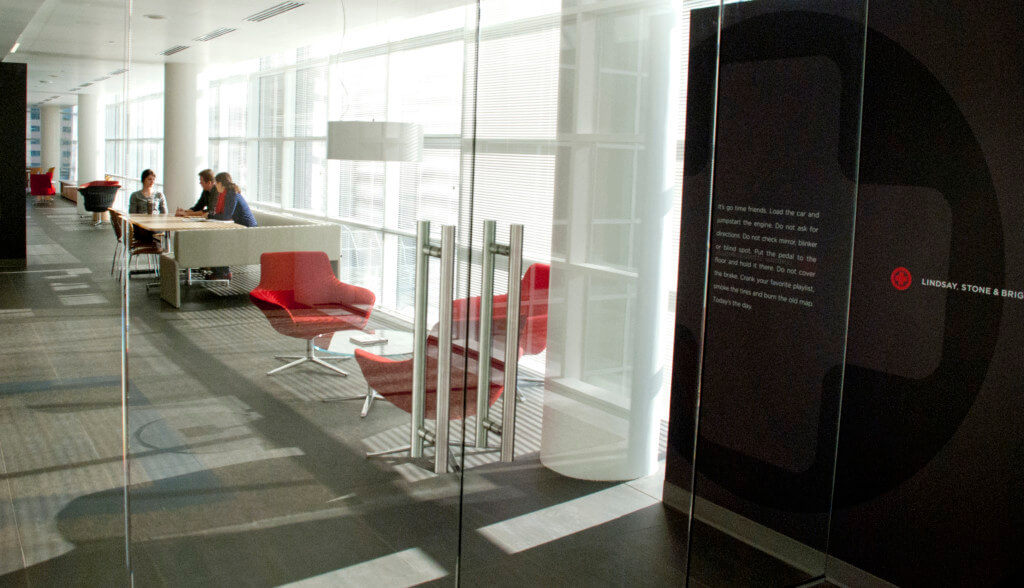 HOW TO PREPARE FOR YOUR APPLICATION
If you want to work for Lindsay, Stone & Briggs, you'd better brush up on your Harry Potter knowledge, or actually keep up with the Kardashians. "The application itself, I felt, was fairly unique. There were some interesting questions in the application that I hadn't answered before in any other application process," said Faucett. Though the questions are quirky and refreshing, they're anything but easy. LSB sets high standards straight from the get-go, but don't worry if your resume lacks in the experience department. "For my cover letter, I had no prior agency experience, so I tried to show what I had done so far that made me fit the agency and what I was willing to bring," said Poklar. Just remember, if you're gonna go for LSB, go big.
SKILLS THAT IMPRESS THEM
If you reflect Christmas lights off mirrors to light up your room or use shoelaces to play cat's cradle, you're made for LSB. "We want fresh perspectives," said Pierce. "We want people who come from different areas and have different ways of thinking and different ways of approaching problems, different sets of creativity." Of course, along with your strong ideas, make sure you have a strong voice. "I think it's really key that we have somebody with confidence who can come in and speak up and get things done, notice when there are problems and point them out and help improve the work," Pierce emphasized. Additionally, remember to keep an open and receptive mind. With creativity powering the wheels at LSB, feedback constantly loops around the office and is highly valued. They want someone who can listen, learn and apply. So when you fill out your job application, emphasize that application.
COOL PERKS
Besides being in the heart of the city, there's also the energy of the UW-Madison campus spreading around town. This isn't just another summer internship that you pick up and then drop once the school year starts. Because of its proximity to the UW campus, LSB offers students the opportunity to stay on during the academic year. "They accommodate your schedule very well…working around my academic schedule, sorting out my priorities, making sure school comes first is something they're advocating," said Faucett. Nothing appeals to students more than an internship that has the potential to carry over from the summer to the school year, or visa versa. So, yes—you get paid to play, even when you have to hit the books again.
THE DEETS
Walk into LSB and you might not want to walk out because getting paid for 10-20 hours per week sure beats paying to fall asleep in stuffy lecture halls. And when you fill out that job app, remember to (LS)Be different.
To apply, check LSB's internship page for open positions and application details.
Ready to start your career journey by nailing that summer internship? Check out four steps that make it easy here.