2002 was a simpler time. The war in Afghanistan was in its infancy, Facebook was just a twinkle in Mark Zuckerberg's eye and pop-punk genius Avril Lavigne had just released her first album,
Let Go
. This was the golden age of pop music, when female rockers didn't have to be excessively weird or naked to get attention. Sure, no one ever accused Ms. Lavigne of being normal, but
the girl is most definitely raw and honest.
You can learn everything you need to know about love and relationships from absorbing the teachings of Professor Lavigne:
Complicated
Lesson: "You're trying to be cool, but you look like a fool, to me."
All she wants is
her guy to be himself and stop acting like a tool.
Nothing is less attractive than a person who is clearly too uncomfortable in his or her own skin to just be natural. Has a relationship built on trying to suppress personalities ever worked? Didn't think so.
Sk8er Boi
Lesson: "Sorry girl but you missed out, well tough luck that boy's mine now."
He was a boy. She was a girl. Obvious, right? Get beyond lyrics like that and you have a
song about regret and wondering what could have been.
Ladies: don't overlook the sk8er bois. Even if they're not rocking up MTV, that doesn't mean there isn't a man underneath the punk.
Girlfriend
Lesson: "She's like so whatever, you could do so much better."
In this case,
the lesson here is don't be Avril Lavigne.
There's never a time where it's okay to convince someone to get rid of his or her significant other for you. Chances are they'll resent you for it down the road and the relationship will implode anyway. Even worse, you'll come off looking like this: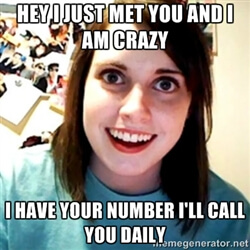 Don't Tell Me
Lesson: "Don't try to tell me what to do, don't try to tell me what to say."
Woah, Avril grew up. Well, thematically at least. She went from singing about relationships to
the evils of being pressured into sex.
This is basically her telling men why it's so hard for her to let her guard down (whenever she does, she gets betrayed). Plus, she punches through a mirror. Avril smash!
What The Hell
Lesson: "All my life I've been good but now I'm thinking, what the hell?"
It's not like she was ever wholesome, but here she's basically saying that
there's nothing wrong with screwing around.
Keep in mind that this was around the time her marriage to Sum 41 lead singer Deryck Whibley ended. This what-the-hell attitude led her to an engagement to Nickelback frontman Chad Kroeger. Avril: there's a sk8er boi out there somewhere for you who's automatically better than anyone involved with Nickelback. There just has to be.
Photo: at fanpop