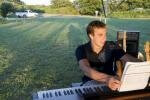 Jackson Greenberg: The Score Of His Dreams
|
By Hilary Weissman > Junior> Journalism> University of Maryland, College Park
Plans Taking Shape
Greenberg's compositions have been used in movies on HBO and Showtime, and he collaborated on compositions for Snapple and Nokia ad campaigns. He takes his craft seriously, spending his past two summers studying under composers Scott Salinas and Tobias Enhus of Critical Mass Productions in Los Angeles, who have produced music for The Twilight Series, Spiderman 3 and even Britney Spears. "I just expected to be answering phones and get coffee," he said, but the composers became his mentors and they asked him to help with ten projects commissioned by ESPN, the last two were solely his own. "Seeing my name in the credits was surreal," he said.
Today, Greenberg is focusing on traditional composition while abroad at London's Royal College of Music. Meanwhile, Shape Machine continues to perform, opening for RJD2 in Princeton and playing shows in New York. "I'm excited to see how it continues to evolve without me. I think it will give the other guys the opportunity to write more, which in the long run can only help."
Behind the Music
It seems that Greenberg lives in many different musical worlds, between classical film composition, soulful jazz performance and Shape Machine's soft rock sound. He lists his main influences as John Coltrane, Bruce Springsteen, Bernard Herman (who scored many Alfred Hitchcock movies) and his mother, who was a professional violinist. And he's no stranger to a slew of instruments; Greenberg first learned to play cello, then drums, then vibraphone and eventually taught himself to play piano.
In high school, the head of the drama department asked him to compose background music for school productions. This prelude to film scoring led him to a unique idea for his final senior project. "A friend of the family, Arlen Roth, played guitar for Simon and Garfunkel. Through him I met [Oscar® and Grammy®-winning film com- poser] Alan Menken," said Greenberg. The project was to re-score all of the Disney movies Menken became famous for, a daunting task for a high school student, he said, but ultimately very rewarding.
School of Rock
With all his success, Greenberg's not in any rush to leave the college scene early for the real world. "I'm looking forward to the next two years of school." But the success has its perks. While other students are switching majors like they switch their shoes, Greenberg is confident about his future. "I feel lucky that I don't feel the pressure of finding my 'passion'." Composing has and always will play a major role in his life. Even watching movies, Greenberg finds he is preoccupied with listening to the score rather than the dialogue. And his eyes are on the prize, which feels a lot more real once you've had the weight of Oscar's golden statuette in the palm of your hand. "Yeah, I got to hold Menken's" he quipped, "It was heavy."
Have you heard a Greenberg original?
• One of his first film credits came from his orchestrations in the HBO original film "The kids Grow Up" (2009)
• He composed a choir piece for the ESPN musical catalogue for the winter 2009/2010 season
• He was the assistant music editor for the ESPN X-Games 3D movie
• He collaborated on Snapple and Nokia advertisements with Critical Mass
• Shape Machine's music is featured in the Showtime original show, "Look" where Greenberg worked as music editor
The College Band Review
Blood Meridian
Siversa
Fire in the Hole