I have a love/hate relationship with my hair. Anyone with kinky, curly strands understands the struggle. Nailing the perfect balance between volume and curl definition is a near impossible mission—especially if you want to keep your bank account intact.
Every week companies announce new products that promise to smooth frizz, reduce shrinkage, and define your curls beyond anything you thought possible. And if those products fail, we turn to weaves and wigs and box braids. Or in my case, relaxers. I've been getting my hair chemically straightened since the age of six.
Only recently I started to wear my natural hair out and about. There's something freeing about making that big chop and being able to just wear your hair, no touch ups or weave-ins necessary. But I'd be lying if I said my shoulders didn't get sore from detangling and twisting my hair back every few days.
In the midst of internship applications and job interviews, I have also been thinking about how my hair is perceived by the rest of the world. Would people in my life think my curly hair looks unprofessional?
So I wore my afro out and about for a week to find out.
Day 1
I got up bright and early Monday morning to wash my hair. No twists or braids or buns. The first thing I noticed was that my hair was dripping—a lot. I had no idea how much water my 'fro was capable of holding! I actually walked around my apartment with a towel around my neck until I left for class.
I heard a lot of "Oh my gosh you have an afro!" and "Wow, you've got a lot of hair!" from friends and coworkers. I could see my hair in my peripheral vision. My shadow looked like it was wearing a straw hat.
Day 2
Tuesday morning, I woke up with a flattened afro, but an afro all the same. On this day, I learned that you can use a comb as a pick and work actual magic. I also learned that there's something empowering about taking up more space in the world. A person behind me in class needed to lean over a bit to see the PowerPoint over my hair. And it kind of felt good.
Day 3
On Wednesday, my hair was dry and confusing and weird. The curls weren't as defined and soft as they used to be. Leave-in conditioner didn't fix it. My comb-pick didn't fix it. I found myself constantly fluffing at my hair, trying to make it look as round and full and moisturized as it did on Sunday.
Day 4
By Thursday, I felt discouraged. I started getting bored with my hair and tired of needing to pick it out. Honestly, I almost gave in and put it up in a bun. But at the end of the day, someone tapped me on the shoulder and said, "I just wanted to tell you that your curl pattern is what I aspire to." It inspired me to keep trying.
Day 5
On Friday, I decided to wash my hair again with conditioner, because water resolves nearly all of my curly hair problems. This time I left the conditioner in my hair and let me tell you: This is a game changer. Was my hair slippery and kind of milky from the conditioner? Yes. Did I need to wear a towel around my neck at all times? Absolutely. But my hair also smelled like flowers and stayed moisturized all day. I think that's worth the trade.
Day 6
By Saturday, I felt like I found my routine. I got up, wet my hair with a spray bottle, scrunched in some leave-in conditioner and went about my day. The curls stayed intact, I didn't feel drenched and it didn't take up a huge chunk of my morning. Of course, I experienced the best hair day on the day I stayed inside, catching up on homework.
Day 7
Sunday was my final day of "afro week." It felt bittersweet. My hair still felt fluffy and soft from all the conditioner I left in two days before. I felt like my hair and I were finally on good terms.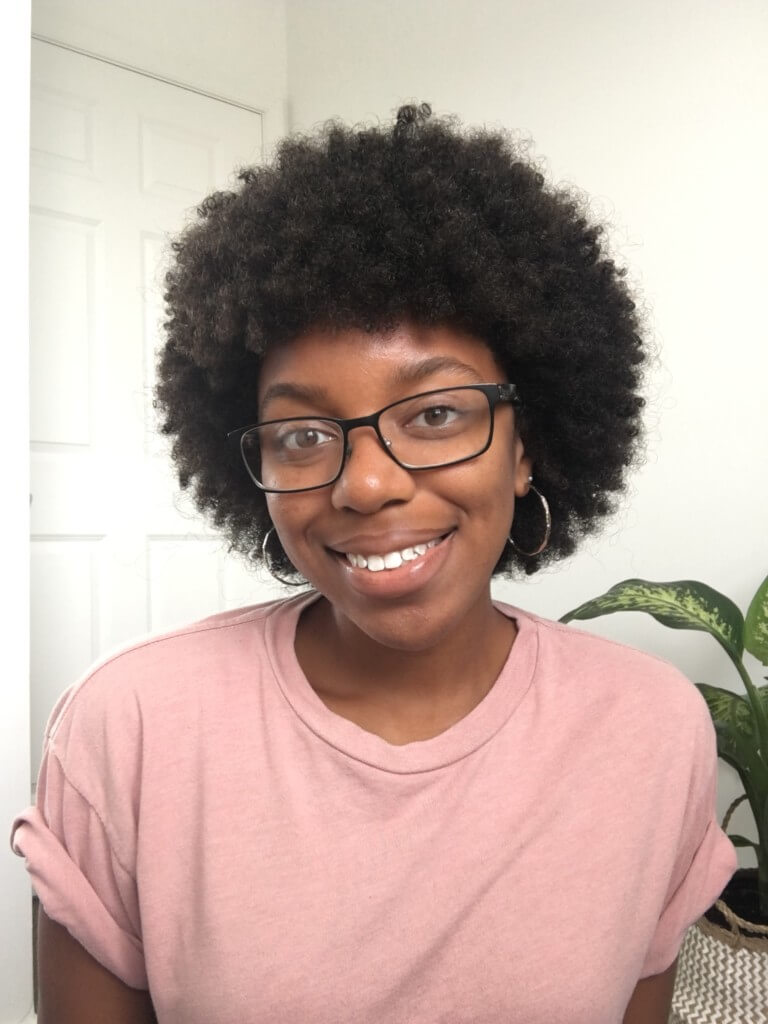 From my week-long experiment, I learned a lot about my hair. Apparently, my hair is like one of those foam dinosaurs that comes in a plastic capsule—it fluffs up and looks great when wet, but if you let it dry out it'll get all misshapen and dehydrated. I also feel like I have a better understanding of what products work for me (I highly recommend Shea Moisture).
I didn't experience any of the discrimination that many people face with their natural hair. Nobody said I looked untidy or tried to touch my hair without my permission. Nobody said anything insensitive or rude.
The response I got from other people was overwhelmingly positive.
As much as I enjoyed my little experiment, I am not planning on swearing off protective styles and wearing my 'fro out for good. I love finger coils and a good set of braids as much as the next girl. But it's nice to know that my natural hair isn't something I need to hide.
It's a part of who I am, and I think it can feel empowering to be that authentically myself and take up space in ways that I usually don't.
Curly hair demands attention—both from myself and from other people. It insists on being seen and appreciated, and it forces me to be seen as well.
If I'm ever in need of a confidence boost, or a good arm workout, I'll whip out the afro.