The holidays are a stressful time for everyone. The combination of final exams and papers, holiday gift shopping, family get-togethers and packing up to go home for the semester is enough to drive any college student crazy. Add saying goodbye to a significant other into that equation and you've got a recipe for a not-so-jolly winter break.
It's no surprise that all of this holiday craziness can take a toll on a relationship. This is especially true in a college setting, when every emotion is multiplied under the microscope of the miniature world we live in – also known as a "campus." The relationship that you committed to in September may begin to feel less like a fairy tale when you add in the pressure of buying presents and meeting the parents.
Olivia Katrandijan of ABC news speculates that the family-focused holidays can scare some couples out of a commitment. In an article on ABCnews.com, Kartandijan said, "Perhaps some people realize their significant other is not someone they would want to introduce to their families." This awkward realization can put strain on a new relationship. According to Jenna Christianson, a senior at the University of Miami, family can affect relationships in more ways than one. "Issues within the family inevitably puts stress on the other person, especially during the holidays" says Christianson. "If your relationship is not ready to handle those kinds of personal issues, things can get messy fast."
Psychologist Dr. Dorree Lynn told ABC news that gift-giving can be an equally stressful undertaking. Lynn claimed, "A lot of people have issues about gift giving and how intimate the gift giving is and they get frightened because they don't want to put pressure on the other person, but on the other hand they don't want to feel like a fool giving something and not getting anything back."
Christianson is living proof of this. "My boyfriend of three years has never given me a present for a holiday, anniversary or birthday," she confessed. "He's admitted that he's intimidated by the prospect of giving me a gift I won't like, and because of this, he doesn't do it at all. He says I deserve more than what he can give me, but the truth is it really doesn't matter what he gets, it's the gesture that's meaningful."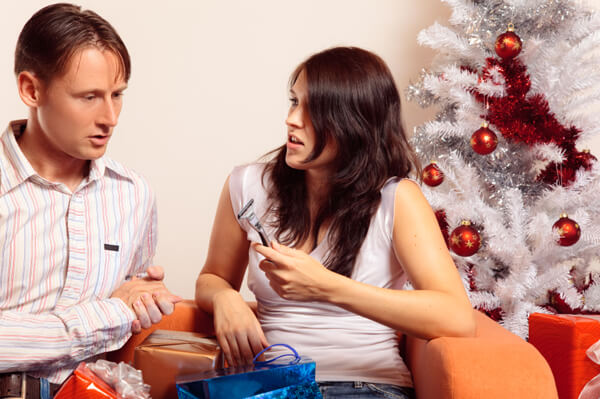 Despite the issues of presents and family, even the simple prospect of leaving a significant other for the first time since the beginning of the relationship can cause problems for many couples. The first extended time apart is an important test of a relationship's strength. Busy holiday schedules can make it difficult to keep in touch, and after a full semester of constant contact, a sudden lack of communication can be disheartening.
If your relationship is being affected by the holidays, there's no need to break it off just yet – you're not alone. Try and look past the tinsel and lights and remember why you and your beau chose each other in the first place. And if you can make it through the next few weeks, you can make it through pretty much anything.
Photo taken from sheknows.com