Bring on the scary movies, candy corn and pumpkin patches! No need for basic witches—Halloween has something fun for everyone. Though spooky season plans definitely look a little different this year, many fans of the holiday look forward to the countless opportunities for creativity. Between clever Pinterest DIY costumes and drop-dead (get it?) makeup looks, Halloween lets everyone's freak flags fly. We spoke to professional makeup artists for their tricks (and treats) for Halloween-inspired looks guaranteed to kill your virtual hangout.
Read on—if you dare!
1. Pop-Art Zombie Unicorn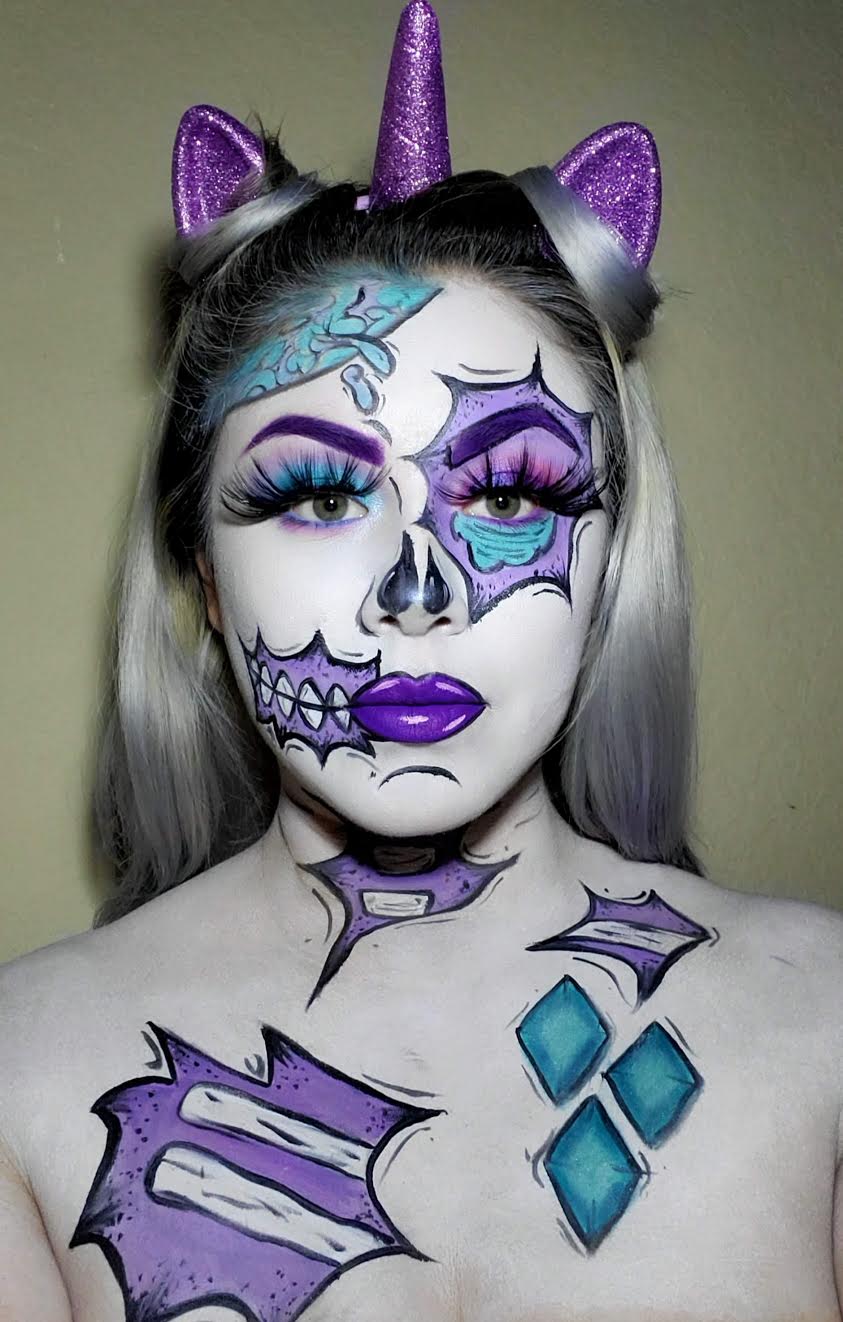 Whimsical fantasy and spooky special effects merge for this one-of-a-kind makeup look. If you love bright colors and the Andy Warhol Pop Art aesthetic, try out this out for Halloween this year. "This was definitely a challenge and an out of comfort zone look for me," said Romie Delgado, stay-at-home mom of three and the talented artist behind this look. In terms of inspiration, Delgado loves to pull from tons of different places, and always keeps track of her creative ideas. "If I ever get inspiration from someone, I make sure to credit [them]. I have a sketchbook that I love to draw out my looks in." What artist doesn't keep track of their brilliance? Let your creativity wander and take you to a place where spooky meets sparkly, and try out this Pop-Art Zombie Unicorn look this Halloween!
2. Going Batty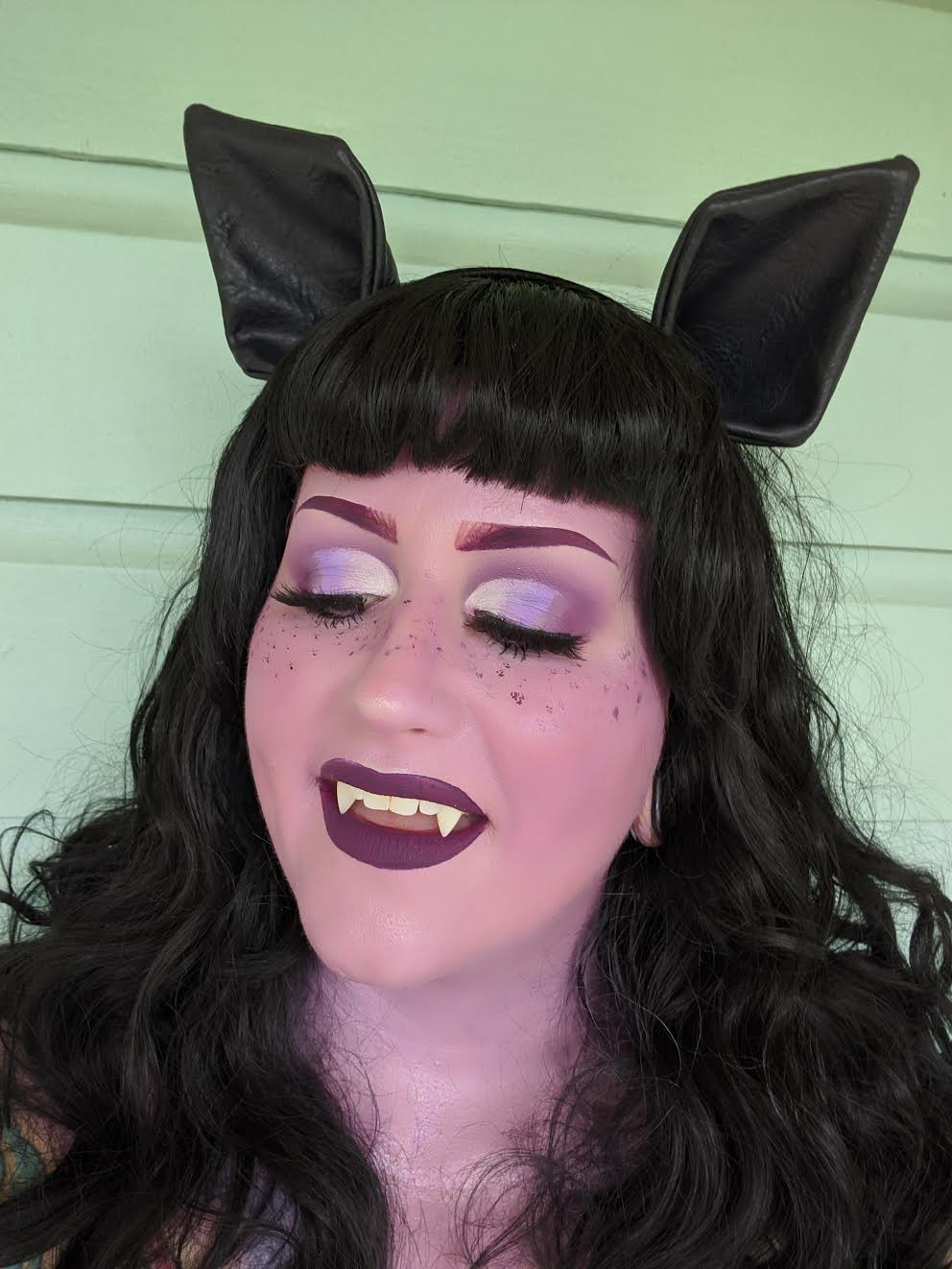 It's fricken' bats! I love Halloween. Pay tribute to the classic symbol of spooky season with this makeup look. "I was inspired to create this because [bats] are my favorite mammal, and I wanted to share some insight and awareness with the public about bats. They're often misunderstood and mistreated, so I wanted to use my skills with makeup to get some positive attention on them," said makeup artist and Navy veteran Nicole Cruz. This beautiful makeup look certainly does the trick. The sparkly eyeshadow (with perfectly cut creases, might I add) combined with the bat ears and fangs make for a hauntingly beautiful makeup look.
3. All Stitched Up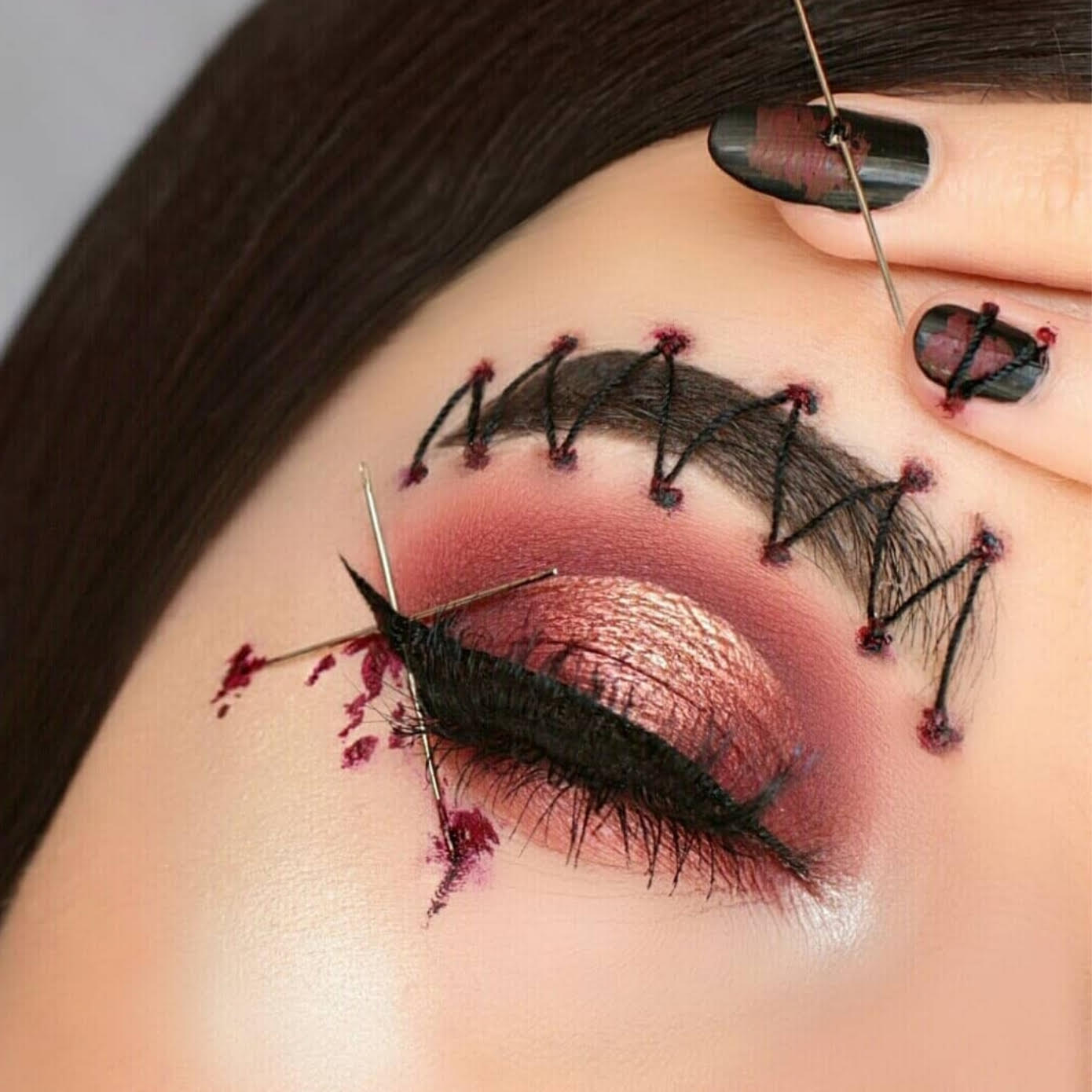 Glam meets gore in this eye makeup look, and who doesn't love a good crossover? This minimal SFX makeup is perfect for any spooky Zoom get-together. Grab your favorite products and create something special! "I love the Perfect Cosmetics Carnival XL Pro Palette; it's the best palette for creative looks with an amazing color selection," said makeup influencer Malvina Kritharidou. However, take stock of some helpful tips when creating your tiny eye look. "My favorite tip is to not set your eyeshadow base with powder; this ensures that the color you see in the pan is what you end up with," said Kritharidou. Let you and your pigments do what they were born to do: shine.
4. Vibrant Ghoul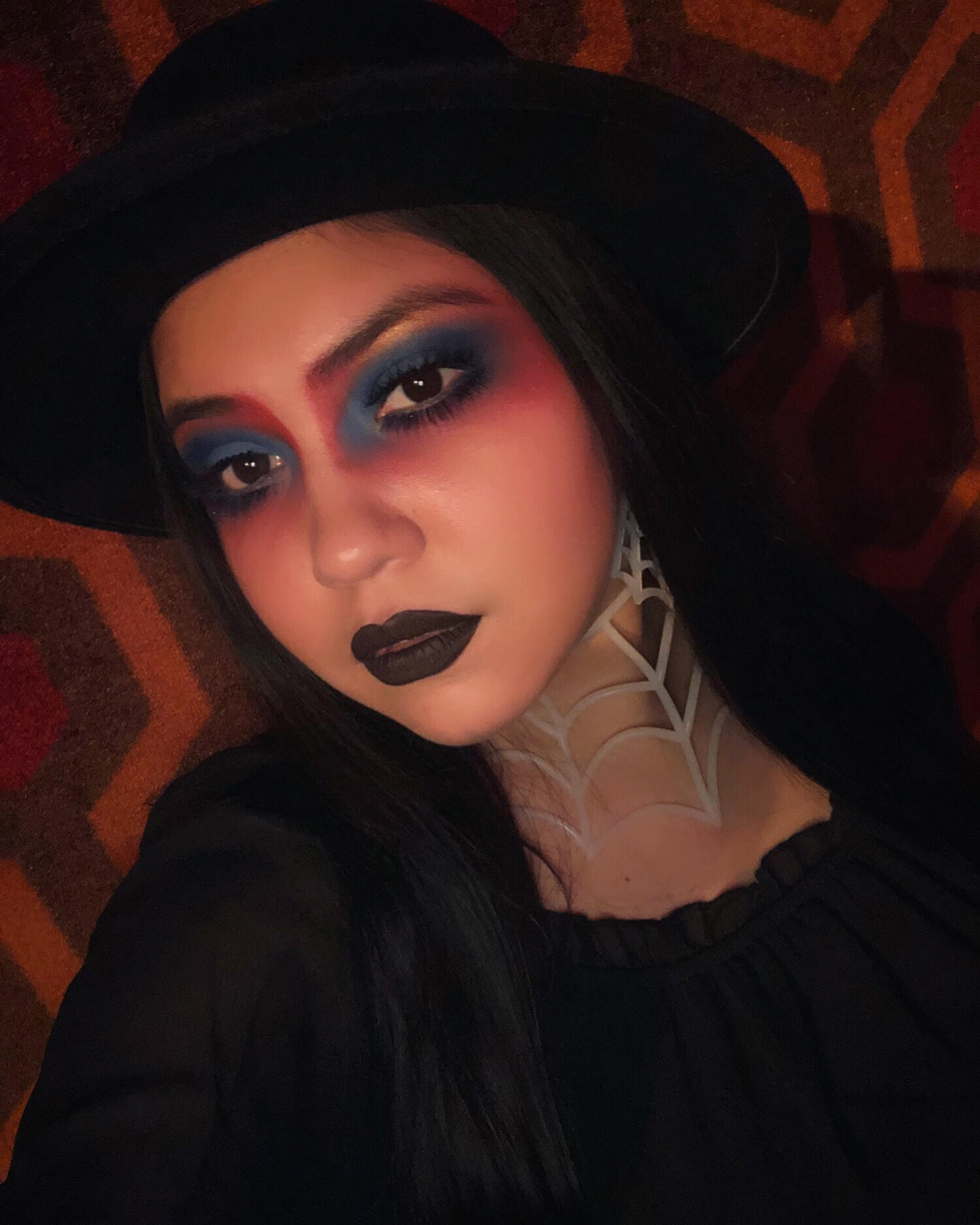 Who said the undead can't like bright colors? Add funky eyeshadow and set your ghoulish look apart from the crowd. "I know some tend to say, 'I can never pull off that color/look,' but you can pull off anything as long as you wear it with confidence," said makeup artist Reina Ramirez. Her inspiration for this twist on a classic Halloween haunt came from a few places. "This was my take on being undead with a retro twist, which Beetlejuice played a huge part in," said Ramirez. "To execute this look, I used the Morphe 35B color burst and made sure to blend from the inner corner eye to the top of my cheekbones. For the lips, I used KVD beauty everlasting liquid lipstick in the shade Exorcism." p0-opl.—- If funky 80s inspo with a spooky twist fits your Halloween aesthetic, try out this Vibrant Ghoul look for your virtual hangout!
5. All Eyes on You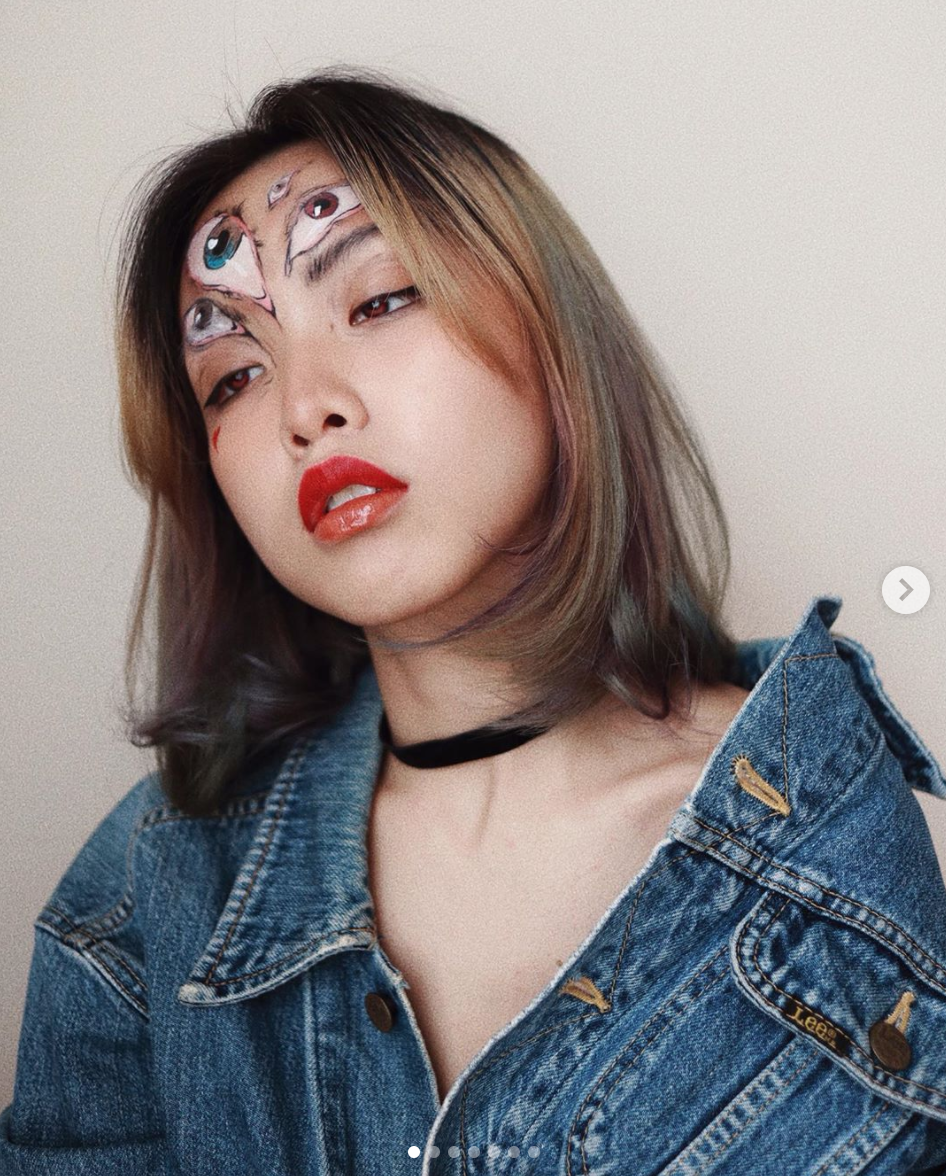 Look to the monsters hiding under your bed for inspiration and you'll have all eyes on you—literally. "I usually feed my eyes with all sorts of visuals from SFX makeup and illustration artists," said digital copywriter and makeup artist Vivien Loh. For this look, Loh recommends Kat Von D Beauty's White Out Brow Pomade. "The good, pure, opaque white is essential to make any illusion makeup look extra believable," said Loh. "The white highlights on a hand-drawn eyeball really make it pop and help it look more 3D." The haunting imagery will surely have an impact on your Halloween hangout. Unleash your inner monster this Halloween season and create something spectacular.
6. Bee Skull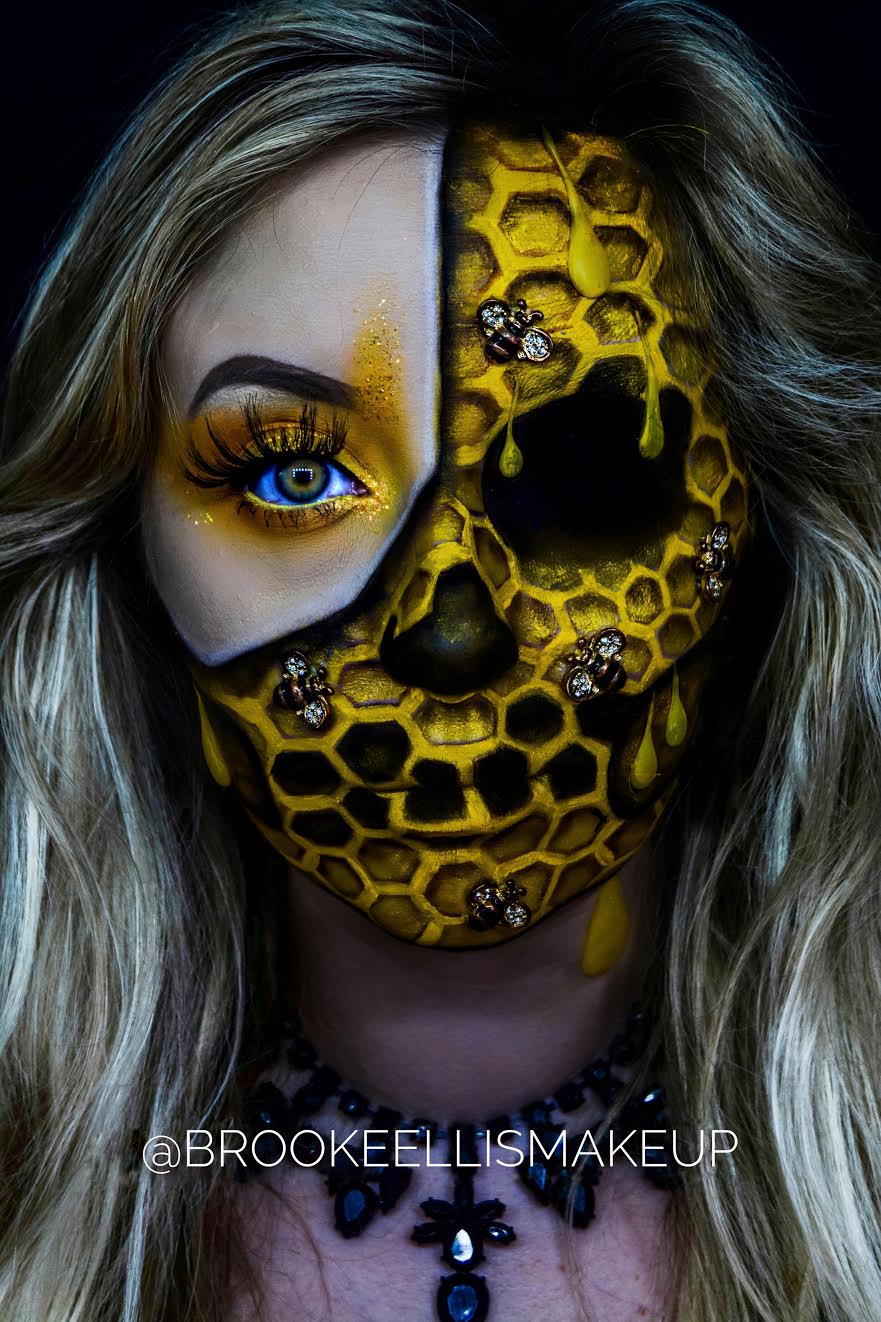 Spooky scary skeletons… with a twist! This look will make all your friends buzz with excitement. "When I got into creative makeup, I knew I wanted to do a bee-themed look, as my initials are B.E.E," said influencer and online content creator Brooke Ellis. "It wasn't until I saw 'Jack Of The Dust' create a beehive skull on Instagram that I knew how I wanted to do it!" Lots of artists, both using makeup and other mediums, turn to the internet for inspiration. Oftentimes, the best kinds of creativity come from seemingly unusual places. "Due to COVID-19, I had to get a little adventurous when finding inspiration," said Ellis. "Pinterest has been my saving grace, and I have also found inspiration from looking at Halloween decorations in stores." You never know what you might find, so get out there and look!
7. Beetlejuice… Beetlejuice…!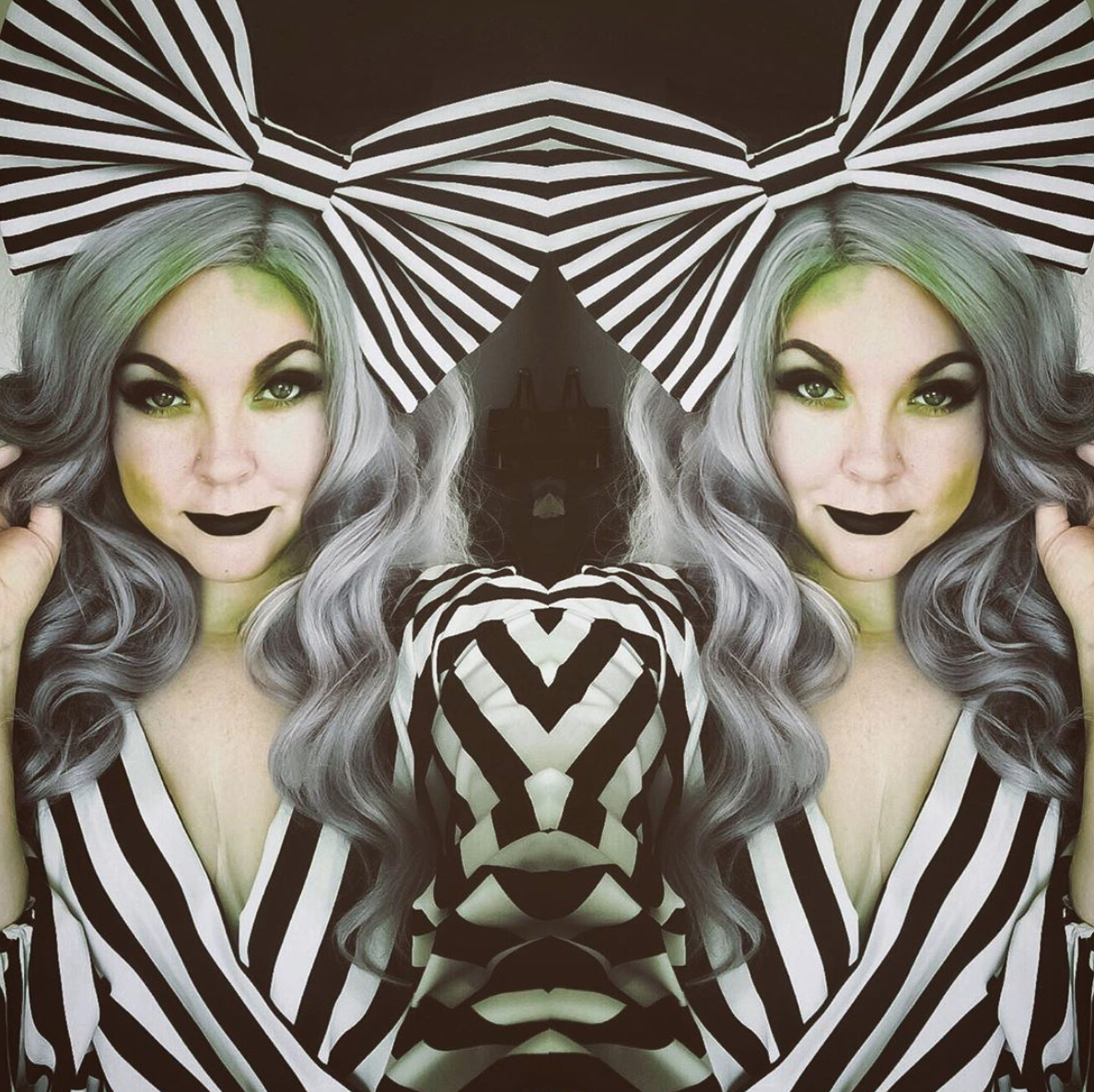 We all know what happens when we say his name three times, so just recreate this iconic look instead. "I'm a huge fan of Tim Burton films, and many of his characters have a unique style that is very fun to try and recreate with your own twist," said digital creator Taralee Waite. Who doesn't love a little Tim Burton, especially this time of year? In order to pull off this classic character's look, turn to the best makeup products out there. "I own multiple shades of NYX Liquid Suede lipstick, and the color pay-off is great considering the budget-friendly price tag," said Waite. "They have some funky shades that are perfect for Halloween. My two faves are Alien and Vintage." Affordable and high quality—definitely something to scream about!
8. Glam Smokey Eye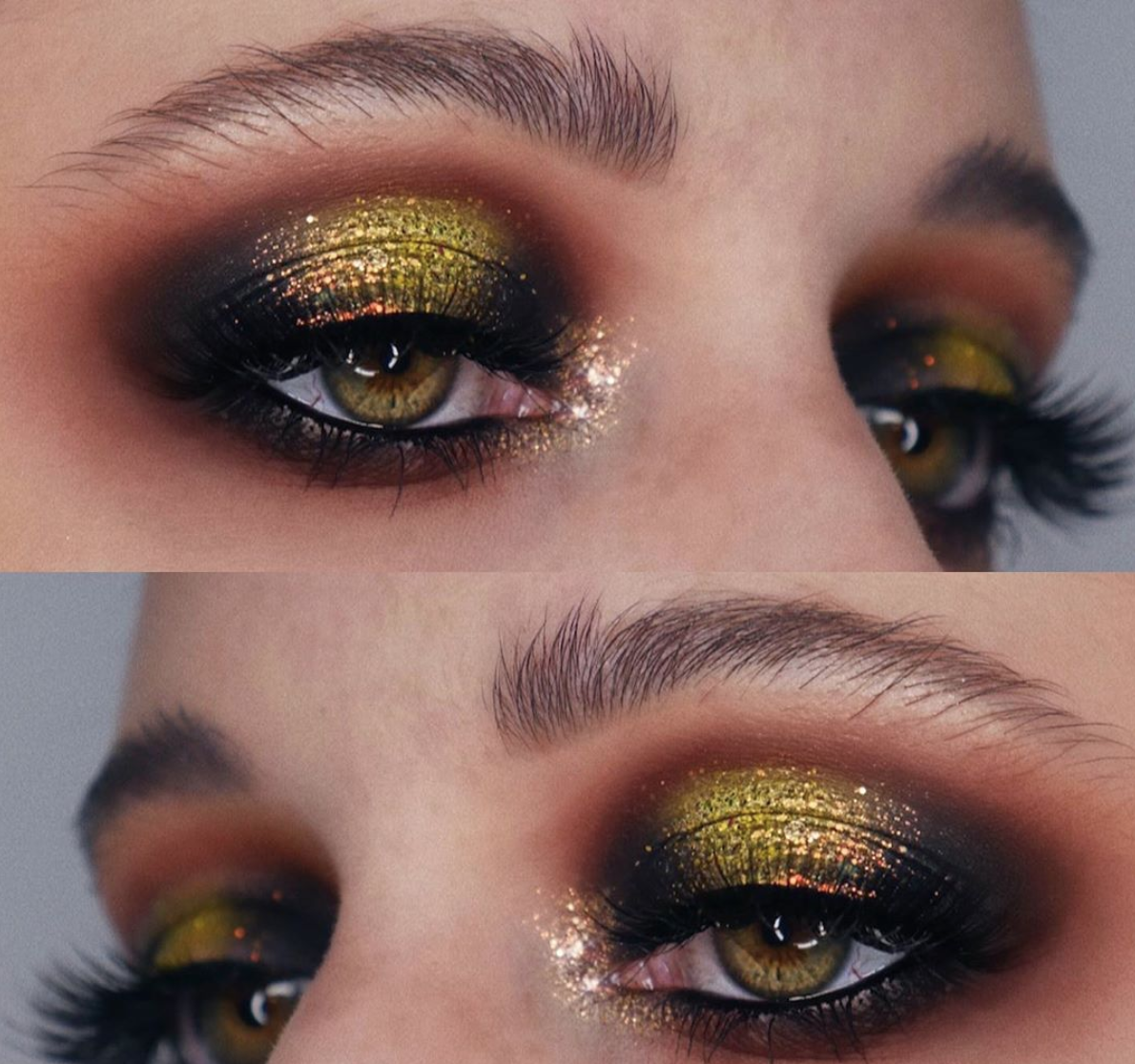 If SFX makeup doesn't match your vibe, that's okay. Try out a glam smokey eye with Halloween and fall colors instead. "Makeup is an art form and not everyone's art is the same," said professional makeup artist and permanent makeup artist Danielle Ferguson. "There's a place in the beauty world for every kind of artist and you really have to embrace YOU and create the art YOU love!" Don't feel pressured to go a certain route if you prefer a different aesthetic; just because it's Halloween doesn't mean you need horror and gore to get into the spirit! "I pull a lot of inspiration from Halloween décor and scary movies," said Ferguson. "I love taking staple Halloween looks (like skulls and pumpkins) and revamping them into something different!" Take note of the colors from the Halloween palette all around you and use them as inspiration for your own glam smokey eye.
9. Edward Scissorhands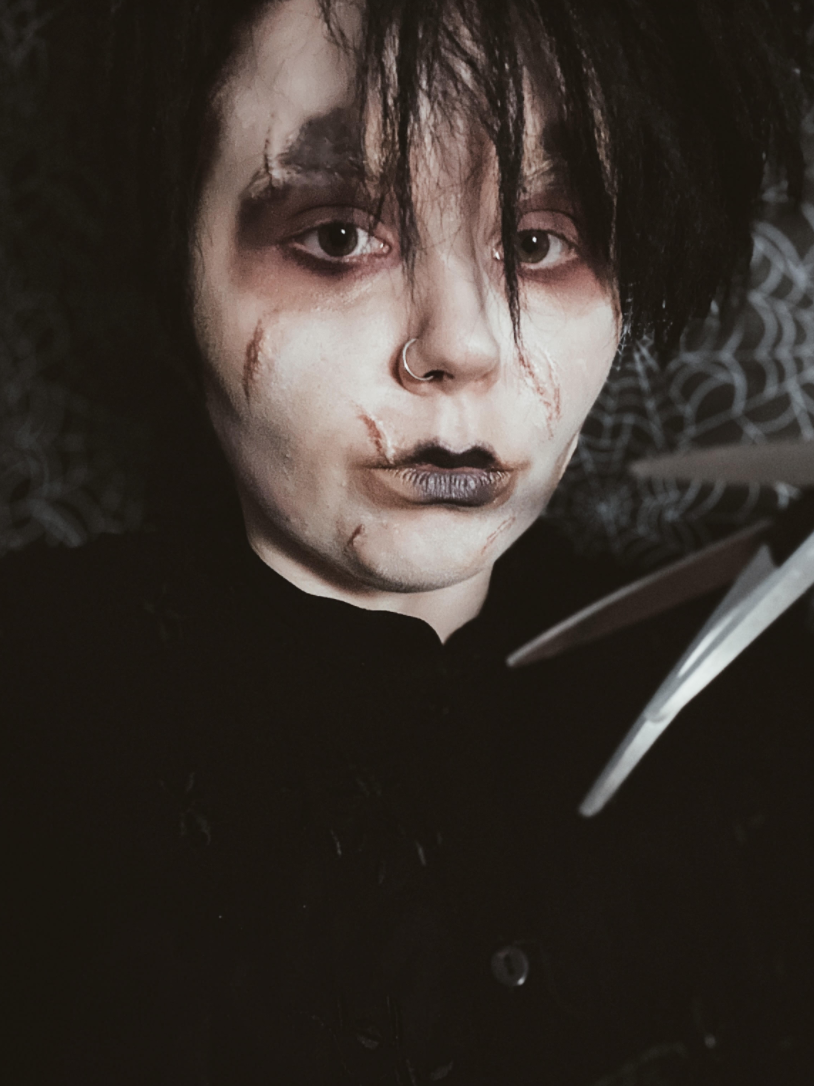 Tim Burton presents a whole catalog of movies perfect for Halloween makeup inspiration. This time, Edward Scissorhands inspires this look. Channel your inner Johnny Depp (and grab your "boo"/Winona Ryder) to recreate this iconic movie's style. "I chose to do this look because the film is a childhood favorite!" said Ashli Ghoul."It's a total classic, yet can be overlooked sometimes." I agree—Tim Burton marathon, anyone? In terms of makeup recommendations, Ghoul knows just what you need. "I was recently gifted makeup from Mehron," said Ghoul."I love their fake blood and their very pigmented palettes, and it's vegan and cruelty-free which is a must!" There's nothing scary about ethically conscious products—a small but necessary investment. Channel Edward's kind energy and save the animals while looking GREAT.
10. Glam Pennywise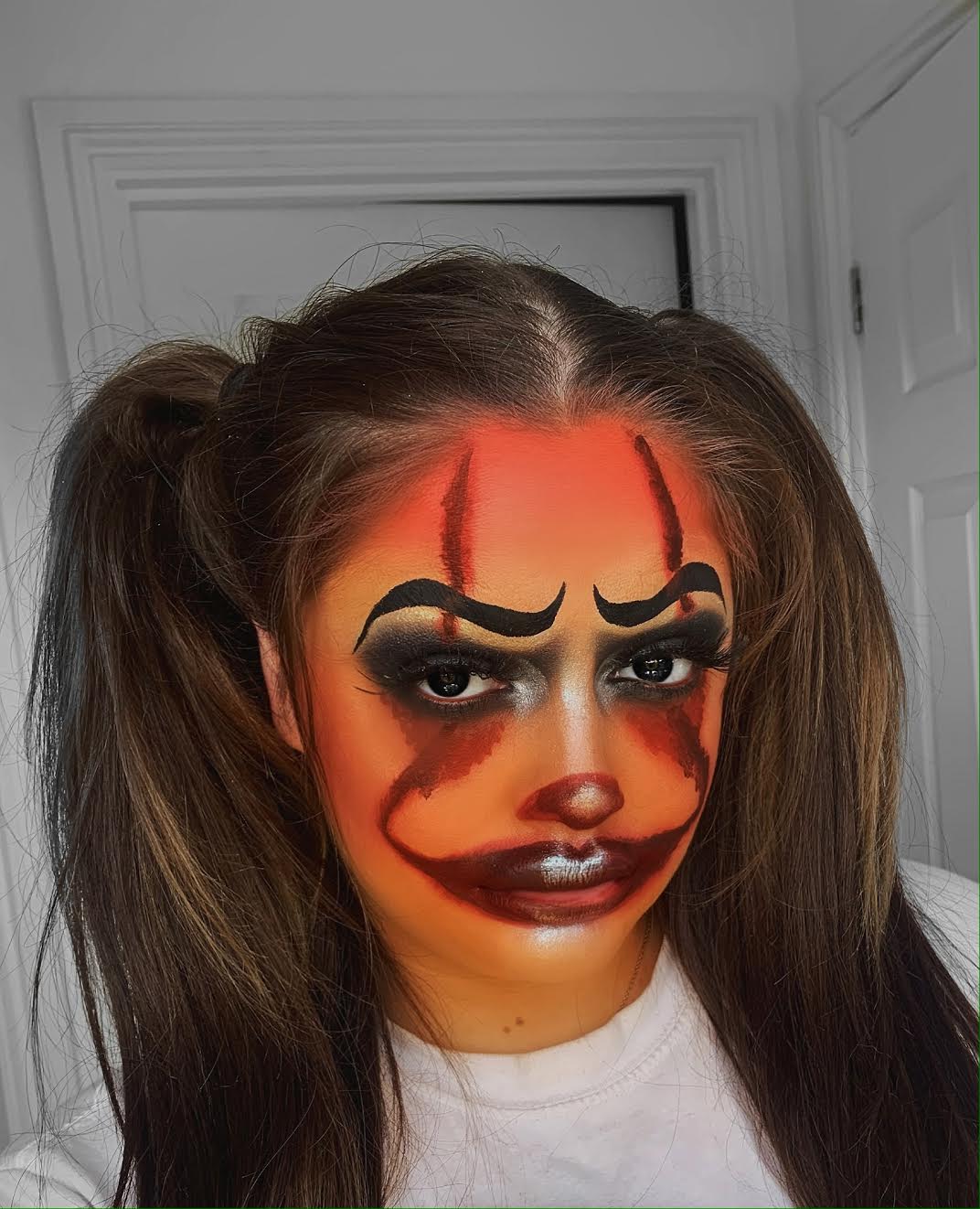 Hiya Georgie… wanna slay? If only 2016's killer clowns made a comeback—a true cherry on top of a stellar 2020. "The thought process behind my Pennywise look was really because I wanted to do something quite theatrical," said makeup artist Alice Davis. "Pennywise has a permanent expression on his face, as if he's always frowning. I created this on my own face by blocking out my brows (gluing them down and concealing them) so I could paint new ones on top to create the frowning expression." Talk about committing to your craft! This iconic horror villain serves as the perfect makeup look for any Stephen King fan. "Halloween is my favorite time of year as it is… I get a lot of inspiration from different horror films and like to add a twist… I do really love a glamorous scary look!" said Davis. For all your spooky glam needs, Davis recommends Morphe palettes. "I love all of my Morphe eyeshadow palettes; I just love the pigments and you can use them for every kind of look!" Grab your brightest palettes and try it yourself! This Pennywise-inspired makeup look is definitely It (get it?).