New York City remains known as the most vibrant city in the world. As a city that never sleeps, you can do countless fun things in NYC. No matter whether you consider yourself a first-time traveler or a local New Yorker, this list of 24 things will let you fully immerse in the bustling NYC culture in 24 hours. The 24 spots include New York's iconic landmarks, as well as multiple newly constructed attractions.  
So much to do in so little time; let's rock it
7 A.M.: Sunrise at the High Line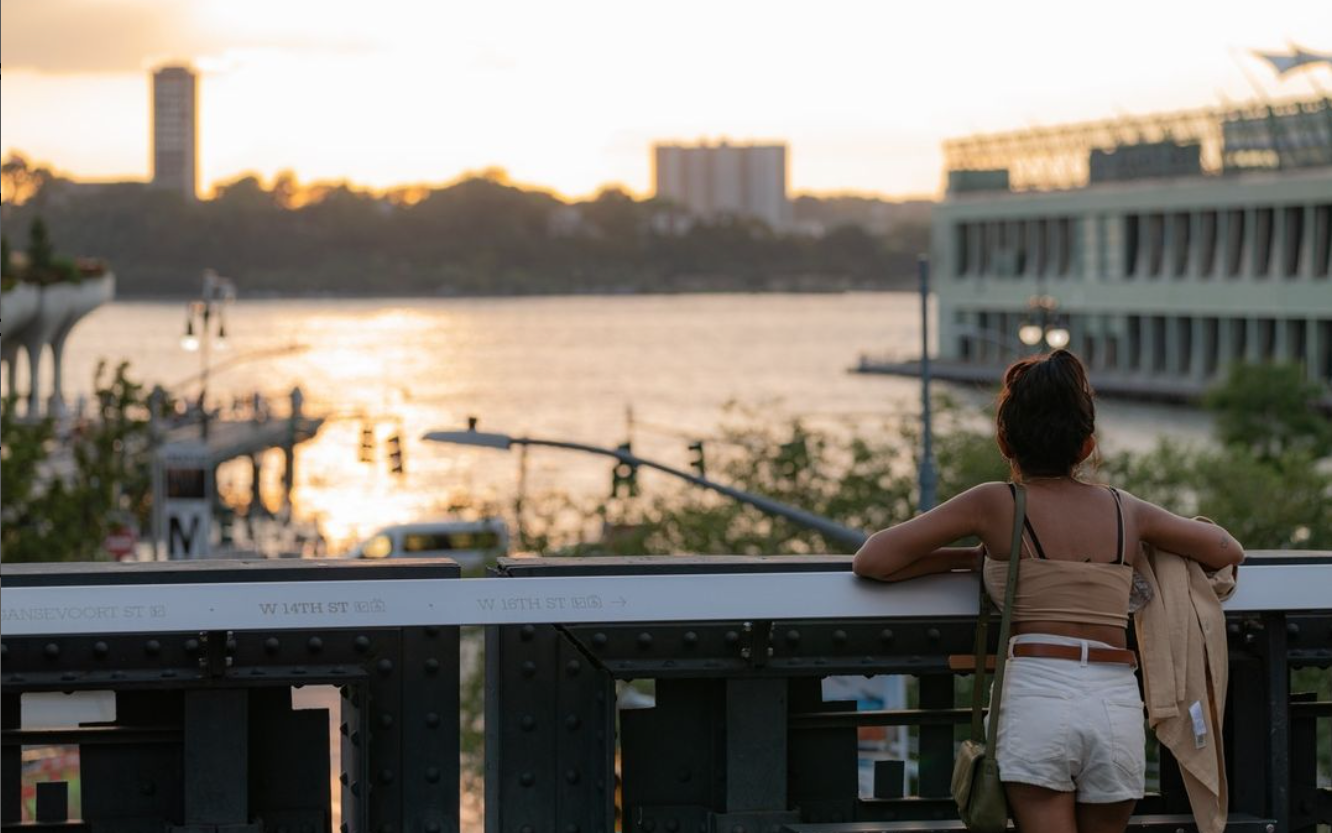 Forget about morning coffee and embrace the sunshine! Let's start a new day with a more natural and traditional way other than a cup of caffeine. Located on the west side of Manhattan, the High Line operates on a historic, elevated rail line, which means you can watch the sun rise as it colors the entire city. The role of the High Line goes beyond the ordinary park – you can walk through gardens and art exhibitions while overlooking a unique perspective of NYC's lively streets. I'd say no place compares to the High Line for wandering in the sunlight and enjoying a quiet moment before the city shows its madness.
8 A.M.: Brooklyn Bagel & Coffee Company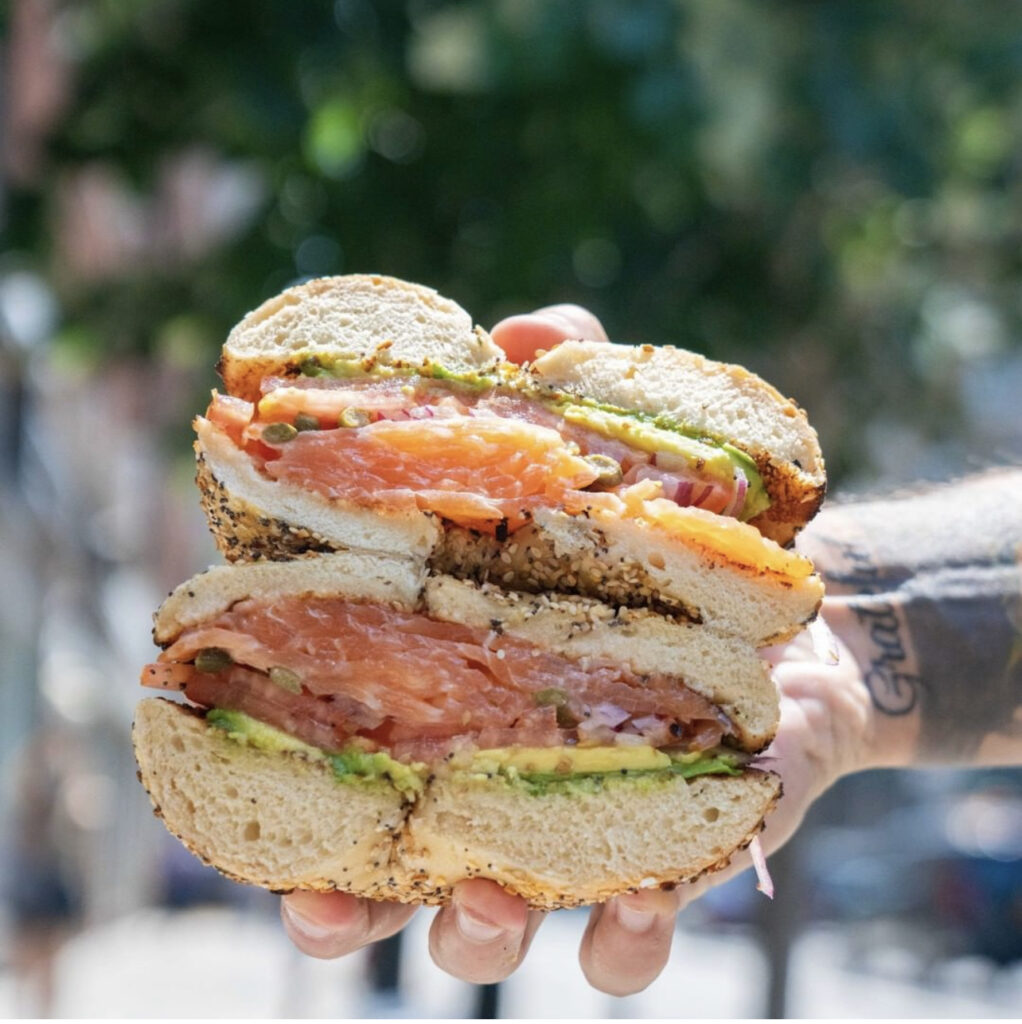 What tastes better than a bite of rich crunchy bagels with lox and cream cheese to wake up your stomach after a spectacular New York sunrise? New Yorkers blend bagels into their daily dietary habit. The extra fluffy taste of New York bagels ascribes to the low concentrations of calcium and magnesium in NYC's tap water. Just head two blocks away from High Line Park and you can taste a fresh chewy bagel from one of the top 10 bagel spots in NYC. Customers love Brooklyn Bagel for their gigantic, old-fashioned style bagel and rich texture. For your first-time visit, I recommend trying scallion and lox cream cheese.
8:30 A.M.: Chelsea Market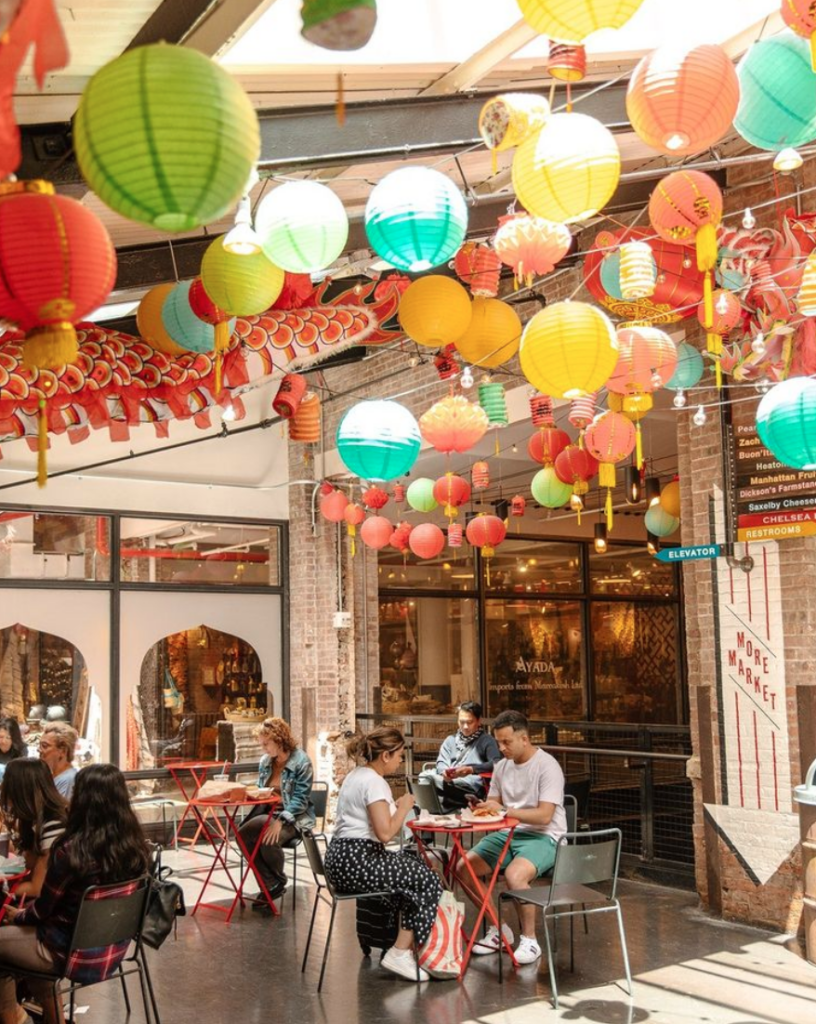 Walking south for about 10 minutes, you can find the famous shopping, food, office and TV production complex: Chelsea Market. With over 100 years of history, this iconic culinary destination attracts thousands of travelers and locals per day for its fresh seafood and international gourmets – from spicy Szechuan noodles to juicy oysters and crispy tacos, all freshly made! Not feeling hungry? They also offer two Asian markets and dozens of places selling handmade chocolate, artisanal cheeses, Italian dry goods, etc. that could serve as great gifts.
"I didn't pay a visit to Chelsea market until my third year in NYC because I always thought it was a place for tourists. My first visit to Chelsea Market was led by a post I saw online saying they have oyster happy hour in the afternoon, so I went with my friend. And I have to say we were surprised by the food quality and design of the whole market. I think it's a place that you can go once in a while to get some fresh refreshments and fun stuff," New York University graduate Xi Lin said.
Besides its retro style architecture with the preserved industrial shell, creative decorations like a water pumper, old bell and pipe make it a perfect Instagram spot. They also have seasonal decorations like Christmas lights and winter ornaments for variety. Take advantage of the empty morning to save on the wait and take some cool photos for social media.
9:30 A.M.: Little Island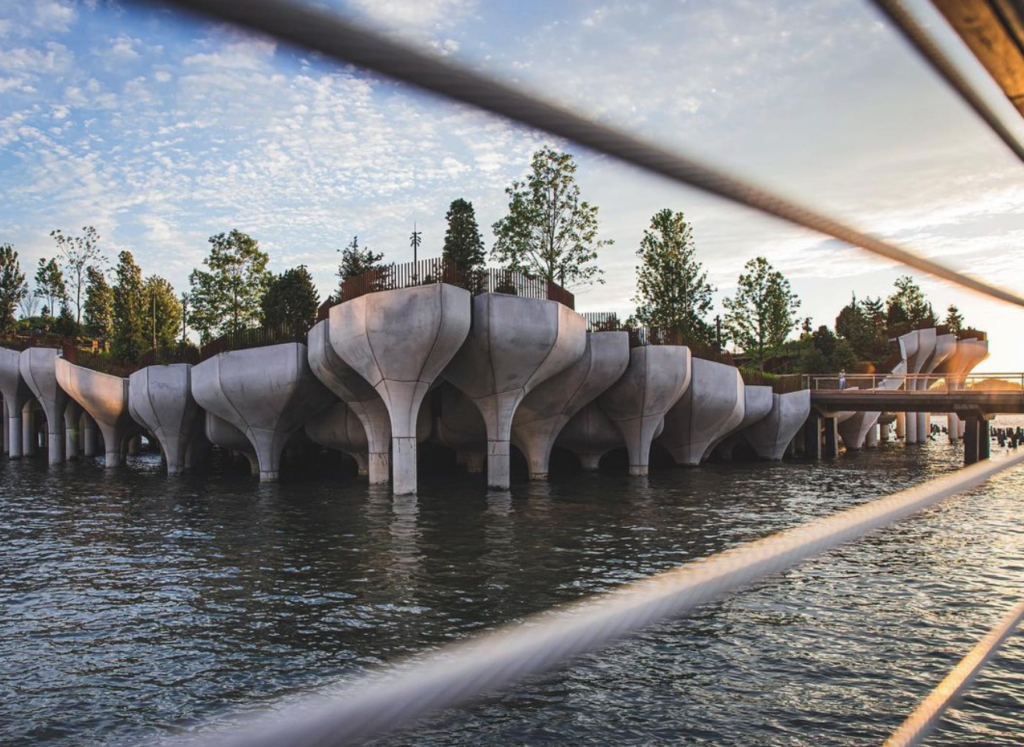 Coming out of the west gate of Chelsea Market sits the newly constructed Little Island by the Hudson River. Rising from the remnants of Pier 54, the artificial island park has only been around for one year. This sensory delight keeps the hundreds of ancient structural wooden piles that stick out of the river from the old piers structure. It also connects to the revolving granite that eventually extends to an undulating green landscape. Covered by boulders, bushes and floret plants, you will find this floating botanic garden full of surprises and magnificence.
10:00 A.M.: Brunch at the Grey Dog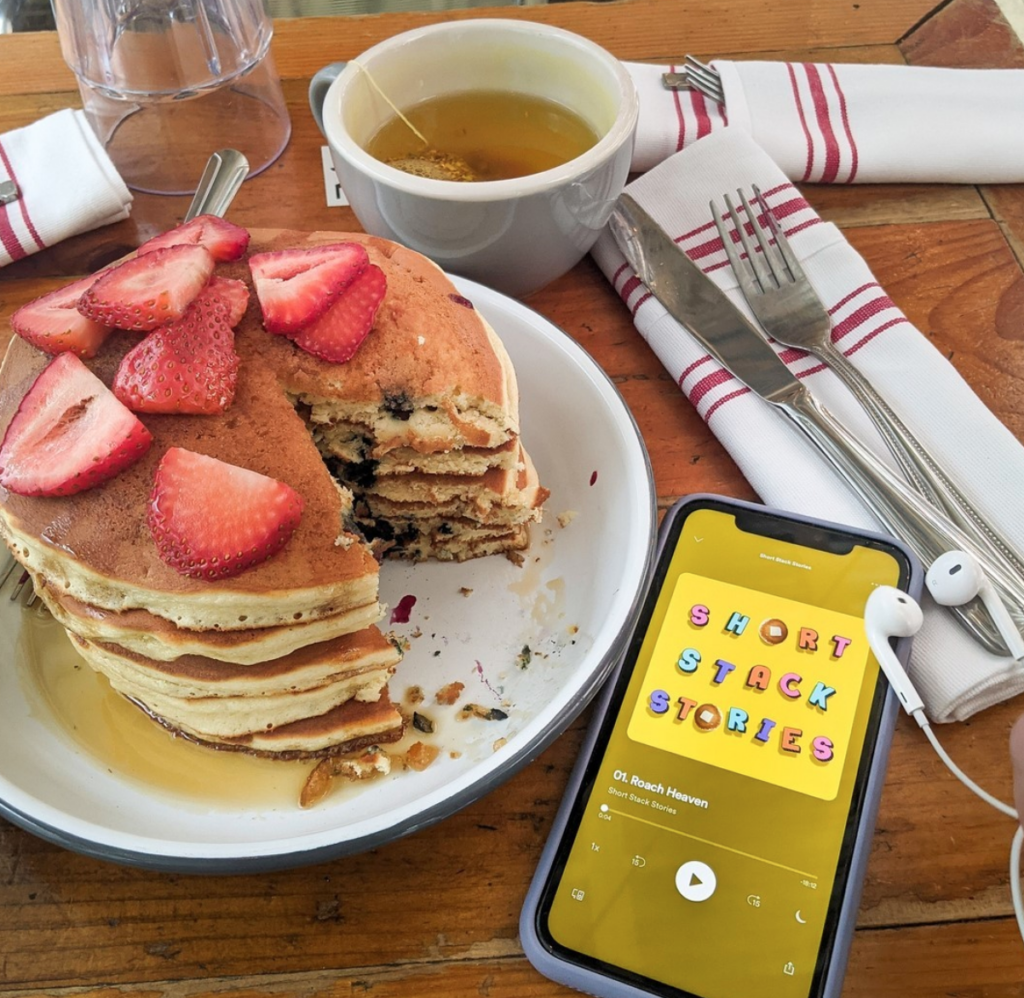 With all the meandering and exploring, you can now make time for a hearty homestyle brunch. Heading east for just 10 minutes by foot, the Grey Dog serves a mix of new American classics made with seasonal and local ingredients. With music and a laid-back setting, your choices of food range from classic egg and bacon breakfasts to French toast. And since we will eat dinner around 7 p.m., you may want to get a juicy house burger to get you through the seven hours of hectic activities in the afternoon.
11:00 A.M.: Whitney Museum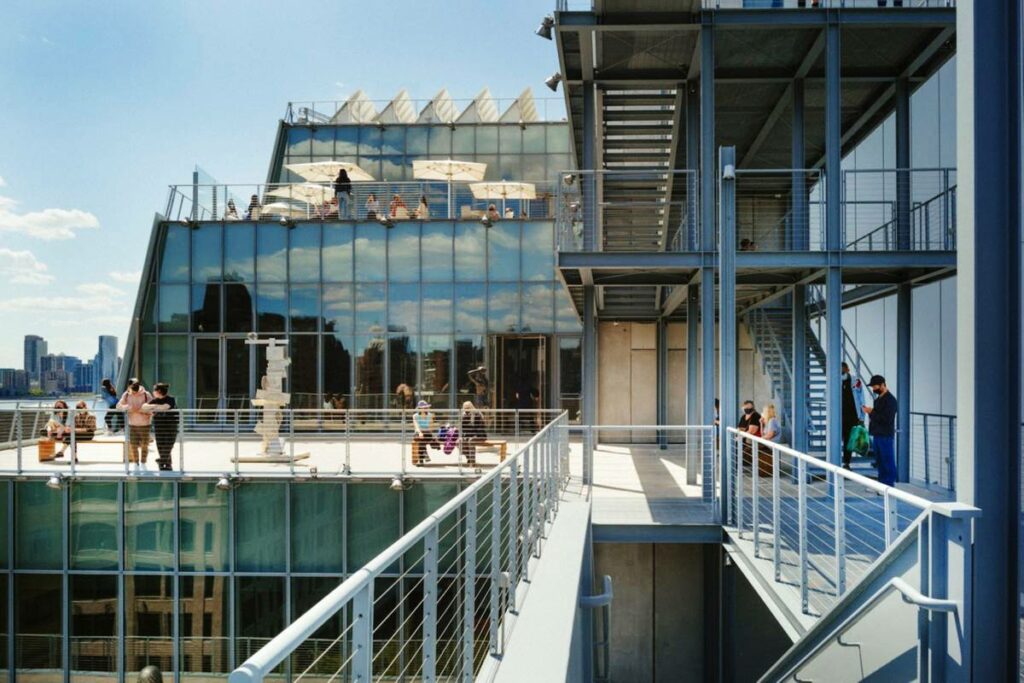 Double back to the Little Island: there you can attend the Whitney Museum next door to appreciate American art. Founded in 1930, the Whitney comprises more than 25,000 artworks spanning from the 18th century to present art. It focuses on contemporary pieces and the work of living artists. At Whitney Museum, you can roam around paintings, sculptures, drawings, prints and photographs, among others. Each year, the museum hosts annual and biannual exhibitions that showcase work from younger and lesser-known artists. Besides the fine art, the terrace near the fourth-floor cafe attracts visitors to spend the afternoon chilling and appreciating the beautiful view of the Hudson River and West Village.  
12:30 P.M.: The Vessel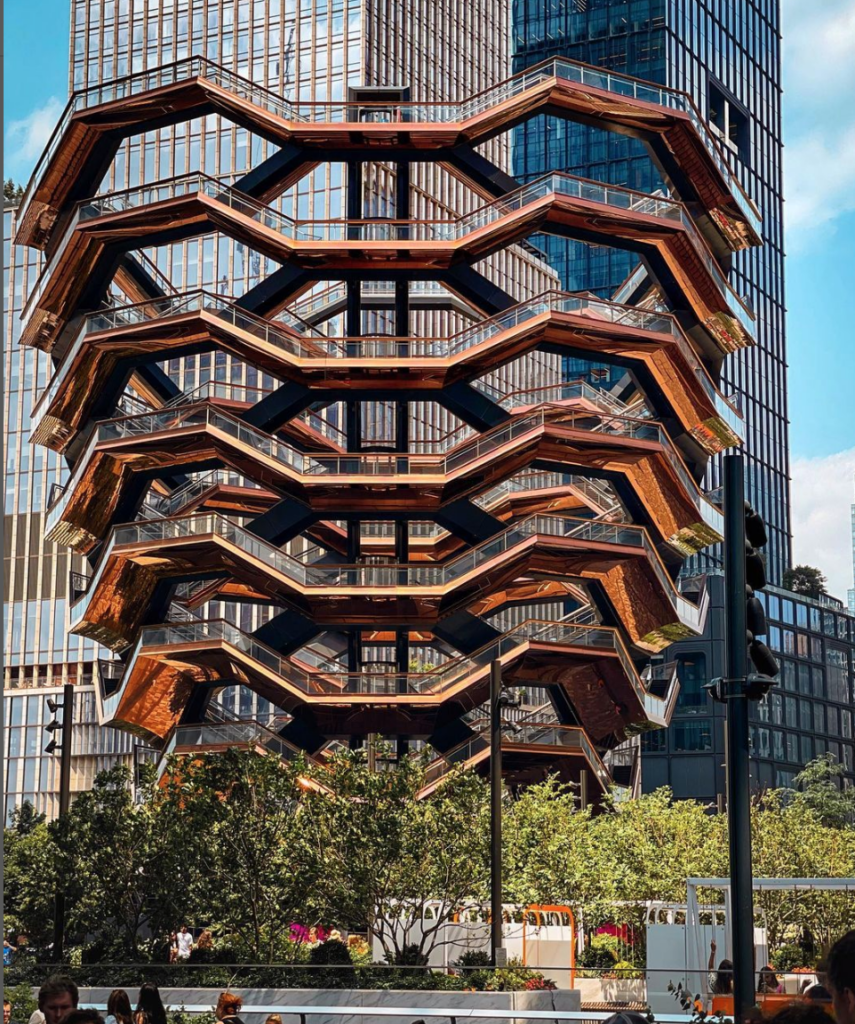 The controversial Vessel as a new landmark of NYC rests a distance of 10-minutes driving from the Whitney. This "pinecone" shaped structure rises 16 stories high and consists of 154 flights of stairs. Designed as an interactive sculpture and a public space in Hudson Yard, the Vessel never received an official name. The Hudson Yard website once called on the public to submit names. Up to today, they still call it the "Hudson Yard Staircase.".   
"I first visited the Vessel in 2019 when it just opened and was amazed by the huge work of art. I didn't go inside [because] I forgot to reserve the ticket in advance, but even just admiring it on the outside I think it's beautiful enough," New York University junior Ryan Zhang said.
However, despite its extraordinary design and popularity, the Vessel received criticism due to the four suicides that took place on it. So, the building remains closed to the public since July 2021. Although people can't go into the building to see the exquisite design structure, nor can they climb up to it to see the Manhattan view, people still view it as a modern landmark that proves worth a visit.
1:00 P.M.: The Shed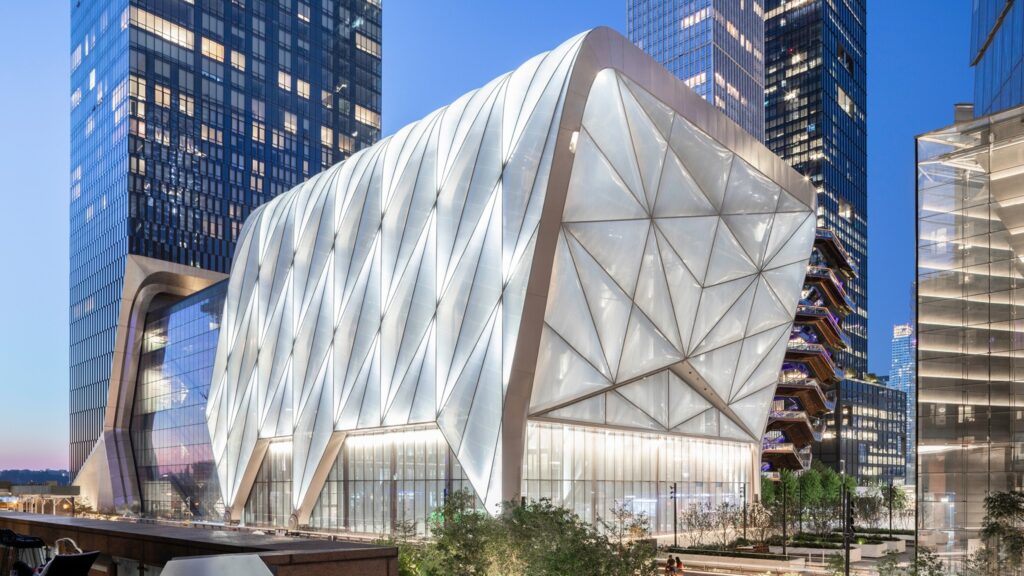 The Shed serves as a cultural center in Hudson Yard right next to the Vessel. Unlike the Whitney, it presents a wide range of activities in performing arts, visual arts and pop culture. Before you go in, the building itself catches your eyes enough on the outside. The Shed's Bloomberg Building has a giant movable shell that sits clad in translucent pillows of durable and lightweight polymer. By moving the shell forward, it detaches the building and creates ​​dynamic space for additional art exhibitions and performances.
"I went there for the "Fragile Future" show last year. It has totally shaken me to my core. The artist has a giant brick-like structure floating in the air and slowly rotating, and all you feel is how small and insignificant you are," Fashion Institute of Technology senior Jessy Wong said.
The Shed offers free events and various ticket programs such as a $10 accessible price for all, free admission for selected groups and deeply discounted tickets for people in need. This ensures equal access to art for all people. The ticket gives you access to four or five ongoing shows and events at the Shed. The Shed changes the show and the events in a relatively fast pace—usually 3-4 weeks – definitely a place worth more than one visit! 
2:00 P.M.: Flatiron Building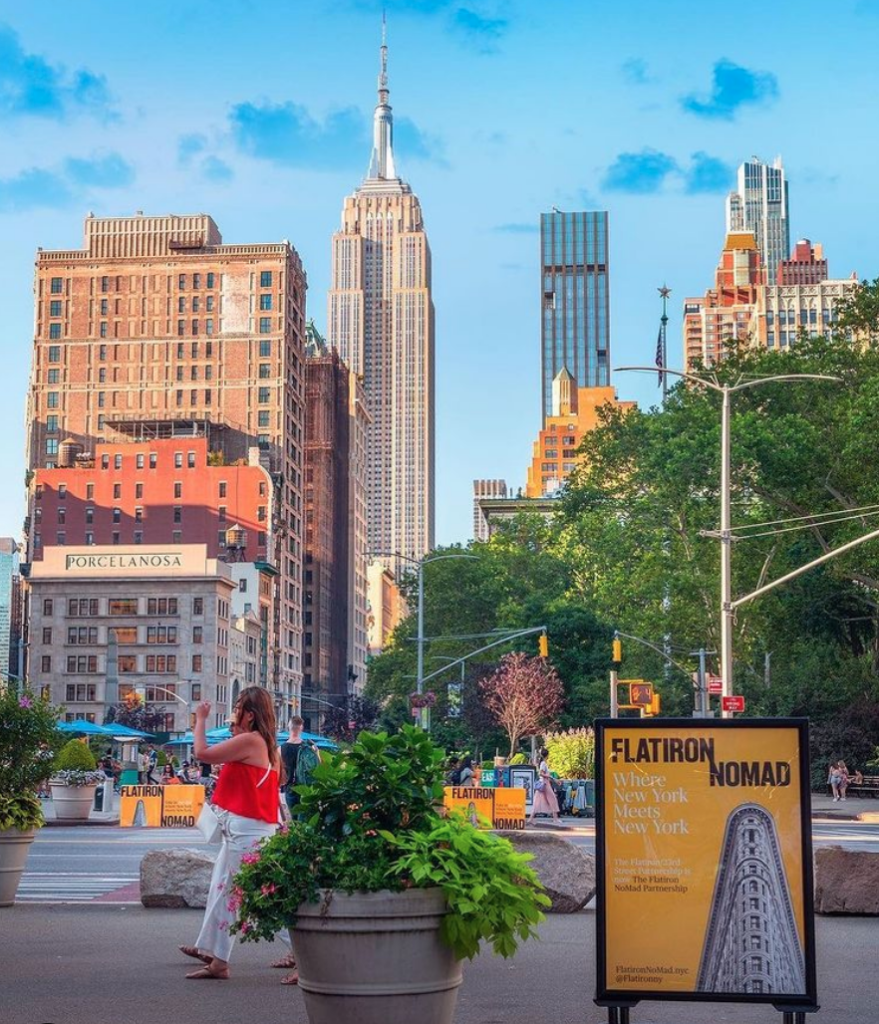 If you consider yourself an action movie fan, the Flatiron Building shouldn't sound unfamiliar to you. It was featured in the movies Spider-Man I to III, "Armageddon," "The Unusual Suspect," "The Teenage Mutant Ninja Turtles," "Godzilla" and so many more. The recent trendy TV series "The Boys" also uses the Flatiron as a base for the characters. The fame of the Flatiron Building originated when it became designated as New York's first skyscraper in 1902. Unlike other New York early skyscrapers that were built in the form of towers, the Flatiron Building incorporates the steel-skeleton construction. Since the overview of the building presents a triangle shape, the building appears abnormally thin when you look at it from the north angle, making it a great spot for street photography.
2:30 P.M.: Union Square Park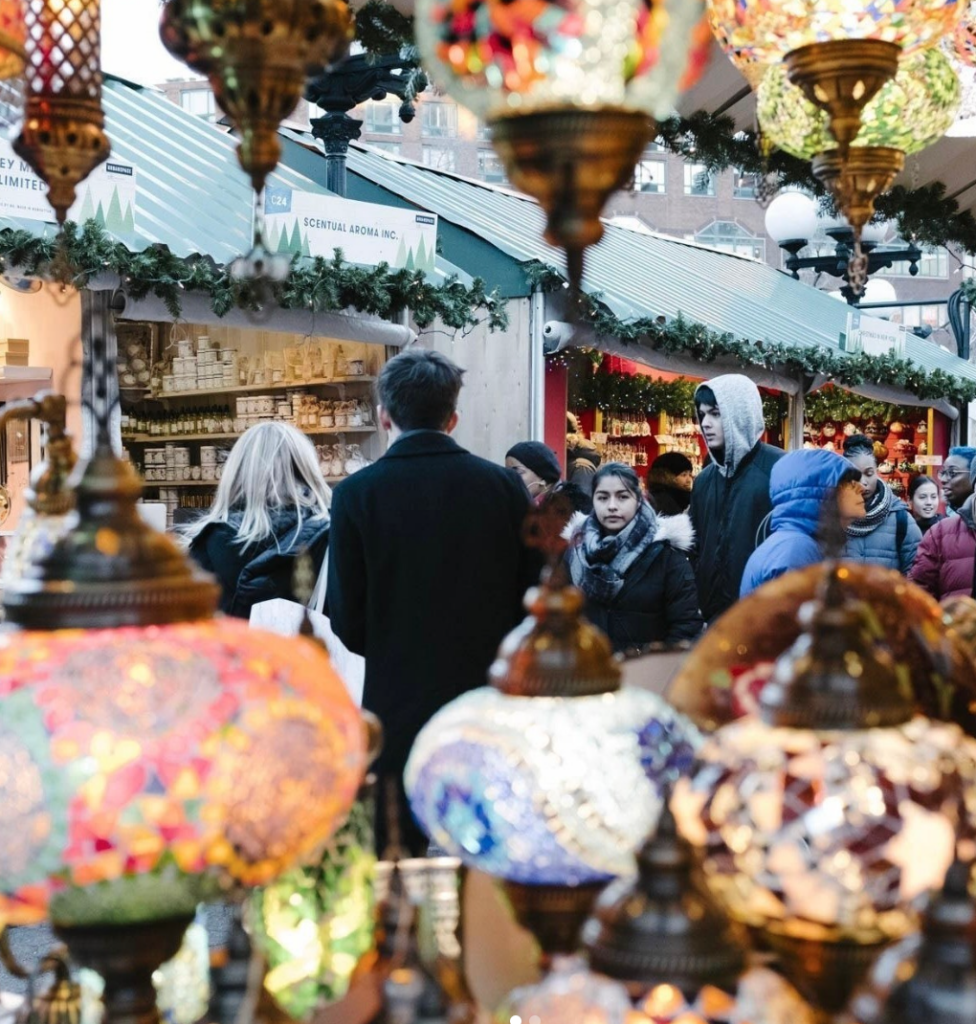 Continue walking down the street for about eight minutes and you will find Union Square Park. With almost 200 years of history, Union Square Park serves as a home base for countless community events and festivals. For example, they host "Harvest in The Square" where people can taste over 60 foods paired with local wines and spirits, "Winter Holiday Market" that sells hearty street food and cute trinkets in December and "Greenmarket" that opens four days a week, allowing people to buy fresh produce from local farmer.
"I like to go to Union Square Park for the market event where I can taste a variety of food. I also like to buy some fresh fruits and flowers there. They are a little expensive, but the quality is worth it," New York University senior Mo Han said.
In addition to the great gourmet food, you can also win money in the park. Look for a chess section where you can play chess with the hosts. If you win, you will get a few bucks. Of course, you will have to pay a little more if you lose.
3:00 P.M.: Soho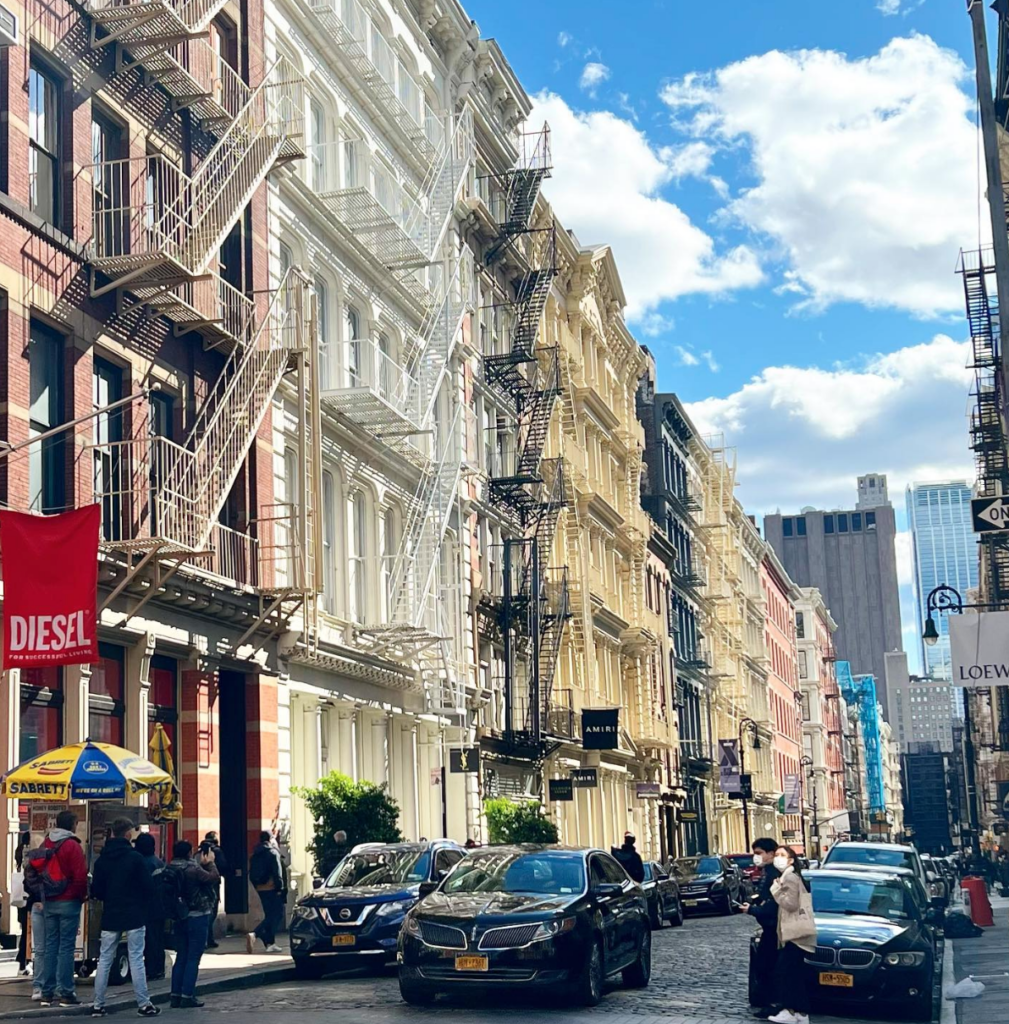 Located in downtown Manhattan, Soho stands for "South of Houston Street." Compared with the famous Fifth Avenue, Soho does shine dimmer in terms of being the most expensive and splendid shopping street. As a shopping destination, Soho doesn't stand out for exquisite window displays or luxury shopping complexes. However, for local New Yorkers, Soho holds a much higher value for shopping fashion boutiques and getting inspiration.
"Soho is more accessible for me compared to Fifth avenue. They have those costly luxury brands but there are also independent designer brands and buyer's shops that are stylish, chic and affordable. I especially like going there during the fashion weeks. You can see a lot of models and influencers dressing fabulously taking street photos. You get [a lot of] fashion inspo from there," School of Visual Arts senior Ellena Ponce said.
Soho also features galleries, premium coffee shops and afternoon tea in elegant boutique hotels for people to take a break from the retail therapy. You won't feel surprised to see well-dressed bloggers, influencers and models taking street photos in Soho. Maybe.
4:00 P.M.: Tasting Little Italy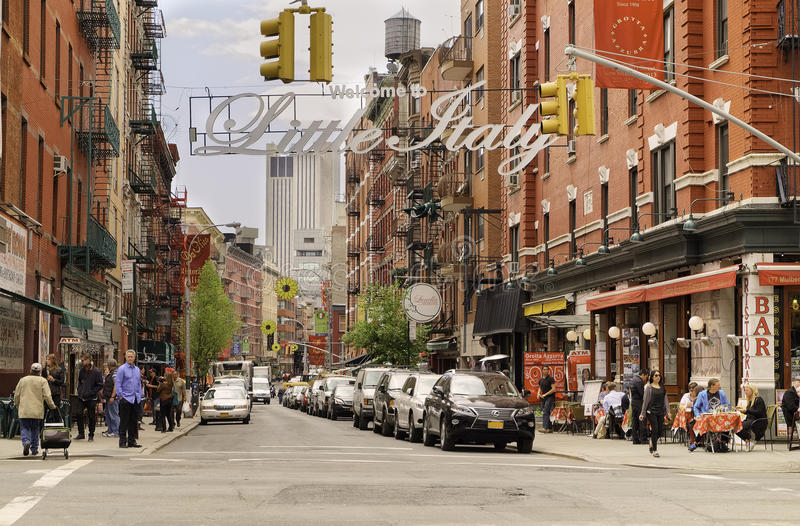 Enough with the artsy vibe of risqué materialism, now let's shift gear to some imported zesty food brought by Italian and Chinese immigrants. Keep walking down from Soho and you can find streets lined with restaurants serving Italian staples on red-and-white checkered tablecloths, the birthplace of Little Italy. With gelato trucks, espresso bars, pasta dishes and pizzerias, you will know why they say Italians make the greatest food. 
4:30 P.M.: Chinatown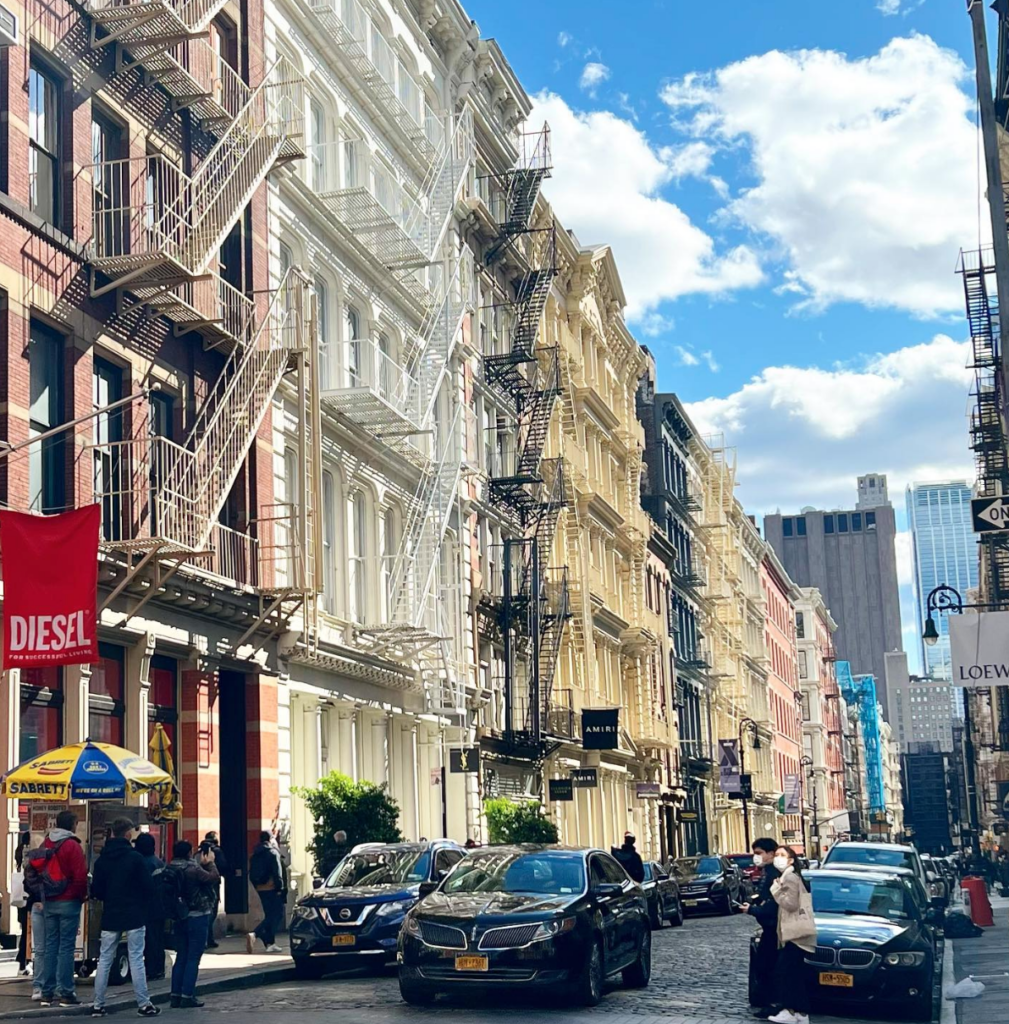 Beneath Little Italy, you can find Chinatown. About two hundred years ago, a group of Cantonese people came and settled in lower Manhattan with their American dreams. They started to make a living on laundry and restaurant businesses. Over the years, the Cantonese community kept expanding and dominating the area. Today, this vibrant and densely populated neighborhood hordes hundreds of Chinese and Southeast Asian restaurants with affordable prices.
"I go to Chinatown every weekend for food and grocery shopping. Everything there is so affordable. You can get a yummy and generous lunch box for less than 10 dollars. And the Asian market is a lot cheaper than Whole Foods and Trader's Joe," New York University senior Xinyin Wong said.
As long as you hold an adventurous heart, Chinatown can always surprise you with something; from a small restaurant in the basement to an unremarkable noodle joint on the corner. Always remember to bring cash. Otherwise you will have to waste some money at the ATM.   
5:30 P.M.: Dumbo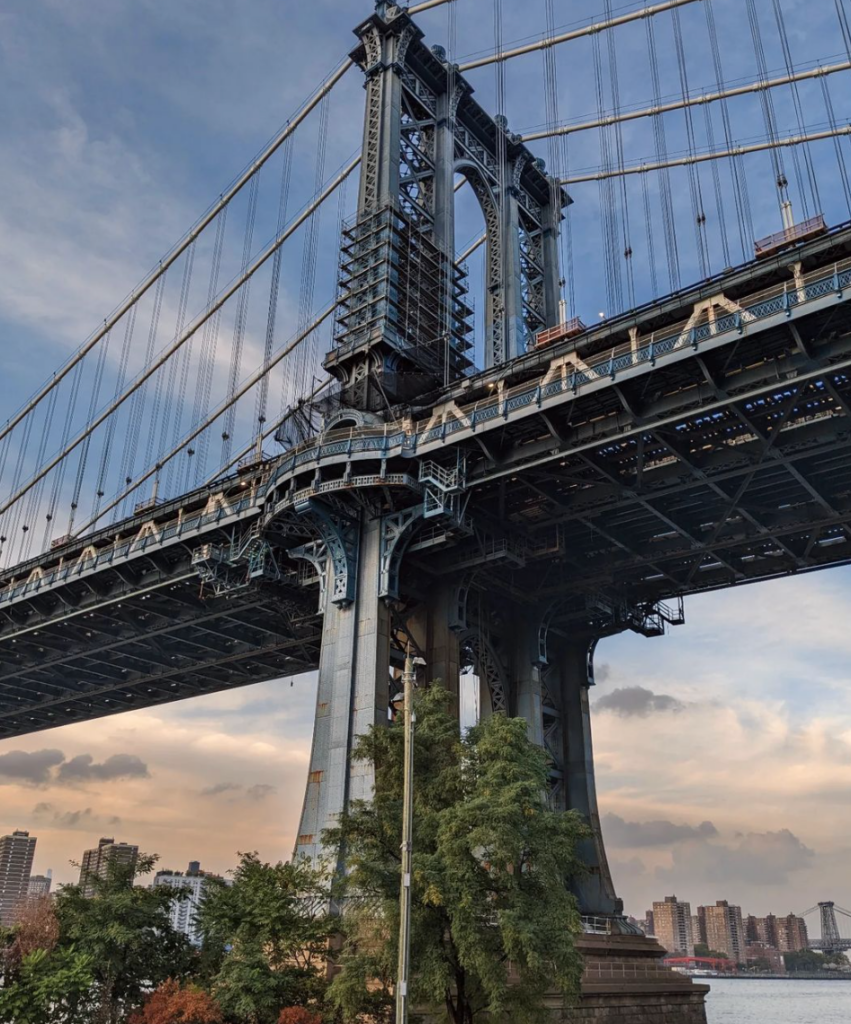 A tour in New York City doesn't need to adhere to Manhattan. Nowadays, Brooklyn evolved into an important artsy district amongst the NYC landmarks. Hopping in a signature yellow taxi in downtown New York and passing the Brooklyn Bridge brings you to Dumbo — a neighborhood whose name is an acronym for "Down Under the Manhattan Bridge Overpass." Today's Dumbo inherits the cobblestone streets and steel architecture from the industrial era. It also infuriates new vigor with art galleries, bookshops, boutiques and markets. Whether you want to enjoy the stunning Manhattan views across the river at Brooklyn Bridge Park or ramble in the trendy Time Out Market, Dumbo remains a heaven of happiness for New Yorkers off the island.
6:00 P.M.: Jane's Carousel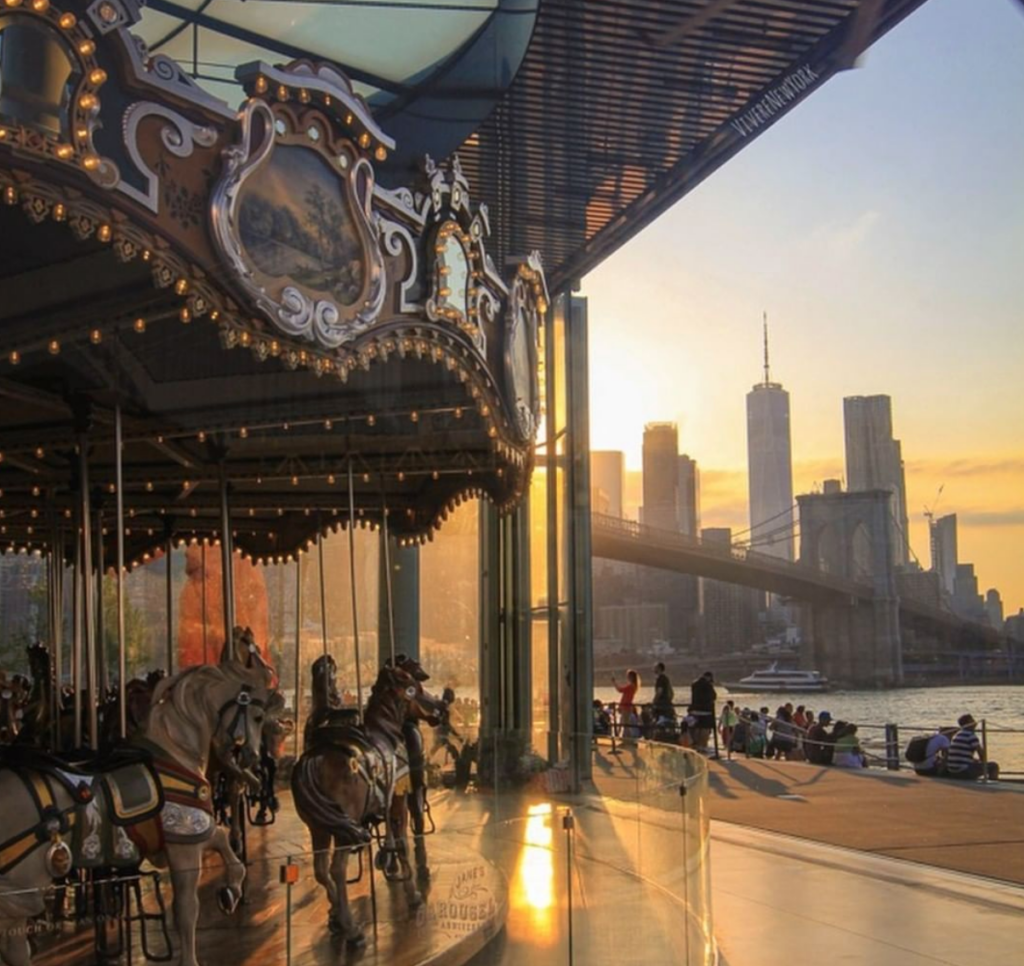 You may notice the glorious carousel by the river when you wander around the Dumbo area, so now let's take a closer look. Built in 1922, Jane's Carousel features 48 carved horses, each with delicate details and vivid looks. Covered with hundreds of light bulbs, this wooden merry-go-round creates the perfect romantic and dreamy atmosphere in the evening. With music lingering around and the light shining reflectively on the river, Jane's Carousel draws more couples than kids.
"Jane's Carousel is where my ex-boyfriend asked if I wanted to be his girlfriend. It was late and we were leaning on the rails by the carousel. The light [shown] on his face and he just popped the question. Everything was so perfect. Even though we broke up, I will never forget that moment," New York University senior Stella Jiang said.
Spare only two dollars and you can ride the most romantic carousel with an amazing Manhattan city view. Jane's Carousel makes a lot of peoples' childhood fairy tale dream come true. With the climbing inflation nowadays, the two-dollar ride with Jane's Carousel might act as the best deal you can get in NYC.
6:30 P.M.: Vintage tour in Williamsburg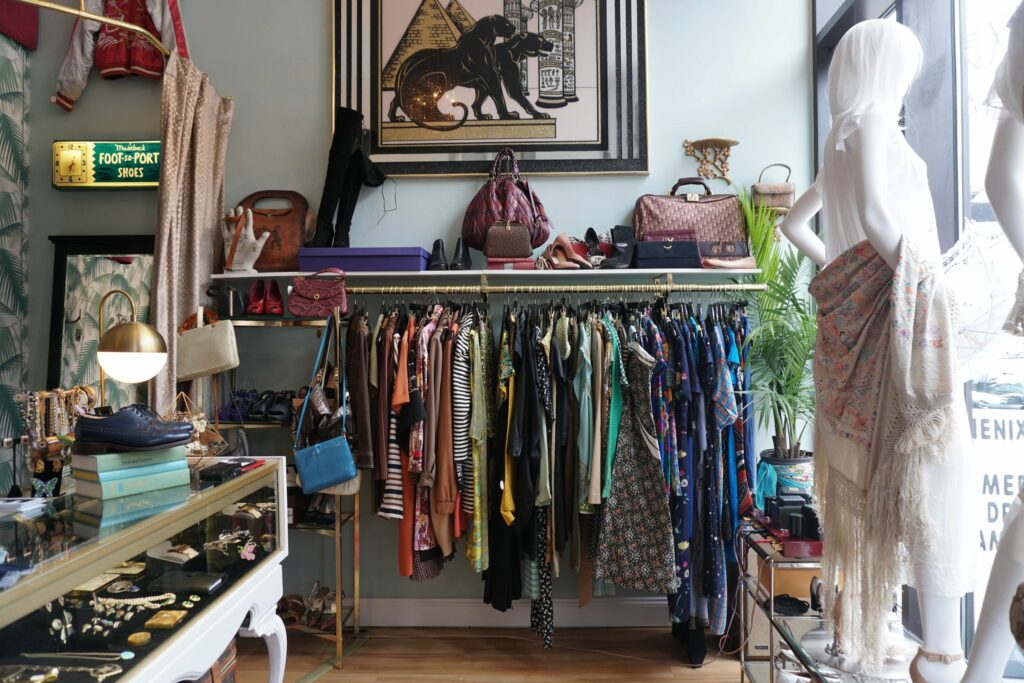 Not far from the Dumbo area, you can find a hip neighborhood called Williamsburg that draws the attention of the fashionable and young. Shifting from the industrial style buildings in Dumbo, Williamsburg stands out for its chic and buzzy vibe shown by the snappy street art, repurposed factories and stylin' boutiques. You can analog Williamsburg to Brooklyn as Soho to NYC. With the beam of Brooklyn creativity, feel free to enjoy lively music, trendy bars and thrift stores.
"I stuff most of my closet by shopping at vintage stores in Williamsburg. Living in New York is expensive enough and those thrift stores really save my wallet. The stores hand pick the clothes to make sure they are clean, wearable and trendy. It's almost like a buyer's shop but only cheaper," New York University sophomore Helena Eady said.
Some must see stores include ALAND for Korean brands, The Attic Brooklyn for vintage bags, Le Grand Stip Vintage Fashion for fancy dresses and accessories and Beacon's Closet for its wide selection. If you go on the weekend, you will also find an open-air flea market at 80 Pearl St. in Dumbo. It features hundreds of vendors; you can find furniture, vintage clothing and antiques, as well as hand crafted jewelry and art.
7:30 P.M.: Dinner at the River Cafe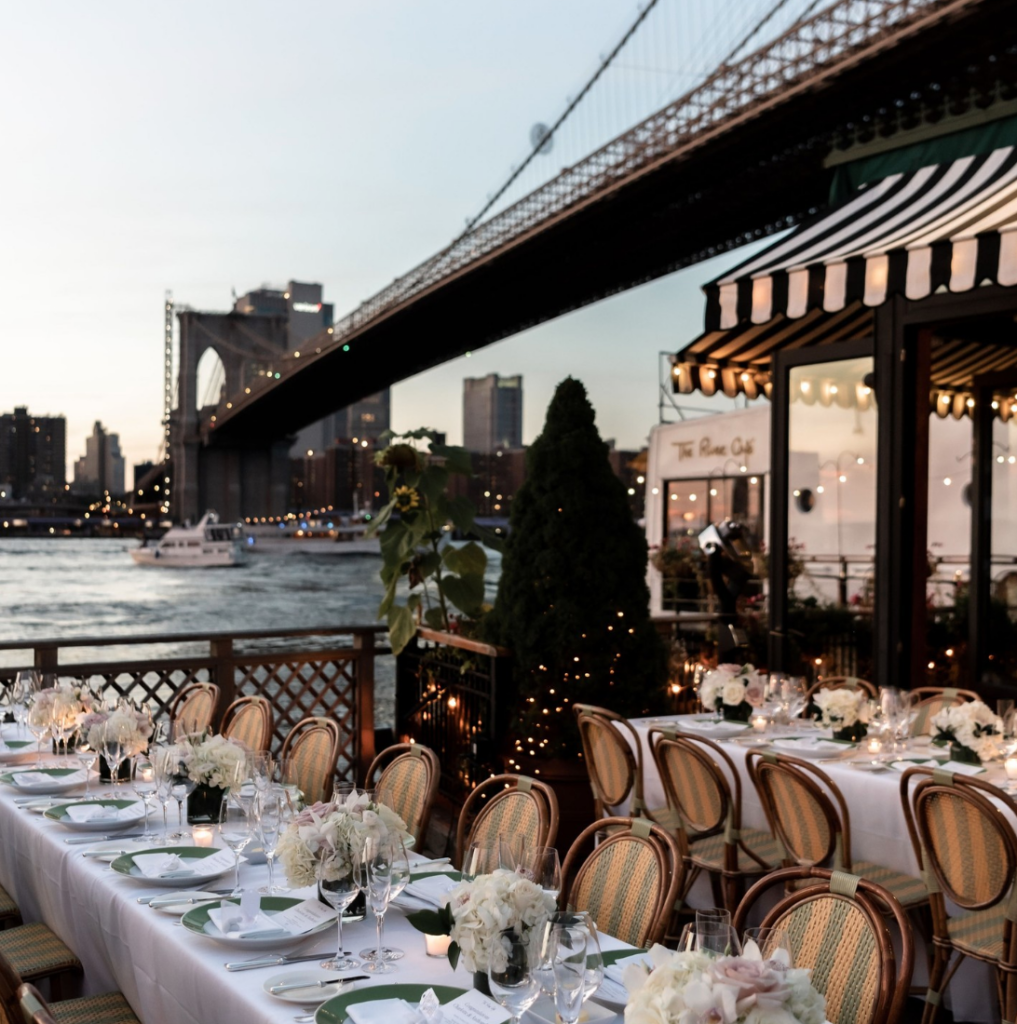 Feeling hungry after the shopping tour? It's dinner time. Nestled under the Brooklyn Bridge, people praise the River Cafe for its spectacular water view and opulent fine dining food for over four decades. The River Cafe has retained its one Michelin star since 1998. They serve classic American cuisine along with a carefully paired wine list. The gorgeous atmosphere gets boosted with live piano, wonderful flower arrangements and seamless service. Just as they titled – "across a bridge, over a river and into a dream" – countless engagements and proposals take place in this legendary place, sending people to their dreams. 
9:00 P.M.: SUMMIT One Vanderbilt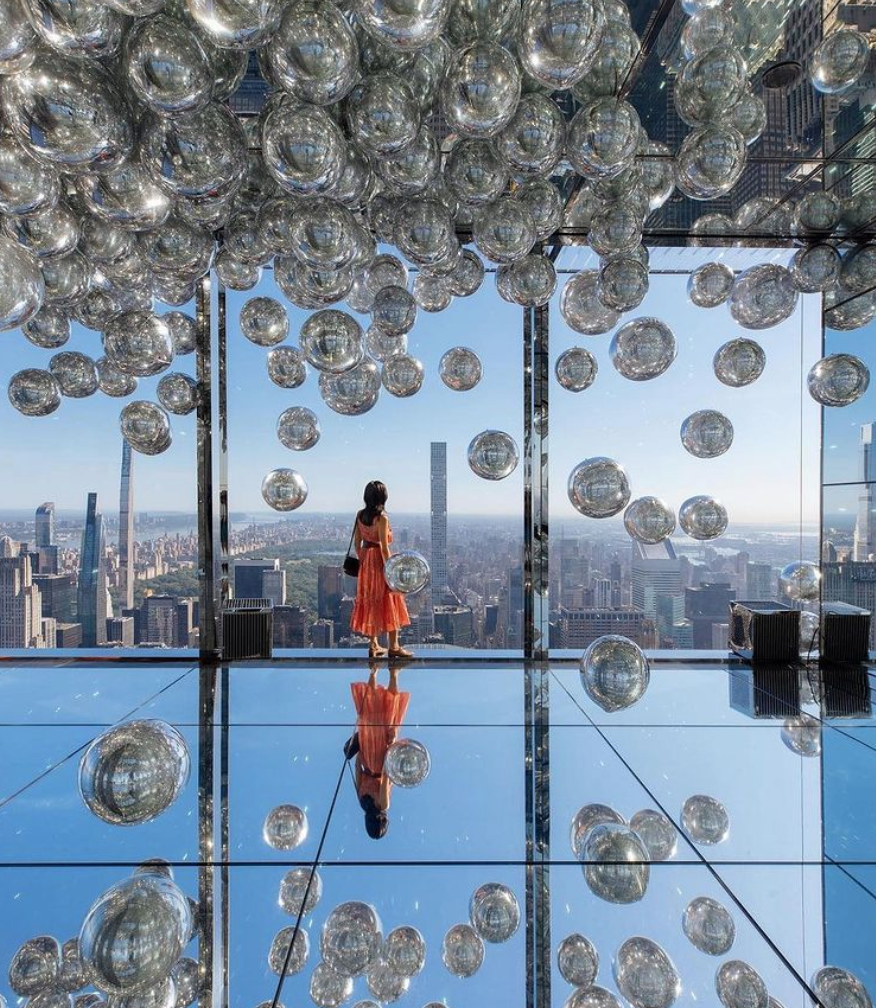 After finishing your pleasant dinner, the time says you should go back to the city. The newly built observatory SUMMIT One Vanderbilt transcends 93 floors above the concrete jungle. As one of the 30 tallest buildings in the world, the SUMMIT offers its visitors an immersive experience with sweeping 360-degree views of Manhattan. New York City never lacks towering skyscrapers — the Empire State Building, Rockefeller Center, etc. — but the SUMMIT stands out not only for its stunning view, but also the art installation and interactive digital experience that comes with it.
"I've been to a lot of observatories for viewing the Manhattan city view, but the SUMMIT is the most unique ones. It has three floors, all covered by mirrors and glass, as if you are in an infinite space. I feel the SUMMIT is not just an observatory, it's more like an art show where you can appreciate art works and interact with the installations," New York University junior Angelina Blackbourne said.
Unlike the other traditional observatories, like the Empire State Building, that only use steel bars to enclose the deck, the SUMMIT uses tall glass to ensure the best view and also keep out the wind. So even you come during wintertime, the sharp NYC wind can't touch you even a little. After all, where can you expect a better city view at night than in a city that never sleeps?
10:30 P.M.: Times Square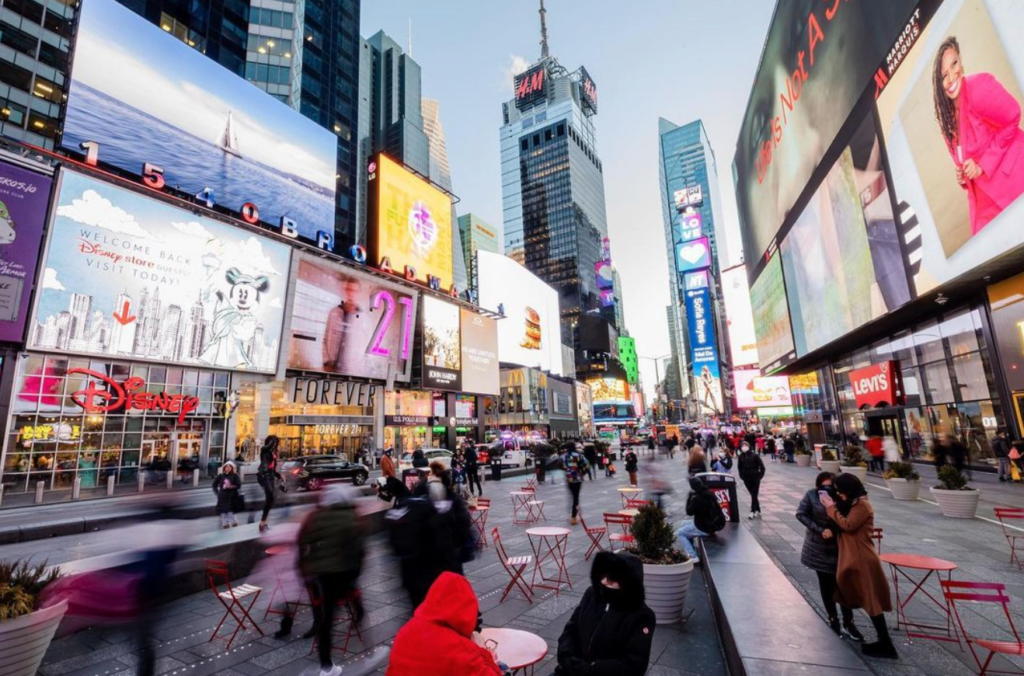 Finally, here we go with the most classic New York City attraction: Times Square. Just a 10-minute walk to the south, the lights from hundreds of billboards will make your night feel like daytime. As the major commercial section in New York City, Times Square not only became a symbol of this vibrant metropolis, but it is also featured in countless movies. Its huge, illuminated advertising billboards speak to every passenger, trying hard to take their attention and sell the products.
"My first visit to Times Square was during high school. All the neon lights, bustling streets and busy pedestrians immediately caught my eye. I think Times Square is the epitome of New York City — always so vibrant, robust, diverse and full of possibilities. That's also why I choose to go to college in New York," New York University senior Justina Xu said.
Although you can see more cars and people during the daytime, the billboards bring out the most charm during the night. The shining neon screens light up the darkness and contrast with the nearby neighborhoods. Even as late as 10:30 p.m., you will still find some stores open. I'd say the core of the city that never sleeps lies in the glowing billboards in Time Square.
12:00 A.M.: Pre-game at Monarch Rooftop Bar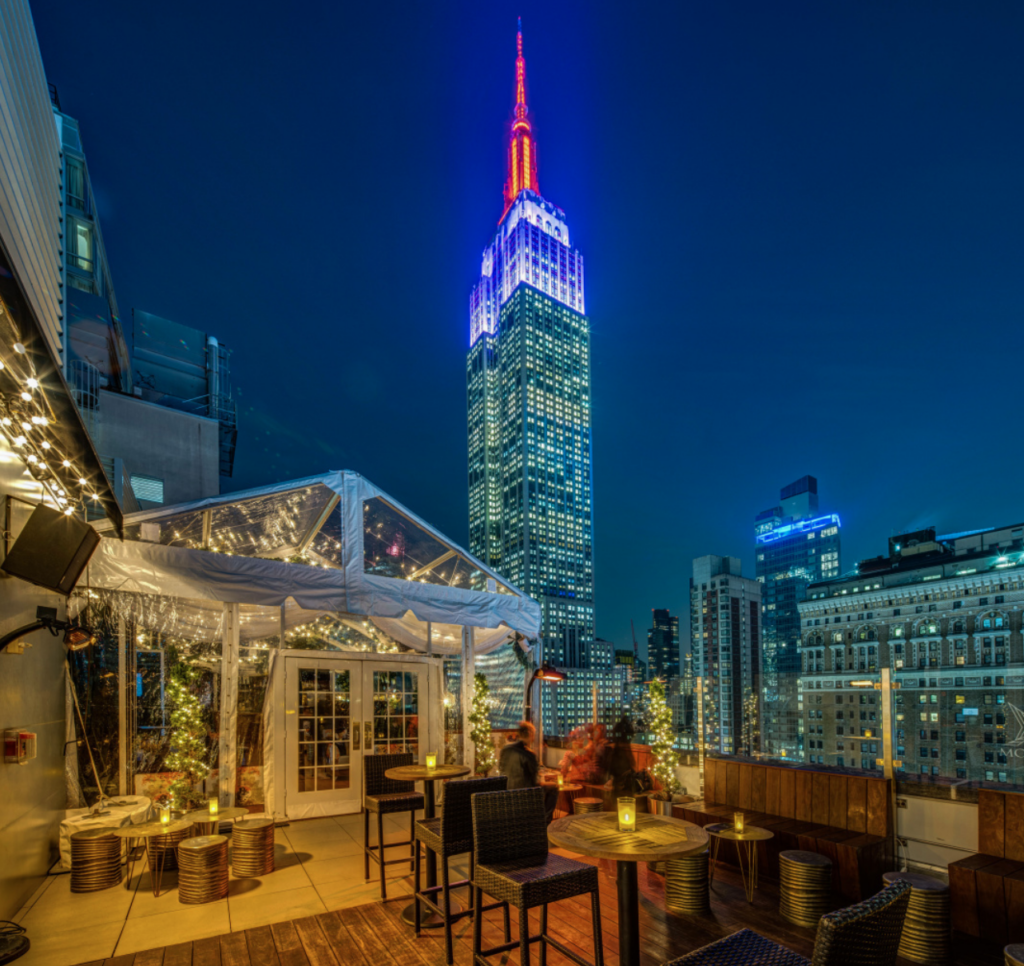 New York City's nightlife continues the daytime energy and liveliness. With almost 30 thousand fans on Instagram, Monarch Rooftop Bar takes in and appeases the restless hearts of New Yorkers. Standing 18 floors above the ground, the spacious penthouse lounge offers both a corporate and social atmosphere with clubby decor and light fare. Their refreshing specialty cocktails served in the cozy New York summer breeze will totally relax you, both physically and mentally. Although the urban view at Monarch Rooftop Bar can't compete with the one you experienced at the SUMMIT, cheering to the unbeatable Empire State Building views provides a whole new level of experience.
2:00 A.M.: Clubbing as a workout at Paradise Club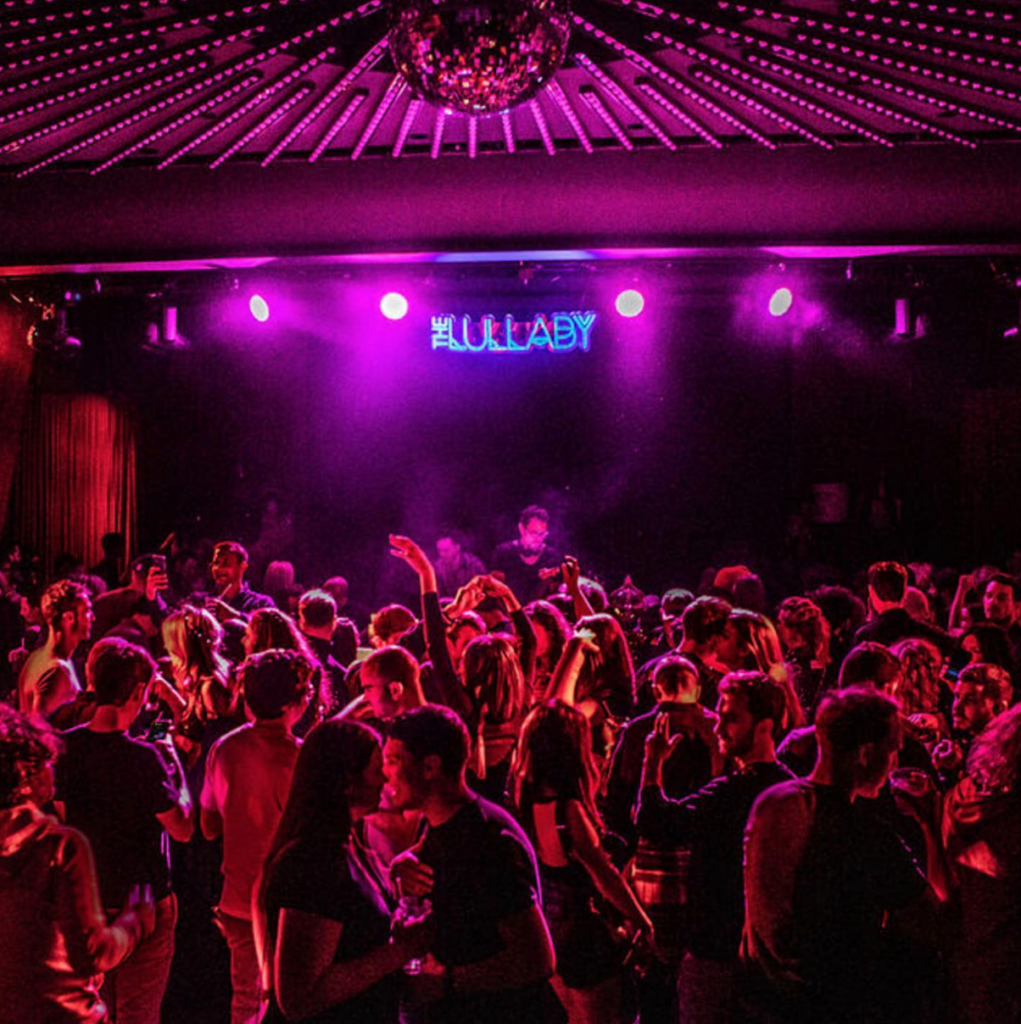 As much as you want to continue chilling on the roof, we need something stronger. Located in the luxury Edition hotel at Times Square, Paradise Club revives the daytime vitality in the city. Its sultry red velvet interiors, exquisite murals and sensational lighting brought by award-winning designers brings wild, high-energy glamor to the dance floor. At Paradise Club, you get the chance to dance with world class DJs and performers, as well as encounter celebrities and models on the couch.
5:00 A.M.: Ferry to the Statue of Liberty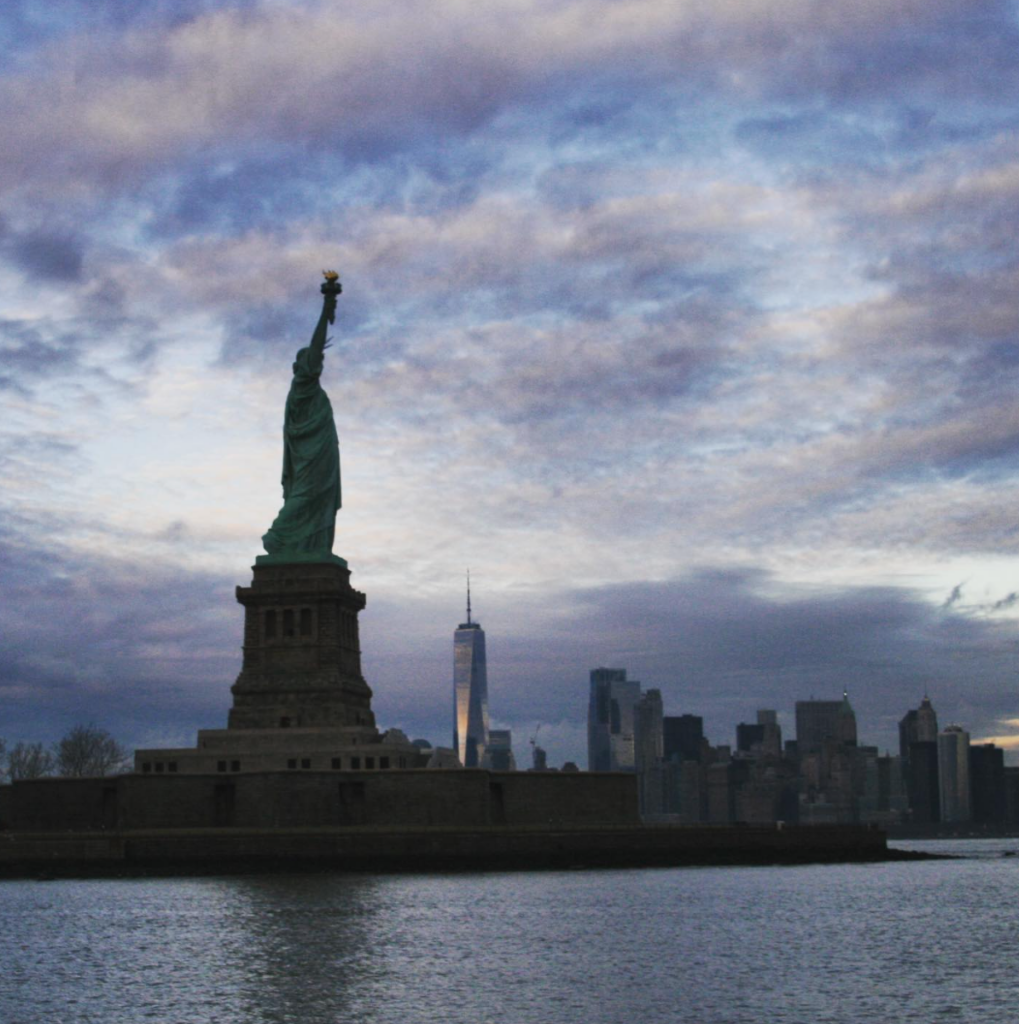 Exhausted by the intense clubbing activity? Let's start the new day with some refreshing air from the water. Take the 24-hour MTA Metro all the way to Whitehall Street in lower Manhattan to embark on the free ferry to Staten Island. As one of the last remaining vestiges of an entire ferry system in New York City, the Staten Island Ferry serves as more than a means of transportation. The 25-minute voyage takes you from lower Manhattan to Staten Island while passing the Statue of Liberty and the stunning vistas of New York Harbor. Sit back and bon voyage!
6:30 A.M.:  Wall Street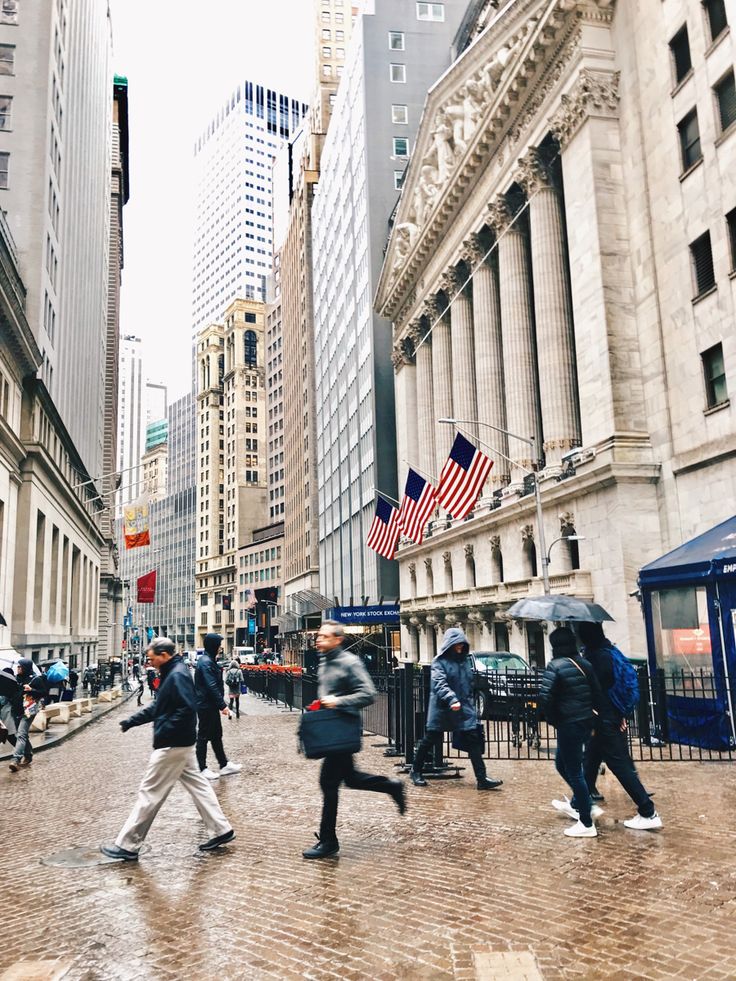 Known as the financial center, New York City generates most of its wealth on Wall Street– an eight-block-long street in the Financial District of lower Manhattan in New York City. Besides the scurrying Wall Street movers and shakers in their expensive and wrinkleless suits, you can also view Trinity Church, the New York Stock Exchange and the Charging Bull sculpture, as well as Federal Hall. After visiting Wall Street in the morning, you might know why New York City remains known as the financial center of the world. Try to see if you can sense the smell of money in the air.
7:00 A.M.:  Coffee at Black Fox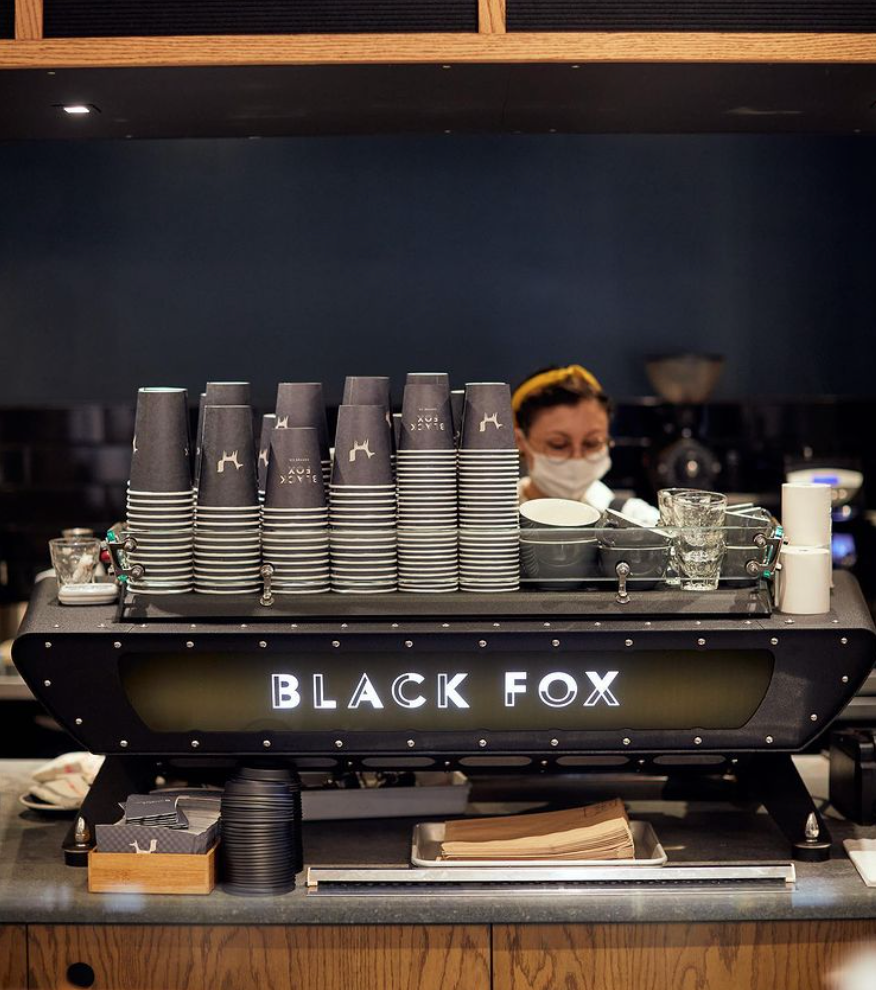 Congratulations, you made it through the 24-hour industrious schedule! Whether you want to go back to your place to sleep or to continue your NYC journey, you need a cup of coffee to accompany the sunrise. Opening right at 7 a.m., Black Fox Coffee sources the world's finest products to craft every cup of coffee. Their bright and spacious coffee house provides a cool vibe and great ambience with a solid pastry selection and breakfast gourmets. Get a sip of coffee and the little white fox logo on the zarf will light your day.
---