You've finally landed a date with someone you've had your eye on for a while. Now comes the hard part – not screwing it up. Everyone is different so there's no real right or wrong when it comes to love. "I think everyone has their deal-breakers, so to speak," said New York Conservatory for Dramatic Arts sophomore Erin Maloney. But there are some common misconceptions about what makes the ideal first date. I'm going to debunk the myths and reaffirm some truths to help you charm your date and avoid the infamous rookie mistakes.
Myth: Restaurants are the worst first date settings. "A restaurant may seem cliché, but they're underrated!" Maloney said. Dates are meant for two people to get to know each other better, so a restaurant provides the perfect spot for uninterrupted conversation. This is also a great way to decide if you really mesh with the other person.
Truth: It's a group effort. If you're like University of Miami freshman Jeffrey Sznapstajler, dinner can seem like an awkward date because "sometimes it's hard to think of things to talk about." While he enjoys planning dates, input from the girl is always appreciated. "I wouldn't say there's a best place to go on a first date because it's really about the person you're with," said University of Michigan freshman Rebecca Lawson. "Some of the more fun dates I've been on were at settings I suggested. If anything, it's probably a relief for guys when you make plans!"
Myth: You have to go to the movies. The dark, silent theater does not allow room to get to know the other person. If you're worried about spending money, get creative and focus on having a good time. "It doesn't have to cost a ton to be a ton of fun," said Lawson. Planning an interactive date also gives a better representation of who you are. "If someone takes me ice skating, to a fair or somewhere that's personal and put a lot of thought into it, I know this is someone fun who might be more likely to put a lot of thought into the relationship, as well," Maloney said.
Myth: You should spend hours deciding what to wear. People agree to go on dates because they saw something in the other that intrigued them. "I expect the guy to wear something that says, 'This is me,'" said Maloney. "If you're t-shirt and jeans kind of guy, okay. If you normally sport a button down with cutoffs and flip flops, go for it. If you're Matthew McConaughey, please feel free to remove your shirt." You want a potential suitor to like you for who you are, so just make sure you're presentable.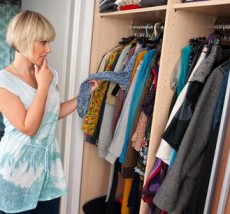 Truth: Don't be late. Being fashionably late to parties may be acceptable, but when meeting for a first date, think of it in terms of respect. "My mom turned down a date to a Prince concert because the guy ended up being late, which was her only rule," said Maloney. "Be respectful. Show up on time."
Myth: Say whatever is on your mind. Dominating a conversation and insulting your date are not ways to make a good impression. You want to be yourself, but not become a turn-off. When asked about an awkward first date Maloney said, "We were walking down the street and I told him how I play the guitar, something I take pride in. He said, 'The guitar? Well… everybody plays the guitar, it's so common. You should've learned to play something different, like the mandolin.' Oh, really? Well then…So be careful what you say. Whether you're joking or not, it could sound insulting."
Truth: Put the phone down. If you go into the first date believing your date will think you're cool if you are continuously getting texts, then you're way off. Leave your cell phone in your purse or pocket and focus on the person you're with. "Your date definitely shouldn't be texting the whole time," said Lawson. "It'd make me feel like they weren't interested in what I had to say."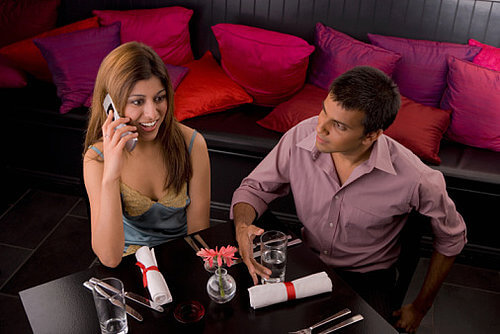 Myth: Girls want guys to pay. The most awkward part of the date is the moment it's time to pay for the activity. "I absolutely hate it when girls try to pay," said Sznapstajler. "I feel like it's a guys responsibility to pay, so I will never let a girl pay." Though, others opt for a less archaic route. "I think for the first few dates the guy should definitely offer to pay," said Maloney. "It's a courteous gesture. I am a firm believer in a little give and take, so maybe once you've gone on a few dates, and things start getting more serious, you can agree to split the costs down to something more reasonable, like 80/20."
Truth: Don't seal it with a kiss. You don't have to feel pressure to end the night with a kiss. Maloney's no.1 rule is to keep it casual. "Maybe one day you'll meet someone who you instantly hit it off with and wouldn't mind giving a little peck to before leaving him on your doorstep and floating up to your bedroom," she said. "I've yet to have a first date like that, but someday my prince will come!"
Whether or not your first date with someone new ends like a Disney movie, it's all a learning experience. "A first date shouldn't make or break your opinion of someone, but people tend to put so much pressure on them that it's hard not to," said Lawson. "Just relax and be yourself and you both will have a fun time, regardless of whether or not you're still attracted to each other at the end of the night."
   Photo taken from amreview.co.uk.com and tressugar.com