"It doesn't matter whether you're black or white or Hispanic or Asian or Native American or young or old or rich or poor, able, disabled, gay or straight, you can make it here in America if you're willing to try." What Barack Obama said in his 2012 presidential victory speech resonated with and gave hope to millions living in this country. The idea behind it—to exercise our human rights in America—is one that can be difficult to grasp when people are still struggling to gain the basic rights that should be inherent. But Human Rights Day is a day of celebration for all we have accomplished and also a day of recognition for all that has yet to be accomplished. "Human Rights Day to me is a day that celebrates and brings attention to issues that should be focused on throughout the world. It is a chance for issues that may not be at the forefront of the media to gain attention and be seen as things worth fighting for," said Olivia Stephens, a senior at Kent University who has been involved with PRIDE and LGBT groups throughout her high school and college career.
Katie Hardiman, a sophomore at Kenyon College involved with the Unitarian Universalist Fellowship of Northern Westchester, views Human Rights Day as a reminder that all people should be treated equally. She thinks that individual beliefs should not have bearing over someone else's rights.
"I live by a simple rule: respect others, respect yourself and live respectfully," said Hardiman. "No one person is more important than any other and no one should have the right to take away rights from another person. Once people understand that it is [okay] to have their own beliefs but wrong to inflict them onto others, I believe that many human rights issues can be solved."
Yet sometimes there are challenges, even within our own social circles. The social bubbles we sometimes get caught up in need to be penetrated so we can begin making change. "People find it hard to care about issues if they aren't directly impacted by them. It's hard to get large groups of people to make a change when they feel like it doesn't affect them," said Dave Purdy, a sophomore at Colgate University and a member of the LGBTQ social organization Lambda.
Purdy is passionate about human rights and finds LGBTQ issues at the forefront of the campaign because so much attention is devoted to the movement.
"The U.S. has made an incredible amount of progress just within the past year in terms of LGBTQ rights, but the same can't be said for every country," said Purdy. "In many countries, it is still illegal to be openly gay or lesbian. It's a good example of how sometimes we can be lulled into thinking things are getting better everywhere, when really it's only getting better in our own societies."
 Issues stemming from racism, sexism, classism, LGBTQ rights and others have become almost ingrained in our generation. Also ingrained is that we have the ability to do something to further the human rights movement. As college students, we have the resources to tackle these worldwide problems right on campus. Clubs, groups, and organizations can all play major roles in ameliorating human rights violations. This is one case where small efforts can make big changes. It is our duty as students with technologies and resources to act as advocates for those who do not have the same privileges. And what better day to start than today, Human Rights Day.Â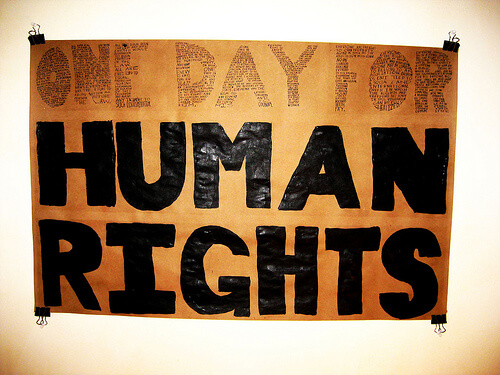 Photo taken from futurity.org