You did it: you made that first brave step towards choosing music as your career path. As a career, music comes in many forms, including the kind music teacher every kid adores, the professional player in a philharmonic orchestra or even the elegant conductor standing on top of the raised podium, arms poised to take the orchestra on its next melodic journey. Whichever career you choose to pursue, finding the right practice spaces, involvement opportunities and learning environments in order to develop your musical skill will help you create the future you want for yourself. We can help with your search for the right music schools to do that.
Read on for the 10 best colleges with the right social and educational environments for music majors to become the seasoned musicians they dream of:
10. California State University Northridge (CSUN)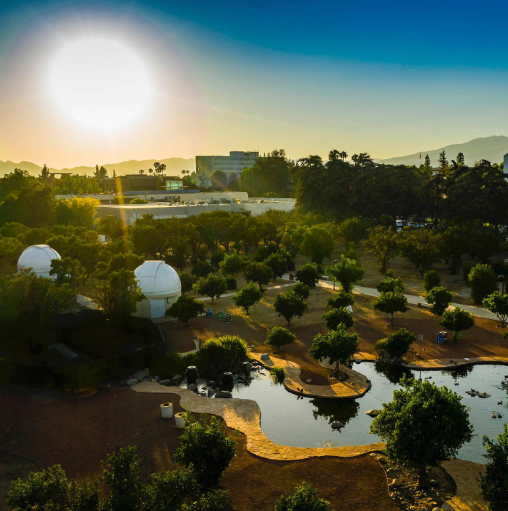 If you plan to major in music, you should consider the specific kind of music you want to pursue. Will you go into music performance for a specific instrument, music education or any other kind of music career? California State University Northridge provides two different programs, each with different emphases in specific instruments and areas of study: the Bachelor of Arts for a liberal arts education concentrated in music, and the Bachelor of Music which focuses more on rigorous music study.
For students who look to dedicate their education entirely to music, the Bachelor of Music poses the best choice. On the campus itself, you'll find large practice spaces, soundproof booths for recording and pianos to play. CSUN hosts 200+ student organizations with a few music clubs such as Music Entertainment Student Association, Piano Club and more. Join the ranks of students going on to win awards for short film compositions, national grants and festival compositions.
9. Los Angeles College of Music (LACM)
At Los Angeles College of Music, students can find 12 different programs in music subjects such as music business, music producing and recording, songwriting and vocal performance. Their renowned faculty has worked with musicians like Celine Dion and Michael Bublé, so they can teach you the real deal behind musical arts. LACM's program strongly caters to the musicians of today who use technology to record songs and play modern music. If you lean towards pop and world music more than you do Beethoven, consider applying to LACM.
"At LACM, it's not just one genre. It's about being a versatile musician for the modern times," LACM Guitar Department Head Dr. Molly Miller said. "It's a pretty contemporary school. Students at LACM learn Ableton, and a bunch of different music notation software. They study jazz, funk, pop, world music, blues… in order to be a working musician, you have to be versatile. You have to be able to play a lot of different styles, understand how to record yourself and work in different situations. A lot of programs don't focus on the holistic musician, whereas LACM has a very eclectic program that focuses on what the contemporary musician needs."
With its small undergraduate population of about 200, LACM turned into the kind of school where you can get to know anybody. Outside of formal education, LACM creates space for a unique kind of student involvement. The college holds student activities such as live performances, music industry master classes and more to help students build connections within the music industry. Students can participate in organizations like 370 Music Group, a student-run record label, to gain experience in music production and promotion. They can also work with non-profit organizations through the LACM Gives Back program to support their communities through music instruction and volunteer service. If you love bringing your musical expertise to your local community, LACM offers you the environment to do just that.
8. Conservatory of Music at the University of the Pacific
NorCal students will like this one: the Conservatory of Music at the University of the Pacific offers a Bachelor of Arts degree for students who look to study both music and non-music subjects, as well as a Bachelor of Music in topics such as music history, music composition and music therapy. The Conservatory also provides the opportunity to attain a Bachelor of Science in music industry studies. While the Conservatory focuses on musical study, students obtain plenty of room to explore academic interests outside of music as well.
"One of the really nice things about the University of the Pacific's music program is that it is a conservatory, which has intense musical training but is on the campus of a university. A liberal arts college, essentially," University of the Pacific professor Sarah Waltz said. "Students who are really interested in academics can do both. There's only a few other schools in the country where you can do that really conveniently."
For campus involvement, 198 student organizations give you a lot of opportunities to join student-run music orgs. Some of their organizations even offer professional development opportunities where you can develop leadership and collaborative skills you'll need for the workforce, such as their student-run music label under the Music Business Program, Pac Ave Records. Students at the Conservatory find many ways to get involved with the music production process and put their skills into practice by doing projects and working with other students.
"It's really the students themselves that I'm so proud of," Professor Waltz said. "I had a student who made some benefit concerts for Black Lives Matter in 2020, and then did a project on black opera. In September 2021, we sent her to go see the first opera by a black composer put up at the Met Opera in New York City, and she did this project. I was really proud of that. I find the students really great to work with, and the students themselves have a real commitment to diversity."
The University of the Pacific boasts a great list of alumni who have received nominations for awards, produced music for movies and performed in venues like Carnegie Hall and the Metropolitan Museum of Art. Imagine becoming like Pacific Conservatory alumnus Ricardo 'Ric' Campero and getting a whole performing arts venue in California named after you. Crazy, right? Musicians from the University of the Pacific go on to do amazing things, so have no doubts. You'll find an abundance of growth opportunities here both musically and academically.
7. Oberlin College Conservatory of Music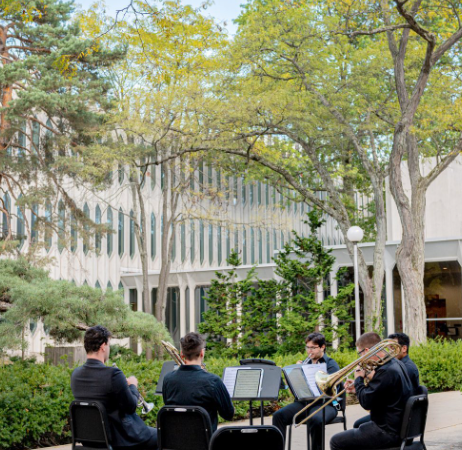 If we gave you a list of Oberlin's music programs, it would roll all the way across the room. Oberlin Conservatory of Music, located in Ohio, offers 42 areas of study for different instruments or specializations like history and composition, which means great musical learning opportunities for up-and-coming performers and other musical careers. While a conservatory often focuses solely on music, their Double Degree Program and broad list of minor options make Oberlin a great place to study both musical and non-musical interests. Interested in music education or even something like astrophysics? You can study both at Oberlin.
"We have an incredible amount of breadth. We do early music, and we're especially known for new music and contemporary music. There's electronic music, world music, pop music, jazz music… whatever it is that you're into, you can find areas of expertise in this small community of scholars who are also interested in that kind of thing," Oberlin College Conservatory of Music Professor Brian Alegant said. "We're allied with a top-tier liberal arts college just across the street. One of the coolest things now is that students can carve their own independent paths through the curriculum. Any music student now can minor or major in any field through the college."
Oberlin's smaller population of 2,600 gives you the opportunity to build meaningful connections with other students through your niche interests. In terms of practice space, students can use unassigned practice rooms, and the conservatory prioritizes music majors for instrument storage and assigned practice rooms. While its higher tuition looks intimidating, Oberlin offers need-based financial aid to help meet you in the middle. Don't doubt Oberlin's ability to give you bright prospects for the future; their faculty taught a number of notable music and non-music alumni including Jon Theodore, the drummer for Queens of the Stone Age, Pulitzer Prize winners and more.
"I've taught in different places and do a lot of external reviews. I really think that our faculty are singularly excellent and nurturing in an expert way. I think it's something we do really well. We take mentoring as sort of our mission in many ways," Professor Alegant said.
A flourishing network that supports and nurtures music students as they grow will turn into the best thing that they can get during their education. At Oberlin, you'll find a lot of passionate faculty staff who are always ready to answer your needs and guide you through the process of learning and growing within the music industry. Don't fear branching out at Oberlin. Both the faculty and the students come together to make Oberlin's Conservatory a great institution to explore your musical interests and encounter top-tier student musicians carving their own creative path too.
6. UCLA Herp Albert School of Music
Remember the soundtracks of movies like Schindler's List and Star Wars? Do you love listening to film scores from Pixar? The composers behind these films, John Williams and Randy Williams, both studied at UCLA Herp Albert School of Music. The alma mater to some amazing film composers, this college offers seven different majors in topics like global jazz studies, music history and industry along with the ethnomusicology major you won't find at many other colleges. They also provide the opportunity for a Bachelor of Music in music performance with specialization in specific performance areas, like woodwinds or strings. Since UCLA's School of Music gives room for focusing on other subjects in addition to music, students who look for a well-rounded education in another subject to complement their music studies will find it at UCLA.
"Ethnomusicology isn't offered at many colleges. In terms of UCs, most music programs offered are Western classical-focused. Some places have jazz programs, but it's rare to find a place that's not a conservatory and still offers contemporary pop music, world music and things like that. That was the main reason I chose UCLA," UCLA junior Dakota Dry said. "I wanted to be able to have a balance of studying music and academics, which ethnomusicology does a great job of. It's a dual learning of being a performance major and studying history, theory and things like that. I also love getting to not have such a narrow-minded view of what music is."
By going to a school in LA, you'll find its diversity of students who will expose you to new kinds of learning experiences both musically and academically. UCLA accommodates for this very well. For 31,000 undergrads who all contain different interests, UCLA hosts a whopping 71 music clubs, performing groups and organizations as well as 1,200 other organizations for someone who wants to explore passions outside of music. Los Angeles wields a great influence over the arts, pop culture and music, so why not study at one of the most culturally wild cities in California?
5. Colburn School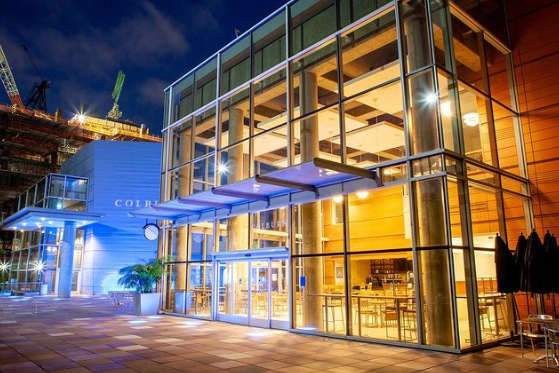 One of Colburn School's Bachelor of Music program's biggest appeals: you don't need to pay a cent of tuition. The school offers tuition-free music education for its undergraduate students. Colburn's highly selective program offers a strong exploration into classical music. Students can hone their listening skills, music theory and music history knowledge under the capable faculty. If students need a more flexible option with less class requirements, Colburn also offers a Performance Diploma program for those who need to build their English language skill or gain more performing experience before they study in the Bachelor of Music program. At Colburn, you'll probably get pretty close with the students and faculty, thanks to their small undergraduate population of 130.
"A lot of colleges say it's better for the class size to be 12-15 than it is 250-300 because of the way you get more individual attention. At Colburn, our teachers, who each teach by instrument, focus on a very small number of students, and those students are getting so much individual support," Dean of Colburn's Conservatory of Music Lee Cioppa said. "I think that's just very different from many schools where you get an hour lesson a week with your teacher. At Colburn, you're seeing your teacher for your hour lesson, you'll see your teacher coming to your performances and you might get to do chamber music with your teacher. It's an environment that's extremely immersive because of its size. Every student also receives full tuition, room and board. Our hope is that students don't have the financial pressure that would take away from developing their art."
Despite the tiny student body, Colburn has about 421,350 square feet of practice rooms, which provides plenty of space for you to play and study. After learning at Colburn, many alumni go on to join orchestras around the world, become professional music educators and win several awards. Colburn is located in the bustling city of LA, which provides a great learning environment for students to network and become musical professionals in the future.
4. USC Thornton School of Music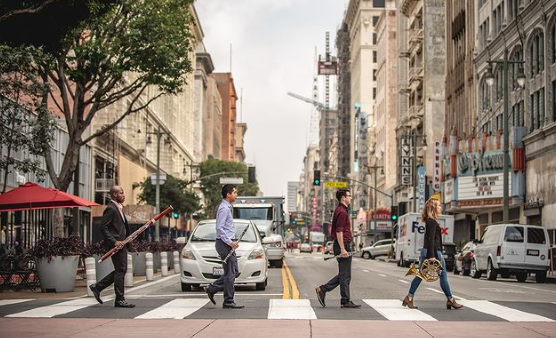 If you feel excited for schools with more big-name music industry experts, USC Thornton School of Music provides musical education for renowned opera singers and Grammy award winners. Some USC alumni highlights include Bear McCreary who composed music for The Walking Dead and 2021's Call of Duty: Vanguard, as well as Christopher Lennertz who composed music for Alvin and the Chipmunks. USC offers a Bachelor of Music in different specializations such as strings, guitar, vocals, keyboard and more under three different main divisions: classical performance and composition, contemporary music as well as research and scholarly studies. As another music school in the LA pop culture scene, USC ensures that students get the professional experience and network they need to enter their desired career.
"I plan to pursue a DMA in vocal performance and early music. As part of the DMA here, you're expected to do three minors. My interests include choral conducting, perhaps music industry and piano," University of Southern California graduate student Marina Hovhannisyan said. "I like USC because it's really good at what it does for each program. I know I'll get a good education in every branch. It's also very professional in everything it does. In professional environments like the LA Master Chorale or singers in the LA Opera, they all have some affiliation with USC. There's a nice network of people you can immediately link with who also graduated. When you say to them you're a Thornton grad, they're very nice. That's something you need as an artist."
Its proximity to LA makes USC another top contender for students who look to break into the music industry. Just like LA's diversity of interests, USC hosts 85 organizations related to music, dance and performance for its 19,000 undergrads to explore all kinds of passions in music, community service and more. After getting an education personalized to your interests at USC, you'll find many doors in the musical world ready for you to walk through.
"The strongest suit at USC for a person like myself who likes to craft her education personally is that I can cherry pick different classes and different environments. I don't subscribe to one program fully, and USC is very supportive of that. It's easy to get good education from everything you choose. You kind of get what you signed up for," Hovhannisyan said.
So many aspects and genres of music possess their own charms. Therefore, many of us keep a plethora of musical interests in mind we want to pursue. USC's balance of quality education in every program will prove invaluable to anyone who wants to dip their feet in multiple paths of study. If you want to get in on the freedom of that LA pop culture scene and prefer a private school, consider joining the Trojans. With their location, alumni network and involvement opportunities, USC brings the full package for aspiring music industry experts.
3. Berklee College of Music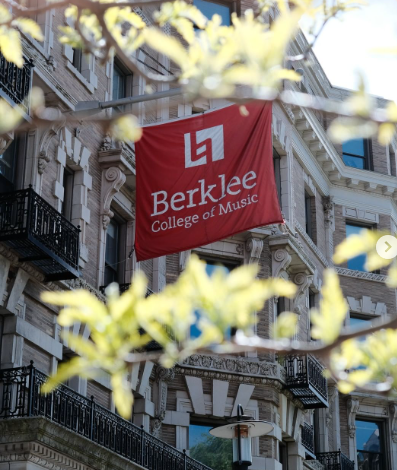 Do you want even more variety in your educational possibilities than we already showed you? Next up we have Berklee College of Music with 14 music-related majors to explore such as composition, electronic production and design, game and interactive media scoring, music therapy and more. Berklee also offers 30 minor and specialization options to support your major. If you seek for a more niche and targeted musical area of study, Berklee just might provide what you need.
"I chose music therapy because I knew I wanted to help people in a way. A little bit about music therapy: half of my classes are psychology-related and half are music-related. It's the best of both worlds because I'm studying music and performing at Berklee while also learning psychology, psychology of music, and how to really help people with music in a clinical way," Berklee sophomore Annie Rojzman said. "The collaboration of working with musicians at my age from all different backgrounds at Berklee showed me that music is a universal language. I get to collaborate with musicians that are also my friends and learn from Grammy award-winning professors. You can get inspired so easily from seeing what your classmates and musicians are doing."
Within Berklee's music curriculum, you'll find many opportunities to collaborate with some of the 6,000 student creatives and learn about different musical cultures by participating in ensembles and clubs. Berklee hosts 80+ student organizations with clubs specializing in composition, songwriting, music composition and more for you to network with students who will pursue a similar career path as you. Don't forget about their unique alumni list, such as Charlie Puth, Quincy Jones and more big names in the music industry who won Grammy awards and nominations.
2. Curtis Institute of Music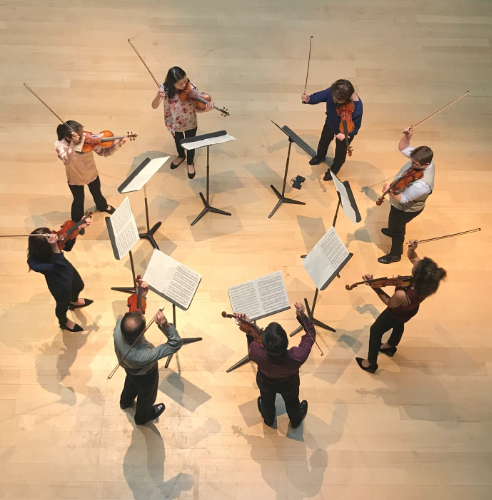 As one of the only other tuition-free music programs in the nation, the Curtis Institute of Music offers generous financial aid and scholarships so that students can graduate debt-free, which gives the institute its very low acceptance rate of 2.4% and high competition. The institute offers a Bachelor of Music while allowing students to major in composition, keyboard, guitar, orchestral instrument, voice or liberal arts. For practicing, the college offers solo and group practice rooms as well as entire halls that people can book upon availability. Because Curtis Institute of Music offers fully funded top quality education that will shape your future, getting into the school proves very difficult but worth it.
"Curtis's motto is learn by doing. They have a lot of performance opportunities. When I was there, everybody got a lot of chances to perform, as they had weekly student recitals you could sign up for. We did a few operas a year, and I think I did one or two operas a year. The most memorable performance opportunities were the tours. We went on tour to Europe in 2017, and the chamber orchestra also went on national tours," Curtis Institute alumna Gergana Haralampieva said. "It's absolutely priceless to have constant performance opportunities and feedback from your peers. You kind of get to know everybody on a personal level. Tours were a total blast because you got to go with your friends. Having that feedback and 24/7 interaction from other musicians is inspiring and helps you grow a lot."
Once they get in, students of Curtis find amazing professional support by participating in projects such as the All-School Project, which puts together students from different departments in the school to collaborate in performances and examine the effects of a specific musical genre on its social environment. Their historical theme for 2021-2022 "The Civil Rights Era and the Music of Change" explores how the music of the 1950s inspired social change in our nation. Curtis' students also get support post-graduation as well, which offers amazing resources to its graduates such as the Young Alumni Fund, an annual program that grants $1,000 to $10,000 to selected Curtis alumni. Thanks to its strong professional support system, many Curtis alumni become world-renowned soloists, such as violinist Jennifer Koh who has performed with professional orchestras like the New York Philharmonic.
1. Julliard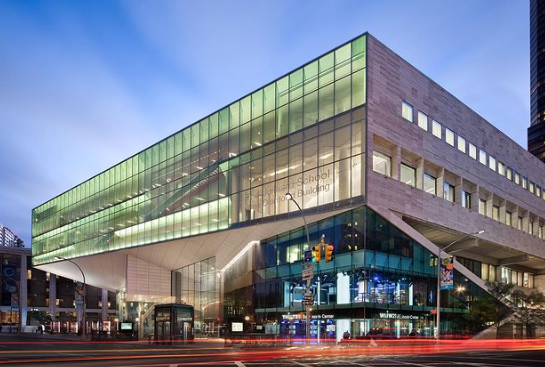 John Williams, the composer for Schindler's List, Harry Potter and Star Wars, didn't just study at UCLA. He continued his music education at Juilliard. As a school located in the Big Apple where all the Broadway shows happen and the famous arts museums get built, Juilliard offers music education down to the tee with its intense performing and practicing regimens. Just look at its insanely high graduation rate of 95%. Juilliard provides its small undergraduate population of 588 with some of the best programs for up-and-coming music professionals. The private university offers a Bachelor's in Music with specializations for specific instruments, music genres and more, as well as a fantastic dance program.
You'll love the amount of space on campus where you can hone your craft. Juilliard hosts about 74 practice rooms with pianos galore for all the avid piano players out there. With great prestige, Juilliard boasts one of the best track records among the music schools. They taught some of the most iconic composers, musicians and actors in the entertainment industry such as Robin Williams, Nina Simone and Miles Davis, just to name a few. As a highly selective university with one of the greatest reputations among music schools, Juilliard remains one of the top contenders for students who look to take their musical career to the next level.
Okay, I applied to my schools, but how do I succeed in music once I get in?
As we can see, many music schools obtain their own unique aspects that will serve you depending on what you want to achieve as a music major. Whether you prioritize a friendly network, tuition, proven successful alumni list or something else. These 10 schools will support you throughout your higher education. To help you a little further, we asked music professors and students what advice aspiring music students should take into consideration going into college.
1. "Keeping an open mind about what you're going to study and learn is more important now than ever. With music, there's this sense that 'I know music, and I like the music that I like,' yet there's this huge world of things that you may or may not encounter at the conservatory and that you may or may not like, but that may still have some meaning for you," Professor Waltz said.
2. "The hardest thing about going to a school of music full of talented people is not being discouraged and comparing yourself to others. Just focus on your own endeavors and accept the amount of knowledge and skill you're coming in with. Use that as where you're starting off and accept that there's some talents and knowledge you might not have yet. It's easy to beat yourself up about those things, especially when people are pursuing a career that's seen as hard to be successful in. Keep focused on what your own goals are as an individual. Enjoy the process of learning and growing, sinking into doing things that are new and doing things that are difficult," UCLA junior Dakota Dry said.
3. "Believe in yourself and be authentic. We are all different and we all have something very unique and special in us. Try not to compare yourself to others because they can be comparing themselves to you. Being authentic is when you'll be able to connect with other people and really make a change, especially with your music. The rest will come. Focusing and doing what you love is going to be the best way to be successful in the music industry," Berklee junior Annie Rojzman said.
As a music major, you'll meet many different kinds of successful creatives and expose yourself to many genres of music in the world you never even heard of before. No matter what music school you choose to go to, these tips will help you as you navigate your education and beyond. One cannot make music without a muse for inspiration, so we hope you'll take these pieces of advice with you as you go into the music major and carve your own path.
---