College is pricey. In fact,
it's hard to have a social life without a little moola
to spend on life's little pleasures. Without it, you can't get in to most parties, your meal options are limited to greasy diner food and you can forget about ever seeing a movie again.
Luckily for you cash-strapped students, I present to you CM's top 10 ways to get paid:
It's the easiest way to capitalize on what you've got: notes. You're drowning in them around finals, so
why not post them on MoolaGuides (for free) and get paid
?
This get rich quick idea, created by three enterprising
Florida State University students
, is really quite genius. They essentially created an online forum where anyone can buy or sell class notes. MoolaGuides sold its first set of notes during Thanksgiving 2010, and have sold over 16,000 since. Clearly, these guys mean business.
The process of exchanging notes is as easy as it looks: you set your price, upload the notes, fill out a seller form, and (in the words of MoolaGuides) "
sit back and await the moola
."
Considering the fact

each study guide can fetch anywhere from $0-40,

making $200 or more per exam period is entirely plausible.
That is, assuming your notes aren't a bunch of chicken scratches and a doodle of a fight between a T-Rex and Godzilla.
Since you're (theoretically) taking notes anyway for your classes, why not use them to make a guap? You can end up like the guy in MoolaGuides' testimonials section who "
made over $500 in three days by doing absolutely nothing
." 
2.) Start A Walk Of Shame Shuttles Service At Your School
I still don't know why this doesn't exist at more schools. University of Michigan senior
Kellyan Wargo
started this small business because she was sick of
picking up her roommates every morning after their wild nights
. The service will pick you up and take you wherever you want to go in the general Ann Arbor area. With Wargo's business model, you can start one of these at your own school and watch the moola roll in like girls to their dorm rooms on a Sunday morning.
3.) Become A Regular On MySurvey
So, this site technically won't "pay" you in the traditional sense, but the incentives are still totally worth it. All you have to do here is give your opinions (something you've been doing for years for free) on developing products or services. You'll be compensated in rewards points, which you can redeem for e-certificates, gift cards, Paypal perks and charity donations. If someone wanted to give me a Chipotle gift card for telling him/her how bad his or her product is, I'd jump at that opportunity.
4.) Sell Your Possessions On eBay
This one is pretty self-explanatory. Unless you have absolutely zero marketing skills, posting something to eBay generally results in making money (eventually). If you had anything resembling a childhood,
you probably collected mass amounts of Yu-Gi-Oh or Pokemon cards
. Now's the time to turn your irrational adolescent obsession into a quick and easy way to make moola. Trust me, those things will always fetch a pretty penny or two or ten thousand.
5.) Become an e-tutor
Do you like helping kids learn without actually being in the same room as those little devil spawns? Then do it online! At
tutor.com
, you can aid in a child's education from the comfort of your dorm room. Sure, this one might require a little more of your spare time than other options on this list. But not only will you be stuffing your pockets a bit, but you might also make a difference in a child's education.
6.) Participate In A Few Mock Trials
I know there's nothing more boring than jury duty. But what about getting paid to be an online juror in a
mock trial
? Apparently, attorneys like to try out a case before they actually get to court. In order to do this, they can simulate a trial online with a few (paid) jurors helping them out. Best part: you never have to step foot in a courthouse.
Three cheers for making money with minimal work!
7.) Design And Sell T-Shirts On Zazzle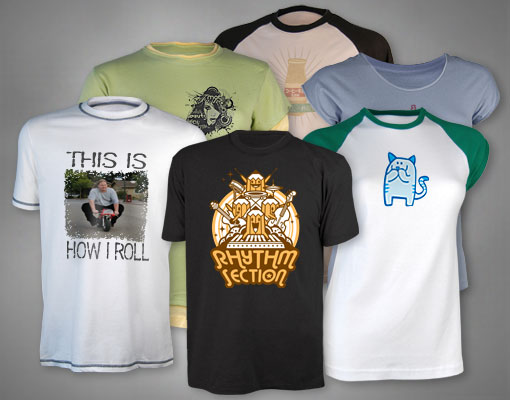 Everybody loves a clever novelty T. If you don't, go back to your desk job and enjoy breaking out your sweater vests on casual Fridays. For the rest of us, take a look at
Zazzle
. You design a T-shirt, put it on sale on Zazzle and get a paid a percentage of the sale every time one of your shirts is sold. If you come up with something good and business starts booming, you could potentially make a lot of beer money with this service.
8.) Get A, You Know, Actual Job
This is pretty far down on the list because, let's be honest, what college student wants to add a full-time job to a schedule that includes a full class load, extracurricular activities and a social life? But if your cash flow is basically nonexistent and you need to start making money fast, then you might have no other options. Look at your school's
recreation centers, cafeterias or even RA (resident assistant) programs
.
9.) Do Some Street Performing
Do you have any musical talent? Break out the guitar, put the case on the ground and see if your mad skills can earn you a few bucks. Can you juggle? Pick a spot on your campus's quad, put out a money-collection object and find out if people will pay to see someone juggling flaming oranges. Use what you got to make people give you money. Speaking of that…
10.) Sell Your Body
No no no, not like that. Perverts. You can make a tidy profit selling things you probably take for granted, like your blood, sperm and even your hair. You definitely can't make a career out of this, and these kinds of moneymaking plans should only be treated as last resorts. But these are actually legitimate ways to make moola while performing a community service.
That pint of blood you donated the other day?
It might end of saving someone's life.
Photo: http://studenomics.com