The Kansas City Royals aren't the only team batting from cloud nine this year. At these universities, nothing short of excellence escapes the infield. As everyone knows, baseball requires patience, precision and perseverance. Not to mention, the best looking baseball uniforms and hot dogs of course. If you're still missing your spring sports fix, check out these schools where RBIs and round trippers rule them all, lest get stuck in a place where the College World Series gives you the College-World-Drearies.
10. University of Michigan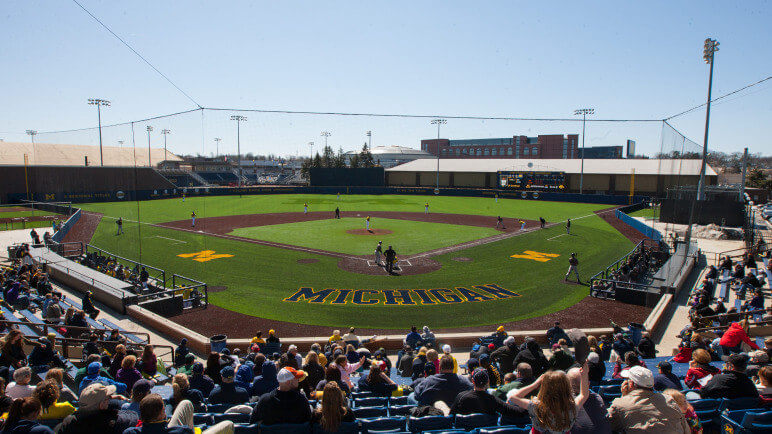 Mascot: Wolverines
Conference: Big Ten
Stadium: Ray Fisher Stadium at Wilpon Baseball and Softball Complex
National Championships: 2
College World Series Appearances: 7
The University of Michigan is the 4th winningest baseball program in NCAA Division I history. Four alumni currently represent UMich in the Major League Baseball Hall of Fame, including Barry Larkin, legendary Shortstop for the Cincinnati Reds and two-time All-American Michigan legend. In a 2014 National Strength and Conditioning Association Conference, Assistant Strength and Conditioning Coach Jason Cole shed some light on the coaching staff's helping hand in the school's continued success. "You don't go somewhere for one specific player, you go because of the tradition of the program," Cole said. And a winning tradition it is. Sporting 35 conference championships and 18 softball conference championships, students are guaranteed a good time at Ray Fisher Stadium, which seats a 4,000 Wolverines.
9. University of Virginia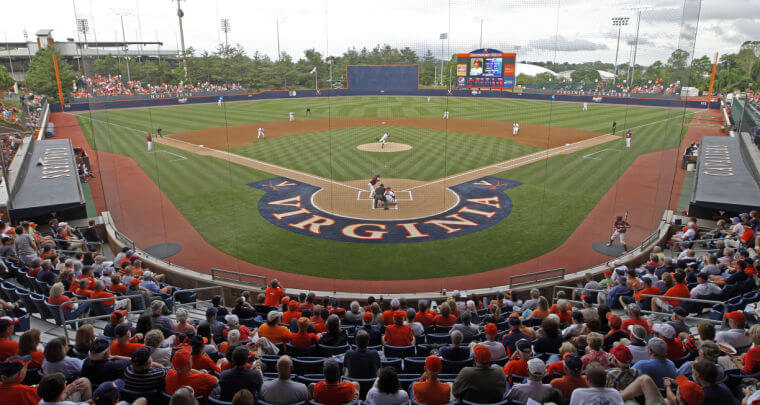 Mascot: Cavaliers
Conference: Atlantic Coast
Stadium: Davenport Field
National Championships: 1
College World Series Appearances: 4
UVA finds itself at number nine due to the Cavaliers' recent competitive streak and, of course, their reigning title as defending national champions. Who doesn't get teary-eyed when the underdog comes out on top? Head Coach Brian O'Connor's remarks during the 2015 NCAA College World Series post-game press conference are sure to resonate with Cavalier's everywhere. "It's just amazing what a group of guys that stay together and play for each other and pick each other up and don't give up can accomplish," O'Connor said. The program has 10 active alumni in the MLB and six First-Team All-Americans in the Cavaliers' history. Davenport Field, after its multi-million dollar renovation, now has room for just under 5,000 passionate fans, making it the fourth largest stadium in the ACC. It's consistently ranked among the premier college baseball facilities in the nation—and rightly so. The Cavaliers have won over 80% of home games since 2004. With record-setting attendance and a program that's only headed up, UVA is a great fit for those with brains and a love for the game.
8. Fresno State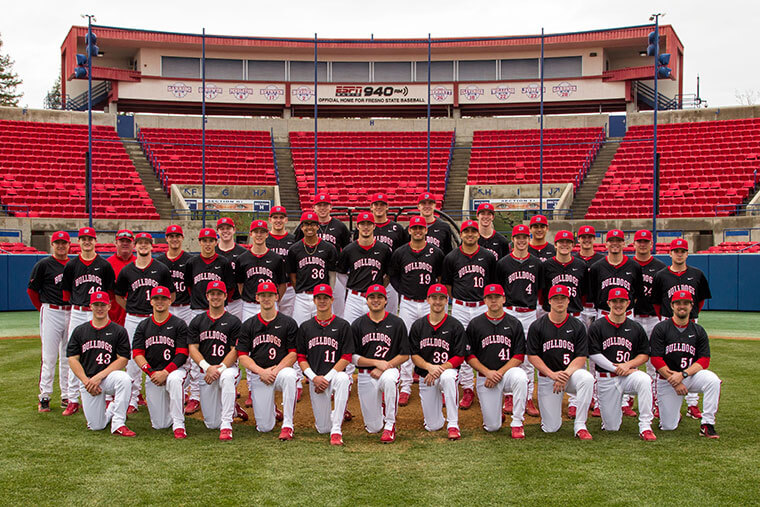 Mascot: Bulldogs
Conference: Mountain West
Stadium: Pete Beiden Field
National Championships: 1
College World Series Appearances: 4
Everyone appreciates a good underdog story, and Fresno State is among the most notable for its miraculous 2008 national title. The Bulldogs needed a six game winning streak in the NCAA Tournament to take them to the top. Lo and behold, a historic comeback rose beyond the outfield and into the books. Prior to that, not a single men's sport at Fresno State boasted a national championship to their name, with the exception of Men's Tennis back in the '60s. Don't start singing Drake just yet; they haven't always started at the bottom. Fresno State has over 30 NCAA tournament appearances, which puts it in the top 10 all time.
7. Cal State Fullerton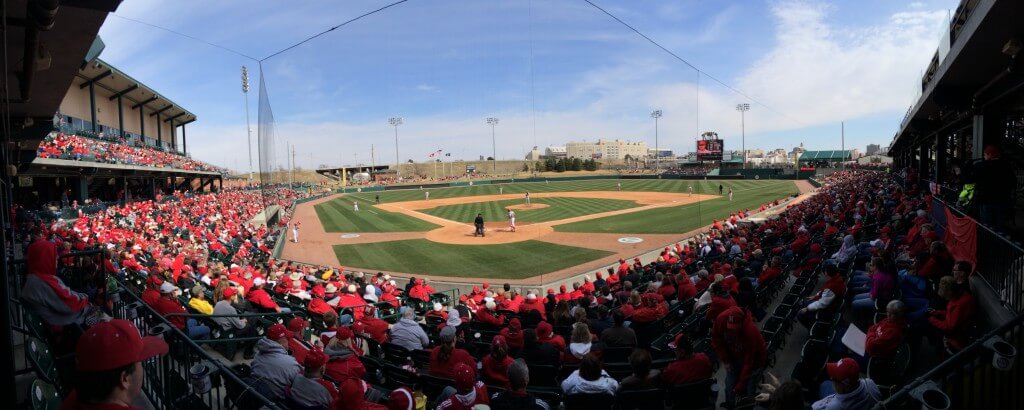 Mascot: Titans
Conference: Big West
Stadium: Goodwin Field
National Championships: 4
College World Series Appearances: 17
2Pac wrote "California Love" with homers on his mind (not really) because the West Coast has some serious wattage when it comes to baseball. Cal State Fullerton is among an elite few Division I schools to never experience a losing season, and they've made an appearance in every NCAA Tournament since 1992. Fullerton consistently ranks with a top recruiting class; in fact, the university fostered such a culture of excellence that its players are renowned for their superb strength, both physically and mentally. Kids in Fullerton grow up wanting to be a Titan, and if that kind of sprit doesn't choke you up a little, then clearly your heart has been benched.
6. Florida State University

Mascot: Seminoles
Conference: Atlantic Coast
Stadium: Mike Martin Field at Dick Howser Stadium
National Championships: 0
College World Series Appearances: 21
The Seminoles boast a .730 game winning average, the second highest in Division I baseball. With 53 NCAA Tournament appearances and 21 College World Series Appearances, they're the most successful college ball program in the nation without a national title. Even more impressive than their wins are their players. FSU put over 60 alumni in the majors, with 88 All-American alumni to boot. As for game day, Dick Howser Stadium's $12 million renovation made it one of the top places to watch a ball game in the nation, including MLB stadiums. Nothing compares to the student-section spirit. "The atmosphere is unmatched to anything I've ever seen. The Animals of Section B bring a whole new dimension to the game; it really is a unique experience," FSU junior Shea Mandese said.
5. University of Texas at Austin
Mascot: Longhorns
Conference: Big 12
Stadium: UFCU Disch-Falk Field
National Championships: 6
College World Series Appearances: 35
Longhorn baseball boasts the highest win percentage of any Division I school in the NCAA. Behind the Fordham Rams, UT ranks second in all-time wins (3,452) and currently holds the record for the most College World Series Appearances at a whopping 35. Other records include the most NCAA Tournament appearances (57) and most overall NCAA Tournament games won (233.) Fun fact: Texas holds the record for the longest game played in collegiate baseball history: A 25-inning game against Boston College that lasted over seven hours. Perhaps you could say they really took the bull by the "horns."
4. University of Miami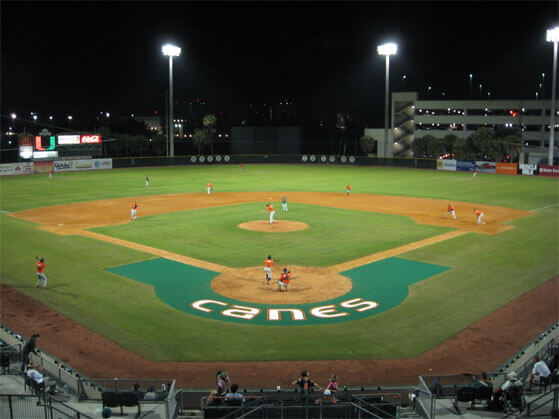 Mascot: Hurricanes
Conference: Atlantic Coast
Stadium: Atlantic Coast
National Championships: 4
College World Series Appearances: 24
Miami ranks consistently as one of the best collegiate baseball programs in the country, despite operating as an NCAA independent until 2004. Much of their success is attributed to their stellar coaching staff. "Four championships, a legendary coach in Jim Morris and just the constant expectation to be one of the top programs in the country [make us special]," UM sophomore David Cline said. Since joining the Hurricanes in 1993, Morris won Miami over 900 games, led them to 12 College World Series'. Their wins aren't the only sweet thing in this tropical paradise. "My favorite traditional is the Mark Light shakes available at the stadium. The flavors are endless and they taste awesome," Cline said. Join Morris and the 'Canes in beautiful Coral Gables if you love sunshine, shakes and winning.
3. Louisiana State University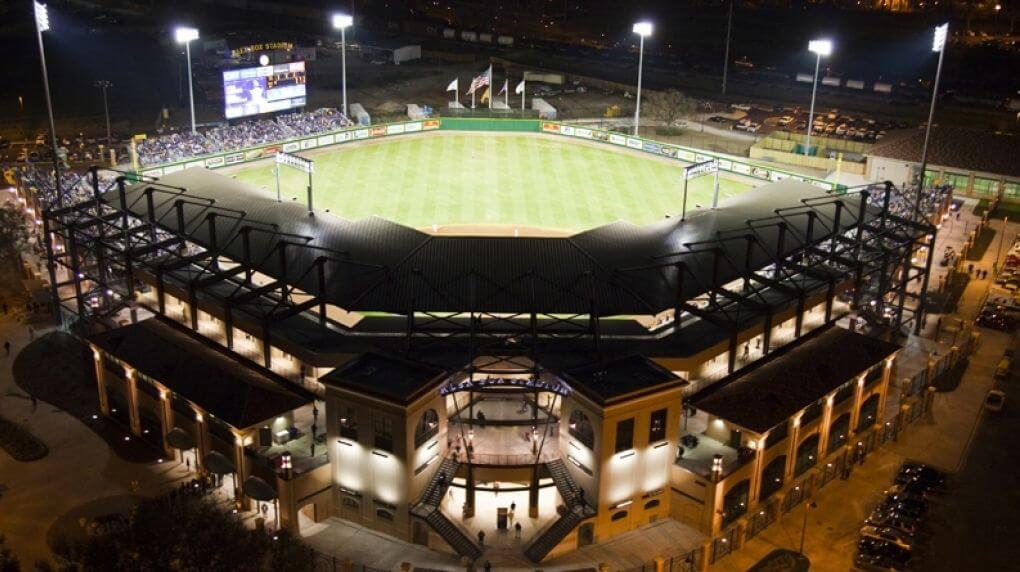 Mascot: Tigers
Conference: Southestern
Stadium: Skip Bertman Field at Alex Box Stadium
National Championships: 6
College World Series Appearances: 17
Few teams in the nation instill fear in the hearts of opponents as much as the LSU Tigers. They hold the second highest number of College World Series titles in the nation and seventh highest number of CWS appearances. In terms of tradition, you'd be hard-pressed to find a more intense school. LSU ranked as the number 1 tailgating location in America according to ESPN. Keeping in the spirit of the south, Cajun food and other creole cuisine lights up Baton Rouge all season long. Some fans tailgate the entire weekend for a three-game series. As of 2015, LSU ranks number one for average game attendance, coming in at just under 11,000 tickets sold per game.
  2. Arizona State University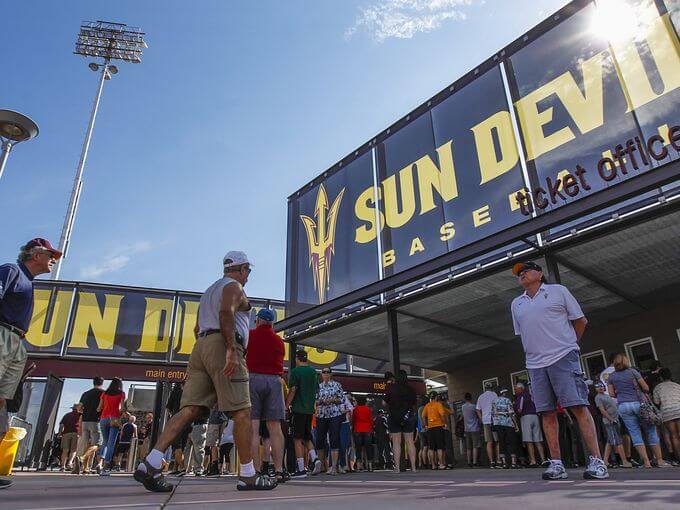 Mascot: Sun Devils
Conference: Pac-12
Stadium: Phoenix Municipal Stadium
National Championships: 5
College World Series Appearances: 22
The Sun Devils swoop in for holding the second most alumni to play in the majors, among them the one and only Reggie Jackson. With 14 Academic All-Americans and the leading Pac-12 winning percentage (.681), this institution is one of the brightest (pun hella intended) in collegiate baseball. They've been nationally ranked at some point during every single season since their inception in 1959, finishing an impressive 27 times in the top 10.
1. University of Southern California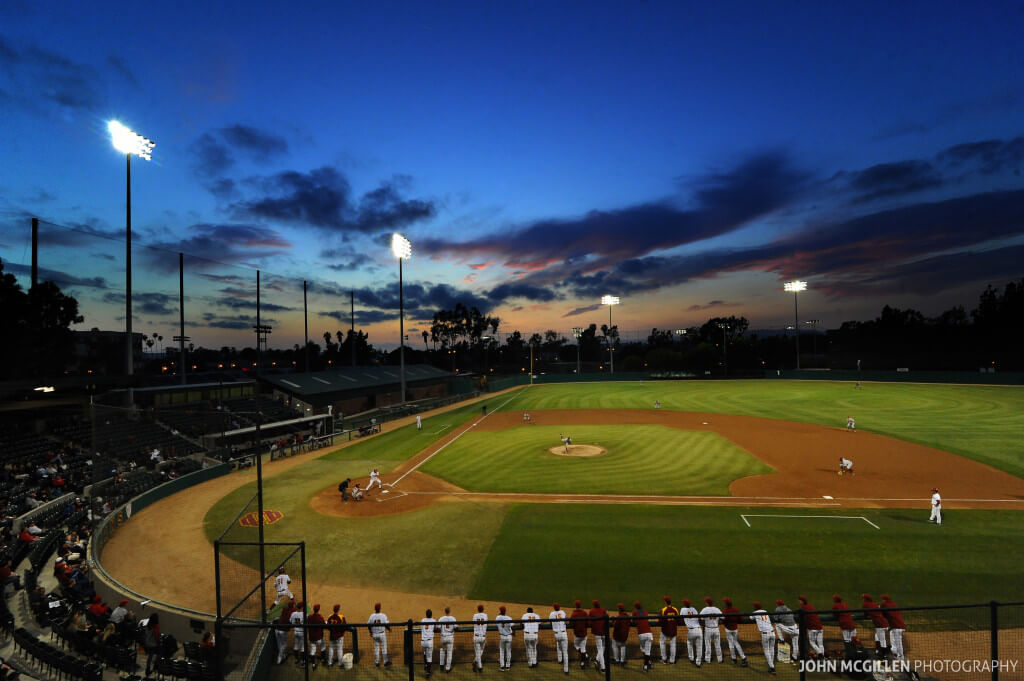 Mascot: Trojans
Conference: Pac-12
Stadium: Dedeaux Field
National Championships: 12
College World Series Appearances: 21
The Trojans hold more national titles than any other collegiate program by an outstanding margin of six. It ranks third for all-time wins and 18th in win-percentage. They boast a whopping 58 All-College World Series Players, 34 1st Team All-Americans and three alumni in the MLB Hall of Fame. To add to your game day glee, Dedeaux Field is dubbed as one of the finest structures in all of college baseball. It's so nice, in fact, that you've probably already seen it before on the big screen in famous baseball movies including "The Big Leaguer," "A League of Their Own" and "For the Love of the Game." Their blowout number of national titles knocks the competition out of the park With a top-notch recruiting class, they're not coming down any time soon. "I absolute love the intensity of our school spirit.," USC senior Victoria Dea said. "Everyone is always so proud to say that they are a part of the Trojan Family. Being from out of state, I fly home often and even after leaving campus, I alway get a 'Fight On' from someone when I wear my USC sweatshirt."
For More College Rankings, Check Out:
Top 10 Hockey Schools to Fulfill Your Puck Obsession
CM's Top 10 Schools for Football Fans
Cheer, Cheer for Whom? The 10 Best College Fight Songs