Often confused with personal trainers and harassed by the question "Do you lift?", athletic trainers prevent and treat injuries, not train athletes. On the field or on the court these health care providers act as the 'eyes and ears', making sure the athletes remain safe and healthy during game play or training. But, like any other field, not all athletic trainers started out making four figures and working with Olympic gold medalists. Most started out just like any other college student, rolling out of bed at 8:30 a.m. and slugging through introductory physics.
LEARN MORE ABOUT THE ATHLETIC TRAINING MAJOR.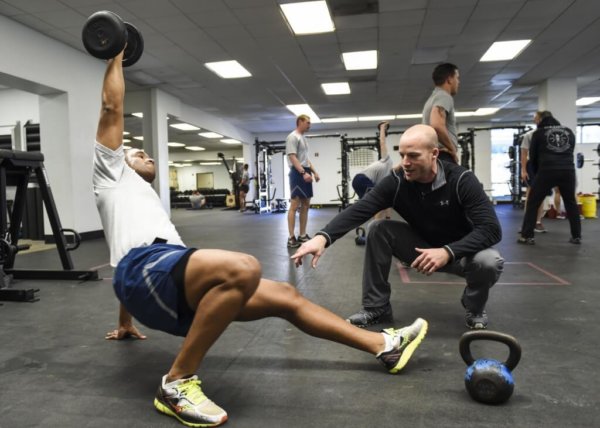 WHAT YOU'LL BE DOING
Athletic training majors spend a great deal of time in the health lab reviewing anatomy to prepare for intensive hands on lab sessions. "I took a human cadaver class where I was assigned to dissect a man's shoulder which involved a lot of fine work," said University of Florida athletic trainer Tommy Stich. "What I read and saw in the textbook, I was able to apply it in real life." For athletic training majors, hands-on experience literally means hands-on.
THE CLASSES YOU'LL TAKE
Who wants someone with no knowledge of the human body to treat their injuries? No one. As an athletic training major, you'll start off your journey in human anatomy and human physiology to become familiar and proficient with the different areas and parts of the human body. "Anatomy taught me where everything was and what is what called and physiology taught me how each body part functions, independently and together," Stich said.
Once you have all the basic knowledge, get ready to branch out into athletic training specific courses like athletic injury assessment. This course covers what to do when the star quarterback goes down on the field. Classes like rehabilitation techniques also give students hands on training in rehabilitation and recovery techniques that go further than most undergrad coursework. "Our instructor even allowed us to be creative in thinking about different exercises," said University of California Merced Head Athletic Trainer Kevin Vieira. Feeling like your brain might explode from assessing brain injuries? Treat yourself to an exciting elective and develop a working knowledge of word roots and medical abbreviations in health an medical terminology.
INTERNSHIPS FOR THIS MAJOR
Disney's World Wide of Sports, the NFL, MLB, NBA and other professional athletic teams all offer internships during season and summer training camps. While you probably won't find yourself on the field assessing sport related injuries immediately, working with experienced professionals can help you gain initial experience with the assigned responsibilities of setup and breakdown for practice, taping and rehab and assisting with some first aid medical coverage. Plus, spending a summer with a pro sports league definitely beats being a water boy for your school's football team.
CAREER OPPORTUNITIES
1. PROFESSIONAL
Professional sports teams hire athletic trainers to work specifically with one teams' players throughout the season. Teams need athletic trainers from their first training day to beyond the last game. You'll even get to travel to away games to assess injuries on the road, meaning you might find yourself jet-setting with the rest of the NBA.
2. COLLEGE
College athletic trainers hang out on the sidelines of sporting events so that when something goes wrong on-field, they can immediately treat injuries and tape up players to prevent rolled ankles or sprained wrists. They also serve as educators to help young players understand the importance of playing safe during games, putting their college coursework to good use.
3. PERFORMING ARTS
Dance companies hire athletic trainers to keep their performers in peak condition, both on and off the stage. You might spot them in the wings, where they can quickly assess the injury before a dancer heads back out on the floor in case a dancer rolls their ankle or the prima ballerina's shoulder becomes inflamed. The show must always go on, right?
4. MILITARY
Athletic trainers work with the military to help evaluate and treat our armed forces' injuries, especially during boot camps to keep small nagging injuries from progressing into more serious ones that could wreak havoc during active duty. Military trainers also play a role during orthopedic screenings, where they work to identify potential problems and recommend stretches and exercises to military personnel in order to prevent future injuries.
5. TELEVISION
TV shows, such as The Biggest Loser, hire athletic trainers to keep their contestants healthy while adjusting to the dramatic increase in physical activity. The WWE also employs athletic trainers to contribute to their ringside sports medicine staff to ensure their stars remain healthy and uninjured. You best believe you'll see an athletic trainer on the set of any show with an active lineup.
REVIEWS
"Athletic training is a very unique profession that focuses on the overall health and wellness of our athletes, not just one specific body part. The principles of what you learn in the field, of how to be a professional and how to work with other people, or independently, can really be transferred to any setting of AT." – Tommy Stich, California State University, Fresno, Class of 2007
"As an athletic trainer, you're dealing with kids, parents, coaches, doctors – and you can't really approach any of them in the same way. They are all coming to the situation with different perspectives and backgrounds and you kind of have to tailor each conversation to each demographic." – Jessie Morris, California State University, Fresno, Class of 2007
"Don't ever be afraid to admit you don't know something but be willing to find the answers. This profession is in a constant state of change and being aware that your skills and knowledge need to keep up with the trends is very important to being successful as an Athletic Trainer." – Kevin Vieira, California State University, Fresno, Class of 2007