It's never too late to throw a good summer party. Why wait for a birthday or an anniversary to celebrate? You're young and fabulous now. So throw a party because you can.
Every memorable party needs three things: music, food and a creative theme.  For music, did you know CollegeMag releases a playlist every week? Done. For food, picking the perfect menu is vital to a successful gathering, and it should always reflect the theme of the party. That brings us to choosing a great theme. I got you covered.
The Progressive Party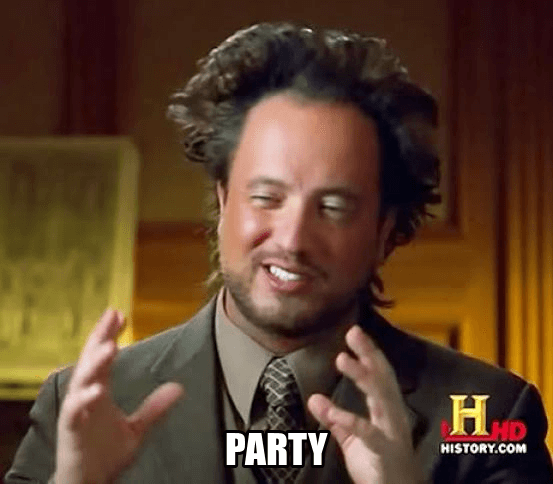 This party is a great idea for a large group of friends that all want to get involved with putting it together. Here's how it works. The full party enjoys appetizers at a main location. Then, for the entrée, the group divides up and travels to different households that host that course. For dessert, the party regroups at the main location for the rest of the festivities. This type of party is great for a large group that's just getting to know each other for the first time since the smaller parties speed up the whole meet-n-greet stuff. Also, by having multiple hosts, everyone gets a chance to feel involved and it takes a lot of pressure off the main hosts. Drawbacks: you have to be on top of scheduling the separate parties to meet back up on time, and traveling to different locations means designated drivers. Always. You can also add more courses to the progressive party or tweak it by having the group as a whole travel to each location.
The Dinner and a Movie
Dinner and a movie is the quintessential date, but it can also make for a great party if done right. Tweak it and pick a foreign film and only serve food from that nationality. For example: watch the French film Amelie and serve crackers, brie, and wine while you watch, and have French onion soup and chicken chasseur for dinner. Guaranteed it will be a party your friends will enjoy, and how precious is a classy-yuppie wine and cheese night in your dorm? Still not sold? Watch Black Swan and serve Pavlova meringues for dessert. Or dress it down by watching a baseball game and serve hot dogs, peanuts and beer. Not only are these parties easy to throw, they're a great way to have fun without throwing a rager.
The Beer Pong Olympics
Maybe a little #toosoon, an Olympic party is an invitation-only soiree where the invited come in pairs dressed as the country of their choice. Think redneck costumes for the America team, lederhosen for the Dutch, and feather headdresses for the Native American nation. Then the teams duke it out in a beer pong pairs tournament. This type of party works really well for couples. Special prizes for the gold medalists of course. And I hear silver label tequila isn't bad either. 
The Alphabet Party
This party takes a lot of planning, but is always worth it.  To throw an alphabet party, the host has to choose one letter from the alphabet and theme the entire party around the letter. My name is Jay, so I would obviously throw a J party. That means, we're only drinking Jack, jungle juice, Jagermeister and jello shots. We're only listening to Justin Beiber, John Mayer, and Janet Jackson. And on top of all that, everyone has to come dressed up as something beginning with the letter J. So I'm expecting some pretty elaborate Jack Sparrow and Jesus costumes. This is a great theme for the narcissist hostess with the mostest (Excuse me while I go to pun hell now).
 The Chopped Party
Ever watch Chopped on The Food Network? On the show, chefs get a basket of strange ingredients and are challenged to make a fabulous meal using all the ingredients. To recreate this in your apartment/dorm/mom's basement buy a whole ton of strange ingredients at the super market. The more obscure, the better. When your guests arrive, the joke is on them because it's up to them come up with a recipe using their secret ingredients. Oh and don't forget the time limit. This party works really well for a smaller group, and its so much fun to try out each other's creations. Want to dilute it a bit? Buy ingredients for a recipe and have your guests try to figure out how to make it without the method. Need to dilute it even more? Throw a party and just serve breakfast foods. Everyone loves breakfast.
Throwing themed parties like these are what create the college memories you will try to recall while dealing with a massive hang over the morning after. Remember, you're in college; so keep it simple, cheap and accessible. Now that you're all set up, go throw a party and remember to toast to me if I gave you the idea!