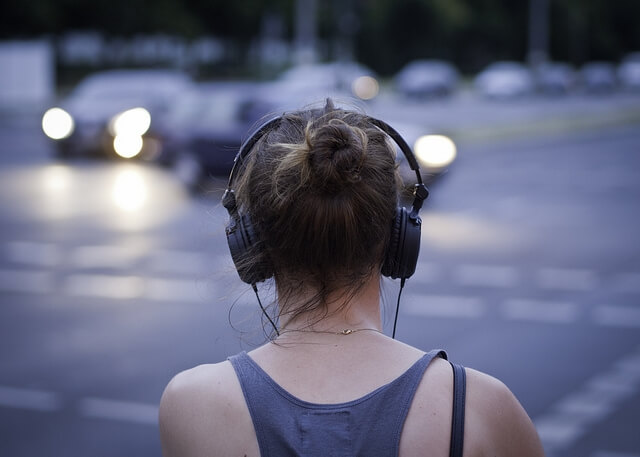 Whether you're buried beneath several pounds of index cards at 2 a.m. or suffering from a broken wrist from an intense intramural volleyball game, listening to some soothing tunes can have some serious benefits. Sound waves have been scientifically proven to affect emotion, improve cognition and reduce anxiety. Perhaps Bob Marley said it best: "One good thing about music, when it hits you, you feel no pain." Check out these 18 stress-relieving, pain-reducing tracks that manifest that maxim.
1. Snow and Lights-Explosions in the Sky
This emotive, instrumental track is the sonic version of abstract art–it leaves much to the interpretation of the audience. This daydreaming anthem is ideal for listening to while sick in bed or decompressing after a long day. Explosions in the Sky has described their music as "cathartic mini-symphonies"–it's ambient and expansive, almost orchestral.
2. About You-XXYYXX
Young DJ Marcel Everett, better known as his stage name XXYYXX, compares his unique, heavily R&B-influenced, slow-motion electronica to "doing drugs on a freeway—underwater." "About You" loops a hauntingly beautiful but unintelligible hook and alters the speed, pairing it with a chilled out, bass-heavy backbeat. The slow-motion beat and soft rhythm will slow down your heart rate and reduce feelings of anxiousness.
3. So Post All 'Em-YACHT
Vamped vocals, a tribal drum loop and a catchy yet soothing hook make this a go-to track to reduce stress and anxiety and alleviate everything from nausea to neck pain. Does a midterm study-a-thon have you feeling overwhelmed? Take a break and chill out to the calming cadence of YACHT.
4. It Rained the Whole Time –Shlohmo
Electronic music producer Shlohmo utilizes subtle samples and patterns, avant-garde beats, nostalgic guitar riffs and innovative synth textures to create minimal, lo-fi electronica. Play this track when you want to unwind. You'll forget all about that headache or back pain in no time.
5. London in February-Coastal
Aptly named, Coastal's "London in February" captures the tranquility and stillness of a rainy day. This short but soothing song incorporates slow, swaying guitar riffs, a soft piano harmony and a down tempo drum beat. Play this track when you need a few minutes to slow down and de-stress.
6. Flightless Bird, American Mouth-Iron & Wine
Indie-folk singer Samuel Beam, better known by his stage name Iron & Wine, croons self-written harmonic poetry that initially blends with acoustic guitar and a steady tambourine. Gradual percussion fuses with Beam's folky falsetto vocals . Chill-inducing and incredibly uplifting—"Flightless Bird, American Mouth" will help you to forget all about cramps, headaches and stress and fully immerse yourself in the melody.
7. Honestly-Blue Sky Black Death
Singer Yes Alexander's velvety, vaguely raspy voice meshes with a looped piano and a slow hip-hop beat to create a harmoniously chilling track. "Honestly" creates a unique atmospheric sound reminiscent of a song emanating from a record player or a jukebox in a dark, smoky bar.
8. Big Boy-Balam Acab
This atmospheric, experimental track evokes the feeling of floating in crystal clear water and staring up at the sun. Unintelligible lyrics are buried beneath subtle bass wobbles, melodic R&B beats and uplifting synth patterns. Plug in your headphones and blast this track if you want to forget about the world for a while.
9. Dammerschein-Deuter
A rich piano and relaxing flute dominate this deeply soothing, ethereal track. Reminiscent of something you would hear in a yoga or day spa, this song will alleviate your anxiety over that bad biology grade or soothe your aching back from a grueling workout.
10. Breathe-Telepopmusik
This 2001 electronica hit by French trio Telepopmusik repeats the relaxing lyrics like a meditative mantra, reminding you that all you need to do is "just breathe."
11. Nude-Radiohead
"Believing you're actually wonderful when you know it's not true." That's how Radiohead's frontman Thom Yorke explains the idea behind "Nude." And who couldn't use a little of that when sick, stressed or in pain? Yorke's soothing vocals, a bass line you can feel in your bones and symphony-like instrumentals make this the quintessential chill-out tune.
12. Heartbeats-Jose Gonzalez
Gonzalez's soulful acoustic cover of "Heartbeats" by Swedish electronic duo The Knife will give you goose bumps. Saturated with reverb and fervent, full-bodied guitar, this track will provide the feeling of walking alone in the still silence after a snowfall.
13. Intro-The xx
Subtle vocal harmonies layered beneath punchy percussion and melodious guitar riffs dominate this airy track by the London indie trio. This calming yet catchy song tops my stress-free study session playlist.
14. Montezuma-Fleet Foxes
If I had to choose a color to represent Fleet Foxes' harmoniously evocative lyrics and uplifting folk melodies, I would pick a stark white or a striking gold reminiscent of snow and sunflares. "Montezuma" is a warm tea, inviting fire and cozy slippers kind of song. You might want to get cozy and listen to the whole album.
15. Cobwebs-Animal Collective
Marked by ornately overstated percussion, experimental synth and a calming chorus ("we're not going underground"), Animal Collective's "Cobwebs" is psychedelically serene. Listen to this song before a class presentation or before a first date to calm your nerves.
16. Skinny Love-Bon Iver
This song evokes a sense of quietude among the hymnal harmonies, like something you would hear echoing off the walls of a sunny cabin in the woods. In fact, the majority of the album, For Emma, was recorded during singer-songwriter Justin Vernon's three-month stay in a Northwest Wisconsin cabin. Melodic, introspective, and strikingly visceral, "Skinny Love" invokes inevitable nostalgia, even upon hearing it for the first time.
17. Open Your Eyes to Die With the Sun-M83
This 10-minute dream pop song slowly builds and cathartically crashes into a carefree symphony. "Open Your Eyes to Die with the Sun" is alive with palpable percussion and layered sounds that seem to envelope the listener.
18. Olsen Olsen-Sigur Ros
There is a mystifying yet profound comfort in not being able to understand the lyrics in this eight-minute track by Icelandic post-rock trio Sigur Ros. Instead, focus on front man Jónsi Birgisson's falsetto pipes and the tranquil, lullaby-like instrumentation.
Several years ago I broke my toe and couldn't see a doctor until the next day. I listened to these songs on repeat until I fell asleep and I swear it worked better than the copious amount of Ibuprofen I consumed that night. It calmed my nerves and constant wondering ("Is it broken?!") until I fell into the infectious melodies and eventually fell asleep.
If that doesn't do the trick, try listening to the reassuring sound of a doctor's voice on CampusMD from the comfort of your dorm. CampusMD's U.S. board-certified doctors are on call 24/7 and can provide doctor's notes, prescriptions and medical advice. For a student deal, use promocode: collmag99.