While we know some summer jobs can
be a bust
, there are others that allow us to make some cash of our own— some, more than we expected. These high-paying jobs are not hard to find as long as you explore all your options. Searching online, networking with friends and family members or meeting with employers are good ways to start. The main trick is also to find a job where you can market yourself and have the opportunity for tips. You might be surprised to find out just how much dough you can make to ensure a fatter wallet and a financially successful summer:
1.) Caddying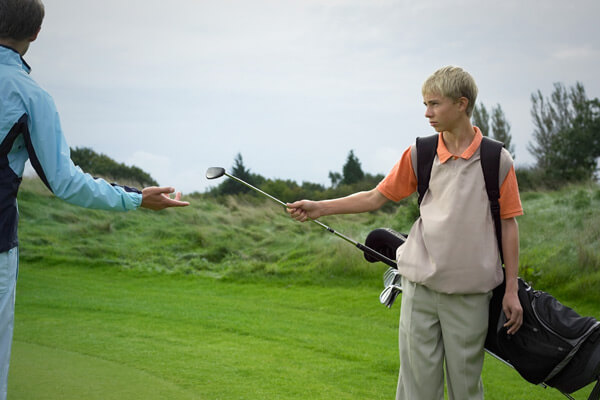 Ranked No. 1 by Forbes Magazine, caddying is surprisingly one of the best paying summer jobs for young adults (
it pays an average of $16.67 per hour
). The duties are pretty simple: carrying golf bags, cleaning golf balls and raking sand traps. Not to mention you get to enjoy the summer sun all day. However, the main reason caddying offers a great job opportunity is the tips you can get. Caddies can get anywhere from $50-100 in tips for four to four and a half hours spent with one golfer.
2.) Babysitting
The great thing about babysitting is that you can often choose the amount you charge and there are usually opportunities for extra cash. "I usually start at $10 per hour, but my current job in Baltimore I get paid $14," said Towson University junior Ayelet Cohen, who has been babysitting for eight years.
She said that she was able to charge so much because she established relationships with the families she sits for and remained consistent with the job.
"It's a huge responsibility as a young babysitter, but once you've done it for a while and your job is done, it's easy money," Cohen said.
3.) Lifeguarding
While this job requires someone who enjoys the heat, there are usually perks that come with it. University of Delaware sophomore Lindsay Irwin has worked as a lifeguard at a summer camp in New Jersey since 2009 and said
she got paid $70 for a five-six hour day last summer.
"For me, the pay increased every year and we got paid more than the counselors." She added that her camp made sure to send out letters to parents encouraging them to tip lifeguards, which got her the most tips she ever made last summer. While Irwin said the hours were long and the job requires certification, it was nice to be getting paid to sit out all day and relax by the pool.
4.) Waiting
Although the food industry might not be for everyone, it can be another surprisingly well-paying job that leaves plenty of opportunity for some good tips. The base pay might not be a lot – although most restaurants offer more than the $7.25 minimum wage – but the extra cash is all up to you.
If you remain pleasant and give good service, you could add a hefty amount of money to your paycheck.
The best part? It's usually all in cash, so you don't have to rely on just your paycheck to make a living.
5.) Selling
Whether it's for a clothing store, bookshop or another type of business, being a sales associate can not only score you some cash but also teach you valuable communication and business skills. With an average pay of $11.64 per hour, according to Forbes Magazine, the job does not require much training aside from learning how the business works and how to use the cash register, if applicable.
The most important thing is to be personable, especially at those stores offering commission.
If you please your boss, you could also have the chance to move up or take on different responsibilities.
Photo: at http://www.tree.com/education/blog-blog/archive-2011-05-27-best-summer-jobs-for-college-students.aspx