With Pride month coming to a close, have you stopped waving your pride flag yet? We sure haven't. Continue to celebrate the diversity of love with us by checking out these shows and films with amazing LGBTQ+ relationships. Especially in recent years, the entertainment industry makes great efforts to come out (get it?) with storylines that depict LGBTQ+ love with care and accuracy. We collected some of the highlights because during Pride month, nothing restores your faith in love like seeing LGBTQ+ storylines that send your feelings on a rainbow-shaped roller coaster.
Read on for some shows and movies with LGBTQ+ couples to make your pride heart happy.
1. Charlie and Nick + Tara and Darcy in Heartstopper (2022)

Based on Alice Oseman's Webtoon series, Heartstopper depicts the struggle of embracing your sexuality with such relatable moments it almost feels personal. The story centers on two high school boys: Charlie Spriggs, a publicly gay boy and a "nerd," develops a crush on Nick Nelson, a quote-on-quote straight boy on the rugby team. Their relationship's progression and Nick's bi-panic resonates with anyone who faced LGBTQ+ stigma or questioned their sexuality. While Heartstopper focuses on Charlie and Nick as the main couple, we can't forget Tara and Darcy's resilience in coming out as a lesbian couple. Contrary to its name, Heartstopper makes people's hearts beat faster with its witty characters and its diverse LGBTQ+ relationships. P.S. for people who love the little details, look out for the not-so-subtle lighting and color choices. See how many pride flags you can spot.
"I know people have hurt you. And you feel like I'd be better off without you, but I need you to know that my life is way better because I met you." -Nick Nelson, Heartstopper
2. Waverly and Nicole in Wynonna Earp (2016)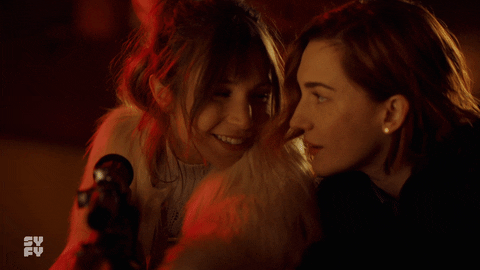 Waverly and Nicole harbor a very natural love in this supernatural world of demons and curses. Based on Beau Smith's comic series and set in Purgatory, Canada, Wynonna Earp follows Wynonna's endeavor to battle evil demons called Revenants using her great-great-grandfather's gun, the Peacemaker. As the eldest Earp, she must kill all of them before she dies in order to break the Earp family curse that keeps them alive; if she dies first, they'll revive and torment the next Earp heir. As Wynonna receives her quest, Wynonna's younger sister Waverly meets police sheriff Nicole Haught in their local bar. Together they kick off their progression from a meet-cute to a fully committed relationship throughout the seasons. Wayhaught gives Wynonna Earp a reputation for having heartfelt, nonstereotypical lesbian representation while still leaving room for a few steamy scenes here and there.
"I'm in love. I want that for everyone, including you." -Waverly Earp, Wynonna Earp
3. Stede Bonnet and Blackbeard in Our Flag Means Death (2022)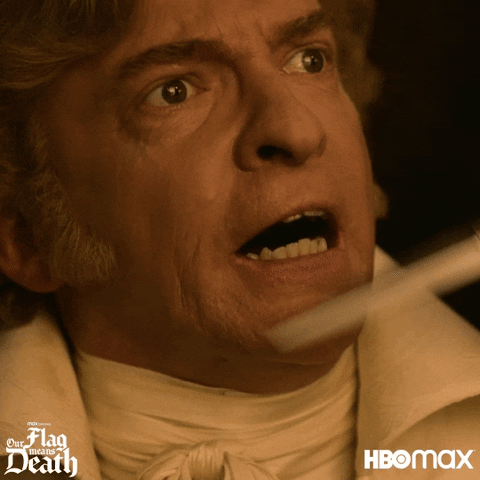 A romantic comedy set in 18th century England where pirates exist and people don't marry for love, Our Flag Means Death puts together two historical pirates whose leadership styles could not contrast more: Stede Bonnet the "Gentleman Pirate" who reads bedtime stories to his crew and Blackbeard who terrifies anyone before he steps onto their deck. Accompany them on their adventures as they face trials at sea, learn from their different lifestyles and grow an unlikely soft spot for each other. Our Flag Means Death combines lighthearted and dark humor for a perfect combination of laugh, grimace and "aww" worthy scenes. Naturally a pirate show will contain a few gruesome moments, so the faint of heart should walk this plank with caution. In this quirky crew of pirates who don't fit their job description, you'll find joy in laughing at their antics and seeing LGBTQ+ relationships placed in famous history.
"Look! I'm incredible at keeping secrets! My mom thought I liked girls for years!" -Lucius Spriggs, Our Flag Means Death
4. Luz and Amity in The Owl House (2020)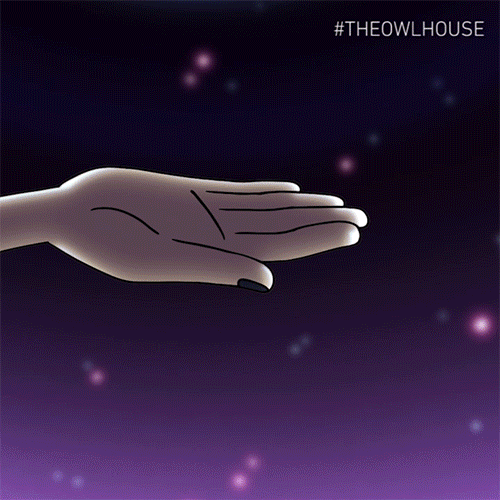 Fans of Disney cartoons will love this one because this rivals to lovers arc brings great LGBTQ+ representation for the whole family to enjoy. The Owl House starts on an ordinary school day, when teenage girl Luz Noceda accidentally enters the Demon Realm and meets a witch and a demon king who take her under their wing. During her journey to become a witch, Luz meets Amity Blight, a haughty top student at Hexside School who underestimates her magical abilities because she's as human as they come. While they get off to a rough start, Luz and Amity warm up to each other over time as Luz builds confidence with her own abilities and Amity begins to open up. Eventually, their newfound friendship turns into something more. The Owl House's fantastical premise can appeal to all ages so bring in your little siblings and cousins to watch too.
"She can be so stupid, which I love…I mean hate!" -Amity Blight, The Owl House
5. Mafuyu and Uenoyama + Haruki and Akihiko in Given (2019)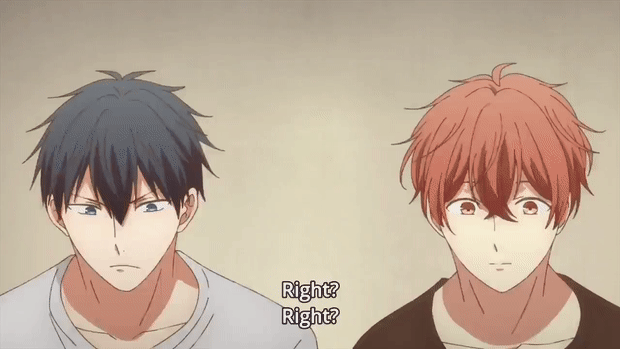 For people who appreciate the power of music to move hearts, Given's relationships will pluck your heartstrings as beautifully as these boys pluck their guitar strings. The anime's storyline follows Uenoyama, a high school boy and guitarist whose passion for his instrument has begun to fade. When he meets Mafuyu, a quiet boy with a broken guitar, a pretty voice and a determination to learn, Uenoyama's life changes as he grows closer to the boy with a tragic past. Given revolves around two LGBTQ+ relationships within a four-person rock band: Uenoyama and Mafuyu and their two college friends, bassist Haruki and drummer Akihiko. Both relationships touch the heart in their own ways as they explore the complexities of processing grief, moving on and finding new love. Grab a tissue; the songs and story might leave you crying in the performance venue.
"A story that took place one winter… A story that took place one evening… No matter where I go, you're there. You're always in my head. You're in everything I see." -Mafuyu Sato, Given
6. Casey and Izzy in Atypical (2017)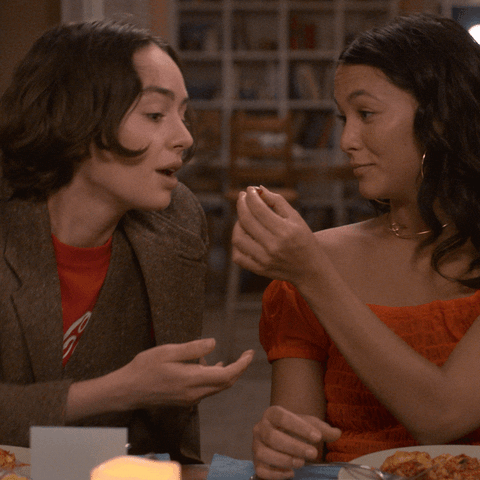 A comedic drama set in Connecticut, Atypical showcases the struggle of living in a world with boundaries between "atypical" and "normal" with care. The storyline centers around Sam Gardner, an 18-year-old with autism who decides to find love and independence. His decision triggers a domino effect for his family to start their own coming-of-age journeys. His younger sister Casey transfers high schools and finds growth upon connecting with Izzy Taylor at Clayton Prep. For people who can appreciate the journey before the destination, Casey and Izzy's dancing around each other will send you on a rollercoaster of fluff and turmoil before they finally reach their conclusion. Casey and Izzy's slow burn romance might have some fans feeling impatient, but their unbreakable strength in overcoming trials together makes it totally worth it.
"This might sound lame, but you're, like, my new favorite person. Is that tragic since we just met a little while ago?" -Izzie Taylor, Atypical
7. Simon and Blue in Love, Simon (2018)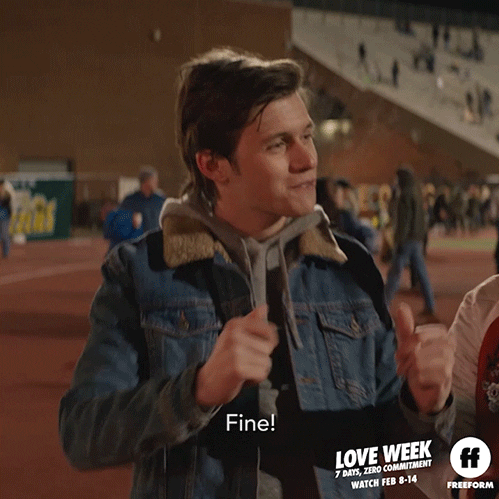 Ever found such a deep connection with someone online you never met in person? In Love, Simon, Simon Spier's secret as a closeted gay gets him blackmailed by someone who knows. The icon for all our awkward teenage personalities out there, Simon takes online connection to a new level as he communicates by email rendezvous with Blue, an anonymous classmate, and falls in love through their shared struggles in the closet. Now Simon must do a balancing act of coming to terms with his secret while investigating the identity of Blue. A romantic drama set in Atlanta, Georgia, Love, Simon explores the great changes and anxieties of coming out as well as finding acceptance in both others and the self. Simon and Blue's story will call out to anyone who fears or feared revealing their sexual identity to their loved ones.
"It doesn't seem fair that only gay people have to come out. Why is straight the default?" -Simon Spier, Love, Simon
8. Megan and Graham in But I'm a Cheerleader (1999)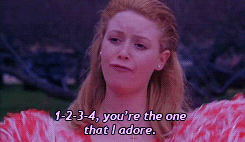 Most of the media we gave you was released in recent years, but let's bring in a classic lesbian throwback. Romantic comedy But I'm a Cheerleader illustrates the reality of LGBTQ+ stigma through Megan Bloomfield, a straight girl who hasn't realized her own sexuality yet. Suspecting her sexuality, Megan's family sends her to conversion therapy camp in hopes she'll "unlearn" her lesbianism. When Megan meets Graham Eaton, anything she might have "learned" immediately flies out the window as she discovers herself, falls in love and starts a secret relationship with Graham. As a comedic critique of conversion therapy, But I'm a Cheerleader remains a classic among movies with LGBTQ+ relationships where the story doesn't end in a disaster, but in a happy relationship with love and acceptance.
"I'm a homosexual! I'm a homosexual! I'm a homosexual! Oh my god… they were right. I'm a homo." -Megan Bloomfield, But I'm a Cheerleader
This list only covers a small sliver of the full rainbow of amazing LGBTQ+ couples in shows and films. While we hope these will tide you over for Pride month, LGBTQ+ relationships deserve a place in popular media every month, week, day and hour of the year. Next time a friend asks for show recs, consider giving them these beautiful stories. By talking about them beyond June, together we encourage and normalize accurate LGBTQ+ representation in entertainment.