Stockholm, Sweden's capital and a beautiful city everyone should visit. Full of lively vibes, beautiful nature, stunning views, plenty of restaurants, bars, clubs, cafes, museums and more. The capital of Sweden really is something everyone needs to experience at least once in their lives. View this guide not as a to-do list, but a list to return to for inspiration when you explore the beauty of Stockholm. Whatever you choose to take takeaway from this, one thing you cannot skip? The concept of fika. Most Swedes argue that this word is the most important word in the Swedish language. As you keep reading, you'll gain an understanding for what that actually means.
Check out 24 Things to do in 24 Hours in Stockholm:
8:00 am Eat breakfast at Pom och Flora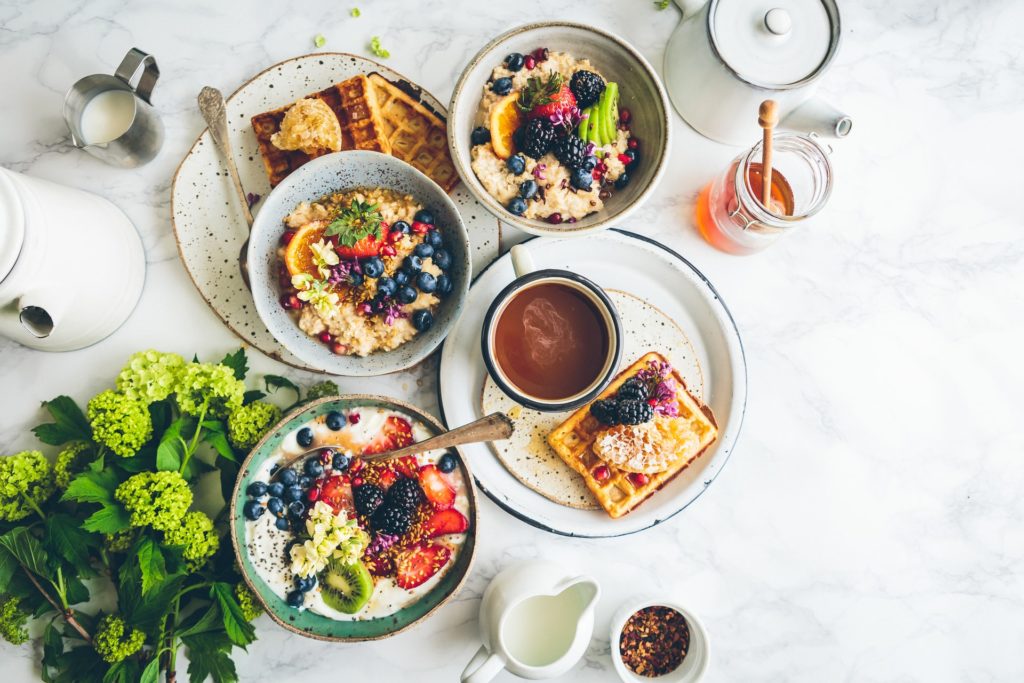 Located in Vasastan, Pom och Flora (och meaning "and", Pom and Flora) gives off minimalist, homey and overall good vibes. This cafe serves breakfast all day and it does NOT disappoint. Their Scandinavian cuisine includes anything from cinnamon buns, freshly baked bread to oatmeal, chia pudding and more. Pom och Flora caters for vegetarians, vegans and those who don't eat gluten. If you prefer non-dairy milk alternatives, try out Oatly's Ikaffe ("in coffee") oat milk. Like the Oatly's regular oat milk, but better and created just for coffee!
9:00 am Take the metro and admire the art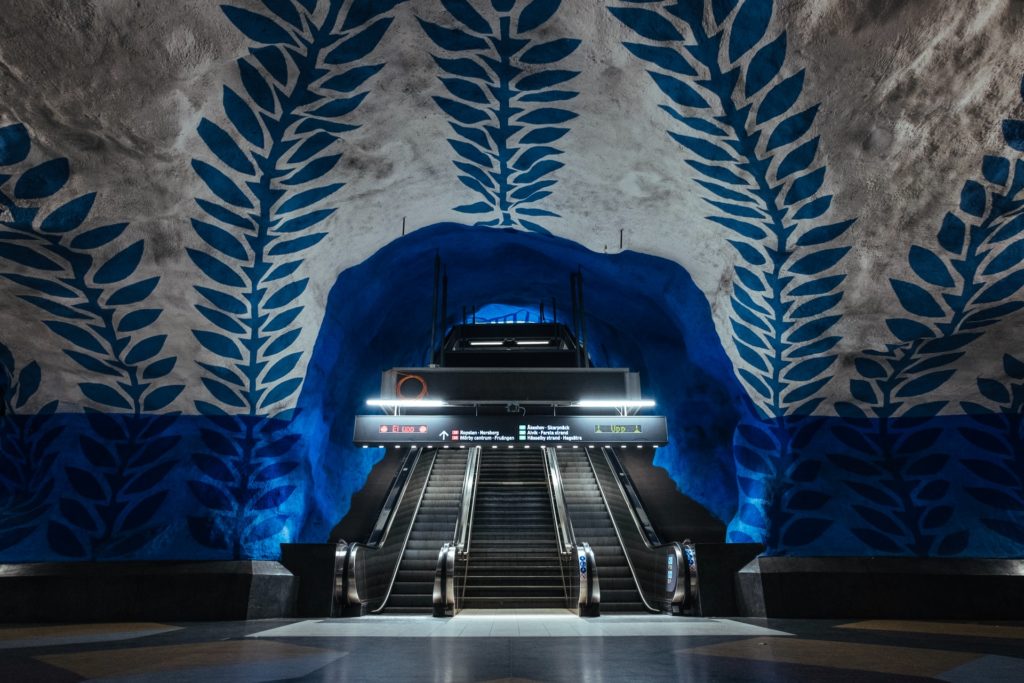 Most, if not all, people use public transportation to get around Stockholm. Composed of various metro lines, trams, trains and buses, public transport can take you anywhere you need. Convenient, cheap and fast, what more can you ask for? After finishing your breakfast, hop on the metro. It goes both above and underground, allowing you to see many parts of Stockholm, as well as the beautiful metro art.
"You definitely need to experience public transportation when visiting Stockholm. It's a completely different thing than here in the US! When I'm at home in Stockholm, I take the metro to pretty much wherever I need to go no matter what time it is, 2:00 pm and 2:00 am alike. There is never a bad time to hop on the metro," University of Southern California junior Niki Ekstrom said.
While making your way to the next destination, step off the train at certain stops to admire the metro art. Yes, you got that right. Most metro stations present beautiful artwork. Traveling by metro equates to traveling through an art exhibition and 110 kilometers of it. You find the most popular artwork at the following stations: Odenplan, Hötorget, Kungsträdgården, Solna Centrum and T-Centralen.
10:00 am Stockholm City Hall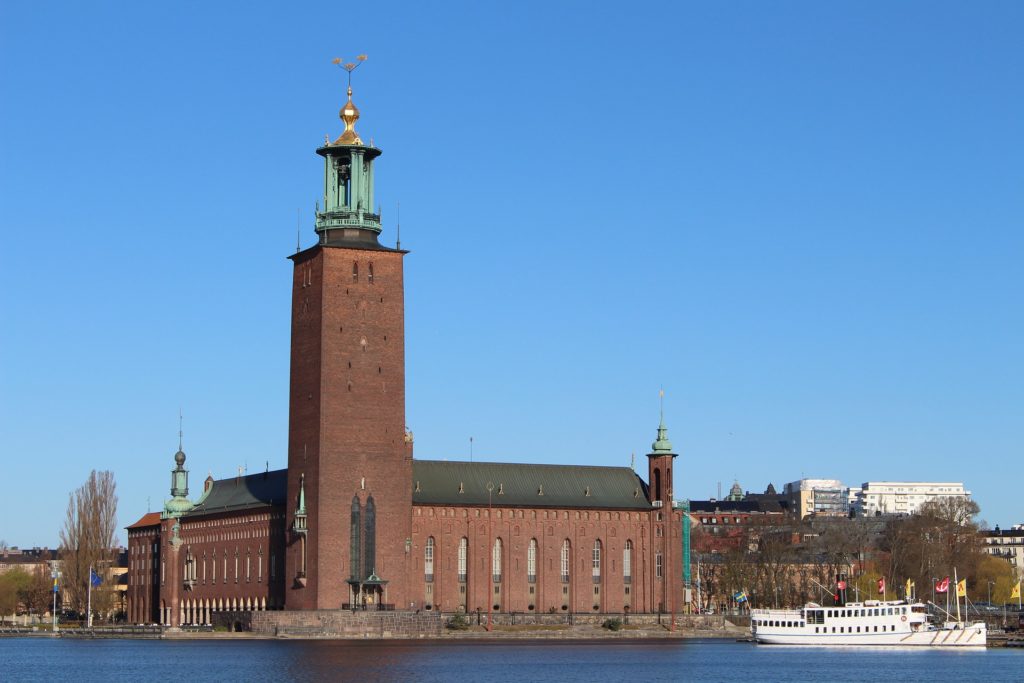 After admiring the underground artwork, onto the next stop: Stockholm City Hall. Famous for its grand ceremonial halls and various pieces of art, this beautiful building hosts the Nobel Prize banquet on December 10th every year. Additionally, it also houses offices for 300 people, the City Council included. Many photos of Stockholm feature this building, so you can brag about this to your friends after seeing it in real life.
11:00 am Fika at Fabrique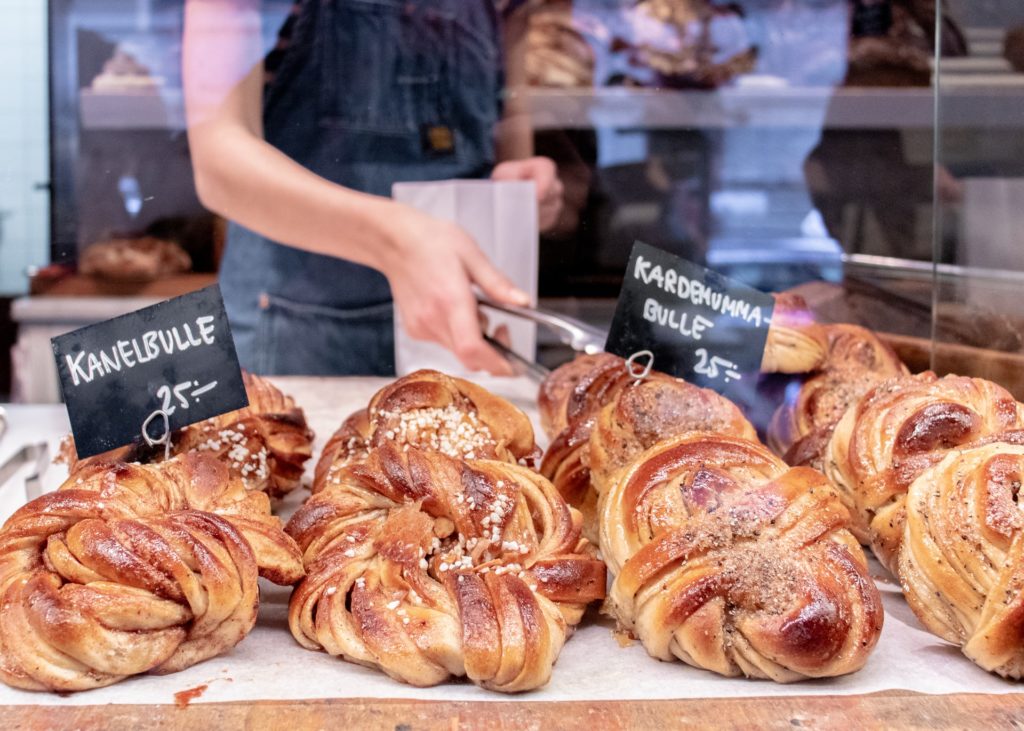 Fika, perhaps the most important word in the Swedish language. Eating a fika equals eating a snack, preferably something sweet along with coffee, at least two times a day. Typically between breakfast and lunch and then between lunch and dinner. Cafe Fabrique offers fika options of all sorts. However, eating a Swedish kanelbulle (cinnamon bun) also remains a must.
"If you want to feel like a true Swede, have a coffee and a "kanelbulle" with a friend in the afternoon! Fika is a cultural phenomenon similar to afternoon tea where you can take a quick mental break from work or school, talk to your friends or colleagues, and replenish some energy. More than just a coffee break, fika offers a moment to slow down and enjoy the small things in life," University of Southern California senior Maddy Keller said.
"A social coffee break", another great explanation of fika as it more often than not means a time where friends and colleagues come together for a nice break from a busy day. Every Swede and probably everyone related to one, knows what it means to eat fika. Some might explain it as a concept, some an attitude and others a state of mind. Whatever explanation you choose to go with, know that you cannot ignore this part of Swedish culture. Sweden's right of public access allows you to fika virtually anywhere.
12:00 pm Canal Trip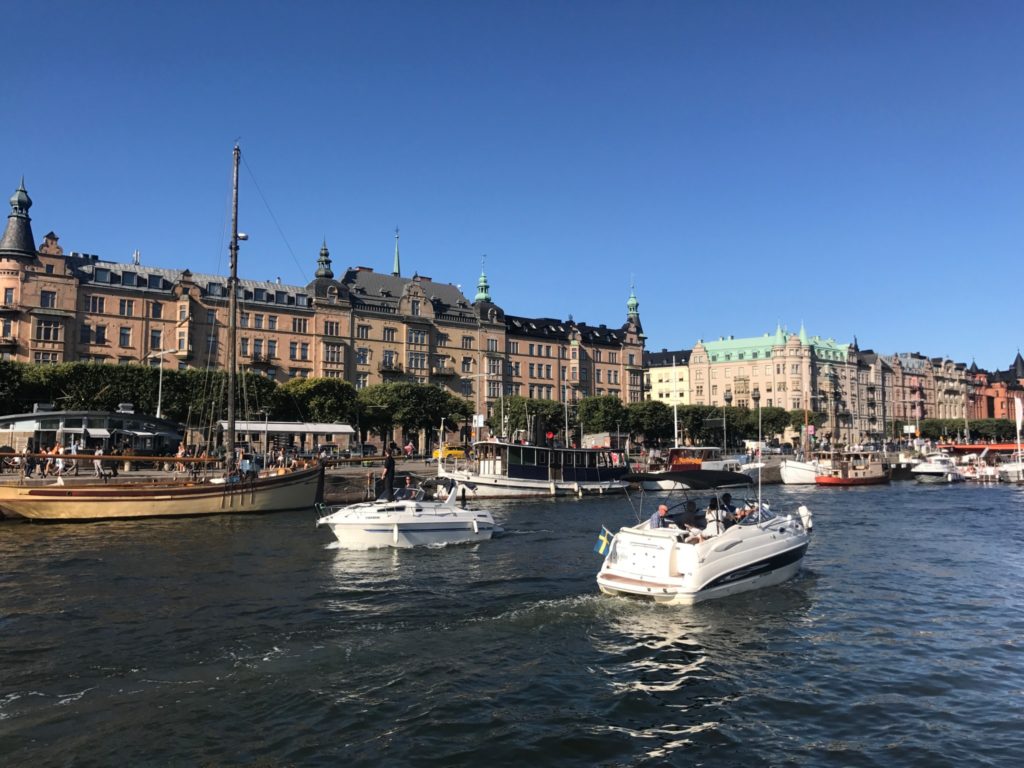 Another great means of transportation: boat. Going on a little canal trip will allow you to see Stockholm from a new perspective. All of Stockholm's public transportation system (SL, Storstockholms Lokaltrafik) includes all of Stockholm's ferries. You only need a regular ticket, perhaps a timed visitor SL Access smart card or a single ticket. At this time of day, the city's wide awake. Hopefully the sun shines with no clouds in sight. Seeing the sun's reflection on the beautiful buildings from the water will make a good day even better. Take photos, soak in the atmosphere and maybe even practice some Swedish. "Hej" means hi and "tack" means thank you. Two words that you can never go wrong with.
1:00 pm Explore some Stockholm Historical Sites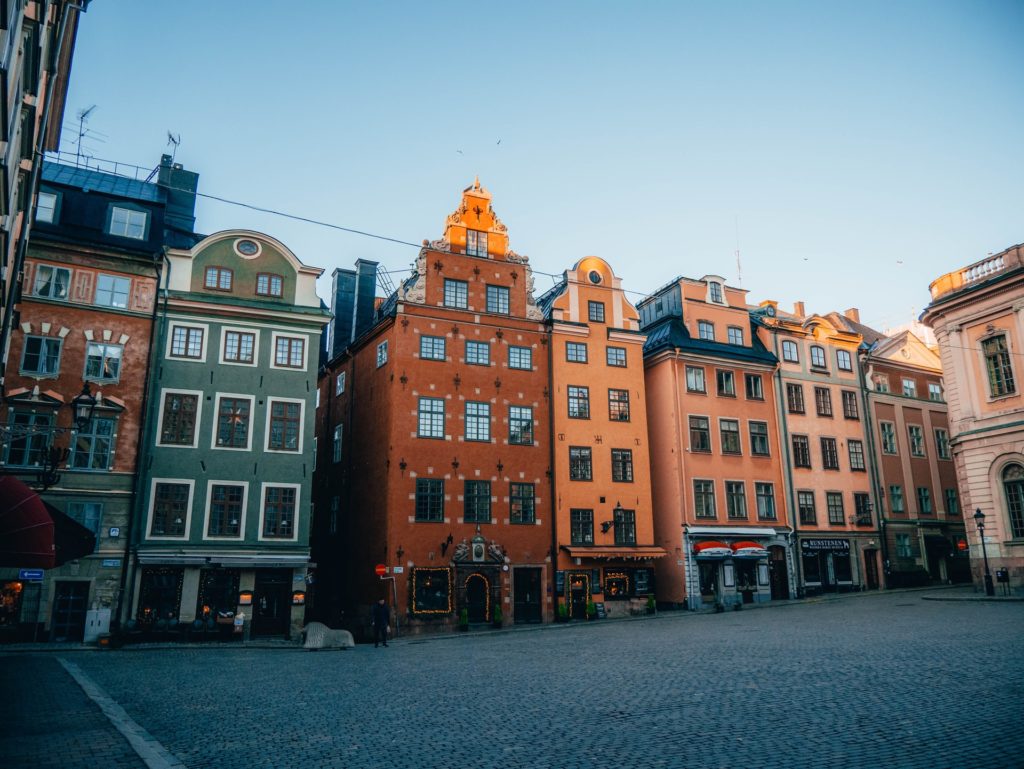 Onto the next destination: Old Town. This historical city center's buildings date to the the 1700s and 1800s. Here you can find a lot of cafes, restaurants and tourist shops. You can also explore the various studios, galleries and museums, perfect for all you artsy people out there. Immerse yourself in Old Town's beautiful architecture and old buildings while learning about its history as this medieval center represents Stockholm's roots.
"The Old Town is the perfect place to stroll around on a Sunday morning and admire Stockholm's beauty. There are many restaurants and bakeries to get a bite at while looking at the different shops and medieval buildings in the area," University of California San Diego freshman Thea Andreasson said.
Before you check out Old Town's scenic main square: Stortorget, see if you can find Mårten Trotzigs Gränd, a 90 centimeter (about 35 inches) alley. The Stockholm Bloodbath actually took place here in the 16th century when Danish forces executed around 90 people, something every Swede learns about in school. Old Town holds a lot of history, making it a perfect place to learn all about Stockholm's past. If you care more about crystals than history and old buildings, Old Town also offers a variety of crystal shops.
2:00 pm Eat lunch at Tjoget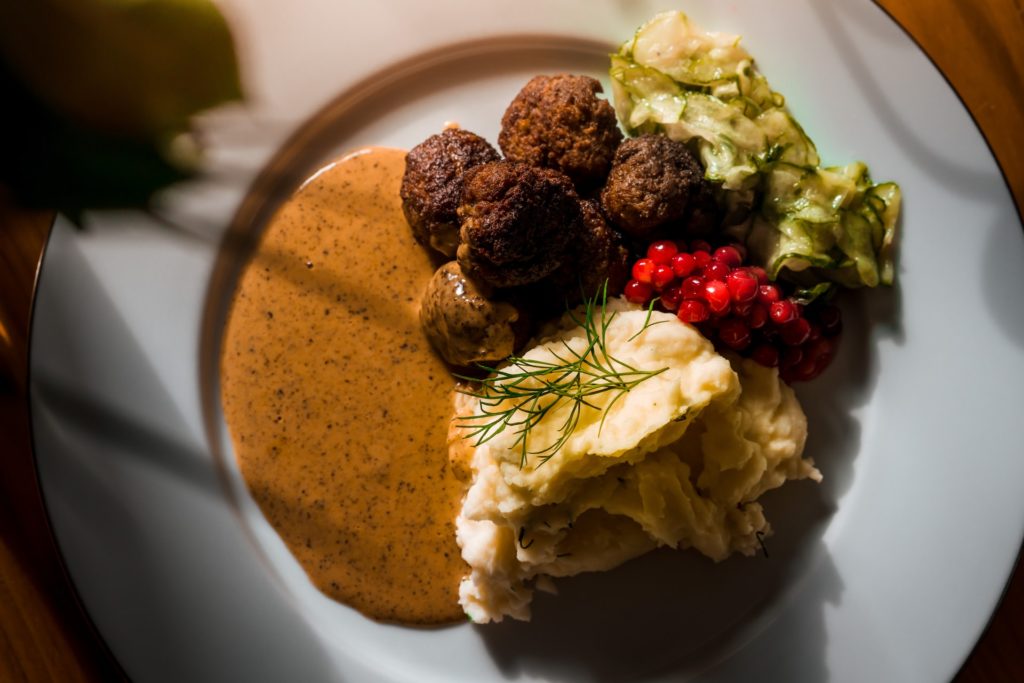 Consider this a late lunch, according to the punctual Swedes. However, given the fika the energy will likely last until this time of the day. Tjoget gives off a hip and fun vibe with an industrial ambiance. The timeless cafe serves traditional "fika" food and Mediterranean-inspired dishes. Tjoget hosts locals and visitors alike. For any 18+ year olds that want to cool down with a drink, try the signature and award-winning cocktail "Beet" by Tjoget. But maybe consider passing on it if you don't like beetroot, it mixes beetroot and vodka with coconut and ginger.
3:00 pm (Window) Shop at NK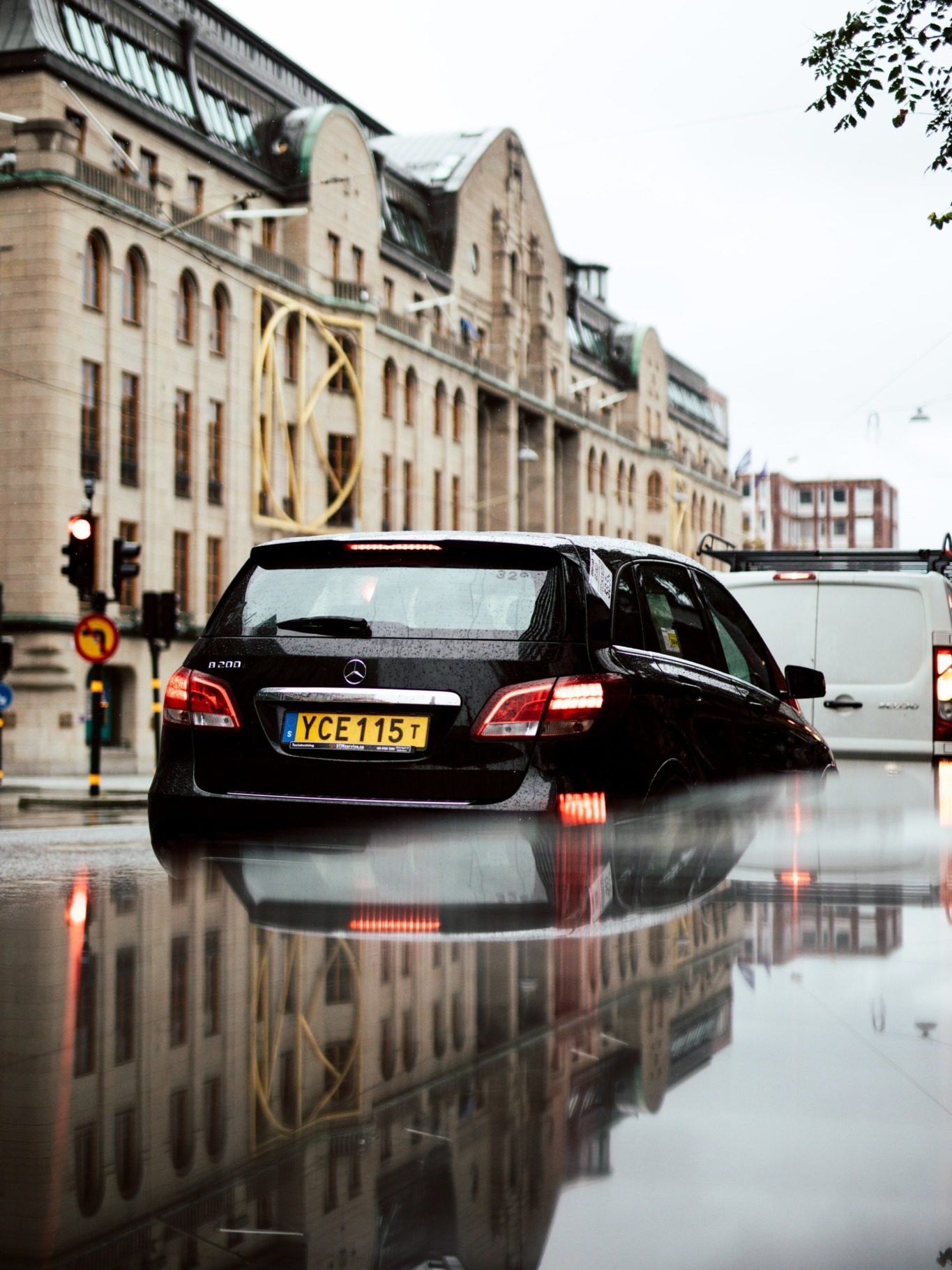 NK, short for Nordiska Kompaniet (the Nordic Company), makes for an absolutely fantastic place for those who like shopping. Located in Stockholm's most central and busiest neighborhood, it hosts plenty of luxury department stores. You can find the main shopping streets, Drottninggatan, Biblioteksgatan and Kungsgatan, right around the corner from NK. Anyone who likes fashion innovation and modern architecture mixed with cultural heritage will love this area of Stockholm. If NK for whatever reason disappoints, head over to Stockholm's most modern shopping mall, Mood Stockholm. While in the area, don't forget to check out Stockholm staples Sergels Torg and the HayMarket, located at Hötorget.
4:00 pm fika at Bröd och Salt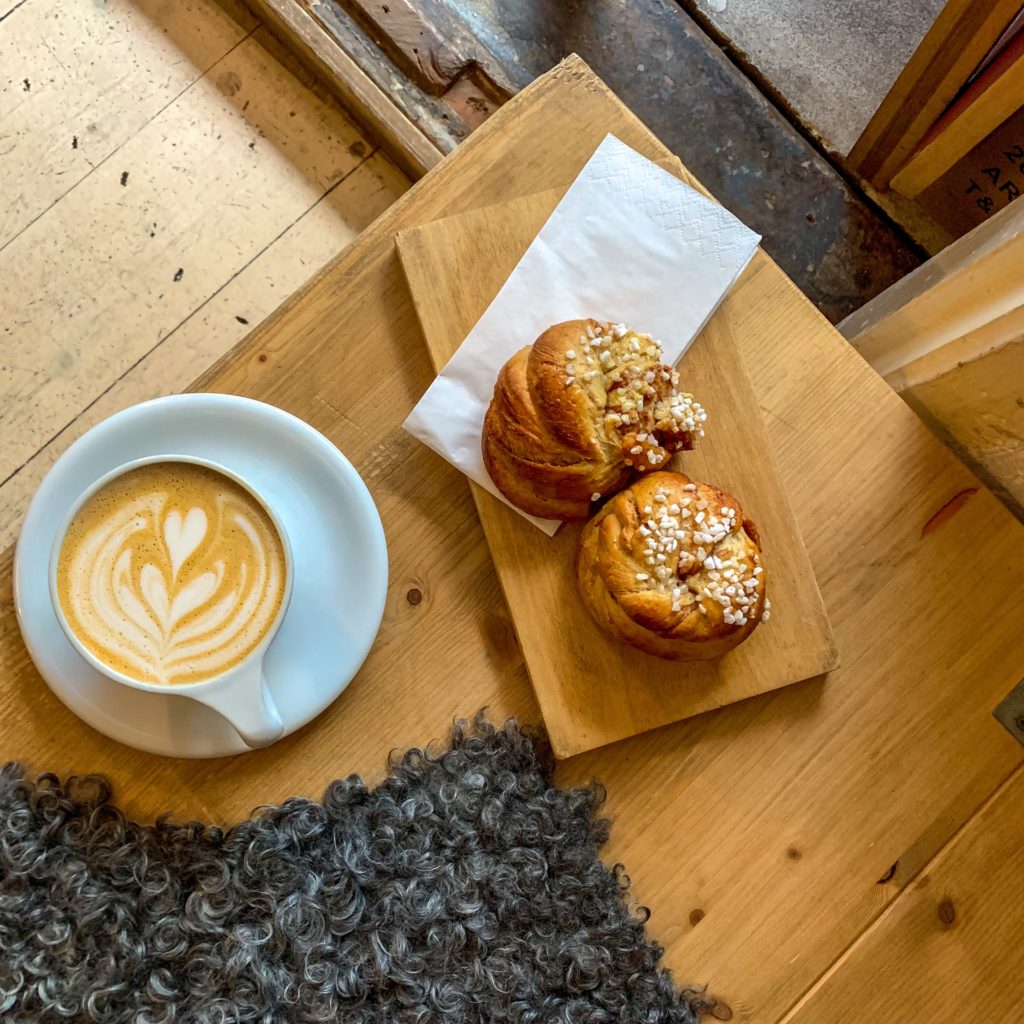 Yup, no surprises here: time for yet another fika! This time at Bröd och Salt, the name means Bread and Salt. You can find cute cafes like this all around Stockholm. Located at various places, the MOOD shopping mall hosts this specific location. After fueling up with some cinnamon or cardamom buns and coffee, hop on the metro at Hötorget and get off at the Slussen stop.
5:00 pm Katarinahissen (Katarina Viewing Platform)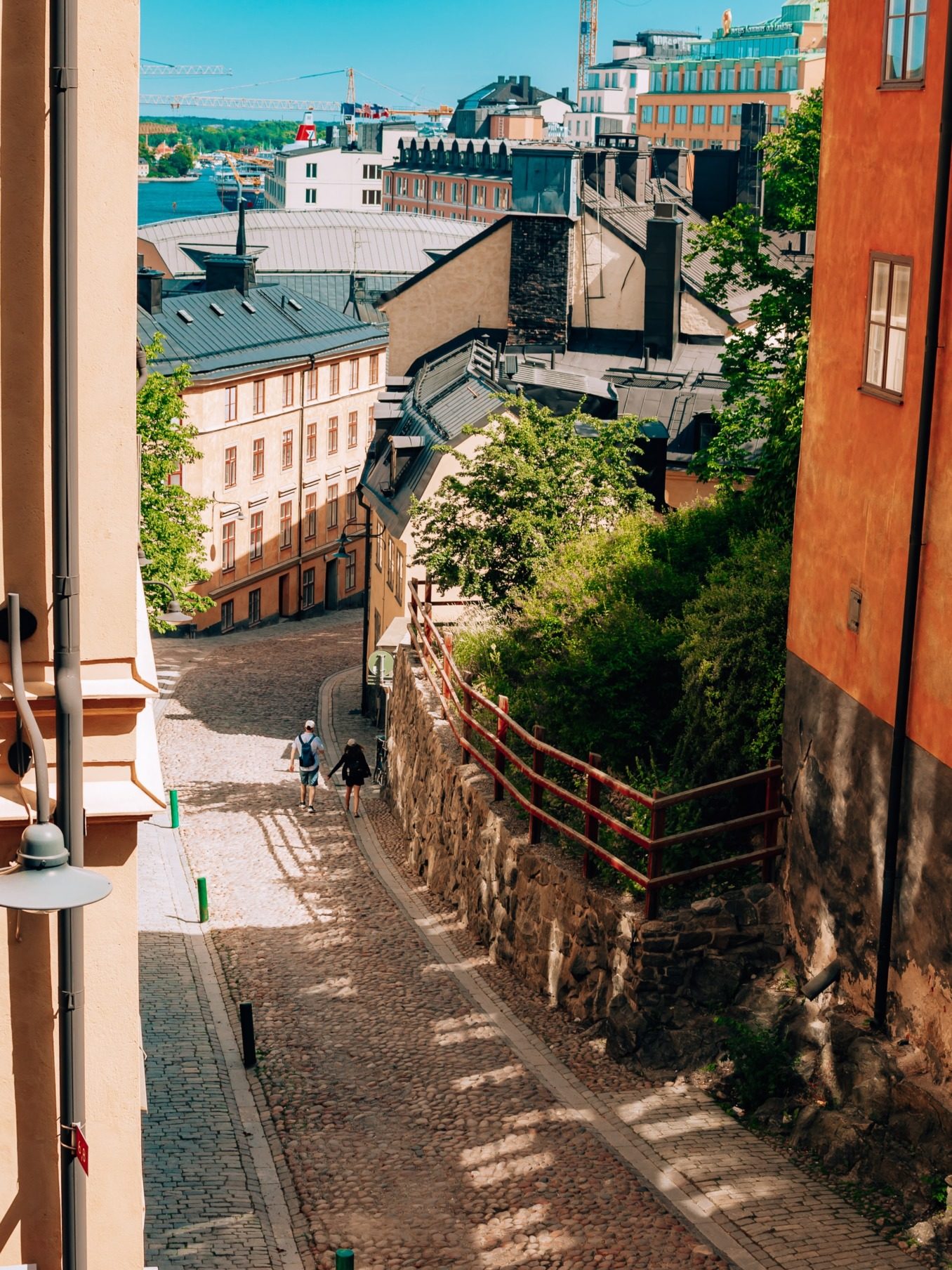 The Katarina Viewing Platform, a local landmark and an ideal place for a photoshoot. Take a long look out at Southern Stockholm and soak in the views. If you arrive by metro, take the Södermalmstorg exit. This platform allows you to look out over Stockholm and get an overview of what the city looks like at this time of the day. Below this platform sits the restaurant Gondolen, a great place for a cocktail, a meal or perhaps another fika.
6:00 pm ABBA Museum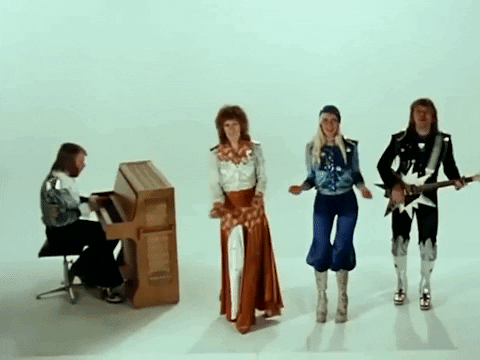 The ABBA Museum needs no further explanation. ABBA, the Swedish pop music group everyone knows about. Formed in Stockholm in 1972, ABBA took a break 10 years later, only to come back in 2016, but announced that they broke up for good in 2021. Their music however, still stands strong. ABBA music never fails to make a bad time better or a good time amazing. Everyone needs uplifting music with catchy beats every now and then.
"The ABBA Museum was a fabulous experience! The music was (of course) great and the outfits were super cool. It was overall good vibes and nothing screams Sweden as much as ABBA does. But be aware, their songs will be stuck in your head for the rest of the day," University of Mobile sophomore Agnes Bäck said.
This interactive museum gives you the opportunity to virtually try on ABBA's costumes, sing and play. By performing on their large stage with the ABBA artists, Björn, Benny, Agnetha and Anni-Frid, you will make up the fifth member of the group. As the museum itself states: walk in, dance out. You can never go wrong with ABBA.
7:00 pm Admire the Royal Palace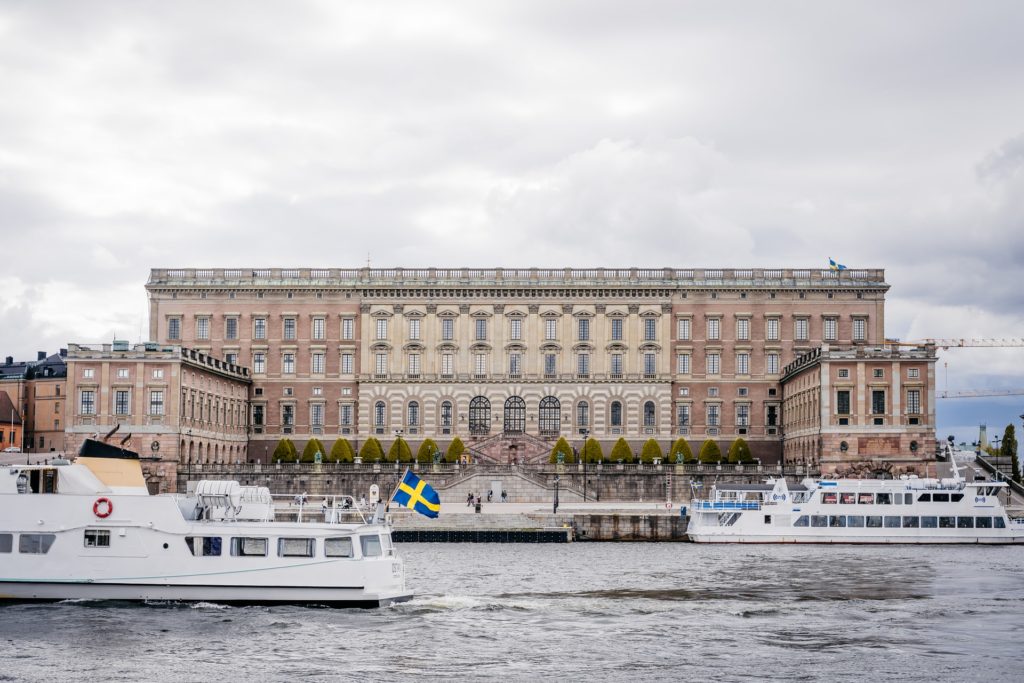 You can't go to Stockholm without seeing the Royal Palace and the Swedish Parliament Building. The Royal Palace hosts over 600 rooms which makes it one of the largest palaces in Europe. The Swedish Parliament Building (Riksdag, in Swedish) can be found in close proximity to the palace. This might come as a surprise to many, but the Parliament Building remains open to anyone wanting to attend a debate or public hearing. Some say that this openness reflects Sweden's democracy: transparent and open.
8:00 pm Watch the sunset at Skinnarviksberget
What better way to end a busy day touring around than looking at the sunset? And Skinnarviksberget certainly will meet all expectations of a good viewpoint. This spot represents the highest natural point in central Stockholm. Overlooking Kungsholmen, the Old Town and Stockholm City Hall, locals come here throughout the year for picnics, parties, study breaks and more. Nothing quite like enjoying an open sky and stunning views.
9:00 pm Have dinner at TAK and drinks at Stockholm under Stjärnorna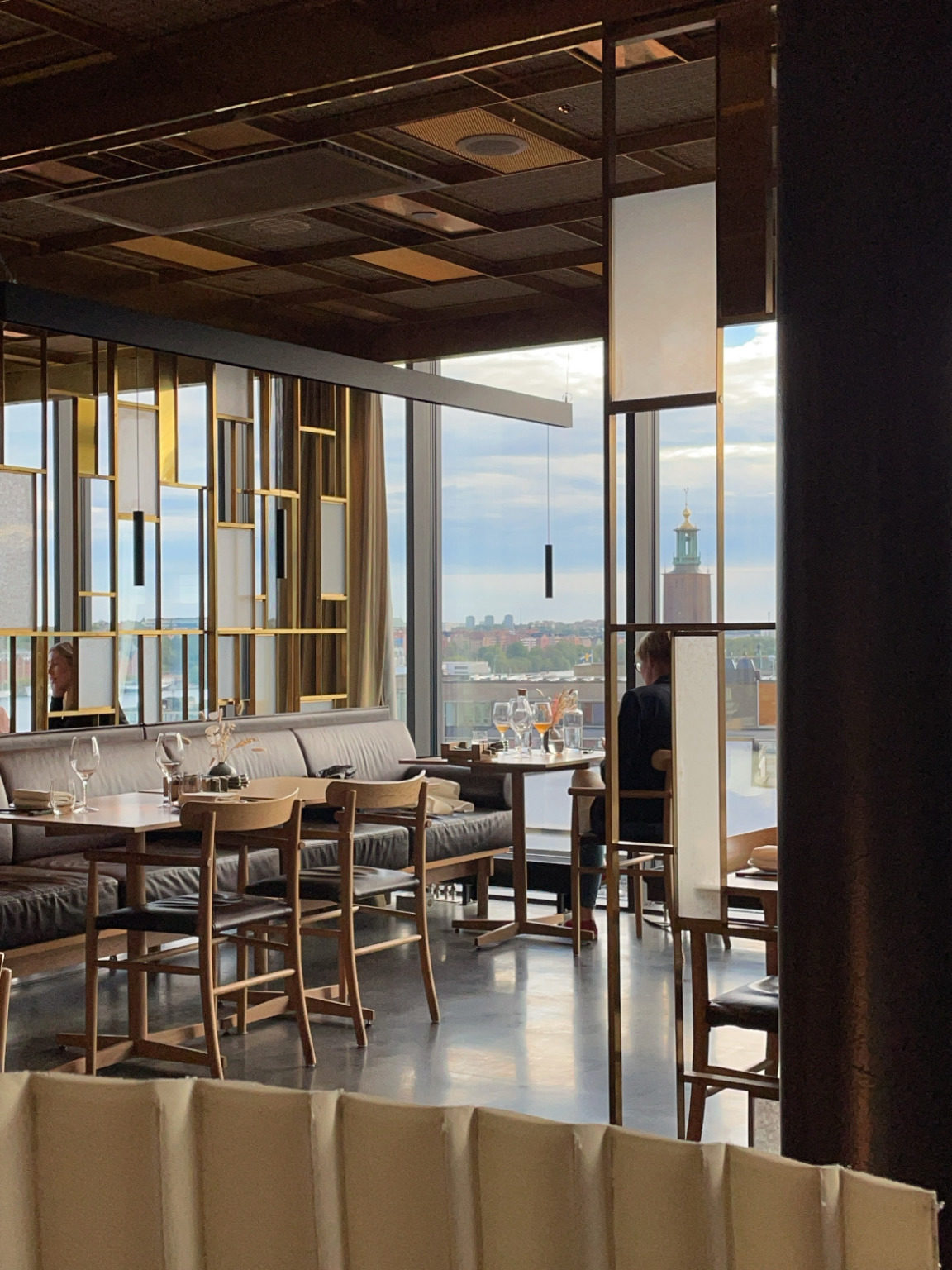 TAK means roof in Swedish, which fits perfectly for a restaurant located on a roof. This stunning restaurant merges modern Scandinavian and Nordic environments with Japanese cuisine. Across TAK you will find Stockholm under Stjärnorna, a bar whose name means Stockholm under the stars. Stunning views, good music and overall, a good experience. Even better? Another perfect opportunity to practice some Swedish.
10:00 pm Enjoy the fact that it is still bright outside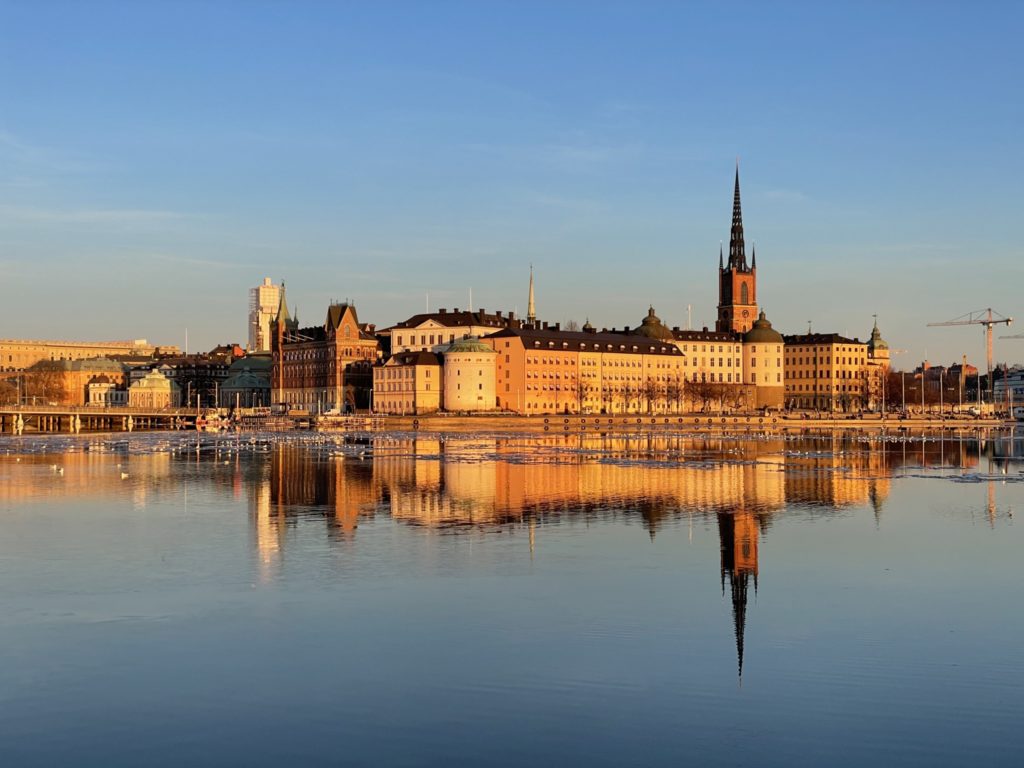 In Sweden, summertime means about 18 hours of sunlight per day. If you don't want the sun to set at all, go up north to experience 24 hours of sunlight per day. On the other hand, Swedes rarely see the sun during the winter months so once summer starts, the nightlife becomes vibrant and Stockholm comes alive after a long, cold, gray and depressing time. Party and dance the night away all you want, but don't forget to look outside to see the bright sky.
11:00 pm Late night swim at a local beach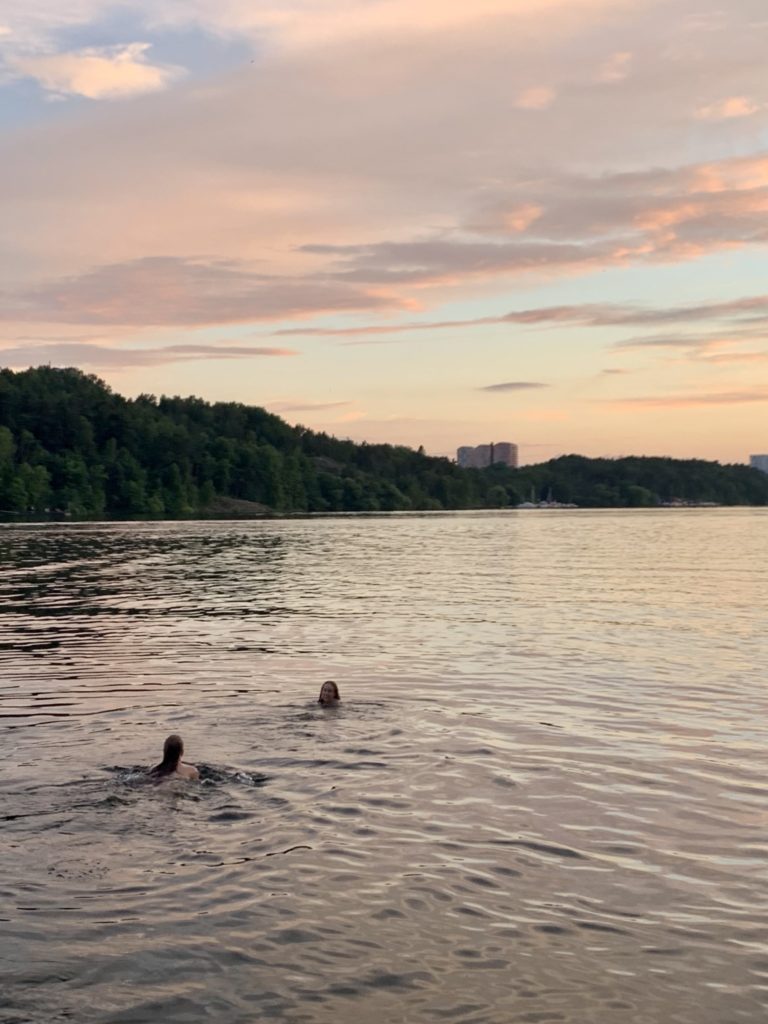 Water surrounds Stockholm, which makes it a perfect location to visit during the hottest days of Summer. Plenty of options exist for those who don't like sandy beaches, like rocky shores and local docks. If you want a great place for a swim with a combination of sand and rocks, check out Långholms badet. Located north of Södermalm in the middle of the city, this spot provides serenity while offering more sightseeing. Here you can catch a glimpse of the old prison, Långholms fängelsemuseum (prison museum).
12:00 am Check out the Stockholm nightlife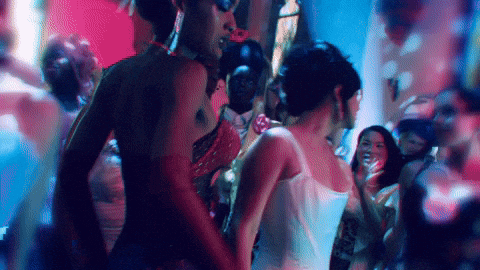 For all 18+ students, this time of the day offers a great insight into Stockholm's nightlife. Summer in Stockholm creates an atmosphere like no other and going out during this time of the year tops it all off. The bars and clubs in Stockholm offer something for everyone. The music culture allows you to not only lose yourself in the beats, but you will also meet plenty of people outside whichever club or bar you go to. Swedes may seem cold at first, but in these moments, everyone befriends you.
"Going out in Stockholm is always a pleasure, no matter what season. There are so many different bars and clubs to experience, even though Spy Bar has become one of the most attractive ones. You never know where you'll end up and who you'll bump into – Stockholm is big but yet so small. There are also plenty of rooftop bars such as Tak, Mosebacketerassen and Spesso, which are super enjoyable especially during spring and summer," Stockholm University junior Linn Thunberg said.
If you want an outdoor club, Trädgården will fulfill this wish. Located under the Skanstull bridge, this club offers an authentic festival feel with alcohol served from plastic cups and live performances. If these vibes don't match yours, head over to Cafe Opera, a club located in the Royal Opera House. Many celebrities come here to dance the night away and you should too. Berns nightlife exists for those who want a similar scene as Cafe Opera but with an age limit of 23.
1:00 am Go to Spy Bar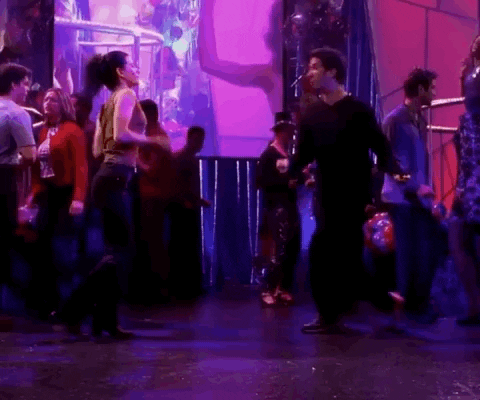 Speaking of which, if all of the clubs mentioned above fail, check out Spy Bar. One of the famous clubs located in the heart of Stureplan. Contrary to the American culture, Europeans tend to start their nights later and go on until early morning, which explains these late-night shenanigans. The night continues as long as your dance shoes are on. Thanks to the late sunsets during summer, the days feel much longer. Sometimes you walk out of a club at 5:00 am, thinking it's five in the afternoon due to the light outside.
2:00 am eat food at Max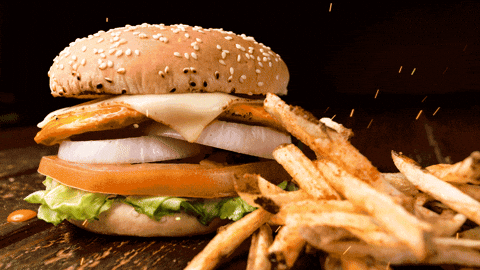 You can find McDonalds and Burger King in Sweden, however, nothing beats Max. This Swedish fast-food chain makes up one of the most popular places to grab food after a long night out. Unlike the US, not many places stay open 24/7, but you can count on Max in Kungsträdgården. If you just came from one of the night clubs mentioned above, then it won't take more than 10-15 minutes to walk over to Max, unless you go from Trädgården. If you love (or even like) burgers and fries, this place will not disappoint.
3:00 am Color by numbers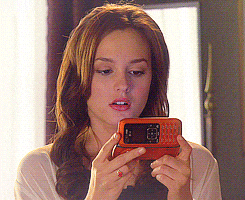 This permanent light installation in the tower at Telefonplan in Stockholm allows you to change the colors in the tower with your phone. You can do this by calling a certain number or even easier, by using the app. Take the red metro line south of Stockholm and get off at Telefonplan to find this tower. You can see its lights from all around southern Stockholm, making this a powerful thing to do. Imagine seeing your very own design on a tower, lighting up parts of Stockholm.
4:00 am Nap in Humlegården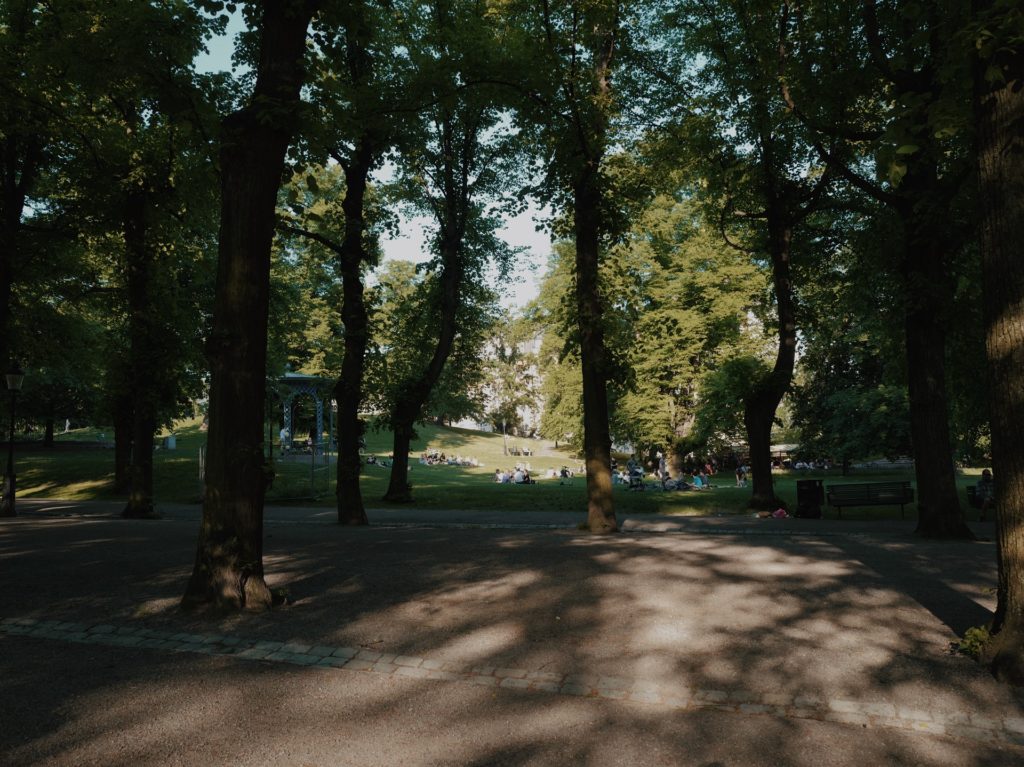 You can find Humlegården in the Östermalm district. This large park offers plenty of space to nap. A little power nap, especially after a long day like this, never hurts. If you decide against this, you can check out their skateboard spot instead. Given the hour of the day, however, a nap might feel like a more appealing option. While you lay in the grass you will start to hear the birds waking up, providing great sounds for a moment of mindfulness.
5:00 am Watch the sunrise from Monteliusvägen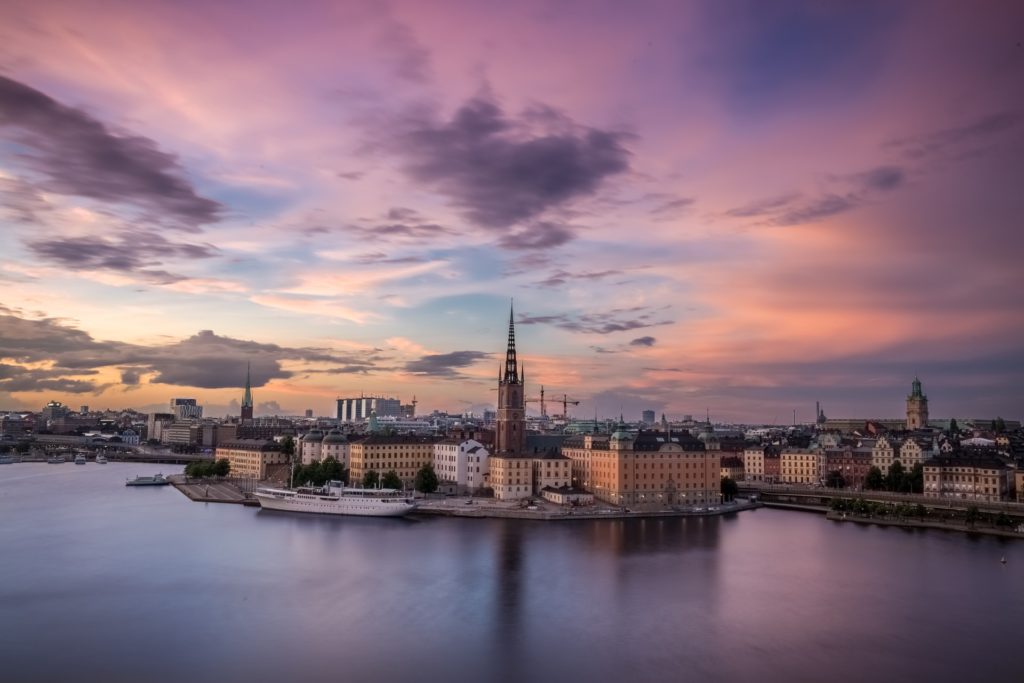 Walking along Monteliusvägen, a short path in the Södermalm district, will allow you to see not only the City Hall from a new perspective, but also Riddarholmen and Lake Mälaren. Because of the early timing, you might need a break so slow down and take in the views. Luckily, the tiny park with benches offers you this. On the walking path made out of wood and cobblestones, you will find quaint cottages on one side and the views of Stockholm on the other. Inhale the brisk Stockholm morning air and exhale all the bad energy and stress. With the city now starting to wake up, enjoy observing the sunrise while listening to the singing birds and absorbing all of yesterday's sightseeing.
6:00 am Stroll around Fjällgatan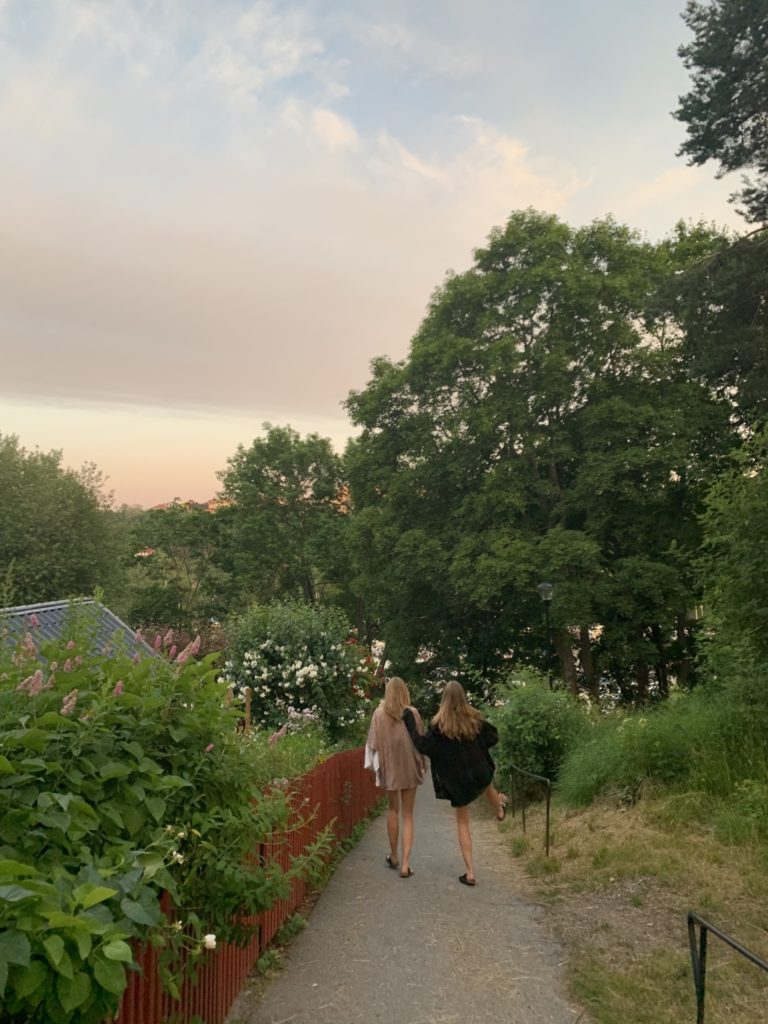 What better way to top off a day filled with walking, than with more walking? The views from Fjällgatan reinforces the beauty of Stockholm. Walking along this street will give you amazing views of the city, overlooking the water and some of the city's smaller islands. You can walk almost anywhere in Stockholm, so if you really want to keep walking, feel free to do so. If not, hop on the metro one last time to go to Odenplan and the next destinations: a public Library visit pre breakfast.
7:00 am Read a Book at Stadsbiblioteket and Visit Vete Katten for Breakfast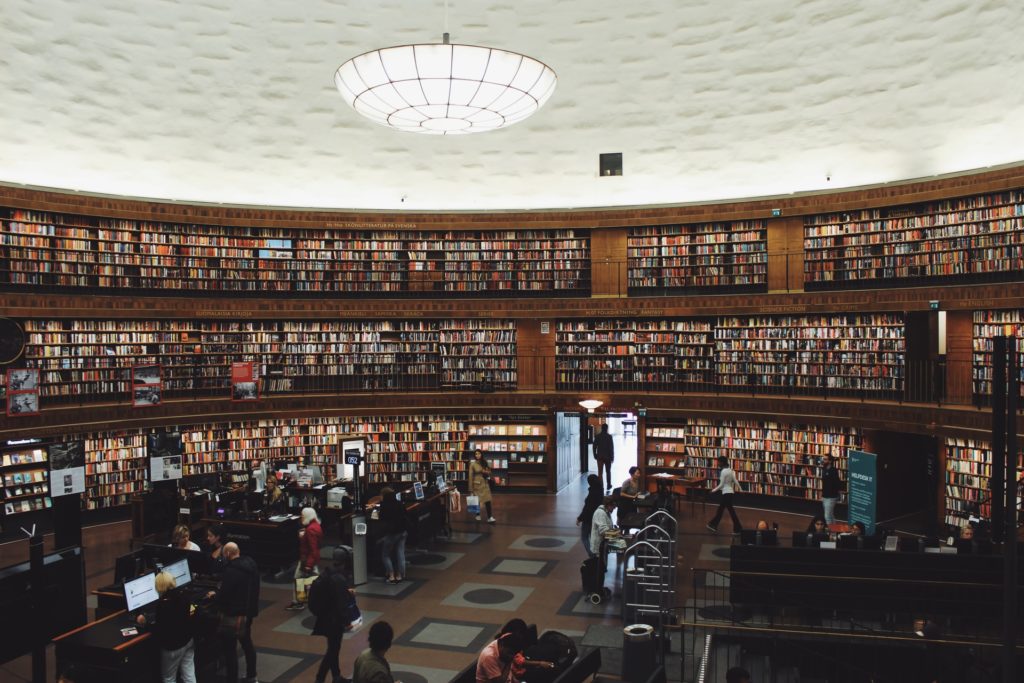 Designed by the world-famous architect Gunnar Asplund, Stadsbiblioteket or the Stockholm Public Library holds over 400,000 books in English alone. Apart from the huge collection of books, its beautiful interior explains why the library gets over 3,000 visitors a day. After admiring the books, walk for about 15 minutes to get to the very last destination: Vete Katten, another great local place for a Scandinavian breakfast. This cute cafe serves baked goods, pastries, cinnamon buns (of course), among other yummy things. Make sure to have one last cinnamon bun, perhaps some oatmeal, fresh berries and coffee.