In observing 19th century London, poet William Blake wrote about wandering uncharted streets and trying to see behind man's metaphorical mask. Well, irony has spoken and come to fruition. Fast forward 200 years, you'll find face masks everywhere and all streets charted with signs and regulations. A national pandemic definitely puts a damper on the freedom of city exploration. Lucky for you, this article already catalogs all the safe things to do in London.
Check out this list of London scenes and eateries to safely experience the city amidst the pandemic.
1. Little Venice
Ducks, floating cafes and bike lanes; also known as the stuff of Little Venice. Morning walks can be exponentially improved by visiting this long calm canal on Warwick Avenue at the north of Paddington. People often jog, bike, sketch on the grass or grab afternoon tea and freshly baked cakes from Waterside Cafe. Just above the entrance to the canal, you'll notice a cerulean blue-colored walking bridge with golden accents. Not only does this spot give you an elongated view of Little Venice, but it also makes for a great photo backdrop. After one visit, Little Venice will surely become your "usual" spot.
2. Notting Hill
A painter's palette colors the streets of the Royal Borough of Kensington and Chelsea. The most upscale neighborhood of this West London borough, Notting Hill, houses rows of vibrant, trendy and expensive abodes. Supposed famous residents include Stella McCartney, Bjork and the Beckhams—you may as well call it the Beverley Hills of London. Walking around and taking pictures around Notting Hill equates to a Saturday afternoon well spent. Be wary of crossing any property lines. Other than that, dote on the pinks, greens and yellows to your heart's content.
3. Poets' Corner


Any lover of literature will consider Poets' Corner a treasure to visit. Burrowed within the east aisle of the famous Westminster Abbey church rests memoriam or burial ground to famous English writers. Some notable names include Shakespeare, Austen, Dickens and C.S. Lewis. Among the statues of the writers, you will find paintings, stained glass and other royal artifacts. After you pay homage to your favorite poet, you can make a seven-minute walk to the neighboring St. James's Park, Green Park or try to catch the guards making their rounds at Buckingham Palace.
4. Green Park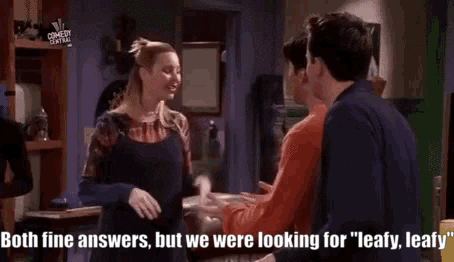 Right off of Buckingham Palace, Green Park (as the name suggests) extends 40 acres of nurtured royal green land. A Sunday in the park unwinds delightfully at this scene.
"Coming from the U.S. it was an initial shocker to see how many London locals constantly fill the parks. It's a usual sight to see men in suits sitting criss-cross applesauce on the green during their work break," King's College graduate student Matthew Nazarian said.
Whether you go on a lazy Sunday or lunchtime, Green Park evidently doubles as the perfect dwelling to relax and enjoy the labors of life while social distancing.
5. Piccadilly Circus

Piccadilly Circus's round intersection might be familiar to avid film watchers. The use of this circular road spans from the cinematic prime of Alfred Hitchcock to modern films like Mission Impossible and Harry Potter. At the center stands the iconic winged fountain statue of Anteros, the Greek god of requited love. After soaking in the history and getting the once in a lifetime chance to witness this intersection in person, you can shop along the rest of Westminster.
6. Sketch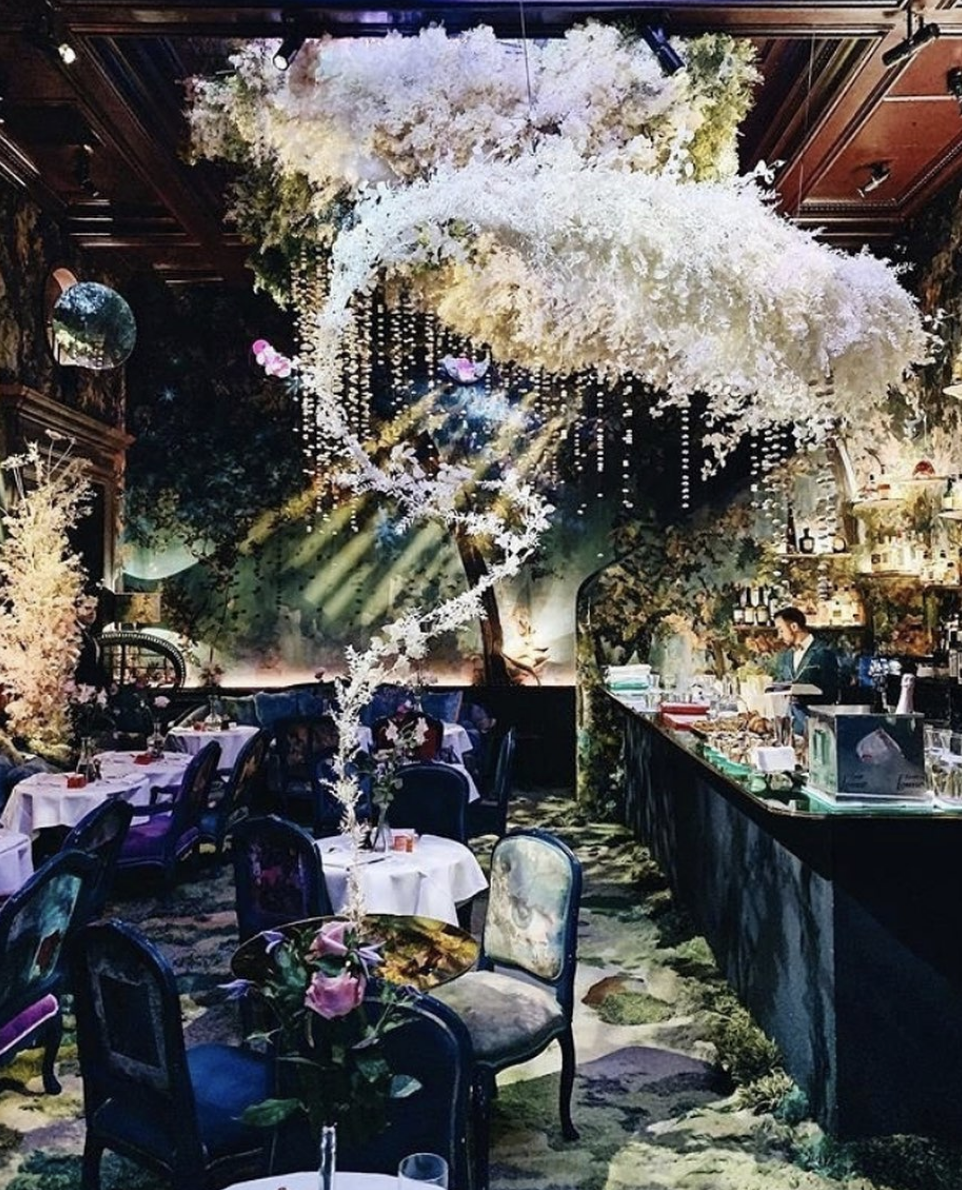 Tucked away on Mayfair, you'll find Sketch — one of the most extravagant afternoon tea rooms doubling as an evening music lounge. Each dining room inside designs itself within abstract dream worlds — from a fairy's cave to a posh pink paradise. In an exciting turn of events, Sketch's doors reopened this week, decorated oh so festively for the holiday. Whether you decide to dine in or simply pick-up, you can still get a glimpse of Sketch's flashy conceptual design when you walk into their lobby. To this day, the best mixed drink I ever tasted was Sketch's "Goodbye Kiss" with vodka, green tea, Italicus Bergamot liqueur and strawberries, among other ingredients. Visit this show-stopping European eatery to order some of their delicious cocktails, grand dinner plates and glamorous desserts.
7. King's Cross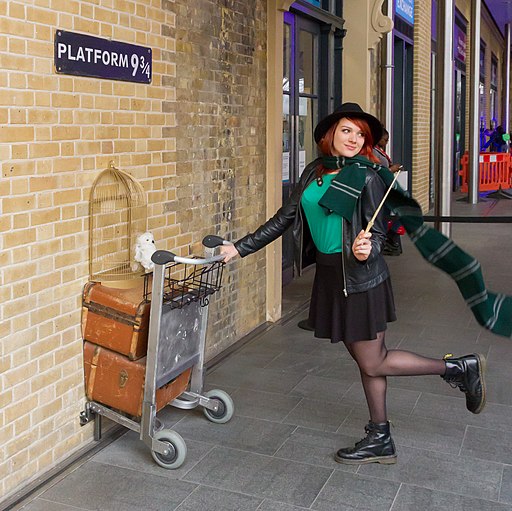 You can find the next great adventure inside a train station three quarters between platforms 9 and 10. Yes, just outside central London you'll find the actual authentic platform from the Harry Potter films. Be cautious in your venture to this location and if you're not a local, remember to keep right when taking the London Underground.
"The tube during COVID is great! Social distancing has been a nice change. About 80% of people wear their masks correctly. And there's always hand sanitizing stations at the entrance/exit," University of the Arts London graduate student Katie Strawn said.
Once you safely arrive at the promised land, you can take pictures with your house scarf with the help of wizard store employees. Make sure to also support the local food stands outside the station while there.
8. London Eye & Tower Bridge Combo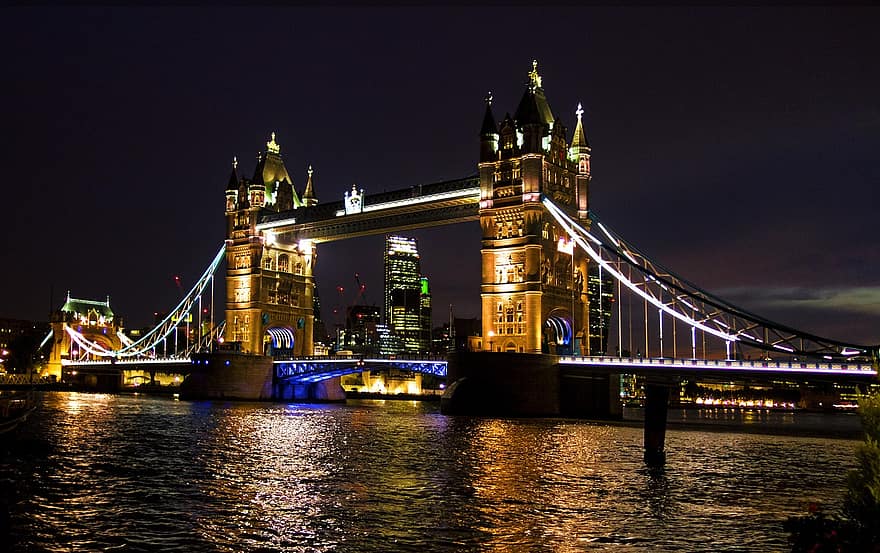 Hear local violin street performers by the River Thames while eyeing London's most famous attractions. As of now, Tower Bridge and the London Eye exist as the two greatest symbols of the city while Big Ben endures construction. In fact, if you seek a stunning backdrop, I recommend walking to the side of London Marriott Hotel County Hall to find a small archway. At this location, you can get a sweet perspective shot of the London eye with yourself in the foreground. In fact, now with reduced group sizes and new safety measures, you can once again ride Europe's most iconic Ferris wheel to get a wider view of London. Bask in the city's most iconic landmarks by visiting these locations!
9. Covent Gardens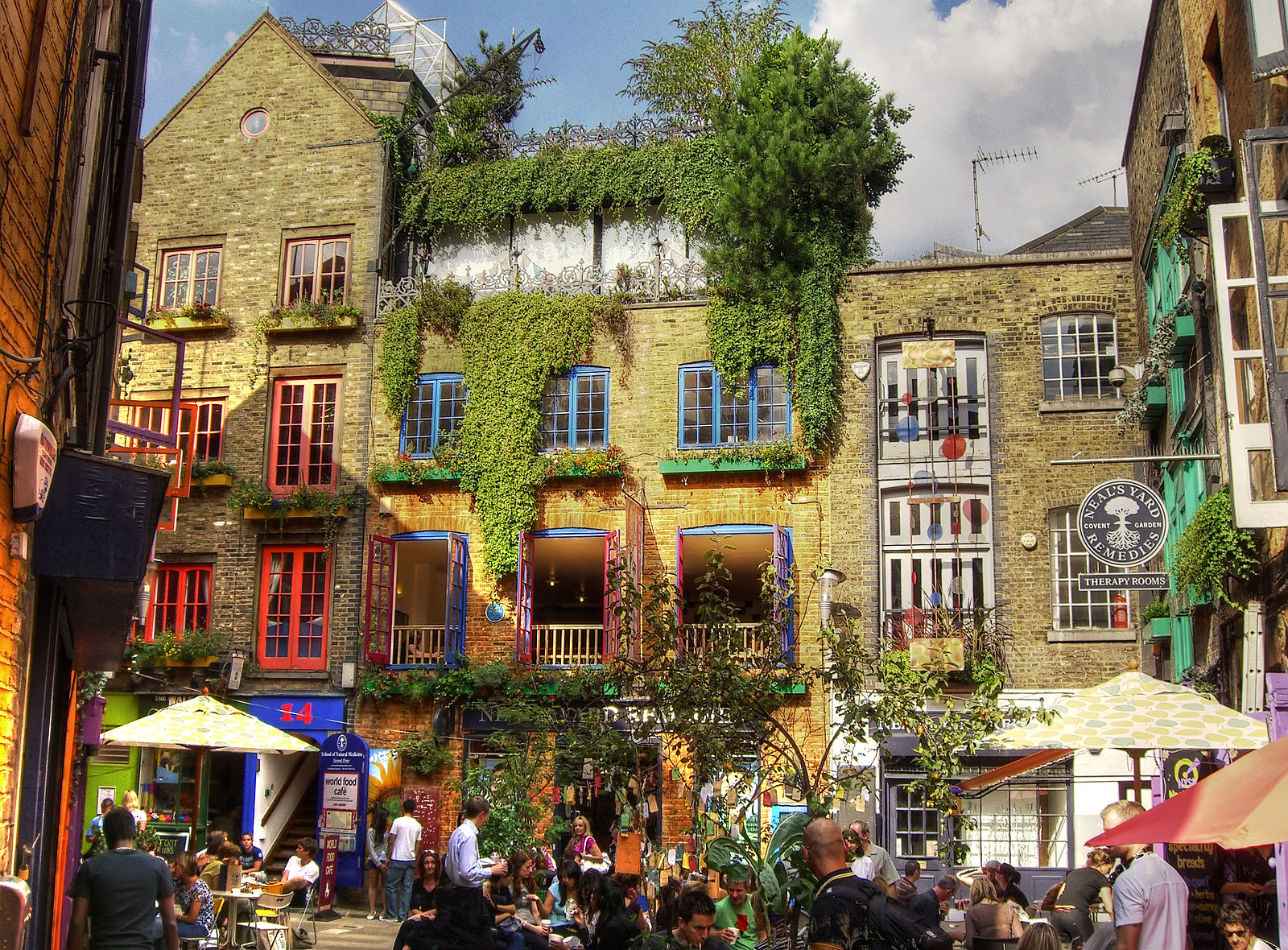 This piazza in the West End of London swarms with entertainment, fashion stores, markets and European cuisines. Experience vivid greenery at Drury Lane Gardens and a blooming floral court at Petersham Nurseries. If traveling with kids, check out Benjamin Pollock's Toy Shop. Lastly, don't forget to visit Neal's Yard on its namesake street to find a less-populated area with more colors and treasures. These unique hidden spots range from a French wine bar called Compagnie des Vins Surnaturels Seven Dial to an organic beauty & herb shop called Neal's Yard Remedies. Covent Gardens generously appeals to all kinds of adventurers, so bring some cash and your shopping spree game face for an action-filled afternoon.
10. The Sherlock Holmes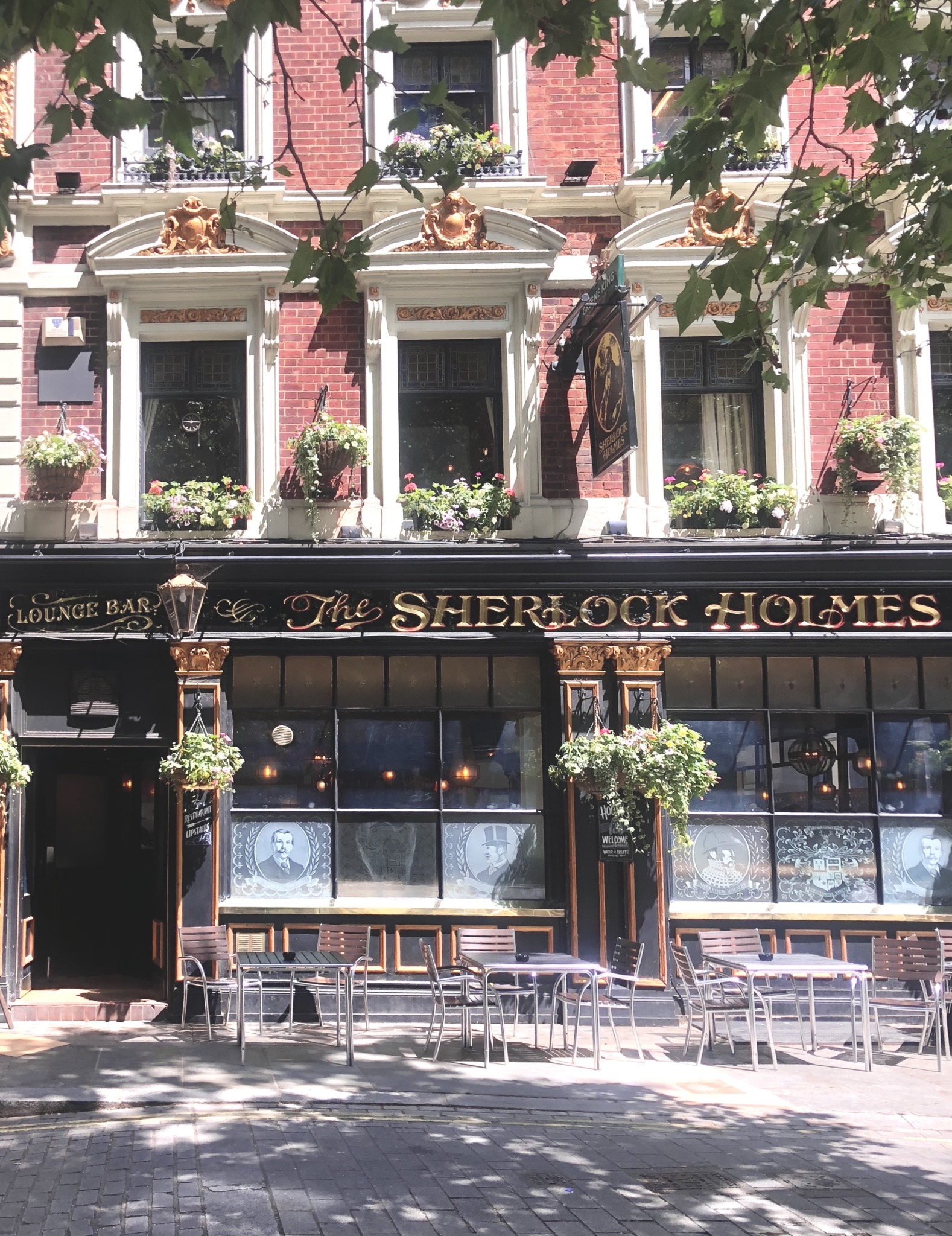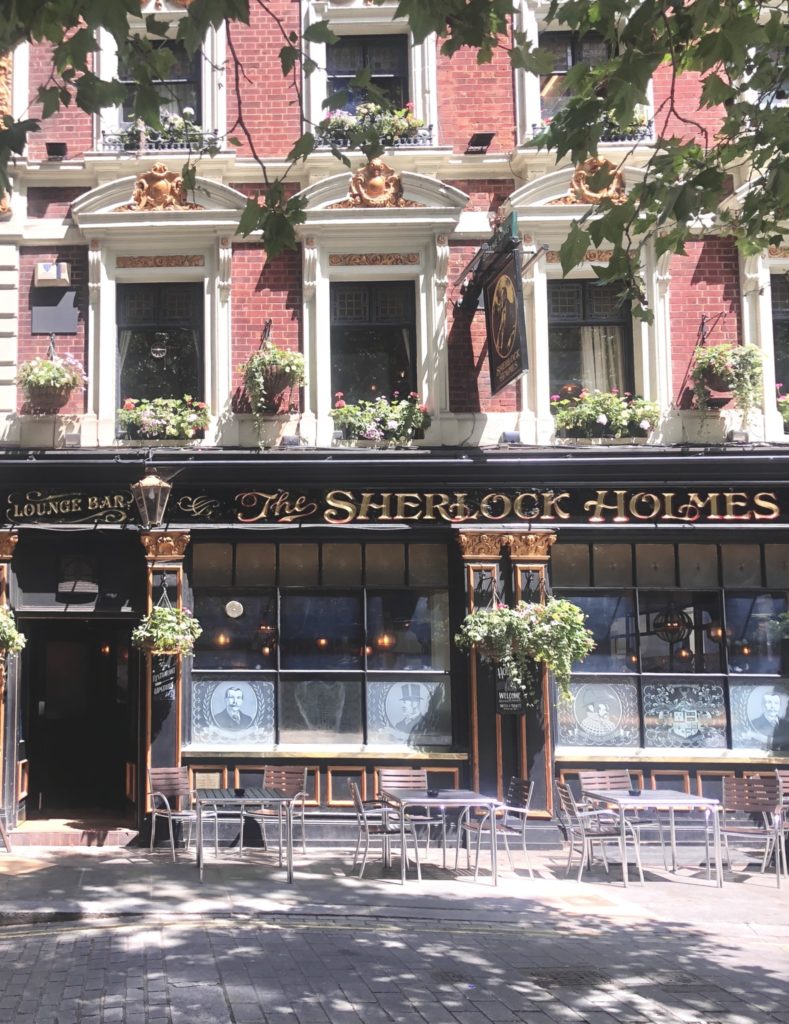 So, you hungry for fish and chips? According to The Sherlock Holmes Pub, they have the best London has to offer. For a while, only the rooftop garden seating remained available for dining. However, the Sherlock Holmes pub along with most other London eateries opened in early December to the public for dine-in services. And for any fan of the detective stories by Sir Arthur Conan Doyle, this pub also holds Holmes-themed mementos. From signed photos and old film posters to a pun-filled menu, all Sherlock fans will thoroughly enjoy this spot 5 minutes away from Trafalgar Square.
11. Hampstead Heath
To be honest, all the gardens of London exceed beauty's expectations. However, Hampstead Heath features the largest and oldest grassy public space in London. Many famous English authors credit these 790 acres to providing them with a creative space to write. London's literary village welcomed Keats, Shelley, Coleridge and many other poets into a field of free thought. If you stride further into the sandy ridge, you'll find romantic hilltop benches and even swimming basins. The hike will take up a good portion of your day, but the skyline views will make exploring the woodland well worth the effort.
12. Abbey Road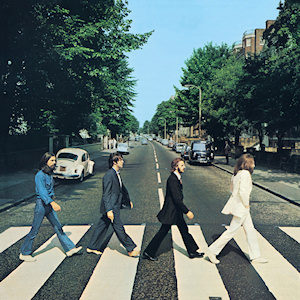 When in London, do as Londoners do. Beatles fans must take the tube to Abbey Road and see the famous zebra crossing for themselves. Fair warning: The Beatles happen to be kind of a famous band, so keep that in mind for this not-so-low-key attraction. Get there at 6 a.m. if the idea of recreating the iconic album cover attracts you like no other. Otherwise, you will fight honking cars and random pedestrians in the background of your photo if you try to get midday pictures. Regardless, at the end of the day, capturing some photo won't compare to the thrill of actually visiting a pivotal movement in pop music history. As John, Paul, George and Ringo said, ob-la-di, ob-la-da, life goes on, brah!
13. Whitechapel Gallery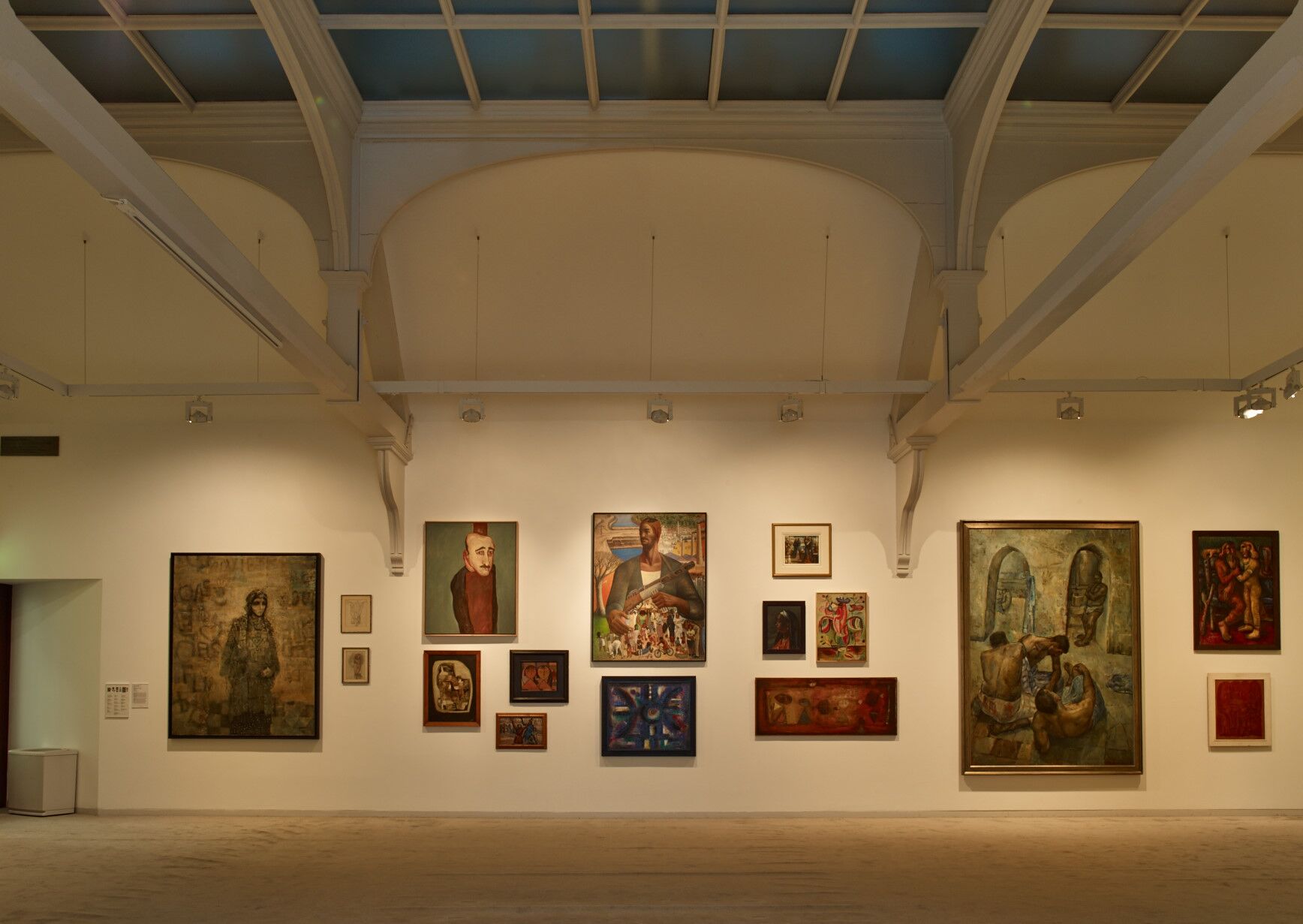 One of the few art galleries that remained open during the pandemic, Whitechapel Gallery, holds both exhibitions and archives. Located in the London Borough of Tower Hamlets, here you can find limited edition prints, films, publications and documents of contemporary art.
"The Whitechapel Gallery had a really interesting exhibition with comedic commentary about art," University of the Arts London graduate student Katie Strawn said.
Stroll through the white hallways and explore interactive spaces encircling themes of identity and diversity. Don't forget to book your visit online!
14. Peggy Porschen Cakes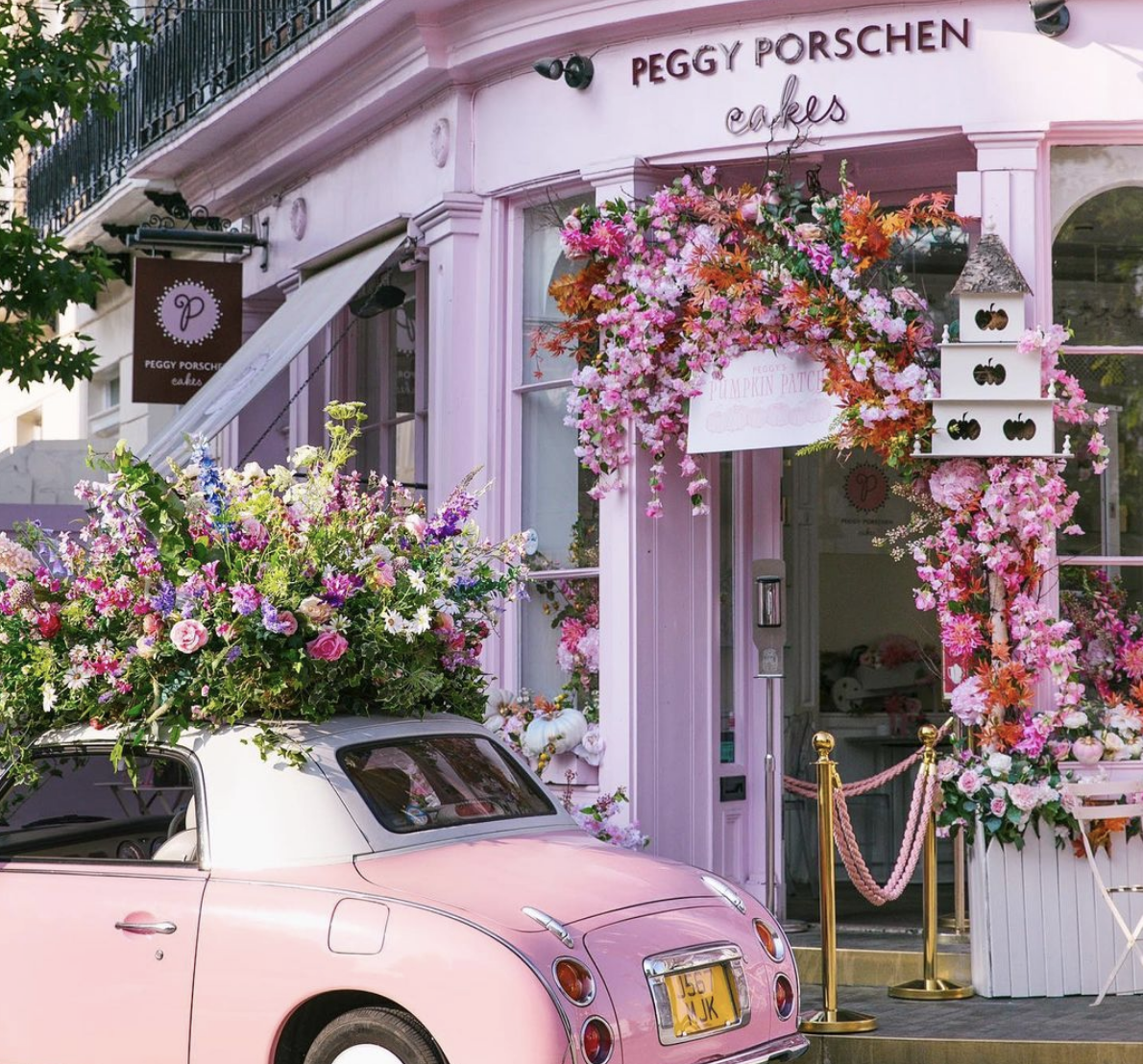 Here lies a two-for-one opportunity on Elizabeth Street where you can have your cake and eat it too. Peggy Porschen Cakes displays a chic collection of cupcakes, sweets, tea and champagne amid a pink townhouse exterior. Surrounded by soft rose painted walls, this eatery relieves the pressure of having to decide between going out for tea, coffee or alcoholic drinks. Sugar crafter and designer, Peggy Porschen, provides you with a space for all of the above. For the aesthetics alone, this delicious bakery deserves a visit if you ever find yourself in the London area. I mean, Saturdays surely exist for fanciful fun and this chic shop definitely delivers that personality.
15. Town of Brixton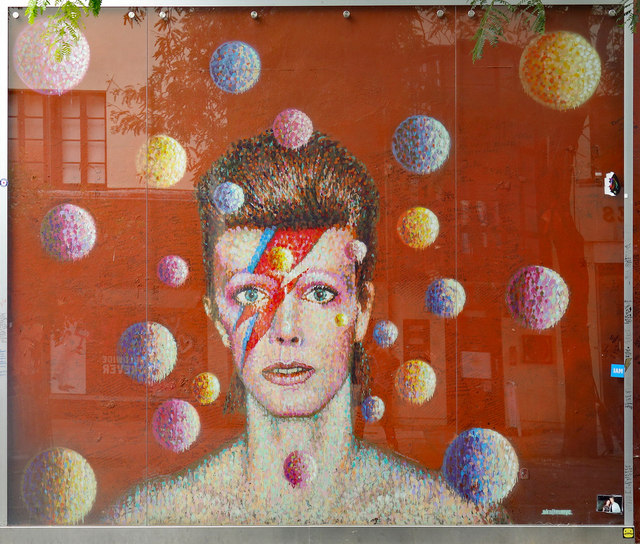 Town of Brixton: home to not only David Bowie but also his colorful mural. Thanks to a decision by Lambeth Town Hall, the street painting of Bowie by Jimmy C will always be protected. It exists on a red wall right across the street from the Brixton Underground exit. Less than five minutes away from the mural, you'll find Lambeth Town Hall – another site worthy of a visit while in Brixton. Since the ringing of Big Ben can't be adorned right now, the sounds of Lambeth Town Hall bells at noon carry an equal amount of charm and tranquility.
16. Twinings Teashop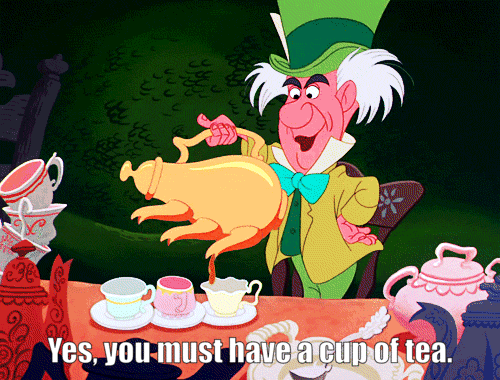 I don't know if you heard, but London really knows its teas. Twinings Teashop specifically, fills its shelves with an overwhelming selection of blends, from lemon, rose hip and hibiscus to liquorice, mint & fennel. Some popular options include earl grey, Fujian jasmine green, red bush and oolong. Many branches of Twinings span across London but the original shop can be found off of the Underground's Temple stop. As the oldest tea shop in London, you can browse both familiar favorites and new beverage options like coffee, hot chocolate and malt drinks. Get your teatime on in London at this local favorite.
17. Tooting Commons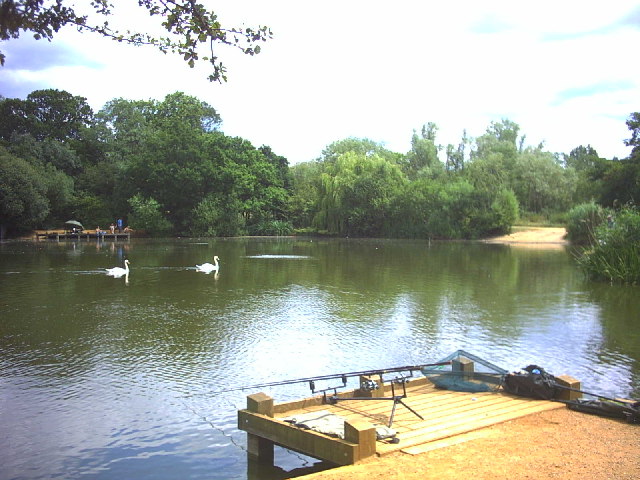 Embarking on adventures does present a risk during this virus spreading climate, but if you take the proper precautions, make sure to visit London's most diverse neighborhood: Tooting Commons. Known for its enormous 152-acre park and 100-yard long pool inside Seven Rings Forest, Tooting Commons's expansive highland also includes many recreational activities.
"It was really busy because of a good-weather weekend, but still enjoyable and could manage social distancing. Not many people were wearing masks though at the time," University of the Arts London graduate student Katie Strawn said.
One of the most exciting features of the park, Tooting Bec Lido, an enormous open-air freshwater swimming pool, just reopened in December. To access the pool you must schedule a visiting time 14 days in advance through Places Leisure. And if swimming in London's winter weather somehow doesn't sound appealing, you can still enjoy a festive walk through the park.
18. Streets Leading to St. Paul's Cathedral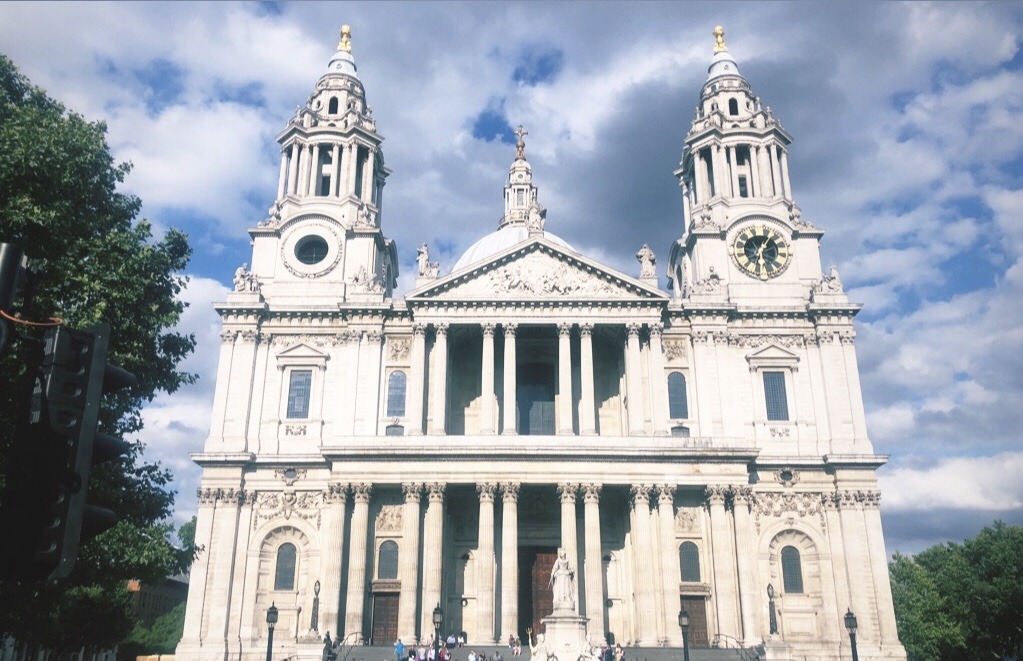 A masterpiece of gothic architecture sits at the highest point of London — St. Paul's Cathedral. More than anything, I recommend walking along the streets which lead up to the cathedral. Almost like walking through time, you get to see a mix of modern and preserved London sites, such as tall Broadway show posters right next to buildings with "Ye old" signs.
"When we finally reached the top, the immense size kind of took us back. It's really surreal," UCLA senior Abbey Linn said.
While the interior only remains available for individual prayer, the exterior alone will satisfy your walk-up.
19. Riverboat to Greenwich
One of the most significant features of the transformation of London can be pinpointed to the River Thames. While the course of the river changed quite a few times throughout early history, its existence goes back 30 million years. Using its passage to travel across South London creates a cool and surreal experience. Directly off of Embankment, you can sit on a riverboat and end up at Greenwich, on the opposite side of the water. While Greenwich's history runs as deep as the Thames, not all of its historical events involve the sea. Actually, the iconic Les Misérables filmed many scenes at this location. Exploring this side of London will take up half the day, so plan accordingly—and don't forget a face mask and hand sanitizer.
20. The Tate Modern
London's top-ranked and most visited museum, Tate Modern, returns to the public on December 3rd. Every year, they host a new exhibit with borrowed original art pieces. Last year featured the works of Van Gogh and this year features none other than the iconic Andy Warhol. Currently, the Tate allows its members to experience webinars and exhibits over zoom. However, if all plans remain steady, the doors to the real thing will stay open. Consistent with the character of London, across the street you'll find a garden park. Shakespeare's Globe also stands near the Tate, as well as Millennium bridge. Keep the journey going by crossing along this steel suspension for pedestrians – a dreamy escapade two devotees must cross.
21. Saint Aymes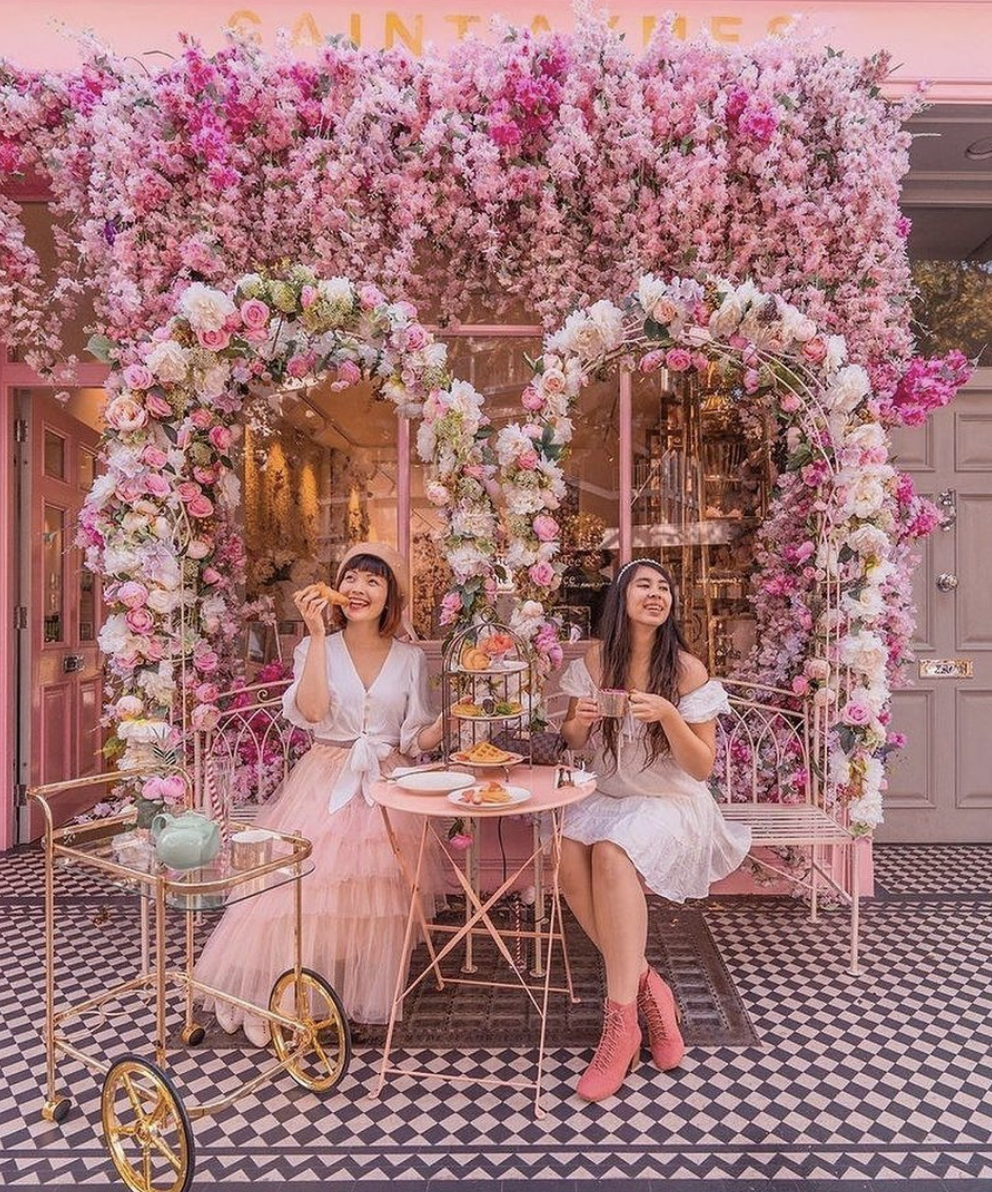 In the corner of Paddington and Oxford Street rains beautiful trickling pink flowers across a glass window. This florid vision belongs to Saint Aymes, a Black-owned coffee shop. Known for their motto "pink everything", this friendly shop on St. George's Fields offers lavish and eccentric-looking coffees, milkshakes and sweets, making the rest of London look very classy. In fact, designers and founding sisters Michela and Lois Aymes, often receive requests from other London boutique owners to sprinkle their floral-arranging magic over other store-fronts. If all that work wasn't enough, Saint Aymes also sells uniquely on-brand pink merchandise and creative confectionaries. They reopened for dine-in and still offer take-out. Head over to their website to shop and witness the magic that Londoners go crazy for.
English author Virginia Woolf once wrote, "The streets of London have their map, but our passions are uncharted. What are you going to meet if you turn this corner?" If you come across the opportunity to explore London for the first time, make sure you immerse yourself in all you can. Each turning road and riverbend offers a well-preserved history, and this list details your masked mission. Have fun and good luck!