Don't believe anyone who ever tells you Atlanta has nothing fun to offer without alcohol. This city, built within a forest of trees, gets more exciting the older you get. So many places still hold possibilities for great memories before you graduate college and hit up all the bars in the city.
"Under 21" does not have to limit the excitement in Atlanta if you know the right places to make the best out of the young years.
1. Party with the classics at Teen Night at the High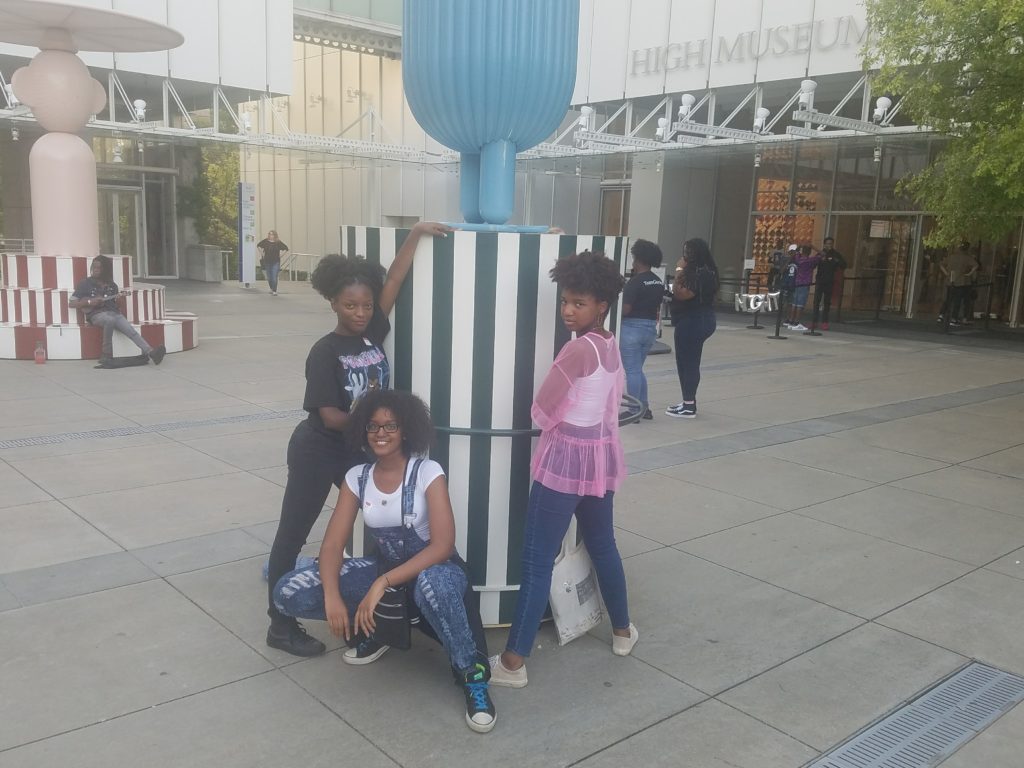 As a city kid, I deem avoiding the artsy-fartsy parts of the city impossible. Teen night at the High Museum of Art makes it worthwhile even if you have never enjoyed the company of old portraits before. Besides it costing absolutely nothing, the experience includes more than just a bunch of pubescent high schoolers on a school field trip. College students and high school students indulge in a variety of activities including scavenger hunts, a dance space, slam poetry and other activities that include creating your own art. However, let's not forget the museum values solitude at its core, so they will still tell you to keep the dance floor pretty mellow. My tendency to break into a full dance performance to a favorite song made this rule difficult to follow.
2. The Alliance Theatre takes the boring out of Shakespeare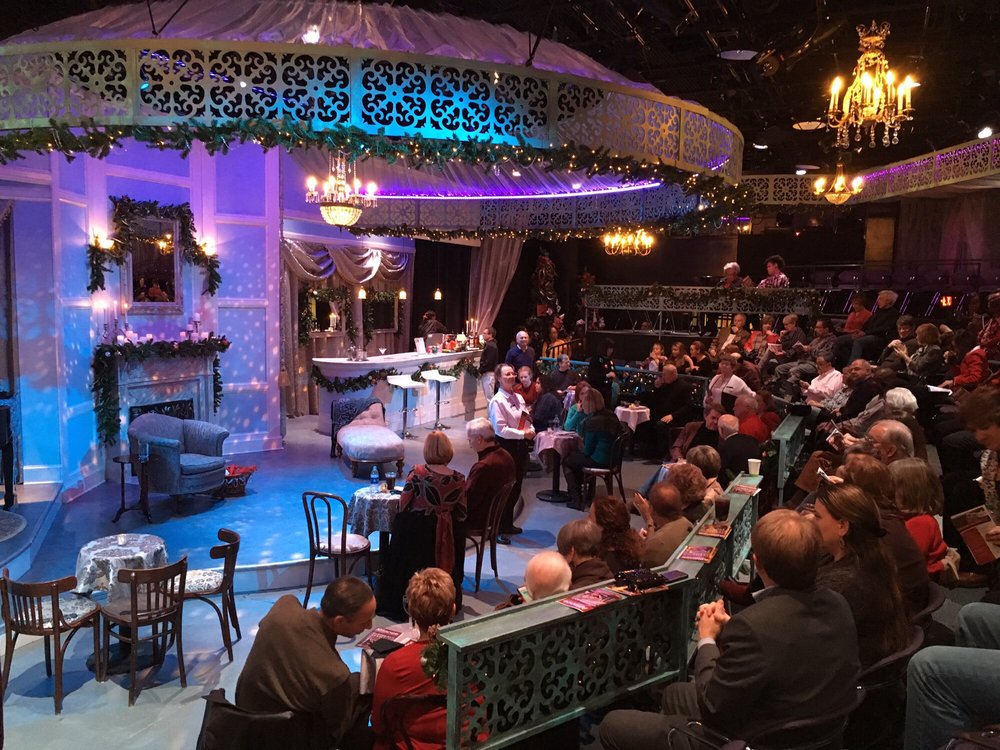 Although I can't sing along with the theater kids at NYU to every show tune, I did take a few acting classes here and there in elementary school. An extension of the Woodruff Arts Center in Atlanta, the Alliance Theatre has tons of amazing shows for you to see, but also plenty of behind–the–scene activities. "I've interned there and it's like my home in the city. My favorite memory from there was seeing the production of Moby Dick. Never in my life did I think I would enjoy a story infamous for being so boring. But they had acrobats and so many special effects and the actors were amazing," Oglethorpe University freshman Laila Henderson said. Southern charm radiates in this environment. For me, the theater exists as a safe place and a great place to get out of your head especially when work seems too overbearing and you need a getaway. The people working the events also keep it upbeat no matter what performers grace the stage.
3. Spend a night at The Masquerade with your guilty pop pleasures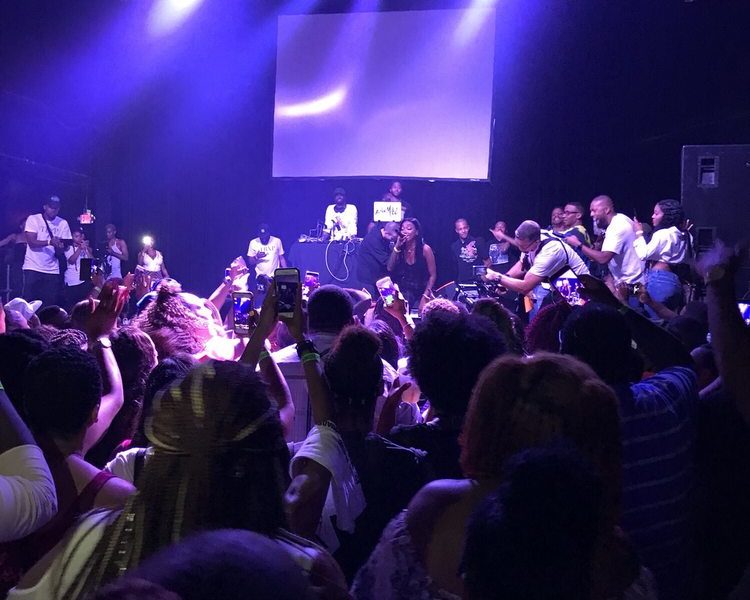 The Masquerade remains home to my very first concert experience. If you love a good concert, then you will love The Masquerade on the nights when your 21 and up friends abandon you for the bars. "My favorite concert at the Masquerade at Underground I'm going to say is NoName. I haven't gone yet but I know it's going to be my favorite," Georgia State University freshman Toni Moore said. Whether you love metal, indie, rap or just the downright strange, The Masquerade has an event for you in the dark space. Now, you can rave in the new location below Atlanta in the historic Underground Atlanta right across from the Little Five Points train station.
4. Glide into Cascade Skating Rink for an iconic Atlanta experience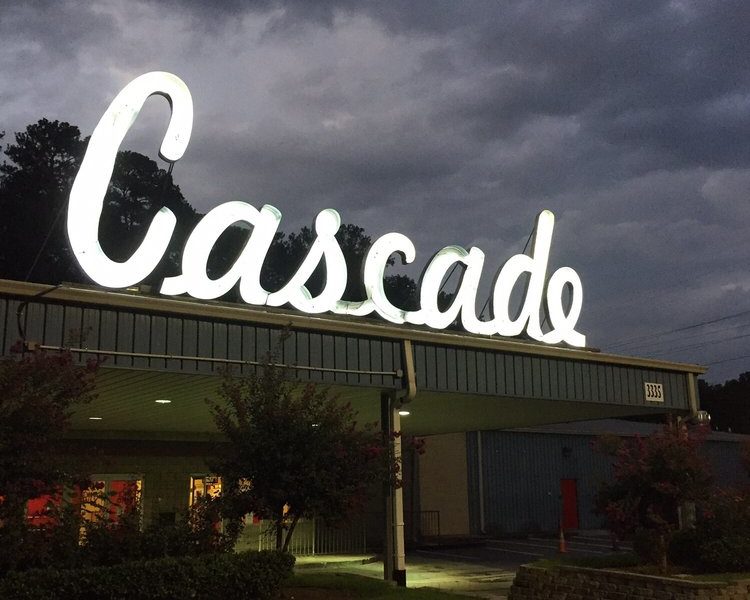 Famous from the movie ATL, Cascade Skating Rink houses so many of my childhood memories. Loitering inside and outside the rink in Cascade remains one of the few generational activities to do in the city for ages 12 or 21. I remember attending the teen club in high school to feel like an adult. Today as a college student I can't wait to pull out my skates on adult nights and feel the nostalgia of younger days. Whether you can skate or not, coming to gossip and listen to great music validates a trip to Cascade Skating Rink.
5. Check out Sweet Hut for all your sugar fixins'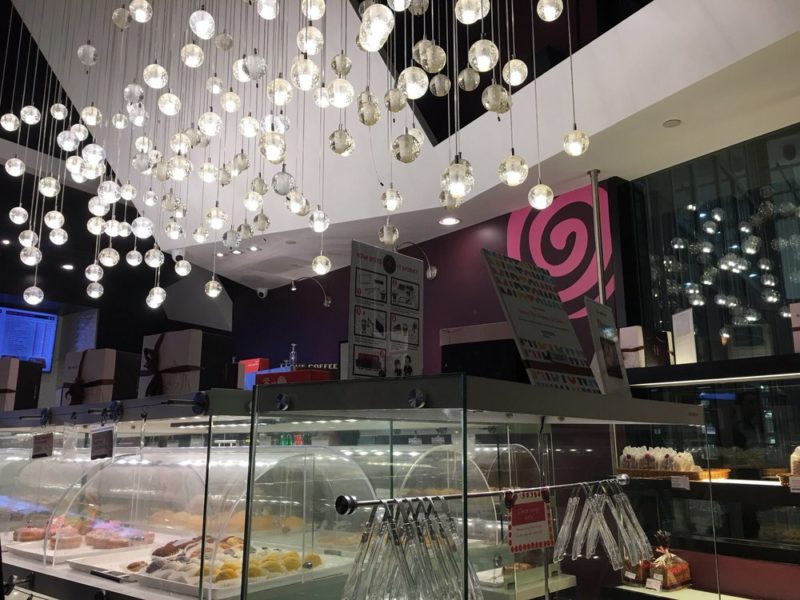 Sometimes all I need before I knockout in my favorite city consists of sugar and good conversation. "I like it because of the chill ambiance and I love how it's open very late.  It's a great place for a meet up or study date," Atlanta Metropolitan College freshman Khia Jones said. The sweet smell of donuts hypnotizes the senses in the petite bakery. Unique flavors like green tea and pumpkin spice water my mouth from their thought. Since I typically tend to not have a lot of money to spend, bubble tea rarely makes it into my budget, but if you love it then Sweet Hut provides an awesome selection of signature flavors to try. The bright paint on the walls within seems to better my mood even when my stomach turns in response to all the sugar after hanging out there for too long.
6. Have a strong taste tolerance? Check out The World of Coca-Cola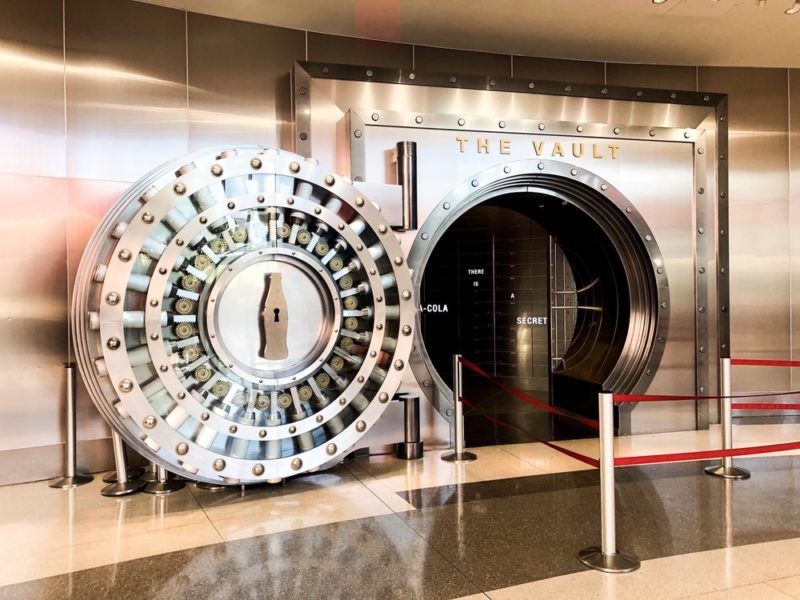 Located steps away from the Georgia Aquarium and the Center for Civil and Human Rights, with so much to see around you, The World of Coca-Cola holds its own by offering a unique experience for the senses. Each time I recall stopping here with my friend, laughter and strange tastes characterize this experience. The best part includes trying all of the different soda flavors from around the world. Some make you want to visit other countries while others leave you yearning for a shot of Sprite to get rid of the taste. However, if you anticipate the flavors overtaking your taste buds too much, sit down and relax for the 4-D film shown. The film tells you everything you need to know about the creation of Coca-Cola.
7. Find the courage to share those hidden rap skills at the HodgePodge Coffeehouse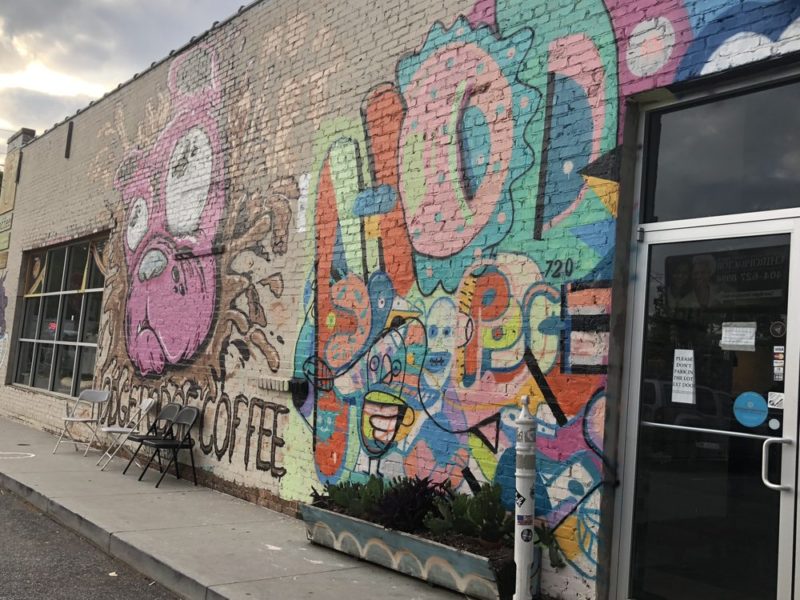 East Atlanta has many alluring places to explore whether in the mood for food, parks or any average building. Almost all of the buildings you see in the hub of East Atlanta capture your eyes with their magnificent artwork on the outside on the buildings. The HodgePodge Coffeehouse has a beautiful mural on its outside walls and houses a comfortable atmosphere for sipping on fancy coffee drinks while reflecting on art pieces or joining in on an open-mic night.
8. Centennial Olympic Park exists for more than just a place to take babies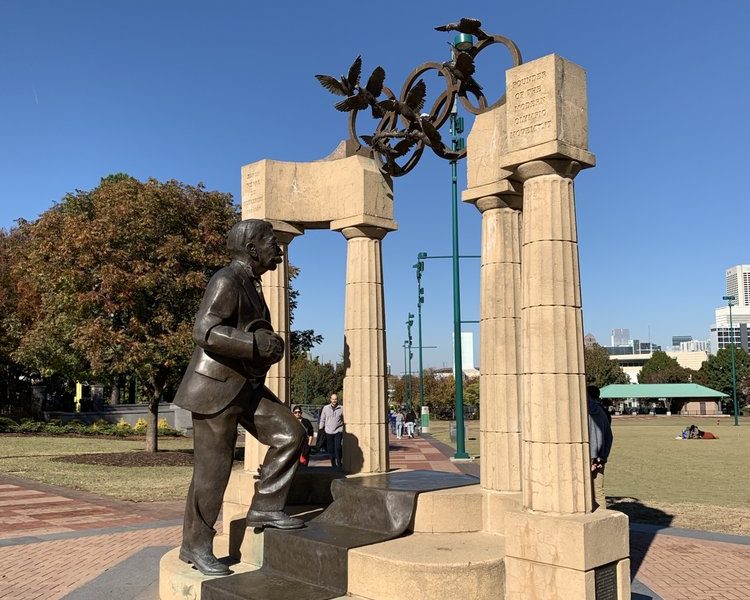 Centennial Park goes under a lot of construction from time to time as they make the park more expansive and modern with new architecture, but it still remains a great place to take a break and relax after visiting the Georgia Aquarium or going on a CNN tour, after walking a couple of steps toward the food court advertised across the park. My favorite part of the park contains a small pond surrounded by stones which feels so relaxing in the middle of downtown Atlanta. While walking the steps around the pond, you can see remnants of the 1996 Olympic Games played in the statues surrounding it. The park exists as one of my favorite free date spots ever.
9. SkyView Atlanta for experiencing the city all at once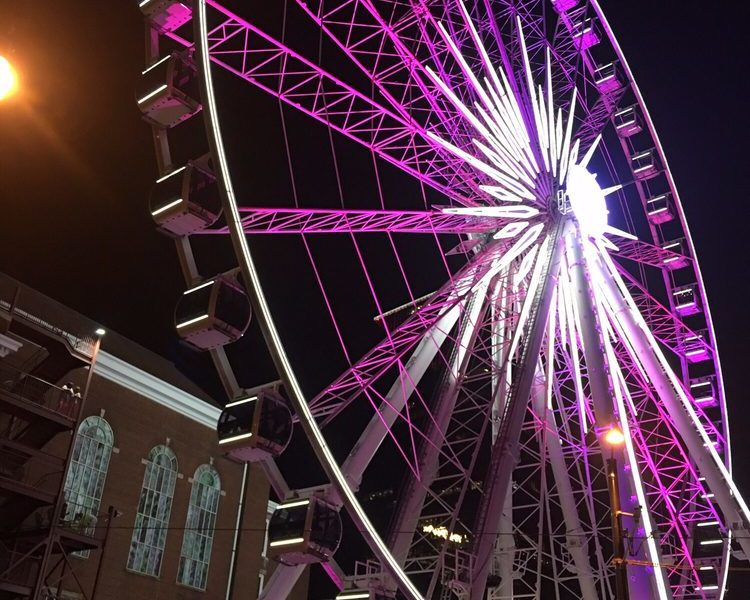 The Ferris wheel in Centennial Park not only makes dates even better, but also provides incredible views for a first-timer visiting the city. At the top of the wheel you can see all of Atlanta from the insulated wheel. Also known as SkyView Atlanta, the Ferris wheel stays open until midnight, a nice way to begin or end the night depending on what your plans entail. At the top the blue and yellow haze of lights in the city remind me why I love to call Atlanta home. Despite the setting appearing so big, instead of feeling smaller in the mix of so many people the way I do in New York, seeing the familiarity of every part of the city gives me a lot of home pride every time. I feel more of an obligation to let others know why this city built in a forest glows like no other late at night.
10. Underground Atlanta hasn't lost its touch just yet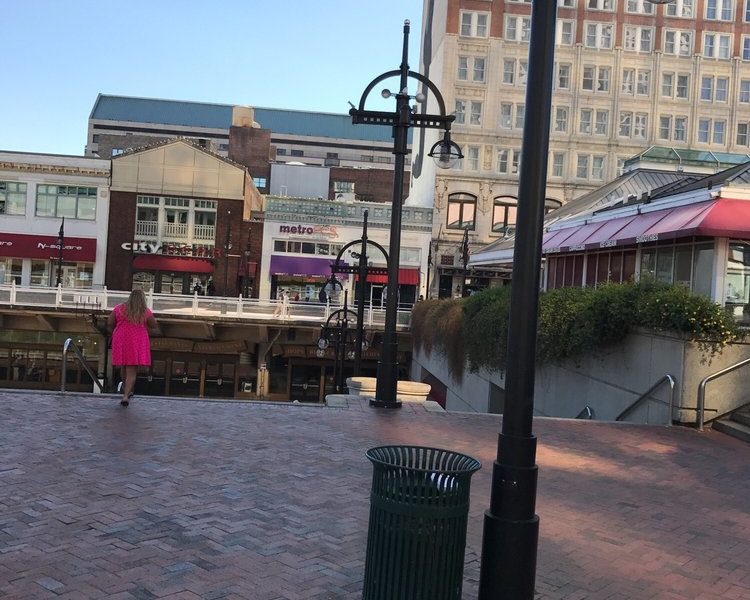 In old pictures of Atlanta from the 60's, amazing restaurants and retail shops occupy Underground Atlanta. Today, Underground Atlanta keeps crowds coming in different ways. Around my senior year of high school, trips to explore Underground on my own with all its homegrown boutique shops selling products within my budget felt great to do with friends. Today, The Masquerade has bought space down there as well for concerts. I imagine when I visit before leaving for school it will liven up even more. My favorite part of Underground includes loitering a bit when I have free time on a weekend.
11. Ponce City Market: More Than Your Average Food Court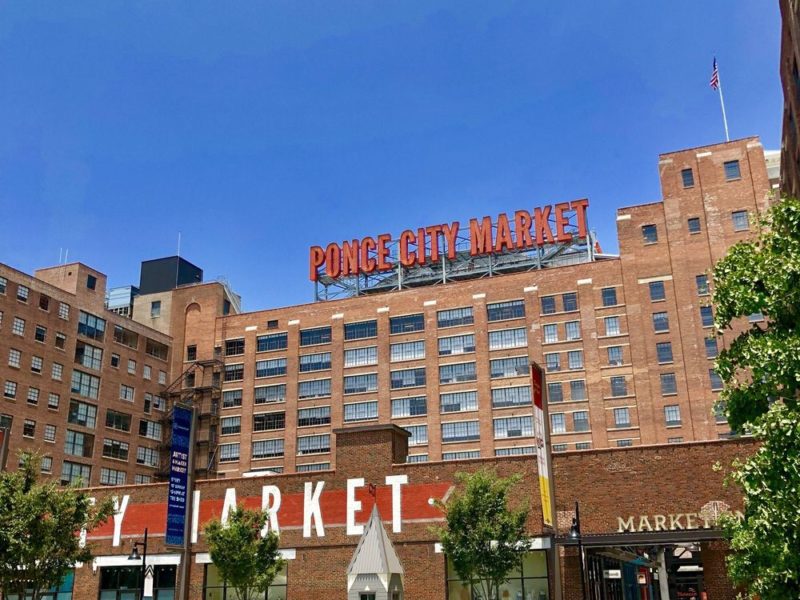 Food, food and so much food in Ponce City Market. Eating always grants a yes for me no matter where I go with friends. Ponce City Market attends to your sushi, donut, pizza and so many more cravings in the former Sears, Roebuck & Co. building. Ponce City Market houses little shops to spend your hard-earned money on with some of the coolest little trinkets that you wouldn't find in your local department store. My first discovery of the market happened last summer when a group of coworkers invited me to eat there. Despite the heart-wrenching prices, the market provides food ranging from Japanese, Mediterranean, Indian, Italian and much more.
12. Starlight Six Drive-In lights up dull nights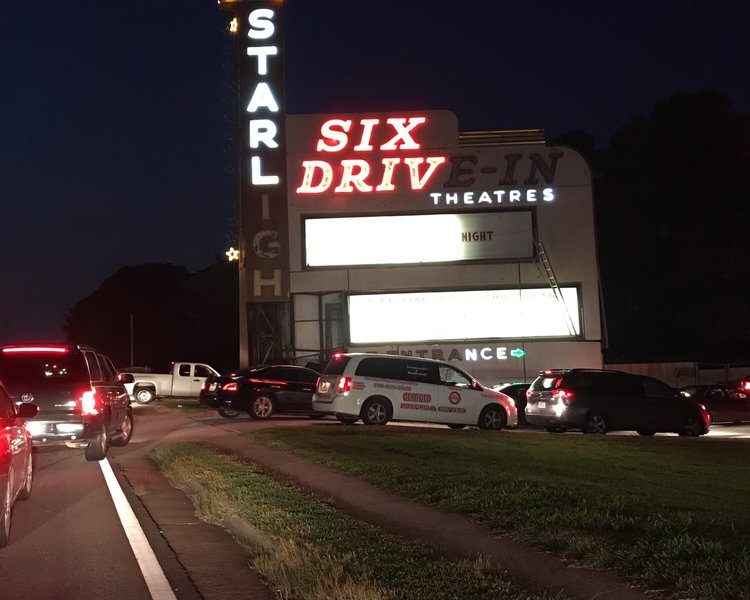 One hangout spot I hadn't known about before includes the Drive-in Theatre. I had definitely heard of drive-in theatres, but I thought they all got lost in the influx of skyscrapers in the city. "The Drive-in Theatre brings everyone together and it's kinda historic and keeps going through the generations and decades," Georgia State University freshman Courtney King said. Imagine going to the Starlight Six Drive-In with friends, just hanging out with peach lemonades and snacks while watching a film; could you name a better night after a long semester? "That's where I first saw my favorite movie of all time, The Avengers. It's amazing to just sit under the stars and create new memories," Kennesaw State University sophomore Brittany Jackson said. Enjoy the show in the comfort of your car or on the lawn depending on the weather that day.
13. Visit Little Five Points for late night decisions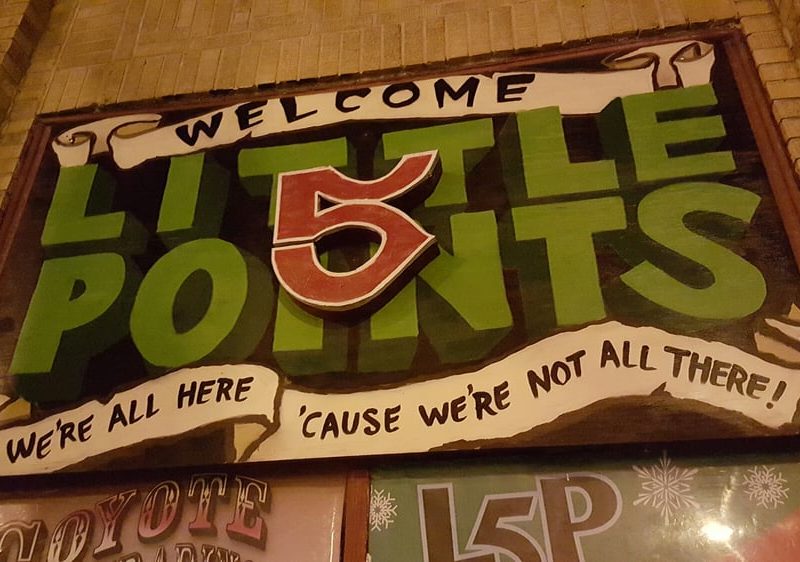 When feeling like a little alternative, Little Five Points gives you that outlet.  A lot of classic record stores sell in Little Five Points. After shopping around, seeing The Rocky Horror Picture Show completes a night out to in this one of a kind area. At a few establishments like the Vortex Burger & Grill only 21 and older get in. However, Criminal Records hosts so many artists and old classic records that you forget about the bar that wouldn't let you in. "The collectibles in the store are awesome," Georgia Southern University junior Sidney Wise said. Not only does Criminal Records protect great music, but it also has a great collection of anime DVDs, books and other collectibles for fans. My favorite store for window shopping to ever exist: Wish, a sneaker and street wear store that commonly has a line before it even opens around noon, has some of the most comfortable but fashionable hoodies and tops upstairs. The downstairs part of the store houses so many cool sneakers to look at on glass platforms. The whole experience makes it feel very personal in the dimly lit space.
14. You don't have to thrift professionally to shop in Junkman's Daughter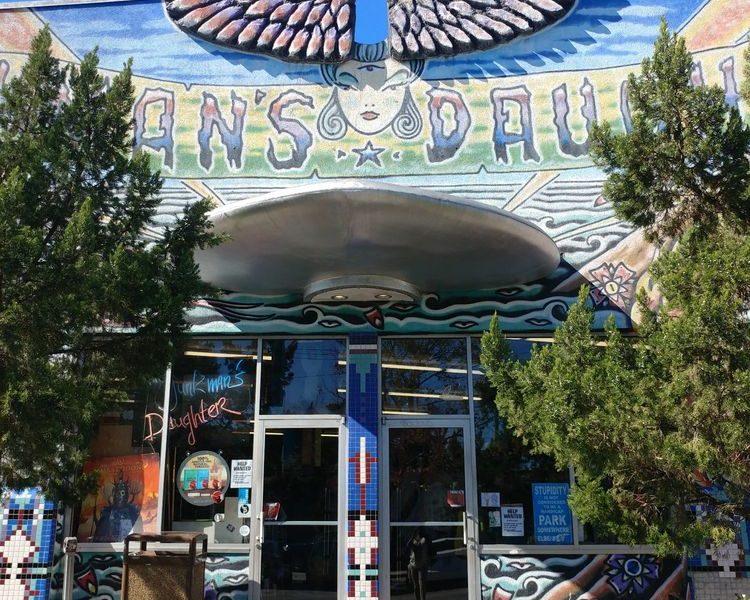 At the end of the day, at one point or another, emptying my pockets tends to take place. At Junkman's Daughter in Little Five Points you can sell old clothes or make the old new again by buying secondhand clothing. I don't typically do a lot of thrift shopping, but from my experience I find rare pieces of clothing that often leave me questioning why someone would ever want to give them away in the first place. Once I lose myself in spending almost all of my money there, I realized that other thrift stores can't compare. My dad even got in on the fun since the chic appearance on the outside of the jacket gives off a different vibe than just thrift. He still calls it one of his favorite jackets today. The vibrant colors coating the front entrance and wings at the top of the store name makes it appear brand new with a hint of mystery that reflects the fun shopping experience rather than feeling clawing through a mountain of clothes. The alluring outside walls brought me in since my first love affair with a pair of platform sneakers.
15. Atlantic Station caters to big budget and small budget dates

I won't lie to you, the movie tickets in Atlantic Station usually lean towards the way-too-expensive end of my budget. However, the movies they show on the lawn on select weekends cost $0 and nine times out of ten you still have plenty of time to enjoy them without freezing to death since the extreme cold does not really hit until around February in Atlanta. You can also window shop in the stores around Atlantic Station and savor the taste of the food in all the restaurants when your feet get tired.
16. The Varsity welcomes greasy fingers and big appetites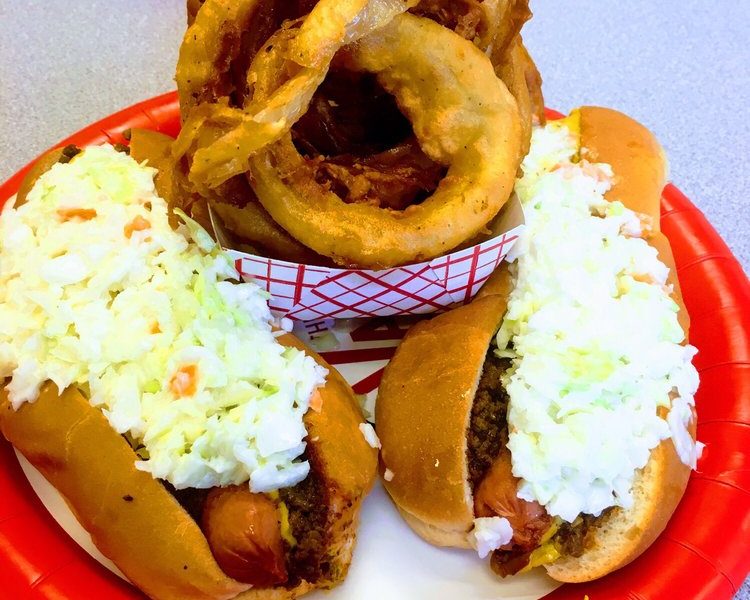 My ideal Varsity combo meal consists of two sloppy chili dogs and a side of freshly fried onions made piping hot. In the comfort of my car as the operator asks, "What'll you have?" through the speaker, while I sit in your parking spot, I request combo #1 on the menu. I have had some great memories with friends and with my taste buds at this classic Atlanta restaurant. "I like the Varsity because of the famous orange cream drink. So nostalgic and tasty," New York University freshman Kaylynn Parks said. I can attest to the nostalgia and can't wait to go back.
17. Get saucy at Little Azio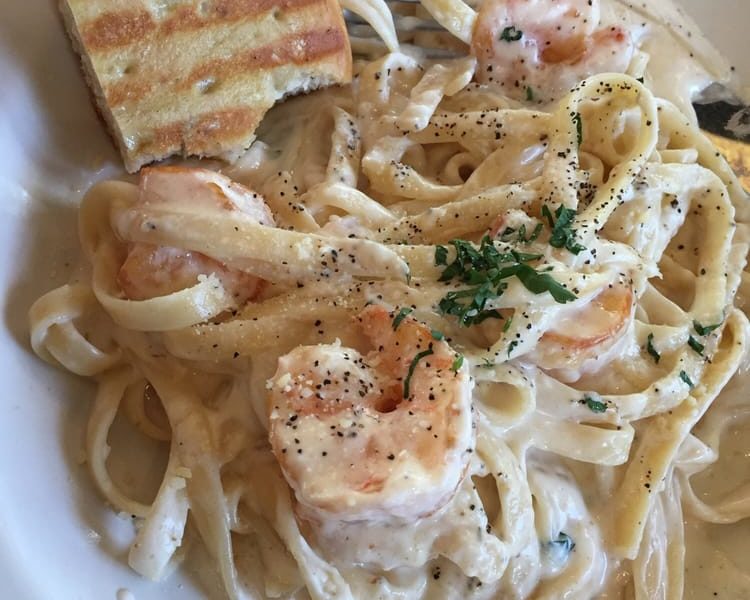 As you can probably tell so far, the food in my favorite city has my heart. After dance practices, instead of going to McDonald's for a quick bite in east Atlanta we would walk to Little Azio. "The food is just so great especially the pasta," Georgia Southern Sophomore Jasmine Coye said. You walk in and have the option to build your own pizza with their made-from-scratch sauce and fresh ingredients. Little Azio quickly became one of my favorite additions to the east Atlanta area, even though I had only started eating there frequently a year before I left for college. Now, I find it hard to mention any food in Atlanta without bringing someone to Little Azio for a fresh slice of pizza.
18. Feel like a movie star even when standing in line at The Fox Theatre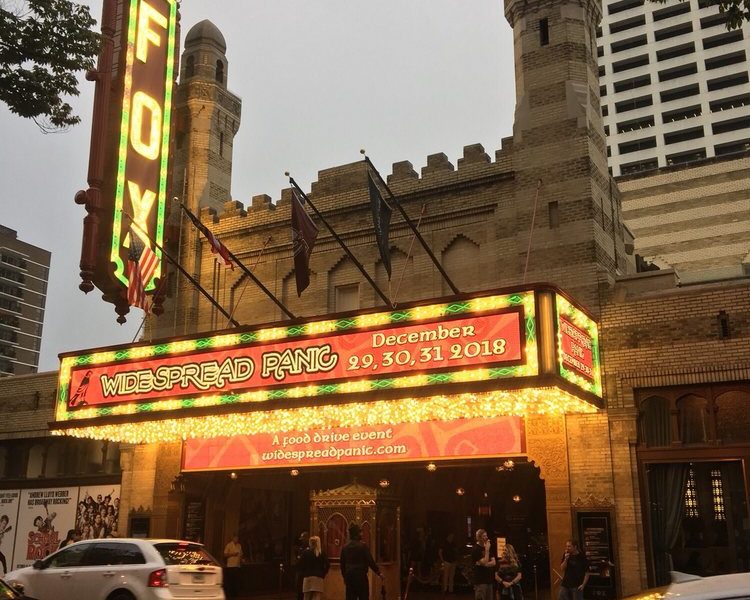 Time to get cleaned up for a night under the stars. The Fox Theatre gives you exactly that in the breathtaking theatre equipped with a blue sky and twinkling stars on the ceiling. No matter what time of the year, an amazing show always happens up the golden stairs to the theatre at the Fox. My favorite show to see since forever attends to my childhood ambition as a dancer. The Alvin Ailey American Dance Theatre in action includes dancers gracing the stage, allowing your mind to tune out the world and focus on their movement. I can't speak for every audience member, but the way the dancers emote and continue to perform outstanding shows each year keeps me coming back for more.
19. Zaxby's is a must for the chicken and tangy sauce lovers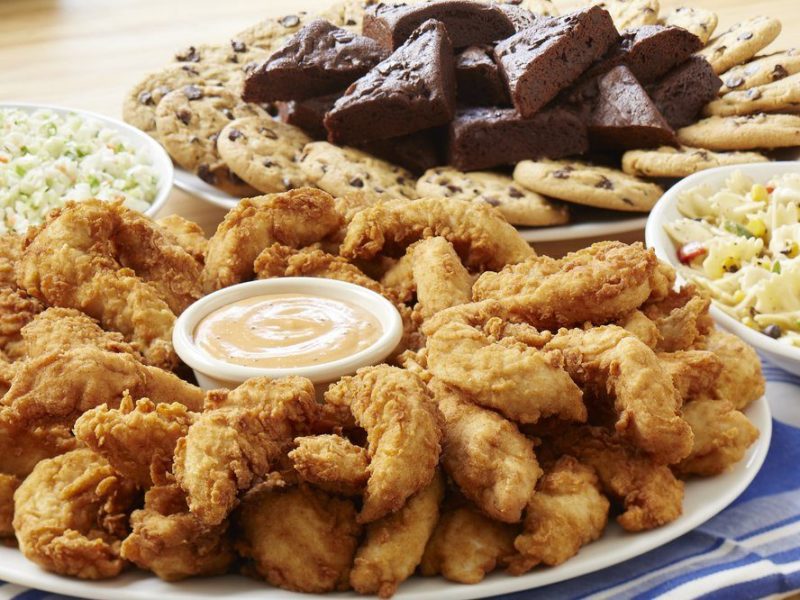 New York City food can never replace Zaxby's in my heart when it comes to food. Zaxby's only exists here in the South and even in downtown Atlanta finding one presents a challenge. "Zaxby's has to go on my lists of favorite Atlanta places because I can't find [one] anywhere else except when I come home to Georgia," Johns Hopkins graduate student Marquez Hall said. The debate over the Zaxby's signature sauce seems never-ending. You either love the sauce or hate it. I love the signature sauce so much that despite how much I need to save every penny of mine, I willingly pay extra for it each time I go. Waiting in line for the mouth-watering chicken fingers makes me not regret coming home for so long over the summer and winter breaks. When Chick-Fil-A closes on Sundays, I assure you that Zaxby's can cure your hunger just as well.
20. Visit Peachtree Center in downtown Atlanta for good ol' city native vibes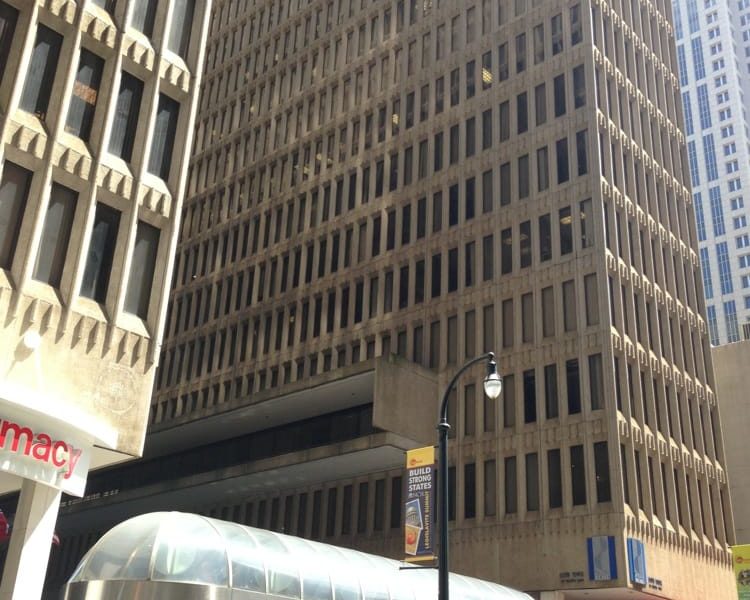 Sometimes the best places don't exude extravagance or uniqueness. Peachtree Center on the outside looks like any other food court attached to a high-rise building in the heart of a city. However, for the high schoolers who went to school next door and the regular MARTA train riders like me, Peachtree Center holds a lot of sentiment. The hotels attached to the food court in the heart of Peachtree Center attract tourists and businessmen alike to the hustle and bustle of Atlanta. Similar to Penn Station in New York, everyone here has somewhere to go, with a purpose. Whether people come for a meeting before work or to grab smoothies with classmates after school, Peachtree Center for me and many others prevails as a home away from home in some way. "That building is my favorite place because it's where I came into my own person and had the opportunities to get to know Atlanta better," Howard University freshman Jada Milligan said. On the seventh floor of the building, I met weekly with people in the VOX Teen Communication office space who ultimately changed the course of my life.
21. Taylor-Brawner Park Packs A Lot of Flavor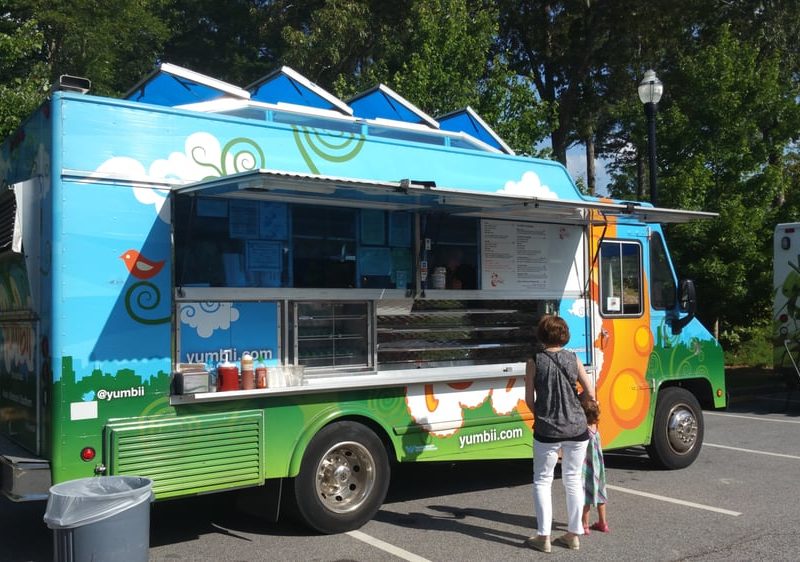 With a city built in the middle of a forest, an opportunity to enjoy nature in this city presents itself more easily than other major cities. "I mean pretty much any park in Atlanta. There's one by a fountain in Georgia Tech that's always cool to chill out around," Georgia State University freshman D'Angelo Howard said. At Taylor-Brawner Park, outside of downtown, food truck Tuesdays constitute the ultimate cool down from life's responsibilities. I always enjoyed trying new foods from the trucks, listening to music and enjoying some great weather in a spacious environment when I take a break from winters in New York. I always try to remember that the allure of a city can live on in more than just the top tourist destinations.