Williamsburg may seem like your typical tourist trap. In some ways it is, and like any other tourist trap, alcohol inevitably flows, doubly so since Williamsburg technically qualifies as a college town. However, the right person can find plenty of hidden gems within Williamsburg that don't require visitors to satisfy the legal drinking age. Unfortunately, finding that "right person" can pose an issue. But that is exactly what we provide here.
Read on for 21 things to do in Williamsburg if you're under 21.
Visit the Wren Building
The Wren Building appearing on this list probably does not surprise anyone who knows anything about Williamsburg. Opened in 1700, the Wren Building stands as the figurehead of William & Mary. In addition to hosting classes, this building essentially doubles as a history museum. Here, you can find the names of William & Mary students who served all the way back to the Revolutionary War in addition to famous presidents of the college and a church. If you don't know where to start, visit the information desk in the right-side main entrance.
Visit the Culture Cafe
Visiting one specific restaurant may seem odd, but I promise Culture Cafe makes the experience worth it. Located just across from Market Square, this cafe provides a unique atmosphere that I can't seem to find anywhere else. As the name suggests, the Culture Cafe offers a multitude of food (such as chicken and waffles, banh mi and poke bowls) from various cultures. In addition, it offers truly amazing coffee with some syrups that they make in-house. However, the main attraction of this cafe rests in the atmosphere that it incites. Imagine dark academia mixed with cottage core, then add rabbits. This describes the overall theme of the Culture Cafe. The vibes? Immaculate.
Touch the Griffin Balls
You simply can't visit Williamsburg without at least humoring the William & Mary spirit. What's Williamsburg without the nation's Alma Mater? And what's a college without its superstitions? A few years ago, the college unveiled a new statue of a griffin (the college's mascot) just outside of Zable Stadium. However, this griffin came with a little something extra: an anatomically correct pair of male genitalia. Now, the students touch it for luck.
"It was a fantastic night. You have to do it at least once a year and by the end of your first semester at Wammy," William & Mary sophomore Greta Frederick-Harteis said. "They're good luck for finals."
This may sound incredibly immature, but if you want the true experience of a William & Mary student, you need to touch the Griffin Balls. Even if you aren't a student at William & Mary, climbing onto the Griffin Statue in front of Zable Stadium makes for a fun experience. Perhaps the luck that it gives students will transfer onto you as well. It won't take long, and you'll create a funny story to tell about your trip to Williamsburg. However, make sure you don't break the law or damage property when getting this funny story.
Visit Colonial Animals
Petting zoos and farms do exist in and near Williamsburg, but exploring them can create a hassle. So, why make the effort when you can accomplish the same thing just wandering around in the road? Colonial Williamsburg, the main attraction of this town, recreates life in Pre-Revolutionary America. Sometimes described as a living history museum, visitors gain an immersive colonial experience. Thus, nobody should be surprised that Colonial Williamsburg boasts a host of animals (mostly horses, sheep and cows, but I see the occasional pig.) Take a turn around Colonial Williamsburg (preferably without a guide) and create some authentic meetups with these animals.
Go to Second Sundays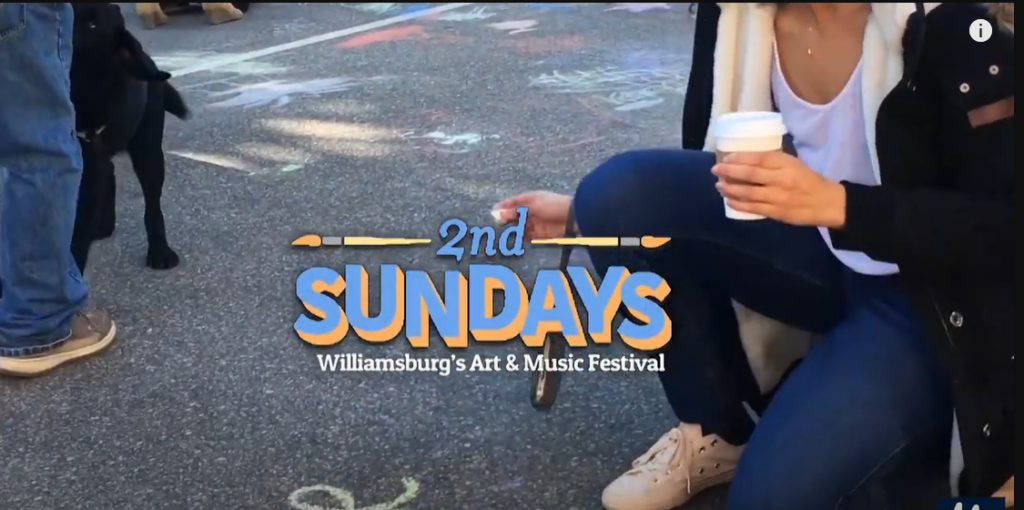 On the second Sunday of each month, Williamsburg boasts a Second Sundays Art & Music Festival occupying six blocks of Downtown Williamsburg. Artisans of everything from soaps to stickers come out to sell their products. Students love these festivals and they provide a great opportunity to support a local business while buying some handcrafted goodies. Even if you don't buy anything at the festival, the energy and attitude of those around you make the experience worth it. If you can, make sure to stop by this festival.
Go to the Farmers' Market
Similar to Second Sunday, the Williamsburg Farmers' Market makes regular appearances. It sets up shop every Saturday on Duke of Gloucester or DoG Street, this market provides a great chance to shop local and find organic produce. In addition, some vendors make food such as hummus and honey. If you can't catch Second Sunday, try the farmers market, they both give you the same energy.
Visit the Williamsburg Christmas Market
Imagine Santa and Mrs. Claus rocking up the road in an expensive vintage car to a horde of college students and general pedestrians. You can only get this visual at the Williamsburg Christmas Market. Open only a few weeks out of the year, this market creates the perfect place to get your picture taken with Santa while getting your Christmas shopping done. Everything from tea vendors to soap makers set up shop at the Christmas Market. If you come to Williamsburg in December, definitely check out this cute little market.
Go to the Art Museums
For such a small town, Williamsburg houses a large amount of art museums. And most of these reside within walking distance of each other. A dedicated tourist could definitely hit all most of these museums without driving from one to the other. You can visit the Muscarelle Art Museum, the Abby Aldrich Rockefeller Folk Art Museum and the Dewitt Wallace Decorative Art Museum all in one afternoon. These places offer both historical and contemporary art pieces and won't disappoint.
Visit Waller Mill Park
Looking for a bit of greenery amongst the history of Williamsburg? Look no further than Water Mill Park. Built right up against a large lake, this park offers all manners of water-related activities such as kayaking and fishing. For those who don't feel drawn to the water, the park offers multiple trails of varying lengths for every level of hiker.
"I can't say enough good things about Waller Mill Park," said Will Beech, a Williamsburg local and William & Mary student. "It is beautiful in basically any season and has a lot of activities that anyone can engage in. They offer boat rentals, a lot of picnic tables with grills, several walking trails of different lengths, a dog park, and probably more.
Waller Mill Park even offers something for the adventure seeker in the tour group. The lake houses a half-submerged building that many stumbled upon. However, nobody seems to know where this building came from or how it ended up submerged. This park offers something for every person willing to give a chance on nature, and even something for those who just want to find cool stuff at the bottom of a lake.
Visit Freedom Park
Freedom Park offers a place for the history buffs and the outdoorsy, adventure types in your group. Built to preserve a Revolutionary War battle ground and the first free Black settlement in the United States, this park soaks itself in history. It even houses a collection of artifacts recovered while building the par. For those looking for a bit of adventure, Freedom Park offers two obstacle courses (one for adults and one for children) in addition to multiple biking and walking trails. With so many attractions, this park will not disappoint.
Go on a Colonial Williamsburg Ghost Tour
If you didn't see at least one ghost in a town older than the United States, did you even go to Williamsburg? Of course, Williamsburg offers many guided ghost tours and since after I accidentally stumbled into a few (the crowd dragged me along), I found them both entertaining and spooky. Most of these tours occur at night for maximum scariness. However, if you don't want to dole out money to listen to someone talk (coming from a broke college student, completely understandable), go on a self-guided tour. Simply wander around Colonial Williamsburg at night and you will see ghosts. Grab a few brave friends and see where your feet take you.
Visit Historic Jamestowne
Some view Historic Jamestowne as one huge history museum. And for good reason. Built on the very land that used to host the original Jamestown Fort, this place offers both an immersive and educational experience. Historic Jamestowne models the original settlement, everything from the costumed characters to the colonial industries. The admissions tickets include access to all guided tours and most of the attractions. If you want Colonial Williamsburg but on a much grander scale, try out Historic Jamestowne.
Botanical Gardens
The Williamsburg Botanical Gardens, located within Freedom Park, offer a beautiful experience with nature without all the sweating and tripping over rocks. While this garden offers beautiful scenery, it also doubles as a place of education. It primarily houses native plants, which allows guests to learn about the flora native to the area as well as support the local ecosystem. With 18 different habitats for visitors to explore, these gardens make a unique excursion for your trip.
History Museums
You simply can't visit Williamsburg without immersing yourself in colonial history. Lucky for you Williamsburg offers a host of history museums. In addition to traditional museums like the American Revolution Museum, you can visit more immersive places like the George Wythe House, Governors Palace and Bassett Hall. These places allow you to step into another time, getting a glimpse into how people of the olden days lived.
Axe Throwing
For the more chaotic member of your tour group, Williamsburg provides something for them, too. If nature, history and food don't interest you, try axe throwing at Axe Republic. While you won't find the opportunity to enjoy their many craft beers, anyone above the age of 12 can try their hand at throwing an axe. With instructors to assist and educate, visitors need not worry about safety. What better time to try out something new than on vacation, right?
Escape Rooms
Though escape rooms exist in most cities, I can personally attest to some of the ones found in Williamsburg. This city boasts both Escape Room Williamsburg and Colonial Escape Room. Both escape rooms feature different themed games that range from terrifyingly creepy to unbelievably funny. These different themes don't stay the same, however, they sometimes change in accordance to demand and the escape rooms add new ones too. After playing through half the rooms in Escape Room Williamsburg, I can promise a fun time.
"There's also escape rooms, one of them is pretty fun. It's pretty difficult if you overthink it, though," William & Mary junior Alexis Knicker said about Escape Room Williamsburg.
"The escape room was fun because it wasn't like other escape rooms. Usually, almost everything in the room is a puzzle that you have to solve, but with the one, you had to get in the mindset of a child. So, it wasn't overcomplicated which was nice."
The games offer a fun intellectual challenge without overloading your brain. Some of the scarier rooms such as Experiment 125 at Escape Room Williamsburg and Cheapeakepeak Bay Butcher at Colonial Escape room offer a sense of danger, getting your adrenaline running without actually putting you in harm's way. Whether you manage to escape the room or not, the bonding experience shared between friends makes the whole experience worth it.
Schwartz Cat Cove
If you don't mind accidentally bringing home a furry companion, take a visit to Schwartz Cat Cove. Though owned by the same people who operate The Nautical Dog (a pet store), the Cat Cove focuses entirely on finding homes for cats from the Heritage Humane Society. The cove provides a space for people to play with cats, interact with them and adopt them if that's what visitors want. Even if you don't want to add a cat to your family, come here anyway because who doesn't want to play with cats?
Outlet Malls
If the traditional tourist activities of Williamsburg don't inspire you, try the Williamsburg Premium Outlet Mall. Here, you can spend hours just wandering around and window shopping or you can buy name brand items for less than retail price. With over 100 stores set up within close proximity to each other, this outlet can easily take up an entire day for the shopping enthusiast in your tour group.
Carriage Rides
Want to see Colonial Williamsburg without walking everywhere or risking stepping in horse poop? Hire a carriage to take you around. You can experience transportation the same way as rich colonialist with your own horse drawn carriage. Drivers in colonial costumes operate all five of the possible carriages you can purchase rides on. Though a little pricey, you won't find the same experience elsewhere.
Ice Skating
The moment that winter hits, Colonial Williamsburg sets out the ice-skating rink. The rink at Liberty Ice Pavilion located right in the middle of Market Square makes a great addition to any winter visit. Buy some hot cider (located at the pavilion), rent some skates and spend some time skating with your loved ones. If you don't know how to skate, simply sit back, enjoy your drink and watch others fail in their attempts to skate. Ice skating at Liberty Ice Pavilion creates a classic winter memory.
Colonial People Watching
Perhaps the most affordable activity to do in Williamsburg: people watching. Not just any people watching but Colonial people watching. Colonial Williamsburg brings out the 1600s fashion-style in not just the re-enactors but the tourists as well. On any given day just strolling around Colonial Williamsburg, you may see random children, adults and elderly people half dressed up in Colonial garb. Grab a drink, grab a friend and settle down to spot all the other tourists getting into the colonial spirit. If you find yourself too tired from other activities and simply want to sit down, I recommend colonial people watching.