As Americans, we always chant "U-S-A!", tell people how much we love 'murica and wear clothes that showcase red, white and blue. We dedicate our Fourth of Julys to drunkenly celebrate our country's foundation in 1776. If only Alexander Hamilton and George Washington could see us now. Whether you play cornhole at a backyard barbecue, lie on the grass to watch multicolored fireworks or sit by a lake drinking Keystone Light, this Fourth of July will knock the socks off of anyone who looks at you and your stylish patriotic swag.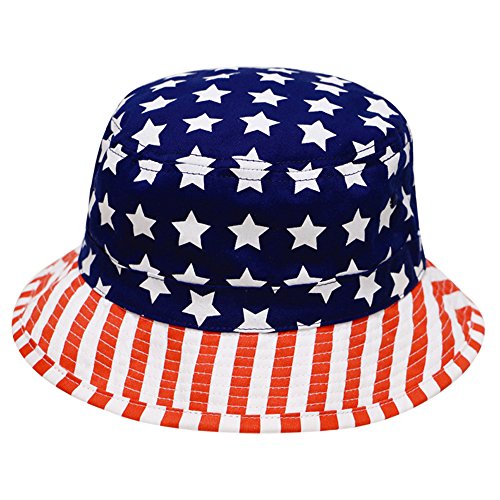 "The bucket hat is essential to every Fourth of July party! It not only shows your American spirit, but keeps the sun out of your eyes, holds your hair back, and makes everyone else jealous. American Flag accessories make the holiday fun and provide a fun topic of conversation," UW–Madison senior Kimberly Engler said.
Price: $10.99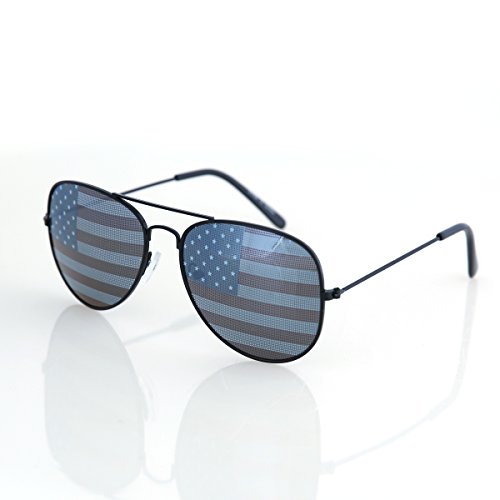 Can you think of anything more American than aviator sunglasses? Feel like Tom Cruise in Top Gun stepping out of a plane as all of the cuties come to flirt with you in your American flag sunnies.
Price: $7.99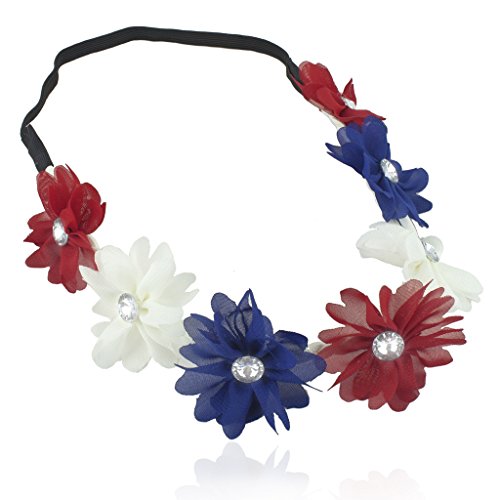 Not only can you wear this flower crown during Fourth of July festivities, but you could also wear it to summer music festivals. Show some patriotic pride while dressing in your festival best.
Price: $8.95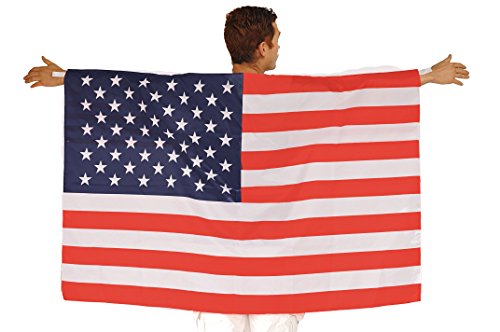 Fly like an eagle with a flag body cape. No need to worry about tying a flag around your neck because this cape lets you slip your arms into individual sleeves. Be prepared to hear thousands of compliments on your amazing American superhero getup at any event.
Price: $18.97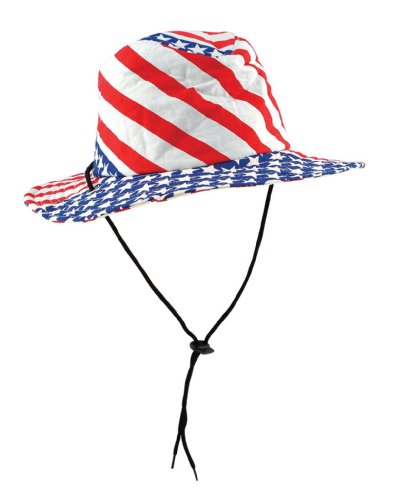 Do you want to look as snazzy as Indiana Jones? Then you need to buy this hat ASAP. This adventurer hat covered in stars and stripes includes an adjustable strap perfect for when you don't want to lose it while dancing to "Party in the U.S.A."
Price: $10.71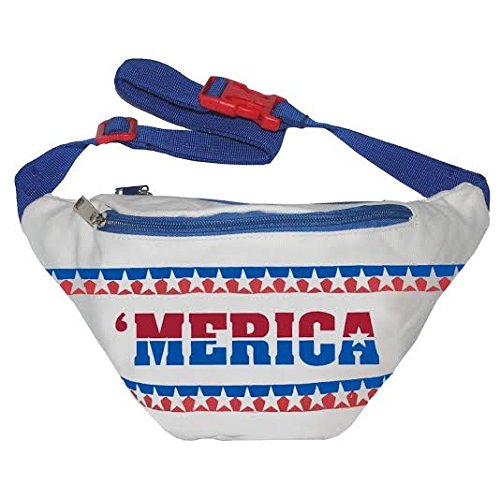 Dwayne "The Rock" Johnson used to wear fanny packs in the 90s and he also wears them throughout his movie Central Intelligence, so obviously it's a great choice for you. Instead of having to deal with holding your phone, snacks, wallet and keys, strap on a fanny pack and live the hands-free life.
Price: $19.99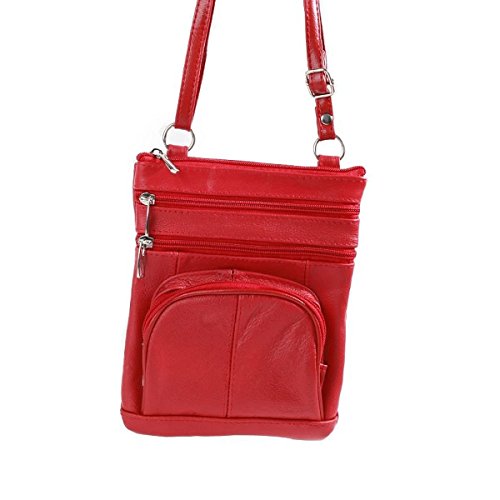 If the thought of wearing a fanny pack makes you shrivel in horror, then try this bag on for size. It still allows hands-free functionality and the bright red color makes any outfit pop. The best part? You can use it on a day-to-day basis.
Price: $12.99
We all know summertime means extreme heat, so look cool and stay cool with a flag-patterned folding fan. When you feel slightly overheated, fan your face like Mia Thermopolis in The Princess Diaries or store it in your handy dandy fanny pack. "Since it is 100+ degrees Fahrenheit in the summer and watching fireworks outdoors with no wind is very uncomfortable, the fans came in handy to help all of us stay cooler than it would have been without them," Cindy Johnson, folding fan buyer, said.
Price: $11.98 for 12
Relive your early 2000s glory days by sporting a red, white and blue trucker hat. Maybe you'll revive the fad and make all your friends jealous as you feel the breeze through the mesh back.
Price: $12.98
Imagine riding a moped as your America-themed scarf blows behind you or as you sit comfortably in a convertible on the way to your local fireworks show. Your stylish patriotic spirit will dazzle those cruizin' by.
Price: $10.90
Maybe this year you want a black tie look–or should we say a red, white and blue tie look. This skinny tie, complete with both stars and stripes, looks good with any suit. The makers of the tie offer four different designs, so you gotta get them all for four days of fun.
Price: $19.99
This cord bracelet combines cute accessory with practical tool. If you happen to be camping or hiking for Fourth of July weekend, this helpful accessory doubles as rope that can be used in an emergency or for just strapping a tent down.
Price: $6.99
"My son-in-law enjoys fun socks," Phillip Wilson, crew socks buyer, said. "He wears the socks frequently and has a great story to tell as well. I think this kind of purchase is as much about the experience and the story as it is about the product."
Price: $13.95
Feel like a kid again with this fun headband. The pinwheels provide hours of entertainment. Plus, if you happen to lose them while dancing during a barbecue, no worries because the price won't break the bank.
Price: $5.69
"What I love about this bandana is you can wear it two ways. All stars or stars and stripes depending on how you fold it," Antoinette Champeau, bandana buyer said. "The quality is better than the others that I've owned. I'll be using this as a scarf, a headband or a bad hair day."
Price: $9.98
Make sure you're on time to the neighborhood party sporting this red, white and blue watch. The minimalist design matches countless outfits, so you can wear it again and again. We suggest celebrating France's Bastille day on July 14 because the strap accurately depicts the order of a French flag, and who doesn't love a little team spirit?
Price: $35.00
Get fancy with a snazzy patriotic bowtie. You can finally learn how to tie a bowtie and join the hipster crowd. Better yet, you'll probably be the coolest lookin' kid at the firework show.
Price: $14.99
Be like Fergie and feel glamorous with these sparkly red earrings, a perfect accessory for any Fourth of July outfit. Dress them up or dress them down, but either way get a nice pop of red.
Price: $12.99
Keep your outfit simple by slipping on a pair of these leggings. Even if you roll out of bed late because of a July 3rd party, these leggings create the ideal patriotic look–and who doesn't love comfort?
Price: $9.99
This star-spangled hair accessory adds an extra flair to any Fourth of July ensemble. Wear your hair up or down because this headband is bound to stay put. The pin-up style makes any fashionista feel as trendy as Marilyn Monroe in the 1940s.
Price: $10.99
Keep your pants up while you rock the geek chic. No one likes to continuously tug at their pants, and flag print suspenders make your outfit stylish, functional and Uncle Sam approved.
Price: $9.51[/easyazon_l