You've been waiting 21 years for this moment: your 21st birthday. Until now you've been flying under the radar, carefully jesting with the law; but the law no longer stands in your way. You're 21 now. Legal.
The numbers 21 alone connote "adult" as each digit "twenty-one" slips off the tongue. But let's not get caught up in the semantics of it all. You can analyze the layers of meaning of your 21st birthday after you celebrate the big day.
Just like those Gen Xers complained about our Millennial generation: you're unique in every way. Which means the way you decide to celebrate your 21st birthday will reflect you.
Only problem? You're out of 21st birthday ideas.
You're 21, YOU DO YOU. If you don't do it now, when will you? If you can't find what you're looking for here, we doubt you'll find it anywhere. But try us in the comments if you'd like. Oh, and play safe–you only turn only 21 once.
21 Ideas for Celebrating Your 21st Birthday
1. The Midnight to Midnight 21st Birthday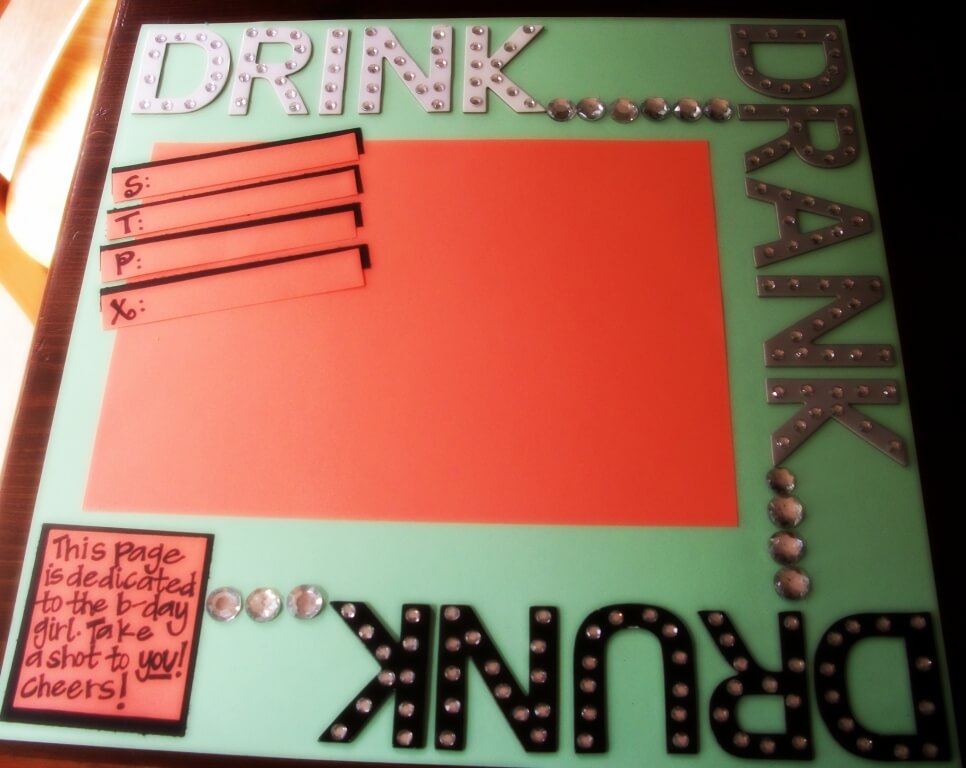 12:01: you're fresh 21. Walk up to the club, and start the night. Don't stop until its no longer your birthday. Exploit any/all people who might have a few bucks to spare on a drink by screaming at them that its your 21st birthday. If its not getting through to them, send them straight to your shot book so they get the message loud and clear. Go to 10+ different bars/clubs and shove your ID triumphantly under each and every bouncers' nose.
2. The Infamous 21 Tally Marks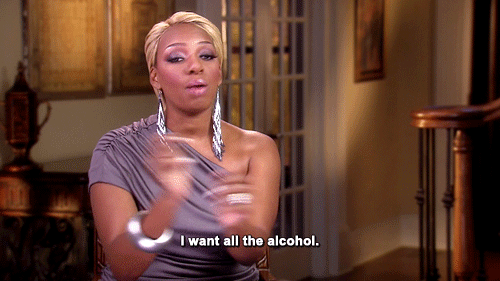 For every drink, draw a tally mark on your arm. Try not to stop until you hit 21. Note: this is in blatant ignorance of the surgeon general's warning and is simply not normal human behavior and will not end well for your liver. Do you really want to spend your 21st birthday at the student health center? If you really want 21 marks, take 10 water shots or juice shots. Please just stay alive. Tally marks that will wash off the next day really aren't worth it.
3. The Frugal Fiesta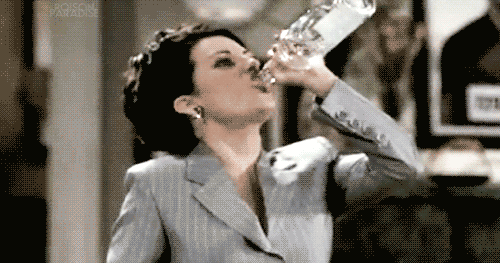 Go to your corner liquor store and legally buy some of the rankest, cheapest alcohol available. Drink it at home with your friends and savor that god-awful but oh-so-legal burn. Yum.
4. The Time Lapse Photo Experiment
Every hour on the hour, take a photo of yourself on a disposable camera
. At the end of the day (or whenever you're recovered) go get it developed. Look at all 24 in chronological order. Laugh and be laughed at by all who see them.
Gifts for your 21st Birthday
Top Shelf Happy 21st Birthday Wine Glass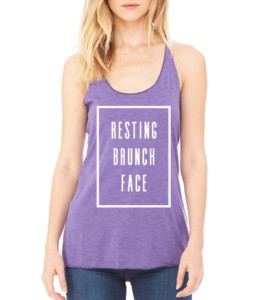 Resting Brunch Face Tee: $24.99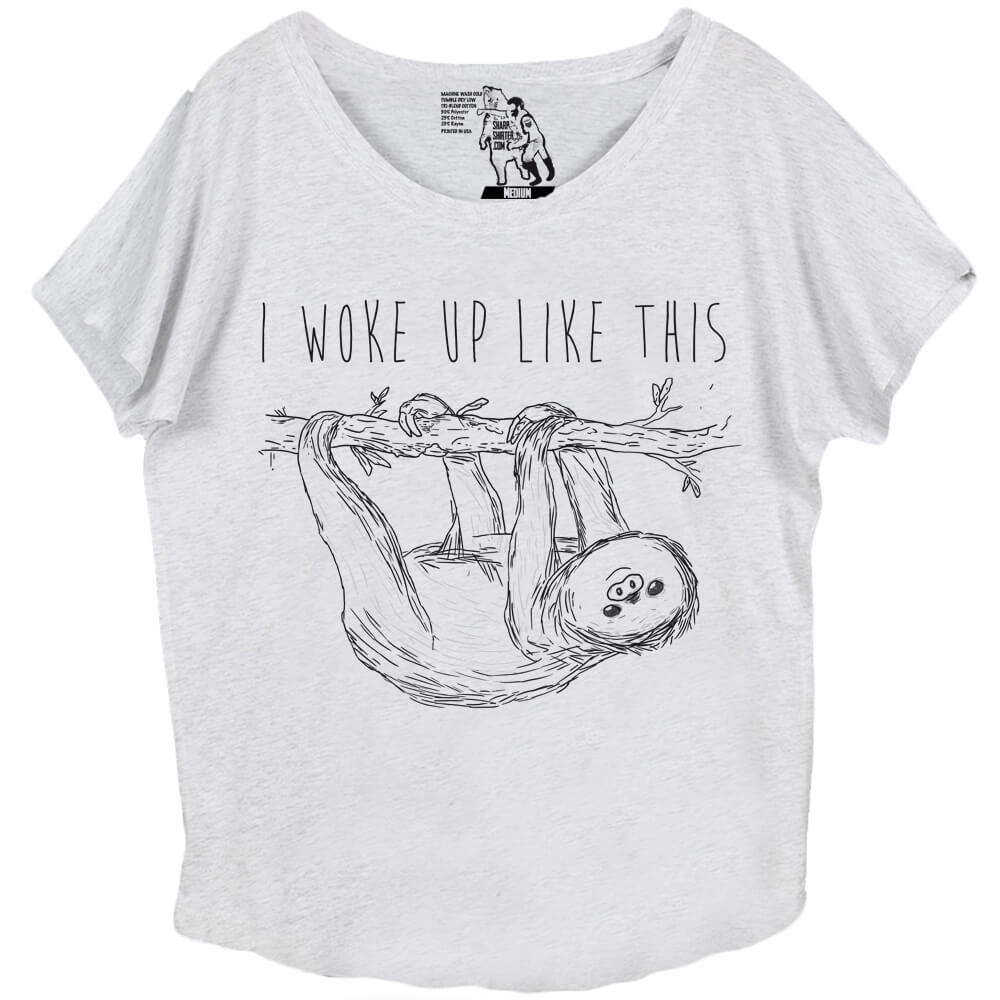 I Woke Up Like This: $24.99
5. The Sugar High Eat 21 cupcakes.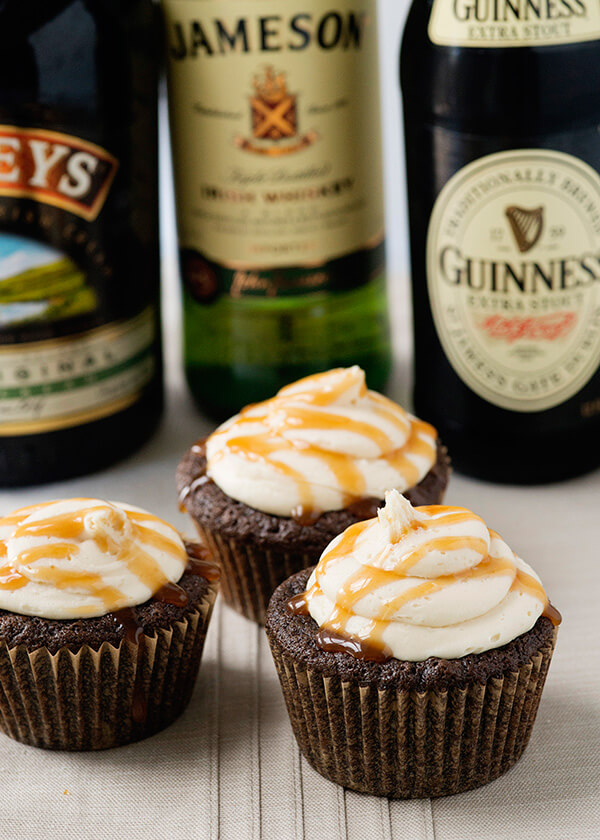 Take frosting shots. Apologize to no one.
6. The Taylor Swift Method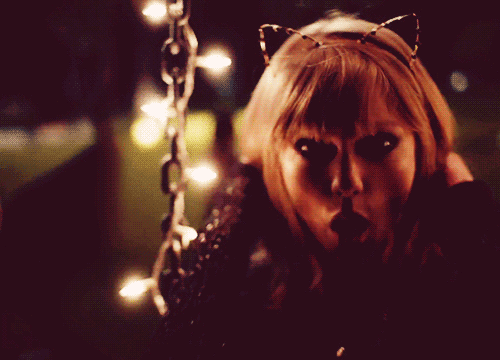 Have a Christmas-themed party at home with your parents/cat! The super pop star T Sweezter decided not to drink her face off and pass out in the back of a limo like many of her starlet contemporaries probably would/did/do. Instead she had hors d'oeuvres and kept it low key with a few friends and family. Right on, T. Unfortunately the unhappy ending is her super depressing bonus track The Moment I Knew, allegedly about the birthday bash that went all wrong.
7. The Pay It Forward Present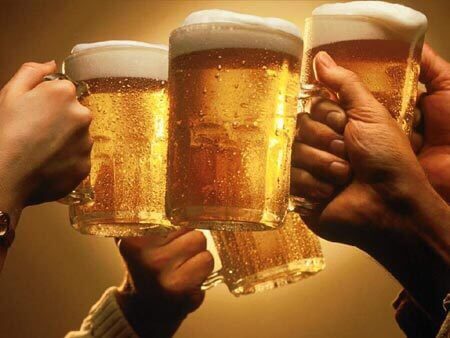 Put 21 beers in a bag. Hand them out to strangers like you're the birthday beer fairy. You will be the most popular birthday person ever and are guaranteed to make some friends. (Note: there is a high likelihood that you can coerce someone to pay for these beers so you don't have to. Birthday perk.)
8. The Famous People Party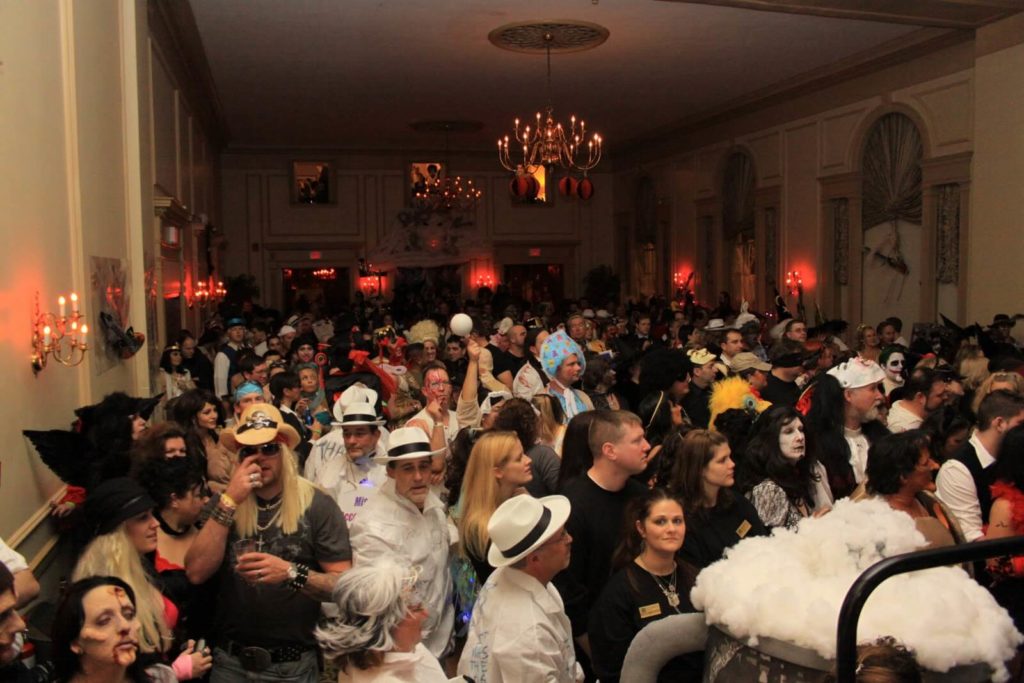 Host a themed party where guests are required to dress up as people whose birthdays fall on the same day as yours. You are bound to have some people in weird/obscure costumes. You are also bound to have some people dress up as you, which is fun! You are equally bound to have certain individuals show up without costumes. Refuse their entry unless they go home and change. Afford yourself the liberty of choosing the costumes for these party poopers.
9. The Someone Like You Approach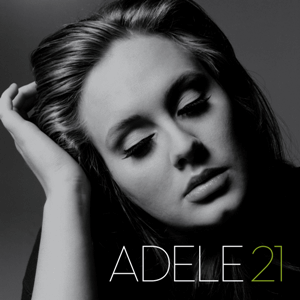 Have yourself the most depressing 21st ever and listen to Adele's album 21
on repeat. You might want to legally pick up a bottle of wine first and have one of those cupcakes from #5 at the ready.
10. The Throwback
Have a repeat of your favorite childhood birthday party. Whether it was bowling, a petting zoo, a weird magician or a roller rink, make it happen all over again. Keep the party favors and pizza and sub out the sprite and coke for something more adult of your choosing. (For extra fun try and recreate your original outfit).
11. The Day Drunk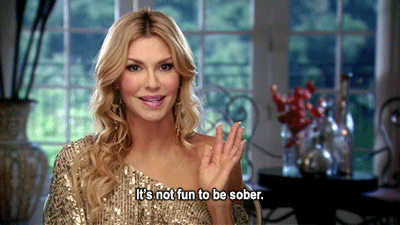 Start with mimosas and don't stop there. Spend your entire day (be it Friday, Thursday or Monday) creatively and inappropriately "but legally!" consuming alcohol. Take the nap that you will need at 4pm and then wake up and continue the festivities!
12. The 21 Candles Scene
Have a romantic birthday evening a la Sixteen Candles with whomever you choose. Hopefully it doesn't take everyone forgetting your birthday to come to this moment, but it might be worth it if your person is as dreamy as Jake Ryan. Who says this movie had to stop relating to you on your 16th birthday?
13. The Sober Sally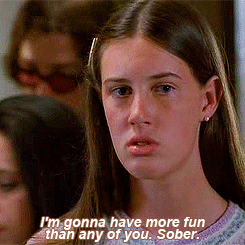 Defy all odds. Break all molds. Don't drink. I'm not sure exactly what statement this makes, but it certainly makes one.
14. The International Apathy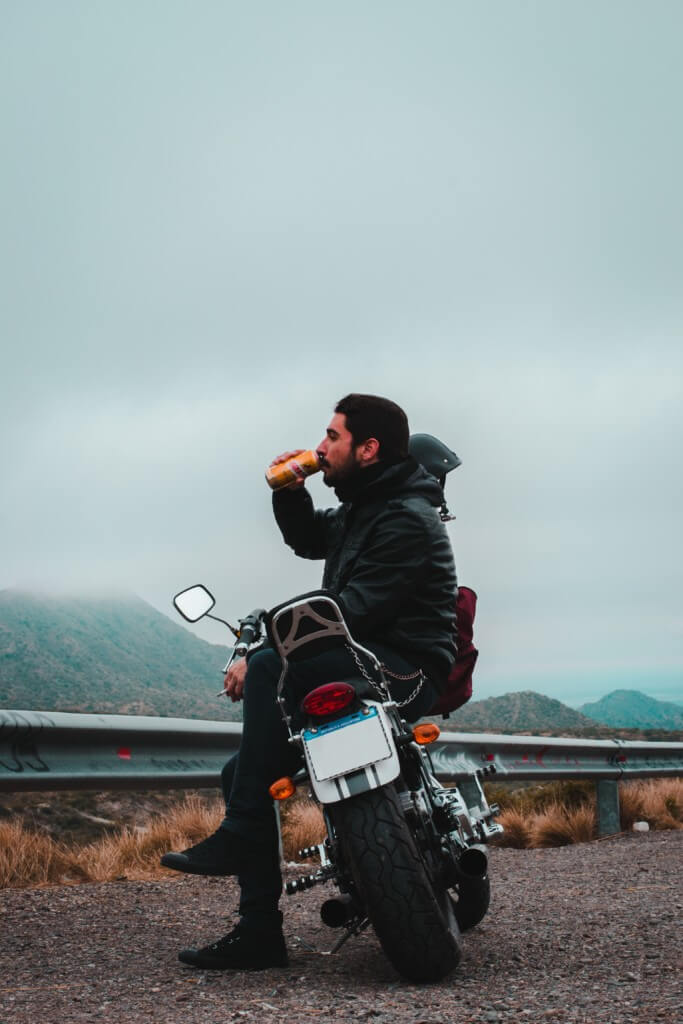 Spend your 21st birthday abroad. Everyone will look at you like you have three heads if you expect a big deal. So basically just have a regular average birthday where showing your drivers license to everyone in sight and drinking out of a bottle of anything will be bizarre rather than expected. For exotic without the miles, celebrate your 21st in Vegas. They've been waiting for you.
15. The Hands Off Approach
Let your friends/family plan whatever they desire for you. Have no say in what goes on. Surprises are fun!
16. The Weeklong Celebration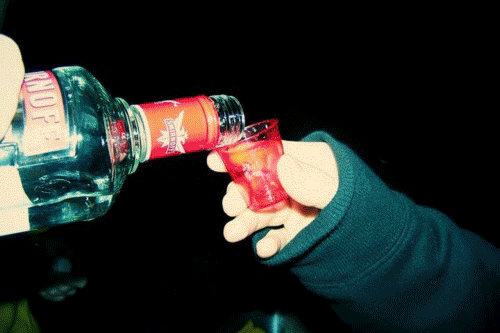 If you're one of those people whose birthday lasts all week (if not all month), your 21st is going to be a marathon. Wear an obnoxious light-up crown and Miss America sash.
17. The Spontaneous Decision
Go out and get your legal drink on, then do whatever your heart fancies. Get a weird Winnie the Pooh tattoo. Adopt a cat. Order the 20 piece chicken McNuggets and refuse to share. Just make sure this decision is supervised and won't land you in prison, which leads us to our next option…
18. The Jailhouse Rock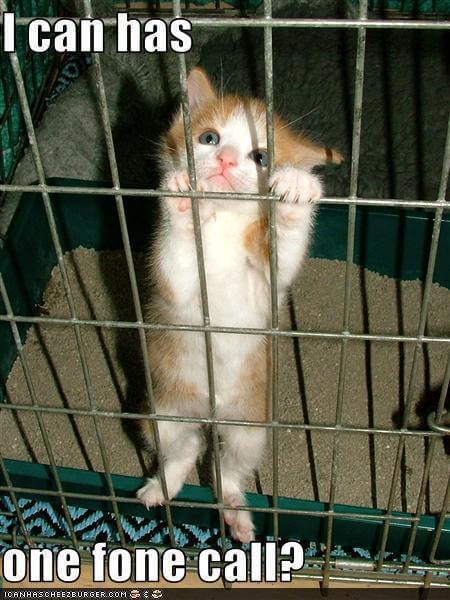 I can't imagine that it would be all that hard for most people to get themselves arrested on their 21st birthdays. I also can't imagine that it would be all that fun, but hey, it's a story for the grandkids, right? If you decide on this option, just make sure you have a good pal around to post your bail. And that you're only in for the night and not longer.
19. The Adventure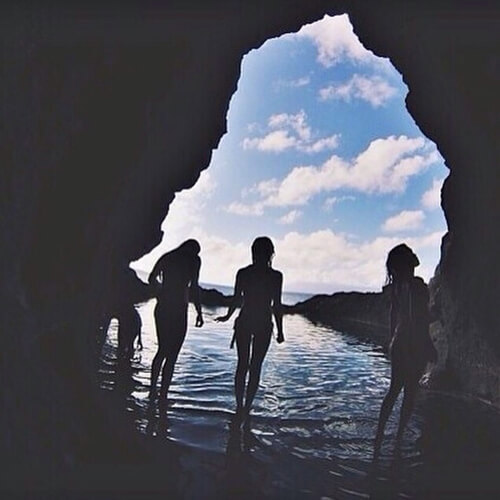 Go somewhere you've never been before with a group of fun people and spend the day there. Explore the area, see the sights, and enjoy the liberty of goofing off in a place where you won't run into anyone you know. Eat and drink at the best local joint. Make some new friends while you're at it.
20. The Actual Grown Up Option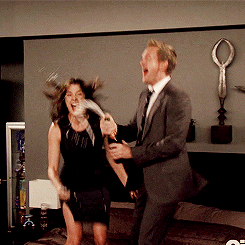 Get dressed up and go out with a friend or two for dinner and order a nice bottle of champagne. Hopefully it will come with sparklers in it and you can feel like you're insert character you most want to be from Sex and the City. Not to be confused with the characters from Girls.
21. The ALMOST Grown Up Option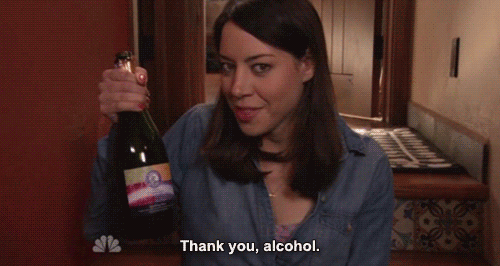 Plan the above but then balk at the price of a nice bottle of champagne and proceed to a large quantity of whatever is cheapest on the menu. When you can't afford a second round of that pay the bill and immediately run for the nearest dive bar and dance on the sticky floors while drinking a questionable amount of cheap long island iced teas.
Still not sure what to do for your 21st birthday?
Check out 10 More 21st Birthday Ideas for Your BFF
22. The not-so-coordinated waltz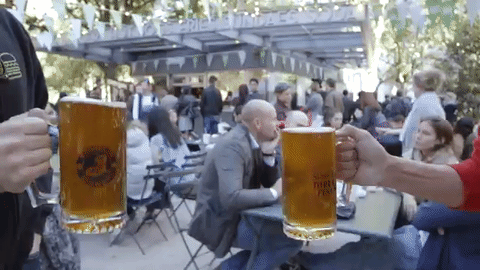 Take a 21st birthday tip from the Florida State University Seminoles. When the clock strikes 21 for the birthday girl (or boy), friends stumble together for a themed bar crawl. Close friends to the birthday honoree give a sign with 21 tasks to complete before the night ends. FSU senior Angela Udongwo's friends challenged her to take a selfie with 21 strangers at her waltz and give 21 cheek kisses to random bar-goers. And the theme can literally be anything. Love monkeys? Throw a "going bananas" waltz. If you watch Back to the Future on repeat for days, host an 80s-themed waltz, complete with baby blue eyeshadow and teased hair. Udongwo's waltz was panda-themed (yes, like the bear).
23. The shopping spree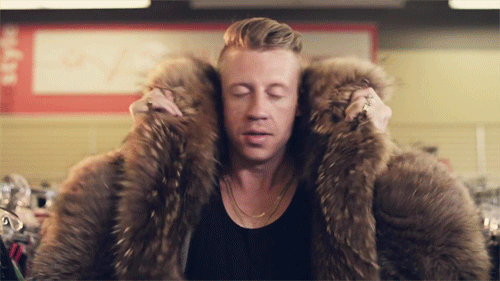 On your #brokecollegestudent budget, you barely make enough to splurge on red meat at the grocery store. Give yourself the gift of liquid courage for your 21st birthday. Then you'll finally buy yourself the Nike slides you've eyed for months. Pro Tip: Shop at a store with a lenient return policy in case of any reckless, drunken purchases. That way, if you end up coming home with a giant manatee statue, you can return it without embarrassingly explaining your boozy shopping spree.
24. The bounce party of a lifetime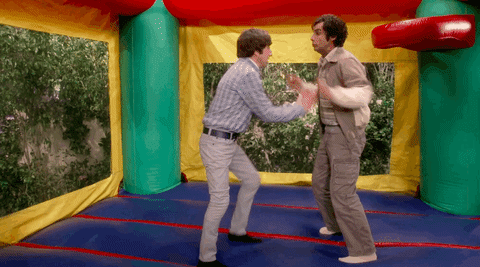 Drinking for your 21st birthday is so #basic. What happened to the colorful bounce castles and enormous inflatable slides you used to play on for hours on end? Go in with your friends to rent a giant bounce house for your 21st birthday. Leave your shoes outside and play games like Four Corners and Popcorn to your childhood heart's content.
25. The boozy brunch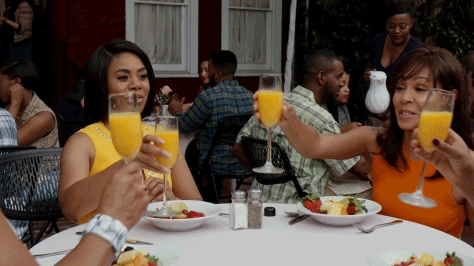 Pinkies up! Break out the bubbly for your 21st birthday at the most Insta-worthy café in your college town. Gossip the morning (and afternoon) away while you sip on all-you-can-drink mimosas. Keep yourself in check and chow down on fancy appetizers like baked brie, biscuits and frittata. Pro tip: Take your social Boomerang posts before drinking too many mimosas.
26. The weekend winery getaway
You couldn't enjoy all Napa Valley had to offer on your family trip back in your preteen days. Finally at a legal age, find a vineyard close to your campus and act like a sommelier for a day. Or better yet, make this the gift that never stops giving for your BFF or S.O. "My boyfriend gave me… a pass to 14 different vineyards in New England that includes a tasting for two people," said Emerson College junior Tara Balan. "He's not a wine guy so his even sweeter part of the gift was offering to be the designated driver to each vineyard and I bring one of our friends every time."
27. The heritage celebration
Every culture has their signature drink. Russians drink vodka, Cubans drink rum, Spaniards drink wine and Germans drink beer. Theme your party around your heritage and drink like your ancestors once did. Decorate your apartment with your country's flag and any other traditional decorations that remind you of home.
28. The one with nature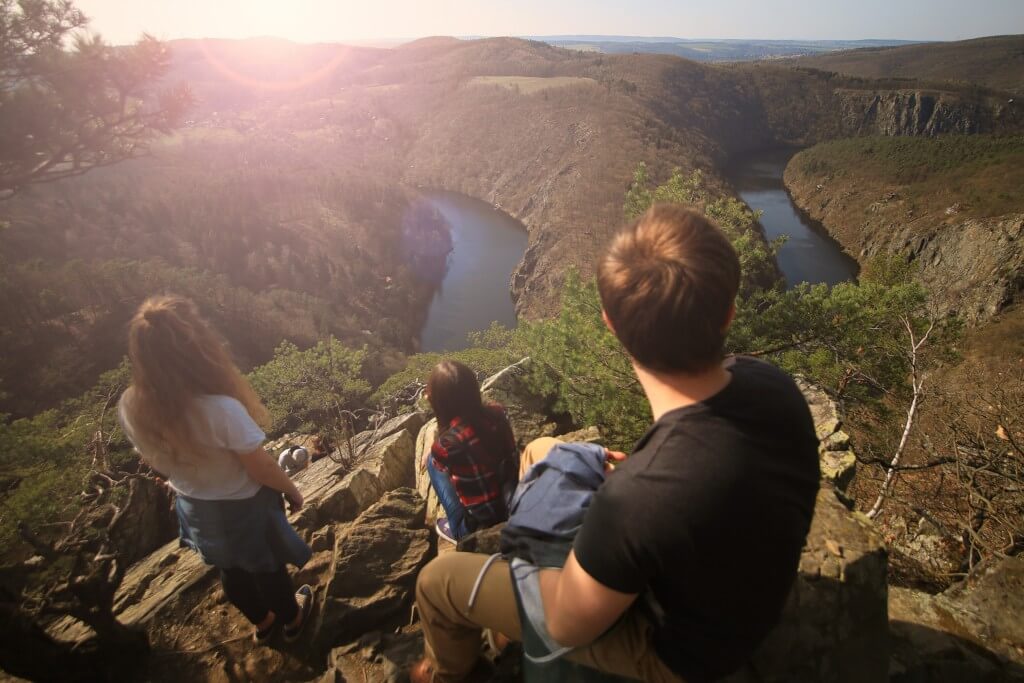 Some people don't like people. Avoid civilization entirely on your 21st birthday. Round up the few people you do like and plan a weekend camping trip or take a long hike. When the darkness sets in, pull up chairs to the crackling fire—but instead of hot cocoa, crack open a few beers or a bottle of wine. Pro tip: Hang your trash high up in a tree so raccoons don't steal your stash.
29. The parental approach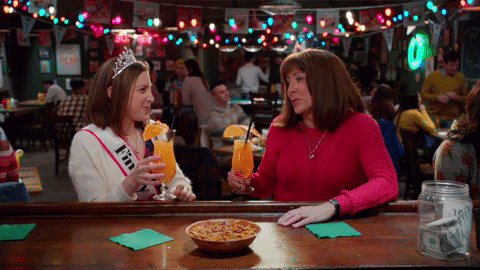 Twenty-one years before your birthday, your mom agonized in labor until your first cry. Spend your 21st birthday with the people who made sure you survived until this point. Cheers to the years past of toddler tantrums and pre-teen passive aggression. Your (of age) friends and roommates will re-live your parents' glory days with you at the trendy dive bar downtown. And if they treat you all to a round of beers, that's a win, am I right?
30. The macaroni-filled bath tub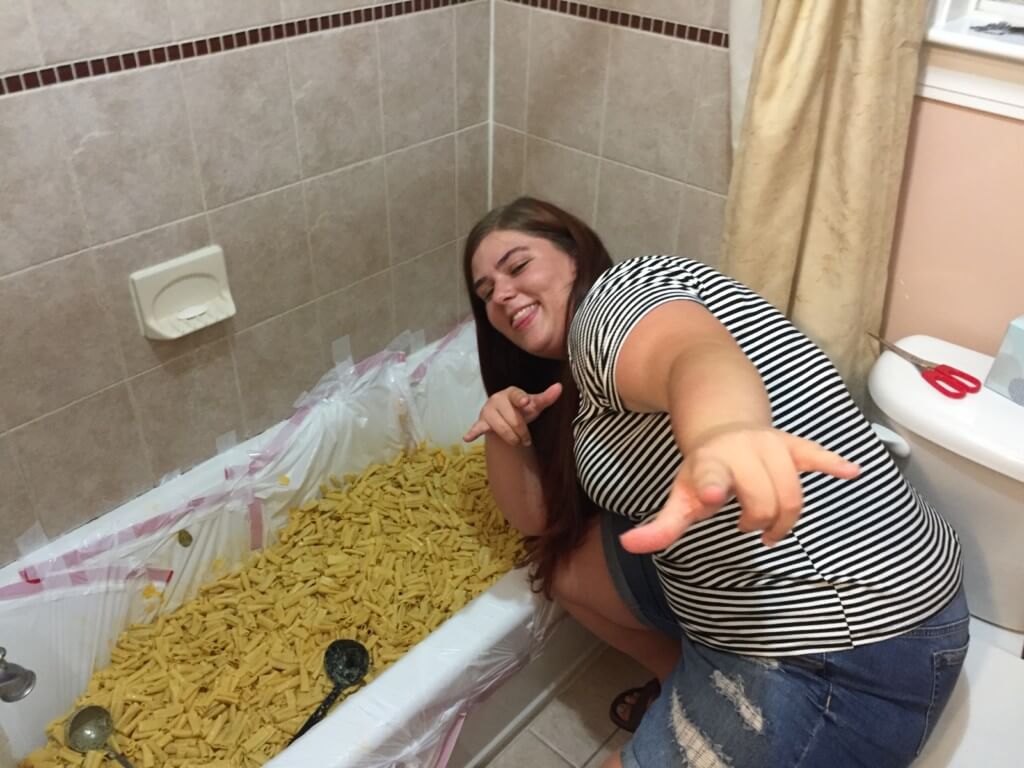 Ditch the alcohol for your 21st birthday and indulge into your foodie fantasies. University of Vermont sophomore Carter Shapiro and their friends filled a bath tub with macaroni and cheese then hosted a party. "Spontaneity is the first thing I think of as to why we filled the bathtub with mac n cheese… something felt so right about doing something so weird," Shapiro said. Think about the weirdest food challenge you've read and never got the chance to try. Then make it happen. Shapiro added, "There's a spectrum of spontaneity in filling a bathtub with mac and cheese." No one will forget your 21st birthday if you make it all about some kind of delicious food.
31. The peer pressure-less celebration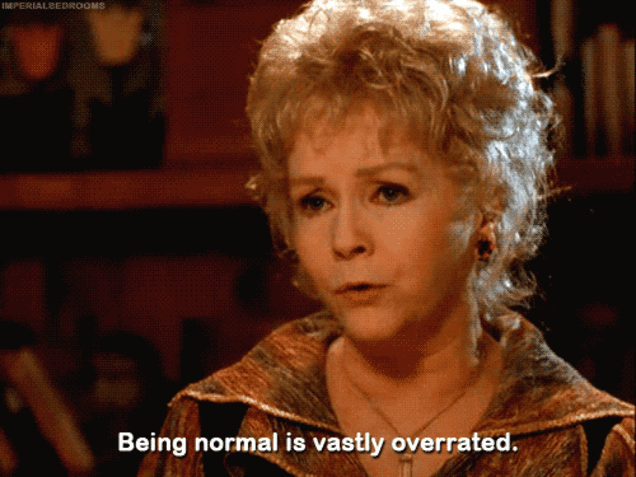 Society (read: social media) tells us that 21st birthdays should include drinking, more drinking, a black out and a massive hangover. Does that sound like a recipe for a safe night to you? "My favorite part [of my 21st birthday] was not celebrating it the day of because there is always this pressure to make it memorable," said Emerson College junior Lauren Dobles. Some of us only want to enjoy another year of being alive and healthy. Spending your 21st birthday out on the town will likely pressure you to drink more than you should. Dobles said, "I waited a few days after and then went out to have myself a night with people I love at a club dancing the night away." Choose to do whatever your heart desires on your 21st birthday—and actually remember it the next day.
Even More Gifts for your 21st Birthday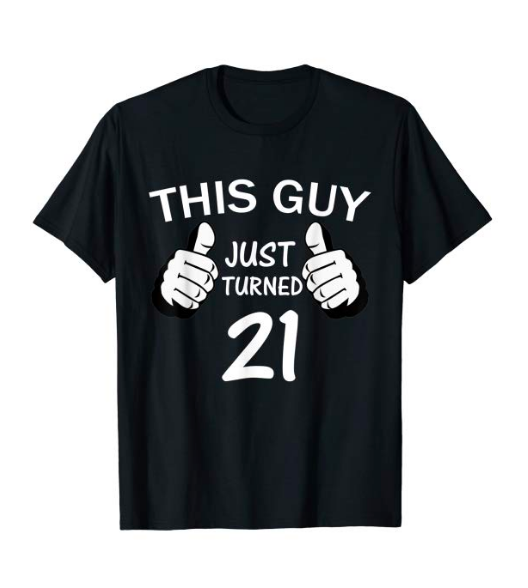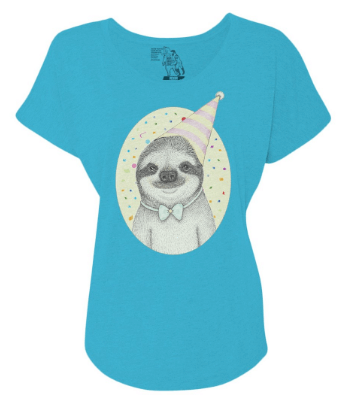 Party Sloth Tee: $29.99
For more on celebrating your birthday, check out:
How to Make a 21st Birthday Shot Book
We break it down for you so you can snag that title of BFF
10 Gifts Your Boyfriend Actually Wants
Seriously, get him these and he'll be impressed.
10 Gifts Your Girlfriend Actually Wants
Don't worry, Ryan Gosling isn't on the list (as a gift idea at least).
Updated June 22, 2016: We've added gifts for your 21st birthday to help you celebrate in style. What more could you want?
Updated March 29, 2018 by Celina Pelaez to include 10 More 21st Birthday Ideas for Your BFF.
College Magazine does not promote underage drinking. Please drink responsibly.