Ever wonder why seemingly harmless books like Harry Potter and The Bridge to Terabithia were once banned in the good ol' USA? Wait — you mean to tell me that you didn't know some of your favorite childhood books flaunt their banned status? The same ones that shaped you into the person you are today? Books that made you think about your place in the world, or reassured you that it is okay to be you? That being different compared to society's norm is good and beautiful? Many widely read and extremely popular titles within the United States all happen to bear the title "banned" due to the "radical views" or messages they contain that might get readers… thinking. More likely than not, you encountered at least five banned books in your life that appeared threatening to the power of authorities in some way. And if you haven't read any of these, well, being told you can't only make the desire to do it that much stronger. 
Add these 15 banned books to your list to see why Americans kicked them to the curb!
Why Are Books Banned?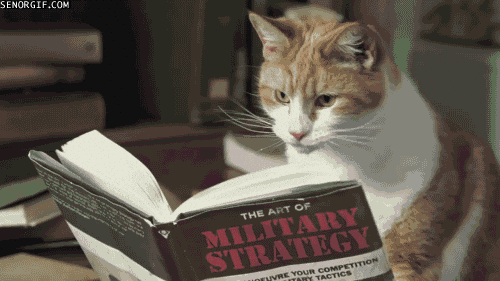 First and foremost, it is important to understand the difference between banned and challenged books. A challenge attempts to remove or restrict works based upon the objections of a particular person or group, while a banning removes the offending material from places such as schools, libraries or other public spaces. Books are typically banned due to the "unorthodox or unpopular" ideas that evoke freedom of expression or radicalize individuals, especially young readers.
Common themes within banned books involve racial issues, encouragement of "damaging" lifestyles, sexual references or themes (including LGBTQ+ or assault references), presence of witchcraft, religious affiliations (typically referring to "unpopular" religions) and political bias. To ban these books limits freedom of speech and expression, in addition to removing parts of American history. While most readers in no way condone any offensive themes such as racism, they understand that learning about how it once shaped their society provides important information on how to change the world. 
The goal of reading banned books? Readers gain knowledge about past events within society, and these novels send an important message about becoming more accepting and understanding. Stock up on the following books to gain different perspectives on the controversial themes within and develop your own opinion! 
1. The Handmaid's Tale by Margaret Atwood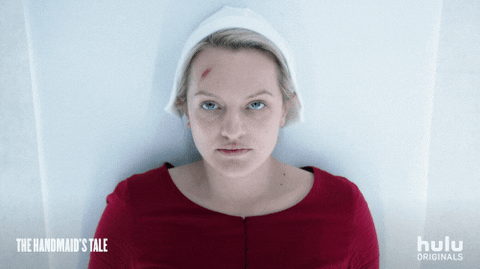 There are books that haunt the reader and there are others that haunt the writer. The Handmaid's Tale accomplishes both. Since its publication back in 1985, The Handmaid's Tale never once fell out of print. This novel sold millions worldwide, translated into multiple languages and became banned from high schools for the vivid descriptions of repressed women. Margaret Atwood's novel focuses on regressive policies aimed at controlling women, especially concerning their bodily autonomy and reproductive functions in a dystopian America. "The Handmaid's Tale has always been one of my favorite books. Something about it piques my interest to the point that it frightens me slightly. In a very obscure way, it could become a reality and the world as it is could really evolve into that," said Misericordia University graduate student Jacqueline Marchese. "And I think that's why people are so immersed in it. How close are we to falling into a utopia disguised dystopia? And I think it is banned almost gives it a sense of danger…like could we slip into a realm like this?"
With the controversy surrounding Supreme Court nominee Amy Coney Barrett and her views on abortion, this book now more than ever provides insight on how disastrous taking away the autonomy of anybody, not just women, could be to the progression of a nation. Reading this novel (and binge-watching its live-action counterpart) allows for important discussions to develop.
2. 1984 by George Orwell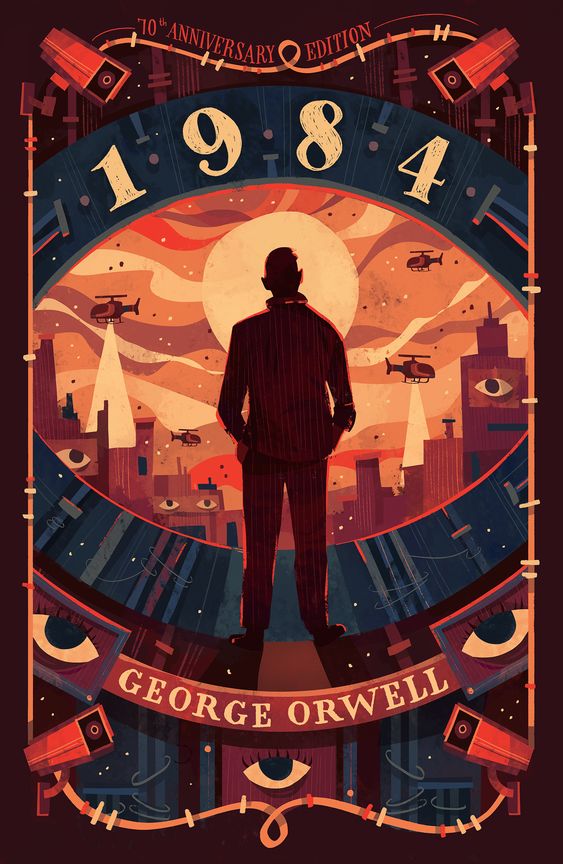 Published in 1949 but taking place 35 years into the future, George Orwell's 1984 finds itself on the banned book list for its "offensive" and "vulgar" language and characterization, in addition to its social and political themes and sexual content. Orwell's dystopian novel follows Winston Smith, a low ranking member of "the Party." Winston feels frustrated with the omnipresent eyes of "the Party" as well as the ominous ruler Big Brother who controls every aspect of individuals' lives. The constant surveillance that Winston encounters may remind readers of something similar in their own everyday lives: social media and other forms of technological tracking. Despite being written in 1949, Orwell's 1984 startlingly mirrors occurrences in modern times and forces readers to think about the discrepancies of constant surveillance. 
3. The Catcher in the Rye by J.D. Salinger
Despite its publication in 1951, J. D. Salinger's The Catcher in the Rye found itself challenged and banned as early as the 1960s. Spanning only two days of Holden Caulfield's life after being expelled from his prep school, Holden sets out to find the truth in life by deciding to rebel against the "phoniness" of the adult world. Banned multiple times just for its profanity, The Catcher in the Rye also faced issues for including prostitution and pre-marital sex. "Perhaps one of the most quintessential works of American literature in the 20th century, The Catcher in the Rye is a book that has inspired me throughout my life as a young man and student," said College of Staten Island senior Kyle Feliciano. "The book's in-depth analysis of modern problems in society, be they normal or taboo, were all subjects that I could relate to as a young man. The mere thought of such an outstanding and prototypical story being banned by the very society it analyzes is beyond hypocritical. It shows that society is not truly ready to reflect on themselves at such a deep level." Salinger's novel additionally revolves around mental health problems due to isolation, which also contributes to its banned status on book lists.
4. Are You There God? It's Me, Margaret by Judy Blume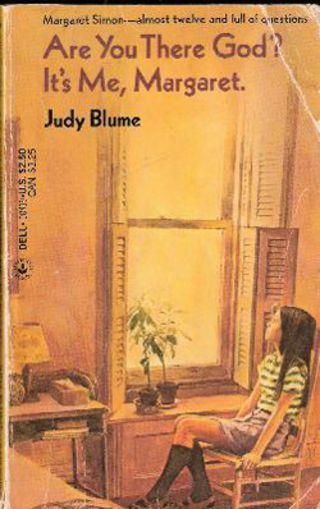 Tackling puberty and teen sexuality, Are You There God? helps Margaret seek comfort through her religion as she grows into adulthood. Finding comfort through her religion proves slightly difficult and confusing due to the fact that Margaret's mother is Christian and her father is Jewish. However, the parents allow Margaret to decide which religion she prefers to practice instead of forcing her to choose. Despite this freedom, Margaret still faces the challenge of picking which religion to follow. The blunt discussion of menstruation also portrayed the book negatively in the eyes of parents and schools. Are You There God? frequently faces challenges thanks to its portrayal of religion and detailed explanations of puberty and sexuality. This challenge even led some schools to require parental permission before students could read it.
5. The Perks of Being a Wallflower by Stephen Chbosky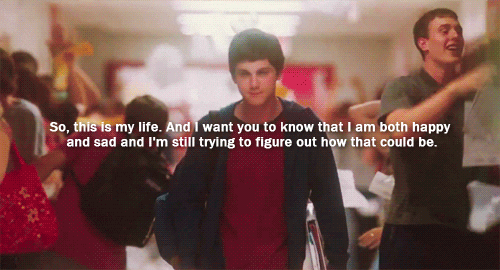 The Perks of Being a Wallflower ranks as one of the most frequently challenged books of 2009 due to Chbosky's blunt descriptions of drug usage, sexual content and suicide. The novel focuses on the high school life of Charlie, a socially awkward teenager. Chbosky realistically depicts the lives and struggles of different high school students while also emphasizing the mental health of the main characters. "The Perks of Being a Wallflower is a banned book that has greatly influenced my writing. The book is so honest about how teenagers think and feel as they go through the ups and downs of life, that it has inspired me to write teenagers as truthfully as possible," said author of The Second Ervonallen Meagan Naso. "Being banned, however, makes me appreciate the book even more. Stephen Chbosky does not shelter teenagers from the hardships of life and exposure to sex and drugs in his coming-of-age novel the way that life cannot shelter anyone, which I have a lot of respect for." Despite gaining confidence in himself through his relationships with his new friends, Charlie's inner sadness threatens to destroy what he had worked so hard to obtain, adding to the novel's controversial nature. 
6. Beloved by Toni Morrison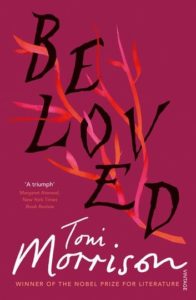 Published in 1987 and winner of the 1988 Pulitzer Prize for fiction, Toni Morrison's Beloved depicts the life of Sethe, a formerly enslaved mother of four children. Based on the true story of enslaved African-American mother Margaret Garner, the work depicts both realistic and gothic horrors and traumas that come with enslavement. Beloved proves itself one of the most challenged books of all times, finding itself on multiple banned book lists. "It's really shocking to me that Beloved is on the banned books list when it conveys such an important message. Yes, it is graphic in some aspects," said St. John's University senior Jacqueline Lepore. "The novel, however, approaches the mental impact that slavery held on those who were enslaved and the effect that lasted on generations to come." Beloved focuses on the way that the enslavement of individuals destroys the identity. The destruction of identity continues even after individuals escape their enslavement and face their freedom with horrors of the past besides them.
7. The Lorax by Dr. Seuss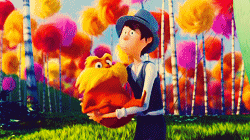 Dr. Seuss' The Lorax, published the year after the first-ever Earth Day celebration held in New York City, delivered a staunch warning about the deterioration of the environment. Angry over the lack of acknowledgment about the negative effects of the destruction of the environment, Dr. Seuss felt encouraged to write the story. Written to educate children without being dull, The Lorax takes place in a dystopian world devoid of any nature. "I think The Lorax is an important story for students to learn how to respect their environment. Reading it at a young age taught me how to understand nature, and that the resources the world gives us do have a limit. As humans, we need to do our very best to respect Mother Nature and appreciate our Earth," said St. John's University senior Emily D'Alessandro. "It is imperative to teach young generations that their actions do have consequences, and that by using and abusing our nonrenewable resources, our Earth is changing for the worse. The Lorax is an important story for children to have access to, and banning it in school will only keep students blind to the environmental crisis we face today." The story allows children to learn about the destructive and greedy habits of their ancestors, encouraging them to care for things that cannot care for themselves.
8. The Hate U Give by Angie Thomas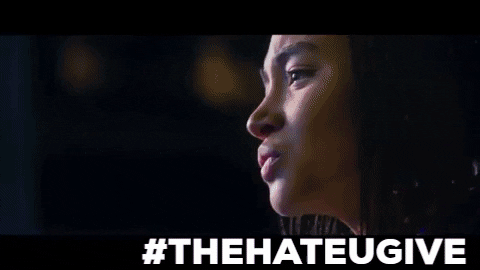 Angie Thomas gets her title from Tupac Shakur's backronym THUG LIFE, or "The Hate U Give Little Infants F—s Everybody." Her novel revolves around modern-day racism that specifically black Americans face regularly, primarily focusing on police brutality and justice. When Starr Carter witnesses the fatal shooting of her childhood best friend Khalil after the police pull them over, she must find her voice to stand up for what is right. "The Hate U Give is a book that I'm currently reading right now. It gives insight to situations that happen every day, the shooting of black men in America and how black families and teens are affected and deal with racism in America," said St. John's University senior Nicole Knorr. "Finding out that this book is banned makes me upset because The Hate U Give would be a great learning tool and a way to start conversations among young teens/adults." Challenged for its "inappropriate language," in addition to the elements of police brutality, drug use and violence, The Hate U Give proves an important novel in spite of the themes. Given the recent and tragic events in America the past few months, Angie Thomas' novel provides important insight on the injustices black Americans face to those who do not experience it, nor ever will.
9. Their Eyes Were Watching God by Zora Neale Hurston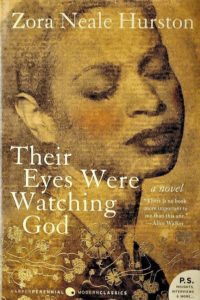 Based on Zora Neale Hurston's own hardships, Their Eyes Were Watching God focuses on the struggles of black women in a world dominated by white men. Janie goes the majority of her life attempting to find her voice, only to find both her voice and herself after the death of her third husband. Their Eyes Were Watching God proves relentlessly challenged and banned due to the way Hurston's characters speak in dialects and scenes of sexuality. Hurston takes the title of the first black woman to ever publish a major work, classifying Their Eyes Were Watching God as a feminist novel in addition to providing commentary on the struggles of blacks in America.
10. The Lord of the Flies by William Golding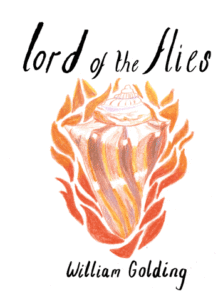 Focusing on a group of young boys without any parental supervision on a deserted island,  William Golding's The Lord of the Flies horrified parents and schools with its immense violence and foul language. The young boys develop their own rules and systems without any guidance from adult counterparts to serve as moral and ethical guidance. Due to the lack of surveillance, the boys eventually grow violent with one another. "Lord of the Flies is a book that I have seen throughout my life and is probably what sparked my interest in philosophy. Why exactly do we as humans look down upon certain people? Why, when removed from the rest of society, do we lose our sense of civilization?" said St. Francis College senior Henry Jimenez. "The Lord of the Flies may not be the best book in existence, but I for sure think about it quite often, even today; it is a story that answers what would happen if adults and civilization were removed from the question. I believe it does a great job at it and for that it is one of my favorite books." The Lord of the Flies demonstrates how another continuously challenged and banned book across America faces backlash for problematic themes it conveys to the younger audiences.
11. The Curious Incident of the Dog in the Night-time by Mark Haddon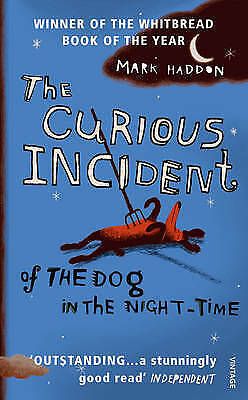 The Curious Incident of the Dog in the Night-Time follows Christopher Boone, a 15-year-old boy with autism whose parents are divorced. The book opens with Christopher discovering a dead dog in his neighbor's garden, spurring him to discover the culprit when he is accused. Christopher's main goal throughout the book follows a similar theme of most coming-of-age works: finding himself while attempting to grow into an independent adult. The book contains profanities, in addition to the promotion of atheism, leading to it appearing on the banned books list. "A book that really paved the way for my literary interests and creative style was The Curious Incident of the Dog in the Night-Time. I love taking apart books—from their plot to word choices to the physical page layout—and Haddon, I believe, brilliantly displays the art of writing in this book. The page numbers, for instance, are only prime numbers and comment on the protagonist's character," said St. John's University senior Jenny Lau. "When I first heard this book was banned, I thought it was related to the possibly dark or non-traditional plot. Later, I was told that it had more to do with the language used in the book—which included profanities. It was shocking to see that a quality of this book's unique storytelling style was part of the reasoning behind its ban." The unique quality of the book comes from Haddon's dedication to never stray from Christopher's interpretations and perspectives of the world. The illogical aspects of a lie prove necessary for Christopher to confront. Due to this strong devotion to his ideologies, the reader feels as if they are in Christopher's mind while reading.
12. And Tango Makes Three by Justin Richardson and Peter Parnell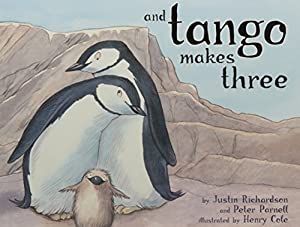 A beautiful children's book depicting the desire of two male penguins, Roy and Silo, to make a family, And Tango Makes Three allows for children to understand that a family does not need to be composed of a mom and dad to be a family. The two male penguins receive an egg to take care of by the zookeeper, and once the egg hatches, Tango completes the adorable penguin family. Due to the fact that two male penguins were caring for the egg, the book received backlash on homosexual themes. And Tango Makes Three allows younger audiences to understand that just because someone lives their life differently than what they are accustomed to, it does not mean that they are truly different.
13. The Hunger Games by Suzanne Collins

One of the most popular teen dystopian novels to date, The Hunger Games takes place in what remains of North America. Divided into twelve districts, one boy and one girl from each district must kill each other in a nationally televised event each year until one Victor remains. The Hunger Games occur to remind the districts of their Capitol's power over them due to their failed rebellion from the current Tribute's ancestors. Due to the anti-ethnic, anti-family, violence and satanic viewpoints, parents and schools deemed The Hunger Games unsuitable for younger audiences. "The Hunger Games was the first book I read when entering sixth grade. This book inspired me when I was younger because of how powerful Katniss is before, during and after finding her voice," said College of Staten Island junior Angelina Salvador. "There's something about a main young girl character who is just trying to survive in this dystopian setting that made me feel like I could get through anything. Despite the violence that occurs, and it being the main theme, there's something relatable to learn about it." One of the primary messages from The Hunger Games relays how one individual has the ability to overcome the power of a tyrannical government and inspire hope in others.
14. Saga by Brian Vaughan and Fiona Staples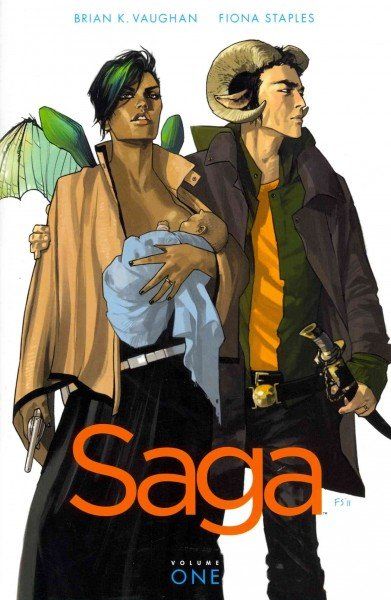 A fantasy comic about a star-crossed husband and wife from extraterrestrial races, Saga depicts the struggles that follow galactic wars and prejudices when having an interspecies child. Most concerns about the comic came with the breastfeeding scene in the first issue. Along with this "offensive" scene, Saga found itself on the banned book list of most libraries due to its anti-family themes, explicit nudity and sexual content, among other criteria labeling it unsuited for younger audiences. "Taking inspiration from media across genres and history, ranging from Romeo and Juliet to Game of Thrones and Star Wars, it tells a compelling fictional story all while tackling real and current societal issues. While some may argue that it is not age-appropriate, that comics should be strictly geared towards younger readers, and that the gore, trauma and topics discussed have no place in a graphic novel, justifying the ban, it stands to be one of the most important reads of the decade in my eyes. It bases its fictional issues off of realism in the world we live in," said St. John's University junior Rudy Merlino. "Rather than focusing on the deep and touching messages, characterization, and lessons told page by page, censorship has tried to hide a creative and brilliantly expansive world filled to the brim with important takeaways and knowledge, which unlike the story of main characters Alana and Marko, are more than strictly fiction." Through shock factors and blunt details, the authors create an unforgettable story that shines a light on current injustices and hardships for people everywhere, not just fictional refugee aliens. The themes within Saga powerfully reflect the current atmosphere of the world in 2020.
15. The Color Purple by Alice Walker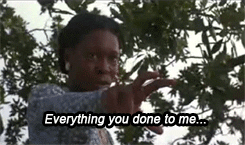 Alice Walker's The Color Purple follows the tragic story of underprivileged 14-year-old Celie, who writes letters to God because of the sexual abuse from her father. The novel finds itself banned from schools across the country since 1984. Despite the controversial content, the novel contains extremely important messages that make the story more realistic. Celie's father eventually marries her off to a man who treats her poorly as well. Celie also finds herself through her relationship with a woman named Shug in an explicitly sexual scene, one that caused an uproar among many parents. Regardless of the touchy themes, The Color Purple teaches the reader and Celie to stop and smell the roses of life. Each and every person deserves a chance to enjoy the wonderful things in life, regardless of how painful their life proves to be.