Don't fight the urge. Sometimes, we simply must sing. And ever since the galactic hit Pitch Perfect proved just how freaking cool singing in college can be, undergrads have become obsessed with becoming Anna Kendrick. Here are ten ways to ensure your beauteous voice will be heard.
1. A CAPPELLA GROUPS
The hip thing these days is to try out for an a cappella group, thanks to that highly educational a capella film out there which taught all of us about the glory one inevitably acquires when one is in a college a cappella group. On a more serious note, a cappella groups, no matter the genre-type or whether one is co-ed or not, cultivate family dynamics and provide an awesome stage for singers.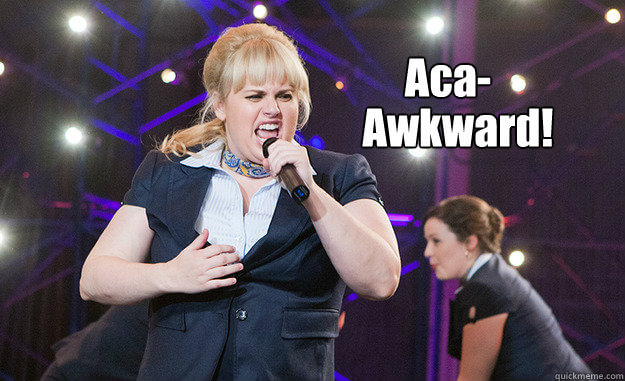 2. MUSICALS
There's a pretty good chance your college puts on one or two musicals every year. If you've got that Broadway spirit and a powerful, emphatic voice, go check out auditions and keep up on what's going on in the theater community. No musicals at your school? Small local musicals will undoubtedly beput on, just keep your ear to the ground.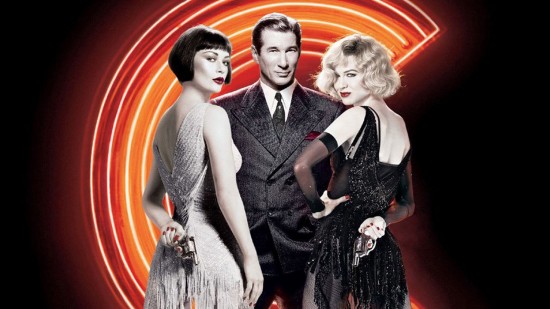 3. KARAOKE
Maybe you're more into the nightlife side of singing instead of organized harmonizing at school. If that's the case, check your area for poppin' karaoke action. Even if you're underage, there are a lot of strictly-karaoke clubs that allow ages 18+. So, work on your Backstreet Boys or Britney Spears cover and kill it in the limelight.
4. INVEST IN YOUR OWN KARAOKE MACHINE
If you're more of a homebody, or you just love hosting sweet college parties, a karaoke machine is pretty much exactly what you need. Make a game out of it and have party goers choose songs out of a hat they have to sing for the crowd, or assign duets like the partymaker you are.
5. CHOIR
Most colleges have university-led choirs, and a lot of them take worldwide trips in places like Italy and France. Choirs are a lot more organized, with actual adults leading the charge typically. If you're into more authority and university-funded trips, choir is right up your alley.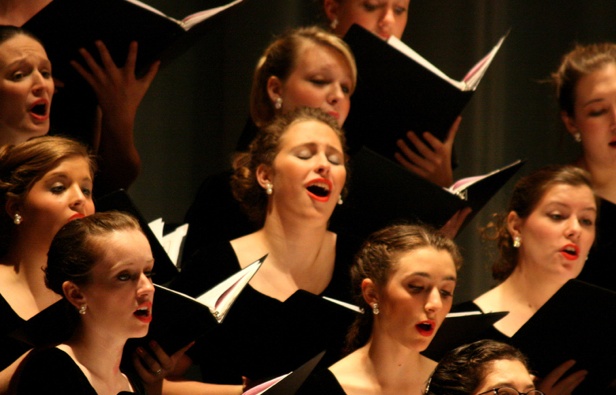 6. IMPROMPTU ORGANIZED GROUP SINGING, PART ONE
Singing doesn't always have to be backed by people imitating instruments, a grand piano, or a karaoke track. It can happen ANYWHERE. Neil Toracinta, recent grad of URI and enjoyer of his own voice, says, "I'm all about music at any occasion. If I couldn't showcase my musical talents in any groups on campus, I was always down to start singing at basketball games."
7. AUDITION-FREE GROUPS
Sometimes the pressure of auditioning for an a cappella group or a musical or the choir is too real and intimidating. A lot of schools have audition-free and usually pretty stress-free groups. If you've got a great group of people, it doesn't matter how talented they are. You're going to have an awesome time.
8. IMPROMPTU ORGANIZED GROUP SINGING, PART TWO
While singing Sweet Caroline as your football team celebrates a win is always a fun time, there's nothing better than getting on a rowdy bus and singing "Build Me Up Buttercup." Bus drivers and sober people everywhere cringe when that one drunk dude starts screaming "OH BABY YOU, YOU GOT WHAT I NEED". But if you're one of those drunk people, you're basically Biz Markie.
9. START YOUR OWN GROUP
Didn't get into that über-cool a cappella group because they thought you sounded too much like Darius Rucker and they're just not feeling it? Go start a country music a cappella group with your buds. That all-girls group just thought your rendition of "I'm Goin' Down" by Mary J. Blige didn't vibe with their scene? Start the hottest R&B a cappella group on campus.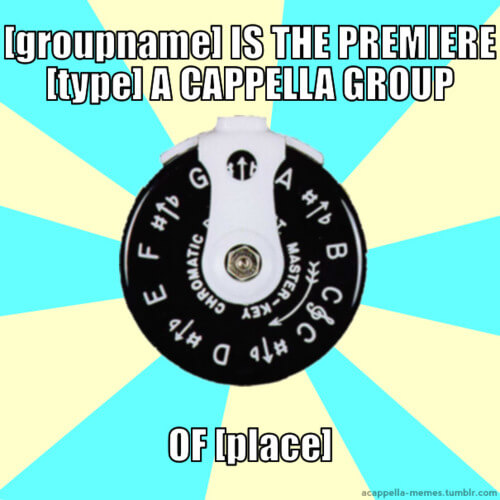 10. ALL ELSE FAILS, THERE'S ALWAYS SINGING IN THE SHOWER
Maybe you're not the next Whitney Houston. Maybe you're not even the next Joey Fatone. Ok, so maybe you're a tone-deaf wannabe diva. It's all good. Just flex those pipes in the shower, baby. Or you can go the route of Elena Capozzi, recent grad of RIT, who says, "I sang in the shower so I could keep everyone out of the bathrooms when I lived in the dorms." Needless to say, the strategy worked very well. When asked to explain to College Magazine how her singing was so effective, Ms. Capozzi declined to comment.