It's game day. Every Gator counts down the days until the next home game during fall semester. And that's because University of Florida tailgating is unlike any other. What greater feeling than waking up in the morning, covering yourself in blue and orange from head to toe and getting ready to sweat for eight hours straight in hopes of watching our team score a touchdown?
Read more to learn 10 University of Florida tailgating tips.
1. Wake Up Early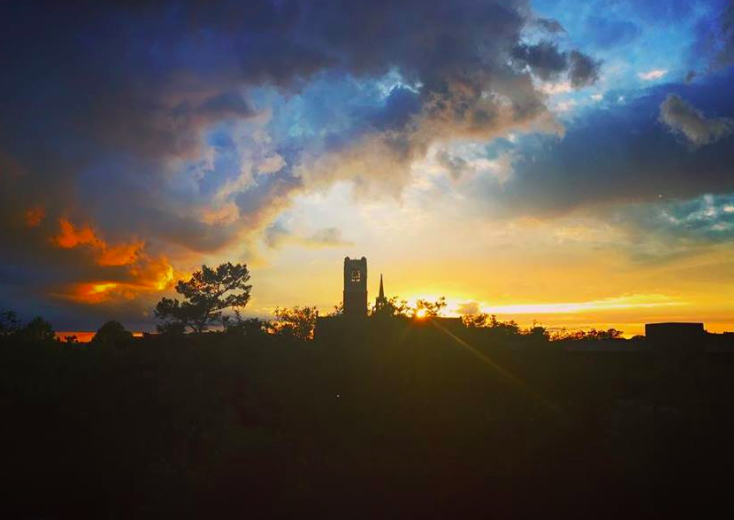 The earlier you start the day, the better. With only seven home games a year, you don't want to waste a minute of one. By 9 a.m., the streets of Gainesville surrounding campus flood with people of all ages decked out in orange and blue, rallying in hopes of a Gator win.
2. Throw on your Best Gator Gear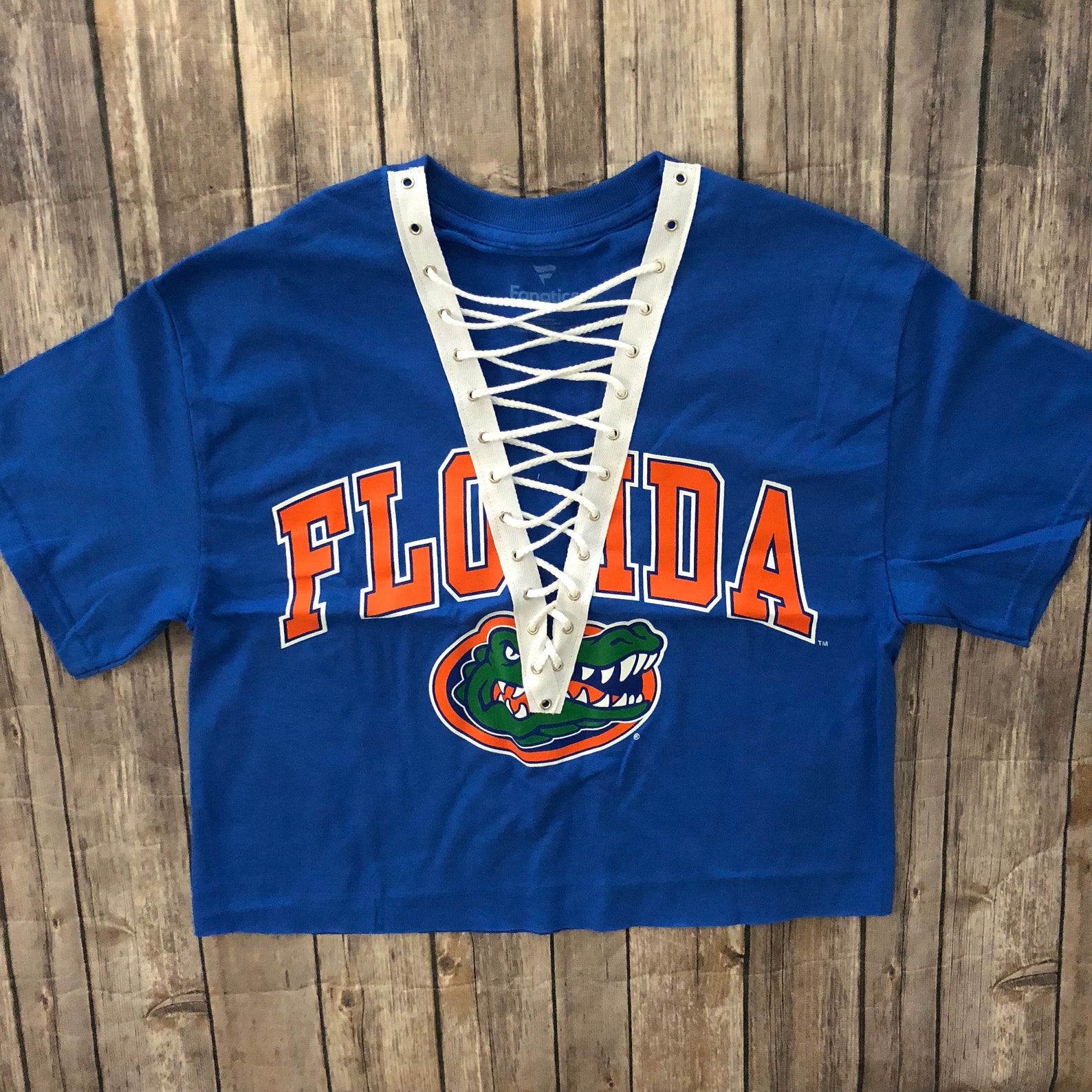 Many college girls have a knack for cutting up old t-shirts and making them trendy and fashionable for a football game. Take a trip to the local thrift store to find a cheap shirt to decorate. If you do not have the skills to cut up a shirt without destroying it, check out etsy.com for cute outfit ideas that show you have team spirit. For both fashion and convenience, grab some themed sunglasses. For just $10 on Amazon.com, this purchase helps complete your Gator gal look, while also blocking your eyes from the Florida sun as you trudge to the stadium at noon.
3. In all kinds of weather…
Don't feel discouraged by what Weather.com tells you the forecast for the day looks like. When living in the Sunshine State, you never know what to expect. Even if you have sweat dripping down your body when you arrive at the gate, the team will still be out on the field, so make the most of it by staying hydrated throughout the day. This past fall, we hit a record for hottest Florida football game played, with the temperature being 96 degrees at kickoff. Carry your umbrella in a clear bag to get into the stadium in preparation for thunderstorms. As Robert Swanson and John Icenhour put it in 1919, "In all kinds of all kinds of weather, we all stick together for F-L-O-R-I-D-A!"
4. Walk Around the Reitz Union North Lawn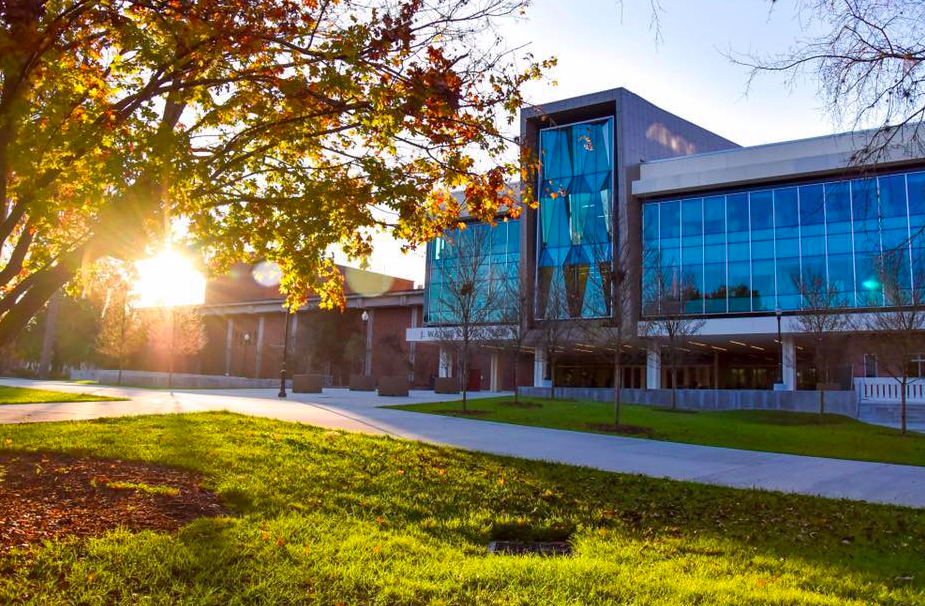 Make the North Lawn one of your first stops during your tailgating excursion. The area gets flooded with UF Alumni bright and early. You can smell the grilling of burgers and find crushed beer cans covering the grass as soon as the sun rises. "It is really cool getting to see three generations of my family in their favorite tailgate spot under the trees by McCarty Hall talking about how the Gator's were back in their day," freshman at the University of Florida Valerie Truesdell said. UF has such a strong alumni system that thousands of graduates continue to return each year during football season visiting their children, grandchildren, nieces and nephews that now call this university home.
5. Head Over to the Plaza of the Americas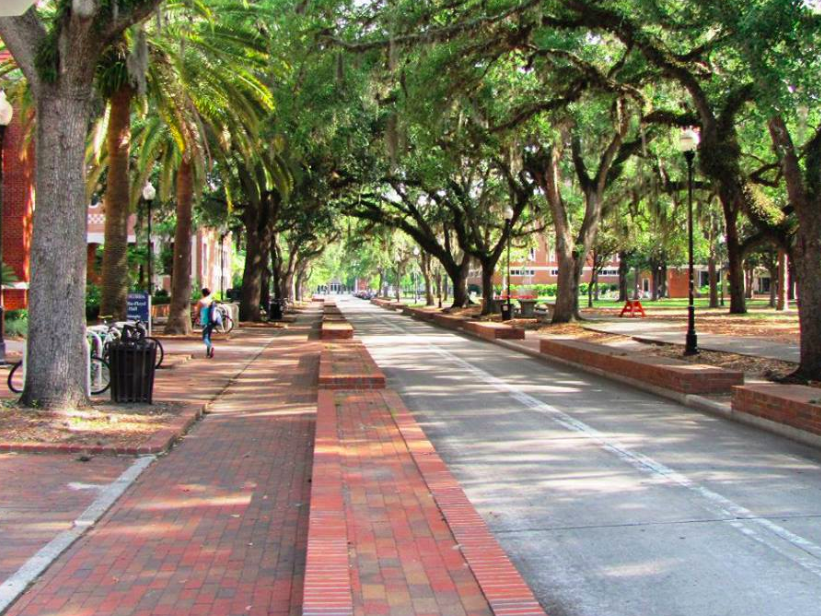 When looking for a game of beer pong or corn hole to play, the Plaza of the Americas always serves the purpose. As you walk through the tailgating alumni and families, be on the lookout for UF's singing groups—they like to make their way around the barbecues and coolers to spread some school spirit. Ask them to sing to your friends if you want to hear classics such as "Orange and Blue" and "We Are the Boys." Feel free to sing along. "Tailgating is my favorite way to show Gator pride and school spirit," Aliyah Mclean, member of the Sedoctaves, UF's premiere all female acapella group said. Sanjana Ravi, another member said, "It's such a fun way to bond with my sisters and the people we sing for." While in this vicinity, also check out the giant Gator Band drum. Grab the mallet and make music of your own.
6. Listen to the Marching Band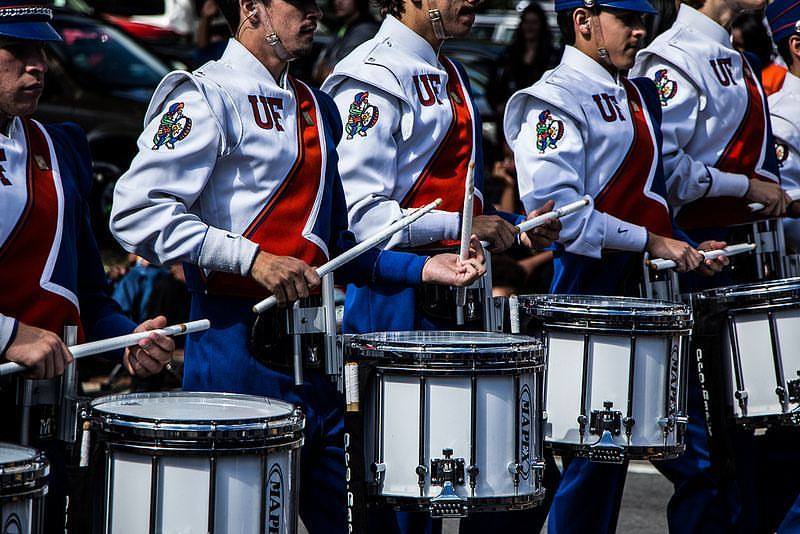 The Marching Band stands out as a game day highlight for the Gators. Try and wait until after their halftime performance to get your nachos and pizza—you don't want to miss them play. They spend all morning practicing in their field with hopes of getting the fans hyped up. Some lucky fans may get to hear the band warm up, which certainly puts you in the Gator Spirit. "On noon-kickoff game days you can normally find band kids asleep in all places of the music building to get in a nap before everything gets super hectic. We go down under the stadium and wait in tunnel. Once we get the go-ahead, we run out for pregame and we have as much fun as possible," member of the UF Marching Band Lauren Mizell said. This group puts in an insane number of hours just to get the team and the fans ready for the game. Make sure you sit and listen to what they have prepared; they never disappoint.
7. Go Frat Hopping Down Fraternity Row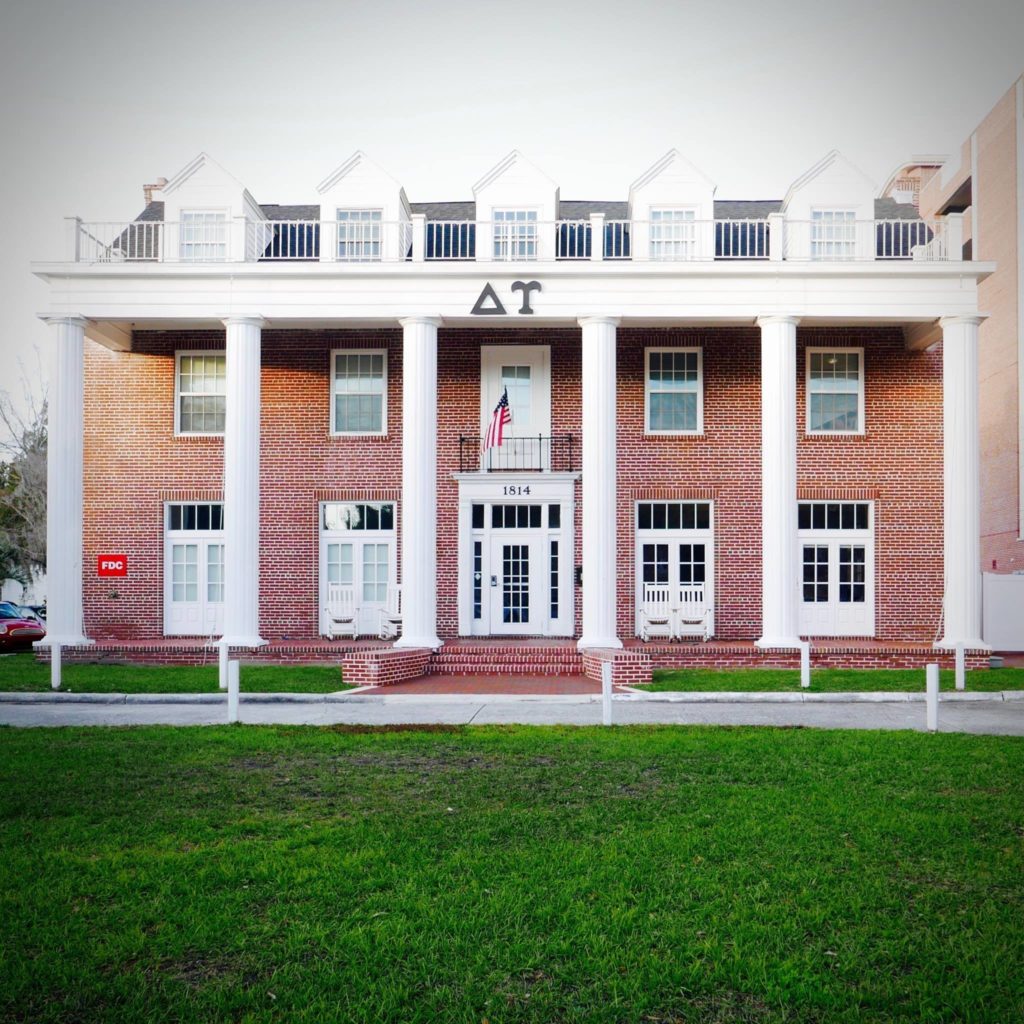 Walking down fraternity row, UF students get to take a break from the daily grind of work and school as they let loose with their best friends and strangers they meet while out. Many of the frats offer food to those tailgating as a way to recharge before the game begins. Choose which house you want to visit and start dancing to the music blasting through the windows.
8. Walk Down University Ave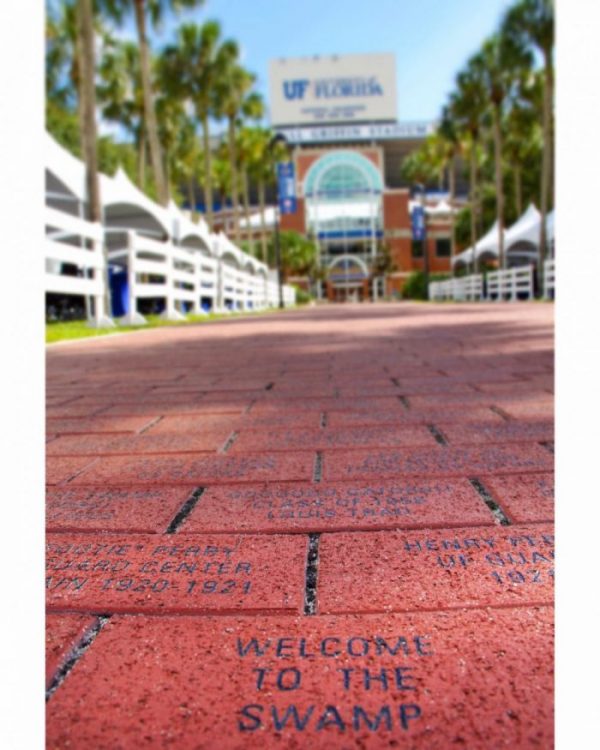 When looking for a break from the screaming sorority girls, you may encounter drunk UF Alumni reminiscing about their college days down University Ave. Gator fans from all over gather in front of the stadium as they wait for the game to begin while cooking and playing music. Since they set up right across from Midtown, you can find a plethora of food options down the street including Italian Gator and Relish, just in case your grill stops working.
9. Eat and Drink at The Swamp Restaurant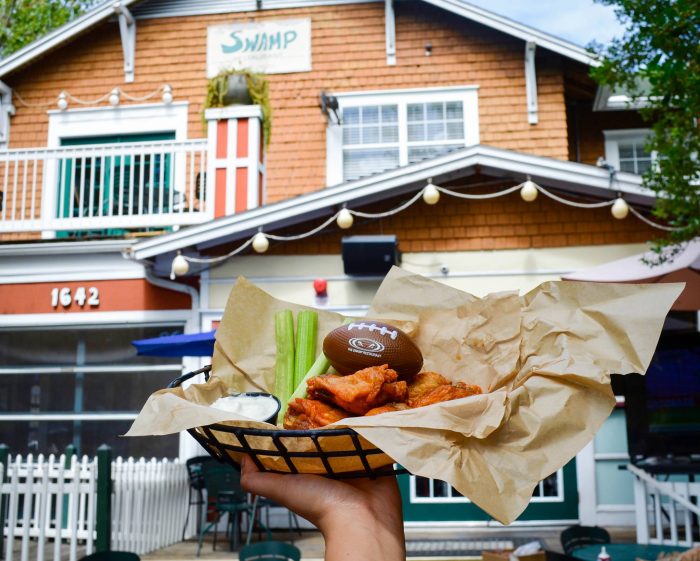 If you unfortunately don't have a ticket for the game, The Swamp seems like the perfect place to view it. Since 1994, The Swamp proudly serves the Gator nation.  You can watch the Gator game as well as other SEC games broadcasted on the huge blow up screen on the patio. For those tailgating parties who don't feel like cooking themselves, come on down to 1642 West University Avenue before the game begins for both food and drinks. Enjoy some salads, soups, sandwiches and swamp specialties to fuel your body and get hyped before watching the gators play.
10. Get to the Game Before Kickoff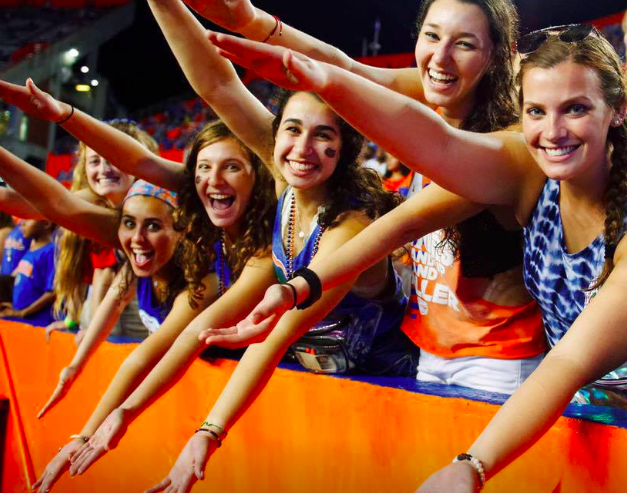 For those who own student tickets or families who sat and purchased them in advance, don't miss the beginning of the game. Getting from the entrance of the stadium to the gate and to your seat can take a lot longer than you would hope, especially after partying all day in the 90 degree heat. Watching the team run out from the tunnel and make their grand entrance fills you with school pride. No matter the score at the end, in this moment the crowd shouts and chants with joy and spirit. It really is great to be a Florida Gator.