Beware: The extreme ambition of this city might land you stuck in a boring routine between a summer of interning, working or studying if you don't pay attention. D.C. offers an abundance of fun and affordable activities throughout the summer break from your GWU classes. Read on and discover how you can make your summer in D.C. more fun and fulfilling.
These 10 things to do in D.C. will give you a monumental summer vacation.
1. Jazz in the Garden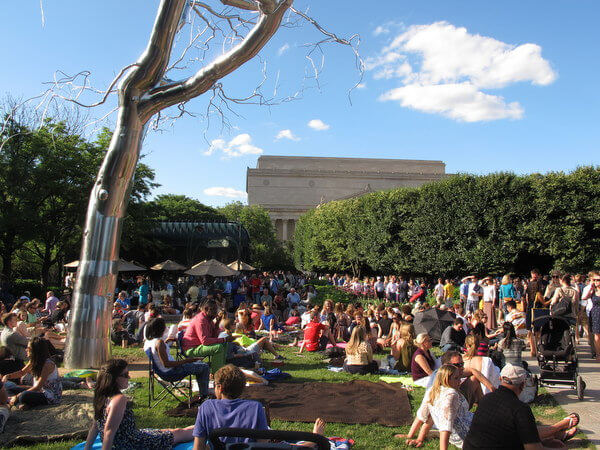 Beginning mid-May, the National Gallery of Art's weekly Jazz in the gardens makes for the perfect Friday evening activity. Find a seat in the museum's Sculpture Garden and enjoy jazz music from a variety of swing, funk and hip-hop artists. Visitors can also enjoy food from the outdoor grill menu, which features dishes such as gourmet tacos, burgers and salads. For those of us who have reached the magical age of 21, sangria tastes deliciously refreshing and costs only $20 per pitcher. Not in the mood for a drink? You can enjoy the fun atmosphere without food or drink, so relax and socialize with fellow interns and young professionals. Entrance doesn't cost a penny, so I challenge you to find a reason not to enjoy one of D.C.'s favorite summer pastimes. "I love jazz in the garden because it gives everyone a time to reconnect after a long week of interning or working and it allows people to enjoy the culture the district has to offer," said George Washington University senior Emily Brodsky.
2. Attend a National's Game
Whether you consider yourself a baseball fan or not, a Nationals game affords every college student a breath of warm summer air and the infectious energy of D.C. sports fans. Love baseball? Splurge for good seats. Indifferent? Get nosebleed seats and splurge on scrumptious stadium food like cheese fries, hot dogs or frozen margaritas for our 21 year old friends. For anyone there for eye-candy, sit in right field to watch Bryce Harper do his thing. In between innings, people watch and take in the festive atmosphere.
3. Fireworks on the Fourth of July
Where else would you celebrate our nation's independence day (or the whole month of July) than in Washington D.C.? Watching the fireworks on D.C.'s Fourth of July celebration will stay in your mind forever. "There's nothing that makes you feel like a free American citizen more than watching fireworks in our nation's capital," said George Washington University rising senior Julian Baker. The fireworks typically start after 9 p.m. so make sure to find the perfect viewing location before night falls. The National Mall, waterfront restaurants in Georgetown or the Washington National Cathedral all offer excellent vantage points for the ultimate viewing experience.
4. Paddle Boat in the Tidal Basin
Sadly, D.C. does not offer its tourists a beach, but visitors can still escape the sweltering streets of D.C. and rent a paddle boat on the Potomac. The more adventurous GWU students should try paddle boarding around the Potomac. "Paddle boarding on the Potomac is one of my favorite D.C. activities. It's so cool to paddle around Teddy Roosevelt Island and see all the birds and turtles. Paddle boarding gets you moving and a little splash from the water definitely cools me down. It's only $20 for an hour so it's well worth it," said George Washington University senior Hannah Berry. Even if you don't typically think of yourself as an outdoorsy person, try experiencing the more outdoorsy attractions DC has to offer and you'll see the monuments in a completely different way.
5. Take in the Touristy Sites
Want to see D.C. while avoiding walking miles in the sweltering heat? Catch a Big Bus tour that circles D.C.'s national mall and favorite neighborhoods. For the best deal, bring snacks and beverages on your trip and soak up the sun while enjoying the ultimate tourist experience. However, should you feel more ambitious, walking or bike-sharing offer alternative ways to experience D.C. "All my friends like to bike around the mall, but I'm a fan of taking walks because it's more relaxing and it fosters conversation more easily," said GWU rising senior Noah Thomas. The Washington Monument, Lincoln Memorial, and the sometimes overlooked Jefferson Memorial should top your list of must-see attractions.
6. Search for the perfect Outdoor movie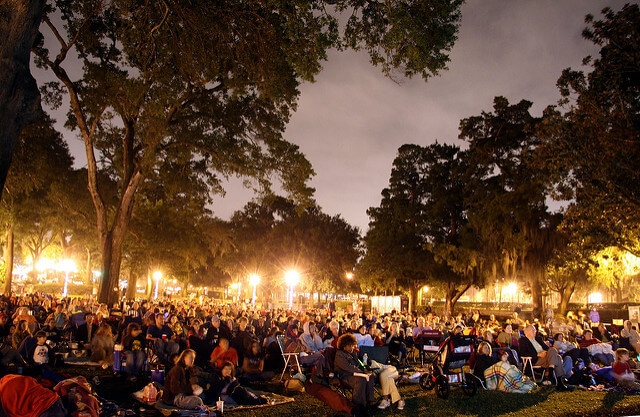 When the endless happy hours and museums lose their appeal, relax and enjoy a movie outdoors. You can't find much better in D.C. than sitting among twinkling lights during warm summer nights while enjoying a classic movie. Adams Morgan, Capital Riverfront, Chinatown, Columbia Heights, Capital Hill and Georgetown all offer outdoor movie destinations. This year's outdoor screening line-up includes crowd favorites such as The Lion King, National Treasure, Jurassic Park and more. Most screenings are open to the pubic free of charge, so bring a blanket and some snacks and enjoy a budget-friendly evening under the stars.
7. Eat and Drink Your Worries Away
The up-and-coming food scene in DC draws national attention, and summer presents the ideal time to try new restaurants. Whether dining in DuPont, Georgetown, 14th Street or in Northeast DC, the number of rooftop happy hours and outdoor dining will have you feeling like you have died and gone to heaven. "Union Market is a really fun outdoor place to eat and one of my favorites because it's full of a huge variety of food vendors," said George Washington University senior Sophia Toso. Additionally, Jose Andres's restaurants draw national attention and offer the perfect destination for a celebratory dinner. Check out the unforgettable Greek restaurant Zaytinya, but you should probably save it for a parent visit of special occasion. For a healthy grab-and-go lunch option, you'll want to hit up Beefsteak. Summertime in DC welcomes interns from all over the country, and bars throughout the city open their doors to interns. For those of us who have turned 21, check out happy hours at Toro Toro, Penn Commons, Bar Charley and Front Page for drinks priced at $6 or less.
8. Attend the Smithsonian Folklife Festival
If you crave an international experience without hopping on a plane, then look no further. The five-day Smithsonian festival takes place in early July of each summer. The free festival features international artists, musicians and cooks. The Folklife Festival's Artisan Marketplace offers crafts such as hand-crafted jewelry, music, clothing, baskets and leather accessories. If you came searching for the food—this year's events include coffee-tasting ceremonies, wine tasting, Mediterranean cooking classes and more. Regardless which day you choose to attend, you'll find yourself delightfully overwhelmed by the different cultures you'll experience. Keep an open mind as you'll see visitors from all around the globe – the Festival has featured participants from over 100 countries and all 50 US states.
9. Check out the Wharf
Formerly known as the U.S.'s longest operating fish market, the Wharf enjoys the status as one of D.C.'s exciting new neighborhoods. The Wharf offers four different piers, including Market Pier, which has a reputation for its fantastic shopping and the Recreation Pier, which offers kayaking and outdoorsy activities. Catch the Southwest shuttle to the area and catch a show at The Anthem, D.C.'s most intimate concert venue. Searching for food and fantastic Instagram opportunities? Enjoy dinner at one the area's 20 restaurants, which range in price and cuisine style. Locals tend to frequent Del Mar de Fabio Trabocchi, a bougie Spanish restaurant, which features to-die-for dishes such as truffle dressed in sherry and crudo of scallops. Be sure to check the Wharf's schedule of events regularly, as the neighborhood offer unexpected events ranging from boat parades to zombie rides.
10. Find Fresh Food at the Farmer's Market
Take advantage of the sunny weather and venture to your neighborhood farmers market from top-notch produce. D.C. offers markets in Foggy Bottom, DuPont, 14th Street, Eastern Market, Columbia Heights and more. Look for the farmers market nearest you and support local farmers as you find the perfect produce for your summer cookout. Not in the mood for produce? Check out Artisan cheeses, gourmet pizza, vegan tacos, popsicles or fresh flowers. Even if you go to browse, the people watching alone will keep you entertained.