George Washington University—Washington, D.C.
The Vibe
City collides with campus
What It Feels Like to Go Here
One stereotype of GW: Rich students who don't care to swipe that credit card as they walk down the street with a Prada purse and Burberry sunglasses. Those people do exist, but they do not make up the entire student body. Instead, this school consists of a variety of interests, nationalities, economic backgrounds and beyond, and sometimes those people that show off their wealth overshadow the rest of the student population. But to all prospective students thinking about coming to Foggy Bottom in the fall, do not let this stereotype stop you.
Instead, let the driven GW culture inspire you to come to D.C. The students have an undeniable tenacity and are eager to change the world. Along with this drive comes responsibility. GW has a standard to be constantly over-achieving. Located in the nation's capital, D.C. is teeming with the best internship opportunities to snag during the summer and during the semester.
Awesome Alumni
Located in the nation's capital, GW breeds established politicians who have walked through Kogan Plaza at the heart of campus. Some of these D.C. greats include Senate Majority Leader Harry Reid, Former House Majority Leader Eric Cantor, Former Secretary of State Colin Powell and Jackie Kennedy, walking down the National Mall at graduation in 1951.
However, notable alumni also rise to the entertainment industry. For instance, fans of Scandal will recognize Kerry Washington, AKA Olivia Pope. She  finished her academic career at GW in 1998 after working as a student orientation leader and as resident advisor of our largest freshman dorm, Thurston Hall.
Beyond that, TJ Miller, star of Silicon Valley, and Kevin Peter Hall from Predator, also attended GW. Finally, the following established journalists reported in the District as GW students: Dana Bash of CNN, Chuck Todd of NBC News and Bob Woodward, investigative reporter famous for reporting the Watergate Scandal. Need we say more?
Where We Hang Out
You won't find yourself bored AF. Travel two blocks to the White House at midnight with friends after a long night of studying. Walk to the Jefferson Monument during the spring season to see the cherry blossoms blooming beside the Tidal Basin. Dance the night away at one of the many D.C. local clubs Thursday through Saturday. D.C. is unlike any other region in the nation, and as a GW student, you have the incredible opportunity to call the nation's capital your home for the next four years.
You can find students on-campus in Kogan Plaza or University Yard during spring. Students relax in Kogan Plaza, located at the heart of campus, under the Rotunda, at picnic tables or in front of Gelman Library (also known as GelHell). University Yard hosts one of our newest organizations on campus, GW Hammocks, where students hang their hammocks along the trees lining one of the few grassy fields on-campus. Beyond that, GW students are constantly exploring the new coffee shops in Georgetown, the hole-in-the-wall bars in Adams Morgan and the Smithsonians.
Q&A:
1. How much are students partying?
"Freshmen party a lot I think but once people mature they slow down, but I think a lot of people are resistant to growing up and are really reckless even as seniors but the party scene is not too big here," said junior Nick Zmudzinski.
2. What will you get in trouble for at your school?
"The number one thing is drugs or booze on campus—especially since we have to live on campus for so long it makes it way more likely for students to get caught in their rooms with that sort of stuff as compared to other universities where students aren't constantly under the thumb of their police," said junior Samantha Lemieux.
3. Why did you pick GW?
"I picked GW because I honestly just had that feeling you hear about in books or movies when I stepped on to the campus, it was like a gut feeling that this campus and this city just felt like home. On a more rational level, it had the programs I needed and is in one of the best cities for an opportunity I might want, and I could tell that I would be able to get involved in whatever on campus activity I wanted to," said Lemieux.
4. What would you tell incoming freshman about your school?
"I come from a small town in the Midwest so when I came to a school in city like D.C., I really didn't know what I was getting into. I was really surprised to see how actually diverse the school really is. Most of my friends come from different backgrounds and I think you only really get that at a school like GW," said junior Abbey Monsour.
5. What is the one thing you will miss after you graduate?
"I miss being surrounded by so many engaged and politically active people. I've found that my friends from home, even those that went to college are not always in touch with what's going on politically at the depth and breadth of a lot of GW students," said 2017 graduate Jack Jomarron.
Overall Experience
"GW is like any place, you're going to find people who will always have your back and you're going to find people who are opportunistic social climbers. I've found my community of people who I trust and I have my fair share of people who I do not trust, but that's life." – Nick Zmudzinski, Class of 2019.
"[GW is] intimidating because of how successful its students are and how capable many are, both academically/professionally and socially. My experience has been nothing like what I thought it would be and I am SO thankful for that because GW has really forced me outside of my comfort zones for better and made me a more capable person in handling real life situations." –Samantha Lemieux, Class of 2019
"One thing I wasn't expecting and that really challenged me was some of the intro classes. I was an honors kid in high school and math and science always came easy to me but when I was put in a huge lecture hall I was really overwhelmed. I really struggled with those big classes. It took me a while but I learned how to reach out to professors and TAs for help and find friends in the class who I could study with and bounce ideas off of. Overall I love going to school at GW. My classes have given me the tools to achieve at my internships and have definitely become a better journalist." – Abbey Monsour, Class of 2019
"GW has empowered me. It has helped me find people who are as passionate and motivated as I am to help change our worlds, and given me the freedom and opportunities to explore the topics I want to study." – Sanchaya Satish, Class of 2019
"I would say GW has definitely changed my view of the world. I have met people from all over and learned a ton about culture and lifestyle. I don't think I was expecting GW to be as diverse as it is. I'm the daughter of Venezuelan immigrants who grew up in a primarily white town in the tiny state of Connecticut so it was definitely a shock for me to come to such a busy city full of people from countries I had only read about." – Diana Nunez, Class of 2019.
Top 3 Majors
1. Political Science
2. International Affairs
3. Business/Economics
TOP 3 MOST POPULAR STUDENT ORGANIZATIONS
1. College Democrats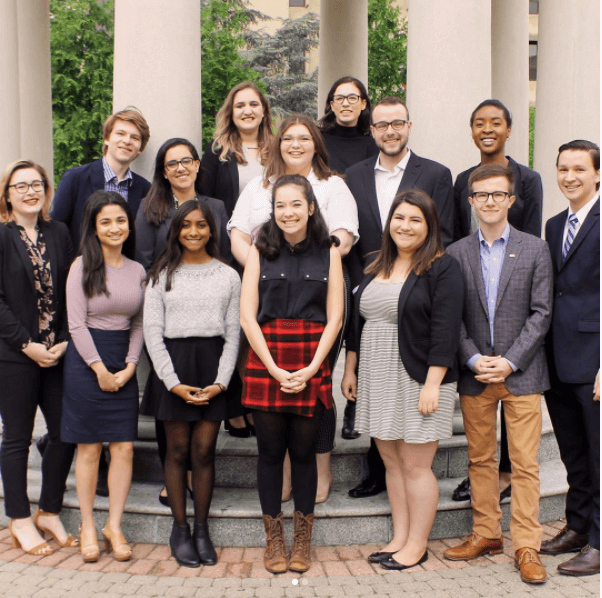 As one of most politically active campuses in the nation, GW students fight for what they believe in. College Democrats is the largest student org on campus. "I arrived on campus freshman year, I wanted to figure out a way to merge my passion for helping others and elevating progressive causes," said Jazmin Kay, president of College Democrats. "I saw joining and becoming an active member of College Democrats as the best way to do this and have not turned back ever since." Consider joining if you want to learn more about political activism through your peers and make change at the University and in the District along the way. "My experience as a member of College Democrats has truly been the highlight of my college experience," said Kay.
2. GW Hatchet
Independent of the University, GW Hatchet is the on-campus newspaper that takes pride in reporting the truth of campus life, budgeting of the University, latest D.C. news and beyond. "The Hatchet has provided me with the best journalism experience in college that I could ask for. Working alongside some of the most talented student journalist has inspired me to report on issues and events affecting our community," said Justine Coleman, editor at the GW Hatchet. This organization is a teaching publication, meaning that if you aren't a hard-hitting journalist as a freshman, it's not a problem. The Hatchet is a collaborative environment that encourages you to learn from your peers.
3. Colonial Inauguration Leaders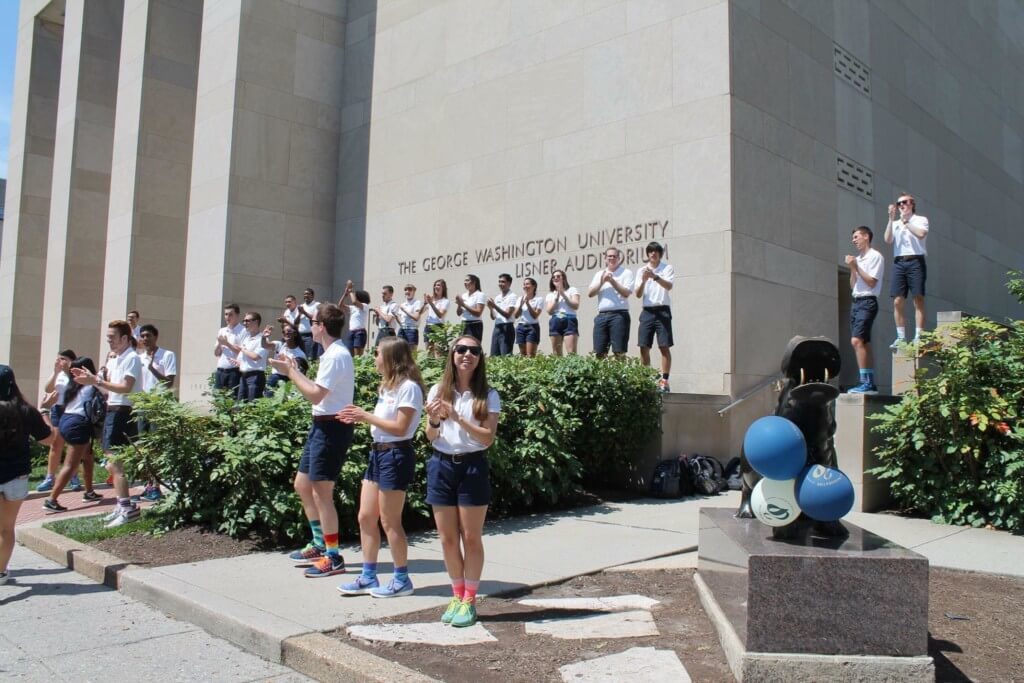 You should apply for Colonial Inauguration, GW's freshman orientation program, if you want to get to know the incoming freshman while bonding with GW students in the process. Whether you enjoyed orientation or not, apply to be a leader to help freshman students integrate into GW culture. "After high school and before starting at GW, I had taken a gap year. At CI, I felt awkward among the incoming students fresh from high school. I didn't know how I would find a home at GW, and I had trouble visualizing it at CI. I wanted to apply to staff CI to connect with students who might have felt out of place or awkward, students who might not understand how they could fit in at GW," said Jacob Smith, senior and former CI leader.
Getting In
Just like any university, GW admissions searches for a "well-rounded" student: Someone who has at least a 1800 on the menacing SAT with a 3.8 GPA while participating in an extracurricular activity that you are passionate about. All of those attributes describe a strong applicant applying to any college, but passion is the optimal attribute of GW applicants. Students at GW have a passion for politics, journalism, international affairs, traveling and basically anything. This school cultivates vocal leaders in politics and GW admissions officers look for students that have a strong point of view in something. If you want to change the world by becoming a Supreme Court justice in the LGBT community, or if you want to start an earth-friendly fashion line, you belong at GW because you are passionate to fix a problem in our world.
STATS
Location: Washington, D.C.
Tuition and Fees: $51,950
Total Cost on Campus: $68,275
Undergrads Enrolled: 11,157
Grads Enrolled: 15,055
Total Enrolled: 26,212
Acceptance percentage: 39.5%
Percent Admitted who Enroll: 26%
Enrollment: 2,574 undergraduates
Percentage of Male Students: 44%
Percentage of Female Students: 56%
Percentage Receiving Financial Aid: 67%