UC Berkeley, the college of stressed-out STEM majors and kids that can't stop studying. Before you turn away at the slander, know that I also recognize our studiousness as one of the things that make Berkeley a great school. But ever wonder where Bears hunker down to do their thing? Between the bustling din of Telegraph Avenue and the disruptive albeit beautiful chime of the Campanile, a perfect study spot does not come easy.
Read on to find out the best study spots at UC Berkeley.
1. Moffitt Library
Moffitt Library covers all your possible studying needs. For one, the library builds group collaboration into its interior design. Private study rooms, open seating and large tables give plenty of space for you and your friends to discuss and work on projects together. The presence of printers also saves you the hassle of panic-searching across campus to print out your last-minute essay. Aside from that, the library allows food and drinks inside, so you don't need to fear losing your spot because you needed to head outside for a pick-me-up.
"I love Moffitt because of how vibrant it is—it's always packed with students studying there," UC Berkeley junior Quan Mai said. "It gives me motivation. Another thing is it requires card check, which means that whenever you're in danger you can run there to cut people off."
The fifth floor of Moffitt provides particular pleasure. Long, futuristic-looking sofas line a panoramic view of the Glade and the University Library. Along with that, a wellness room equipped with nap pods and chairs makes itself available to drowsy Bears. Anyone who seeks to study without stress should consider themselves in luck.
2. Kresge Engineering Library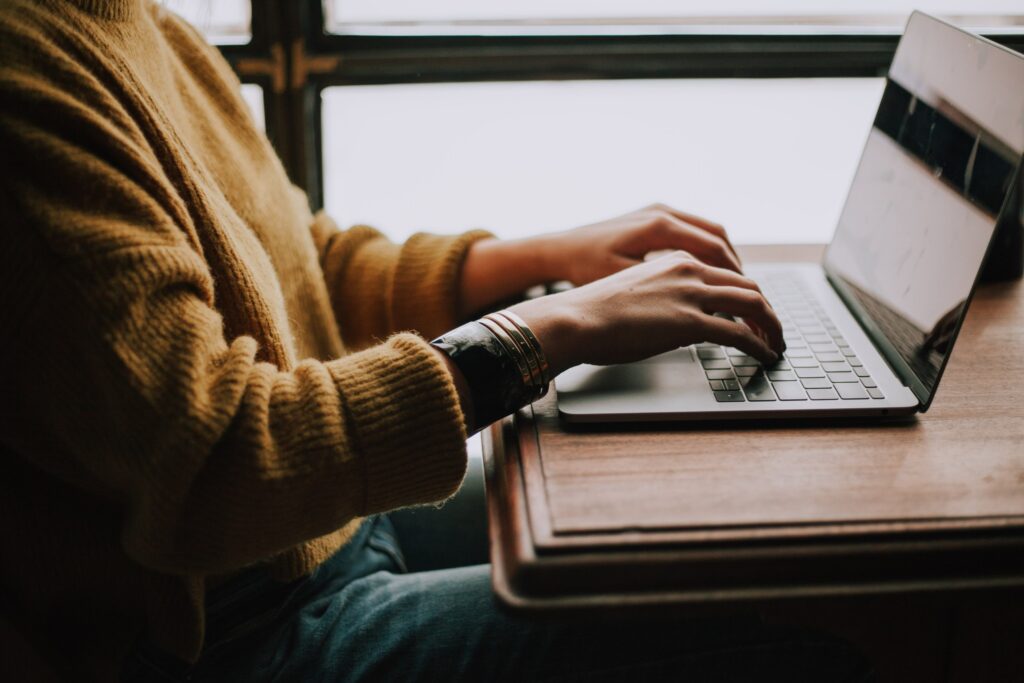 Another favorite locale for group study sessions, Kresge doesn't enforce a quiet policy. That means when your friend inevitably cracks that inside joke you can't help but giggle at, you don't need to worry about disturbing other people. With a mixture of warm wooden accents and colorful modern furniture, the space projects coziness while remaining clean and organized. A great spot to keep your synapses firing.
"I like Kresge because it's not super quiet. It feels like you can talk, but it doesn't get as rowdy or raucous or loud as Moffitt," said Kathryn Li, a junior at UC Berkeley. "I particularly like the reading area in the front that has a bunch of couches and chairs that are really comfy. There are laptop tables that you can move to the couches so you can work comfortably too."
Once you exhaust your synapses, take a break with the delightful collection of games presented at the Reading Lounge. For those who interact only with electronic devices, Kresge scatters outlets all throughout its space. Any time your laptop or your phone runs low on battery, you can find an outlet conveniently located by your workspace. No fear of unsaved work evaporating there.
3. Martin Luther King Jr. Student Union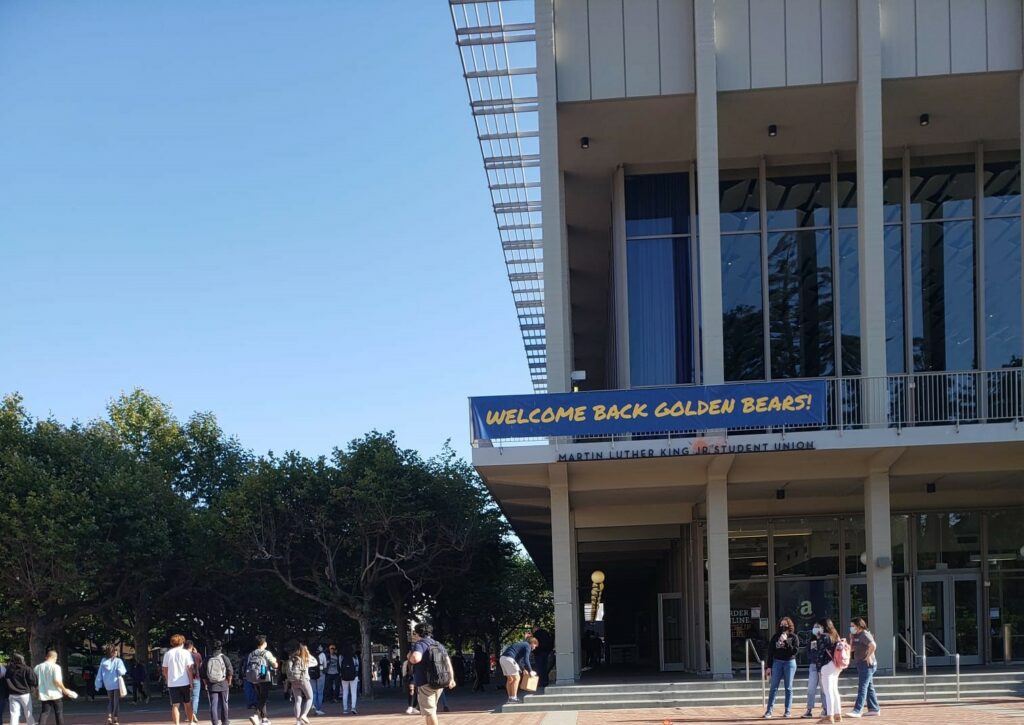 Want a study spot with the vibe of a coffee shop but without the price tag of one? Check out the MLK Student Union. With the round coffee tables and the persistent low-level hum of passing students, the Student Union operates like a Starbucks. Things never get so loud that you can't hear yourself think but also never so quiet that you feel intimidated. However, if you do find your stomach growling after a good study sesh, the three restaurants (Goldie's, Ladle & Leaf, Uno Express) inside the Student Union will certainly come in handy.
4. Wheeler Lounge
Tucked in a corner of the third floor of Wheeler Hall, the Wheeler lounge works especially well for shy English majors. As its name suggests, the lounge provides more than a study space and acts more like an understated retreat. Which, if you're anything like me, makes it all the better. The well-loved couches remove the air of stress and formality that libraries possess and help ease you into your work. And if you work better with a surface, the lounge also offers plenty of tablespace.
"The lighting is always great and it has a relaxed atmosphere," UC Berkeley junior Melody Zhang said. "For me, the space is more relaxed because it's less strictly a library room and more like, well, a lounge that's both for hanging out and studying, but mostly studying."
The three flights up to the lounge imply a bit of a trek. But then again, no good study spot comes without a bit of effort and patience (and oxygen). However, if you ever stay long enough to catch the sunset, the height of the lounge grants a breath-taking view of the cotton candy clouds. You might just forget what you first came here for.
5. C. V. Starr East Asian Library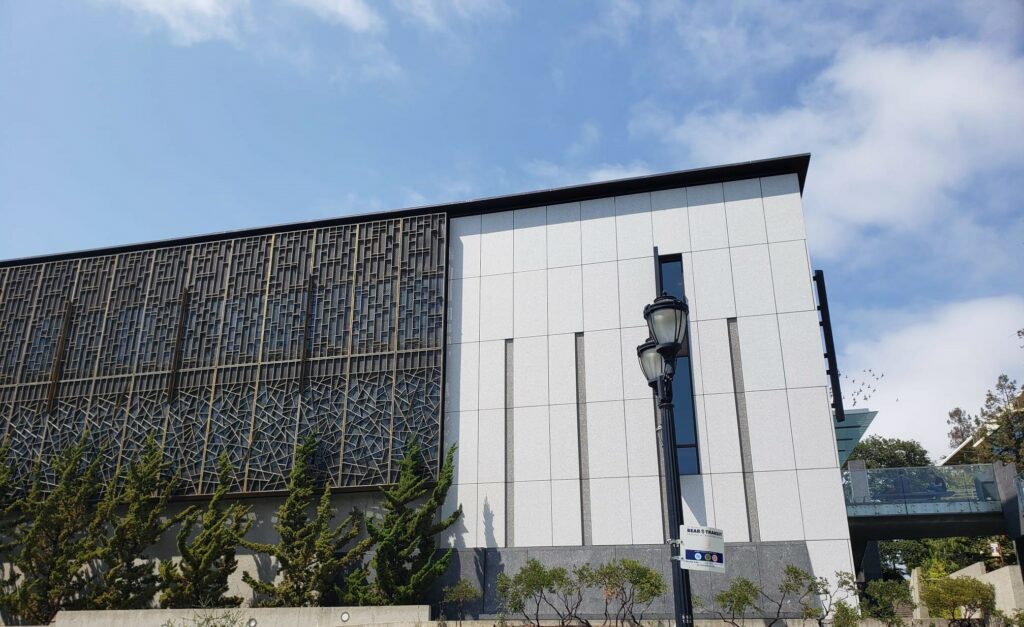 Floor-to-ceiling windows, a sweeping view of the Glade—the East Asian Library shines in contrast to all the other libraries. Whether you prefer informal café-style spots or serious workspaces, you can't deny that the East Asian Library holds an ethereal charm. Influenced by Asian architectural design, the minimalistic but warm interior creates a soft and quiet ambience, essential for those who like to study in style. And when hours of screen time threaten to strain your eyes, you can always divert them to admire the beautiful bronze geometric screens gracing the windows instead. Go pick up your laptop and papers and find a cubicle. The East Asian Library awaits your arrival.
6. Main Stacks
Let's take a turn now to absolute silence. Secluded within layers and layers of bookshelves, Main Stacks insulates you from any errant distractions and stimuli. If you present the case of an 8-page paper due tomorrow that you procrastinated on, Main Stacks promises you'll pound it all out by closing time. Some of the library's desks also come with built-in shelf dividers, great for when you or your neighbor's eyes wander in thought. Awkward interactions thereby avoided.
"Main Stacks library is my favorite place to study because it's always reliably quiet. I feel motivated to get my work done whenever I'm there," UC Berkeley freshman Eric Chen said. "I've seen that they have a lot of reservable study rooms that groups of people can use to study."
When you focus for so long that your lower limbs start to go numb, get up and move. Yeah, I mean it. Leave your work behind for a second. Besides looking trippy from above, the iconic spiral staircase of Main Stacks will give your legs a good uninterrupted work out. Or better yet, a good wake-up.
7. Free Speech Movement Café Terrace
Studying requires our utmost attention, but we shouldn't do that at the detriment of our health. When the isolation of Main Stacks gets too stuffy, migrate outdoors to the Free Speech Movement Café terrace. The abundance of natural light partnered with the breeze and the shade from surrounding trees can clear your head (and your sinuses) ahead of working through your problem sets. The proximity to the café also means access to food, and you'll often find students munching away at sandwiches and lunch boxes on the terrace. The casual atmosphere provides a truly relaxing study experience and the freedom to chat with your friends if you need a break away from the books.
8. Yali's Qualcomm Café
Feeling drowsy the moment you pull open your laptop? Yali's can help you out with a mouth-watering cup of coffee. Sitting within Sutardja Dai Hall surrounded by the other engineering buildings, the café attracts a fair number of EECS students to set up camp and study, and it makes sense. The café emanates an upbeat energy that the libraries fail to imitate.
"Yali's is my go-to spot when I have work to get done. The smell of coffee, calming jazz music playing on the speaker, and the chatter of students make me so motivated to work," UC Berkeley junior Desiree Garcia said. "I love the good Wi-Fi reception and the staff is very friendly. Add a good latte from their menu to the equation and I can stay there until closing time!"
With one concrete wall and another painted in soothing teal, Yali's invokes a bright industrial interior style, making any trip there seem like a hip weekend meet-up. The availability of soft restaurant bench seating also ensures maximum comfort throughout your entire study session. Aside from coffee, Yali's also offers a variety of salads, sandwiches and pastries. If the thought of studying puts a frown on your face, treat yourself to a chocolate croissant. One can never consume too much chocolate.
9. Morrison Library
Sometimes high-tech gadgets and sleek furniture can act counterproductively. With all the pop-up ads and alluring YouTube videos, the average laptop contains a wealth of temptations that threaten to pry you away from your readings. Morrison Library protects your focus by planting you back into the literary past. And by that, I mean no laptops. Like at all. The Morrison Library restricts usage of electronic devices in hopes of providing a space for students to slow down and read in peace. Take advantage of this unique opportunity and sit back in one of the library's plush leather back chairs. The mahogany paneling and delicate chandeliers will make you forget you're doing homework as you crack open your copy of Paradise Lost.
10. Bancroft Library
Picture the classical college library you see in movies. They usually feature high and beautifully ornate ceilings, Latin phrases engraved above the entrance and dark wood and vintage lamps. Now feast your eyes upon Bancroft. An exact match, no? One of the most popular study spots on campus and another personal favorite of mine, Bancroft offers silence, the air of academia, and (in some parts) fantastic chairs. Anyone who struggles from a severe form of procrastination will feel it dissipate as you stare across a hall of hardworking students. And frankly, can you even claim the title of a Golden Bear without ever stepping foot into Bancroft?