As an avid reader, my biggest pet peeves fall in the way of E-Readers, authors who die before they finish the series (Insensitive? Yes, but we're talking to you George R.R. Martin) and people who try to interrupt the beheading of Ned Stark or the precipitous decline of Jack Torrance. Although E-Readers and authors untimely deaths seem unavoidable, an eye-catching shirt that screams, "I love to read, so don't bother me," in your wardrobe acts as a step towards fighting off any annoying distractions from books.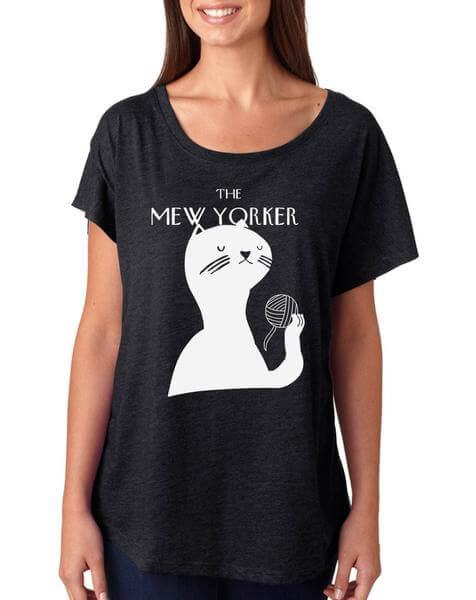 From novels to magazines (and even newspapers), a good read is a good read. What better way to promote your love of cats and The New Yorker than a flowy tee screaming studious and fun all in one piece of fabric?
Fashion tip: With slouching boyfriend jeans and black Chuck Taylors, the flowy tee caps off your cute and casual class attire.
"I'm booked" is the brief way of saying you have plans to curl up with your cat and my favorite fictional character in front of a burning fire. And honestly, what's better than that on a chilly fall evening?
Fashion tip: Although a unique make-up, this tee does big things alongside those trendy, loose pajama pants and a trip to your local coffee shop.
What's the hardest part about an 8 a.m.? Leaving your comfy abode of excessive covers to deal with people irl. This long-sleeve provides level of coziness and shelter from that pretentious dude in your creative writing class you can't just close the book on.
Fashion tip: For the colder months, layer this over a black or olive green sweatshirt, black Nike running tights and white Nike shoes to finish off the simply stylish, but still cozy, attire.
I'm usually not a fan of a lot of words on a shirt (because who really takes the time?), but this men's tee depicts the feeling of finishing a novel or worse, a series; it's more painful than an actual hangover, and that says something. Every avid reader understands the struggle and needs this shirt in their collection.
Fashion tip: Throw a dark flannel over the tee, shimmy into black skinny jeans and lace up your favorite Chuck Taylors or my personal favorite, black Timberlands.

If you don't worship, love and aspire to be Stephen King then go home, lock yourself in a room and read The Stand. I expect you to come out with the tee on, a desperate need for a haircut, since it's over 1,000 pages, and a plan to write in King's name over Clinton and Trump.
Fashion tip: Plain black shirt? A jean jacket and Timbs instantly spruce it up!
Okay, I admit (preparing for a book to be thrown at my head), I have never read or had a desire to read about the adventures of Harry Potter, Hermione Granger and Ron Weasley. But before you cast some spell on me, buy the muscle tee and thank me for exposing you to such a unique piece of fashion no cloak can compare to. Do you all really like those tacky, striped neck ties anyways?
Fashion tip: Complete the grunge look with a beanie, black high-wasted shorts, sheer tights and combat boots.
Damn Cheshire, back at it with a new style. Wear this trendy crop top out on the town or even with a pair of ears for your hipster Halloween costume. With the uniqueness, design and style, who wouldn't want to read Lewis Carroll's classic?
Fashion tip: Three words: all black everything.
Comic junkies are readers too. And since comic junkies may even be the most loyal readers, this is a must-have for any reader's closet. You even make it easier for other people to know what to gift you when it's your birthday.
Fashion tip: As a crafter, I know which shirts hold the utmost potential for scissors and Pinterest-style cuts; this shirt fits the criteria. Snip away or leave as is, this shirt matches perfectly with any other funky Marvel apparel you own.
Women are tired of being objectified and only appreciated for physical aspects. In the words of Dr. Christina Yang, "If you want to appease me, compliment my brain!" And that's exactly what you'll get when that cutie in your European lit class is caught by the brilliance of your graphic tee.
Fashion tip: Assemble the scoop neck with skinny dark blue jeans or a flowy skirt and a pair of eye-popping yellow flats to add some fun to your already funny outfit. Quirky and cute is what we're going for.
To be more honest than Holden Caulfield, I saved the best for last with my favorite classic, high school read. If you don't love the symbolism, themes and development of Holden's character, then do you really enjoy reading?
Fashion tip: You would be my favorite person ever if you wore a red hat to accent the red lettering and design of this classic T-shirt. Go big or go home, #amirite?