The warchant echoes through Doak Campbell Stadium, Tully Gym and Tucker Civic Center, rousing the Seminole Spirit within each 'Nole. Florida State University's winning reputation and state-of-the-art athletic facilities attract only the best of the best. And these remarkable student athletes do more than present a force to be reckoned with on their team. They also bring diversity, intellect and inspiration to the campus as a whole.
Pro Tip: Student athletes never have enough time. Get to class and practice fast on the ultimate college scooter, the Wolf RX-50.
Find out what these 10 inspirational FSU athletes contribute to the Seminole community.
1. Mackenzie Baysinger, Cross Country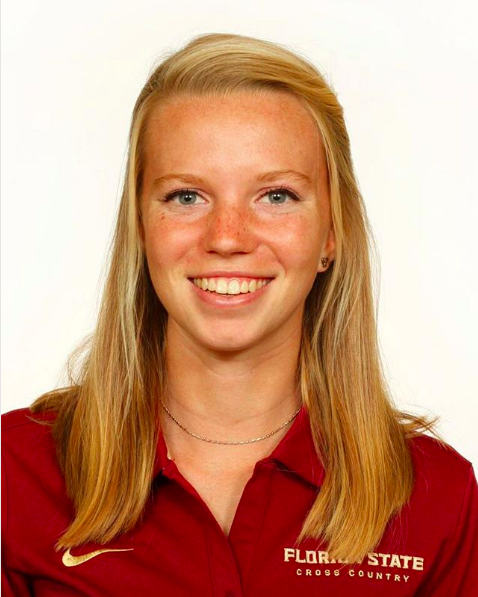 Baysinger hit the ground running during her freshman year when she made season-best time recorded at the FSU Relays, coming in at 19:49:18. In each consecutive year, she made an appearance at both the FSU and Mountain Dew Invitationals to show off her hot feet. With her NCAA eligibility ending in the spring, she has fond memories of building team morale. "My purpose on the team has been to support and push my teammates to their fullest potential on and off the track," Baysinger said. "Whether that looks like pacing a workout or helping a teammate with their math homework, being the best that you can helps others be the best they can be, too."
Baysinger grinds hard day-in-and-day-out to work towards her career goals. Majoring in biology, she hopes to help the planet as much as she can. "The reason I really latched onto cross country was that it was a guaranteed two to three hours of trail time and interaction with friends that didn't involve phones." She puts academics and athletics on the same level and strives to be the best in both.
2. Yujie Zhao, Women's Soccer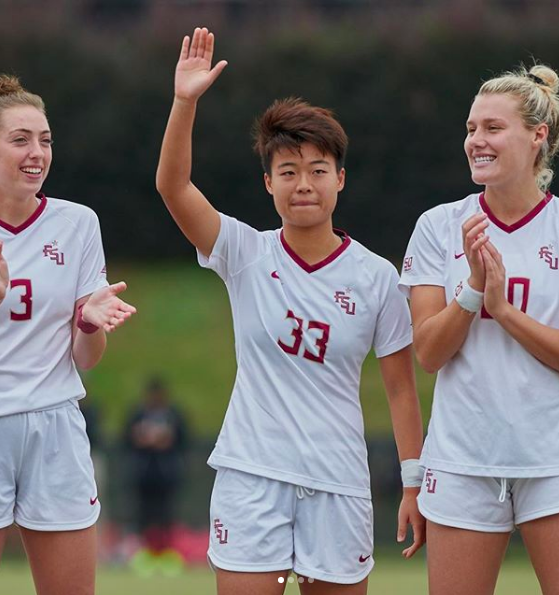 FSU Soccer welcomed forward Yujie Zhao all the way from Shanghai, China in 2018. Zhao said she was asked to attend FSU by coach Mark Krikorian through an email. "He likes the way I play soccer so he trusts me," Zhao said. And after the team took a trip to Europe over the summer, she feels like part of the family. "I think [of] everyone [as] my mentor," Zhao said. The strong bonds she holds with every team member has boosted her confidence on the field. With her fierce confidence and competitive skill set, Zhao scored against Haiti during 2018's U-20 FIFA Women's World Cup, contributing to China's win.
Zaho achieved greatness in only one year on campus. After the scoreless match between the Noles and USC and a victory 4-1 against UCLA back in early September, Zhao was named ACC Offensive Player of the Week and earned a spot on the TopDrawerSoccer National Team of the Week. Since then, she hasn't let her team down and since has scored game winning goals in several games against University of Wisconsin-Madison, South Alabama University, Wake Forest University and the University of South Florida. In early December, she helped lead the team to the second National Championship in FSU history.
3. Taryn Knuth, Women's Volleyball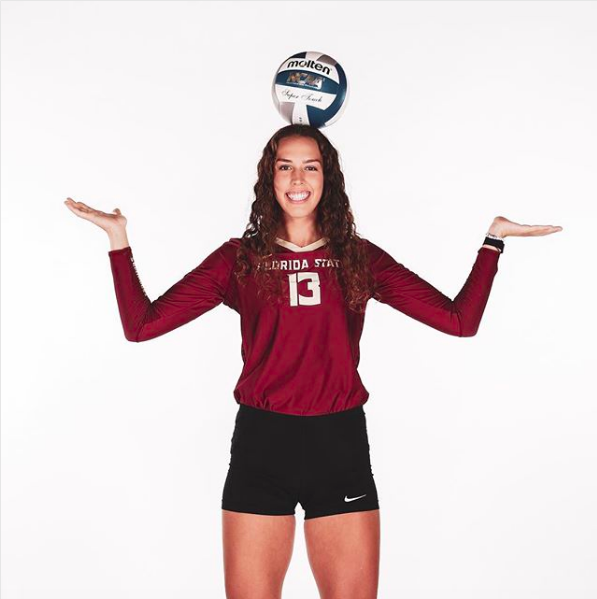 The sophomore middle blocker received tragic news during the first round of the NCAA tournament in November 2017. Her mom, Dawn, was diagnosed with breast cancer. Knuth had never felt as torn apart as she did when she remained at FSU, some 1200 miles from her mom back home in a small Iowa town, while her mom fought for her life with chemo treatment for six months. But her mom encouraged her to stay and lead the volleyball team through their season. During the battle, Dawn found inspirational chips with the saying "warrior on" scripted on them. She sent one to each member of the team and since then, that powerful saying has become their motto. Luckily, Dawn's doctors caught the disease in its early stages and she went in to remission this in May 2018.
Announcers practically screamed Knuth's name over the loud speaker all of last year. She contributes largely to the team's defensive success, setting the record for most blocks by any freshman on the team in history, coming in at 140. And she was the third player ever to be named ACC Freshman of the Week. Warrior on, Knuth.
4. Jack Anderson, Baseball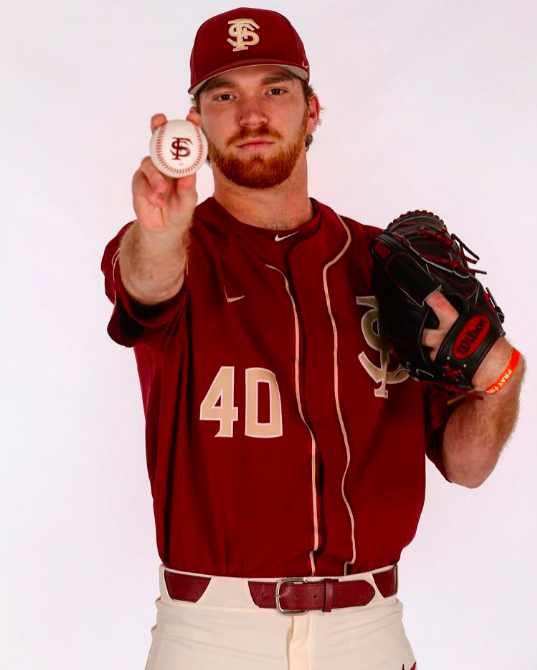 Hearing "Take me out to the ball game," resound through Dick Howser stadium at FSU will never get old—especially if you get to see freshman Jack Anderson pitch. But Anderson also knows there's more to life than your sport. He turned down an offer to play for the prestigious New York Yankees straight out of high school. Majoring in finance and throwing on the garnet and gold right away, he didn't want to miss out on the Seminole college experience.
Anderson's impressive high school career at Jesuit High School in Tampa, FL, prepared him for the more intense competition to come. He earned 53 strike-outs by the end of his senior year of high school and helped his team win the title of first team All-Tampa and All-Hillsborough County by the Tampa Bay Times for three years in a row. A scrimmage in early October previewed what he'll bring to the table this coming spring.
5. Tessa Daniels, Softball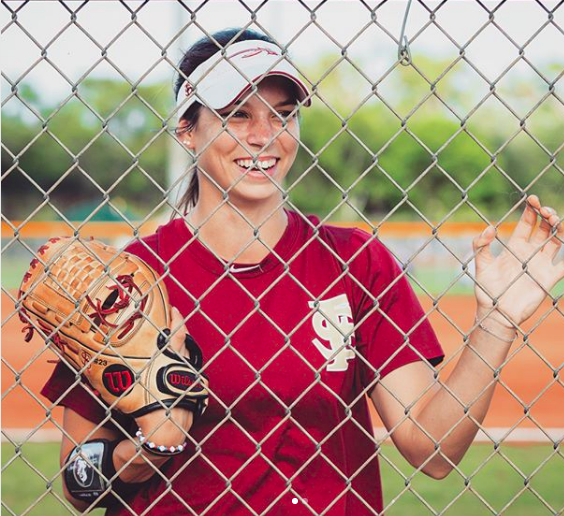 Senior first basemen and pitcher Tessa Daniels, probably knows the "Way to get a piece of it" dug-out chant all too well after living and breathing softball for eight years. After starting all four years of high school, she came to FSU with her eyes on the prize. Daniels turned down offers from other competitive programs like University of Florida, University of South Carolina and University of Tennessee.
Last year she won a prestigious award called the 2018 NCAA Elite 90 Award, meaning she maintained the highest cumulative GPA of any athlete competing in the 2018 Women's College World Series. No biggie. She also contributed to the Noles electrifying NCAA National Championship win in 2018. She aspires to teach high school literature and become a Fellowship of Christian Athletes sponsor to help other athletes connect with their faith through their sport. Daniels represents just another athlete who inspires others to strive for their best both on the field and in the library.
6. Nausia Woolfolk, Women's Basketball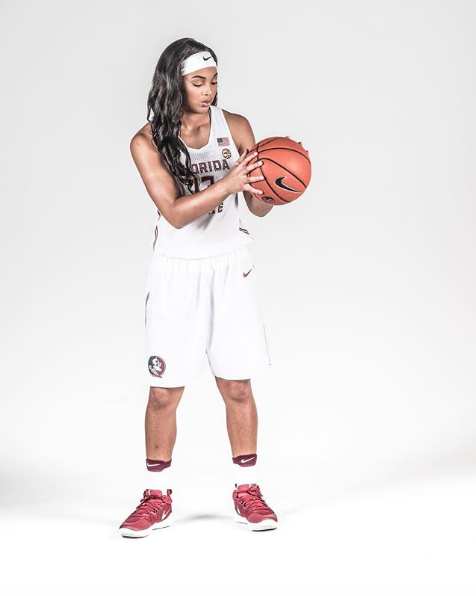 Vires, Artes, Mores means strength, knowledge and tradition. It's also FSU's motto. Nausia Woolfolk, junior guard, won the Femina Perfecta award earlier this school year based on these attributes; she represents what Florida State traditionally calls the "complete woman." With FSU's roots connected to its original status as a College for Women, Femina Perfecta helps define what it means to be a Seminole today. Her basketball teammates nominated her for this award, setting her apart as a leader and mentor for the other players.
After overcoming a foot injury during her freshman year, Woolfolk set new personal records on the court. She managed a career-best record with a 23-point outing against FSU's arch rival, the University of Miami. And during the game against Wake Forest back in January, she hit a career–high of six assists. She thanked her family for their support during the hardest times and gave them credit for all her sophomore year success.
7. PJ Savoy, Men's Basketball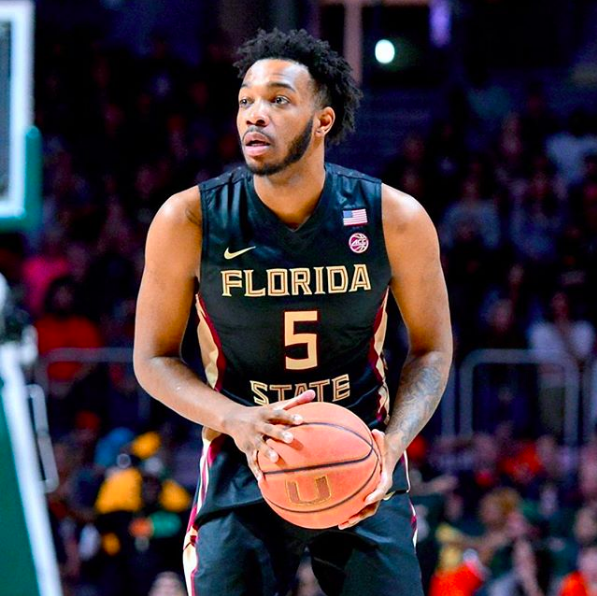 The crowds' cheers bounce off the Tucker Center walls as a three-pointer sinks the hoop. Senior guard PJ Savoy lives for these moments. His mad three-pointer skills intimidate all who face him. Savoy entered this year ranked eighth in school history for his three-pointer average, coming in at .388. And he holds the title of one of only 13 players in 'Nole-history to shoot better than 38 percent from the three-point line. With that skill set under his belt, he shot the most points of his career back in 2016 in a game against Southern Mississippi, scoring 27 points. His contributions did not stop there. "PJ Savoy had a great game against Miami, led the Noles to victory and scored 10 points," FSU senior Mallory Meuser said.
Savoy contributes not only to the court but also to the community with the Coaching for Literacy Program at FSU. Members of the Men's Basketball team travel to local schools, read to classes and spread illiteracy awareness. Savoy's talents strike again and this time as just a student who deserves the spotlight.
8. Molly Carlson, Women's Diving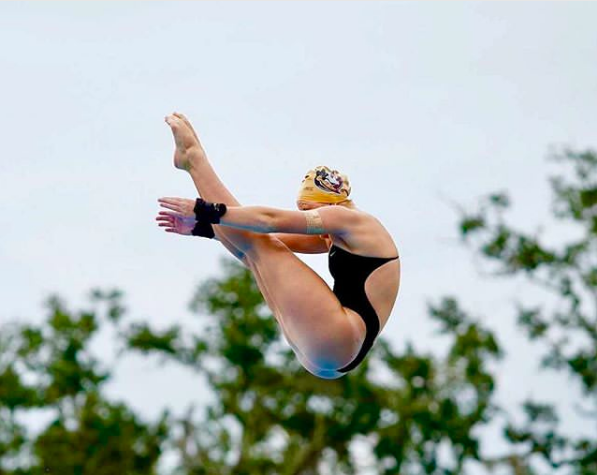 Molly Carlson is already on the Olympic level. A Toronto native, Carlson represented Canada in the 2014 Summer Junior Olympic games in Nanjing China. She made it to the three-meter springboard's final round. Her positive attitude and smile generate much of the energy that FSU's diving team brings to the pool. Her coach and teammates regard her as one of the best competitors they've ever seen.
During her fall 2018 semester, she took home ACC Diver of the week twice, and earned some second, third and fourth place wins against schools like the University of Florida, University of Minnesota and Arizona State University. With her senior season on the horizon, keep a watchful eye on all Carlson brings to Seminole diving next year.
9. Valencia Myers, Women's Basketball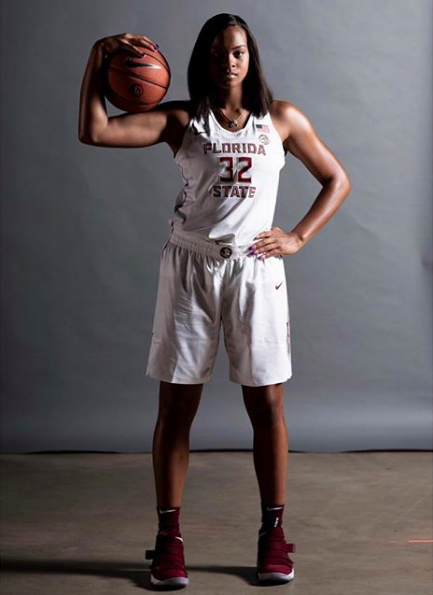 As one of the five fierce freshmen to join women's basketball this year, Valencia Myers brings the defensive heat. She provides a new team dynamic as a 6'3 power-house forward. Before her college career began, she played alongside current teammate Izabela Nicoletti in the prestigious McDonald's All American game in 2018. The matchup allows only 24 of the 700 best high school players to take part each year.
So far this season, Myers scored 17 points against Troy and got 10 impressive defensive rebounds off of Penn State in November. Not only does her performance make her stand out as an outstanding student athlete, but her attitude as well. She overcomes the mental toughness she has had to build through her life by following her passion for basketball and trusting the process.
10. Aziz Dougaz, Men's Tennis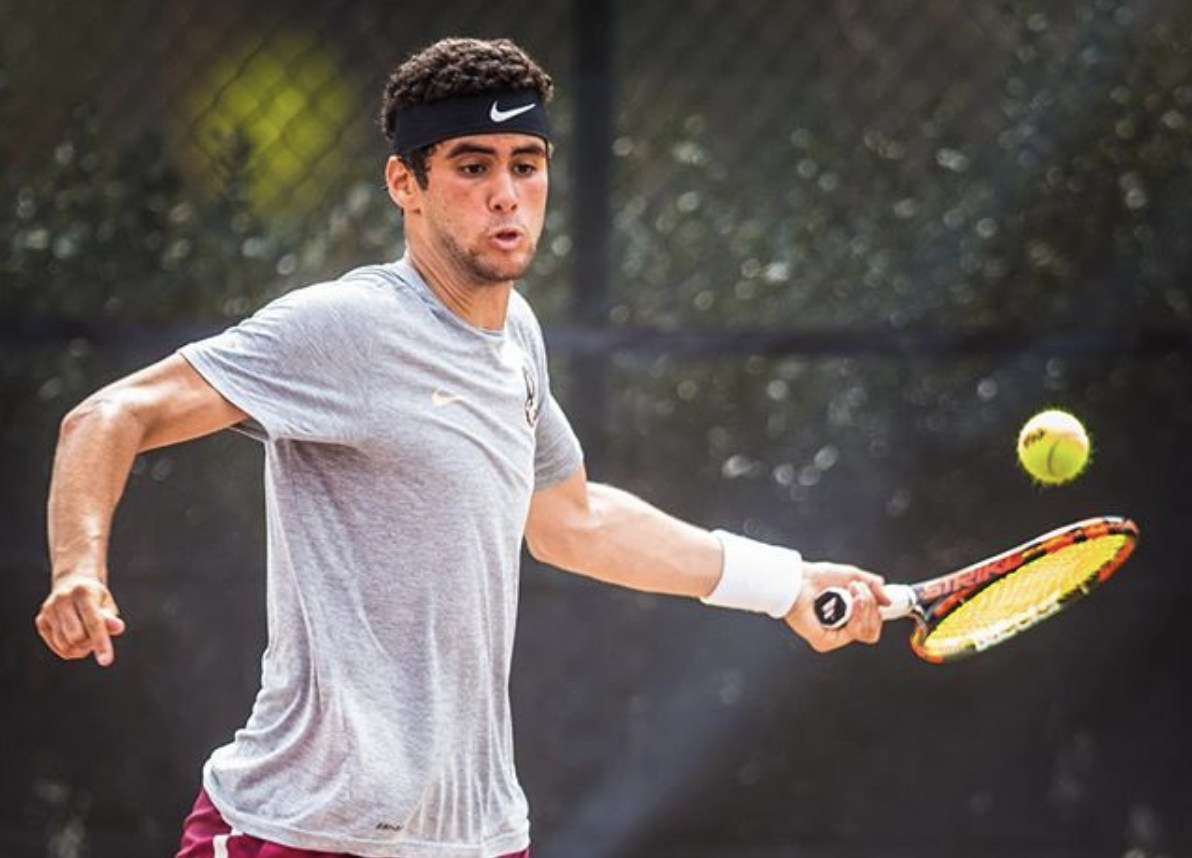 Aziz Dougaz went pro before starting his senior year at Florida State. He spent the Fall 2018 season participating in pro tournaments all over the world, from his home country of Tunisia to Egypt and Romania, and even several cities in the U.S. Dougaz took home five pro doubles titles and two pro singles titles. He earned a career-high Association of Tennis Professionals (ATP) ranking of 405 in singles and 455 in doubles. Back on the home court, he led the Noles to victory in nearly every match in the spring 2017 season, making a name for Florida State Tennis. Dougaz was inspired by his dad, also a tennis player, to start playing. Before coming to FSU, he had the opportunity to live in France, Tunisia and Morocco as well as visit over 25 countries.
Wolf Scooters wants student athletes to have an affordable and awesome way to navigate campus with a stacked schedule. Never waste time looking for a parking spot again.
This article is sponsored by Wolf Scooters.