Study spots can save you when you find yourself with a pile of assignments that never seem to end. The University of Iowa campus offers many spaces that you can hunker down to study. However, not all study spots are created equal. You need spots with the perfect lighting, noise, tables, chairs and more. They can serve as your saving grace when you know you must stop procrastinating. We'll find the perfect study spot for you so your parents can brag about your amazing grades.
If that pile of assignments haunts your every breath, this list will guide you to the best study spots on campus:
10. Harden Library 24-Hour Study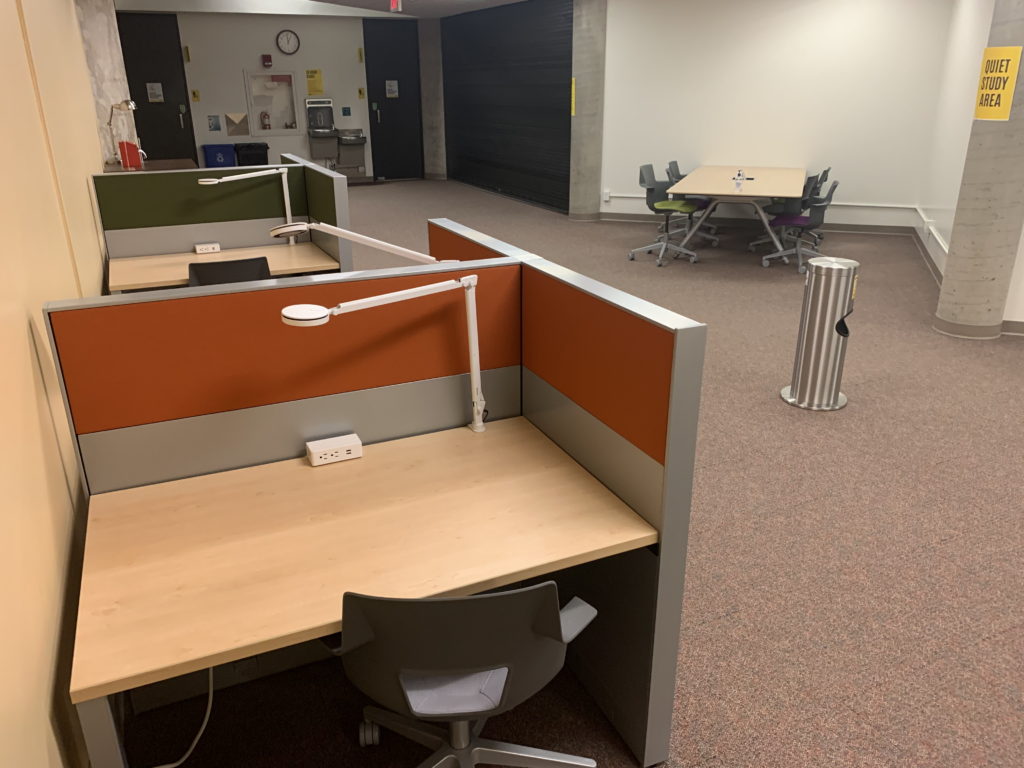 Once upon a time, the Main Library never closed. Sadly, that no longer exists and some still hope for its return. But there's a solution to this madness: Harden Library 24-Hour Study, located in a little section hidden on the third floor that never closes. As long as you have your student ID with you, you'll get in. Found on the west side of campus, most of the library goers consist mostly of medical students. That means they mean business and will not stand for any interference with their studies. You'll find a quiet space with plenty of outlets and tables. Need motivation? Just look around and see students frantically scribbling away.
9. Psych and Brain-Building Basement Group Rooms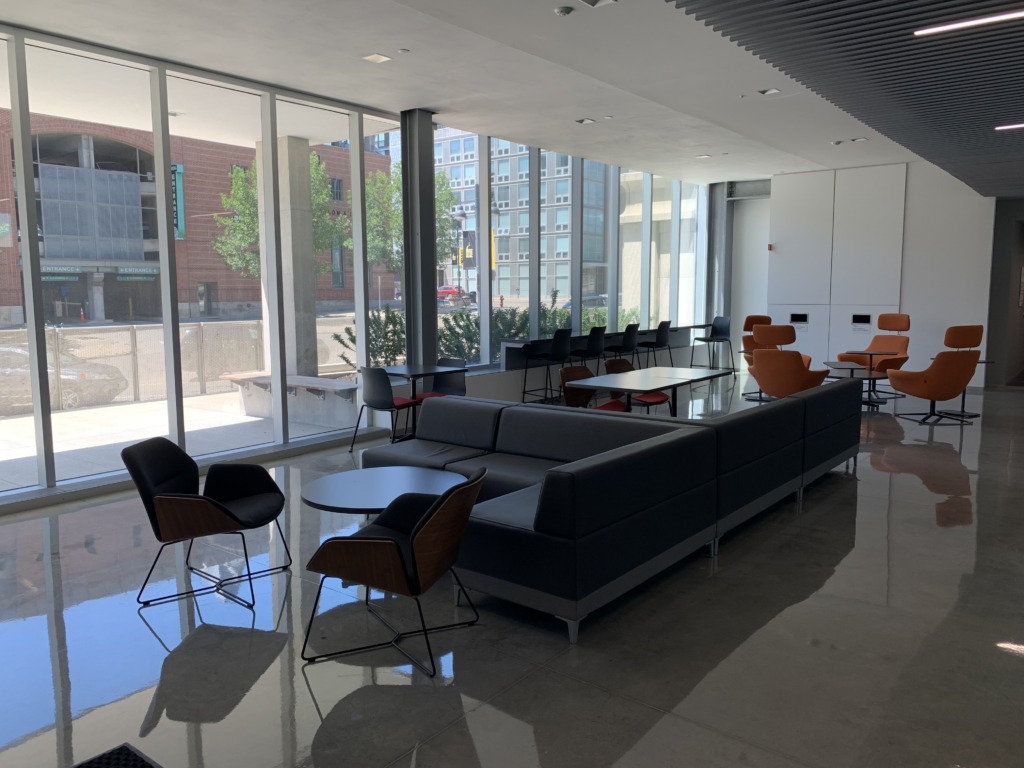 The new and improved psychology building won't disappoint when it comes to finding the perfect place on campus to get your work done. This modern beauty mostly consists of windows. You know what that means? Plenty of natural lighting to keep you engaged. You'll find study spaces galore in there.
"I like how it's downtown so I can go get a study break snack and it has different places where you can study," University of Iowa senior Sydney Halverson said. "They have private study rooms you can reserve, which is my favorite because I love the huge computer tv and all of the whiteboard space. I also like the area on the top levels because of the view and the creative spaces they have."
In the basement you'll find the magical group rooms. These huge and bright rooms come with a massive white board, TV that you can project your computer screen on and plenty of outlets. You can reserve the spaces until 6 p.m. and then they go up for grabs to whoever walks in first. Even if you don't come with a group, you can treat yourself by getting the nice big space all to yourself. Don't forget to leave a fun message or drawing on the white board for the next person.
8. Sciences Library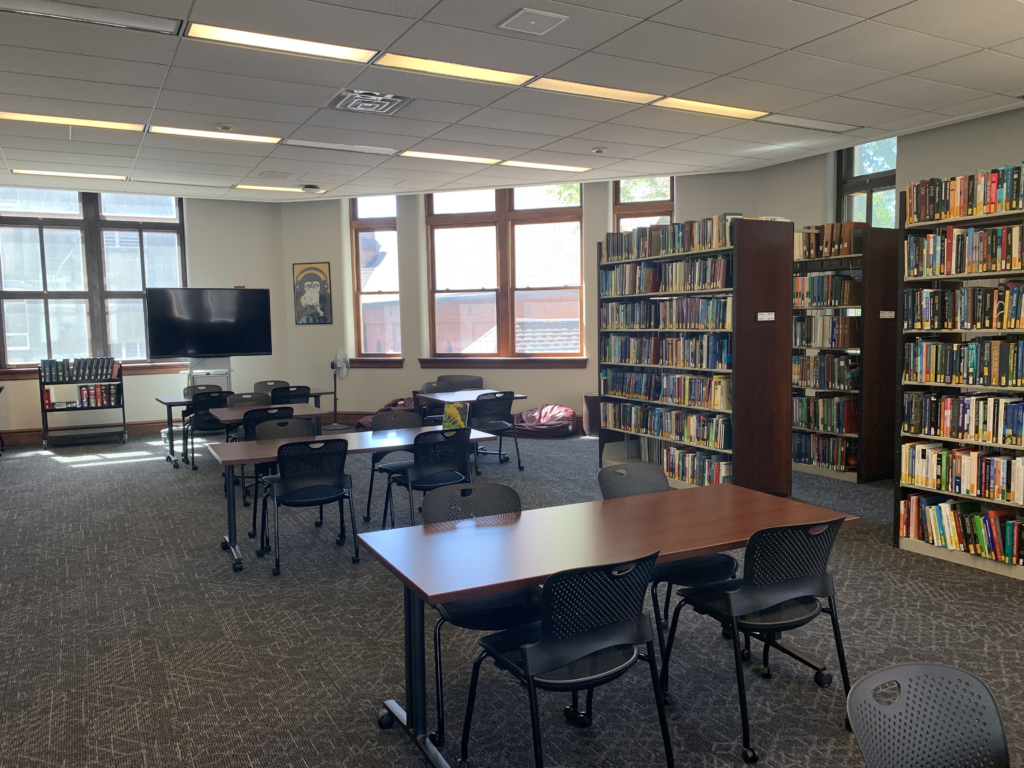 The beloved Sciences Library. Known to few and dearly loved by said few. Now this prime study real estate offers exactly what you need: printing, computers, beanbags, books and personal study desks/tables. Don't get intimidated by the short hours. Though it closes at five pm, take it as a challenge and opportunity. For my procrastinators out there, it'll force you to get all your work done at a responsible time so you can get the proper amount of sleep.    
7. Bread Garden Market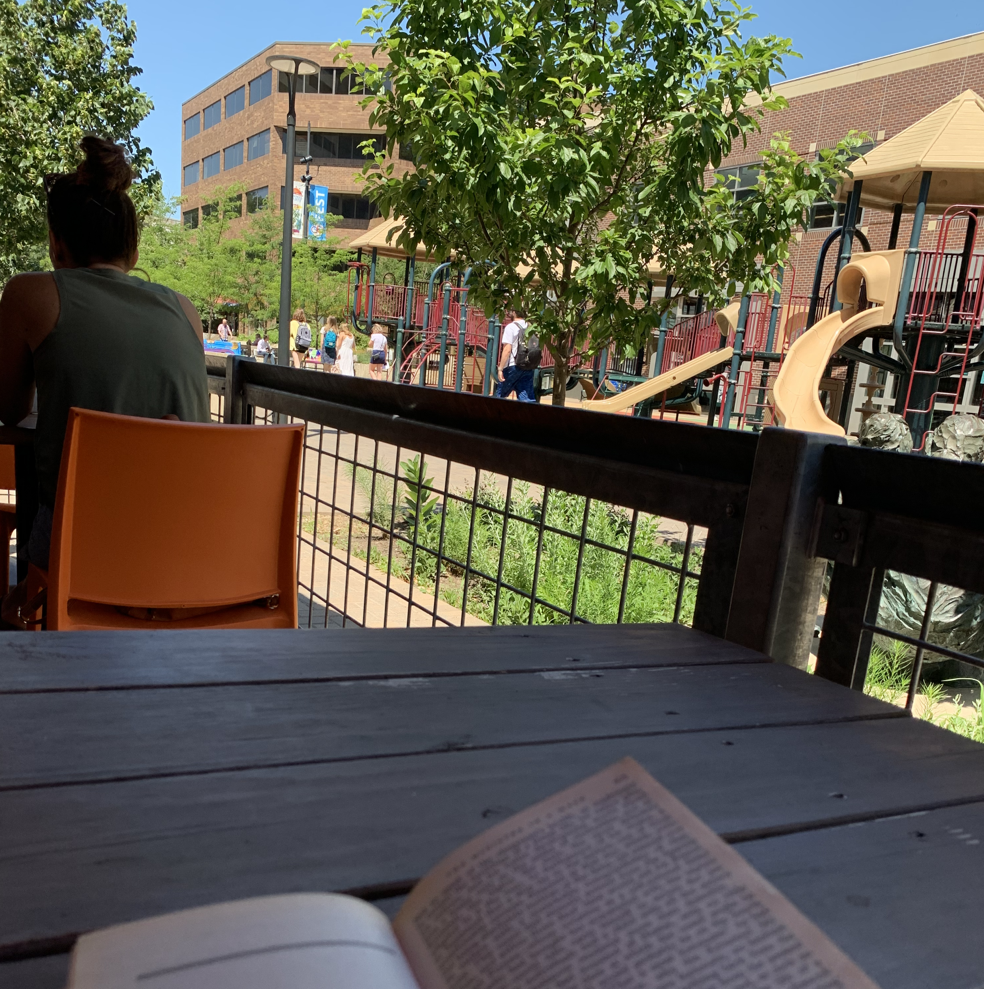 Before you yell at me for suggesting a grocery store as a study spot, let me explain. You'll find indoor and outdoor seating, a coffee shop, a bakery, a deli and a restaurant. What more do I need to say? You can get a little caffeine pick-me-up or a study snack without storing everything in your backpack. The light café chatter creates the perfect white noise for you to study and during your break you can eavesdrop.
"This past year I've really been studying quite a bit at Bread Garden," University of Iowa Senior Denise Perez said. "It's close to campus, my apartment, and I am employed there so I get discounts, which is a big incentive. I like the scenery and the people coming in and out make it quiet enough but loud enough for me to stay focused and not feel like I'm getting lost in what I'm doing. Also, they have a coffee shop, really great food and groceries. I could just grab an apple and a hot coffee or stay there long enough for dinner and get a burrito."
Bread Garden Market lives close to campus, yet far enough away that you don't feel like you never left the classroom. It makes for the perfect balance and you can invite your friends to study with you. For my 21 and over readers you can even treat yourself with a cheese board and a drink while you grind out your work. Responsible and fun? Who knew… I did, you're welcome.
6. Main Library Private Study Rooms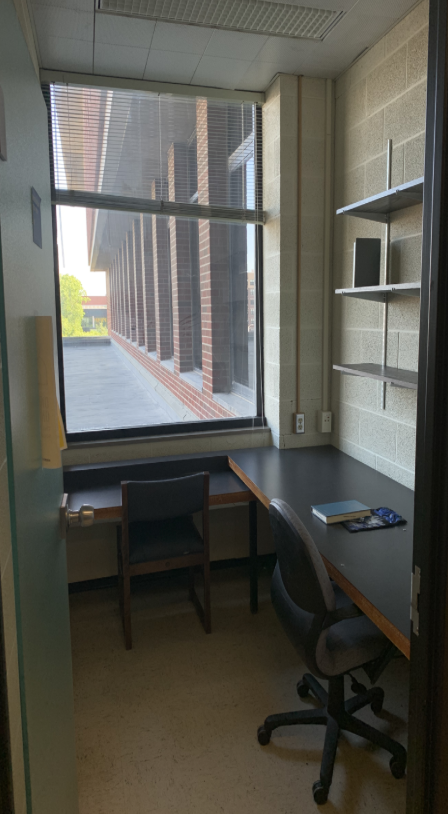 The most basic of the study spots, yet still just as good. It offers so much from a café with drinks and food to different levels of noise. The higher up the floor, the quieter it gets. This lets you cater your study environment to what best suits you on any given day. The best service offered: private study rooms. With getting these rooms all to yourself, you get the benefits of silence when tackling your tasks. You can find two desks to choose from, two chairs to choose from, shelves, outlets and silence. These spaces feel perfect when you need to do an assignment last minute and must focus. Personal suggestion… ask for one with a window. Windowless private study rooms might feel like solitary confinement.
5. Pomerantz Business Library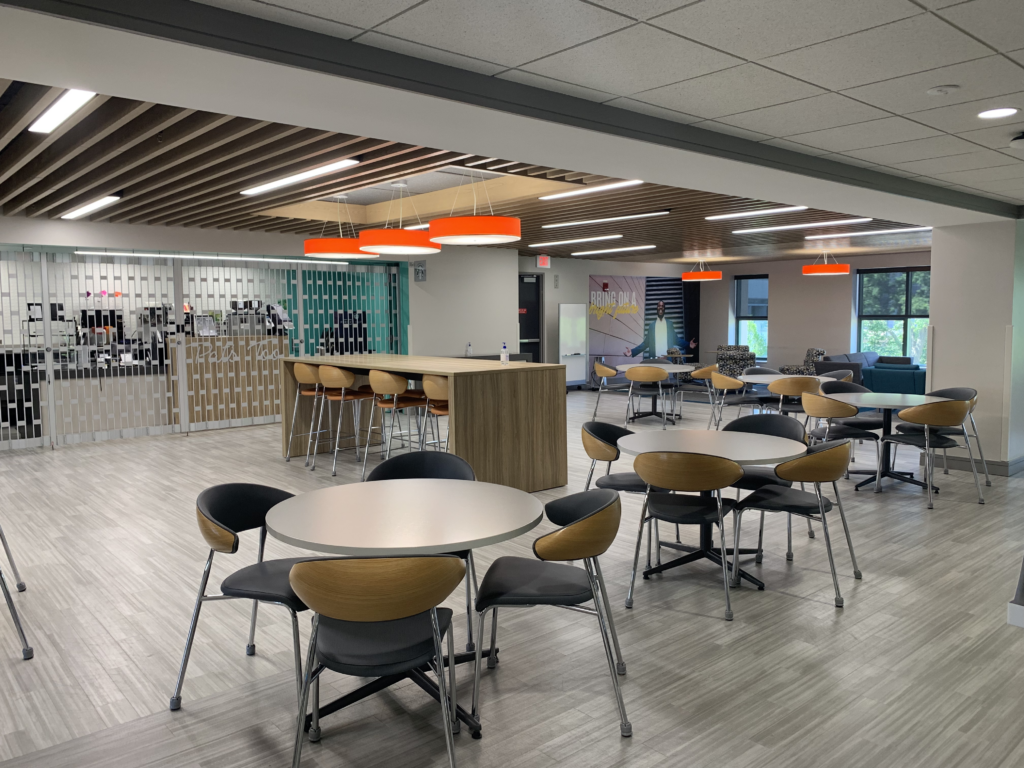 You can find this library's entrance on the third floor of the Tippie College of Business building. Be warned: it gets busy fast. Just like the Main Library, noise levels divide the three floors. Individual work defines the fourth floor, collaborative work defines the third floor and business tutoring defines the second floor. However, the fourth floor holds the best view.
"The biz hub has a lot of independent sitting with charging stations which is a must," University of Iowa graduate Christine Clutter said. "Also, the Frank Business Writing Center is in the biz hub so it's easy to get access to resources and help on assignments when you need it."
Also, note that you can reserve rooms to study in— but they fill up fast. Look to these rooms for when you need to work on a group project with other classmates. Some of them feel like corporate conference rooms, which no doubt will make you feel cool. You'll find plenty of hustle and bustle everywhere. Which, of course, the library coffee shop fuels. (I highly recommend trying the caramel chai or butterscotch latte.)
4. Adler Journalism Building Student Center
What could make your study session even better? Free snacks and beverages. This Student Center stays stocked with fruits, granola bars, coffee, tea and hot chocolate. Not only do they offer free goodies but the window walls light up the center with plenty of natural lighting. You can also find Mac computer stations and outlets at each desk. If you take any writing classes, feel free to ask the Peer Mentors at the front desk to proofread your papers or even brainstorm with you. They make for a great resource, especially if you study journalism or mass communications.
3. Art Building West
The beautiful, the majestic, the eclectic Art Building West. She's a rare beauty that not many students take advantage of. You can browse student art installations, chill outside by the pond or visit the library that perfectly overlooks the pond. Practically made out of windows, Art Building West ranks as one of the prettiest buildings on campus. Post a picture from this beauty on Instagram and all your friends will ask you where you go to study.
"It's so pretty inside and outside," University of Iowa senior Sam Oglesby said. "The little patio around the pond is my favorite. I love sitting there and drawing and getting ideas and listening to the water. It's just very relaxing and not a lot of people go there, and I think it's because it's kind of out of the way." 
This building falls outside the heart of campus. If you find yourself at the Iowa Memorial Union, just walk across the bridge behind it and there she stands. Plus, there's a Cambus stop right outside Art Building West on both sides of the street so no excuses. Don't you want the envy of other students for your study spot?
2. Voxman Music Building
Most non-music majors don't know this building exists. Your eyes will feast on the interior of this building. Realistically you can study anywhere in this building to fulfill your study spot needs. However, you absolutely must study on the Dunn Family Terrace when the weather cooperates. You'll find neon yellow geometric sofas and plenty of tables with varying heights. Become a multitasking king/queen where you'll catch some rays and get those A's.
1. Lindquist Center
The Lindquist Center deserves the top spot on this list since its renovation. They have seats shaped like green grapes now. Who knows, maybe sitting on a grape seat will turn your focus on. The collaboration areas also feature smart boards so you can up your group project meeting game. Plus, you'll find it right across the street from the Main Library, so it'll take minimal effort to switch up your usual study spot.
"At the Lindquist Center there's food available, natural sunlight, and a perfect view over the main library entrance so I can people watch," University of Iowa sophomore Maci Welter said. "I've seen someone legit sprinting and miss the bus."
The new and improved center now boasts a café on the second floor too! However, they don't accept flex meals. Sorry to those with meal plans. If the Main Library gets too crowded, head across the street to Lindquist. You might even get lucky while you people watch and witness some drama or, even better, a doggo!