Being drunk turns me into the world's worst chef. Once I'm three drinks in, I'll wander into the kitchen and stand there with both my mouth and the refrigerator door hanging open, looking for my next creation. Once I'm five drinks in, I usually give up on my cooking ventures and just order takeout. Who among us hasn't taken a single drunk bite of a really good pizza and felt their soul leave their body a little? Full disclosure: I have no idea if any of these places taste as good when you're sober, so take this list with a grain of salt.
If you can relate, try these 10 tipsy takeout spots in Madison.
1. Paul's Pel'meni
"What the hell is a pel'meni?" When I first moved to Madison, I didn't know either, but now, my drunk self loves them. Pel'meni look like small Russian dumplings. Traditionally filled with meatballs or mashed potatoes and served with a variety of toppings, like sriracha, vinegar or sour cream. At Paul's, $8 gets you a heavy, greasy box of them. It's a bare-bones restaurant and if you don't like dumplings, you're out of luck—the other things on the menu? Slices of rye bread and cans of soda (bon appetit.)
2. QQ Express
I lived here for two years and I never met anyone who knows what QQ stands for. Quick quintessential? Quirky and quaint? Beats me, but I do know that this hole-in-the-wall joint makes a mean egg foo young—my go-to when I ate a few. It's filling enough to settle your stomach when you feel queasy, but you won't puke it up if you eat it slowly enough (pro tip). In addition to egg foo young, QQ's offers all the Chinese takeout classics a drunk college kid's heart could desire, from fried rice to egg rolls to potstickers.
3. La Bamba
Sure, all drunk college kids love Taco Bell. But with La Bamba, you can step up your game. Try a more authentic Mexican dish like tortas, tamales, quesadillas or nachos. You can find something for everyone in your party. However, if your heart truly lies with tacos they offer those as well.
"Their tacos are so good. They're cheap too, so I always get like ten," University of Wisconsin-Madison freshman Andrew Barnes said.
They come topped with your choice of steak, chicken, pork or chorizo. While delicious, La Bamba boasts a real claim to fame. Their "burritos as big as your head," come as advertised. These might prove a bit too much for your drunk stomach to handle though and they won't taste as good coming back up. So maybe save that challenge for another day.
4. Pizza Pit
You had me at "pizza." Famous amongst Badgers, Pizza Pit offers exactly what you'd expect judging from its small, neon-lit storefront: deliciously greasy pizza, with regular deals to feed all your friends for cheap. If your drunk self craves something more adventurous, Pizza Pit also offers a range of unexpected sides like spinach cheese bread, pizza cookies and pig wings (Whatever that means. Honestly, I was never drunk enough to try them out). The best part? With multiple locations across the city, you won't need to stagger too far to bump into one.
5. Dotty Dumpling's Dowry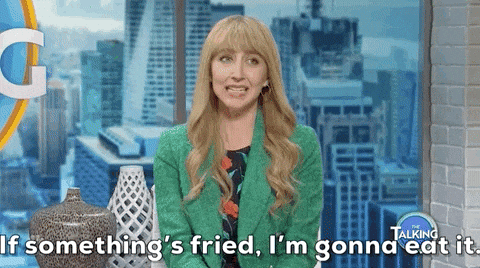 Before you get too excited, this restaurant doesn't actually offer dumplings—just named after a Sherlock Holmes character called Dotty Dumpling . Still, it offers enough fried deliciousness to make you forget all about dumplings. Their onion rings, fried mushrooms, cheese curds and loaded fries make them a favorite amongst drunk college students. Just thinking about it makes me hungry.
"This is a weird one, but I always get the boat of pickles. I always crave pickles when I'm drunk. I can eat a whole jar of them by myself like chips. At least they're pretty healthy," University of Wisconsin-Madison senior Lindsay Stevens said.
Whatever the order, your drunk self will probably feel mesmerized by the atmosphere of the restaurant. You can stare at the toy planes hanging from the ceiling or zone out to the old black-and-white movies playing on the TV. Can you even call it a night out unless you ended up questioning your reality? Well this makes the perfect place for a bite to eat and a moment of confusion.
6. Parthenon Gyros
Staggering along State Street with a hungry group of friends? Take them to this cozy spot and you'll end up their "gyro." They offer lamb, chicken and vegetarian gyros. In addition you can find pita dippers, cheese fries and baklava (one of my strangest and most specific drunk cravings to date.) Besides the food they also boast some cool seating.
"The best part of Parthenon is that you can sit on the roof," University of Wisconsin-Madison senior Abby Moore said. "It's great in the summer, especially when you're drinking. One of my friends almost threw up over the balcony, but we all held her back and took her down to the bathroom. That could have been ugly."
Even in the winter, Parthenon holds the title as one of the most beloved takeout joints in Madison. They continue to offer the same delicious eats to a rotating cast of drunk college kids since 1972. There's generations of students who ate here. No wonder they became such a staple.
7. MacTaggart's Market & Deli
Though it looks like a glorified gas station, MacTaggart's Market & Deli—often called Tagg's for short—will serve you well when you feel the drunchies. You can find this shop conveniently located right off of Langdon Street (AKA frat central). They stay open until midnight every day, serving made-to-order sandwiches out of a tiny deli counter. Plus, the staff totally understands drunk college kids. What more could you ask for?
"I've been here for 30 years and it's pretty much the same thing every year," owner and manager Rick Schober said. "You get people that are a hot mess, or they're just having fun and you just gotta kind of roll with the punches."
In addition to serving sandwiches, Tagg's doubles as a convenience store. It carries anything a college kid could need, from cake pans to kitty litter, along with all the junk food your intoxicated heart could desire. Perfect for when half of your party wants something filling and the other half craves some chips. I suppose it also makes for a great pit stop before heading home and crashing for the night.
8. Marie's Soul Food
Sure, ice cream and french fries taste good when drunk, but sometimes you just need comfort food. It's one of several Madison restaurants I never ate at sober, but my drunk self can vouch for their fried chicken and cornbread. Something I normally hate (alcohol does crazy things, kids). But the best item on the menu must be the baked mac and cheese—a rich, creamy masterpiece that made me never want to go back to boxes of Kraft again. While located a little far away from campus, trust me on this one and catch a bus. Your drunk self will thank you.
9. Taste of India
I ate Indian food drunk about five times before ever trying it sober. It's still delicious when I'm sober, don't get me wrong. But there's something about curry that makes my inebriated taste buds light up. The dinners can be a little pricey, but it's easy to fill up on the long list of inexpensive appetizers, like samosas, veggie pakora and papadam.
"It's basic, but I always get the cheesy naan, even though I can't eat dairy. My stomach hates me for it," University of Wisconsin-Madison alum Soren Zappia said.
Lactose intolerant (and more wary about it than Zappia)? Check out a plethora of other naan options: keema, coconut, garlic, chicken and ginger, just to name a few. If your drunk self craves a sweet tooth, don't forget the kulfi, a traditional Indian ice cream. You definitely don't want to miss out on this treat.
10. Mediterranean Café
Turns out vodka lemonades pair great with falafel —who knew? Neither taste great coming back up, but your sober self can deal with that. Screw over your sober self by carting your drunk self to Mediterranean Café. Another hidden gem on State Street, this restaurant offers cheap but hearty Mediterranean fare. Take it from me—shawarma, falafel, hummus and lentils all hit different when you feel tipsy. With the restaurant's immaculate vibes, the shop feels cozy. Walls papered with photos, the smell of shawarma wafting from the kitchen along with quiet, atmospheric music makes for the perfect spot after a night out.
College Magazine does not condone underage drinking.